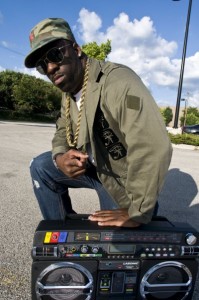 The Chicago Public Library "Sound Off" is holding a music contest that is open to everyone who can apply for a library card (14+). From rappers, crooners, punk, rock, indie, ska, professionals, amatuers, the Library is looking to showcase the best that Chicagoland has to offer. Musicians are being asked to submit compositions inspired by their hometown city of Chicago. The competition runs from August 27th to September 27th so with little over a week left make sure you get you entries in.
Chicago's own Che Smith, more popularly known as Rhymefest, will be joining the judging panel for the contest.
Submission Guidelines
The judges will choose winners based on song creativity, quality of performance, and original expression embodying the essence of the City of Chicago. All entries must comply with submission criteria posted at www.chipublib.org/notwhatyouthink.
Ten (10) finalists will be selected by the official judging panel, and of those, two winning entrants will receive distinction as the Grand Prize and People's Choice Winners.
The Grand Prize Winner, determined by the panel of judges, will headline the CHIPUBLIB Sound Off Concert in late October, where they will perform their composition as well as a set featuring their other music. In addition to their headlining status, the Grand Prize Winner will receive a studio package courtesy of Electrical Audio – founded by legendary recording engineer Steve Albini.
The People's Choice Winner will be selected by online voters who, from September 28 to October 3, view the top 10 submissions at the CHIPUBLIB Sound Off Vimeo channel and then visit the Not What You Think tumblr blog at www.notwhatyouthink.tumblr.com for online voting. The People's Choice Winner will open for the Grand Prize Winner at the CHIPUBLIB Sound Off Concert performing their submission as well as a small set of their other music.
For rules and submission guidelines visit www.chipublib.org/notwhatyouthink. For more help, visit your local public library, browse the music sections, or ask the librarian for tips on inspiration.
Some people know a Rube Goldberg by the game Mousetrap but the idea is how can you take a simple action like turning on a lamp or closing a door and make it the most complicated elaborate and complex action posible where you still only do one human action and momentum takes care of the rest. Countless diagrams and art pieces have been made with that idea or goal in mind but what if you took it into the 21st century and made nothing touch from start to finish but used magents, RFID & fans to get the job done. Then you would have this:
Audio clip: Adobe Flash Player (version 9 or above) is required to play this audio clip. Download the latest version here. You also need to have JavaScript enabled in your browser.

download


This week Amanda talks to artist Helidon Gjergji!
From Helidon Gjergji's personal bio: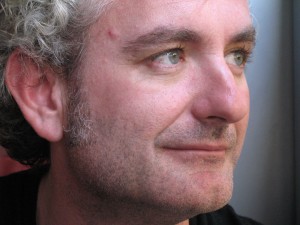 Helidon Gjergji was born in Tirana, Albania and lives in NYC with his spouse, Barbara Naddeo (professor and writer) and their lovely five year old daughter Sicile.
In 2000, he received an M.F.A. from Northwestern University, Chicago. Before that, he received a Diploma at the Academy of Fine Arts in Tirana, Albania and a Diploma at the Academy of Fine Arts in Naples, Italy.
He has participated in the Venice Biennale 52 (Albanian Pavilion), curated by Bonnie Clearwater, Director of MoCA, North Miami; Present Future, Artissima 10 (solo project), Turin, curated by Emma Dexter (Tate Modern) etc.; Tirana Biennale 1 (curated by Francesco Bonami); Madre, (MCA, Naples); Apexart (NYC); National Gallery (Tirana); Villa Arson; Centre d'Art Contemporain (Nice); Lothringer Dreizehn Kunsthalle (Munich); The Kosova Art Gallery. (Prishtina); PAN (City Museum of Naples); Chelsea Art Museum; Temporary Services; Suburban; TBA Exhibition Space etc. His next work will be at the T.I.C.A.B. (Tirana International Contemporary Art Biannual), section curated by Edi Muka and Joa Ljungberg [Read more]
Audio clip: Adobe Flash Player (version 9 or above) is required to play this audio clip. Download the latest version here. You also need to have JavaScript enabled in your browser.

download


This week: Duncan and Richard talk to Madeleine Grynsztejn, the new Director of the Museum of Contemporary Art, Chicago!
Stolen liberally from the MCA website, with a bit of BAS embellishment:
Grynsztejn was born in Lima, Peru, and raised in Caracas, Venezuela, and London, England. She studied at the Sorbonne in Paris and received her BA in art history and French from Newcomb College of Tulane University, and her MA in art history from Columbia University. She is a former Helena Rubenstein Fellow at the Whitney Museum of American Art, and a 2007 graduate of the Getty Foundation's Museum Leadership Institute. Grynsztejn has written, lectured, and taught extensively on contemporary art. She served as a panelist for the National Endowment for the Arts and the Galeria de Arte Nacional in Caracas, among other agencies. She acted as a juror for the Emily Hall Tremaine Foundation, the American Academy in Rome, the Munich Kunstpreis in Germany, and the Tiffany Foundation Biennial Awards. She has also served on the advisory committees for the Brooklyn Academy of Music and the American Center in Paris. She is fluent in English, Spanish, and French. Her husband, Tom Shapiro, is a marketing consultant and a damn nice guy. Yes, Bad at Sports added the "damn nice guy" part, the MCA would never be so inappropriately casual in a blurb! How dare us. The nerve! It's true though, he really is nice. [Read more]
There was a great article on the methods, equipment & logic behind doing war photography here and while the entire article is extremely interesting the camera equipment list might be of use to Artists who can live and die by digital photographs and the equipment involved. Here is what Teru Kuwayama who has shot for Time, Esquire & Newsweek carries: [Read more]