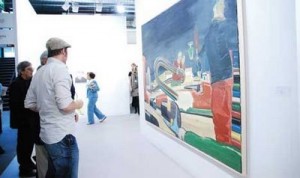 Wonder what the painting Brad Pitt bought looks like? Well search no farther, the Oil on Canvas by Neo Rauch entitled "Etappe" which sold for just under 1 Million USD is pictured below. I know there are strong feelings on either side of the fence with this but the early narrative on Basel this year seems to focus on "Buy! Cause everything's on sale and Europe hasn't seen a fire sale like this since Dresden." This only continues that take.
Read more everywhere but also here Also thanks to Britton Bertran for the heads up, Perez Hilton though? Really?

Africa covered a cappella has been done many times but never like this. Includes a cappella rainstorm in the beginning.
Audio clip: Adobe Flash Player (version 9 or above) is required to play this audio clip. Download the latest version here. You also need to have JavaScript enabled in your browser.

download


This week Duncan and Christian Kuras talk to YBA artist Mark Francis, all the way from London. Duncan is not afraid to commit to go the distance to get an interview. [Read more]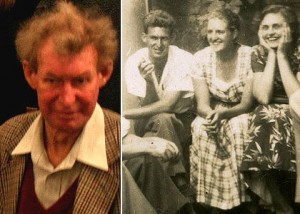 Sydney artist Cameron Sparks, 78, is being operated on in Royal North Shore Hospital after his 41-year-old neighbour allegedly attacked him in the backyard of one of their houses at Waverton. The latest reports are that his alleged attacker Peter Grayson, 41, was refused bail at Manly Local Court and has claimed to be suffering from paranoid schizophrenia at the time of the attack.
Mr. Sparks is in critical care and has recently gotten out of the OR.
Mr Sparks regularly showed his watercolours at the prestigious Macquarie Galleries, which has since closed. He also compiled a catalogue of the work of Australian artist David Davies.