The City Museum and Art Gallery in Bristol has been taken over for an exhibition by home-grown graffiti artist Banksy. More photos can be seen here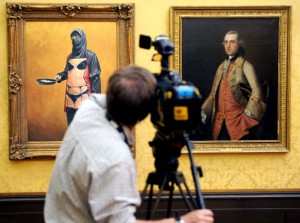 Audio clip: Adobe Flash Player (version 9 or above) is required to play this audio clip. Download the latest version here. You also need to have JavaScript enabled in your browser.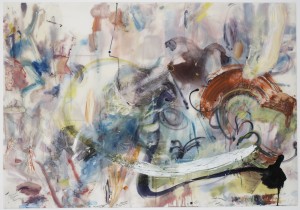 This week Mark Staff Brandl interviews ex-pat artist Leonard Bullock.
Originally from North Carolina and New York City, Bullock has lived in Europe for the last 15 years, frequently exhibiting in Switzerland and Germany. He was often involved in significant events of the artworld in important locations, including starting an artist run gallery in the 80s in NYC, assisting Leon Golub and more, thus making him the source of a wealth of interesting anecdotes and unique criticisms.
Bullock is a painters' painter especially in his mark-making; his direct facture has influenced many better-known contemporaries. He often paints on surprising surfaces such as fiberglass or silk and includes text and images with pure abstraction.
In the "outro" to this weeks show, Duncan defends the good name of Joseph Mohan, against Richard's inappropriate commentary. [Read more]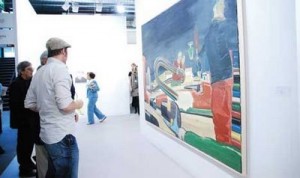 Wonder what the painting Brad Pitt bought looks like? Well search no farther, the Oil on Canvas by Neo Rauch entitled "Etappe" which sold for just under 1 Million USD is pictured below. I know there are strong feelings on either side of the fence with this but the early narrative on Basel this year seems to focus on "Buy! Cause everything's on sale and Europe hasn't seen a fire sale like this since Dresden." This only continues that take.
Read more everywhere but also here Also thanks to Britton Bertran for the heads up, Perez Hilton though? Really?

Africa covered a cappella has been done many times but never like this. Includes a cappella rainstorm in the beginning.