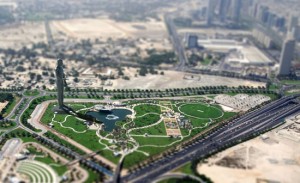 Dubai's new idea is a massive sculpture called "Al Hakawati" The Storyteller. This towering figure will be a home of stories; a children's library in its base and various spaces for performance and reading inside of the statue. Not only will it house stories but will also tell stories.
Yes, Al Hakawati will have both articulate arms and head. While it moves the arms and head it will broadcast via small speakers located throughout the park the tales it tells.
The head of the statue will house a golden room that overlooks the city and whose purpose is currently unknown but speculation is that it will be a discotheque.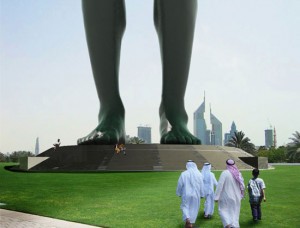 Read more at visiondivision
Audio clip: Adobe Flash Player (version 9 or above) is required to play this audio clip. Download the latest version here. You also need to have JavaScript enabled in your browser.

download


This week: Duncan and Richard get a sneak preview of the Contemporary Galleries in the new Modern Wing of the Art Institute of Chicago. Lisa Dorin the Assistant Curator of Contemporary Art is our guide. Duncan draws some wacky parallel between Kerry James Marshall's paintings and the Matrix. Richard refers to the juxtaposition of Nauman's Clown Torture and Robert Ryman's Charter Series as "If the CSO had a G.G. Allin/ J.S. Bach double bill".
Lisa answers the question: was it a complete pain in the ass to install Richard Serra's ten thousand pound work Weights and Measures? [Read more]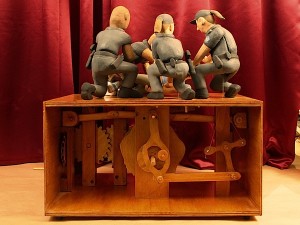 From the "Don't Tase me Bro" incident to the Raping and murder of Abeer Qassim al-Janabi by Pte. Green, Automata can capture a moment unlike anything else. Jon Haddock's work does that better then anything i have seen in a long while.
Audio clip: Adobe Flash Player (version 9 or above) is required to play this audio clip. Download the latest version here. You also need to have JavaScript enabled in your browser.
This week: Duncan talks with Rochelle Feinstein.
Rochelle Feinstein, Painter and printmaker
Webpage: rochellefeinsteinstudio.com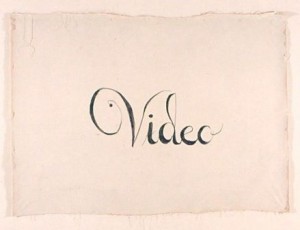 Ms. Feinstein received a B.F.A. from Pratt Institute in 1975 and an M.F.A. from the University of Minnesota in 1978. She lives and works in New York City. Her work is exhibited widely in solo and group exhibitions in galleries and museums in the United States and Europe, and is included in numerous public and private collections. Among recent awards and grants she has received are a Guggenheim Fellowship, a Louis Comfort Tiffany Foundation Fellowship, a Joan Mitchell Foundation grant, and a Foundation for Contemporary Performing Arts grant. She was appointed to the Yale faculty in 1994 and is currently professor of painting/printmaking. [Read more]
It is unknown when exactly the hack was added but on Monday 4/27 it was discovered that entering the Konami cheat code (up, up, down, down, left, right, left, right, B, A, enter) at the official ESPN Web site made glittery pink unicorns with rainbow manes and tails pop up all over the site. And more clicks led to more unicorns.
In addition to this visitors also got their headlines in hot pink and the Comic Sans font (every designers fav font).
We at Bad at Sports want to officially deny any rummer that Duncan MacKenzie was behind this in any way whatsoever. Yes we may be horrible at everything ESPN reports on and yes we all love some glitter loaded unicorns but that by no means implicates Mr. MacKenzie in this act. As for the mountain of MySQL & Javascript training books that were found at his residence after tracing an IP address to his billing address we have been informed to say "No Comment" and hope this suffices.
The hack has since been removed but Cnet caught a screenshot of it before the takedown.