Audio clip: Adobe Flash Player (version 9 or above) is required to play this audio clip. Download the latest version here. You also need to have JavaScript enabled in your browser.

download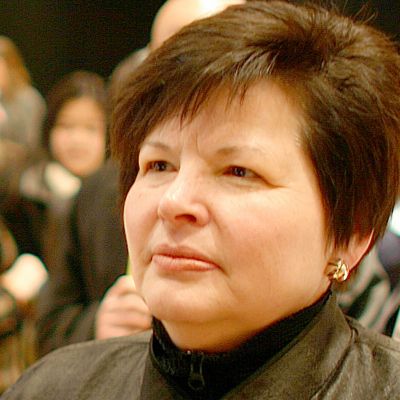 This week Duncan sneaks into The School of the Art Institute of
Chicago to interview Mary Jane Jacob, Professor and Executive Director of Exhibitions. Mary Jane Jacob's name is synonymous with the phrase "art as social practice" or the field of art that is now more widely known as "Relational Aesthetics." Jacob was at the center of the nineties debate about what was and could be considered an art object/experience and was putting on festivals, exhibitions, and public art programming that expanded our art consciousness long before Bourriaud "sexy-ed" up the field with his now seminal book.
Aside from being a former Chief Curator at the MCA Chicago and LA MoCA, Jacob was also the person behind "Culture in Action," Chicago's progressive, but widely debated 90's public arts program. She is the author/co-author of several books including, "Learning Mind: Experience into Art," "Buddha Mind in Contemporary Art," "Culture in Action: A Public Art Program of Sculpture Chicago," "Conversations at The Castle: Changing Audiences and Contemporary Art," and "On the Being of Being an Artist." She is the recipient of many grants, awards, fellowships and residencies, amongst the most notable are the Peter Norton Family Foundation, the National Endowment for the Humanities and National Endowment for the Arts, Rockefeller Foundation, Bellagio Study Center Residency, and the Getty Residency Program. [Read more]
Miles Fisher is an actor that has had many roles over the last few years first in God's & Generals and most notably the parody he did on Tom Cruise a few months back. He also is a musician and the video he did for his latest song, a cover of the Talking heads "This Must Be The Place" is both a great remix and a killer video homage/parody of American Psycho. Needless to say if you have seen the film this is a video that is not safe for work environments but take a look.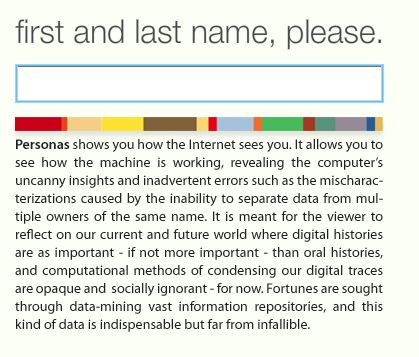 Over the years many people have created data scrapers to collect and display in an interesting way the data that matches your name or search terms on the net. Year after year they get more cleaver and better. The latest of which and 2nd that I know of to come from M.I.T is Personas. Personas takes the data that it collects about you and parses and categorizes the data it finds to create a kind of Karyotype Taxonomy (somewhere in the world Duncan's ears are burning) of where your influence or activities lie.
So have fun check it out and share your results.
Audio clip: Adobe Flash Player (version 9 or above) is required to play this audio clip. Download the latest version here. You also need to have JavaScript enabled in your browser.

download


Four solid years of shows! Not one effing week missed! Duncan and Richard have yet to have a Beat-It style knife fight! Yes it is show #208. What, might you ask, do we have in store for show 208? Well I'll tell you!
This week we are pleased to have Jim Duignan from the Stockyard Institute to talk about "The Cafeteria Sessions" program with The Multicultural Arts High School. The show opens with the students' audio pieces. Next Duncan and Richard talk to Jim about the project, the Stockyard Institute, how we dragged him away from celebrating his wedding anniversary, and more!
rt
From the Stockyard Institute's website:
The Cafeteria Sessions
A series of lunch time recordings and radio workshops with adolescents on socially engaged artistic practice, utopian education and the future of Chicago. The Cafeteria Sessions will go on throughout the spring at the Multicultural Arts High School with Jim Duignan (S.I.), Ayana Contrares (vocalo) and Lavie Raven (University of Hip Hop).
This series culminated in a live radiocast from the Multicultural Arts High School on May 21, 2009. [Read more]
Kathryn Born who is building a little corner of Art talk and opinion under the roof of the Chicago Tribune asks a lot of conversation starting questions every now and then to get the mind racing but most recently the Tribune home page front page story "Obama as The Joker: another image co-opted by conservatives because they don't have art of their own" has her taking the political zeitgeist by the horns and goring herself.
The question is do Republicans make decent let alone good artists and why are they incapable of making political artwork of merit. Mix that with a bit of background history on the Obama Joker image that came out over 2 weeks ago. It has been discovered that the image was first created by a Chicago History Student at U of I by the name of Firas Alkhateeb who made a faux Time Magazine cover with a photo of Obama photoshoped to look like the Joker. That image was put on his flickr account and then appropriated by a currently unknown person on the west coast and the Time reference was removed and the Tagline "Socialist" was put in it's place.
The question it seems is what is the role of Art in Politics, does political art have legs to have lasting impact as art or is it limited to only high water marks in history? Then finally what is the problem with Republicans and their inability to make quality political art? Are they too busy drawing paychecks to draw altogether? From one agitator to another, I salute Ms. Born and suggest a 2004 Siduri Sonoma County Pinot Noir which goes well with shoe leather as I well know from experience.