Over the last 48 hours a story has been jumping around the Chicago art world stirring the minds and causing the hand wringing of countless people. Much of the talk has sadly been via email, Twitter, Facebook & other secondary venues of communication. That story is of the article in the Chicago Tribune about the artwork & marketing done by Patrick Skoff. Mr. Skoff has been taking his work and leaving it around town for people to take for free while giving hints as to locations over the internet.
Some people said it's bad arts coverage, some people railed against it as playing to the base of humanity, some even wondered what Chicago art coverage has come to post Artner. The general consensus was that this isn't Art's coverage and better work is getting skipped; my thoughts are reprinted below from facebook (yea classy I know)……
It's Entertainment coverage not Arts coverage (and correctly categorized). Honestly is anyone surprised since we continuously seem to exclude/ignore/insult/talk-around the main stream people who read the tribune?

I agree the work/story isn't that notable (even though I do give kudos to the artist arranging this with the reporter, don't think for 1 second Christopher Borrelli just happened to be there, this was coordinated, the reporter is as much the artist as the artist in this event) but am I shocked that people will eat this story up in the lack of anything else? No.

People want art in their life, I have seen it, everyday Joe and Jane urban, suburban & rural people love art they just are not being spoken to or at least not spoken to in a vernacular they have any chance to engage in.

Is this new? No. Will this change soon? Probably not. The only thing that grinds me is how everyone is so "shocked" that this is going on every time it happens. I don't mean you guys as much as people I have had conversations with over the last 5-10 years.

Every time this happens everyone is "amazed" that this gets coverage and not something of more merrit. That is because we don't talk to them in a way they would be interested or understand and we leave it to people like Borrelli & Skoff to fill the gap.

I swear I feel like Michael J Fox in the "American President" some days, I know I can come off as venal at times but people want Art, they want what that can offer (the creativity, the hope, the joy for the new) and the only people who are doing the talking are people that have nothing really to say. I don't blame them but we can't be shocked when the only words that get out are treasure hunts. When by and large everything they love and want we label as modernist and scoff at. There has to be a way to bridge the gap?
Feel more then free to comment by calling 312-772-2780 or emailing us and keep up the good work Chicago even if no one is writing about it.
The Red Dot Art Fair's NYC edition which was cancelled less then a month before it's opening during Armory in 2009 has been rebooted in combination with MillionTreesNYC, a project initiated by Mayor Michael R. Bloomberg and New York Restoration Project (NYRP) Founder Bette Midler.
The new venue will be held at Skylight NYC, a renovated contemporary event space located on 10th Avenue and 36th Street right next to the Lincoln Tunnel.
The previous venue was their office space in the 500 block of West 25th Street.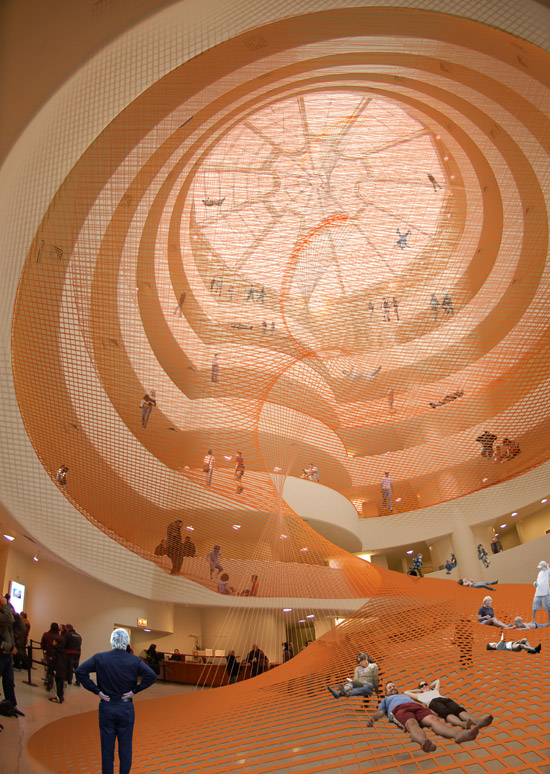 It's part installation art, part sculpture & part performance art JDS architects: experiencing the void is a proposal for the interior core of the Solomon R. Guggenheim Museum, New York where a heavy duty orange mesh net is installed like a archimedean screw so people can walk, run, lay and marvel at the space floating 6 stories up in the air.
The installation & sculpture art is obvious, the performance part comes into play when the lawyers standing at the base of the work all fall over dead like dominoes from the mind shattering liability at stake.
So needless to say the odds of this ever happening are much the same as Bad at Sports taking over the reins of MOCA. Which sadly like Leno we are more then willing to do if Mr. Deitch doesn't quite work out.
The CAA which holds it's yearly conference in Chicago is this weekend and to give a face to the economic downturn (and nightmares to every newly minted MFA looking for a teaching position) they realesed a report detailing the decline in positions from FY2008 to FY2009. In short we are talking almost a 38% decline across the board.
Ceramics & Fiber continue the steepest decline posting around 40% and Sculpture/Installation/Environmental Art posts a surprising growth of 125%. Art History continues to be the most resistant to overall change but still shows growth in Asian studies at the limited expense of Modernism/20th Century American Art.
More detailed data (including state by state breakdowns) and the entire report can be seen here
| | | |
| --- | --- | --- |
| Studio Art | FY09 | FY08 |
| Any | 629 | 1,005 |
| Graphic/Industrial/Object | 185 | 246 |
| Digital/Media/Animation | 150 | 220 |
| Drawing/Printmaking/Paper | 96 | 130 |
| Sculpture/Installation/Environmental Art | 92 | 99 |
| Ceramics/Metals/Fiber | 89 | 92 |
| Photography | 85 | 143 |
| Art Education | 73 | 90 |
| Film/Video | 70 | 89 |
| Foundations | 59 | 90 |
Audio clip: Adobe Flash Player (version 9 or above) is required to play this audio clip. Download the latest version here. You also need to have JavaScript enabled in your browser.
This week Duncan and Richard talk to Michelle Grabner and Annika Marie about Picturing the Studio and among other things whether or not anyone does four studio visits a day. Go check out the show, even the art I disliked was interesting.
Lifted from SAIC:
This exhibition explores the richly complex politically- and psychologicaly-charged notion of the artist's studio today. With works by over 30 artists spanning the past two decades, this exhibition also includes several specially designed installations undertaken by artists on site. Curated by Michelle Grabner, SAIC, and Annika Marie, Columbia College, "Picturing the Studio" is presented in conjunction with the College Art Association's 98th Annual Conference in Chicago, February 11-13, 2010. It is made possible in part with funds from the College Art Association and the Illinois Art Council, a state agency.
Artists include: Bas Jan Ader, Conrad Bakker, John Baldessari, Stephanie Brooks, Ivan Brunetti, Ann Craven, Julian Dashper, Dana DeGiulio, Susanne Doremus, Joe Fig, Dan Fischer, Julia Fish, Nicholas Frank, Alicia Frankovich, Judith Geichman, Rodney Graham, Karl Haendel, Shane Huffman, Barbara Kasten, Matt Keegan, Daniel Lavitt, Adelheid Mers, Tom Moody, Bruce Nauman, Paul Nudd, Frank Piatek, Leland Rice, David Robbins, Kay Rosen, Amanda Ross-Ho, Carrie Schneider, Roman Signer, Amy Sillman, Frances Stark, Nicholas Steindorf, and James Welling.