Ever feel like you wish you could take on painters in a one-on-one art debate!? NOW you can!!! Sink those battleships!! FIGHT FIGHT FIGHT!!! Embrace your inner art competitor!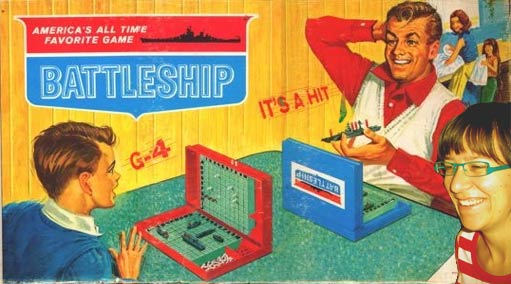 Join our own NYC Correspondant / Referee: Amanda Browder (possible recording) For an afternoon of Battleship gaming at the Winkleman Gallery where two groups go head to head in an art conversation battle.
Sunday, February 28, 2010 / 2pm / part of the William Powhida – Jennifer Dalton exhibition #Class
HOST : Amanda Browder – Bad at Sports Podcast – NYC Correspondent
Address: 637 West 27th Street, NYC – btw 11th and 12th
Battle One: Formalists vs. Conceptualists.
– Why do people still fetishize the object?
– Why can't I buy a performance?
– Can we actually believe half the work that is out there?
– What has more value: objects or ideas?
Battle Two: Painters vs. The World.
– Are painters just magicians? or illusionists?
– Why do painters always make more money?
– Isn't photography a better version of painting?
– Painting sucks…why?
Battle Three: Artist vs. Dealer
– Why can't I believe in my dealer?
– Why are artists so fucked up?
– Dealers suck because they use the artist for their own advantage.
– Artists have no idea what is going on, they need handling.
All are welcome and encouraged to choose your weapon. At the end we will tally up the points and see who really reigns supreme. It's a WAR ON THE SHORE!
It is possible if all works out that some of it might be recorded for Bad at Sports….also an open soap box for ranting.
Bring it Sailor!!!! – I double dog dare you!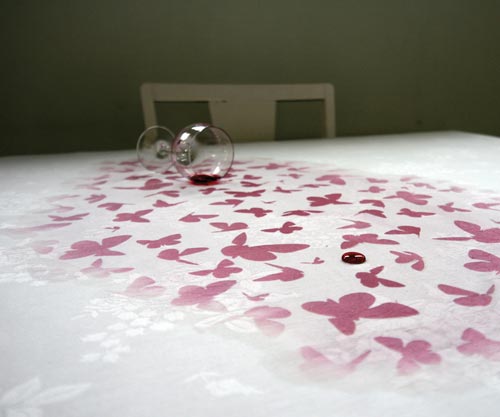 It seems the big talk coming out of the 2010 Stockholm Furniture Fair is the "Underfull Table Cloth" by Norwegian designer Kristine Bjaadal's simple damask pattern table cloth with a twist.
Built into the table cloth is a layer with a separate pattern and absorption level so that when a colored liquid is spilled the hidden design (in this case a butterfly pattern) shows through in line with the spill mark. The item is looking for a production agreement but the possibilities are endless and it's pretty original for a product over 2000 years old.
Audio clip: Adobe Flash Player (version 9 or above) is required to play this audio clip. Download the latest version here. You also need to have JavaScript enabled in your browser.

This week: The final report from NADA 2009! Duncan and Amanda talk to artists Nicole Awai, and Valerie Blass.
This weeks intro contains lots of important information. Bad at Sports needs your help with an exciting new project. If you have a question you want answered related to the art world, we'll get you answers!
Philip Bloom has been testing/demoing the new Canon 7D for a while showing what you can do with the upper end Prosumer camera. The results are jaw dropping to say the least and it's all almost within reach. Who said you can't shoot porn in Dubai? Oh and hit the fullscreen button when you watch to get the full experience.
If you want to see what a Pro Camera can do then you can do no better then this shot in Prague with a Canon 1d mkiv
Mark Staff Brandl has released a full length video version complete with illustration of his speach presented at the CAA (College Art Association, art historians organization) annual conference in Chicago this past week as well as at the Kunstschule Lichtenstein, in 2010. It concerns description and criticism of the standard conceptions and models of fine art history and the history of comics, while offering a new one model for conceiving of and teaching these histories.Also Mark Staff Brandl gave a video interview with Columbia College while in town that is fun as well.