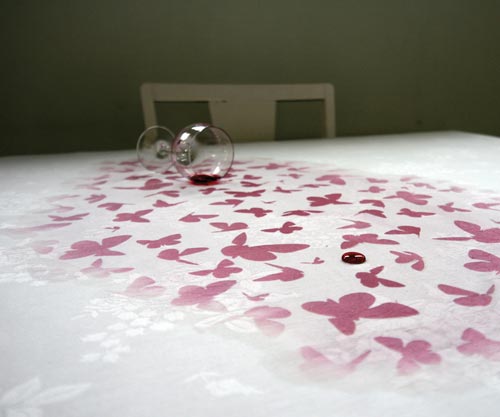 It seems the big talk coming out of the 2010 Stockholm Furniture Fair is the "Underfull Table Cloth" by Norwegian designer Kristine Bjaadal's simple damask pattern table cloth with a twist.
Built into the table cloth is a layer with a separate pattern and absorption level so that when a colored liquid is spilled the hidden design (in this case a butterfly pattern) shows through in line with the spill mark. The item is looking for a production agreement but the possibilities are endless and it's pretty original for a product over 2000 years old.
Audio clip: Adobe Flash Player (version 9 or above) is required to play this audio clip. Download the latest version here. You also need to have JavaScript enabled in your browser.

This week: The final report from NADA 2009! Duncan and Amanda talk to artists Nicole Awai, and Valerie Blass.
This weeks intro contains lots of important information. Bad at Sports needs your help with an exciting new project. If you have a question you want answered related to the art world, we'll get you answers!
Philip Bloom has been testing/demoing the new Canon 7D for a while showing what you can do with the upper end Prosumer camera. The results are jaw dropping to say the least and it's all almost within reach. Who said you can't shoot porn in Dubai? Oh and hit the fullscreen button when you watch to get the full experience.
If you want to see what a Pro Camera can do then you can do no better then this shot in Prague with a Canon 1d mkiv
Mark Staff Brandl has released a full length video version complete with illustration of his speach presented at the CAA (College Art Association, art historians organization) annual conference in Chicago this past week as well as at the Kunstschule Lichtenstein, in 2010. It concerns description and criticism of the standard conceptions and models of fine art history and the history of comics, while offering a new one model for conceiving of and teaching these histories.Also Mark Staff Brandl gave a video interview with Columbia College while in town that is fun as well.
Audio clip: Adobe Flash Player (version 9 or above) is required to play this audio clip. Download the latest version here. You also need to have JavaScript enabled in your browser.
This week: The Amanda Browder show talks to Thomas Lawson and Stacey Allen about the new art journal East of Borneo.
Then Terri and Joanna discuss Gail Carriger's novel "Soulless".
ALSO PLEASE HELP US OUT!!! Post a video question for our new project! Duncan details in the BAS announcement section of the show.
Los Angeles, CA, September 30–Set to launch in spring 2010, East of Borneo is a dynamic and extensive website: part art journal, part multi-media archive edited by Thomas Lawson, Dean of California Institute of the Arts (CalArts) School of Art. This far-reaching publishing project will also include an imprint of highly focused books that reconsider neglected material and provocative themes within a contemporary context.
The development and launch of East of Borneo, signals the amicable end to CalArts' productive eight year collaboration with Afterall. Under Lawson's co-editorship, the contemporary art journal was produced in partnership with London's Central Saint Martins College of Art and Design.
In an interview earlier this week, Lawson said, "As the internet forces radical change on all forms of publishing it has become ever clearer that all but the most entrenched art magazines are at risk of becoming obsolete in their current forms. The interesting and exciting thing about this is the potential the web opens up for those of us who want to push forward. As we envisage East of Borneo we will be able to offer readers and writers a much richer, and much more valuable and highly personalized, experience than print formats can. And editorially we will also be able to explore more fully our roots in Los Angeles, while maintaining very active links to the rest of the world."
East of Borneo presents traditional art writing in all its variations–from personal to academic, poetic to theoretical–while providing a multi-media platform that highlights connections and encourages new lines of thought, research and consideration, as well as expanded forms of writing. With its robust web architecture and non-hierarchical editorial approach, East of Borneo reflects the sprawling, rhizomatic nature of Los Angeles as well as the broader, international art world.
Afterall 22, the last issue of the journal co-published with CalArts, is due on newsstands in October and will feature texts on the artists Sheela Gowda, Jos de Gruyter & Harald Thys and the artists' group Art Club 2000.
Thomas Lawson is an artist, educator and writer. His essays have appeared in such journals as Artforum, Art in America, Flash Art, frieze and October, as well as numerous exhibition catalogues. From 1979 until 1992 he, along with writer Susan Morgan, published and edited REALLIFE Magazine, an irregular publication by and about younger artists interested in the relationship between art and life. A selection of writings from REALLIFE was published by Primary Information in 2006. For East of Borneo, he is joined by Stacey Allan, a writer and curator who was the Los Angeles-based associate editor of Afterall from 2007-2009. Lawson and Allan are working, on this new venture, with a highly experienced team of web developers, freelance editors and contributors based both in Los Angeles and abroad.
East of Borneo is published by the California Institute of the Arts, a 501(c)3 non-profit organization, and is supported in part by grants from the Andy Warhol Foundation for Visual Arts and the J. Paul Getty Foundation.