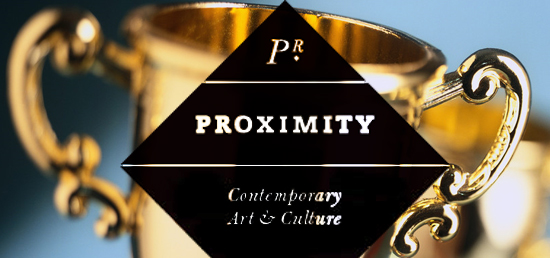 Proximity Magazine Names BaS "Best Website for Local Arts Coverage" and says some very kind words:
Bad at Sports should have received a a grant from the XYZ foundation last year to help them make their art podcast website a real day job. But the powers that be often sleep on what is engaging, innovative and important in favor of the familiar, lame and business as usual. Bad At Sports was our top local art resource of the year. Thank you guys.
No thank you Ed, Rachael & everyone at Proximity and the Public Media Institute. We really apriciate the kind words and look forward to 2010 and what Proximity Magazine has in the works.
Also we have taken your advice and hired a few free interns to track down this XYZ foundation and get that grant asap. I can only assume that the Xavier Young Ziebold award is biennial so maybe next year

It's been over four years, over 200 episodes, over 210 hours of audio, over 300 bottles of beer & now it's over 1,000 posts on Art & Culture for Bad at Sports. Not only that but we're just getting warmed up. More posts, more news, more reviews, more humor & more insight into this world of Art that we love by everyone from staff to guest writers and from art celebs to letters to the editor written by everyone that reads BaS.
There is more to come and you have more voice then ever to help direct the energy.
Want to have your voice heard? Write mail@badatsports.com and let us know what you think.
Don't like to write or are illiterate like myself? We have a phone number you can call and speak your piece 312-772-2780.
You don't write, speak or really get out of the house? Email us a illustration expressing your opinion on the current pedagogical discourse in the new millennium and it's relation or lack there of to the larger commercial Art market both domestic and international and we will post your drawing on our white as a fridge website, Simon.
Basically at this point there is no reason not to contact us and help make this site better for you, the art world as a whole and even people who are just getting into & interested in the Arts since let's get real we have all "slept together" enough and need to widen the scope a bit and enlarge the party some.
Happy New Year and lets take this recovering art economy out for a spin and build it better then before.
Thanks for reading Bad at Sports and as long as your here we will be as well.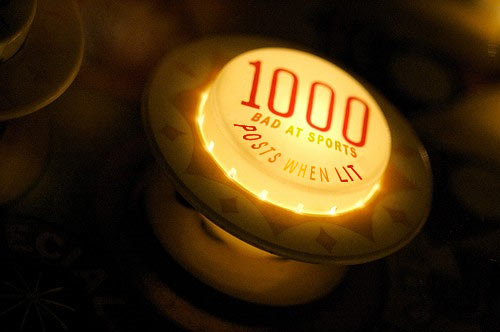 Audio clip: Adobe Flash Player (version 9 or above) is required to play this audio clip. Download the latest version here. You also need to have JavaScript enabled in your browser.
This week: The AMANDA BROWDER SHOW! Amanda and Tom start 2010 off with an interview with Miami artists Alain Guerra and Neraldo de la Paz about their collective Guerra de la Paz (awesome composite of their names) about their work, and how clothing can be more than just a shell over one person's nubile body..but a story and a basis for sculptural exploration.
Then, Mike Benedetto returns!!! He offers up a meditation on Steven Seagal, Lawman.
Guerra de la Paz is the composite name of Cuban born, American artist duo Alain Guerra (born 1968) and Neraldo de la Paz (born 1955), who have been collaborating since 1996. They are based in Miami.
Guerra was born in Havana and de le Paz in Matanzas. Guerra de la Paz work in sculpture, installation and photography. Their work references the politics of modern conflict and consumerism alongside symbols of faith; they often use old clothing to build their sculptures.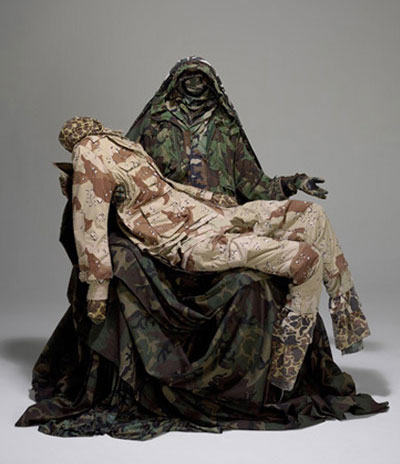 [Read more]
Right now your doing one of two things probably
1. Shoping for beverages for a party
2. Looking for music for a party playlist
Well BaS is here to help and even though our tastes run a bit indie-rock and instrumental we can promote the biggest hits of 2009. Luckily someone has done the work for me and remixed the top 25 songs of this year in one song. Yes one song and one music video. Hopefully this will help in your search, if not you can always go with "Blitzkreig Bop" but that's like black it goes with anything.
I still think "Take Your Shirt Off" by T-Pain is a underrated masterpiece that will be remembered years from now

UPDATE: We want to thank DJ Earworm for the remix and here is the download for the hi-bitrate mp3 file. Happy New Year!
Infosthetics.com a site dedicated to collecting, sharing and promoting the art of pleasing data visualization celebrates it's 5th birthday with a flash visualization of all their posts over that time broken down by time, category, comments & author using color and line. Bad at Sports would like congratulate Infosthetics "Where form follows data" and we follow them. Keep up the good work!