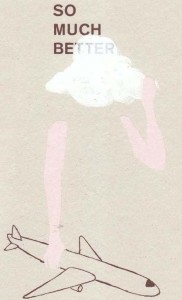 Bad at Sports' own Literary Correspondent Terri Griffith has published her first book "So Much Better" and is on sale now through Green Lantern Press & Amazon.com
"So Much Better" is a debut novel about a self-sabotaging Credit Union employee, a cold woman at odds with and alone in the world. In the absence of her lover, she seduces her lover s sister, wades through old storage units and wonders after her own absent family. Printed in an edition of 500 w/ silkscreen covers by Nick Butcher of Sonnenzimmer.
Terri Griffith's writing has appeared in Bloom, Suspect Thoughts, Bust and in the anthologies Without a Net: The Female Experience of Growing Up Working Class and Are We Feeling Better Yet? Women Speak about Health Care in America. Along with Nicholas Alexander Hayes, she is co-authoring a transgressive retelling of the Greek Myths. Terri is the literary correspondent for the popular contemporary art podcast Bad at Sports and she also co-hosts the online reading series The Parlor.
Audio clip: Adobe Flash Player (version 9 or above) is required to play this audio clip. Download the latest version here. You also need to have JavaScript enabled in your browser.
This week: Guest interviewer Anna Kunz (accompanied by Pamela Fraser) talks to Carroll Dunham about his show at He Said/She Said and more!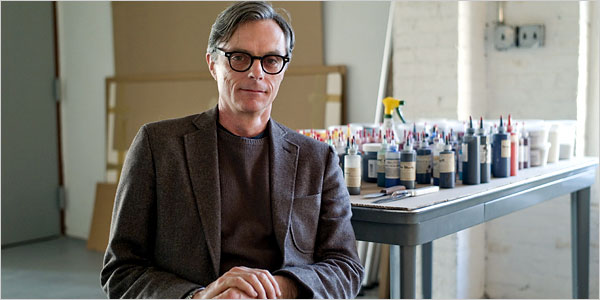 American painter. He completed a BA at Trinity College, Hartford, CT, in 1971 and later settled in New York. Initially influenced by Post-Minimalism, process art and conceptual art, he was soon attracted to the tactility and allusions to the body in the work of Brice Marden, Robert Mangold and Robert Ryman. Spurred on by the revival of interest in Surrealism in the 1970s, Dunham began to make abstract, biomorphic paintings reminiscent of the work of Arshile Gorky and André Masson, executed with a comic twist enhanced by lurid colours and the suggestion of contemporary psychedelia.
In the 1980s he began to paint on wood veneer and rose to prominence in the context of a broader return to painting in the period. Age of Rectangles (1983–5; New York, MOMA) is a highly abstract composition of differing forms, symptomatic of his work at this time: geometric sketches co-exist with eroticized organic shapes while the forms of the wood veneer show through the surface of the paint to suggest surging forces.
Towards the end of the 1980s he began to move towards single, dominating motifs; wave-like forms were particularly common. In the Integrated Paintings series he applied paint-covered balls and chips to the surface of the canvas to further develop the sense of organic life. Mound A (1991; priv. col.) is typical of Dunham's work of the early 1990s in which his forms began to resemble mounds of live matter, covered in orifices. Around 1993 his paintings began to feature schematic, cartoon figures which suggest the influence of Philip Guston. [Read more]
Audio clip: Adobe Flash Player (version 9 or above) is required to play this audio clip. Download the latest version here. You also need to have JavaScript enabled in your browser.

download


This week, another in the series of interviews Duncan and Christian did at the Banff Centre while they were on art vacation, Jonathan Watkins!
Jonathan Watkins (born 1957) is an English curator, and is currently Director of the Ikon Gallery in Birmingham. Watkins emigrated to Australia with his family in 1969 and studied Philosophy and History of Art at the University of Sydney, where he later taught. He was curator of the Chisenhale Gallery in London during which period this relatively small local gallery became an internationally known centre of excellence – many of the Artists shown at that time later going on to major acclaim including a number of Turner Prize winners, Watkins later moved to the Serpentine Gallery from 1995 to 1997 and worked in a freelance capacity as curator of the Biennale of Sydney in 1998. Watkins now lives in Birmingham, England. He currently directs the Ikon Gallery, and recently unveiled plans for a new museum of modern art in Birmingham. [Read more]
Audio clip: Adobe Flash Player (version 9 or above) is required to play this audio clip. Download the latest version here. You also need to have JavaScript enabled in your browser.

download


This week Duncan and Christian talk to Ron Terada about art, hockey fights and Blade Runner (for the love of God, Edward James Olmos's character was named Gaff!!!).
Ron Terada lives and works in Vancouver.
Recent solo exhibitions include Voight-Kampff (2008), Catriona Jeffries Gallery, Vancouver; Stay Away From Lonely Places (2006), Ikon Gallery, Birmingham; and You Have Left the American Sector (2005), ArtGallery of Windsor.
His work has been included in a number of group exhibitions including Tractatus Logico-Catalogicus (2008), VOX Centre de l'imageContemporaine, Montreal; Words Fail Me (2007), Museum of Contemporary Art, Detroit; The Show Will Be Open When the Show Will Be Closed (2006)Store, London and the Kadist Foundation, Paris; Intertidal (2005), Museum van Hedendaagse Kunst Antwerpen, Belgium; and General Ideas: Rethinking Conceptual Art 1990-2005 (2005), CCA Wattis Institute for Contemporary Arts, San Francisco.
Terada was a recipient of the Victor Martyn Lynch-Staunton Award, Canada Council for the Arts (2006); and the VIVA Award, Jack and Doris Shadbolt Foundation (2004); and was nominated for a Sobey Art Award (2007). Terada is represented by Catriona Jeffries Gallery, Vancouver. [Read more]


For as long as pigments have been made and ground up the rule of thumb has been, the farther along the visual spectrum you go the harder and more expensive it gets to create that color.
Blue has had a double hit to it's reputation in that the best solutions to it's creation have the after effects of being poisonous (cobalt blue is a possible carcinogen and Prussian blue, another well-known pigment, can leach cyanide) absurdly expensive (the ground up gemstone lapis lazuli is what makes up ultramarine blue) or if done on the cheap using organic materials apt to fade extremely quickly.
That was until recently when researchers at Oregon State University created a new, durable and brilliantly blue pigment by accident. The researchers were trying to force novel electronic properties into compounds like manganese oxide ( Black ) & other chemicals by using extremely high temperatures (2,000+ degrees Fahrenheit) to force crystal structures.
During one series of experiments the Professor of material sciences, Mas Subramanian noticed that the latest sample of manganese ions absorbed red and green wavelengths of light and reflected only blue. When cooled, the manganese-containing oxide remained in this alternate structure. The compound still is not as cheap as they might like due to the use of indium but work is being done to replace the indium oxide with less expensive oxides like aluminum, which possesses similar properties.
More can be read in the latest Journal of the American Chemical Society.