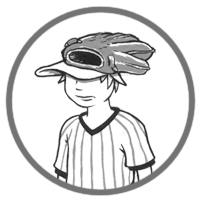 Welcome to the new website for Bad at Sports. With this major re-design we aim to strip away some of the site's more cumbersome features in order to focus on the two things we do: the podcast and the blog. Now, you can access blog content from the website's home page along with direct links to our most recent stories and related posts from our archives.
The weekly podcast's content remains front and center (well, now it's a little more left-of-center), with the past few weeks' worth of podcasts available through direct links on the home page as well. In the coming weeks, we'll also be adding some new Chicago-based bloggers to our mix of weekly contributors–stay tuned for those announcements soon.
In November, we'll also be initiating a new weekly(ish) series titled Off-Topic, in which we invite artists, curators, writers, and other cultural workers to discuss a subject not related to the practice of making art. It's a chance for people to geek out on aspects of culture that they're passionate about outside the realm of fine art proper – topics they don't have a forum to write about elsewhere – and based on the essays we've already got lined up, we're pretty confident this new series is going to kick ass.
With the new site, we want to try out a few different ways of engaging community response to our blog content in an effort to make Bad at Sports feel like a welcoming place for everyone who wants to hang out here.  Instead of a comments feature, we'll have a bi-weekly "Letters to the Editors" post on Saturdays. Please send your thoughts, threats, and hate mail to mail@badatsports.com with the subject Letters to the Editor. We're also going to be making a bigger behind-the-scenes effort to engage our listeners and readers more directly by soliciting your contributions to the Off-Topic series as well as a few other new content angles we've got up our sleeves but aren't quite ready to roll out yet.
We hope you're as excited about our redesign as we are. Take a look around, see what you think. And as always, thanks for hanging with us.
Audio clip: Adobe Flash Player (version 9 or above) is required to play this audio clip. Download the latest version here. You also need to have JavaScript enabled in your browser.
This week for your listening pleasure Bad at Sports has dispatched Shannon Stratton and Duncan MacKenzie to Illinois' glorious Kankakee to meet up with the artists of Temporary Services. They query Brett Bloom, Salem Collo-Julin, and Marc Fischer about social practice and the group's decade long history.
The new www.badatsports.com is here! Come check out our redesign!
Sunday the 8th we all need to once again make a trek down to Hyde Park to pick up the Artists Run Chicago Digest. In it you will find contributions by Lori Waxman, Dan Gunn, and little ole Bad at Sports!
What follows is from http://www.studiochicago.org/arc-release/
Artists Run Chicago Digest Release
Sunday, November 8, 2:00 – 5:00pm
Hyde Park Art Center
5020 S. Cornell
Chicago, IL 60615
Join the Hyde Park Art Center, threewalls and The Green Lantern Press, as they celebrate the release of the Artists Run Chicago Digest.
The A.R.C. Digest: Published by threewalls and The Green Lantern
Press, The Artists Run Chicago Digest documents Chicago artist-run 'spaces' active between 1999 and 2009 offering a look at the various platforms that often act as extensions to studio practice.
As the official catalog of Artists Run Chicago, an exhibition that
featured 34 artist-run spaces from around the city from May 10-July 5, 2009 at the Hyde Park Art Center, The A.R.C. Digest acts as compliment to and extension of the exhibition, with interviews, essays, and an audio supplement presenting a 10-year time period in Chicago's artist-run culture while providing history, reflection, critique and dialog about artist-run culture, its importance, difficulties, sustainability and necessity as well as its specificity to a community and generation. [Read more]
Photos from this years Triangle Neighbors' 13th Annual 2009 North Halsted Halloween Parade. [Read more]
Hope everyone is having a great Halloween and in the spirit of dressing up as things you are not here is the latest movie trailer by Spike Jonze "Where the Dirty Hipsters Are" the sequel to the smash hit "Where the Wild Things Are". Have fun!
Only 1 more day before the switch and at this point we all are done working really. It's almost Halloween (spelled it right Anna Maria Cerniglia thanks : ) and lets get real many of us are already out downing our second Pabst in anticipation for Saturday. So have a great weekend, see everyone Sunday with a fresh new show among other things. Here is a great music video of David Byrne & BPA's "Toe Jam" directed by Keith Schofield that is definitely not safe for work [NSFW] but hopefully will get you amped up for a great weekend.
Have fun!