You saw Christophe's work in the Next section of Art Chicago this year but maybe you didn't know much about the Chicago based artist behind it? Here is a few videos to help clear that picture.
Audio clip: Adobe Flash Player (version 9 or above) is required to play this audio clip. Download the latest version here. You also need to have JavaScript enabled in your browser.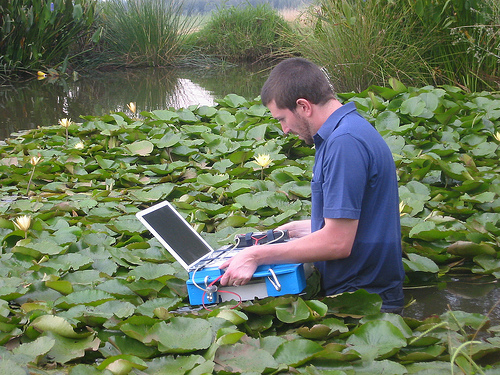 This week: Duncan talks to artist/educator/agitator Nathaniel Stern.
Nathaniel Stern (USA / South Africa, born 1977) is an experimental installation and video artist, net.artist, printmaker and writer. He has produced and collaborated on projects ranging from interactive and immersive environments, networked art and multimedia physical theater performances, to digital printing and collage, stone lithography and slam poetry.
He's won many awards, fellowships, commissions and residencies between South Africa, America, and all over Europe. Nathaniel holds a design degree from Cornell University, studio-based Masters in art from the Interactive Telecommunications Program (NYU), and research PhD from Trinity College Dublin. He is an Assistant Professor in the Department of Art and Design at the University of Wisconsin – Milwaukee.
Nathaniel has held solo exhibitions at the Johannesburg Art Gallery, the Johnson Museum of Art, the Museum of Wisconsin Art, the University of the Witwatersrand, and several commercial and experimental galleries throughout the US, South Africa and Ireland. His work has been shown at festivals, galleries and museums internationally, including the Venice Biennale, Sydney Museum of Contemporary Art, South African National Gallery, Kunsthalle Exnergasse, International Print Center New York, Milwaukee Art Museum, Modern and Contemporary Art Center (Hungary) and Grahamstown National Arts Festival (South Africa). Public collections include the Johannesburg Art Gallery, The Rose Goldsen Archive of New Media (Cornell University), turbulence.org, Contemporary Irish Art Society, and the Universities of South Africa (UNISA) and the Witwatersrand; he is in private collections all over the world. Recent features on Nathaniel's work can be seen in the Leonardo Journal of Art, Science and Technology, Leonardo Electronic Almanac, NY Arts and Art South Africa magazines, Rhizome.org, PBS.org, the Wall Street Journal and the Milwaukee Journal Sentinel.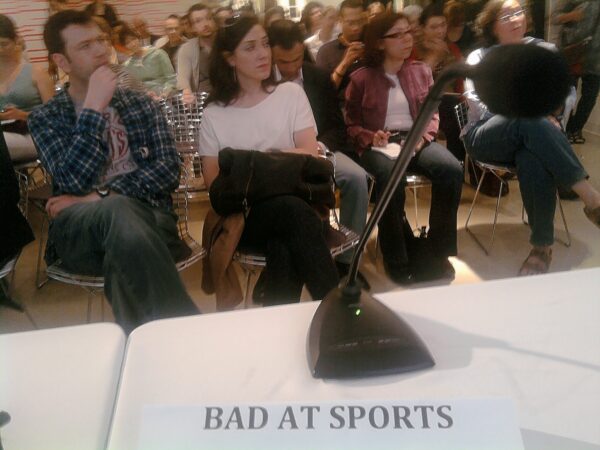 Thanks to everyone for coming out to the "Social Media Strategies in Chicago's Art Community" panel hosted by Art Critic Alicia Eler and Chicago Gallery News' Ginny Berg at Art Chicago today. I loved talking with Karla Loring, Museum of Contemporary Art; Crystal Pernell, Hyde Park Art Center; and Carrie Heinonen, Art Institute of Chicago about all things tech &Â strategy and hope that it was useful or atleast entertaining for those of you in attendance. Every group on that dais has my upmost respect for the work they do in the Arts day in and out and it is an honor to have Bad at Sports counted among them.
As promised in the talk there is a program that is quite useful in Twitter to let you know who starts following you and more importantly who drops your account. At the time I was trying to think of Chirpstats and couldn't get the word out but the great Crystal Pernell was kind enough to remind me of Qwitter which does more then Chirpstats by working to tie the drop to a specific tweet. This can be extremely useful if at times a bit misleading but a great alternative to Chirpstats which is only a weekly update but less taxing on an email account.
The net is a wonderful place to meet, share, promote and wallow in all the things you love or cherish and social media for me is a great tool to help accomplish & magnify those desires. I still say though the most important thing is to service the end users like they are your boss, anything less is putting the cart before the horse. Feed them data, facts, images & yes even sugar and rumors some days but remember that twitter, facebook, digg, stumbleupon, and whatever is next are only a means to that end. It's something that even we have to be vigilant to keep in perspective and doesn't come easy for anyone especially when you have to answer to a comittee; I have deep sympathy there. I look forward to the next time we can get everyone together and have honest and open talks about how we go about trying to promote and grow this thing we love called Art.
Thanks again for coming out!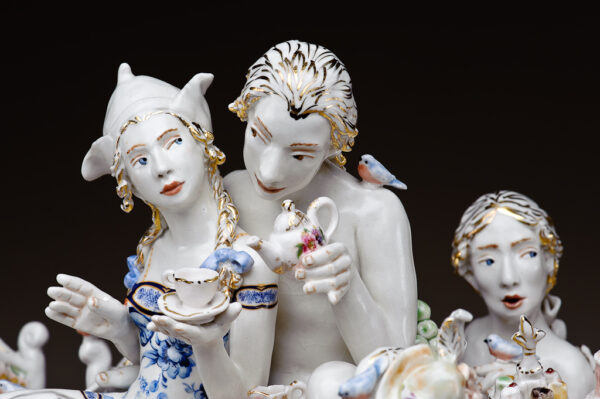 Sculptor Chris Antemann will receive the first prize grant award of $35,000 from the Virginia A. Groot Foundation offered since 1988 to artists working in 3D.
Antemann, a sculptor creates contemporary erotic works in porcelain dealing with intimacy, love, and power in post-modern relationships.  Inspired by 18th C. porcelain figurines, their place in the home, and the social contexts that are inherited by such materials & history.
Represented by Ferrin Gallery, Antemann is exhibiting recent sculpture and photography from her series "Battle of the Britches" at Art Chicago through Monday, May 3.
Due to time constraints little time was spent on the 12th Floor going through Art Chicago and a majority of these photos are from the Next Preview Opening. Which from the talk that I heard no one will complain about (even though what little I saw it looked to be better then previous years but Tomato Tomäto).
Coming away from the Next show much can be said about the much smaller size, omni presence of Kavi Gupta's Gallery & connections, growth of paid Marketing Partnerships in the show & the search for "Big" things to fill all the empty space. Having said that though I walked away with the feeling not of abuse but more how fragile this years Next really was, right or wrong. Any real complaignts I had seemed to fall more with the Marts operations side which seemed to either be skeleton staffed, temp hires or just poorly managed in general. A marked decline from previous years effort.
Best work of the show for me personally was surprisingly the independent groups and apartment galleries representation (which I couldn't say in previous years) they really stepped up this year in both polish, substance, displaying actual works not items they want to convince you were finished works & energy. Also I don't think enough can be said for the works in the show by Tony Tasset this year. They were well positioned, welcomed surprises & overall great work by a artist who deserves his reputation.