Audio clip: Adobe Flash Player (version 9 or above) is required to play this audio clip. Download the latest version here. You also need to have JavaScript enabled in your browser.
This week: The third in the lecture series that was in conjunction with the Bad at Sports organized exhibition "Don't Piss on Me and Tell Me it's Raining". Tom and Amanda talk to Bridget Elmer and Emily Larned of Impractical Labor in Service of the Speculative Arts.
Founded by two letterpress printers, Impractical Labor in Service of the Speculative Arts (ILSSA). ILSSA is a membership organization for those who make conceptual or experimental work with obsolete technology. Consisting of a Union and a Research Institute, ILSSA seeks to build community and create resources, promoting the creative re-use of discarded innovations and the values embedded within them. Since its inception in 2008, ILSSA has grown to over 100 members, including a social sculpture weaver, a clip art librarian, a blogger who posts in needlepoint, a designer/builder of vacuum tube electronics, and an heirloom farmer.
On this evening with the use of an overhead projector and a portable anachronistic sound system, the ILSSA co-operators will provide an overview of the organization, its activities and members, and the philosophy behind their collective interests.
Designer Thomas Perrone, a student at the Art Institute of Philadelphia in collaboration with Jason Mouser has created a chess set using the architectual work of Spanish-born Architect Santiago Calatrava as source material.
The set depicts the Tenerife Concert Hall in the form of Pawn, the Valencia Opera House as Rook, the Communications Tower as Knight, the 80 South Street Housing as Bishop, the Fordham Spire as Queen and the Turning Torso as the King.
I ran across Brazilian Designer Sergio Bergocce's take on the age old problem of  bathroom signage a which I always considered to be a great visual trope  to play with since is so universal/human and yet not obvious how to simplify visually unlike running or age.
Sergio Bergocce's take I thought was both fresh and humorous while in step with the current trend of re-imagining 80's themes of color & shape that seem to be coming back in style. Thought you all would like to see.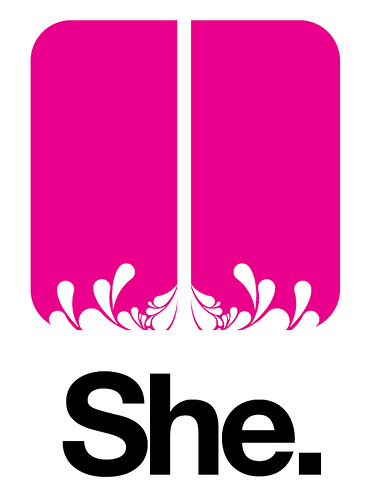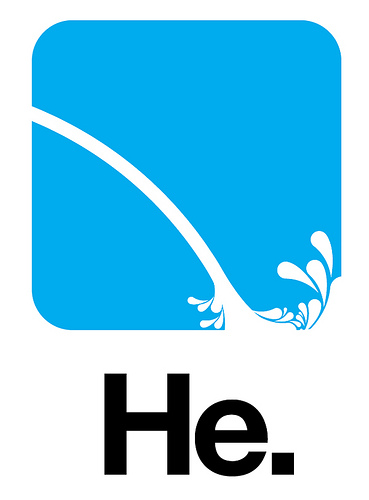 As reported on Abitare a group of cyclists dumped 13 gallons of water soluble different colored paint in the various lanes of traffic on the busy Rosenthaler Platz in downtown Berlin. In a mater of seconds the entire plaza became a mix of pink, blue, yellow & purple with the group putting up signs that the paint would easily wash away with little water.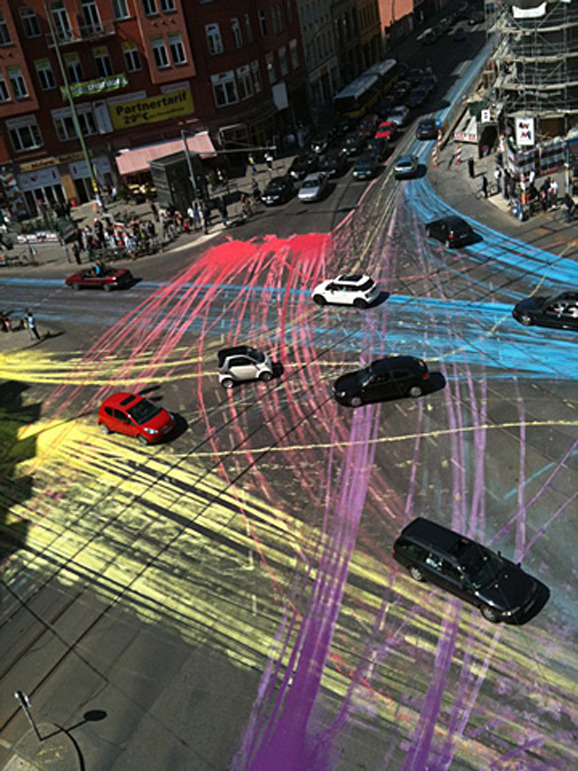 Graffiti Artist Banksy who has been making the rounds throughout US cities recently (Los Angeles, Park City for Sundance, Chicago and Toronto) created a work in Detroit which has created a larger debate on the role of public art and its relationship to longevity, location & ownership. In short (and more can be read in depth at The Detroit Free Press) the work was created on one of the walls of the partially demolished Packard Plant in Detroit.
The stenciled work which shows a determined boy holding a red paint can next to the words "I remember when all this was trees" was discovered over the weekend of May 8th and by the 11th the 7′ x 8′ 1,500 pound cinder block wall was excavated by artist from the 555 Nonprofit Gallery & Studios to their grounds near the Ambassador Bridge in Southwest Detroit.
This has caused a stir in Detroit to an extent since it raises the question of did the gallery have either a legal or moral right to remove and relocate the work. What is the role of the work. Is it better to have it remain location specific in the old Packard Plant and risk/enjoy destruction or is it better off in care of some group who would put it on public display. Can that group make a profit on it & first of all can that group legally remove the cinder block material and claim ownership.
Many of these questions have either already legally defined answers that the art world might or might not like (regardless of it's state the Packard Plant is owned by someone) and other questions as to the role of Banksy's work in relation to the public are ripe for individual agenda. Regardless each of the questions are very good and lead to a greater debate as to how do we interact and relate to Graffiti Art which is not going away and is getting more refined and focused in it's execution and voice.
It would be wonderful to hear from Banksy himself as to why he felt that location was optimal for the work and who he expected to see it there. Does he plan to coordinate in the future with galleries when the ownership of the work is in doubt and can easily be claimed? Does he prefer that his work have a limited shelf life or be location specific so as to have a greater contextual impact. I doubt we will hear either way but I am sure regardless of what happens he is loving the energy it has created & there is more to this story to be told.