Audio clip: Adobe Flash Player (version 9 or above) is required to play this audio clip. Download the latest version here. You also need to have JavaScript enabled in your browser.

download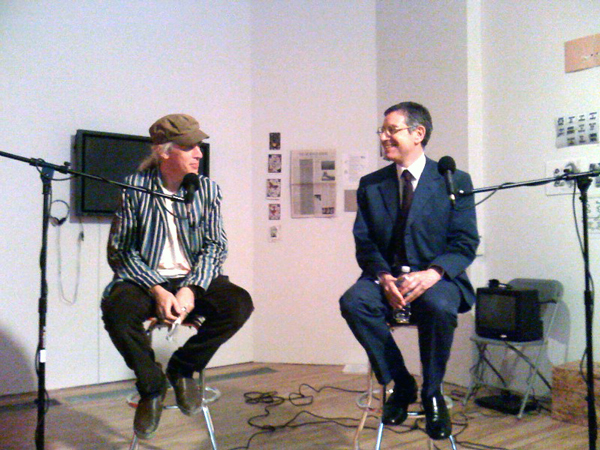 This week Jeffrey Deitch interviewed by Carlo McCormick!!! Recorded before a live studio audience at the BAS apexart show "Don't Piss on Me and Tell Me it is Raining."
Carlo McCormick is a leading New York art writer and a champion of "the downtown scene". For almost decades Jeffrey Deitch has been perhaps the most important taste maker and facilitator of emerging contemporary art in New York City and the world. On the eve of Deitch's departure from New York, Carlo will talk to Jeffrey about his time and legacy as one of the most visible, dynamic and controversial players in the the New York art world.
"The" documentary on Street Art that was almost 20 years in the making has finally solidified around one person and is coming out. What began as a overview of the works of people like Space Invader, Shepard Fairey, Thierry Guetta & others has grown to include the famously camera shy Banksy. The film titled "Exit Through the Gift Shop" will premiere in Chicago on April 23rd at the Landmark Century Theater & New York City on April 16th at the Landmark Sunshine Theater.
Audio clip: Adobe Flash Player (version 9 or above) is required to play this audio clip. Download the latest version here. You also need to have JavaScript enabled in your browser.
This week: HOLY CRAP OUR SHOW AT apexart OPENS!!! April 7th 6-8 p.m. http://www.apexart.org/exhibitions/badatsports.htm.
Also this week: Duncan talks to Peter Otto!
Peter Otto's work reports on the constituent factors of a human condition continually shifting between beguiling and highly disturbing. He reveals the state to which humanity – ever tested by social, cultural and political forces – bends, breaks and at times collapses. His paintings and sculptures show a reality emerging from the darkest moments. The themes are somber; the work though is delicately formed and teeming with graceful facture.
Otto, who lives in Arnhem, The Netherlands, has been featured in solo and group exhibitions throughout Europe including projects at Museum Beelden aan Zee in Scheveningen, the Kröller-Müller Museum, Boÿmans van Beuningen in Rotterdam, Galerie Reuten and Galerie Swart in Amsterdam, the Museum Kurhaus Kleve and the Pushkin Museum in Moscow.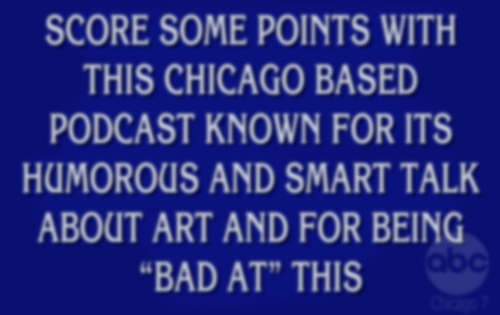 In yesterdays Jeopardy episode #5887 for Tuesday, March 30th during Double Jeopardy contestants Manny, Stacy & Emily were presented with a category titled "Podcasts" in which the $1200 question was:
Score some points with this Chicago based podcast known for its humorous and smart talk about art and for being "Bad at" this
Sadly neither Manny, Stacy nor Emily could correctly guess "Sports" but it was worth it to hear Alex Trebek say with that part sad & lightly condecending tone "The correct answer is Sports, What is Bad at Sports. I am sorry, Emily it is your board please pick again."
From everyone here at Bad at Sports we would love to thank Alex Trebek, the writting staff & crew that have continued to produce the last bastion of intelligent daytime television for the past 26 years. Being name dropped with the likes of Diggnation, The Podfather Adam Curry, Mugglecast , Brian Ibbott's Coverville & Leo Laporte's This Week in Tech is a great honor.
The timing couldn't have been any better with the Bad at Sports gallery opening at Apex Art in NYC next week titled "Don't Piss on Me and Tell Me It's Raining". This honor has really made our April 1st, 2010 a memorable day. You haven't made it till you have been name dropped on Jeopardy & satirized on SNL (looking at you Bill Hader). One down, one to go.
Audio clip: Adobe Flash Player (version 9 or above) is required to play this audio clip. Download the latest version here. You also need to have JavaScript enabled in your browser.
This week: Patricia sits down with artist Mads Lynnerup during his recent sojourn in San Francisco. They talk about spotting Cyndi Lauper at the New Museum, precocious nerdy kids at the Guggenheim, navigating the ever-growing professionalization of the art world, everyday routines, and the merits of being a prankster.
Mad Lynnerup was born in Copenhagen, Denmark and lives and works in Copenhagen and New York. He completed his MFA from Columbia University in 2007 and received a BFA from San Francisco Art Institute in 2001. He has shown his work at the San Francisco Museum of Modern Art; The Mori Art Museum, Tokyo; P.S. 1 and Socrates Sculpture Park, both New York; and Zacheta National Gallery of Art, Warsaw. Lynnerup works across such diverse media as video, sculpture, drawing, and printmaking. Many of the themes in his work have roots in his constant interest in the everyday and his surroundings.
This is the third collaboration between Art Practical and Bad At Sports.
Image: Routines (Sønder Boulevard), 2008 (video still); installation, video and poster series. Courtesy of the Artist and Baer Ridgeway Exhibitions, San Francisco.
[Read more]