Audio clip: Adobe Flash Player (version 9 or above) is required to play this audio clip. Download the latest version here. You also need to have JavaScript enabled in your browser.
This week, Duncan, Amanda and Tom talk to artist Steven Rand, who is the founder and Executive Director of apexart in New York.
If you are in or around NYC this is the last week of "Don't Piss On Me and Tell Me It's Raining" the Bad at Sports organized show, go check it out while you still can!
Swedish artist Lars Vilks (most known for his political cartoon of Mohammed in 2007 that started many threats & attacks) was attacked again while giving a Lecture at Uppsala University in Sweden on art and freedom of expression. The lecture turned violent when Lars' video segment reportedly of two nude gay men wearing masks with the prophet Mohammed printed on them started.
More can be read at the Washington Post among other places but details are few and from what i can read it plays off seemingly like Vilks is courting controversy at this point and a segment of the Muslim community is more then willing to follow him around and take advantage of the opportunity? What are your thoughts? Feel free to call our number 312-772-2780 or pingback this post from your site.
The Gothamist (which reportedly recently sold for 5-6 Million) has posted the latest gag by The Trustocorp Group, a anonymous group that places humorous mock products, signage & messages in as many public places as possible.  The latest is just in time for Kickball season at McCarren Park in Brooklyn where signs have been placed reminding park-goers to avoid feeding the Hipsters.
Trustocorp has also done works that promote: a brand of cereal called Banko$ "Eat the Rich", Street Signs that say "yield to peace – until then war turns profits" & various other works of a similar nature.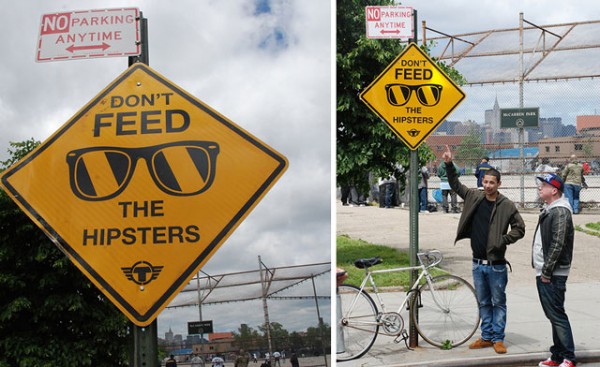 Audio clip: Adobe Flash Player (version 9 or above) is required to play this audio clip. Download the latest version here. You also need to have JavaScript enabled in your browser.
Painter and Bad @ Sports NYC correspondent, Tom Sanford will moderate a panel of 5 other painters who will talk about painting. Kamrooz Aram, Holly Coulis, David Humphrey, Dike Blair and Deborah Kass not only represent three or four generations of New York painters and are all prominent voices among their cohort, but also represent a wide variety of approaches to the medium.
These, "the Painters of Painting", will discuss the current concerns in painting as well as painting's enduring relevance as a humanistic and idiosyncratic antidote to the prevailing corporate culture of consensus and commodification.
Tom's wrap up e-mail sent to all involved afterwards-
-----Original Message-----
From: Tom Sanford 
Sent: Thursday, April 29, 2010 7:13 AM
To: Tom Sanford
Subject: Thanks from PAINTERS/PAINTING

Hi Guys

I just wanted to send y'all a note to thank the many many of you who

came out to the panel and offer my apologies to those who weren't

able to get in! I am so sorry that a super turnout put apexart in the

position that they had no choice but to not allow a few people in. It

was totally packed inside - i actually had an audience member sitting

on my lap for most of the talk. But thank you all ever so much for

making the effort, i sincerely appreciate the overwhelming show of

interest!

The incredible turn out certainly speaks to the great enthusiasm for

painting in the medium's global capitol city and I think the talk was

a success. The panelists (David, Deb, Holly, Dike & Kamroos) were

charming and interesting and insightful, i did my best to keep us on

course, and Steven Rand and the apexart crew (Cybele, Julia & Julien)

were gracious and generous hosts.

Best of all the audience has plenty of great questions comments and

the occasional well timed out-burst! Special thanks to for really

great questions and comments from Daniel Davidson, Alfred Steiner,

Michael Anderson, Carlos Fragoso, and George Rodart among others

whose names I didn't know - great hustle guys!

Anyway, thanks a million for all of your support and interest and

remember the most important thing is to keep those brushes wet - and

Michael Anderson pointed out with the optimism that we all share for

painting and picture making "There are about 9 million new kinds of

paintings yet to be made!!"

Cheers

Tom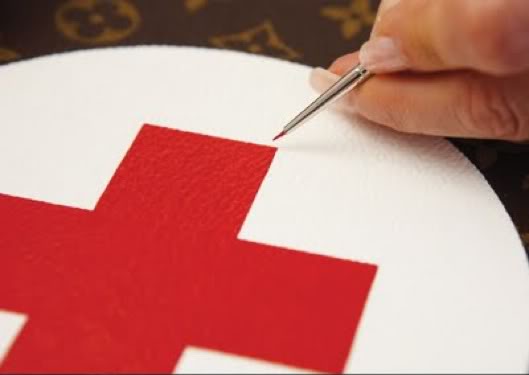 Woodhull Hospital in Brooklyn is letting artists of all stripes pay for their medical bills by trading "credits" they earn by donating their skills & time to patients in recovery. The program called "Artist Access"  was born last year, when Dr. Edward Fishkin, Medical Director of Brooklyn's Woodhull Medical and Mental Health Center, met Laura Colby a former dancer turned performing arts agent.
The Artist Access program allows artists to provide interactive art programs for patients in exchange for health care credits. The  credits are deposited in the artist's personal account, 40 credits for each hour of work which equates to about $40 an hour and can be used to cover sliding scale fees in Woodhull's HHC Options program. Proposals have to be submitted for review and accepted with priority given to those that match the needs of departments such as the Pediatric, Geriatric, or Rehabilitation Units.  The hospital has focused initially on performance programs, but has tested teaching drawing in the Pediatric Unit in exchange for treatment. Mural projects for the many walls and stairwells in the hospital buildings are also being considered.
It isn't a soulution for the masses and looks to be a bureaucratic ousourcing of rehabilitation entertainment & inspiration program development but it's a brave step in the right direction and a good fit for the Williamsburg, Bushwick, Greenpoint, Bedford-Stuyvesant, and Fort Greene Art scene. There is a real opportunity for a few groups to develop appropriate rehab courses that can be easily repeated on a weekly basis and make some considerable money towards their healthcare services.
I would not be surprised that this is an independent contractor position with the hospital & am largely sure there will be tax liability for the artists but definitely something to look into. If anyone has completed a project in this program we would love to hear about your experiences.