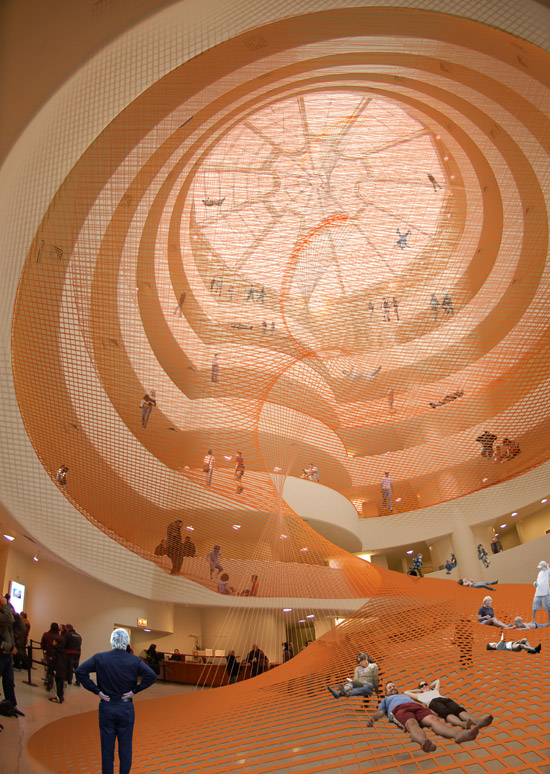 It's part installation art, part sculpture & part performance art JDS architects: experiencing the void is a proposal for the interior core of the Solomon R. Guggenheim Museum, New York where a heavy duty orange mesh net is installed like a archimedean screw so people can walk, run, lay and marvel at the space floating 6 stories up in the air.
The installation & sculpture art is obvious, the performance part comes into play when the lawyers standing at the base of the work all fall over dead like dominoes from the mind shattering liability at stake.
So needless to say the odds of this ever happening are much the same as Bad at Sports taking over the reins of MOCA. Which sadly like Leno we are more then willing to do if Mr. Deitch doesn't quite work out.
The CAA which holds it's yearly conference in Chicago is this weekend and to give a face to the economic downturn (and nightmares to every newly minted MFA looking for a teaching position) they realesed a report detailing the decline in positions from FY2008 to FY2009. In short we are talking almost a 38% decline across the board.
Ceramics & Fiber continue the steepest decline posting around 40% and Sculpture/Installation/Environmental Art posts a surprising growth of 125%. Art History continues to be the most resistant to overall change but still shows growth in Asian studies at the limited expense of Modernism/20th Century American Art.
More detailed data (including state by state breakdowns) and the entire report can be seen here
| | | |
| --- | --- | --- |
| Studio Art | FY09 | FY08 |
| Any | 629 | 1,005 |
| Graphic/Industrial/Object | 185 | 246 |
| Digital/Media/Animation | 150 | 220 |
| Drawing/Printmaking/Paper | 96 | 130 |
| Sculpture/Installation/Environmental Art | 92 | 99 |
| Ceramics/Metals/Fiber | 89 | 92 |
| Photography | 85 | 143 |
| Art Education | 73 | 90 |
| Film/Video | 70 | 89 |
| Foundations | 59 | 90 |
Audio clip: Adobe Flash Player (version 9 or above) is required to play this audio clip. Download the latest version here. You also need to have JavaScript enabled in your browser.
This week Duncan and Richard talk to Michelle Grabner and Annika Marie about Picturing the Studio and among other things whether or not anyone does four studio visits a day. Go check out the show, even the art I disliked was interesting.
Lifted from SAIC:
This exhibition explores the richly complex politically- and psychologicaly-charged notion of the artist's studio today. With works by over 30 artists spanning the past two decades, this exhibition also includes several specially designed installations undertaken by artists on site. Curated by Michelle Grabner, SAIC, and Annika Marie, Columbia College, "Picturing the Studio" is presented in conjunction with the College Art Association's 98th Annual Conference in Chicago, February 11-13, 2010. It is made possible in part with funds from the College Art Association and the Illinois Art Council, a state agency.
Artists include: Bas Jan Ader, Conrad Bakker, John Baldessari, Stephanie Brooks, Ivan Brunetti, Ann Craven, Julian Dashper, Dana DeGiulio, Susanne Doremus, Joe Fig, Dan Fischer, Julia Fish, Nicholas Frank, Alicia Frankovich, Judith Geichman, Rodney Graham, Karl Haendel, Shane Huffman, Barbara Kasten, Matt Keegan, Daniel Lavitt, Adelheid Mers, Tom Moody, Bruce Nauman, Paul Nudd, Frank Piatek, Leland Rice, David Robbins, Kay Rosen, Amanda Ross-Ho, Carrie Schneider, Roman Signer, Amy Sillman, Frances Stark, Nicholas Steindorf, and James Welling.
"The Art of the Steal" chronicles the long and dramatic struggle for control of the Barnes Foundation, a private collection of art valued at more than $25 billion. In 1922, Dr. Albert C. Barnes formed a remarkable educational institution around his priceless collection of art, located just five miles outside of Philadelphia. Now, more than 50 years after Barnes death, a group of moneyed interests have gone to court for control of the art, and intend to bring it to a new museum in Philadelphia. Standing in their way is a group of Barnes former students and his will, which contains strict instructions stating the Foundation should always be an educational institution, and that the paintings may never be removed. Will they succeed, who has the right to direct the future of the collection?
Audio clip: Adobe Flash Player (version 9 or above) is required to play this audio clip. Download the latest version here. You also need to have JavaScript enabled in your browser.
This week Bad At Sports debuts its collaborative partnership with the online journal Art Practical. Scott Oliver, who has previously been on the show with the Collective Foundation, sits down with J. Morgan Puett. They discuss Mildred's Lane, a collaborative project with Mark Dion, the revolutionary politics of garments, and reclaiming the term migrant worker. An abridged transcript of the conversation can be found at Art Practical .
Hooshing and the Nexus of Clothing: A Conversation with J. Morgan Puett
By Scott Oliver
I met J. Morgan Puett during her Bridge Residency at the Headlands Center for the Arts this past fall. I knew little of her or her work, but was immediately struck by her warmth and charm, and by the language she used to talk about her practice. She refers to it as "a practice of being" in which "an ethics of comportment" defines any engagement she might have—with students, collaborators, participants, fellow artists-in-residence. But also with her son's teacher or her car mechanic. Terms like "hoosh," "workstyles (a play on lifestyles)," "algorithm," "emergent," "entangled," and "complexity" pepper Puett's speech, effectively communicating her expansive approach to art. She doesn't often mention "social practice," perhaps because her work has been socially engaged all along. But the term is also insufficient, so is "installation art" (a form her work often resembles). Puett's work is difficult to summarize. It is sprawling, layered, immersive and open-ended. It is as intellectually rich as it is sensually pleasurable. It is narrative, process-based and participatory. In short, it is meant to be experienced, yet none-the-less fascinating to discuss.
Scott Oliver is a sculptor and project-based artist living and working in Oakland, California. He has written catalogue essays for Southern Exposure, The Present Group, and independent curator Joseph del Pesco. Oliver co-founded Shotgun Review, an on-line source for reviews of Bay Area visual art exhibitions, with del Pesco in 2005 where he was a regular contributor until 2008. He is currently working on an audio walking tour of Oakland's Lake Merritt. [Read more]