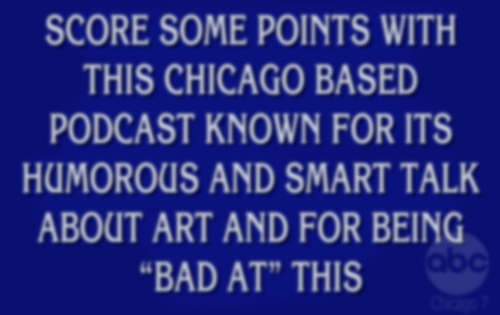 In yesterdays Jeopardy episode #5887 for Tuesday, March 30th during Double Jeopardy contestants Manny, Stacy & Emily were presented with a category titled "Podcasts" in which the $1200 question was:
Score some points with this Chicago based podcast known for its humorous and smart talk about art and for being "Bad at" this
Sadly neither Manny, Stacy nor Emily could correctly guess "Sports" but it was worth it to hear Alex Trebek say with that part sad & lightly condecending tone "The correct answer is Sports, What is Bad at Sports. I am sorry, Emily it is your board please pick again."
From everyone here at Bad at Sports we would love to thank Alex Trebek, the writting staff & crew that have continued to produce the last bastion of intelligent daytime television for the past 26 years. Being name dropped with the likes of Diggnation, The Podfather Adam Curry, Mugglecast , Brian Ibbott's Coverville & Leo Laporte's This Week in Tech is a great honor.
The timing couldn't have been any better with the Bad at Sports gallery opening at Apex Art in NYC next week titled "Don't Piss on Me and Tell Me It's Raining". This honor has really made our April 1st, 2010 a memorable day. You haven't made it till you have been name dropped on Jeopardy & satirized on SNL (looking at you Bill Hader). One down, one to go.
Audio clip: Adobe Flash Player (version 9 or above) is required to play this audio clip. Download the latest version here. You also need to have JavaScript enabled in your browser.
This week: Patricia sits down with artist Mads Lynnerup during his recent sojourn in San Francisco. They talk about spotting Cyndi Lauper at the New Museum, precocious nerdy kids at the Guggenheim, navigating the ever-growing professionalization of the art world, everyday routines, and the merits of being a prankster.
Mad Lynnerup was born in Copenhagen, Denmark and lives and works in Copenhagen and New York. He completed his MFA from Columbia University in 2007 and received a BFA from San Francisco Art Institute in 2001. He has shown his work at the San Francisco Museum of Modern Art; The Mori Art Museum, Tokyo; P.S. 1 and Socrates Sculpture Park, both New York; and Zacheta National Gallery of Art, Warsaw. Lynnerup works across such diverse media as video, sculpture, drawing, and printmaking. Many of the themes in his work have roots in his constant interest in the everyday and his surroundings.
This is the third collaboration between Art Practical and Bad At Sports.
Image: Routines (Sønder Boulevard), 2008 (video still); installation, video and poster series. Courtesy of the Artist and Baer Ridgeway Exhibitions, San Francisco.
[Read more]
The great Steve Hamann does his take on the History of Bad at Sports as no one else could lol.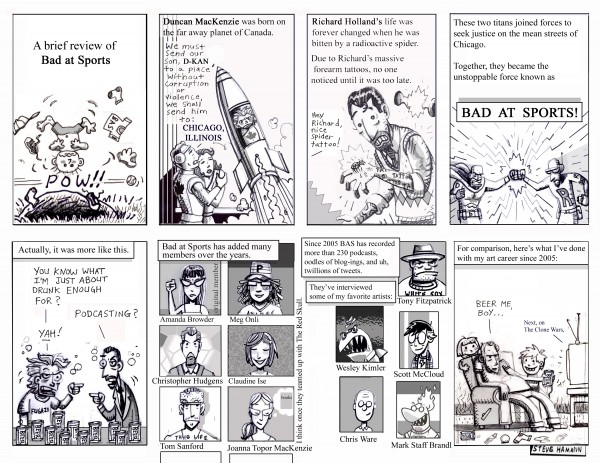 Audio clip: Adobe Flash Player (version 9 or above) is required to play this audio clip. Download the latest version here. You also need to have JavaScript enabled in your browser.
Amy Franceschini is an artist and educator whose work has at its core cross-disciplinary research with a focus on how humans impact the world we inhabit. Her work encourages new formats of exchange and production, many times in collaboration with other practitioners.
These works often provide a playful entry point and tools for an audience to gain insight into a deeper field of inquiry – not only to imagine, but to participate in and initiate change in the places we live. Amy founded the artists' collective and design studio, Futurefarmers, in 1995 and Free Soil in 2004.
Her solo and collaborative work have been in international exhibitions at ZKM, Whitney Museum, the New York Museum of Modern Art and Yerba Buena Center for the Arts, San Francisco. She received her BFA from San Francisco State University, MFA from Stanford University, and is currently an Assistant Professor of Art + Architecture at University of San Francisco and visiting artist at California College of the Arts. She is the recipient of the Artadia, Cultural Innovation, Eureka Fellowship, Creative Capital and SFMOMA SECA Awards.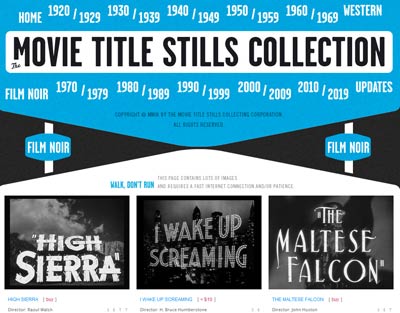 Christian Annyas is a graphic designer and like me a huge cinema buff and has gone about capturing the title card (and in some cases the end title card) for some of the greatest films from 1900-2010 and loaded them into one site. [Read more]