Due to time constraints little time was spent on the 12th Floor going through Art Chicago and a majority of these photos are from the Next Preview Opening. Which from the talk that I heard no one will complain about (even though what little I saw it looked to be better then previous years but Tomato Tomäto).
Coming away from the Next show much can be said about the much smaller size, omni presence of Kavi Gupta's Gallery & connections, growth of paid Marketing Partnerships in the show & the search for "Big" things to fill all the empty space. Having said that though I walked away with the feeling not of abuse but more how fragile this years Next really was, right or wrong. Any real complaignts I had seemed to fall more with the Marts operations side which seemed to either be skeleton staffed, temp hires or just poorly managed in general. A marked decline from previous years effort.
Best work of the show for me personally was surprisingly the independent groups and apartment galleries representation (which I couldn't say in previous years) they really stepped up this year in both polish, substance, displaying actual works not items they want to convince you were finished works & energy. Also I don't think enough can be said for the works in the show by Tony Tasset this year. They were well positioned, welcomed surprises & overall great work by a artist who deserves his reputation.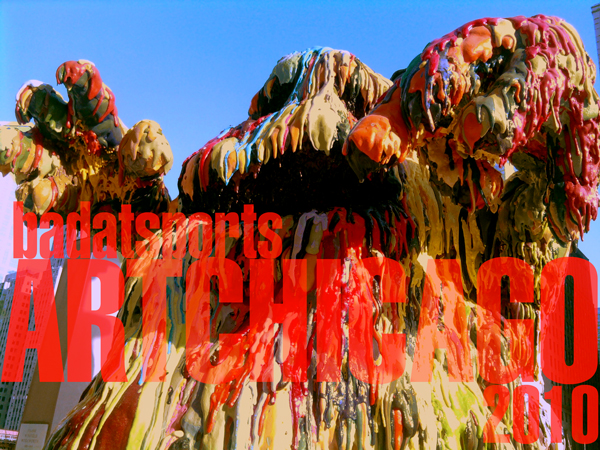 Hong Kong Architect Gary Chang took his 344sqft apartment and turned it into the ultimate 24 themed space all in 1 room.
[flashvideo file=http://badatsports.com/wp-content/uploads/2010/05/ultimateapartment.flv /]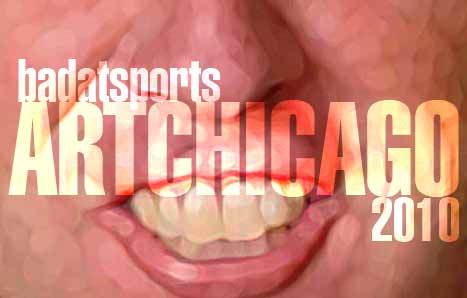 Well it's almost that time of the year again, High Holy week in Chicago where we all pilgrimage to the Merchandise Mart and endlessly complain how much we don't want to be there. Which is kind of a shame really? The doors haven't even opened, exhibitors are still unloading their wares (oh I'm sorry is that word verboten?

and there is already a collective shrug/ennui working it's way from gallerists to collectors to The Tribune. I am not suprised, unaware as to why or in disagreement really. The only thing less exciting then spending money on a show during a depression (oh those words again) that is collectivly expected to be poorly attended, poorly reviewed, have low sales and be generally as exciting, sharp & sexy as a slightly used chew toy is to not have one at all and instead we all stay home cleaning our patio decks/yards. It's not that I don't get it, I do. Make the best of it, stay together for the kids, you go to war with the army you have not the army you want (yea don't like the taste of that phrase do you lol).
In a little bit here I am going to lay into the Mart over something and I am sure it will not be the first or last time that either I, Meg, Claudine, The Tribune, Rhona Hoffman or some prairie dog on the net uninformed or unfairly chimes off but before I do does anyone remember the word "Fun"?
If you work in the Art world in any capacity right now you could be easily making a better salary in say Print on mean average so if you're still here it's because you love it, chose it & in fact tell everyone else it chose you. So if we are not going to make a fortune, redefine art for the hundredth time this Century, rock the culture with something new or even agree what is the new Deer, Squid or Skull for this year can we at least agree to have some fun? I'm not saying fiddle while Rome burns. Do your due diligence and once that is done, share a laugh, have a meal with a large group, drink, dance,  greet old friends from out of town or even Continent but cut the emo angst and smile (Even you Scott Speh).
Arts a joyful struggle, it never becomes a breeze & it is never the way we want it to be 100% so in the gap between perfection & worthlessness lets remember why we got into this and have some fun cause everyone from the unpaid gallery interns to Chris Kennedy is working hard believe it or not, I know.
Having now said that, there are reports coming in that the Merchandise Mart is looking to charge the exhibitors $49.99 a day for wifi access. Now I have personally worked to provide wifi access for over 100 exhibitors in a large space and can say it is a thankless task that is readily abused by 10% of the users, requires constant oversight if you have power fluctuations of any sort, is consistently reported down when in reality it works and the problem is exhibitor's laptops running Chinese drivers, or Macs with more warez then actual programs.
Oh do I have sympathy but $49.99 a day let me say that again so that it sinks in $49.99 a day is "screw off" pricing that you do to chase away clients so that you don't have to provide the service to many & the ones that you do it's crazy profit. So is that where the business model is right now with the Mart? Are things so tight that we are looking to cut costs and services or gouge to bridge the gap? If so I am sorry for your troubles but if not this is beyond the pale pricing and even I am going to call bunk on that.
Change it before you open, it's the best PR you can have with exhibitors stuck in one place for hours on end when you can provide reasonably priced internet. Trust me many would rather surf and email then sell, you think I'm joking but I'm not. There is no excuse for that price point unless we're talking 10MBs up and down which I almost know we are not.
Lets do some good sales, make some good connections & remember have some fun. I've seen accountants smile more lately.

Chris Bors of ArtReview reports in on the Bad at Sports gallery show "Don't Piss on Me and Tell Me It's Raining" which has been up at Apexart Gallery in NYC since April 7th & will continue till May 22nd. In the review Mr. Bors comments on the relationship of the Art world to the internet & blogging especially. Pointing out Richard Flood's recent statement at the Portland (Oregon) Art Museum about bloggers being prairie dogs; popping up one after another with no communication between themselves & no (editorial) oversight. A statement that one can debate the merits of but also one that Bad at Sports for over five years has been working to prove false.
In the review Mr. Bors recounts the history of Bad at Sports, the artists it has been lucky enough to work with over the years and the work they donated to be part of the gallery show. While also commenting on one piece in particular saying:
The liveliest work on view, however, is in apexart's window, where a monitor shows animated credits listing Bad at Sports's contributors. Created by B@S member Christopher Hudgens in the style of designer and filmmaker Saul Bass, well known for his masterful film titles, the retro graphics, limited animation and jazz soundtrack mesh seamlessly, while managing to get in a dig at Flood for good measure.
Bad at Sports would like to thank Mr. Bors for coming out to see the show and taking the time to review it. More so we want to thank every artist that was involved in the opening which in reality is nothing but an extention of the generous giving of time, ideas & energy those same people have shared with us for over 250 hours of interviews, talks, laughs & drinking since Bad at Sports first aired in 2005.
Audio clip: Adobe Flash Player (version 9 or above) is required to play this audio clip. Download the latest version here. You also need to have JavaScript enabled in your browser.
This week Brian sits down with Eleanor Hanson and Oliver Wise, the Oakland-based founders of The Present Group, who describe the project as "like a mutual fund that produces art instead of profits."; A quarterly art subscription project, The Present Group enables a community of subscribers to create a new avenue of support for contemporary artists.
They produce thought-provoking work in a variety of media, and each of the four annual limited editioned art works is paired with an essay contextualizing the edition.
Their goal is to engage art enthusiasts who never thought of themselves as art collectors and to introduce them to the experience and pleasures of owning contemporary art. This is the next installment of the collaboration between Art Practical and Bad At Sports.
An abridged transcript of this interview appears in AP Issue 13. http://www.artpractical.com
Image: David Horvitz. Hermosa Beach, CA, Issue 9, Winter 2009; viewmaster reel, viewer, and Somerset cotton rag paper card. Courtesy of The Present Group.