It's been a long time since MTV has been on my radar for various reasons but Les Grossman from "Tropic Thunder" two years ago is reason enough for 3 or 4 posts. When Tom Cruise first played him back in 2008 it was to the delight of almost everyone I knew and myself. Now Les is back with more and is "producing" this years MTV Movie Awards.
The question now is can comedic lightning strike twice?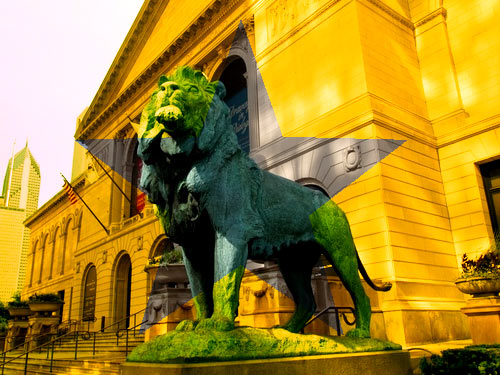 Starting Memorial Day, May 31, 2010, through Labor Day, September 6, 2010 over 700 Museums will offer free admission to active military personnel and their families. This list organized by the National Endowment for the Arts &  Blue Star Families (a non-partisan, non-profit organization, created by military families for military families) includes The Met, The MOMA, The Whitney, The Guggenheim, not to mention Chicago's Art Institute & MCA. The complete museum list broken down by state can be found here.
This is a wonderful program that is both good politics, good business & good karma. I would love to see the Art Institute & MCA get together and lead the way by extending it to not only the summer but year round and for as long as America is at war. Our museums in all 50 states have a sum collection of history and culture that is unrivaled throughout the world. A treasure that every military personnel should be welcomed and encouraged to see with open arms.
Chicago is the city of tomorrow, lets have Chicago lead the way.
UPDATE: After speaking with Erin Hogan Director of Public Affairs with the Art Institute to clarify what the difference/change was in ongoing policy she explained that the established policy was active military were free but with Blue Star for the summer families of active military would be free as well. Also the website would be updated to better reflect this policy.
This is great to hear and hope it is a big success.
Audio clip: Adobe Flash Player (version 9 or above) is required to play this audio clip. Download the latest version here. You also need to have JavaScript enabled in your browser.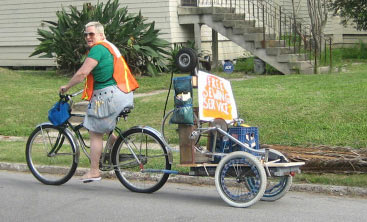 This week: Brian Andrews and Duncan MacKenzie check in with Judith Leemann and Shannon Stratton while visiting Portland, Oregon and discuss their most recent curatorial endeavor the "Gestures of Resistance" exhibition at Portland's Museum of Contemporary Craft.
We talk about problematizing the standard static exhibition, how a viewer can access a dynamic and evolving show, what an object be "loaded" with, and the problem with placards.
The exhibition includes…
Sara Black and John Preus, Anthea Black, Carol Lung, Cat Mazza, Mung Lar Lam, Ehren Tool, and Theaster Gates.
http://www.performingcraft.com/
http://www.shannonstratton.com/
http://three-walls.org/
http://www.judithleemann.com/
http://material-exchange.org/home.html
http://www.youtube.com/watch?v=Tfi3DIlaXqg
http://www.fraufiber.com/
http://www.post-craft.net/catmazza.htm
http://www.munglarlam.com/
http://www.bquayartgallery.com/archive/access_tool2007.html
http://theastergates.com/home.html
http://www.museumofcontemporarycraft.org/
Booooooom has some interesting pieces up by Connecticut-based artist Julia Randall which depict with color pencil on paper: fun, light and active portraits of her tongue in various actions and states of play.
Remo Camerota's blog of Japanese manholes is now availiable in coffee table print form for everyone to see the bizarre imagery unpluged. Camerota has collected images of the striking manhole covers from all over Japan that were created as part of Japan's 20 year beautification program that included multiple foundries and pitted once city against another to stand out the most with their covers.
From happy crabs, dinosaurs, cherry blossoms, skyscrapers & little red ridding hood there is little that has not been depicted on these covers.