Audio clip: Adobe Flash Player (version 9 or above) is required to play this audio clip. Download the latest version here. You also need to have JavaScript enabled in your browser.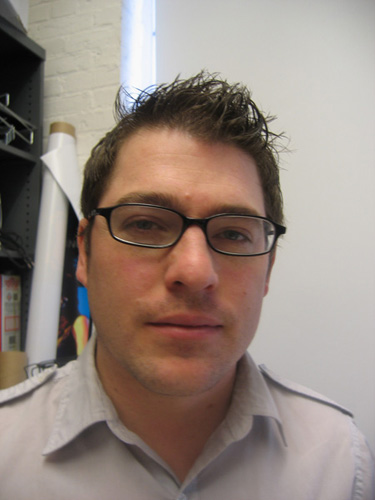 This week: Holy bicenquinquagenary Batman! Brian and Duncan (and guest stars including but not limited to Randall Szott) talk to Creative Time chief curator, author, and all around interesting guest Nato Thompson.
This show is the second in the series of interviews recorded at the Open Engagement conference at which Mr. Thompson was a guest. This series already charts among some of my favorites in the history of the show. Enjoy!
Since January 2007, Nato has organized major projects for Creative Time such as Democracy in America: The National Campaign (2008), Paul ChanÂ's acclaimed Waiting for Godot in New Orleans (2007) and Mike Nelson's A Psychic Vacuum. Previous to Creative Time, he worked as Curator at MASS MoCA where he completed numerous large-scale exhibitions such as The Interventionists: Art in the Social Sphere (2004), a survey of political art of the 1990s with a catalogue distributed by MIT Press.
His writings have appeared in numerous publications including BookForum, Art Journal, tema celeste, Parkett, Cabinet and The Journal of Aesthetics and Protest. The College Art Association awarded him for distinguished writing in Art Journal in 2004. He recently curated an exhibition for Independent Curators International titled Experimental Geography with a book available by Melville House Publishing. His book on art and activism is due out by Autonomedia in October 2009.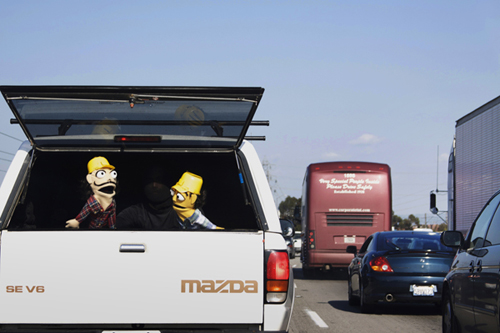 As of June 1st if you are stuck in LA traffic you have one more option added to your short list of ways to pass the 72 hours a year you spend on the road: music, cell phone, yelling at the drivers around you & now existentialist puppet theater. Yes a theater in the back of a pickup that talks about chaos, control & the role of mankind in this short time we have on earth.
Artist Joel Kyack & Peter Fuller perform from the back of their white nondescript pickup truck and via short range radio broadcasts the spoken/soundtrack performance material is available to nearby drivers to have a relaxed intimate theater of the mind at 5mph.
Every performance of Superclogger except for two special showings will be during evening rush hours on different freeways across LA (The list is below) until September 24th. After that it will appear at the Hammer Museum, September 25th, 1-4pm. The Hammer Museum is located at 10899 Wilshire BoulevardLos Angeles, CA 90024.
Performance Dates & Locations
June 11
110 N & 110 S Fwys (Between Downtown and Hollywood)
July 2
10 E Fwy (Between PCH and Downtown)
July 9
5 S Fwy (Between China Town and Bell Gardens)
July 16
134 W Fwy (Between Glendale and Sherman Oaks)
July 30
60 E Fwy (Between East Los Angeles and South San Gabriel)
August 13
10 E Fwy (Between Monterey Park and El Monte)
September 10
10 E Fwy (Between PCH and Downtown)
September 24
210 E Fwy (Between Pasadena and Duarte)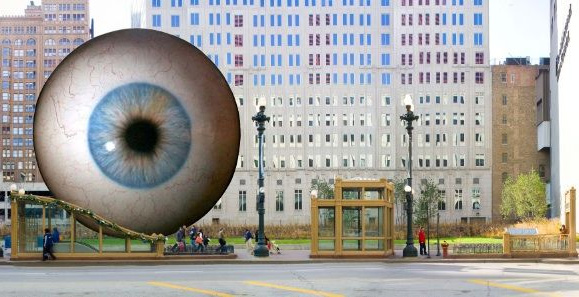 Wednesday morning July 7th the Chicago Loop Alliance (CLA) will unveil EYE; a lifelike, three-story (30-foot-tall) blue iris (the same as the artist) eyeball sculpture by internationally-renowned Chicago-based contemporary artist Tony Tasset. Eye will be mounted on the Escalator cover at Pritzker Park on the corner of State Street and Van Buren.
In addition to the steel reinforced fiberglass Eye (currently being fabricated by F.A.S.T. Corp. of Sparta, Wisconsin) Tony Tasset is also installing 156 street banners revealing a bold red cardinal – the state bird – in flight against a bright blue sky which in series animates like a flip book on State Street lamp posts north from Congress Parkway to Wacker Drive. The artworks are the centerpiece of CLA's inaugural Art Loop 2010. An annual celebration of public art in the Loop the Chicago Loop Alliance hopes to continue in which a new work by an important artist is commissioned each summer, along with free related educational and cultural programs, and promotions and discounts from CLA member partners.
CLA Executive Director Ty Tabing is quoted saying:
"We expect Tony Tasset's EYE at Pritzker Park will become a destination for those living, working and visiting the Loop, and we hope this temporary art installation encourages the public to tour the area and discover all of the incredible public art on display year round. Tony is an artist who excels in multiple art forms – from the visual art of CARDINAL to the sculptural EYE – and we're proud to showcase this Chicago talent in our first Art Loopseason."
According to Tasset,
"I hope both EYE and CARDINAL change the everyday experience for pedestrians and drivers along State Street. The image of the flying bird is quieting and humble in contrast to the commercial bustle surrounding it, while the enormous scale of the EYE serves to miniaturize its surroundings. Although EYE and CARDINAL are unique works and do not depend on each other, the two works are linked formally; by the red, white and blue color pallet as well as the repetition of the eye in the bird close up. The juxtaposition of these two archetypal images with the city of Chicago as a backdrop should create a grand surreal picture, in the spirit of Magritte and Dali."
Other components of CLA's Art Loop 2010 include its new Pop-Up Art Loop™ initiative which has transformed empty storefronts in the Loop into a moveable feast of public art galleries, exhibits and studios. Pop-Up Art Loop has created some 12 temporary galleries to date, showcasing professional photography, sculpture, 2-D art, video and new media, installations and more. In addition, a free, downloadable Loop the Loop walking tour of public art, including the Tasset exhibition, the Pop-Up Art Loop Galleries, and permanent installations by Calder, Miro, Chagall, Picasso and Kapoor is available on the Chicago Loop Alliance website. The tour is also available via pre-loaded MP3 players on loan at the ArchiCenter at 224 S. Michigan Avenue.
I have always loved anything that mixes the timeless with the now (explains Moby a lot I guess, who had a great show at the Vic last September) and while talking to a archeology friend the other day about their favorite cultural artifacts & activities she brought up the New Zealand All Blacks Rugby team's tradition of performing the Haka before every match.
If you have never seen it, this is one of those bucket list kind of things to see live. As if New Zealand needed more tourism reasons. If it's too violent for anyone there is a sweeter version to be had as well.
TRANSLATION:
Ka mate! Ka mate! Ka ora! Ka ora! (I die! I die! I live! I live!)
Ka mate! Ka mate! Ka ora! Ka ora! (I die! I die! I live! I live!)
Tenei te tangata puhuru huru (This is the hairy man)
Nana nei i tiki mai (Who fetched the Sun)
Whakawhiti te ra (And caused it to sine again)
A upa… ne! Ka upa…. ne! (One upward step! Another upward step!)
A upane kaupane whiti te ra! (An upward step, another…. the Sun shines!!)
hī (rise/dawn)

There are bums. There are tramps. There are hobos. And then there's Tony. That's how the description of Tony Fitzpatrick's new show "This Train" goes, and after talking to him at length about it, I would agree when at first it didn't seem fitting.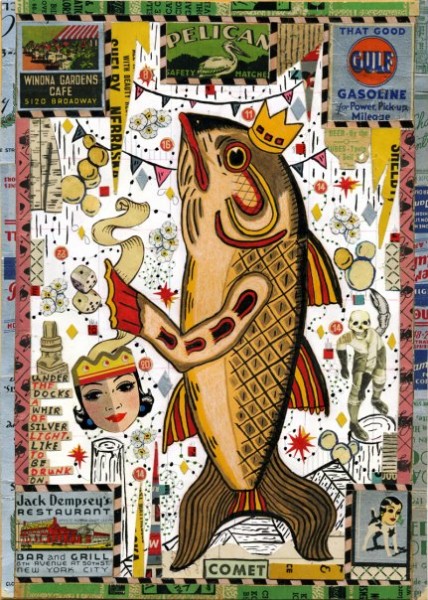 Tony Fitzpatrick loves America, and not in that "I love the coast vs. the plains, the hills vs. the valley or certain cities over others" kind of way. No, Tony is of that rare type that from the surfers on the west coast to the bar patrons in the northeast and from the shrimp boats in the south to the factories in the north, he identifies with what makes America whole and loves it equally.
That's what the "This Train" performance is seemingly for him; a 100 minute mix of art, music and spoken word that looks back on the working class, post civil war/early industrial influences in America (the music, the hobo alphabet, the melting pot) and how many became one without being the exact same.
With the support of the vocal skills of Kat Eggleston and his long time friend Stan Klein, "This Train" looks to give its audience a sample of the music, visuals and soapbox plain direct speak that Tony loves and has sewn into his work for a long time.
The idea for the show grew in the death of Studs Terkel in 2008. Studs, a man who greatly influenced Tony, was an American author, historian, actor, and broadcaster who received the Pulitzer Prize for General Non-Fiction in 1985 for "The Good War." A man who made his home in Chicago after being born in New York City and is best remembered for his oral histories of common Americans.
To hear Tony talk about "This Train" feels more like a tribute to Studs and his ideals of enjoying the differences in people, finding that common humanity be they unionists, capitalists, Klansmen or even misguided members of the Tea Party movement. It reminds people not to over glorify the origins of American thought, politics or art; that we are all just immigrants; and that the Bughouse Square/Washington Park soapbox speeches in Chicago are as noble and important as the ones in the Capital building. That High Jazz music was born in the bosom of the whorehouses of New Orleans and that Art is at its best when it speaks to everyone with the purpose of sharing a story.
"This Train" runs in Chicago, July 15 – August 1 at Steppenwolf's Merle Reskin Garage Theatre, 1624 N. Halsted St.
More can be heard from Tony in an audio interview here
Tony Fitzpatrick Artist Talk from Dowling Walsh Gallery on Vimeo.