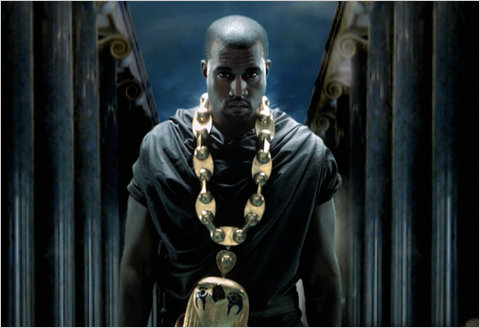 Power
The economy may be turning around again (what is it is now, the third time in a year or fourth?) but the Art world seems to be talking about nothing but death & loss.
First off you have the well publicized and it seems anticipated Kanye West music video for his single "Power" which is being described as "apocalyptic" "dark, personal conflict" & "beautiful death".  With the video directed by artist Marco Brambilla who has a habit of creating work with a strong bent towards monolitic, time lapse laiden video art with a dark dramatic stuttering low light quality it will be interesting to see how it turned out.
Audio clip: Adobe Flash Player (version 9 or above) is required to play this audio clip. Download the latest version here. You also need to have JavaScript enabled in your browser.
For me music videos have been on kind of a artistic hiatis since Chicago's own Mark Romanek moved to feature films. It seemed his departure timed well with the crash of the industry and music videos have been on a healthy but slow DYI recovery since then largely.
Requiem for Kodachrome
Kodak has been singing the executioners song for Kodachrome slide processing for some time but the last roll was made a while back and given to the well known photojournalist and National Geographic regular Steve McCurry. That roll is currently being processed in the sole remaining processing studio Dwayne's Photo Service in Parsons, KS. What will it have on it again no one know but if it is in style with the current visual theme for 2010 it will have a skull in it (skulls have been everywhere since Art Basel Miami Beach, more things change the more they stay the same). Read more here
Ellen Bows Out Of American Idol
I don't watch the show personally but I do know there are two things the art wold in general loves to do. One, bemoan the pointlessness of "Work of Art" on Bravo (as if an art reality competition ever had a hope at quality or legitimacy? seriously?) and Second talking about American Idol (two years ago it was Mad Men but no one seems to remember that show now?). So now that Simon has left Ellen is not reup-ing for a second year. Rumor is J-Lo will be on the table Read more here
That Dark Shadowy Figure Caravaggio Keeps Getting Press
For the last three years Caravaggio (who I admit I do love) keeps getting press touting his mastery and forward thinking when it came to composition and cinematic intimacy now is no different. Read more here
Jewish Art Gallery Puts On Crucifixion Show
[insert outrage here] garnish with 28 works by artists such as Tracey Emin, Duncan Grant, and Lee Miller Read more here
Ansel Adams Estate Fights Man Who Bought Negatives At Yard Sale
The estate of Ansel Adams (Adams' grandson Matthew Adams)Â contests that negatives are almost worthless unless the hand of the artist is used to make prints, so basically by that logic art restoration damages work since even though it continues the outline set by the artist it is not the true hand of the artist. Glad to see Matthew Adams isn't sour or anything. Read more here
Audio clip: Adobe Flash Player (version 9 or above) is required to play this audio clip. Download the latest version here. You also need to have JavaScript enabled in your browser.
This week: Brian and Patricia sit down with Andrew McKinley, proprietor of Adobe Books Backroom Gallery, and Devon Bella, the gallery's current director. They discuss Adobe Books' seminal place in the San Francisco art community, the Mission School, the gallery's recent renovation, and the ominous installation in the window proclaiming "Everything Must Go!"
Click here to read an interview with Adobe Books Backroom Gallery!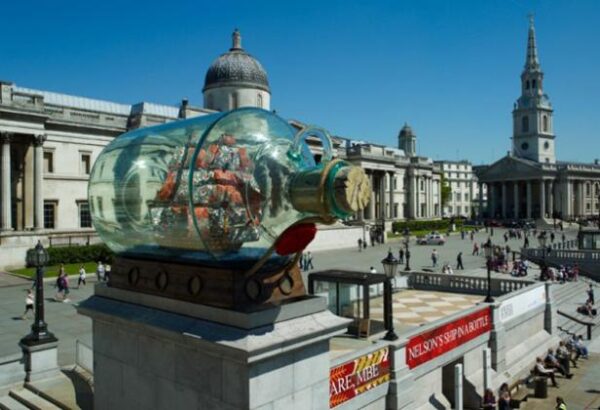 The fourth plinth in London's Trafalgar square has been on our radar for a while and I am sure will continue to be so since the British government plans on using it as a compliment to the Turner prize or so by using it as a soapbox to debate and showcase contemporary art.
The current work  that is on display at the plinth, Yinka Shonibare's Nelson's Ship in a Bottle is slotted to be taken down in 2012 and the fight to see who gets the spot in time for the Olympics has begun. Here is a quick rundown of the shortlist via UK's The Independent (my money is on Katharina Fritsch) :
Michael Elmgreen and Ingar Dragset A sombre wit underpins the serious nature of work by the Scandanavian couple who have collaborated since they met in 1995. They have made work in memory of gay victims of the Nazi regime and, in 2005, they built a Prada boutique in the middle of the Texan desert. Whatever their proposal for Trafalgar Square, we hope they don't lose their sense of humour.
Mariele Neudecker German born, 45-year-old Neudecker made her name with sculptures of landscapes, placed inside glass vitrines. Self-contained worlds, that come out of the Romantic tradition in art – although her work is anything but traditional. She used the cry of seagulls on London's Millenium bridge in 2008. And she sank a boat and a house underwater that question our relationship with the environment.
Allora & Calzadilla Allora and Calzadilla are an artist couple who live in Puerto Rico. Their work is usually political and they have a strong reputation in the UK. At the Serpentine gallery in 2007 they made a large chamber, like a war bunker, and inside musicians played military music. They work in many mediums, using film, sound, sculpture, performance and photography.
Hew Locke Locke's work explores colonial themes in an exuberant kind of pop art. He has played with ideas about the British royal family. Princess Diana became a voodoo doll and he covered a figure of the Queen Mother with skulls. He critiques the past, looking at how our world interrelates: from African wars to empire, pop culture to Shakespeare.
Katharina Fritsch Like the Surrealists, Fritsch is known for artwork that makes the familiar appear strange and uncanny. Born in Germany, Fritsch has represented her country at the Venice Biennale and had major exhibitions at London museums. Giant rats and monochrome men wearing suits appear in her work, which have popular as well as critical appeal. She is a mature artist and her proposal will be polished and spectacular.
Brian Griffiths An eccentric sense of adventure runs through sculptures by Griffiths. A graduate of Goldsmiths college, the British artist has used old furniture to construct an elaborate wooden gyspy caravan. His work plays with myth as well as history and his sculpture comes from an imaginary world as fantastical as a child's. No doubt, his proposal for the Fourth Plinth will be made from old junk but his idea, we hope, will contain a touch of magic.
Also Museum of Contemporary Art Cleveland (MOCA) has been greenlit to start construction on it's $150-plus million development project in University Circle later this year and be completed in 2012. Read More Here
We talked a while back about the Guggenheim's Youtube partnership entitled "Play" where artists were invited to submit their videos to possibly be part of a juried exhibition later this year in every one of their museums. Well that jury list has been announced: Takashi Murakami, Ryan McGinley, Douglas Gordon, Marilyn Minter and Shirin Neshat, artists known for their work in a variety of mediums; Stefan Sagmeister, a graphic designer; Laurie Anderson, the performance artist, musician and filmmaker; the music group Animal Collective; and the filmmakers Darren Aronofsky and Apichatpong Weerasethakul. Read More Here
Sorry but I have a hard time calling something revolutionary or defying categorization when it's been done for over two decades in general and over a decade by Michigan Avenue Ad houses. Its akin to saying an artist doing Matrix style bullet time video leaves you speechless if it was done in 2040. Film is sequential still frames that create motion, find something to write about NPR that is actually Art if you want to be breathless NPR not a music video esque work done in After Effects. It's only slightly annoying when Artists speak of their work as revolutionary, interdisciplinary or an exciting hybrid that redefines a genre since it's hard to promote as a artist but it is greatly annoying when a publication ruberstamps such hyperbole as true. I know it's the NPR blog but….. still. Don't Read More Here
Audio clip: Adobe Flash Player (version 9 or above) is required to play this audio clip. Download the latest version here. You also need to have JavaScript enabled in your browser.
This week: Philip von Zweck (Bad mofo, artist, and storied, long running host of Something Else on WLUW) and Simon Anderson (Associate Professor Department of Art History, Theory + Criticismm SAIC) interview a living legend, Genesis Breyer P-Orridge. Breyer P-Orridge was in town for an exhibition S/he is having at Western Exhibitions.
Genesis P-Orridge and performance artist Lady Jaye Breyer began a collaborative effort begun in 1993  that focused on a single, central concern: deconstructing the fiction of self.  Frustrated by what they felt to be culturally enforced limits on identity but emboldened by the radical power of love, P-Orridge and Lady Jaye applied collage and cut-up techniques to their own bodies in an effort to merge their respective selves.  Through plastic surgery, hormone therapy, cross-dressing and altered behavior, they fashioned a single, pandrogynous being, Breyer P-Orridge. The work is an experiment in identity, a test of how fully two people can integrate their lives, and, ultimately, a symbolic gesture of evolution and the alchemical union of the male and female halves of the human.  Although Lady Jaye passed away in 2007, Genesis has continued Breyer P-Orridge, putting into question not only the limits between self and other but also life and death.
Genesis Breyer P-Orridge was born in Manchester, England in 1950. S/he was a member of the Kinetic action group Exploding Galaxy/Transmedia Exploration from 1969-1970. S/he conceived of and founded the seminal British performance art group Coum Transmissions in 1969 and was the co-founder of Throbbing Gristle, Psychic TV, and the spoken word/ambient music performance group Thee Majesty. Throughout Genesis' long career, s/he has worked and collaborated with William S. Burroughs, Brion Gysin, Derek Jarman and Dr. Timothy Leary, among others. H/er art has been exhibited internationally, including recent exhibitions at Deitch Projects, Mass MOCA, Centre Pompidou, Contemporary Art Museum St. Louis, Barbican Museum, the Swiss Institute and White Columns, amongst others. Upcoming exhibitions will include a solo exhibition at Rupert Goldsworthy in Berlin, a keynote address at the Erotic Screens Conference, Centre for Public Culture and Ideas at Griffith University, Brisbane, Australia and a lecture at the Museum of Modern Art, New York in March. H/er archive was recently acquired for the permanent collection of the Tate Britain Museum.
The Vuvuzela, a little know horn to Americans before the latest world cup and I would not hesitate to say little loved does it's best to add to the rich tapestry that is cinema scores.
Will Hans Zimmer add it to his repertoire? Will it go the way of the kazoo and bird whistle or like the theremin will it find a place in our hearts?
Only time will tell, time and a Costco sized bottle of aspirin.