The trick in life is to enjoy the simple things, be they moments with friends, great meals or even "double complete all-the-way rainbows" right in your own backyard.
Paul a self described Photographer, Multi Media Artist, Mixed Martial Artist, Farmer, Mountian man living just outside Yosemite National Park had just that moment and recorded it and his reaction to it for the internet. The first video below is his recording and the second below that is a remix turning it into a viable song. Enjoy.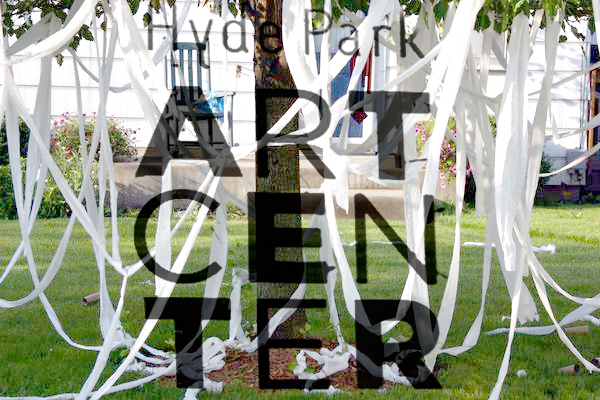 It's the night before Halloween – the night when pranksters come out of the woodwork to wreak havoc on their neighbors. It's called "Mischief Night," and this year artists are taking it over.
Artists are masters of constructing moments of subversion, spectacle and illusion. On Saturday, October 30, the Hyde Park Art Center is asking artists to create those moments. From 3pm until 10pm, they will have games, art-making workshops, and performances taking place in and around the Art Center – all with the prankster in mind.
Sound interesting? They are looking for artists who would like to be a part of the mischievousness by concocting artist-run workshops, performances, temporary installations, public programs for kids and/or adults, or any other creative ideas you can scheme up.  They are open to input.  If you're interested, please send a proposal including:
Your name and contact information
Name and description of your event/workshop/prank/performance
Any supplies you may need
Deadline for submissions is July 14. Please send your proposals to Crystal Pernell at cpernell@hydeparkart.org.
Audio clip: Adobe Flash Player (version 9 or above) is required to play this audio clip. Download the latest version here. You also need to have JavaScript enabled in your browser.

download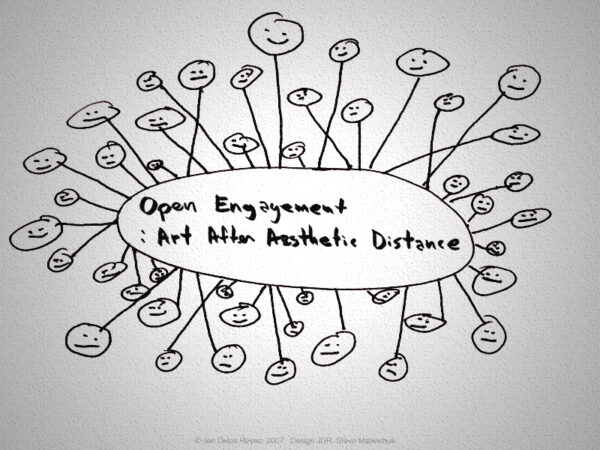 This week: Our Open Engagement series draws to a close with an interview with conference organizers Jen Delos Reyes and Harrell Fletcher.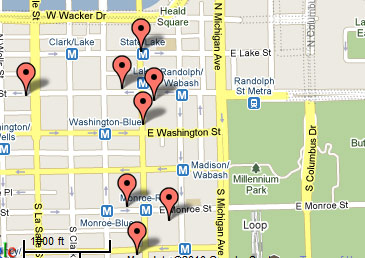 From October 15th, through October 29th, the Chicago Artists' Coalition and the Chicago Loop Alliance will transform the historic Loop neighborhood into an interactive, multi-venue public art museum. Art Loop Open invites the public to "Visit, View & Vote!" at over a dozen venues throughout the Loop and not only admire local artists' works but also interact with them and each other via cutting edge technology and public programming.
With the addition of Tony Tasset's installation in the loop, the Pop-Up Art Inititive currently underway & the upcoming Art Loop Open it is good to see the Chicago Loop Alliance getting some traction and note for their work, here is hoping it can survive as annual events.
ALO wants all of Chicago's diverse and talented visual artists to apply, potentially win $50,000 in prizes and have the opportunity to reach new and coveted audiences from around the world.
"The work of Chicago artists is our city's tapestry. Art Loop Open will be a unique opportunity for visitors and residents to celebrate our rich art, showcase our amazing downtown artistic attraction, and offer a platform for local artist to shine. Art Loop Open will be a interactive, cultural experience bringing everyone together to enjoy and admire great works of art."
-Richard M. Daley, Mayor of Chicago
Art Babble has for a while been for me a great example of a institution just putting a few people to work and creating something on the net that is both useful, fun, well designed and not covered from head to toe with the trappings or promotion of the parent institution. Conceived, initiated, designed, built, sculpted, programmed, shot, edited, painted and launched by a cross-departmental collection of individuals at the Indianapolis Museum of Art Art Babble takes IP that they already have and presents it in a way that is greater then the sum of it's parts. Too bad Art institutions haven't been able to do the same with the net or social media on average.