Audio clip: Adobe Flash Player (version 9 or above) is required to play this audio clip. Download the latest version here. You also need to have JavaScript enabled in your browser.
This week: The first in our series of interviews from the Open Engagement conference that took place in Portland this past May. We start off with an excellent discussion that Randall Szott, Duncan, Brian and the occasional Incubate person had with artist, writer, lemon tormentor Ted Purves. Topics include; Ted's work, the past present and future of Social Practice and what it means to be an artist today.
This series of interviews (thusfar, I've only gone through the first two) are some of my favorite discussions that (the royal) we have had in the 5 years of the show. Great stuff!
Ted Purves is a writer and artist based in Oakland. His public projects and curatorial works are centered on investigating the practice of art in the world, particularly as it addresses issues of localism, democratic participation, and innovative shifts in the position of the audience. His two-year project, Temescal Amity Works, created in collaboration with Susanne Cockrell and based in the Temescal neighborhood of Oakland, facilitated and documented the exchange of backyard produce and finished its public phase in winter 2007. His collaborative project Momentary Academy, a free school taught by artists over a period of 10 weeks, was featured in Bay Area Now 4 in 2005 at Yerba Buena Center for the Arts in San Francisco.
Ted recently received a visual arts grant from the Creative Capital Foundation and a Creative Work Fund grant from the Elise and Walter Haas Foundation.
His book, What We Want Is Free: Generosity and Exchange in Recent Art, was published by State University of New York Press in 2005.
The Open Engagement conference is an initiative of Portland State University's Art and Social Practice MFA concentration and co-sponsored by Portland Community College and the MFA in Visual Studies program at Pacific Northwest College of Art and supported by the Cyan PDX Cultural Residency Program. Directed by Jen Delos Reyes and planned in conjunction with Harrell Fletcher and the Portland State University MFA Monday Night Lecture Series, this conference features three nationally and internationally renowned artists: Mark Dion, Amy Franceschini, and Nils Norman. The conference will showcase work by Temporary Services, InCUBATE, and a new project by Mark Dion created in collaboration with students from the PSU Art and Social Practice concentration.
The artists involved in Open Engagement: Making Things, Making Things Better, Making Things Worse, challenge our traditional ideas of what art is and does. These artist's projects mediate the contemporary frameworks of art as service, as social space, as activism, as interactions, and as relationships, and tackle subject matter ranging from urban planning, alternative pedagogy, play, fiction, sustainability, political conflict and the social role of the artist.
Can socially engaged art do more harm than good? Are there ethical responsibilities for social art? Does socially engaged art have a responsibility to create public good? Can there be transdisciplinary approaches to contemporary art making that would contribute to issues such as urban planning and sustainability?
Open Engagement is a free conference May 14-17, 2010, in Portland, Oregon. This annual conference will be a focal point of a new low residency Art and Social Practice MFA that PSU hopes to launch in Fall of 2010.
This years conference will host over 100 artists, activists, curators, scholars, writers, farmers, community organizers, film makers and collectives including: Nato Thompson, The Watts House Project, Linda Weintraub, Ted Purves, Henry Jenkins, Wealth Underground Farms, Brian Collier, Anne E. Moore, David Horvitz, Chen Tamir, and Parfyme.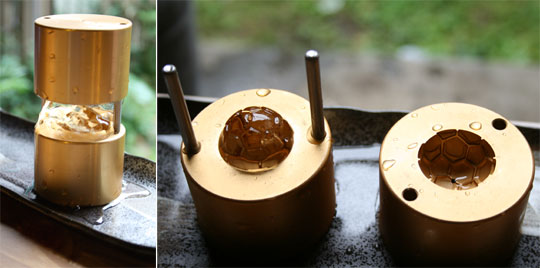 Pure fluff fun but this aluminum mold can in just a few seconds turn ice cubes into any number of shapes from spheres, molecules, snowflakes to soccer balls. The high conductivity of the aluminum slowly melts the cube and the weight of the top section squeezes it into shape. You can make 30-40 of these an hour and have a great item for a gallery opening or party.
If you really want to go the next step you even have AK-47 ice trays which make a magazine at a time lol.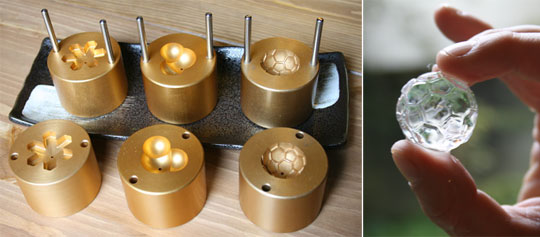 For your enjoyment this weekend, the work of  artist Jennifer Sanchez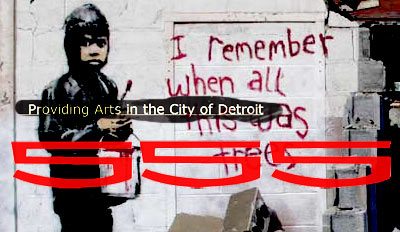 Bad at Sports posted a week or so back about the removal of a Banksy mural by 555 Nonprofit Gallery & Studios (a local Detroit gallery) from the old Packard Plant to their site. At the time I knew this was not the end of this tale and that they were potentially going to reap the kind of attention they really dont want regardless of the intentions behind the act.
As an Update the cinder block mural has now been removed from display after the gallery & work had been reportedly threatened with defacement or destruction (I would imagine the gallery more then the work). The gallery has also now updated their statement in regards to their claim to include that they were given permission by a scrap metal removal crew working at the plant at the time.
Carl W. Goines, executive director & co-founder of 555 Nonprofit, told The Detroit Free Press
There was a lot of anxiety with the threats, so our board of directors requested that we move it until it can be displayed safely.
I still think there is more to come on this still yet and might even include a statement by Banksy himself eventually.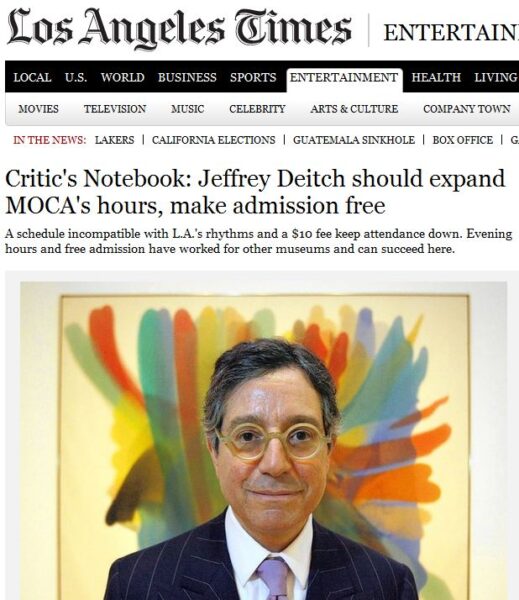 Christopher Knight, the Los Angeles Times Art Critic has written up an interesting article on Jeffrey Deitch's start as Director (the fourth in 30 years) and gives his point of view on where the reality of life in LA can begin to match the goals of the Museum. Numbers mater in the Art world even if we don't want to talk about it and MOCA's attendance has been dropping steadily for years. Couple that with the fiscal mismanagement gamble back in 2008 where they created a budget that relied on donor money to cover around 80% of the cost (money that evaporated with the crash) and things were pretty bleak.
The consensus & expectation is that Jeffrey Deitch will bring the kind of shows and energy that will rally the general population of LA and raise attendance above it's current 600 people a day. Think about that, 600 people, more people visit this site then MOCA in a given day and MOCA is spending $20 Million a year. MOCA has a wonderful collection and this isn't a referendum by the people of LA on Art but on the growing disconnect between Art Tastemakers and the general population. A rift that has been growing for years with little to no abatement.
It's not just LA, we have had the same debates on hours of operation & marketing of events in Chicago for over 5 years. Christopher Knight goes on to offer his advice on what Mr. Deitch might want to examine as Director and the second I can agree with aspects of, the first not so much:
1. General admission: take it from $10 to free
I have always questioned why everything needs to be free. In my experience people have a habit of discounting what they don't pay for and it effects the overall opinion. Work at a bar (or the music industry these days) and you can see that in action, lines and a small cover even if they are annoying increase the overall pleasure of the experience as long as guests expectations are met once they enter. Also even if the door charge is less then 10% of the budget that is still a valuable/usefull daily cash flow even for an institution of that size. Art like any other business lives and breathes on cash flow.

I would suggest price pointing it at $5 a person and make it free to seniors, students & active military (for many solid reasons not worth rehashing here). At that price it has a real value, is proportioned correctly to films, concerts & other nightlife activities and doesn't nullify the whole selling point of yearly membership.
2. Hours of Operation: take it from closing at 5-6pm & 8pm on Thursday to more befitting late nights.
No argument but very tricky and might not be as useful as even I thought years ago. This just might be a tourist/weekday local/weekend world we live in.
The one thing that Mr. Knight doesn't tackle is the one thing that everyone is so afraid of about Jeffrey Dietch as Director, the "curatorial" focus of the exhibits and I think more so "how they are marketed to the world". Everyone is waiting on baited breath since it seems no one has faith that an intelligent discussion on Art can be molded into a form of interest to the general public. That is the great experiment going on in LA and if it is successful could echo throughout the American Art World as a whole and faster then you might think.