Audio clip: Adobe Flash Player (version 9 or above) is required to play this audio clip. Download the latest version here. You also need to have JavaScript enabled in your browser.
This week: Philip von Zweck (Bad mofo, artist, and storied, long running host of Something Else on WLUW) and Simon Anderson (Associate Professor Department of Art History, Theory + Criticismm SAIC) interview a living legend, Genesis Breyer P-Orridge. Breyer P-Orridge was in town for an exhibition S/he is having at Western Exhibitions.
Genesis P-Orridge and performance artist Lady Jaye Breyer began a collaborative effort begun in 1993  that focused on a single, central concern: deconstructing the fiction of self.  Frustrated by what they felt to be culturally enforced limits on identity but emboldened by the radical power of love, P-Orridge and Lady Jaye applied collage and cut-up techniques to their own bodies in an effort to merge their respective selves.  Through plastic surgery, hormone therapy, cross-dressing and altered behavior, they fashioned a single, pandrogynous being, Breyer P-Orridge. The work is an experiment in identity, a test of how fully two people can integrate their lives, and, ultimately, a symbolic gesture of evolution and the alchemical union of the male and female halves of the human.  Although Lady Jaye passed away in 2007, Genesis has continued Breyer P-Orridge, putting into question not only the limits between self and other but also life and death.
Genesis Breyer P-Orridge was born in Manchester, England in 1950. S/he was a member of the Kinetic action group Exploding Galaxy/Transmedia Exploration from 1969-1970. S/he conceived of and founded the seminal British performance art group Coum Transmissions in 1969 and was the co-founder of Throbbing Gristle, Psychic TV, and the spoken word/ambient music performance group Thee Majesty. Throughout Genesis' long career, s/he has worked and collaborated with William S. Burroughs, Brion Gysin, Derek Jarman and Dr. Timothy Leary, among others. H/er art has been exhibited internationally, including recent exhibitions at Deitch Projects, Mass MOCA, Centre Pompidou, Contemporary Art Museum St. Louis, Barbican Museum, the Swiss Institute and White Columns, amongst others. Upcoming exhibitions will include a solo exhibition at Rupert Goldsworthy in Berlin, a keynote address at the Erotic Screens Conference, Centre for Public Culture and Ideas at Griffith University, Brisbane, Australia and a lecture at the Museum of Modern Art, New York in March. H/er archive was recently acquired for the permanent collection of the Tate Britain Museum.
The Vuvuzela, a little know horn to Americans before the latest world cup and I would not hesitate to say little loved does it's best to add to the rich tapestry that is cinema scores.
Will Hans Zimmer add it to his repertoire? Will it go the way of the kazoo and bird whistle or like the theremin will it find a place in our hearts?
Only time will tell, time and a Costco sized bottle of aspirin.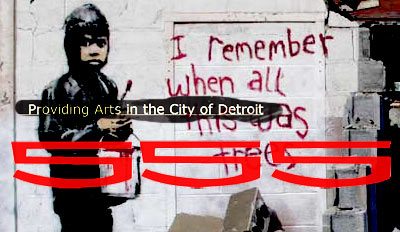 Back in May & June we wrote about Banksy's trip to Detroit and his mural that was created in the old derilict Packard plant there. That mural of a boy with a paint can saying "I remember when all this was trees" was quickly excavated from the cinder block wall it was painted on by the local art group 555 Nonprofit Gallery & Studios, they moved it to their gallery space and quickly came under threats and negative attention. Well now they are in court.
Bioresource Inc., the company owned by land speculator Romel Casab, filed suit this week in Wayne County Circuit Court to regain possession of the mural. The suit which names 555 Gallery and it's executive director Carl Goines as defendants says the 1,500 pounds mural, which may be worth $100,000 or more, was removed without authority and that 555 Gallery did not respond to a letter dated June 7th demanding it's return.
The 555 artists have attested from the beginning in May that they took the work to prevent its destruction and have no interest in selling it. Gallery attorney Don Lewis said  his clients were given permission to take the mural by a scrap metal removal crew foreman named Butch.
"That's a key issue," Lewis said. "Would a jury think it was reasonable to assume that he had the authority he said he did — that he was speaking on behalf of the owner?"
I keep saying this isn't over and that eventually Bansky might make a statement since it serves his interests to be the final voice but he does have a history of disavowing works once they are removed or altered from their original state. This may be no different, but there will be more to come I am sure.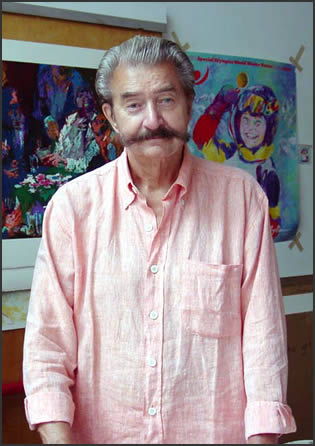 LeRoy and Janet Neiman's have contributed $1 Million to create the LeRoy Neiman Scholarship that will provide student scholarships and support Ox-Bow's Fellowship Program.
A gift which provides studio space and funding for 12 to 14 students from art schools across the country to spend their summer at Ox-Bow.
Both LeRoy and Janet are alumni of the School of the Art Institute of Chicago & Ox-Bow.
Tony Jones, SAIC chancellor had this to say about the gift:
"LeRoy Neiman has been intimately involved with the School of the Art Institute of Chicago and Ox-Bow for many years—as a student, then a faculty member, and now as a wonderful benefactor with his wife Janet, herself an alumna of SAIC, LeRoy is particularly sensitive to what Ox-Bow offers to the working artist, and comments often on the productive time he spent there and how the bucolic serenity of that special place was crucial to his development as a painter. These generous scholarships are especially significant as they are a gift from one remarkable artist to many young artists. Because of the Neimans' gift they'll be able to study at this unique open-air studio for many years to come."
The trick in life is to enjoy the simple things, be they moments with friends, great meals or even "double complete all-the-way rainbows" right in your own backyard.
Paul a self described Photographer, Multi Media Artist, Mixed Martial Artist, Farmer, Mountian man living just outside Yosemite National Park had just that moment and recorded it and his reaction to it for the internet. The first video below is his recording and the second below that is a remix turning it into a viable song. Enjoy.