The Guggenheim as of this past Monday has begun accepting submissions for a video art exhibition in October that will be at all of the foundation's museums: the Solomon R. Guggenheim in New York, the Deutsche Guggenheim in Berlin, the Guggenheim Bilbao in Spain and the Peggy Guggenheim Collection in Venice.
The catch is they want all submissions via Youtube.
The plan titled "YouTube Play" is planned on being a  biennial event to discover innovative work outside of the contemporary art track. Deadline for submissions is July 31st and will go before the Guggenheim curatorial staff. Submissions will be trimed to 200 from which 20 will be chosen via a jury of diverse disciplines.
The final 20 will then go on simultaneous view at all the Guggenheim museums. The 200 will be promoted on the YouTube Play channel.
All in all this will help bump the visability of  the Guggenheim, give Youtube some cultural cachet and remotely possible, court the Guggenheim some atypical advertisers which are becoming more and more sought after players.
There is concern from various sections that this type of potpourri art that is only good for a short time and then tossed out, doesn't build a common voice in the greater art discussion, doesn't build artists and allow them to grow and doesn't give institutions any foundation for future work. As much as I am more egalitarian on this subject then many I whole heartedly agree that it's just junk food.
I agree with the Guggenheim's response that if this was the only thing they did it would be an issue but it isn't and honestly this is better then a motorcycle exhibit potentially in the long term.
I still think largely the issue that is the elephant in the room is the general populace is caring less and less and the numbers on multiple fronts reflect that and even pandering doesn't work.
This Youtube Play is little more then a American Idol, Art/Design Star attempt on a zero budget and maybe something good will come out of it? I am still interested more so to see what MOCA will produce in the months to come. I feel that is the most intelligent and serious test case for this debate in play.
I don't see institutions solving this problem, nor more focus on curatorial practices sadly. We are at a back to basics issue in my mind and the first group of banded artists that can properly create remotely unified work that speaks to the general public on a regional level while having some teeth and is smartly marketed will be the spark that can get things rolling again on a mass level.
I almost caught a glimpse of that in 2008 with the election, the general public seemed to remember the power of the visual image and joyfully get caught up in it. I would love for something other then politics or sex to do that but it's still interesting.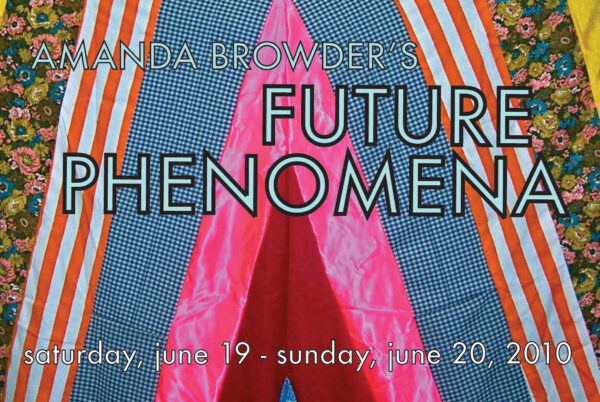 Bad at Sports own Amanda Browder (the hardest working artist in designer glasses) unveils this Saturday June 19th a large-scale fabric sculpture that will blankets the façade of a Greenpoint, Brooklyn building.
The outdoor installation presented in partnership with the North Brooklyn Public Art Coalition (NbPac) will be presented to the public at 3pm on June 19th with a opening celebration roof party at:
The Ceeflat
988 Manhattan Avenue (at Huron)
Greenpoint, Brooklyn
We hope everyone can make it out to celebrate the work and hopefully a great beginning of Summer day.
This is the week the design world heads to Basel, Switzerland for Design Miami/Basel which opened in Basel, Switzerland Tuesday, a day ahead of Art Basel is closer then ever before if your curious about the design worlds activities. This year they are starting their own blog, the cleverly titled Design Miami/Basel Blog.
Posting images, quotes, news and other updates from participants in the fair like designers and gallery owners for fans and journalists alike. They even went as far as publicizing a RSS feed so nice to see someone is listening to the youthful techie in the group since the larger art world seems allergic to RSS feeds on a whole.
If you have been following the ongoing drama that is the BP Spill "junk shot" & "top kill" are well know terms. As well as Kevin Costner and his little known investment of 15 years and over $20 Million to create in short a Britta Oil Filter Pump which BP just yesterday said they might try, over a month after first talks. Then there is President Obama recent statement about BP's chief executive Tony Hayward: "If he worked for me I'd sack him.".
Which has followed most recently in BP expressing concern that the British run company which was responsible for over 97% of the industries flagrant violations is now being targeted for attacks and anti-British sentiment. A statement echoed by British Prime Minister David Cameron who warned Obama not to undermine BP's economic value.
So in short it's a comedy of errors without equal in some time and now there is a sketch to put that aspect into perspective. Hey! it's either this British tragedy or a video about the other one no one wants to see anymore

Getty Trust President and former Art Institute of Chicago Director James N. Wood died late Friday night of natural causes. Mr. Wood, age 69, was reportedly in good health and his death was unexpected. Board chairman Mark S. Siegel announced Saturday:
We are deeply saddened to announce that J. Paul Getty Trust President and CEO James N. Wood has passed away suddenly of natural causes.

Jim was internationally recognized as a leader in the arts. His passion for the visual arts and quiet, yet firm leadership were a perfect fit for the Getty. We were able to entice Jim to come to the Getty out of retirement, after 25 years as the head of the Art Institute of Chicago, and in just a little over three years under Jim's leadership, the Getty moved forward in significant ways toward a renewed and strengthened mission.

Jim valued collaboration, and he reinforced that value at the Getty. Working with the Board, Jim led a strategic planning process that emphasized ways in which the Getty's four programs could work together to further enhance the institution's already strong worldwide reputation. He also saw the Getty as a catalyst to encourage Los Angeles' many outstanding visual arts institutions to collaborate, strengthening our region's stature as a major cultural center.

He was a private man, who acted with great kindness, strength, and dignity. The Board and the Getty's entire staff mourn his loss, and we extend our deepest sympathy to Jim's wife, Emese, their daughters Lenke and Rebecca, and their families.

Wood served as director and president of the Art Institute of Chicago from 1980-2004, after which he retired with his wife Emese to Rhode Island before his appointment as President and CEO of the J. Paul Getty Trust in December 2006. He assumed his position as CEO in February 2007, after an extensive search conducted by the Board of Trustees.

Prior to directing the Art Institute of Chicago, Wood was the director of The St. Louis Art Museum (1975-1980), an adjunct professor of art history at SUNY at Buffalo and associate director of the Albright-Knox Art Gallery in Buffalo, New York. He also held positions at The Metropolitan Museum of Art in New York. Wood sat on the boards of the Sterling and Francine Clark Art Institute, the Institute of Fine Arts at New York University, the Harvard University Art Museums, and the Museum of the Rhode Island School of Design. He was also president of the board of the Pulitzer Foundation for the Arts.
Wood, 69, received his B.A. with honors in Art History from Williams College in Williamstown, Mass. and his M.A. from the Institute for Fine Arts at New York University. He also holds a diploma from the University for Foreigners in Perugia, Italy. Wood's areas of specialization included European paintings and sculpture of the 16th to 20th centuries, American painting and sculpture of the 19th to 20th centuries, and photography.
Arrangements are pending.