Audio clip: Adobe Flash Player (version 9 or above) is required to play this audio clip. Download the latest version here. You also need to have JavaScript enabled in your browser.

download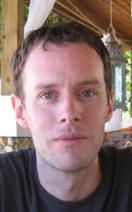 This week: Amanda and Tom go to the Rachel Uffner Gallery to talk with Roger White about his self titled show at the gallery which ran October 29th-December 13th. Roger talks about the show and painting as well as being an artist/journalist as the Vermont based artist is also a frequent contributor to the Brooklyn Rail as well as one of the founders of Paper Monument.
Audio clip: Adobe Flash Player (version 9 or above) is required to play this audio clip. Download the latest version here. You also need to have JavaScript enabled in your browser.
This week: Tom, Amanda, and Duncan talk to super collector Hubert Neumann. He's candid, he doesn't mince words and he knows a ton of stuff, don't miss it.
Also, Richard thinks that the Smithsonian and National Portrait Gallery are striving to redefine "spineless cowards" in their role in the museum word. Great job guys, I look forward to seeing what a Fox News curated museum looks like!
Please be sure to take a moment and e-mail the following people your thoughts on their caving in to political censorship.
Bethany Bentley
Public Affairs Specialist
bentleyb@si.edu
Julia Zirinsky
Public Affairs Assistant
zirinskyj@si.edu
Sherri Weil
Director of Development
and External Affairs
weils@si.edu
Charlotte Gaither
Deputy Director of Development
gaitherc@si.edu
Kristy Snaman
External Affairs Specialist
snamank@si.edu
Audio clip: Adobe Flash Player (version 9 or above) is required to play this audio clip. Download the latest version here. You also need to have JavaScript enabled in your browser.

download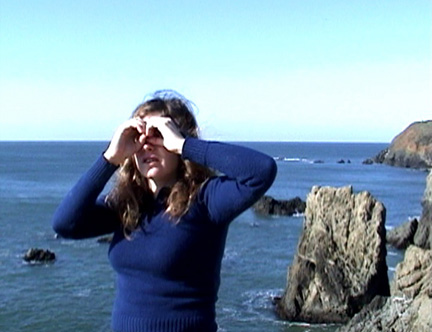 This week: Brian, Patricia and Duncan get into the mind of Lindsey White. They discuss the challenges of being a photographer in an image saturated-culture, light, magic, and the intimate details of White's studio practice. Lindsey White is a San Francisco based photographer and video artist born in Tulsa, Oklahoma. This is the third interview in our series recorded at Baer Ridgeway Exhibitions as a part of Chris Duncan's Eye Against Eye exhibition.

I saw this earlier in the week and knew I had to write about it since it is more then your typical romantic gesture in that it is actually a catchy tune and how can you pass on hand puppets stolen straight out of Jim Henson's Labyrinth.
Walter C. May and his roommates ( who are also in the band called The Daylights ) put together this music video/love note for May's girlfriend who is living in Europe for two years or so now and he wanted to not only send her something to make the distance seem smaller but do so in a way that it felt organic and that he was in her world even when he couldn't be. Therefore he hoped and pushed for the video to reach her viraly so that she would hear it in her day to day life. Now reports are in that she has already run across it ( the internet is quick I hear) but regardless  I hope you enjoy it.
I will admit that there is a fine line between romantic and creepy (hand puppets kind of help blur that line as well haha) but that is one of the best parts of the internet culture in my opinion, extreemly simple, low cost, constant heartfelt originality.  If you have someone in your life that values you enough to dedicate the time it takes to do things of this nature, your extremely lucky and so are we in having it shared with us. With the holiday season coming remeber the people out there who value you, love you and put up with all your eccentricities joyfully. There may be almost 7 billion people out there but it only makes the few people who care about you all that much more precious and rare.
Have a great weekend & stay warm.

Audio clip: Adobe Flash Player (version 9 or above) is required to play this audio clip. Download the latest version here. You also need to have JavaScript enabled in your browser.

download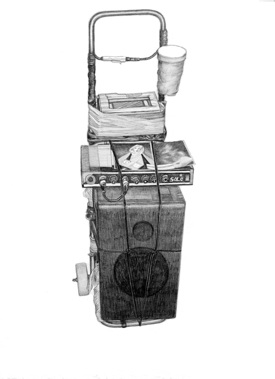 This week: Brian, Patricia, and Duncan engage in a round table with Julio César Morales about collaboration, curation, pedagogy, and his recent exhibitions. Julio César Morales is an artist, educator and curator currently working both individually and collaboratively.
Morales utilizes a range of media including photography, video, and printed and digital media to make conceptual projects that address the productive friction that occurs in trans-cultural territories such as urban Tijuana and San Francisco, and in inherently impure media such as popular music and graphic design. This is the second in our series of interviews conducted at Baer Ridgeway as part of Chris Duncan's exhibition Eye Against Eye.