Audio clip: Adobe Flash Player (version 9 or above) is required to play this audio clip. Download the latest version here. You also need to have JavaScript enabled in your browser.

download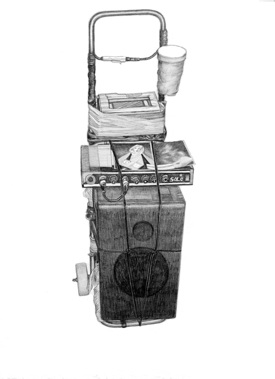 This week: Brian, Patricia, and Duncan engage in a round table with Julio César Morales about collaboration, curation, pedagogy, and his recent exhibitions. Julio César Morales is an artist, educator and curator currently working both individually and collaboratively.
Morales utilizes a range of media including photography, video, and printed and digital media to make conceptual projects that address the productive friction that occurs in trans-cultural territories such as urban Tijuana and San Francisco, and in inherently impure media such as popular music and graphic design. This is the second in our series of interviews conducted at Baer Ridgeway as part of Chris Duncan's exhibition Eye Against Eye.
From everyone here at Bad at Sports we want to wish everyone a Happy Thanksgiving and hope you are enjoying the warmth and food that comes with your friends, family or significant other. We are continuously thankful for you, the art work we all love and the culture that gets us excited each and every morning which is only there due to the non stop diligence of everyone involved.
Now that you are most likely full of tryptophan, sleepy and in need of a good film to watch may we offer the latest Charles Bronson film for your enjoyment…..
Happy Thanksgiving and here's to many more.
Kate has done her 30 days, she has her $10,000 and I am sure a stack of non-disclosure agreements signed. The experiment is over and so begins the postmortem. The irony is it is almost pointless doing a review of the job that Kate McGroarty did over the last 30 days (much to her joy I am sure) since she did an affable job at saying nothing. That's the place to start with this review for me, in that regardless if the Directors of the Museum of Science and Industry didn't allow her to be open, she wisely decided there was little to be gained from being objective and human or worse there is really nothing to be said about the Museum that isn't sterile and devoid of saccharin but regardless there was little said and even less done over 30 days.
How do you measure success in a project like this?
Is it success in the social media arena? If so it was an abject failure since the twitter feed had at most 1,800 followers (less then 300 more then @badatsports and no one works that as a full time job) & 4,126 fans on Facebook (which is pumped by the fact that they initially linked the like button on the site and not the actual Facebook page) but if I was the Director I wouldn't measure it by social media since that is only a single and rather small apple in the larger marketing & PR bushel.
Is it press coverage? Well that was stilted in the bigining with the media's interest in the human story of 1 person trapped in a mine museum which quickly dried up and the press didn't know how to grab onto the story by and large. Kate was a mascot, she put a ribbon on everything that didn't have one and cut the ones that did, cheered for the home team and had a free smile for anyone that wanted one. She was in essence the Ronald McDonald clown in a orange countdown shirt and she did it well from day 1 to 30. The problem is from a press angle there is no story to tell.
Success can be measured by ticket sales? That may be true and as I am sure I will never know the performance of foot traffic over the course of that month in comparison to the previous 30 days or same time last year but if that is so then she was part human oddity exhibit/part greeter.
I can go on but this turned out better then I expected since I was afraid if they didn't get the perfect marketing spokesperson and that live mic was handed to them you would have a mixture of silence from editorial indecision and exasperation as the thirty days came to a close. Not constantly but eventually it would slip out. They avoided that by getting the perfect person for the role, someone who was willing to take what they gave her, put a fun spin on it and make two posts and four tweets a day about it (300 in total but many are replies to others). Also I don't know what the travel and official work schedule was like for Kate but the volume of posting, tweeting and documentation seemed a bit (honestly considerably) low for someone locked in a building 24×7. The average blogger does 2-3x as much if its a full time gig and many even more then that.
I am not a negative person and more so hate reviews or critics that tear down and don't build or at least offer constructive direction and honest review. If you live in Chicago you want the Art Institute, Museum of Science and Industry, Museum of Contemporary Art, Field Museum & others to grow, flourish and succeed. At its core this is a good idea, at its core this is what social media was built for and at its core this is why social media will fail. Since the 1980's (and even before but it really came to it's own then in my view) there has been a top to bottom clamp on message and public image. Gone are the days where Grocery stores would have homegrown competitions and promotions on the store level, gone are the local town commercials where a franchise owner would speak directly for his/her business or brand. They were all removed so that you could control the message nationwide and eliminate potentially expensive missteps. Social media though flourishes on the human voice, insight, personalization, inclusivity and minutia; the very things that contemporary marketing fears most and actively looks to either eliminate or synthesize artificially in a controlled manner (think bad viral ads or national campaigns exactly the same just customized by local age, race, sex, sports affiliation or celebrity).
In order to succeed you need to make social media a part of your PR team (key point to remember, PR is not marketing and never the twain shall meet) have someone daily write, photograph and honestly talk about all the great aspects, locations & touchstones of your group in such a way that you don't visit the museum to learn about them but to finally see them in person. People don't visit the Louvre in droves to see this "Mona Lisa" for the first time but to write the final chapter that image has had in their life by seeing it for themselves, outside of books & film.
The web, where pages are free to publish is the prefect place to build a trap for the human imagination so it can roll around joyfully in subject mater of individual pertinent interest like a pig in mud and learn, celebrate and know as much about your product as possible. Its not a billboard, its a quilt as I presume Kate McGroarty's wise mother knows all too well. Woven with history, personality, flaws & perfection. Thats how social media works and without it that is how it fails.
Social Media I said in May of this year quietly to whoever would listen was dead, by that I meant its growth had hit a plateau and it had come to the crossroads in its life as so many good ideas have. Those ideas and the people that advocated them always knew what the right path was, without exception they knew it. But they never took it. You know WHY? Because it was TOO damn hard (thank you Bo Goldman). Social Media is a dual edged sword that no one wants to swing no mater how sharp it can cut to the truth since no one has faith in the knight swinging it to not cut themselves or the royal family. Until that paranoia or risk calculus changes as a whole you will get performances like the Month at the Museum, all pomp and no circumstance.
Nothing really said or done, nothing to get excited about and worse yet nothing shared about a beautiful gem locked away that only few get to see and one got to live but can never truly tell about without breaking a presumed confidentiality agreement.
In short, nothing ventured, nothing gained.
Audio clip: Adobe Flash Player (version 9 or above) is required to play this audio clip. Download the latest version here. You also need to have JavaScript enabled in your browser.

download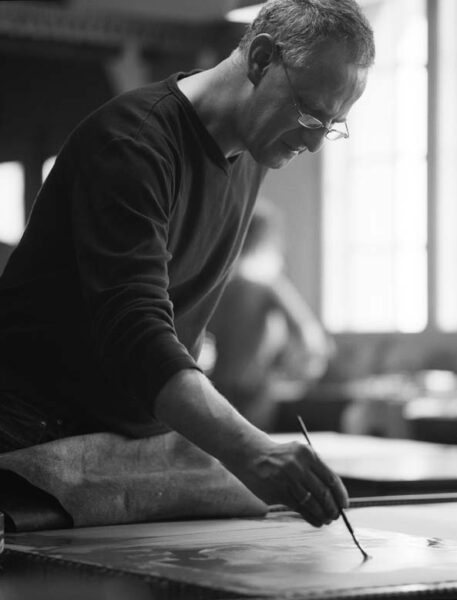 This week: Duncan and Richard talk to art superstar Luc Tuymans!
The following is shamelessly lifted from the MCA site:
Luc Tuymans (Belgian, b. 1958) is considered one of the most significant European painters of his generation and he has been an enduring influence on younger and emerging artists. Born and raised in Antwerp, where he lives and works, Tuymans is an inheritor to the vast tradition of Northern European painting. At the same time, as a child of the 1950s, his relationship to the medium is understandably influenced by photography, television, and cinema.
Interested in the lingering effects of World War II on the lives of Europeans, Tuymans explores issues of history and memory, as well as the relationship between photography and painting, using a muted palette to create canvases that are simultaneously withholding and disarmingly stark. Drawing on imagery from photography, television, and film, his distinctive compositions make ingenious use of cropping, close-ups, framing, and Luc Tuymans sequencing, offering fresh perspectives on the medium of painting, as well as larger cultural issues.
The artist's more recent work approaches the post-colonial situation in the Congo and the dramatic turn of world events after 9/11. These series have led Tuymans to a sustained investigation of the realms of the pathological and the conspiratorial.

Dutch Artists Jeroen Koolhaas and Dre Urhahn who meet when they started working together in 2005 while filming a documentary about hip hop in the favelas of Rio and São Paolo for MTV were inspired by the visit. They decided to bring outrageous works of art to unexpected places, starting with painting enormous murals in the slums of Brazil together with the local youth.

What began as a single mural here or a most impressive redesign of a concrete stairway into a illustrative koi pond has grown into a plan to paint the entire favela into a colorful explosion on the side of a hill. The idea being that ownership, pride and hope will spur the locals into viewing the slum as something to build on and protect as opposed to exploit and escape from. I am always interested to see solid case studies on if this works or not since I have seen first had it both change a community and also fail miserably in a separate instance and get trampled à  la pearls before swine. Akin to that would be ABC's Extreme Makeover Home Edition where you wonder how many of the new homes mansions are in forclosure or complete disarray.
Regardless though the work is amazing and quite interesting, I only hope the artists do get to complete the project it will be interesting to see it as a whole.