Guest post by Lise McKean
Voyage à Nantes, until August 31, 2014
Thanks to my husband who's from the Atlantic coast of France, I'm a regular visitor to Nantes, a city the size of Boston on the estuary of the Loire River. I just got back from there and besides long days and lingering twilight, another good reason to visit in summer is to take in Le Voyage à Nantes. I first saw it last summer, and 2014 is the third edition of this two-month arts festival. Voyage creates visual and conceptual conversations between contemporary works, cultural treasures from local museums, and the sites themselves. Alongside centuries of architectural, urban, and riverine forms, installations resonate with green innovation and spaces–Nantes was Europe's Green Capital in 2013.
Voyage activates the city's green identity. A fluorescent green line painted on the pavement leads voyagers to exhibition sites and suggests destinations to everyday flâneurs. The 8-mile line branches into three circuits covering 42 sites in central Nantes. Another route brings visitors further afield by bike, boat, car, or bus to see Estuary, a collection of permanent installations occupying industrial and natural sites near the river between Nantes and downstream at St. Nazaire.
Like any trip, some sights and moments on Voyage appeal more than others. The 2103 and 2014 shows aren't padded with works so obvious that they're slam-dunk crowd pleasers. That is, thankfully the organizers don't mistake facile for accessible–a problem less savvy large-scale public exhibitions pose for art connoisseurs. One year to the next artists and curators create installations that produce different experiences of the same indoor or outdoor spaces.
For example, the works occupying the expansive Place du Bouffay in central Nantes in 2013 and 2014 enliven the space very differently. Follow the Leaders by Isaac Cordal for Voyage 2013 is at once large and small: the installation takes up a lot of the plaza, yet it's the fit-in-your-hand personages dotting the work's gravel and rubble that grab the attention of viewers and passersby alike. Cordal's little, grey-suited, briefcase-carrying men look like they rained down from a Magritte painting.
This year, Vincent Mauger created Résolution des forces en présence for Place du Bouffay. It's large, spiked, and wooden. It could be described in terms of natural forms: hedgehog, reclining pine tree, spiny sea creature. Medieval weapons enthusiasts might see the piece as the gigantic head for nasty armaments such as the morningstar or holy water sprinkler. Its size and spikes might seem menacing, but the tentative way it rests on only some of its phalanges invites an imaginary journey à la Nantes luminary Jules Verne–might it roll like a log or crawl like a scorpion across the plaza?
Taking the green line to the Temple du Goût brings visitors to a temporary exhibition space that was built in the 1750s as a commercial and residential building on the quay of the Loire and the epitome of the era's lavish taste. Going from the bright sun into the building's subdued light and damp interior feels like stepping back in time–or into a dungeon. Last year Cordal's work filled the Temple's gallery spaces with Le Nouvel Esclavage (The New Slavery). The title resonates with the site's history: the port of Nantes was the epicenter of the Atlantic slave trade in France.
With eyes still adjusting to the darkness, visitors pass into the first exhibition. Cordal's little men aren't in their outdoor wasteland anymore. And the change isn't for the better. Here they sit or slump at desks that are lined up inside animal cages that in turn are piled atop and beside each other. It's like looking through Loop office windows from Chicago's green line and seeing cubed workers in the ghoulish glow of fluorescent light. The savage eloquence of the installation's stark materials and repeated forms wrenches the gut. Cordal's additional Temple installations also  explore contemporary anomie, placing the little men and other figurines and objects in different settings, but with less visceral effect.
This year the Temple du Goût offers visitors another sensibility with Curiositas, a subset of Voyage exhibitions that is unified by the interests of curators from the Nantes Musée des Beaux-Arts. A line-up of bird specimens and an Inuit kayak (1836) are near the entrance. Turn the corner and it's another world: Alighiero e Boetti's painting Il Progressivo Svanir della Consuetudine (1974) fills a wall with ballpoint blue. Nestled adjacent to it is a small painting by Yves Tanguy (Untitled, 1927), responding to the Boetti with its own swathe of blue.
In the next rooms a sculpture of the python spirit by the Nalu people of Guinea consorts with Personnage avec Yeux Bleus (Personage with Blue Eyes, 1954) by Gaston Chaissac. This Chaissac gem is from the Nantes art museum; one hour away, Les Sables d'Olonne's magnificent beach is matched by collections of Chaissac and Victor Brauner at its Musée de l'Abbaye Sainte-Croix. Anne and Patrick Poirier's Phantasma, a site specific work in the Temple whispers archeological spells while sparkling in the dimly lit room. Last last year Cordal held forth here with a fortress of briefcases.
Voyage gives old and new works summer homes to bring them closer to locals and to bring tourists to Nantes. And visual art isn't the only attraction. Voyage offers a couple months of classical, jazz, folk, and pop music concerts, along with the Electropixel Festival and a rooftop place to watch movies, consciously riffing on old-time American drive-ins. And this being France, art extends to food: visitors eat locally produced food and wine at artist-designed picnic spots and cafés along the green line, and chefs with stars prepare dinner for 200 in a local vineyard.
Voyage also brings Nantes' best-known sights into its orbit with works commissioned for these spaces. For example, last year Cordal's little men were bobbing in the moat at the Chateau des Ducs de Bretagne. Installations also pop up around the Parc des Chantiers, where the Compagne Machines de l'île builds and operates its grand mechanical creations on the grounds of former shipyards. On this island in the Loire, Royale de Luxe also creates monumental mechanical beings, and brings them to life as street theatre in Nantes and beyond. Just maybe one day Royale de Luxe will make its way across the Atlantic and work its magic on us here in Chicago.
Lise McKean is a social anthropologist and writer based in Chicago.
Guest post by Sofia Leiby
In early 2014 Chicago-based painters Sofia Leiby and Josh Dihle had a conversation about painting, about Dihle's painting in particular, at Adult Contemporary, an artist-run apartment gallery in Logan Square.
Sofia Leiby: So, how did you come to paint plants?
Josh Dihle: The plants are the things I do while I'm making the painting. They are the scenery, what populate the space. So whether I'm making a bunch of paper mâché groceries (as with Roger's Grocery in 2011), or I'm painting little ferns, it's about the act, the irrational act, that propels the image which makes the painting. And there's a labor component, not as a display of labor, but labor towards a density.
SL: What sort of density?
JD: A density like the framing of the painting that points to itself, as in Dark Moss. It's about the creation of a black hole for attention… Not attention in the theatrical sense, but a kind of focus. That one hung in my bedroom across from my bed for a while.
SL: What's your painting timeline? When do you work?
JD: I just left one job [at an art gallery] because I wanted more time in the studio, so I have four days a week to myself. Among other things, I had done Miami Basel [art fair in Miami Beach] and talked to people about paintings in a kind of sales-y atmosphere.
SL: "Sales-y," that's a really cute way to talk about Art Basel. I worked there in 2012. I thought I'd go and think "Oh my god, this isn't the world I want to be in." But that wasn't my reaction. It was more like, "Wow! Look at this Chris Wool from 2013!"
JD: There's a lot of good stuff to see. The best times for the fairs are when no one has arrived or everyone has left. I was there for eight days and my show was going to open the next week, so I made this painting while I was there. I'd go back to my Air BnB studio apartment and work on this painting at night, and I called it How to Get Fancy with the King because I was thinking about the power relationships at play between buyers, sellers, makers, and viewers.
SL: You're the king?
JD: The king is the power holder. For me, this is a silly and obnoxious painting, as I was thinking about the airs one puts on for the ones in power. The plants are too big, they are falling over and they're all pointy and kind of unpleasant, the colors are a little nauseating: I saw myself as the court fool who is having to wear a lot of bells and silly things in order to get into the fancy place, wherever that might be.
SL: That's funny. You're going back to your hotel and painting. It's like the opposite of what an artist normally does during Art Basel.
JD: I know.
SL: With a lot of this melding of art and life and having to have a career, these things get really muddy. It's two kinds of productivity. The productivity of making, versus the painting, versus networking around the painting. There's this thing about artists working for galleries, is it problematic, does it help, is it good for making connections… You're purposefully putting up a wall, saying, "I don't want to engage my job at the gallery in that way."
It's curious to me, and really admirable. It's almost like you were a musician working in a chemistry lab. Like you have nothing to gain from your profession but you do at the same time.
JD: It's not that I don't want to network; I'm just not interested in it. I have to think about the fact that making the paintings is something of personal necessity. But I actually am paying close attention to what is happening out there. These paintings attest to that attentiveness, but they are still of a personal nature and are reflective of my own tendencies and peculiarities. Not that they are all so unique. I don't even think the whole originality thing is part of the rubric for me.
It's funny, in one of the first episodes of [art podcast] Bad at Sports, Michelle Grabner, talking about young artists, says she wouldn't put her approach [as a curator, writer, artist and educator] up as an exemplary model for everyone, advising that some people should just make their art. I'm somebody who has curated, and I do write, it just doesn't go out the door… I'd love to be the polymath that she is. But she said to just make the work. I thought that was pretty great advice.
SL: What about the black painting [Dead Elephant]?
JD: Oddly, How to Get in Fancy with the King has the most going on in it and it was by far the quickest painting in the show. Everything else was months of work. In Dead Elephant, you can see all the background stuff, the scoring into it. I continued to winnow everything down and glaze in and add these folds on top of it until the last visible part was the elephant's head. The elephant is the closest I've come to the figure in a while. It represents the eternal innocent to me. It can be the stand-in for a relationship, or something you don't want to lose steam around. It also carries a lot of cultural references.
SL: The elephant seems to be in contrast, then, to the plants, which are something to do whilst you paint. It seems more symbolic. Do you think about it differently?
JD: I started thinking about the elephant when I got out of a long relationship, and needed something more concrete to hang this weight on.
SL: Right. And the heaviest thing you can think of? A dead elephant!
JD: Right. So without having the seismic-level shifts [like a breakup] going on, I deal with the day-to-day freneticism that I feel in my life in the studio. The plants or obsessively worked abstract paintings become became the alternative mode to something like the elephant. But it's not like I'm trying to make that one plant stand directly for every human woe.
When I first painted the elephant, it was part of a more complex, lush jungle. It didn't assume that singular spotlight role until later. It was a decision making that happened more additively.
SL: I like that your decision making, adding to the painting and darkening the stage, so to speak, by adding the foliage around the elephant, is part of the life or narrative of the painting. It contains both process and symbolism.
JD: Yes, exactly. I love that you're saying stage. I think it was [Philip] Guston who said his paintings are like a stage after all the actors walk off. I have been thinking about these paintings as depopulated. They're nothing but the scenery; in this case, it's the scenery around an elephant, but the viewer provides the figure. You yourself are there.
SL: This is a bit of a deviation, but I've been thinking about this idea of "virtual space." Looking at this painting by a friend of mine the other day, I was trying to describe the space between these two layers. There's this thing, and there's this thing behind it. Can I measure the distance [between those two]? I thought about it as analogous to when I'm holding my phone. This distance between the screen and my face, I don't know how to measure it because my head is there and the screen fills my space. And the same thing with a laptop, where does your body start interacting with a device and where does it stop? Are you interacting here, or here [at different proximities between body and machine]?
JD: Painting is a thing of the mind. That's the saying. So that type of space contributes to the nebulous, ambiguous bodily relationship to a painting that proves that you don't need to be completely inside of it to experience it.
SL: Although, these may be too flat for me to enter. The space is so tight that I'm not really there, but I do experience a tilting forward wherever the horizon line is, that it's falling onto me.
JD: As far as my formal space in these works, it's not like the curve of space in a Lucian Freud painting, like when his model is spilling down off the couch in front of you and gravity is sucking her down. These paintings are more about a space where there's only one part of the horizon that recedes, and you understand everything else to be flat. But from top to bottom there is no scale shift. I have a big one in the studio that's five and half feet tall and it's painted very much in this way. The shadows, the way the light sits, this plant is casting a shadow straight down, but this plant here, the shadow is going straight back from it. So there's that Cubist goofiness and then it's also like wallpaper, without a plot. If there were deep space, there would be more of a plot to it. It's more about the performance of the painting.
SL: Formally, I also just love those aloe plants. Plants do that sometimes, grow one long arm and somehow, it's so disgusting. Or sometimes the sun is over there and it points toward it. You're like, you're not supposed to do that! You forget that plants are not decoration but are living things.
JD: Plants do not have their own sentience, but they are heliotropic, they grow toward light. It's like a formal consciousness. Maybe this is how my consciousness resides in the paintings. The thing to remember about these plants is that I'm making them all up.
SL: So you don't draw them from life. You don't have plants in your studio?
JD: I have a plant in my studio; it's rapidly dying. But no, in this case, no. There is no real plant like that. And if you look at them, they all have the same form, they all have this star with an elaboration coming out of this central point.
SL: They disappear into that little hole. It's disturbing. Because you [wonder] where is the part where it descends into the ground. And it's not even a whole, it's a point; it's empty in the middle. It's almost like it came together underneath and then sprouted, breaking through the plane.
JD: Yes, so it's the outgrowth of an isolated studio behavior, not the outgrowth of a rational, observed reality. That's the distinction. So, no, these plants are not conscious in the way that you or I am conscious but they are heliotropic…there is an awareness, there is some kind of responsiveness in their being.
SL: Right. They are reaching toward each other but just missing. I like the cherry-blossom colors of this one [Meridian, 2013].
JD: They used to be dark trees, but I painted everything out and repositioned them, so there are ghost trees underneath. It disrupts the presumed sequence of the narrative. You assume that this painting was a linear march toward its completion, but it was a total Clyfford Still abstraction for a long time.
SL: It's like if you took a Clyfford Still and put seeds all over it and then waited for two months. You left it in an abandoned lot.
JD: He would have hated that, too.
SL: I really like the thought of this being an abstract painting that weeds just started growing on, like it was outside for too long.
JD: It's fair to say that if I happen to switch into the gear where I get really obsessive and repetitive, then there's a very good chance that it will become a representational painting with the plant form in it. It's bearing down. I'm a fucking worrier and I'm obsessive. That's my nature and I'm finding it to be irrepressible in my studio.
SL: "Obsessive" is such a subjective formal qualifier though. We're talking about a fairly airy painting for example.
JD: The decision-making is what's obsessive for me. But the actual look of the thing can be pretty open. It's not obsessive like a [Michelle] Grabner.
SL: People deal with obsession in different ways. You obsess over decisions; she obsesses over forms.
Guest post by Sonja Hornung
If Manifesta 10 has a curatorial focus, it came into being through conflict. Dubbed the 'Manifesta without a Manifesto', Europe's roving biennale opened late June in St Petersburg. Manifesta 10 has been shaped by conflict: not only armed conflict between Pro-Russian Separatists and the Ukrainian government, but also an oppressive set of homophobic laws introduced last year in Russia, compounded by rising rates of violence against its LGBT community. Amidst calls for boycotts from the international, Russian and Ukrainian artists and activists, Manifesta 10's curatorial agenda arose out of a series of on-the-fly statements from curator Kasper König, parallel responses from its director Hedwig Fijen and side-notes from Mikhail Piotrowsky, host of Manifesta 10 in St. Petersburg's legendary Winter Palace, the Hermitage Museum.
The whole situation is a public relations disaster. Kasper König underlined the importance of 'artistic freedom', complexity and richness, urging participating artists to sidestep 'cheap provocations' and avoid 'just making a particular political statement'. Hedwig Fijen, on the other hand, used a rhetoric of 'engagement', seeing the work of Manifesta as one of 'debate, negotiation, mediation, and diplomacy.' Compressing König's and Fijen's arguments together is a little like forcing together two misfit pieces of a jigsaw puzzle. The pressure of the boycott situation forced some skillful PR cement gun action. The subtext of the press releases was something like this: in Manifesta 10, contemporary art comes from a place of autonomy, complexity and freedom, but at the same time, it justifies its presence by provoking some sort of dialogue, by pushing change on the ground.
Previously I have discussed the reasons for boycotting the Sydney Biennale, suggesting that although it may not have immediate concrete outcomes, the boycott interrupted the art world's publicity machine and addressed the disgust many artists felt when it was revealed the Biennale's private sponsor was making business out of the detention of refugees. In St. Petersburg I was surprised to learn that Manifesta 10 and Sydney Biennale share the same PR team. They certainly didn't have an easy job in either case.
PR disasters are great. They're the only time when advertising possesses the rare quality of honesty. The fine line strung between by König's instistence on artistic (and curatorial) autonomy and Fijen's push for a more site specific approach is a tightrope walked by all biennales. Global art events must maintain the freedom demanded by global contemporary art, but they must also address the local scene. Without local relevance for St. Petersburg, Manifesta 10 would just be about power: the implementation of power within the art world, and the instrumentalisation of cultural freedom to legitimise Russian state power. In order to avoid this, contemporary art must promise change on a local level. It must have an emancipation project.
This is why press on Manifesta 10 tends to focus on the overtly political art, regardless on whether it approves of or damns the biennale's presence in St. Petersburg. Nicole Eisenman's paintings of lesbian sex. Marlene Dumas' portraits of Great Gay Men, tastefully retitled Great Men for the St. Petersburg authorities. The reenactment of Marilyn Monroe's death, impersonated by Vladislav Mamyshev-Monroe in delightfully trashy drag. Wofgang Tilman's suggestively homoerotic photographs. Images of these works were distributed in the lead-up to the Biennale via the press mailing-list. Such works touch pressure points relating to gender politics inside Russia rather than the war outside – with the exception of Boris Mikhailov's social realist snaps of the Euromaidan protests. Yet in the scheme of the sprawling exhibition, political provocations appear as carefully placed afterthoughts.
Far more present in my thoughts as I left St. Petersburg was a work by Belgian artist Joëlle Tuerlinkckx, who painted sheets of paper red and then stuck them face-down to every available wall surface, a wistfully hermetic gesture. In her statement, the artist wrote: 'Art and power have nothing to do with each other.'
The tension between autonomous and emancipatory art is no stranger to Western art. It has its origins in the role of the artist in the Enlightenment, perhaps most lucidly expressed by German playwright Friedrich Schiller. In a series of letters written in a state of utter disappointment about the failure of the French Revolution, Schiller argued that humanity, constrained by the necessity of having to feed so many mouths, was simply not yet ready for freedom. When Kasper König calls for the importance of artistic freedom, he is (knowingly or unknowingly) drawing on the Schillerean tradition. For Schiller, freedom is play, and play is the true expression of what it is to be naturally human – before necessity and law intervene. Pure, purposeless play is the activity of the artist, who occupies a state of 'aesthetic liberty' autonomous from the necessity for survival, the daily grind. Accordingly, many states, Russia included, have legislation protecting artistic freedom of expression, allowing artists (in theory) to say and do things that are not permitted in normal circumstances to the average citizen. Most artists, when you ask them, consider artistic freedom to be different from the political freedom of the everyperson. The rest of humanity can only aspire towards this state by contemplating art, the product of pure play. Thus the freedom of the artist becomes a pedagogical tool for anticipating the universal state of liberty to come.
In the post-post-modern condition embraced by the artworld mainstream, Enlightenment thinkers such as Schiller (and by association König) may appear old-fashioned, elitist or patronising. However, Schiller's conception of the pedagogical role of art remains embedded in the Western conception of artistic freedom. In this line of thinking, art's apparent ability to sit outside of power justifies its appeal to the ethical betterment of humanity. Piotrowsky, who invited the Biennale to the Hermitage, reiterates this thinking when he says: 'a person's conduct is usually regulated, not by the prosecution office or the police, but by the person's good taste. And good taste is often defined precisely by art'
Perhaps art might define good taste, but more often than not, good taste defines art, and the most controversial works of art are tamed by the most controlling narratives of taste, the signifier of cultivation. Estonian/Russian artist Kristina Norman's work Souvenir was commissioned by Manifesta 10 for its Public Program, curated by Joanna Warsza. Norman has made a giant steel Christmas tree, a copycat monument citing the Christmas tree left half-built during the Euromaidan protests in Kiev last November. Out of place and out of time, the sculpture stands awkwardly in the quiet of the Winter Palace square, impeding on St. Petersburg's own civilised silence about the escalating situation in Ukraine. Norman's gesture brings the symbol of resistance against Russian expansionism back to the symbolic heart of Russian power. However, on the day the Christmas tree appeared in front of the Hermitage, the museum posted the following incredible misinterpretation on its website: 'Maidan caused chaos. We hear the alert spoken in the language of art: be aware! Disturbances can be borne (sic) out of innocent entertainments…The unfinished Christmas tree near the festive holiday is an alert, a reminder…how a merry square has turned into a plug-ugly dump.'
What happens to Norman's tree throughout the duration of Manifesta remains to be seen. As an uprooted symbol it is volatile: it may provide the empty framework for protests to come, or perhaps it stands in for the impossibility of protest at all. The Hermitage's response shows that the moment artistic freedom is claimed on a platform provided by oppressive power, it courts being instrumentalised by that power.
In the above-mentioned interview, which was first published in Russia's Money Journal, Piotrowsky continues: 'I believe Manifesta in St. Petersburg will help to improve the global image of Russia.' If the emancipatory mission of Manifesta 10 relies on a set of assumptions drawing on the Schillerean role of the artist, this mission is invested in the flailing legacy of liberal ideals, and their link to state power. The historical legacy of the Enlightenment has gained new currency as it is subsumed to the PR campaigns of governments. In a June report about the ramifications of the Ukraine conflict, the ECFR noted that Putin 'presents an essentially illiberal vision of world order that he claims to be more realistic, based on spheres of influence…a direct opposite of Western ideas of liberal order.' Meanwhile, other non-Western countries perceived that 'the West enjoys an unjustified position of privilege in the international system', simply using Liberal ideals as a front while it pushes its own interests through international financial institutions and outsourced conflicts. This narrative is having an impact: it forecloses the slow but steady rearrangement of global finance, with the BRICS nations recently forming their own, smallscale version of the West-dominated IMF and WTO banks. Discourse of a Western liberalism debauched by territorial and economic interests is also shared by the intellectual Left in Europe, North America, and Australia.
So long as its appearance is controlled in the right way, the freedom represented by the artist can be put on a pedestal to divert a crisis about the nature of political freedom itself, in both non-Western and Western states. As we look to Sao Paolo for the next biennale and to UAE for the opening of a complex of international museums on Saadiyat Island, questions raised by the instrumentalisation of art are only going to become more urgent.
While the art system is certainly affected by such ideological shifts, it seems it is only half-aware of them. Manifesta 10's firm belief in the infallibility of artistic freedom appears to be a mutual and willfully naïve cover-up in the context of Russia's ambivalent (to say the least) attitude to the catastrophic war in Ukraine and the EU's slowness to react. Either that, or Manifesta is clinging to a nostalgic reiteration of the emancipatory vision of liberalism. The fact that so many art critics have swallowed Manifesta's PR campaign, despite its contradictions, suggests such nostalgia is certainly rife in the art world. However, as Ekaterina Degot points out in her recent text on the fetishization of freedom and censorship in Manifesta 10, in reality 'this whole system of mutually beneficial relations between several social and political groups is based on a mutual understanding shared by all sides involved of the rules of the game.'
The boycott itself, the ultimate act of refusal, is indicative of artists' wishes to remain separate from corporate power and the whitewashing of crimes of the state. This stands true not only of Manifesta, but also of the Sydney Biennale and Creative Time's Living as Form exhibition at Israel's Technion Institute. Boycotts, in this final sense, are the last cry for a clean platform for artistic expression. But although Manifesta 10 proposes to open dialogue about change in Russia, it hardly expects itself to be changed by the local Russian scene. The one reliable promise of Manifesta is continuity itself: the two-yearly rhythmic institutional blip of the biennale. Boycotts might therefore best be understood as an opportunity for contemporary art to revise not its PR, but its fundamental self-understanding. Perhaps it is possible to build a 'clean platform' yet. Or, perhaps the notion of contemporary art needs to be reformulated so that the 'clean platform' is no longer required.
Tired Atlas is the name of the performance made by Russian collective Chto Delat's School for Socially Engaged Art. The School provides a group of outspoken young artists and activists with an unorthodox education in an underground antifascist bar in the heart of St. Petersburg. Although Chto Delat withdrew from Manifesta 10, its students decided to participate, in an irregular sort of spontaneous, last-minute manner, in the Biennale's Public and Parallel Programs. For their performance, the students chose the portico of the New Hermitage, an imposing piece of neo-Baroque architecture. A row of enormous, black figures hold up the roof of the portico, mimicking the pose of the Greek Titan Atlas, who was condemned by Zeus to bear the celestial bodies. The Atlasses tower over the street, blocked by around 250 onlookers who gathered in anticipation of the performance. This was the only time I saw a large public gathering during my week-and-a-half-long stay in St. Petersburg. Each student came forward, took the position of an Atlas, shouted out their experience of the oppression of the state, and then joined their colleagues, forming a massive, trembling orgy of unstable Atlasses: a crumbling pedestal. The performance was nervy and rough and nobody cared, because it was honest. The sense of collective trust was palpable. Strength in anonymity. No PR.
Guest post by Jackie Terrassa
Three more weeks at the Clark Institute of Art in Williamstown.
Since 2010, the Samuel H. Kress Foundation has funded an annual museum education summer fellowship at the Clark. Five other scholars in art history—all curators or professors—are also here this summer as part of the Clark's fellowship program. We get a private office with a view of trees, a few hours a week of support from a research assistant, access to the Clark's fabulous library, plus an apartment that is larger than my own in New York City.
But what we really get are hills, ponds, green—lots of green. Time for pause and concentration. This is quite rare, especially in museum education. We have all become masters of the art of mixing life and work, 24/7, or rather crowding life with work. It's an endurance test.
My focus here? To kick-start the formal planning year of what will hopefully become a major, national research study. This collaborative project has been taking shape since 2010 as an initiative of the Museum Education Division of the National Art Education Association (NAEA), which I direct until my term ends in 2015; the Association of Art Museum Directors (AAMD) recently joined us as partners. Four years ago, a group of museum educators decided to do something about a startling fact: that in spite of all of those field trips that happen every day at art museums nationwide, in spite of evaluation studies of specific programs at different institutions, we as a field don't have any rigorous, broadly generalizable information about how people benefit from art museum experiences. And yet we in this community of the art world and museum education believe that young people should have the chance to physically go to art museums, spend time with great art as part of their school day, create or make sense of these works of art on their own terms, and also enjoy these experiences with their friends and families, outside of school. We also believe that while these experiences might be beneficial because they somehow improve test scores or help school retention, they are actually valuable because of deeper, more complex, more important, and more human reasons. But we have little to prove this. This disconnect between what we believe, what we do, and what we actually know makes us weak in the eyes of funders, school administrators, and government officials, especially in today's evidence-based educational environment. It also means that, without a strong research basis, our own practice as educators suffers.
This led us to develop a research framework and conduct some initial focus groups with educators. Now, with funds from the Samuel H. Kress Foundation, we are staring to work with a research firm to design a study that will address this question: What are the benefits to K-12 students of object-based experiences in art museums with original works of art as part of their regular school day?
Answering the question is quite difficult. We have to first devise criteria for a type of field trip that happens often enough at big and small art museums across the country, in rural and urban communities, and that is based on some understanding in the field about what constitutes good practice. We also have to define the grade range (elementary? high school?) and clarify our hypothesis about how students may benefit from these experiences, including social, affective, cognitive and creative dimensions. Finally, we have to establish criteria for selecting the museum sites and school districts where the study will take place and begin to develop the methodology of the study. And we have to fundraise for the study. To inform our thinking and contextualize the project, we are conducting a literature review that includes studies on field trips in general, impact studies about visual arts experiences, and texts on interpretive theory and museum education. And that is all before the study can begin.
Over the last few weeks, I have spent a good part of my time wrapping up the process of selecting our research partners as well as shaping the literature review–establishing a framework for what to include, identifying key texts and other relevant documents, and also reading and building an annotated bibliography. This work will continue over the next three week as I also begin planning in earnest with our research team.
This fellowship experience is far from a vacation. The truth is I am working just as hard, balancing Met upkeep hours and NAEA-AAMD research, plus a handful hours toggled between reviewing grant proposals for a foundation and securing contractors or talking to a real estate agent about property still owned, soon to be sold, in Chicago.
What is radically different is the outlook, the change of pace and place. Sometimes quiet, green, and alone is what one needs.
—-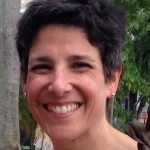 Jackie Terrassa is the Managing Museum Educator for Gallery and Studio Programs at The Metropolitan Museum of Art and, until 2015, directs the Museum Education Division of the National Art Education Association. This summer she is the Kress Summer Fellow in Museum Education at the Clark Institute of Art. At the Met she leads a range of public programs that engage people of all ages and backgrounds with original works of art and that may also involve artists and art-making. She cut her teeth in art administration and programming at the Hyde Park Art center; after which she worked in various roles at the David and Alfred Smart Museum of Art, University of Chicago; served as Head of Planning at the Freer Gallery of Art and Arthur M. Sackler Gallery, Smithsonian Institution; and led public programs at the Museum of Contemporary Art, Chicago. She has written and presented on art and art education, taught museum education, and served on advisory groups and panels, including those of the National Endowment for the Arts, the Illinois Arts Council, the Terra Foundation for the Arts, and the Joyce Foundation.

The Painter's Other Library, oil on Alupanel, 36 panels, each 16 x 32", 2014
Guest Post by Anne Harris
Matthew Girson is out of step. In our era of split-second digital dissemination, he paints meticulously crafted still lifes that are impossible to reproduce. His subject: books on shelves. After visiting his exhibition, The Painter's Other Library, now on view at the Chicago Cultural Center, my students emailed him a series of questions. One asked, "Do you ever hurt your eyes painting like this?" His response: "YES!  I get headaches. My drawings are so pale that I sometimes go snow-blind…." Although the paintings in this show are the opposite of pale, they are, like his drawings, hard to see. All live in the darkest realm of the gray scale, with distinctions so narrow they initially don't exist. This work tests our willingness to focus, and risks being lost in the quick looking, quickly summarizing I-saw-it-at-the-opening-but-will-look-at-the-website-later tempo that sums up much of today's viewing. Fluorescent lighting doesn't help, as first impressions reduce the show to elegant black rectangles hung low in the beautifully proportioned but coldly glowing space. Once filled with library stacks—the CCC being our original public library—it consists now of bright white 30 ft. high walls, looming narrow arched doorways, flat gray carpet, and enormous windows blanketed by black drapes. The effect is a stark chic. This positions the work as contemporary, but risks blanching its quiet presence.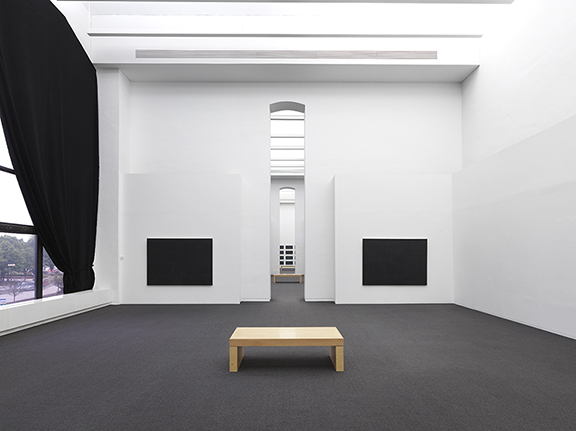 The Painter's Other Library, North Gallery, Installation View
That said, these paintings are indeed present. They have the kind of intensity made through subtlety found in work meant to be slowly experienced—taken in through the senses and felt, rather than glanced at and catalogued in terms of image and idea. It was a pleasure to see my students vigorously looking; the paintings required a surprising amount of motion from us. Full frontal, back away, then stick your nose in, try to bend your eyeballs around the back of the painting to understand its construction, now angle sideways for a diagonal view, then back off again, images emerge, surfaces shift, color shifts, the space shifts, even the design seems to shift when the pieces are seen askance from variable angles. My class was enthralled by the smudged gray circles optically shimmering midst the grid of paintings in the farthest room ("a happy accident," Matthew told us). My funniest experience—when I turned away and then looked over my shoulder, two pieces in the middle room kept dropping their stripes. The center voids expanded, which startled me. Very sneaky! If you seek out work that insists on long looking, if you (like me) are seriously frustrated that Ad Reinhardt's Abstract Painting is still not hanging at the AIC (it's been years); if you speed through that room filled with Richters that are always up to reach the one Vija Celmins that is sometimes up; if you find yourself flattening your head against the wall trying to understand the surface of Jack Whitten's Khee II, then this show's for you.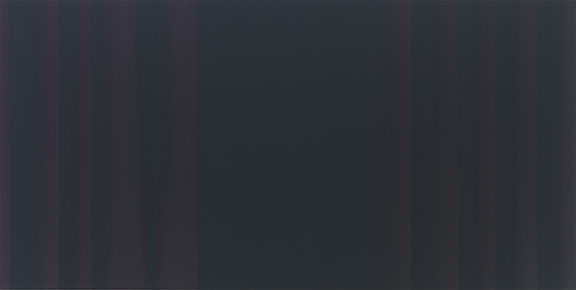 Untitled (Reference) #1, oil on canvas, 40 x 80", 2013
You'll note the paintings I've just mentioned were all done before 1980. Girson teeters on a 40 year-old edge, the now non-existent divide between representation and abstraction. A line can be drawn from Girson back to the Parthenon's friezes, to include Morandi, Mondrian, Poussin and Piero della Francesca. Their common denominator is the subjugation of subject matter to classical structure, the belief that purity of form in a work of art will bestow profundity on its contents. This thinking shaped David's The Death of Marat, Thomas Jefferson's Monticello, and the fascist art and architecture executed under Mussolini and Hitler.
This brings me to subject matter, and to a point in Girson's work that I struggle with. The first piece one meets in this show is an outlier, called Allegory, Allegory, Part 1, it includes a line of twenty-four 8 x 16" painted panels. They repeat, in lush glossy black troweled over smooth matt black, an image of a fire. They're seen in relation to their source, a mostly silent video of a bonfire, a small section of Leni Riefenstahl's Nazi masterpiece, Triumph of the Will. Girson's goal is ambitious, to weave together the multiple uses of classicism in relationship to political thinking, from the age of enlightenment to the "endgame of modernity," as Paul B. Jaskot calls Hitler's aesthetic ideals and monstrous deeds, in his fine essay for this show. I'll add, this is the piece whose idea most intrigues me, but that interests me least in the flesh. It's the most literal, the paint refuses to transpose, and it's the only piece I looked at quickly. Today, in representational art, it's typical to assume that the subject is the point of the painting. A more sophisticated viewer might look for subject in relationship to idea, but the understanding of painting as visceral experience tends to be reserved for non-objective work. So Matthew's paintings are discussed and positioned in terms of subject and idea, while their form is only considered support for those things. Thus, dark libraries and dark books represent acquired and withheld knowledge—enlightenment and repression. Geometric structure is equated with fascism, repetition with entrapment, darkness with inaccessibility, and so on. It's assumed that Girson's choices are symbolic, that they function as allegory. Certainly his titles support that.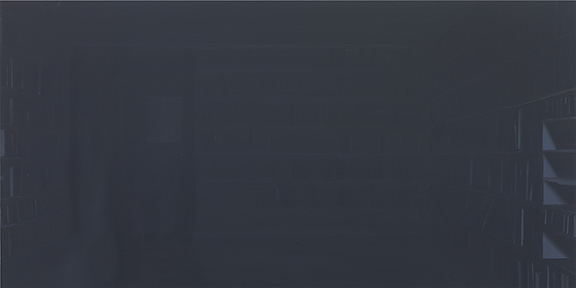 The Walls Were Full of Books. The Books Were Full of Ideas, oil on Alupanel,16 x 32", 2014
Yes, these layers of meaning exist in this work, but placing them in front is misleading. I propose that the subject of Matthew Girson's paintings is actually light, not books. Dark light. These paintings contain and emit dim luminosity. They're filled with it. The longer we look, the brighter they become. The paradox of dark light is that over time we see more: our pupils dilate; we attune to the finest variations in value, temperature and hue, these grow through our concentrated focus. We've all entered dark rooms and waited as our eyes adjusted, but I'll use a different parallel to describe this experience. Try staring through the insides of your closed eyelids. At first what you see is matter-of-fact blankness, an eclipse of your field of vision, but soon motion occurs, blooms of light, shifting shape, color, and eventually images. Stare long enough and your inward vision takes over, your sense of self, memories, the narratives of your life both public and private, all of these things exist within the intimate all-enclosing space behind your eyelids. This is where Matthew's best paintings lie. They're not symbolic. They're metaphoric. Experiential. Starting with the intellect drains this away. By accessing this work first through sensory, sensual experience, the meaning deepens and opens, complex and contradictory. These pieces are best entered as we do all great fiction, imagination first.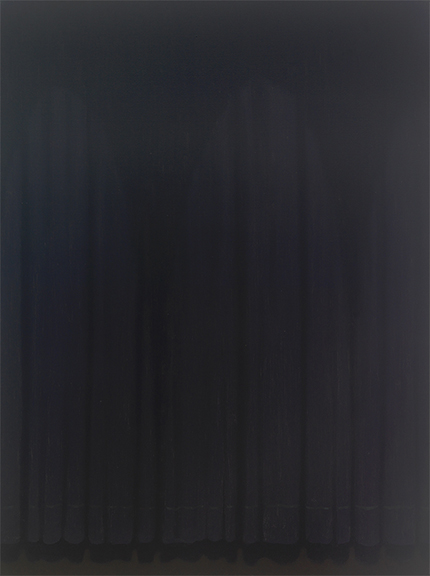 The House Was Quiet and the World was Calm, oil on canvas, 80 x 60", 2010
This past Monday, I visited the show again. As I looked and took notes, I was joined by the museum guard, Michael Hill. He'd just spent three days with Matthew's work. I asked him to point out his favorites and he indicated Allegory, Allegory, Part 1 (he disagrees with me!), saying that he didn't understand it until he saw it at an angle. He then pointed to The House Was Quiet and the World was Calm and told me that he instructs people to "look at it from the bottom up." We moved to the back room to look at another of his favorites, The Walls Were Full of Books, The Books Were Full of Ideas. Just then, a man walked in, looking perplexed. He asked Hill, "What are these? Holograms?" Hill responded, "No sir. These are paintings." The man's eyebrows contracted, "What? What! What kind of paintings are THESE!" Hill had no answer, so he smiled. The enigma of Hill's response perfectly mirrored the mystery of this extraordinary work. Come see it. Take an hour. Look very slowly.
Anne Harris is a painter who also teaches and curates. She's Chair of the Exhibition Committee at the Riverside Arts Center, and currently teaches MFA and BFA students in the Painting and Drawing Department at SAIC. Her work has been exhibited at museums such as The National Portrait Gallery at The Smithsonian Institute and The Aldrich Museum of Contemporary Art. Awards received include Guggenheim and NEA Fellowships. She lives in Riverside, IL, just outside Chicago.