Guest post by Lise Haller Baggesen.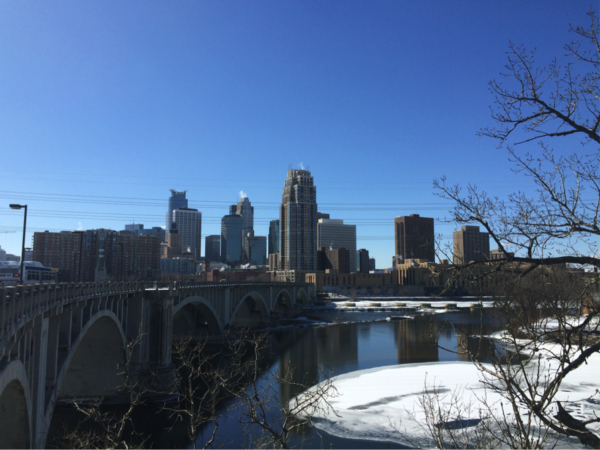 Viking lore has it that during the times of Erik Ejegod, the streets of Denmark were paved with gold. Ejegod was the successor to the notorious Oluf Hunger and well loved by his people for bringing an end to his predecessor's regime of famine and ill fortune. So well loved was he and so prosperous the country, that nobody would lock the door at night and nobody would steal the golden pavement for themselves, because who needs gold when your cattle is well fed, your children are clothed, and your community is thriving?
In the Minneapolis Institute of Art you can leave your purse along with your coat and other personal belongings in an open cubby in the unguarded wardrobe, only to come back after an hour-long visit and find them just as you left them. I don't know if this is the reason that Minnesota is one of the few American states which remained blue after the recent mid-term election, or if this has anything to do with the fact that Minneapolis is one of the only American cities governed by the principles of some sort of livable socialism (often referred to over here as "the Scandinavian Model") according to which the highest incomes are taxed harder to provide for less fortunate resident's housing, education, etc. (and not only their incarceration). I dunno. What I do know (cause I've been told) is that Minneapolis has the highest per capita arts funding in the United States, at $7 per head (followed not so hot on the heels by the New Yorkers who ring up at a whooping 5 cents per capita), so there is no need for Minneapolis artists to raid the cubbies at their local art museum.
The city's major institutions, The Minneapolis Institute of Art and The Walker Art Center, boast beautiful works in gorgeous architecture. To underscore their commitment to public service, teens get in for free at the Walker, while everybody gets in free at MIA. Both also feature picture windows with stunning panoramic views of the city's pocket size skyline: it's a keeper!
In addition to their impressive collections of international standing, both institutions have exhibition space devoted to home grown talent. I was particularly enthralled by Jonathan Kaiser's "Inverse Echo" installation at the MIA, consisting of perpetually looped vinyl recordings and inverted disco-balls cast in concrete.
Another intriguing display –this time among the MIA's period rooms –was the intellectually cluttered office of the charmingly dapper curator Barton Kestle, who had mysteriously disappeared in 1954, shortly after boarding a train to Washington D.C. This immaculately preserved postwar murder mystery complete with minibar, painter's easel, and Underwood typewriter was revealed to be a divinely comedic practical joke by Mark Dion for the museum's 2013 exhibition "More Real? Art in the Age of Truthiness" –but not until after it had both my host and myself completely hooked on its premise.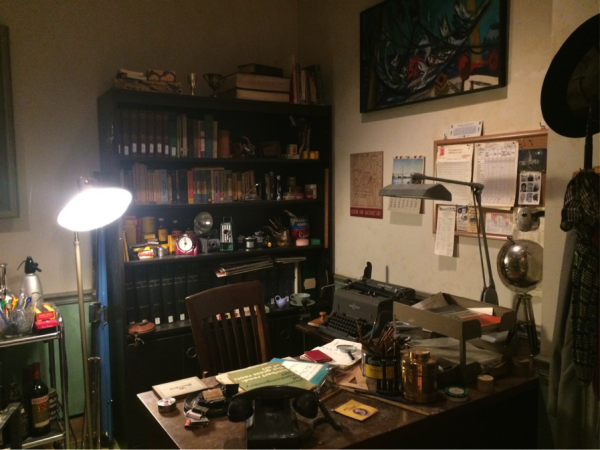 My tour was peppered with a behind-the-scenes of the Walker, and a trip to the suburbs to ogle Prince's mansion from the driveway (spoiler alert: it is not really a mansion, or maybe we were just ill informed) before heading for a selection of the city's galleries.
Affordable space is no scarce commodity here: in Bryan Savitz's first solo exhibition at David Petersen Gallery Pianos Are Also Heavy, the ample sized gallery is inhabited by four micromalistic alabaster sculptures on wall mounted shelves, to "compose a silence that allows for listening."
The friendly gallery assistant informs us that he has a few works in the group show next door at SooVAC, an artist run space featuring mainly local art by local people. Judging by the show on view, the local people's good humored and laid back attitude obfuscates their disturbing intentions; the eclectic exhibition is titled Keep Honking I'm Reloading.
At Midway Contemporary we get first peeks at Alehandro Cesarco's: Prescribe the Symptom. The paint is barely dry on the barely there silkscreen print which the artist describe as "muted melodrama" or "economic minimalism;" a favorite mode of expression it seems, in this land of plenty. Next to their exhibition space Midway features a gorgeous library with an ever-expanding collection of rare (art) historical material and artist's editions. It's sleek yet sturdy blonde bookshelves transport me to some place sweeter than Sweden; although Minnesota is wrapped in a Siberian cold, every (art) space I enter is heated like a sauna, and inhabited by friendly and scantily clad locals donning T-shirts in decidedly sweater weather.
Did I mention that the UofM has gorgeous studios and ballroom sized workshops, and that they actually pay their visiting faculty a living wage? I won't tell you how much, or y'all wanna come…no, wait a minute, why not?
Given the note we all recently received, via email, Facebook, Twitter or whatever – you know the one: The "everything-will-not-be-alright" from the Illinois Art Council, which boiled down to: "In this life, things are much harder than the afterworld –this life you're on your own!" Instead of asking how much of our time is left, ask how much of our mind? Take a look around (at least you've got friends) and if the elevator tries to put us down, punch a higher floor –let's all move to Minneapolis, to look for the purple banana before they put us on the truck –let's go crazy!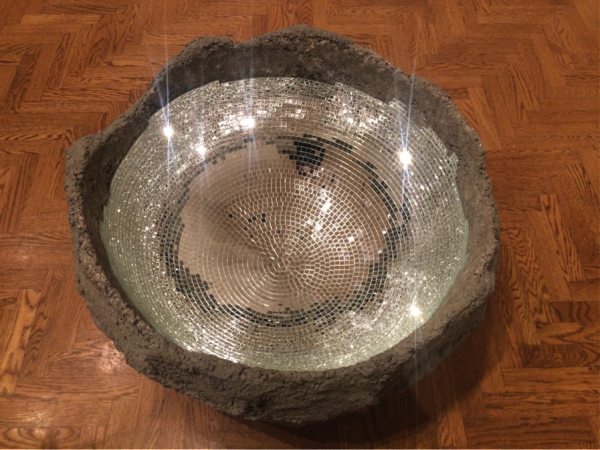 ---

Lise Haller Baggesen left her native Denmark in 1992 to study painting in the Netherlands. In 2008 she relocated to Chicago with her family. In the meantime, her work evolved from a traditional painting practice toward a hybrid practice including curating, writing and immersive multimedia installation work. Her first book "Mothernism" was published by Poor Farm Press and Green Lantern Press in 2014. 
Guest post by Tiffany Funk
Kanye West recently disclosed to France's Clique TV that the School of the Art Institute will grant him an honorary doctorate during their May commencement ceremony. Walter E. Massey, President of the School of the Art Institute of Chicago, invited West on March 4 through Twitter. As of the writing of this essay, the news has been confirmed by a variety of sources, including the Chicago Tribune.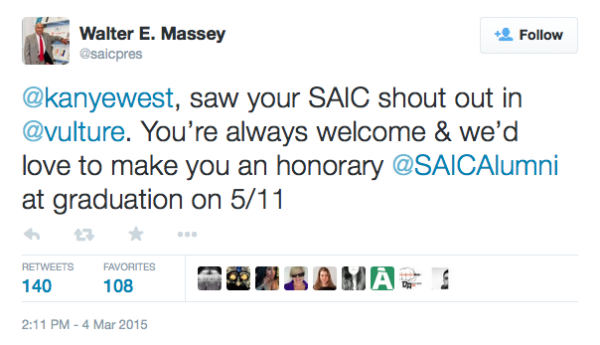 Full disclosure: I am pursuing a PhD, hoping to get my own doctorate in the fall. At first when I heard this, I rolled my eyes so hard they almost flew out of their sockets. I like Kanye West's music enough, but I'm no super fan. I'm not directly affiliated with the School of the Art Institute, but I'm close with many who are. I usually avoid tabloid press, but the honorary degree rumblings piqued my interest when I noticed the art blogs picking up the story and running with it. Then my Facebook feed lit up. I read countless responses from people defending the decision, deriding it, or simply questioning its veracity. Even while writing this, my opinion changed several times. Regardless, the whole issue seems to have hit a nerve amongst artists, and certainly the art community in Chicago.
Why is this? What is it about Kanye West and the School of the Art Institute that we feel this kind of immediate gut reaction? Why the vitriol? How can we approach this critically, getting to the heart of the real crisis here—that is, if there is one at all?
Here are a few of preliminary questions I asked myself and quickly dismissed:
Q: Does an honorary doctorate mean the same thing as a "regular" doctorate?
A: Of course not. Next.
Q: Does it matter than West never went to the School of the Art Institute when he was a Chicagoan, but instead went to the American Academy of the Arts and was—supposedly—a Columbia College Chicago dropout?
A: Not at all. (Besides, aren't we all supposed to be applauding successful people who self-identify as dropouts? Bill Gates has an honorary doctorate from Harvard, and he dropped out sometime around 1975.)
Q: Is what Kanye West does "art"?
A: Maybe—Yes—No—ugh, are we still asking these kinds of questions?
Q: Should an institution that does not grant doctorates be able to confer honorary doctorates?
A: Why not? If it's an honorary award, any institution should be able to confer any damned award they want. (Again: an honorary doctorate does not make one a PhD.)
The tradition of giving honorary doctorates has been around for a very long time, at least as long as the institutional convocation ceremony turned into an opportunity to invite prestige guest speakers. Many public figures have been awarded honorary doctorates for any number of reasons. The School of the Art Institute has in fact awarded many honorary degrees; last year's recipients were Theaster Gates, Ellen Sandor, and Franz Schulze. Gates, of course, is a well-known Chicago-based artist and educator, and Sandor and Schulze are both Chicago-based and heavily associated with SAIC. Many of the higher-profile past recipients have some sort of Chicago connection, or had even attended SAIC: for example, Apichatpong Weerasethakul (director of Uncle Boonmee Who Can Recall His Past Lives) received an SAIC MFA in 1998; Gahan Wilson was born in Evanston; Eric Fischl worked at the Museum of Contemporary Art as a security guard in the 1970s; Jeff Koons also attended SAIC before moving to NYC to become a commodities broker. However, not all honorary recipients are affiliated with Chicago or the Art Institute at all: Patti Smith, for example, is most associated with New York (have you read Just Kids yet? You have to read it). Yoko Ono's closest Chicago connection is that she headlined the Pitchfork Music Festival in 2007.
So why is Kanye West different? He has a strong Chicago connection. He is a wildly successful recording artist. He's shown himself to be a fascinating figure in the visual arts, to say the least. Clearly it's not so much that West's work isn't worthy of recognition, but seems to be an issue of what he represents. It brings up some really interesting questions regarding trends and kinds of art practice, particularly the business of art versus the more locally-recognized radical politics of social practice that begins in so many graduate programs. It brings up some interesting comparisons between the practices of more recent honorary recipients—Gates et al.—and the multifaceted work that we've seen from West.
What West represents is certainly not a social practice or radical politics—he's pretty clear, or clear in that he is so very, very unclear—that he is largely uninterested in social issues. In the same interview as his declaration that he is receiving the honorary doctorate, he states about race,
"Racism is a dated concept. It's like a silly concept that people try to touch on to either… to separate, to alienate, to pinpoint anything… It's stupid. The real true freedom isn't in the words."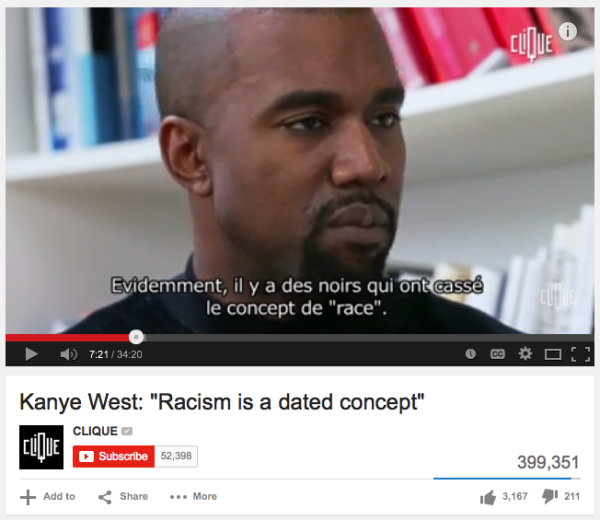 Many have read that statement as being far too flippant about race. But should we pillory West for his reaction to conversations about racism? It is old-fashioned. It is embarrassing that we still have to talk about it. And, yeah, it is stupid—not because race doesn't exist, or that it isn't still an incredibly embattled and complicated issue in America, but because racism as a concept is itself is a shorthand that allows us sidestep conversations about alienation and segregation. Kanye West is tired of talking about it, and doesn't want his work simplified in such a manner. Can you blame him?
Is this dismissal of racism part of the problem? Is it because West refuses to become an advocate, a definite voice against racism, and instead dares to focus upon a more autobiographical practice, that he is so often defined as self-absorbed and vapid?
Perhaps there is something in the fact that West is still relatively young, and often taken to task for being without the sort of self-reflection that seems to come with age. Perhaps it's because he announced the degree conferral himself before it was announced officially, and in that announcement, seemed to intimate that he feels he deserves it. Perhaps he didn't seem humble enough.
Perhaps it's because he's black.
Perhaps it's all those things, and because he's black.
Since many who are better equipped than I have taken on the issue of Kanye West and race, I propose that we not make this a question about him, his work, or the fact that he may be receiving an honorary degree—besides, if you were offered an honorary degree, would you say no?—and instead interrogate the motives of the honorary degree-granting institution. How/why should an art institution confer honorary doctorates, and what does that mean symbolically for the institution? And more importantly, what values and attributes does this privilege, and who does it privilege?
In shifting the attention from West to SAIC, here are a few more specific questions I propose we focus upon in future discourse as the 2015 commencement approaches:
1) How are people of color included/excluded by an institution that is known both for its art and for its prohibitively high tuition?*
2) Why give an honorary award to such a high-profile person of color? Is this honorary award in addition to, or in the place of, making institutional strides toward improving diversity in its student population?**
3) How does such a high-profile awardee persuade or dissuade matriculation and/or individual and corporate donation?
4) What communities/hegemonic structures does/should an art institution actually serve?
5) What does the conferral of honorary degrees mean for art institutions in general, and does this have any real impact on art education, practice, and discourse?
In the meantime, I'll be over here, listening to Graduation.
---
* Undergraduate tuition for SAIC, as of Fall 2015, is $43,140 for the year.
** The Fall 2014 enrollment statistics, according to SAIC's own website, are as follows:
American Indian or Alaskan Native 0.4%
Asian 11.2%
Black or African American 3.3%
Hispanic or Latino 7.8%
White 42%
Multiethnic 2.4%
Race/ethnicity unknown 3.6%
an Essay by Vanessa Gravenor
Is liberation a blessing, or a curse?
A curse disguised as a blessing, or a blessing feared as a curse?
Zymunt Bauman[1]
I.
The Internet is as anarchist zone where virtual creolization and dissolution of cultural boarders can occur ad infinitum facilitating intellectual freedom by masses access to global commodity culture. Yet a typical and altogether problematic West/ East and first world/ third world dichotomy emerges when considering Cuba's use of the Internet, highly moderated by the government, to the proper "West's" open and constant access. Two exhibitions, In the Absence of a Body (February 2015) and Cuban Virtualities[2] (December-February 2014), explore the complex semantics of freedom through virtual mobility and emigration asserting but also blurring this traditional dualism. Cuba as a country has a unique relationship with digital technology as connectivity and access are largely withheld from general populations and heavily moderated by the state. Historically, Cubans also faced impingements upon travel, mobility to the U.S. through the embargo, and immigration. For these reasons, America could be characterized as a designated promised-zone that, if ever reached, would help to facilitate liberation. The Internet and digital media can be seen as another gateway to mobility and freedom. The artists Alejandro Figueredo Diaz-Perera (In the Absence of a Body) and Susana Pilar Delahante Matienzo (Cuban Virtualities) reverse this traditional dichotomy by drawing the audience attention to the artificial promises of these thresholds and desired states. While not present directly, the post-Snowden discourse that ensued after the wikileaks scandal offers another enforcing layer that freedom and endless free-speech in the West might in fact have much more in common with Cuba's overt censorship.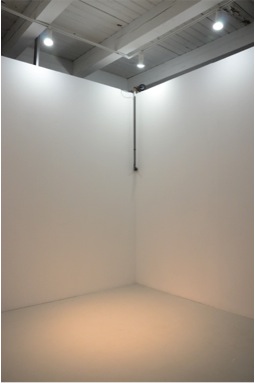 II.
During In the Absence of a Body the artist, Alejandro Figueredo Diaz-Perera, explores his current status as a Cuban émigré in the United States. With a childhood marked by the Cuban embargo and the collapse of structures in 1991, Diaz-Perera has in many ways broken through the invisible iron wall and reached the ultimate post-modern utopia through travel as an artist: acceleration and mobility.[3] Yet, it seems that he commiserates this freedom because he is cut off from his family and political moments. It is for these reasons that his installation takes on the appearance and the motif of the prison cell where he has taken up occupation for the twenty-day duration of the show.
In Diaz-Perera's installation and performance, he is invisible from the audience's gaze yet present behind the false wall of the Chicago Artists' Coalition gallery space, where he pulls a make shift levy system attached to a microphone. The undulating pulling motion causes the microphone to thud loudly against the wall— a rhythm reminiscent of a beating heart or an internal pounding of the head when the body's equilibrium has been overturned. Diaz-Perera's performance is reminiscent of Vito Acconci's Seed Bed and other early performance artists such as Valley Export's early occupation of architectural spaces. It is the austerity of The Silence (…) is overrated, part of the larger installation of In the Absence of a Body, that links it immediately to 1960's and 70's performance artists and also connects Diaz-Perera's work to earlier generations of action-based performance artists such as Tania Bruguera (Cuba) and Regina José Galindo (Guatemala).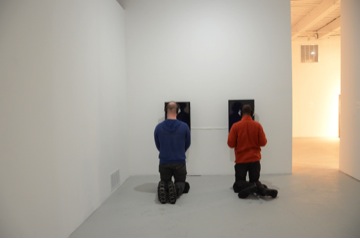 The Silence (…) is overrated, a performative gesture, is founded between two auditory documents from activist figures that have also suffered a loss of voice and silencing by the government. The audience is asked to kneel in order to hear the audio from the two activists figures inviting them to make a choice between hearing what officials call dissident speech and what others call proclamations of freedom. When the viewer makes the choice to kneel down, he or she is confronted with a strange dialectic between being in a position of crouching that can be used as a tool of political torcher or the spiritual position of prayer. This dialectic is mirrored by the artistic choice to only include two voices and accounts: that of Tania Bruguera, a performance artist living in New York but from Cuba, and Assata Shakur, an American and member of the former Black Panther Party and Black Liberation Army who resides in Cuba as a political refugee. Both attest to their homeland as a place of surveillance and political assailant on free speech and property. Particularly, Bruguera testimony demands that the government release performers and the artist's property, which were seized in the unrealized performance #YoTambienExijo (I also Demand) in December 2014.
There are no images attributed to the sound that the viewer hears through headphones. Instead a black monitor screen with white text that translates the speech either English or Spanish depending on the language of the speaker. This suggests that experience and testimony can always be mirrored into another lens by language and through this simple refraction can turn into incriminating testimony. In this case, it is Shakur attesting to the hegemony of the American police mirrored against Bruguera's assertion of Cuba as a police-state. The black TV-monitor is oddly reminiscent of a narrow window, the type of geometric form that one would find in a gothic cathedral, and yet in reality is a threshold for a virtual world that has been foreclosed.
Yet to view Diaz-Perera's work as a closed circuit triangulated work would be to miss the political context or the absent link. This missing link is Bruguera and her uncompleted and censored work #YoTambienExijo (I also Demand). Writing on the failed work's reception, Coco Fusco discusses #YoTambienExijo, a performance that was planned to take place in Revolutionary Square in Cuba but was censored by the government, as a work that neither the Cuban world nor the Western world understood because of the restricted means of communication and organization imposed by the Internet.[4] The plan for the performance, Fusco explains, was to place a large microphone within the public square for citizens to step up and call the government out for its crooked and what Fusco calls "draconian" censorship. Instead, Cuban citizens criticized Bruguera for creating a grand gesture that was completely out of touch with the possible realms for real subversive actions. Exhibition planners of Cuban Virtualities, J. Gibran Villalobos and Wil Ruggiero, explain that Cuban artists toe the line between political action and submission so that this vacillation between two oppositions could somehow function as a safety net against incrimination. Diaz-Perera hints to this paranoid conflicted zone and space by borrowing key motifs in his In the Absence of a Body. His overturned microphone becomes a direct referent to Bruguera's unrealized performance that in many ways was supposed to fill in what she presumably deemed as a public space vacant of expressed concerns. Yet, since Bruguera lives most of her time outside of Cuba, she is seen as a cultural elite and her extreme plans for the performance in December of 2014 only exacerbated an already heated situation. Therefore, Diaz-Perera's work can be seen as a complex meditation but also response to Bruguera's failed gesture. In his iteration, the microphone itself has lost all of its utility and can only create a deafening music.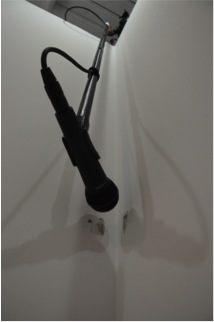 III.
Cuban Virtualities, a traveling exhibition that was on view at Sullivan Galleries from December-February, explores the individual's relationship to the Internet. Unlike Diaz-Perera's work, which questions the role of the émigré caught between two opposing yet similarly violent worlds, Cuban Virtualities focuses on individual's access to the Internet and how this can be a tool for political expression. Cuban Virtualities suggests a similar US/Cuban dualism as the viewer experiences the works from a point of estrangement.
Geert Lovink authored a 2014 article in Journal #54 of e-flux where he claims that the digital world had returned to a point pre-1984, which he then explains as the year before the apple computer had been introduced and marketed to the individual.[5] Before, he states, computers were large expensive machines for corporations and were not associated with file sharing programs, chat rooms, and borderless connections between individuals. Geert Lovink writes "Now, thirty years later, the computer is once again the perfect technical instrument of a cold, military security apparatus that is out to allocate, identify, select—and ultimately destroy—the Other." Lovink is writing for a journal based in the U.S.—the proper West— that unlike the Cuban artists at hand, enjoys a very specific so-called freedom.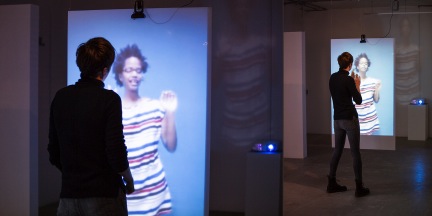 On the island where the artists of Cuban Virtualities live, their experience of the Internet is radically different than that of the United States. The Internet is overtly monitored, withheld, and often times not available to the individual. In Cuba, the Internet never reached a post-1984 position, yet that is not to say that individual expression ever suffered, rather that individual expression on the Internet was always elevated to political action. For instance, in Mirror of Patience, Susana Pilar Delahante Matienzo is present in the gallery through a live feed. Exhibition organizers J. Gibran Villalobos and Wil Ruggiero explain the huge monetary negotiation that had to take place in order to allow Matienzo to be present in the live feed. They explain that ultimately a company called ONCuba Magazine provided sponsorship for a network connection to broadcast with SAIC.
In the live feed, which was ultimately only possible at certain points in the exhibitions duration because of cost, the artist calls out to the viewer and asks him or her to place his or her hands on the backlit projection screen in order to mimic her actions. While playing the game, the viewer wonders if he or she has been dubiously tricked into staring into an unknown or othered reflection of the self. During the opening night, Matienzo waited for participants to come interact with her. Many looked on her with caution and often would utter anemic laughs while shooting glances to the virtually present artist. Often times Matienzo would laugh herself and ask— "who is there"— unable to see beyond the shallow range of the web cam.
Mirror of Patience, conceived by the artist in 2013, at first seemingly places the viewer and artist on a level playing field. Upon closer inspection, while the gallery has unlimited Internet access, the artist is only able to use the Internet through a special sponsorship she was able to receive because of her status as an artist, someone who in Cuban society has much more mobility and capital power, Villalobos and Ruggiero explain. In a post-Snowden cultural climate, Matienzo use of the Internet is a testament to the remaining possibility of dissident action. Yet, one is all too aware that the gesture is not utopian, she is not celebrating the world without borders but pointing to the artifice of the image of a timeless and borderless space.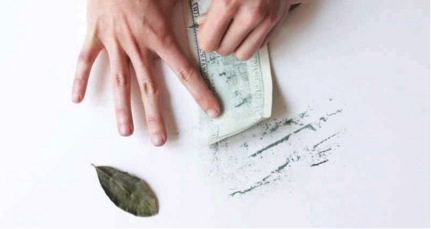 Glenda Leon's Inversion also muses on structures of meaning. In the single channel video, the artist scrapes the ink off a 100 dollar bill and then snorts the particles that remain after her intervention. This could be interpreted as a metaphor of the Internet, for accessing the Internet in 2014 or 15 is to reach a promised utopia but when one scrapes the surface, this essential freedom seems to fall apart. Cuban citizens can create a simple act of protest out of a simple action of hacking, and yet these actions and words are always being archived, cross-listed, and can and will be used against them.
IV.
In the CAC take-away pamphlet, Diaz-Perera describes how he was born in Havana, Cuba in 1991 "at the beginning of the Special Period, an economic crisis resulting from a combination of the collapse of the Soviet Union, the U.S. Embargo, and the internal systemic controls." Most of the artist in Cuban Virtualities also lived through this Special Period where power structures crumbled and the nation was isolated by the embargo. In many ways, Cuban life has been defined by the cross-pollination of U.S. and Cuban relationships and the continual reconfiguration of identity through absorption of other cultures in colonial periods. Yet in a sense, these other cultures, specifically American in this incident, have been an imposition. Villalobos' comments on Mirror of Patience as a "laying bare" of the reality of this co-dependency or in other words, the hell that connectivity can usher in as one side waits to begin to continue to communicate. It is in fact this waiting (awaiting) for information, for a sentence, or for connectivity, the same game that Diaz-Perera also plays in jest, that turns the would be freedom of emigrating or live-stream into the first of many entrapments.
[1] Bauman, Zygmunt. Liquid Modernity. 2nd ed. Cambridge: Polity Press, 2012. 9-19. Print.
[2] Cuban Virtualities: curated by Rewell Altunaga and Liz Munsell, Assistant Curator of Contemporary Art, Museum of Fine Arts, Boston; organized at SAIC by Gibran Villalobos (Dual MA 2013) and Wil Ruggiero
[3] Zygmunt Bauman explains one of the attributes of power in post-modern or liquid modern times is the access to mobility and the rate of this acquisition: "Velocity of movement and access to faster means of mobility steadily rose in modern times to the position of the principal tool of power and domination" (9).
Ibid
[4] Fusco, Coco. "The State of Detention: Performance, Politics, and the Cuban Public." e-flux.com. N.p., 6 Jan. 2015. Web. 8 Mar. 2015.
[5] Lovink, Geert. "Hermes on the Hudson: Notes on Media Theory after Snowden." e-flux.com. N.p., Apr. 2014. Web. 8 Mar. 2015.
Guest Post by Kate Ingold.
When I tell friends and colleagues that I'm going down to Pullman to see art, I get one of two responses: 1) What's Pullman? or 2) That's so far away! Let me address both of these responses before moving on: 1) Pullman, nestled near I-94 and Lake Calumet, is one of Chicago's most significant and interesting neighborhoods, the site of of a 19th century labor strike with national implications, and a place of such architectural and historical significance that it will likely be made a national park by the year's end [President Obama named The Pullman Historic District Chicago's first National Park on Feb 19th – Ed.], and 2) it is only 12 miles south of the Loop, easily accessible by Metra or by car (and I suppose by bike, if you're feeling energetic). But what about the art?
A number of years ago my friend JB Daniel, a conceptual artist and accidental community organizer, opened up the foyer of his late-19th-century Pullman row house to artist friends to make installations. The smallish space, lit by a transom above the front door, includes the area from the building's modest entrance to the stairwell it faces and the two doors to the row house's first floor guest room and studio. JB named the space "MOSNART," or "transom" backwards, and welcomed the public for the opening of the installation only, though he encouraged visitors to come and peer into the windows during the time the installation remained up to see the art from the outside. Local, national, and international artists have presented work in MOSNART, from sound installation (Jenny Roberts' "Now and Here"in 2010) to video (Noel Hennelly in 2012, Rosa Gaia Saunders in 2013) to art objects (Gwen Gerard in 2009, Laura Davis in 2010, among others) and textile installation (Jens Brasch's "inside/out upside/down" and my "Night Telegram/Water Speak," both 2009). Over the years, the MOSNART project has grown and JB has found other sites in Pullman for artists to work, including one of the grand rooms in the former Hotel Florence (where Atlanta-based artist Gyun Hur installed a stunning "carpet" made of pulverized funerary silk flowers in 2011), the center of the burned-out market square (see Matthew Hoffman's current "Go For It" installation, up since October 2014), and the administrative clock tower building of the factory itself (Carrie Iverson's recent "Groundwork"), where the famed Pullman train cars were built.
It is easy to forget that we were once a nation in near constant labor turmoil. Workers stood up for their rights in powerful, sometimes violent ways against the corporations and oligarchs who were exploiting them. Chicago was at the epicenter of this turmoil more than once: during the legendary Haymarket Affair of 1886 (whose actors were either anarchist terrorists or martyrs, depending on who you ask), which resulted in the deaths of seven policemen and four strikers, followed by the state-sanctioned deaths of four others, and during the three-month-long Pullman Strike of 1894, which perhaps is most notable for the federal reaction to the strike, the defending of the corporation by the National Guard on orders of President Cleveland.
George Pullman built Pullman Town in his utopian vision of the perfect company town: workers were housed in cutting-edge homes designed to be energy efficient and light-filled, with air moving easily through the spaces to make the workers as happy and unstressed as possible. In the center of town was a market and a multi-denominational church, along with stores and schools and a library, each and every building owned and managed by the Pullman Palace Car Company. Workers lived in apartments and homes that reflected their status within the company, with managers and other administrators living in single-family homes close to the factory and skilled hand workers living in smaller homes and multi-family buildings farther away from the work site. There were no options outside of the Pullman-owned and -run facilities, yet still the town went along relatively trouble-free until the stock market crash of 1893, when Pullman could not maintain his mandatory 6% profit on the town without cutting wages, making it impossible for workers to feed themselves and their families. By 1899, two years after George Pullman was buried in a lead-lined coffin embedded in concrete (to avoid reprisal by his former employees), Pullman Town was annexed by the city of Chicago and the company town was no more.
Why the detour into history? Because it is against this history, or in conversation with it, that the art happens. The history of the neighborhood and the buildings themselves are present with every installation, whether the artist is directly confronting that history or not. Matthew Hoffman's "Go For It" installation, currently on view, is a massive text piece placed in the center of the burned out market square just blocks from the old factory. Crafted in wood with plastic laminate sides, the three-dimensional script reads as both a directive and, perhaps, a tongue-in-cheek, pollyanna wish for the rebuilding of the market square, or even the company town itself. While Hoffman's work is unabashedly and purposely optimistic (see his ongoing "You Are Beautiful" project), this installation has an edge because of where it is.
While I'm not sure if Hoffman intended that edge or if he meant only to empower Pullman residents to go after their dreams (which the piece certainly could do — it's joyful!), Carrie Iverson, an Oakland-based glass artist, printmaker, and poet, embraced the history and confronted it head on with her recent installation, "Groundwork," made with her husband and fellow artist Jeremy Scidmore, Portland-based artist Nathan Sandberg, and artist/master metalsmith Kelly Ludeking. The project, which began in September 2014 and was uninstalled in December 2014, had several parts: a community iron pour on the factory grounds, a community iron-tile-making workshop, and an installation within the factory's administrative clock tower, a building that has the empty, hollowed-out feeling of a ruin after it was ravaged by a significant fire in 1998 and later stabilized, though not rebuilt, by the state of Illinois.
Iverson's work is driven by research and often engages the public. For "Groundwork," she organized the first iron pour on the factory grounds since its production heyday (executed by Chicago artist Kelly Ludeking), and invited the community to participate with her and her collaborators both in the spectacle of the pour itself and in the making of artwork for the installation. Community members designed their own tile molds and attended to the pouring, then later had their work presented in the clock tower building. But "Groundwork" was not just about community involvement; it was also about the history of labor and industry and decay present in Pullman itself. While researching the project, Iverson discovered that the historic Pullman train line ended near her studio in Oakland, CA. She found the end-point and made aluminum casts of the train tracks intersecting and ending, a literal tracing of the very ground the train cars made in Pullman had traveled. In Chicago, she installed them on a brick wall at the back of the clock tower building's large atrium facing the community-made iron tiles. Placed in a grid with the subtle cross-hatch pattern of the tracks interlocking across the work, the installation echoed Carl Andre's metal tile floor sculptures, but more significantly connected the artist with Pullman in a visceral, labor-intensive way.
Along with the aluminum tiles, Iverson also installed a lectern made of protruding glass plates scattered in a brick-like pattern and a metal table with three twig-like metal objects. Set in the main atrium of the building, the glass plates quickly collected dust from the crumbling infrastructure, becoming a ghostly, ephemeral ledger recording the coming and going of shadow and light, not unlike the ledgers that once recorded the timecards of the factory workers in the clock tower building. Taken with the relic-like objects on the adjacent table, the installation became something of a shrine to the collapse of utopian capitalism.
Within the atrium and the large room adjacent to the south, Nathan Sandberg placed several fields of white picket-like obelisks covered in the reflective glass beads used on highway stripes and medians. The "pickets" referred to the picketing of the workers, perhaps, but also to the inherent danger of working in the factory, where workers were killed and maimed routinely, and also to the danger of living near the train tracks themselves, particularly near crossings. Set together in a grid and of varying heights, they rose out of the damaged concrete floor like cautionary tombstones. In a room north of the atrium, Jeremy Scidmore installed neon triangles and pyramids that glowed like electric fires in the corners of the building: a pink-red pyramid covered a pile of debris stacked on a wooden pallet; a yellow triangle framed two leaning stones where the brick wall met the floor. The sculptures acted as remnants of the fire that consumed the interior back in 1998, and also as signifiers of the hobo fires that once burned along train lines across the United States, as well as the fire of the molten metal needed to make the train tracks and the train cars themselves, and even the iron that poured at the site in "Groundwork."
Last summer, JB installed an interactive piece on the side of the Hotel Florence to ask a deceptively simple question: "What is your vision of a contemporary utopian community?" He painted the concrete side of the hotel that faces 111th Street with blackboard paint and printed the question on the top of the blackboard, inviting neighborhood residents and visitors to answer with the bundle of chalk he left on the ground. George Pullman built Pullman Town to fulfill his dream of what a utopian community could be. Over the decades, the factory shut down and the neighborhood has faced issues of development, stagnation, and decay. One commenter scrawled under the question a simple statement: "Your utopia could be my nightmare." JB's installation, and his ongoing MOSNART project, open Pullman up to discussion and inquiry, fulfilling a contemporary utopian dream by questioning the very idea of it.
Links:
http://tallskinny.com/mosnart/
http://en.wikipedia.org/wiki/Pullman_Company
http://www.jeremyscidmore.com/
Guest post by Lise Haller Baggesen.
Jetlag is the Devil's work!
Or is it a First World problem?
First World problems are the Devil's work and jetlag is the hands-on reminder that in this day and age it is never really enough, if at all possible, to be in one place at a time, when you can be all over the place.
A yuletide melt-down with your sister will tie you down claustrophobically to the here-and-now, where this house (or indeed country) is not big enough for the two of you, and have you gasping for a breath of fresh air. Luckily, on this crisp boxing-day morning, your muddy Heimat was transformed to a magical winter-wonderland, located somewhere between a secular Caspar David Friedrich and a Thomas Kinkade you can believe in. You are here now. On a cross-country train-trip with the seats across the aisle from yours occupied by a middle-aged couple with Down's syndrome. She is wearing a sequined sweatshirt with leopard motif very similar to something you recently saw in Kenzo's fall collection online, and he is the voice of reason as he is giving commentary on the trip:
It is really cold, it is freezing –it is below freezing. Look at the trees outside, aren't they pretty? Look how it is hanging from the trees. It was a good enough Christmas, good food. It was lovely, but now I am tired. You must be tired too, you should rest; we had an early start and we will be there soon enough. Just rest now. Isn't it nice?
Indeed.
With this buildup, Olafur Eliasson's Riverbed, at the Louisiana Museum of Modern Art (in Humlebæk just north of Copenhagen) cannot but disappoint –and yet it does. Traversing through the entire south wing of the museum, Eliasson walks 10.000 men, women and children all the way to the top of the hill and all the way down again. And when they were up they were up, and when they were down they were down, and when they were halfway up they were neither up nor down.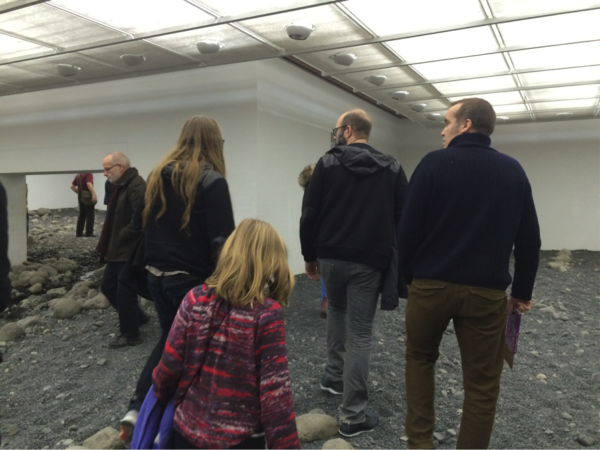 In real time, this hotly anticipated merger of nature as culture and culture as nature, of museum mystique and Iceland experience (or vice versa) is like Kate Moss up close: sexy and photogenic, but ultimately too thin and too shallow and too readily commercialized –the perfect extension or backdrop to the vastly expansive collection of sleek Scandinavian design objects in the museum shop. Nordic Light as commodity.
In another part of the exhibition we are given the illusion of a behind-the scenes look. Here, Atelier Eliasson's geometrical models are laid out in tasteful abundance; hexagons and dodecahedrons, spheres and pyramids in various stages and finishes are bathed in amber light, to theatrical effect.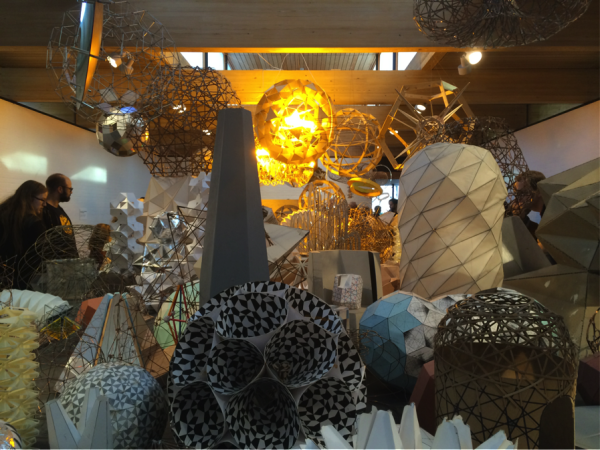 As we admire the display, my long time friend Lars (the sweet Swede) conspiratorially whispers in my ear an anecdote of how Eliasson politely declined the proposed budget for a project for AROS (Museum of Contemporary Art in Aarhus); this super model does not get out of bed for 2 million kroner!
Eliasson instead suggested they called him back when they got together the funds for a rainbow panorama on the roof…which they did and the results were truly double-rainbow-all-the-way-across-the-sky motherflippin' awesome – and this off course both is and isn't why we are here today—we want more!
Still it is smugly satisfactory to see how Eliasson is cut down to size in the museum's Kids Corner. Here glue guns, paper cones, and wooden sticks are lined up for one and all to create their own Eliasson for the Christmas tree, like the workshop of a scientifically ambitious Santa.
In summary, the exhibition does exactly what it says on the box; yes, it radically alters your experience of the museum's architecture and yes, it ambitiously challenges the museum as site and brings it back to its original narrative as a walk in the park. But paradoxically, there is nothing you can learn here you couldn't have learned from the privacy of your own home, experiencing the work second- or third-hand. There is no song of your self to be sung on this stage –only Eliasson's boastful, tinny earworm of the artist as brand.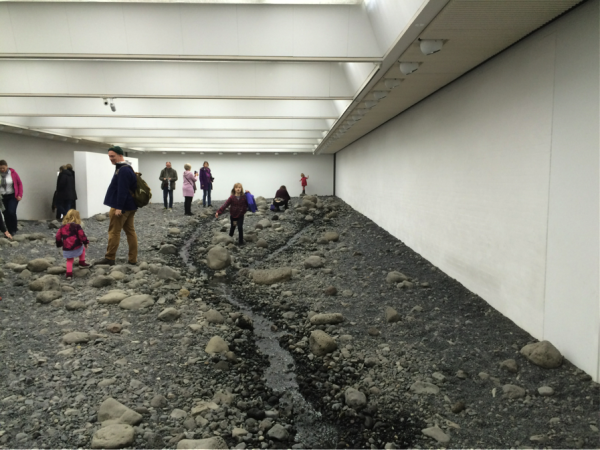 How different and deep in contrast it is to leave the Riverbed and delve into the nether regions of the museum; a subterranean catacomb, which—for a moment that lets forever be—is transformed into a life-affirming mausoleum containing the oeuvre of Paula Modersohn-Becker.
Everything is right here; from early academic studies—some a little heavy-handed or earnestly clumsy, others almost a caricature –to the self-assured work of a grown woman who has found her place in the world. These were unfortunately to be her last, as she died from an embolism at the tender age of 31, less than 3 weeks after having given birth to her first child, a daughter. A tragedy, and all the more so as this was a life event she had both anticipated and preemptively celebrated in her body of work. But let us not skip to the end quite yet.
At 16, she writes to her parents from England, about the St. John's Wood Art School: "I shall have lessons there every day from ten until four. At first, I shall be only drawing, beginning with very simple arabesques and other designs. If I progress, then I shall make charcoal sketches after Greek plaster casts […] If I advance further, I shall begin drawing and painting from live models."
With this simple program she sets herself a task, which she follows trough with devotion and bravura. Modersohn-Becker's lifework, as a fully equal member of the artist's colony in Worpswede, is remarkable in more ways than one. Her traveling to Paris on the New Years night between 1899 and 1900, her pioneer work as the first female artist to paint the female nude (including several nude self portraits), and her untimely death, is the stuff of myths.
But more impressive is the work itself. Not for its monumental scale or dazzling visual effects: the formats she administers are modest and never larger than life. Her palette is muddy as the northern European landscape from which most of them hail, and her brushstroke fat and fuzzy as if she is almost sculpting her paintings rather than painting them – or perhaps just pulling them out of the clay and pushing them back in – in one simple, matter-of-fact, gesture.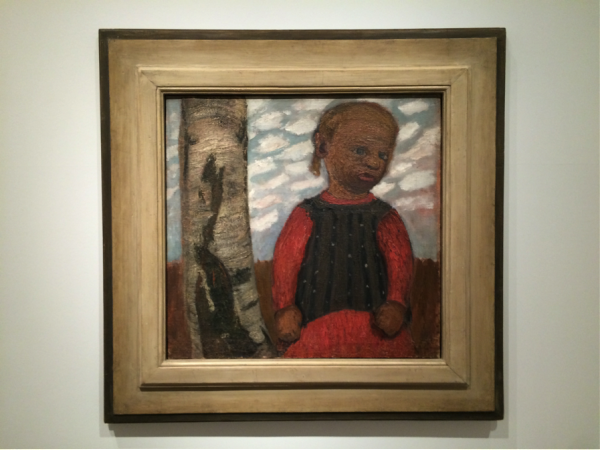 The self-portraits –though both peculiar and provocative in their time—are showing her neither as whore, nor holy. She is simply there, present, with her mental and bodily functions intact and fully alive. An important source of inspiration is Egyptian mummy portraits, which she studied in the Louvre and whose oblong format and frontal view she often employs—as if to remind us that in the midst of death we are alive. A longish amber necklace with large oval beads is a recurring motif that she paints in the same impasto ochre as the flat circular disk of her own iris, because they are both part of the same eternity. In painting after painting, her fat, terse, brushstrokes drag and push our own eyeballs around, as we follow their trail across the barren canvas and her own gaze as she travels across Europe.
She paints women and children first, not unsentimentally –because what would be the point of that? — But with no false modesty either: unflinchingly and always at eye level. Suckling babies find the teat with the unwavering conviction of instinct and all is in the world.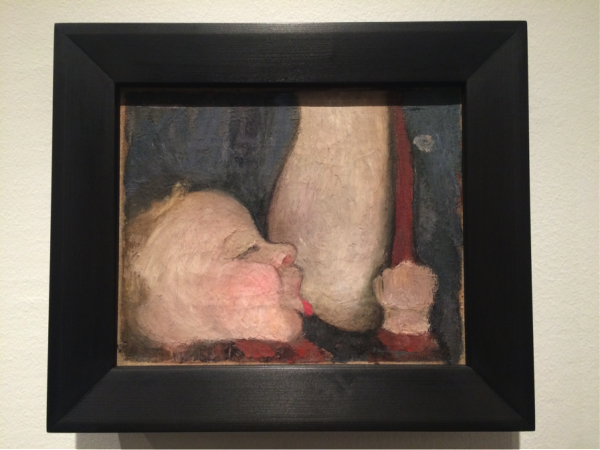 With her willing- and able- bodied being in and of this worldly world –a worldliness that combines the two meanings of the word and is both cosmopolitan and sophisticated as well as concerned with the earthly, terrestrial and mundane repetitiveness of this mortal coil— Paula Modersohn-Becher's life work is not only the perfect antidote to the spectacle of Eliasson's five-minutes-in-Iceland, but also to our jet-lagged existence. It is a poignant reminder that wherever you go there you are and you take yourself with you. Nowhere else but right here and right now could you get over yourself and make right by your sister, or could you be eye to eye with an amber oval disk that is both a smear of ochre paint and at gateway to your soul.

Lise Haller Baggesen left her native Denmark in 1992 to study painting in the Netherlands. In 2008 she relocated to Chicago with her family. In the meantime, her work evolved from a traditional painting practice toward a hybrid practice including curating, writing and immersive multimedia installation work. Her first book "Mothernism" was published by Poor Farm Press and Green Lantern Press in 2014.