Off-Topic invites artists, curators, writers, and cultural workers to discuss a subject not directly related to the practice of making art. We would like to welcome Stephanie Burke as our latest guest with her post, "Firestarter". Stephanie is a Chicago based photographer who graduated from the School of the Art Institute of Chicago in 2009. She currently writes for Bad at Sports, runs Art Talk Chicago and works as the Managing Editor for Chicago Art Magazine.
Firestarter
by: Stephanie Burke
Last night I had a dream: my husband and I were living in an abandoned church in some metropolis. The church was high on a hill overlooking the city. I was sitting in the scrubby grass outside the church, watching the sun go down and listening to talk radio. An announcer cut into my program, saying the mayor had decided to start shutting the power off at night to save money. I looked out over the city to the west, and watched the lights blackout below me as the sun dipped below the horizon. As the last rays of sunlight disappeared, I started thinking about how I was going to build a fire without drawing attention to myself. In mid-thought, I woke up. I rolled over and related my dream to Jeriah, including my quandary as to how to build an un-noticeable fire. Without skipping a beat, he said flatly, "a Dakota Fire Hole, that's what you'd use." Yes, that's what I would use. Knowing how to build things like a Dakota Fire Hole, and a fire in general, is an important part of wilderness and disaster preparedness, a topic of great import to me. Thus, I have decided to dedicate my Bad at Sports Off Topic entry to fire building in context of survivalism.
Fire is one of the most important things you will need in a survival situation. Fires provide heat to dry clothes, warm bodies, cook food, and boil water to destroy pathogens. It also provides light to work by, to use as a signal for rescue, and to aid in general peace of mind. For all these reasons, you need to plan ahead and understand the basics of starting and maintaining fires.
First, you need to understand the needs of a fire. A fire needs three things: fuel, air, and an ignition source (or spark). Fuel is what is feeding the fire, usually in the form of wood, paper, leaves, twigs, etc., and generally, the drier the fuel the better. Overly wet fuel can be used once a fire is going, assuming it has been dried out near the fire before use, or the fire is raging extremely hot. Be careful when gathering your fuel, many parks and wilderness areas have restrictions on wood gathering.
There are three main fuel types you need to gather: tinder, kindling, and denser, long burning material. Starter and kindling are essential to starting a fire (without gasoline or road flares), and it continues to surprise me when a watch people try to start fires without them. If I had a dollar for every time I've seen someone crumple up 2 wads of newspaper, cover them with 4 or 5 four-inch diameter logs, then light it expecting a the newspaper to get the logs going, I'd have, like, a few hundred dollars.
Off-Topic invites artists, curators, writers, and cultural workers to discuss a subject not directly related to the practice of making art. We would like to welcome Molly Schafer and Jenny Kendler who are tag teaming this post with , "Snakes on a Plane, Lemurs on a Plate: How Human Beings' Actions Can Have Unexpected Consequences for the Natural World". Both Molly and Jenny are Chicago based artists that have collaborated on numerous projects. Their most recent endeavor is The Endangered Species Print Project, which has recently been featured on numerous blogs. ESPP raises money through limited-edition art prints for critically endangered species.

Snakes on a Plane, Lemurs on a Plate: How Human Beings' Actions Can Have Unexpected Consequences for the Natural World
Molly Schafer and Jenny Kendler
If you've heard much about Guam, you most likely know it as the U.S. Territory that was the site of the Battle of Guam. In 1944, the U.S. took back possession of this tropical West Pacific island from the Japanese, who had occupied it following the attack on Pearl Harbor. You may have also heard the interesting story of a Japanese soldier, Shoichi Yokoi, who was discovered by hunters in 1972, having lived in a cave for 27 years.
Although Shoichi's story is probably one of the strangest to come out of Guam, during his 27 years living in Guam's forests, he would have been an intimate witness to one of the island's saddest stories.
Let us imagine our unlikely protagonist on the night of the American invasion (with no accounting for exact historical accuracy): Our Shoichi hears shouts from the beach as the Americans land, and being a simple kind of nature-loving guy, and wanting no part of this fuss, he grabs a canteen and a flashlight and makes his way deep into the forest, nimbly leaping over lianas and roots down the forest paths he's grown to know during his time on the island. He heads to a cave that he had found some months before, where he'd frequently camped out and laid in some supplies, most importantly, a pair of binoculars. You see, our make-believe version of Shoichi is an avid bird-lover. So, while our Shoichi was evading American troops in his grottoed refuge and keeping his ears open for the sound of shots or approaching footsteps — as darkness settled heavily on the steamy tropical night, he listened with a keen pleasure to the rich chorus of tropical birdsong filling the air.
If you or I were to walk Shoichi's favorite paths through Guam's forests today, we'd have a very different experience. Sure, you'd see all the hallmarks of tropical forests worldwide: lush vegetation, a truly huge variety of living growing things, moisture hanging thick and low in the warm tropical air — but then as your ears tuned into the sounds of the forest and your eyes strayed upwards, you'd notice two very unusual things — two strangely interrelated changes to the forest, with a single historic origin. Yes, you might hear the sound of insects, the sound of leaf litter being crushed under your feet, but you'd hear no birds. And as you looked upwards through your binoculars, to spy out these unusually silent birds, you'd catch a sticky web across your face, and wiping it away, you'd notice that there were webs everywhere. Guam is a tropical island now devoid of the music of birdsong and filled with enormous colonies of spiders. Clearly, these are the signs of an environmental imbalance — but what could be the cause? [Read more]
Off-Topic invites artists, curators, writers, and cultural workers to discuss a subject not directly related to the practice of making art. We would like to welcome Alicia Eler as our latest guest with her post, "Where did all the Tweets go? A conversation lost on Twitter".  Alicia is a writer, critic, curator and the Arts & Culture Community Manager of ChicagoNow.com.
Where did all the Tweets go? A conversation lost on Twitter
GUEST POST BY ALICIA ELER
Is it easier and more efficient to host conversations on Twitter or Facebook? This was my only question when I began research for this blog post. Things changed when Twitter lost the conversation, which is ironic because the conversation is the entire point of Twitter.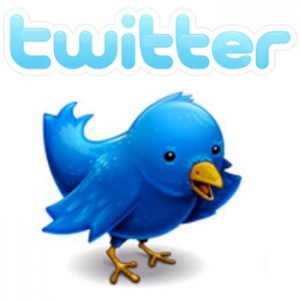 I, @aliciaeler, organized what was to be my first of many conversations about lesbian movies on Twitter. The conversation would begin with tweets from Chicago celesbians @trishtype, the Afterellen.com Blog Editor; lesbian erotic fiction writer @deviantdyke; queer sex blogger @annapulley; freelance writer and bonafide lesbian @jennispinner; and ChicagoNow tattoo blogger/AfterEllen.com music blogger @chubbyjones. Later, we could move to Facebook and try it again. For the Twitter convo, @jennispinner and I came up with the idea to label tweets with hashtag #lezflix. The chat began promptly at 2pm on Tuesday, November 24, 2009, and lasted well over the 10 minutes we had originally planned. Lesbian twitterers from all over the country jumped in. [Read more]
Ghillie Suits
Guest post by Jeriah Hildwine
Recently on display at 65 Grand was An Object In The Woods, featuring artwork by Bob Jones.  One of Jones' works is titled Ghillie Suit.  I hardly needed the title to know what it was about; I'm quite familiar with that soft-edged overspray of Krylon Camouflage Ultra-Flat spray paint (available in Brown, Olive Green, Black, and Khaki) anywhere, particularly with the telltale silhouettes of foliage (in this case hay).  The association is a fond one, and the work fits well into Jones' theme.  It is a distinctly rural image, the quintessential "object in the woods."
A ghillie suit is a garment intended to provide the wearer with concealment, typically in a wooded environment (although desert and snow versions do exist).  The most common etymology is that the garment was named after the gillies ("lads" or "servants"), who were Scottish game wardens tasked with protecting a landowner's game from poachers.  These gamekeepers sometimes wore suits of shredded rags to help them blend in with their surroundings, either as a form of portable hunting blind or to conceal themselves from the poachers they were pursuing.  The suits entered military usage with the Lovat Scouts, a Scottish Highland unit of the British Army formed during the Second Boer War (1879-1915).  This unit served as sharpshooters, and were in some ways the antecedents of the military sniper, who remain the primary users of ghillie suits to this day. [Read more]
Photographer Larry Sultan has died at the age of 63. The New York Times reports that the cause was cancer. From his obituary:
Larry Sultan, a highly influential California photographer whose 1977 collaboration, "Evidence" — a book made up solely of pictures culled from vast industrial and government archives — became a watershed in the history of art photography, died on Sunday at his home in Greenbrae, Calif. He was 63.

The cause was cancer, said his wife, Katherine, who is known as Kelly.

In the mid 1970s using a grant and a letter of introduction from the National Endowment for the Arts, Mr. Sultan and Mike Mandel, who had met as students at the San Francisco Art Institute, somehow managed to persuade several large companies, agencies and research institutions like the Bechtel Corporation, the Jet Propulsion Laboratory, the San Jose Police Department and the United States Department of the Interior to let them rummage through their documentary photo files.

Highly influenced by the West Coast brand of Conceptualism then percolating out of places like the California Institute of the Arts, both men were interested, as Mr. Mandel later said, in exploring photography as "more than just the modernist practice of fine-tuning your style and way of seeing." The pictures they chose from the archives, out of the hundreds of thousands they examined, were a strange, stark, sometimes disturbing vision of a late-industrial world: a space-suited figure sprawled face down on a carpeted floor; a car consumed in flames; a man holding up a tangle of weeds like a trophy; a shaved monkey being held down by a gloved hand.

Some of the images seemed to have been picked for their uncanny resemblance to installation art being made at the time. But the 59 photos published, with no captions to explain what they showed or where they came from, pursued a much broader, Duchampian agenda of harnessing found photographs for the purposes of art while using them as a way to examine the society that produced them. The critic Kenneth Baker of The San Francisco Chronicle wrote that the project demonstrated brilliantly the degree to which "we have no calculus to unravel relations between what a picture shows and what it explains."
You can read more about Sultan's Pictures from Home, a photographic series on his parents' lives post-retirement, here, as well as an essay that Sultan wrote about his photographic series The Valley for the L.A. Weekly here.