Guest post by Julia V. Hendrickson
Notes on a Conversation.
With—Arielle Bielak (Coordinator of Alumni Programs & Exhibitions at the Marwen Foundation)
In—Marwen's classrooms and galleries, 833 N. Orleans St, Chicago, IL
Commenced—on Tuesday, February 22nd, 2011, 7:00–7:30pm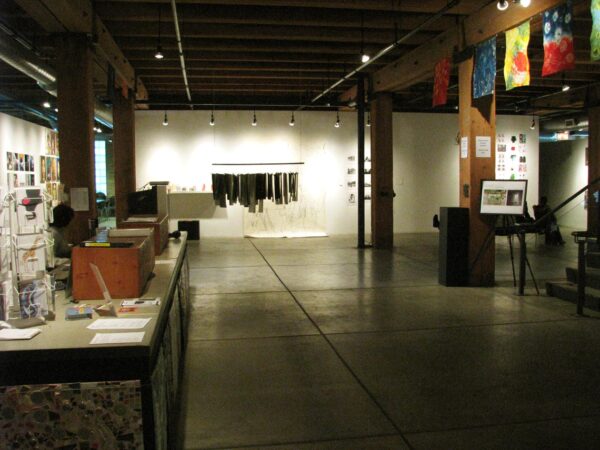 Unless you grew up in Chicago, there is an art school in River North that you've probably never heard of. Marwen is a particular kind of secret, one that is kept by this city's young people. Offering free visual art classes to underserved Chicago youth in grades 6 through 12, this non-profit organization has a mission of wide-reaching creative education. Despite its low profile along the well-trodden Chicago artways, if you are a creative person and you start to ask around, I bet you'll find at least one person that you know who has a connection to the school.
I started assisting with classes this summer, and it is to Marwen's credit that the educators often learn a lot there, too. The environment is incredibly supportive, and it is so rewarding to interact with young people who are actively excited about creativity, while watching creative projects unfold before your eyes. Students do projects outside of Marwen's walls, too, such as working with artist Jan Tichy and the MCA on Project Cabrini Green: a public piece with LED lights illuminating the last days of the housing project, blinking in time to audio recordings (which will be available at the MCA), allowing young people to share stories about home, community, and public housing in Chicago.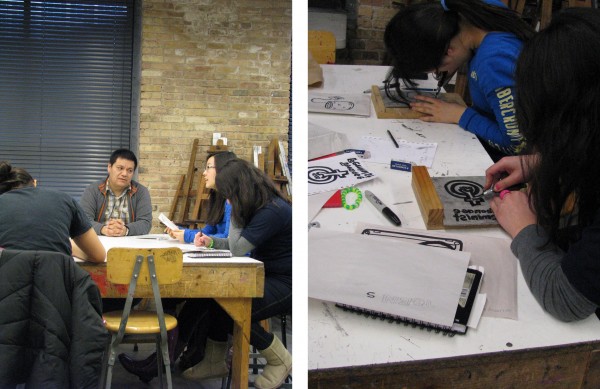 Marwen also holds another well-kept secret; on the second floor of the building lies a contemporary art space called the Untitled gallery. Designed to connect Marwen alumni with each other and back to the school, it is also an added educational component, with an aggressive exhibition schedule and powerful presentations by contemporary local and international artists. In 2010 the gallery's exhibits showcased radical printmakers from Oaxaca, Mexico; emerging artists from Mexico City and Chicago; contemporary fiber and sculptural works; photographs from the Ukraine and Chicago; and more.
Coming up in the Untitled gallery, the exhibit opening April 1st is a curatorial project of mine, group show called Territories. It will feature works on paper by Suzanne Caporael, Ryan Travis Christian, and B. Ingrid Olson; paintings by J. Austin Eddy, Erika Hess, and Ryan Ingebritson; sculptural work by Maria Gaspar, Jessica Taylor, Matt Nichols, Josué Pellot, and Kevin Reiswig; experimental video by Russell Weiss; zines from Anne Elizabeth Moore via Cambodia; and a performance piece by Aurora Tabar and Sara Zalek.
My friend and colleague, Arielle Bielak, is the Untitled gallery coordinator, as well as a talented photographer in her own right. She is very much the driving force behind this gallery, and I asked her to answer some questions about her life and work. [Note: all of the photographs that follow are copyright Arielle Bielak].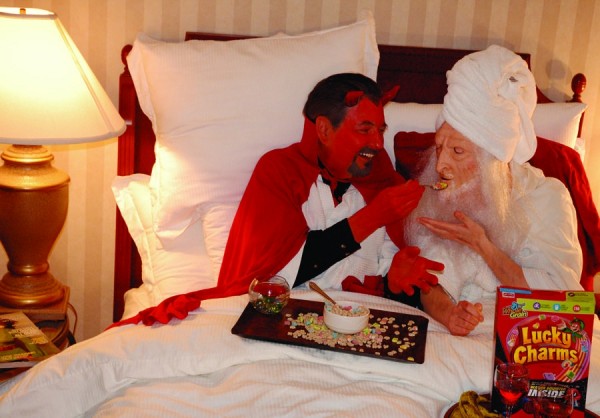 JH: Can you give some background on the history of the gallery and your vision, goals, and ideas for Untitled?
AB: The Untitled Gallery at Marwen, formerly known for nine years as the Alumni Gallery, shed its Title in 2010. The whole shift is a culmination of years of hard work and relationship building with alumni, art educators, artists and curators. Its main inspirations are the Museum of Jurassic Technology, Antonia Contro, Sadie Woods, and the Arts Club of Chicago. The gallery is as unique as the building and community that it holds. It is due for a logo treatment and slick neon sign at its entrance.
My choices in artists and co-curators in 2010 were pretty intuitive, steeped with international aesthetics, microcontroller technology, and a sense of wonder. The whole run was organized around a Marwen sensibility of gallery education, a huge commitment to engage students and alumni at several levels, and a deep desire to manifest the art of social justice and the social justice of art.
2011 is moving forward with all of the direction of 2010, but there is a greater collaboration with other staff and programs in the Untitled space.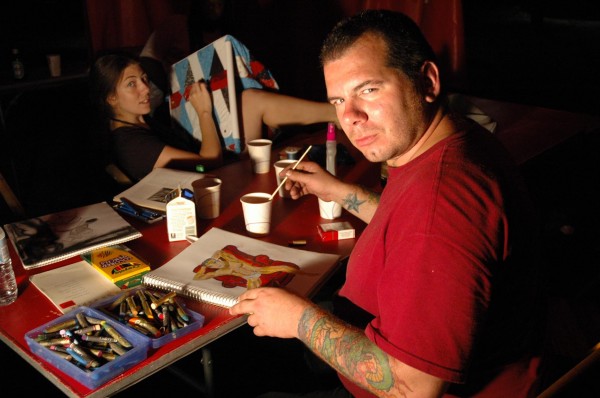 JH: Can you chart a brief trajectory about how you got to Marwen?
AB: I migrated to Chicago from New York via Virginia after an intensive yearlong stint working in the Big Apple Circus. I knew instinctively that I needed to get myself to Chicago, and settle directly in the middle of this big-ass country that I had bi-coastally divided and tangentially traversed for six years. Chicago was a dual return and a beginning. Marwen was the embodied trifecta of professional, personal, and creative desires I held in 2005. I did a lot of physical labor to allow myself to stay long enough in Chicago to meet the job of my dreams, and as it turns out, the marriage of Marwen, Chicago, and me was a powerful catalyst. I sit here today as a born again Chicagoan, and a self-proclaimed artist. This was not something that I had the proper huevos to declare before 2007. I believe in what I am doing here and everywhere I go. This is a magical and powerful home base.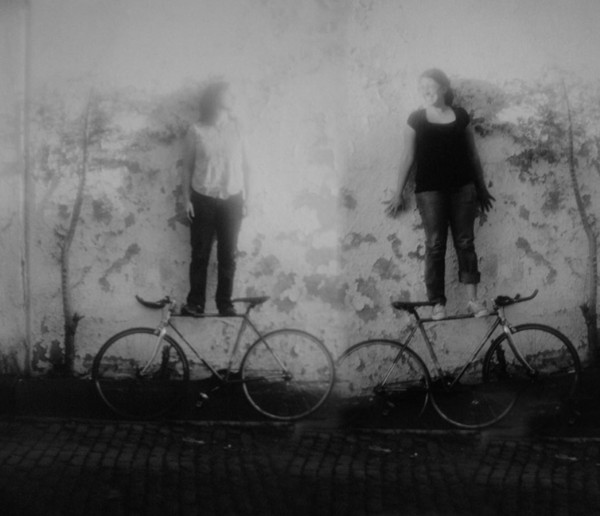 JH: What kind of work were you making before you got to Marwen?
AB: A three year stint doing photo and installation work with Deadline Projects was nearly neck in neck with my relationship with Marwen. Walking into Marwen's front door I was making stuff that was strongly influenced by a Miami aesthetic, and infused by an Etsy and glitchy nerdtech aesthetic. This is of course thanks to the other artists in the collective. What does that translate as literally? BIG photos. Narrative. Humor. Dressing up my dad and sister as the Anglo god and Satan, respectively, and putting them into a hotel room bed. Pressing a shutter. Gold leaf crutches.
Even FURTHER before, if you want to know, I wasn't really making art as much as I was traveling around with a death grip on the body of an AE-1 that my dad gave me in the early 1990s. Later it was a Nikon D70 that I gave myself when I was 20. I pressed those shutters thousands of times around the people and musicians from the Warped Tour and Take Action Tour who were there alongside me trying to cope with and raise awareness around depression and suicide.
In the circus it was a similar story. I was going for anything that moved in the circus with that D70. I didn't share much of any of that work with a public audience other than bragging about the circus a lot.
I'm sure that all of this was influenced by the time i spent in Florence in 2001 as a terrified art student abroad during the whole debacle of 9/11. How can I explain this time? People around me were setting miniature radios into jello molds and calling it art, while I convinced my TA and best friend to do my sculptural bidding for me as I stood there shocked and speechless.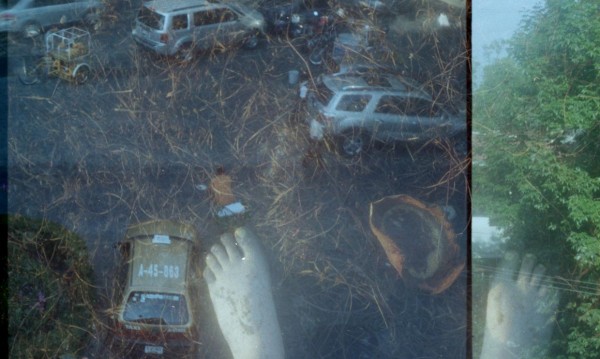 JH: How has your work evolved since being at Marwen? Is it impossible to make work when other creative people surround you, or when you're in an educational capacity?
AB: Nice question, Julia. You know it's hard.
It is also paradoxically the most supportive environment in my universe. Go figure.
I find that the overwhelming amount of artists in my life force me to draw on my memories and photos from the past in order to find paradox. It also pushes me into the role of curator, and then further into the role of producer. I am drawn to the most powerful, dedicated and radical voices among the artists who approach me as an advocate of their vision. I seek out different experiences in my limited spare time. I seek out architects and free Spanish classes. I seek out Mexico City. I look into microscopes. I curate the artistic energy that I find all around me into elaborate and spontaneous happenings in my personal time.
Evolution? In my own mind, my creativity moves as a more fluid, performative, and elegant animal than ever before. My formative beginnings are less pronounced, and more sublime, embedded. I am myself. I am not concerned as much with being inauthentic. I am all of my thirty years, and more.

JH: How do you sustain communication with Marwen alumni, and keep a network of all of the working artists out there? Do you see yourself tapped into a unique contemporary art scene? Do Marwen alums network and organize as twenty and thirty year olds?
AB: If Marwen had a soul, that soul is the confluence of the individual and the greater artistic spirit. Alumni are the proof, the echo, the rhythm of that phenomenon. It is my honor and pleasure to learn how to converse with those who continue to feel connected and inspired by Marwen. It is my challenge to reach out to those who are doing great things and have not reconnected. I do this strategically and organically. I talk to people all the time. I talk and I listen. I email and I collaborate. I support and am supported.
Lately, I have been in awe of the possibilities that our new website promises for alumni in particular, and I can't wait to move into this new and exciting mode of communication with more of Marwen's former students. I can see clearly that more alumni will reconnect with each other, their own artistic practice, scholarship, job and exhibition opportunities.
And, yes, of course people network as twenty and thirty year olds. Some do it completely naturally, based on long-established bonds that I could never fully understand. Others come to me looking to help them reconnect with old friends. I'm also planning a pretty promising alumni reunion and exhibition this August.
This artistic universe, at which Marwen is the center, is completely unique, and 90% of every person who experiences this place understands this. You simply cannot find another place in this time and space that establishes such a fluidity of learning and artistic expression across generations, experience, and discipline. The work here isn't being made or shown anywhere else. Art is always the queen.
—————————————
ABOUT:
Julia V. Hendrickson is a native of eastern Ohio who lives and works as a visual artist, writer, and curator in Chicago, Illinois. In 2008 she graduated with a B.A. in Studio Art and a minor in English from The College of Wooster (Wooster, Ohio). Julia is currently the gallery manager at Corbett vs. Dempsey, as well as the office manager and design assistant for Ork Posters. She is a teaching assistant at the Marwen Foundation, an active member of the Chicago Printers Guild, and has taught at Spudnik Press. A freelance art critic and writer for Newcity, Julia also keeps a blog called The Enthusiast, a documentation of the daily things that inspire, intrigue, and inform. She is currently exhibiting at Anchor Graphics (Columbia College Chicago) in a solo show titled FANTASTIC STANZAS, on view through March 26th.
Guest post by Julia V. Hendrickson
Notes on a Conversation.
With—John Corbett and Jim Dempsey (Founders and owners of Corbett vs. Dempsey)
In—the gallery, on the third floor, 1120 N. Ashland Ave., Chicago, IL
Commenced—on Thursday, February 17th, 2011, 10:15–11:20am
I am beginning this piece with a disclaimer: I'm writing about Corbett vs. Dempsey, and I work at Corbett vs. Dempsey. I work there, and I do so because it's a place that I am excited to walk in to in the morning. It's a place where I can be challenged, where I can always learn something new, and I'm conscious that my time there leaves me feeling energized and enthusiastic when I go home. I was not paid to write this, nor do I intend it to be a sales pitch for the gallery. However, it is one facet of my experience of the art world in Chicago, and I hope that my interview with John Corbett and Jim Dempsey can provide some useful insights into a gallery that seems to hold a treasured place in many Chicago hearts.
—————————————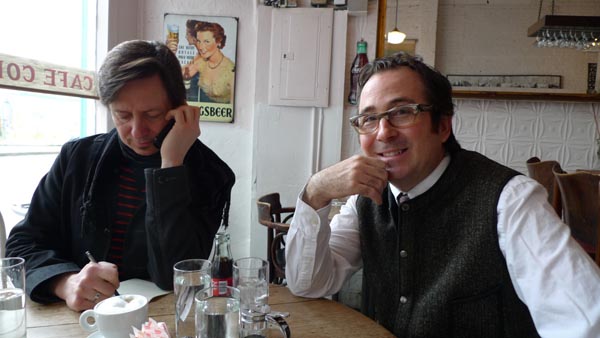 One of things I find most interesting about John Corbett and Jim Dempsey is that they both do so many other things outside of running a gallery. Jim is the house manager at the Gene Siskel Film Center, and has been involved with the Film Center for decades. John has taught at the School of the Art Institute (SAIC) since 1988, he is a freelance writer, he performs with his spouse Terri Kapsalis, and he is also immersed in the free jazz and experimental music scene. Their diverse interests allowed them to meet over a decade ago in 2000 (mutually enthusing over Sun Ra), and have continued to sustain the life and energy of the gallery since 2003.
JH: I think part of what drives the energy of the gallery, and both of your energies, has to do with all of the other things that you do outside of these walls. I have wondered if the gallery could even exist if you didn't do all of these other things, because you wouldn't be talking to the same kinds of people and be in the same kinds of settings. What projects are you working on right now that don't relate specifically to the gallery?
JD: "The Film Center has always been a great place to stay connected with students at the Art Institute who are all my box office workers. It's also a great place to tune in, it constantly gives me a great film education, and it's got an important mission. I've been a part of it for a long time, and I've always been proud of my association with it."
JH: You see a lot of interesting people at the Film Center—didn't you often run into Vivian Maier?
JD: "Yes, Vivian Maier, who has now got an exhibition at the Cultural Center, this unknown great photographer, she used to come to the Film Center all the time. She would come [to] the old space, at the Columbus building and I remember her from the way she dressed and her accent. She was an odd bird, and she would definitely come to receptions and occasionally pocket a few things from the food table for later, but she was always interesting to talk to. Occasionally she would have a vintage camera around her neck, and I just thought of her as a crazy old lady. I'd see her roaming around the streets and never gave a thought to her, and then these photos came out—I'd been following this discovery for the last few years, and saw some early self-portraits of her. It wasn't until I saw a later self-portrait of her on Chicago Tonight, and they played a cassette tape—she used to talk into cassette tapes—they played a clip and it was undeniably her voice. And I thought, 'You've got to be careful who you judge,' because this woman spent a lifetime out on the streets making obviously beautiful work and nobody knew about it."
JH: John, what else have you been up to?
JC: "I write a column in Downbeat magazine called 'Vinyl Freak' looking at LPs and other vinyl items that have never been reissued on CD. It gives me a forum to talk about record culture and there is a press that is interested in it. […] The book would be collected columns, and six or seven essays specifically on record culture. So they would be case studies, and the essays would be in-depth meditations on one aspect or another of vinyl culture—the idea of records as documents, as physical objects, the geekiness of record culture, stockpiling time—things that are all really interesting to me in terms of the way that people treat music."
JH: Aren't you working with J.C. Gabel on a couple of projects?
JC: "J.C. Gabel, who was one of the primary figures behind Stop Smiling magazine for fifteen years or so, he has a new imprint called Hat & Beard, which very nicely takes its title from an Eric Dolphy composition. He has a book project of mine that he's been shopping around for a while, and never got a satisfactory home for, but I think he's going to put it out in his first four books on Hat & Beard. It's actually something I found. It's a manuscript by an anonymous author from Chicago from 1931 or so: a dictionary of Chicago gangsters. It's written in this really fantastic sort of film noir style, the manuscript itself is hand-typewritten with marginal notes and edits, and the whole project is called Bullets for Dead Hoods. It's basically me editing and introducing this found document, […] bought at a second-hand store that was going out of business, […] probably seven years ago."
[…]
"I also teach one class a semester at SAIC, and I find that really rewarding. It provides me with a way to automatically be in touch with a younger artistic world, so I see where people are and what kinds of problems and thoughts they have."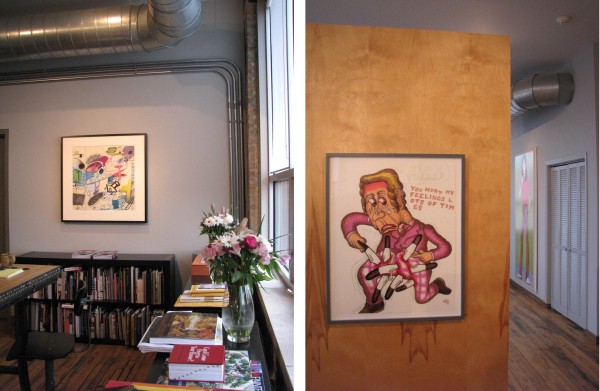 JH: John, I wondered if you'd thought about how your experiences learning here at the gallery have influenced your teaching at SAIC.
JC: "I think that the early years that I was [at the gallery], I ended up very much being a Chicago booster in my teaching. I found it affecting things. I am generally appalled at the way that art history works. I think the way that historiography works is very problematic. It works too much like the normal gallery world works, the way that it accumulates. The way that what we end up with is the sum total of people reading one another and crafting arguments based on what they've argued, rather than doing primary research and coming up with their own conclusions. If they were doing more of that, we'd end up with much richer, less narrow set of people that we're talking about, just very basically. You start talking to art historians about people who fall not so far from the tree, and they don't know who the hell you're talking about. And that's even true in specialist niches. I'm not knocking art historians, but I'm saying this is an artifact of the way that academics works.
When I was first here and realizing what a wealth of people there are in Chicago, that I'm teaching at an art school in Chicago and that those [Chicago] people don't get talked about, I couldn't contain myself. I would say the first four or five years that I was doing this and doing that, a lot of the energy I had, teaching-wise went into teaching classes, the basics of which were about region. Or trying to infiltrate some of the standing art history with a little bit of a sense of outrage that there wasn't more interest in a wider canon. One that would include as common knowledge what was going on, not only in Chicago, but in San Francisco, in LA, in London, in all of these major centers. Chicago is one of the major cities in the United States and just had no profile on a national scene: it just seemed ridiculous.
Now I feel like that is all part of who I am and what I do and I feel much less inclined to get on a soapbox about it. I just did, but in my teaching I don't feel like I'm as inclined to do that. Now I feel like what I do [at the gallery] is just part of what I do."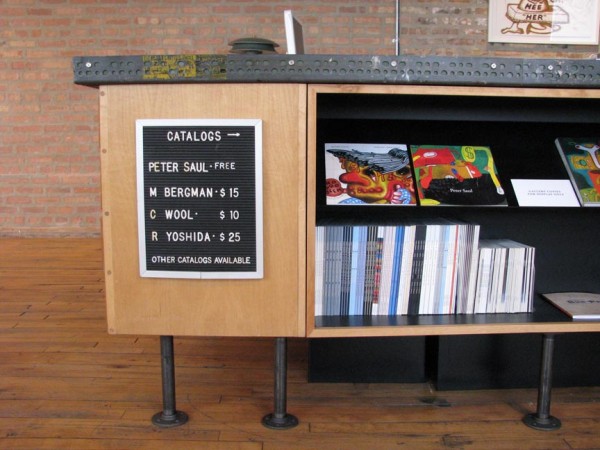 JH: You two are collaborators together, and I think that's a really unique thing about the way that you exist in the art world, because it's still a very masculine-centered world. Probably it's a lot easier for two men to run a gallery, rather than if you were two women doing it. But what I appreciate is that you're not 'monolithic mavericks,' running an institution that is one name only; you're doing it together, and I think it tempers the phallocentric nature of the business.
JD: "Some of the best moments are when I think I have a good idea and I'm talked out of it, or vice versa, and I'm happy to completely give up something that I thought was good. Every year I've learned that the more I let go of those things and not take ownership of them, that ultimately it makes for a better process."
JC: "You bring up the gender issue, and it's something that's important to us. It's important to us to keep up a diverse program. [In terms of collaborating], the problem with a lot of not-for-profits is that it's decision by committee. The problem with a lot of monolithic situations is that no one ever really questions, interrogates the decision-maker. If you can find a place that's in the middle, […] it's a trusting environment, a charmed circle, and I see it as a place where we can experiment all together and kick things around that we could never come up with [independently]."
JH: I like the idea of you two starting a business with virtually no gallery experience, and I wonder if you could talk about some important things that you've learned over the years about running a business in the art world. Was there a point that you remember thinking, 'Oh. We're a gallery now.'?
JC: "Neither of us was a business person, but we both were older when we got involved in it. We weren't inexperienced, and neither of us was inexperienced at dealing with managing people and managing events. So that part of it we kind of had under our belts. "
JD: "And we came at it from a free and improvised music background and art house cinema background. So we knew the challenges of people paying attention to what you were doing. Those kind of muscles were already in great shape. And we continued to do other things while we worked on this. Things that took the pressure of paying bills slightly off and we could really just work on presentation and not think about the economics of it. Ultimately it's a good strategy for any type of business."
[…]
JC: "We try to make decisions not always based on the bottom line, but really thinking about things as cumulative and long-term. All of the things that we do, they create a sense of goodwill. They create—to use a flogged-to-death term—'community' around a set of objects and ideas.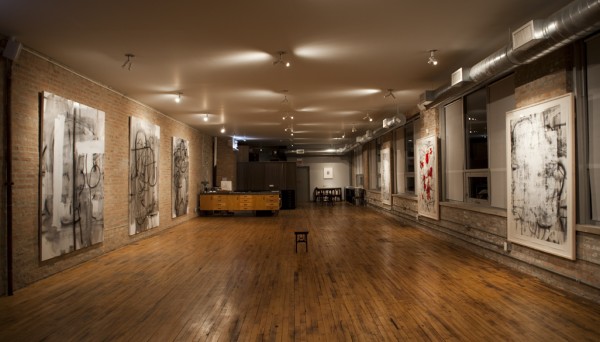 JH: In a 2006 Bad at Sports podcast, Jim, you described the gallery as a place where "we hang the work and tell the stories."  Is that still the case? What stories have you told recently?
JD: "That seems to have shifted slightly. Early on it was a combination of setting the stage and telling the stories. I think the stage somehow now is already addressed. There can be riskier things that can happen on the stage […] and we don't necessarily need to have people get to know us and our personalities before they get our jokes or the mission of the gallery."
JC: "Whatever we do, both Jim and I work by looking at context and thinking about if there is a narrative. […] We have a baseline interest in the history of Chicago and how the things that we're doing can relate to Chicago. I think we've become less reliant on that as an exclusive how-do-you-do."
[…]
"Also, the things that we do are different from what a lot of other gallerists do, which has ended up being a plus for us in some ways. Anything that sets you apart is attractive. The fact that we have musical connections here and we do musical events here, it is a novelty for some people in the art world. Very often the art world gets stuck about 1979 in terms of its musical interests. We end up bringing in some contemporary musicians, and we've got these film connections. It has ended up being really useful and really interesting."
[…]
"A really exciting story to tell, one that was unknown to almost everybody, including its participants in a way, is the secret history of the relationship between Christopher Wool and Joe McPhee. That was really something that came out of conversations. Literally just sitting down and talking, and realizing that Joe McPhee was not only somebody that we'd had this long-term relationship with, and adoration and support of (I re-issued four of his records on the Unheard Music series, in fact the first record we had on that series was Joe McPhee's Nation Time), realizing that was also something shared by Christopher. Then developing the entire program of having that exhibition around that story. What was gratifying was to realize that was no longer the side show to the whole thing, it ended up being really central to it, giving a title [Sound on Sound], this real centerpiece. It was really a magical thing for all of us involved. That whole experience of having the performance here, with the work, it created something much more than just having the work, or just having the performance, as great as those things would have been."
JD: "I think one interesting thing—I've been so deep in [preparing for shows] that I sort of felt that I know every aspect of that process—but Michelle Grabner wrote a nice review of the [Wool] show, and she started it off with a quotation. As I was reading it I instantly thought it was Christopher Wool talking about his paintings, and of course she set it up that way, and afterwards it's actually Joe McPhee talking about his music. It was exactly the same spirit that they had, making things, and the [same] struggle. That was a great moment for me, too, because it was a surprise and it really made me think that Joe and Christopher, in addition to being fans of each other, are speaking a similar language in how they make something and put it out there."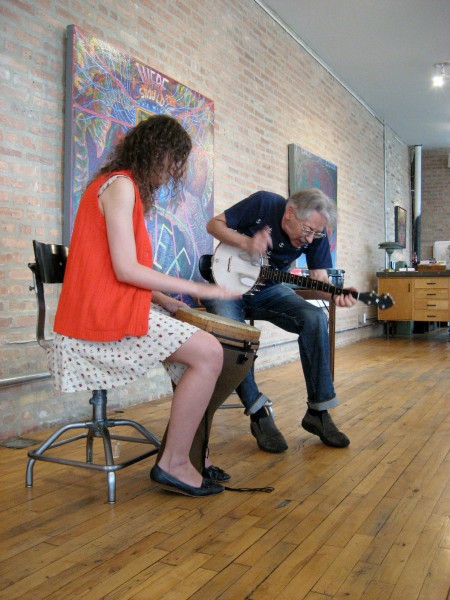 JC: "We end up talking with a lot of musicians about art, and with a lot of artists about music. We get caught in the crossfire, which is really exciting."
—————————————
If you're interested in joining the conversation about art or music this weekend, on Saturday, February 26th at 2:00pm Brian Labycz will be playing the solo synthesizer at the gallery, amidst Peter Saul's paintings and drawings (1120 N. Ashland, 3rd floor).
—————————————
ABOUT:
Julia V. Hendrickson is a native of eastern Ohio who lives and works as a visual artist, writer, and curator in Chicago, Illinois. In 2008 she graduated with a B.A. in Studio Art and a minor in English from The College of Wooster (Wooster, Ohio). Julia is currently the gallery manager at Corbett vs. Dempsey, as well as the office manager and design assistant for Ork Posters. She is a teaching assistant at the Marwen Foundation, an active member of the Chicago Printers Guild, and has taught at Spudnik Press. A freelance art critic and writer for Newcity, Julia also keeps a blog called The Enthusiast, a documentation of the daily things that inspire, intrigue, and inform. She is currently exhibiting at Anchor Graphics (Columbia College Chicago) in a solo show titled FANTASTIC STANZAS, on view through March 26th.
Guest post by Julia V. Hendrickson
Notes on a Conversation.
With—Nadine Nakanishi & Nick Butcher of Sonnenzimmer
In—the Sonnenzimmer studio, 3605 N. Damen (rear)
Commenced—on Monday, February 14th, 2011, 6:30–7:30pm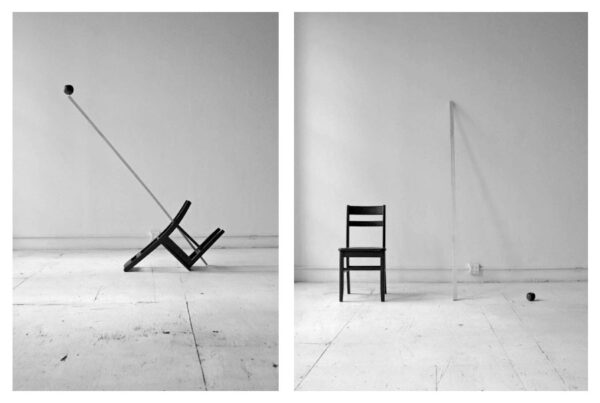 "From the fine art world, we're not fine art enough, and from the design world, we're too fine art, so we're always in this in-between of not being enough art, and not being enough design. The beauty of that is that we can say 'graphic art' because we like images, and graphic art you have to produce. You produce it in a way that has economic and functional [reasons] behind it, otherwise it wouldn't be graphic art. Graphic art is creating images under an economic framework that has to do with the process, the tools, the money you have, and what it's for. We wanted to describe that somehow."
— Nadine Nakanishi
This past fall I ran into Nadine Nakanishi and Nick Butcher in the hallway outside of the Post Family headquarters on Hubbard Street. Peculiarly, they had with them a chair, an apple, a camera, and a long beam of wood. Mystified then, I was to realize months later that they had just finished the photo shoot for Field Integration, Nadine's second artist book, which will be released this Friday, February 25th.
I met Nadine and Nick, also known collectively as Sonnenzimmer, a little over a year ago at my first Chicago Printers Guild meeting. From the outset I was struck by the power of Nadine's passionate conviction, and by Nick's welcoming, reasoned demeanor. Since then I have followed their tireless creative progress, and I have been astounded time and again by work that is always thoughtful and sincere.
Nadine and Nick are collaborators who exist wholly in a collaborative Chicago print community. The enthusiasm they have for art, typography, and design is contagious, and utilizing that enthusiasm they are able to connect with a wide range of creative talent in the city. Field Integration is a microcosm of such connections, with a preface by Fred Sasaki (associate editor of Poetry magazine) and editorial assistance from Jonathan Messinger (book editor for Time Out Chicago and publisher at Featherproof Books). Scott Thomas (of the Post Family and Designing Obama) hosted the photo shoot in his new office space, and the book itself was offset printed in Chicago at Mission Press, with a screen printed cover and inserts from Sonnenzimmer's press on the North Side.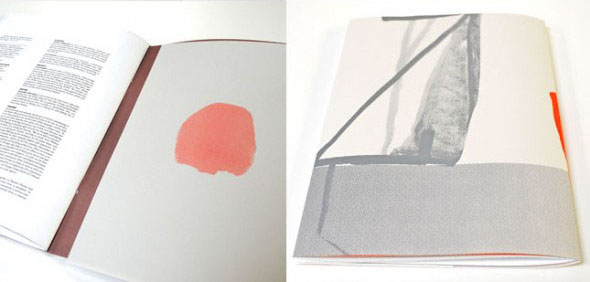 Field Integration (2010) is a companion book to Nakanishi's first publication, Formal Additive Programs (2009). Both artist books were partially funded by the Community Arts Assistance Program (CAAP) grant from the Chicago Department of Cultural Affairs. After constant rejections from the grant community in her native Switzerland for "not being Swiss enough," Nadine now has a lot of enthusiasm about the role of the CAAP grant in the city. Her advice when applying is to pay attention to deadlines far in advance (the deadline for 2011 grants was January 31st), and to take advantage of the public grant review sessions that happen in the spring. She also encourages artists to seriously think about the best finance possibilities for creating new work that will extend beyond the project and provide momentum for a career as an artist.
Formal Additive Programs certainly brought Sonnenzimmer's momentum to the table. The book is a beautifully simple and concise collection of eighteen instructions, simple pieces of advice to follow step-by-step throughout the design process. Field Integration transforms the functional design advice into something more philosophical: a treatise on process and experiment in relation to images, design, and Ikebana, the Japanese art of flower arranging.
The book unfolds in more complexity upon every re-reading. Field Integration is very much an artist book, for the texts and the images could not communicate as powerfully alone. The main essay offers Sonnenzimmer's thoughts on philosophy and history, exploring the tenets of Ikebana, and focusing on balance in nature as a new way to consider design. There is a beautiful, haunting undercurrent from Fred Sasaki's appropriated lines on Ikebana and the WWII Heart Mountain Japanese internment camps. It is a part of American history that Nadine notes, "has not really been digested yet."
Paired with the text are black and white photographic still life arrangements, playful interpretations of the fundamental forms of Ikebana: the point, the line, and the plane. An electrical wire in the background grounds the arrangements, and serves as the balancing horizon line. Informed by the photographs, judiciously restrained splashes of color appear in small painted sketches and in the screenprinted inserts.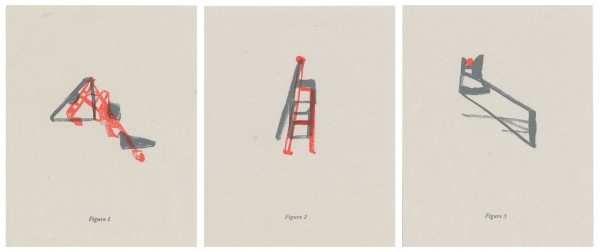 I see Sonnenzimmer's books as manifestos on their unique design and production process, and that alone presents an interesting archival project for the Chicago art community. With Field Integration, Nadine and Nick present a tactile, functional object that includes the how, the why, and the what of their business. It is a practical form of self-promotion, and a holistic way of communicating who they are as creative people.  Would that we each could find such a voice.
Sonnenzimmer is holding a book release party for "Field Integration" on Friday, February 25th from 7:30-9:30pm at the Elastic Arts Foundation (2830 N. Milwaukee Ave., 2nd floor). The release includes readings from contributors Fred Sasaki and Jonathan Messinger; photographic interpretations by Martha Williams and Jeremy Bolen; and music by Geoff Farina. The event is free.
You can watch a short documentary on the making of Field Integration here:
———————————————
ABOUT:
Julia V. Hendrickson is a native of eastern Ohio who lives and works as a visual artist, writer, and curator in Chicago, Illinois. In 2008 she graduated with a B.A. in Studio Art and a minor in English from The College of Wooster (Wooster, Ohio). Julia is currently the gallery manager at Corbett vs. Dempsey, as well as the office manager and design assistant for Ork Posters. She is a teaching assistant at the Marwen Foundation, an active member of the Chicago Printers Guild, and has taught at Spudnik Press. A freelance art critic and writer for Newcity, Julia also keeps a blog called The Enthusiast, a documentation of the daily things that inspire, intrigue, and inform. She is currently exhibiting at Anchor Graphics (Columbia College Chicago) in a solo show titled FANTASTIC STANZAS, on view through March 26th.
Guest post by Julia V. Hendrickson
Notes on a Conversation.
With—Angee Lennard (Founder, Director, and President of the Board of Directors at Spudnik Press)
In—my car, driving to a printmaking workshop at the Marwen Foundation in River North
Commenced—on Wednesday, February 9th, 2011, 8:30–9:15am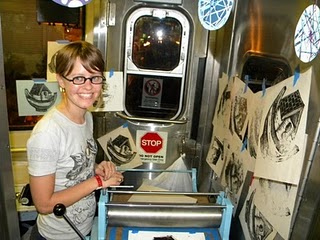 The moment I mentioned the word "printmaking" when I moved to Chicago, someone told me to visit Spudnik Press. Time and again I was encouraged by friends and new acquaintances alike in the art community to get in touch with Angee Lennard, to ask her questions, and to get involved in the print shop. When I finally met Angee and stopped by Spudnik Press, it dawned on me what the hubbub was all about; Angee is a quietly welcoming person, and her tireless efforts to maintain and promote a community print shop are inspiring. She is an educator who has chosen her cause, and the harder she works, the more those around her are energized to keep up. [Photo credit C.J. Mace, during Art on Track, 2010].
The last year has been a busy one for Angee, and for the Spudnik Press Cooperative community. In January 2010 Angee was the artist-in-residence at AS220, a community print shop in Providence, RI, where she focused on perfecting the art of mezzotint (a 17th century drypoint etching technique). Spudnik also hosted a few of its own artists-in-residence last year; early in the 2010, Lilli Carré made a small suite of illustrative screen prints recalling classical Greek ceramic decoration, as well as boldly colored, hand-printed artist books (one of which was featured in the MCA's January New Chicago Comics exhibition).
Throughout the summer Jessica Taylor Caponigro (who is also an instructor at Spudnik) printed a subtly complex edition of etchings; wallpaper patterns inspired by class differences in George Eliot's Middlemarch (1874). Most recently, Sanya Glisic has finished the 2010 residency program. Her stunning production is an edition that begs for a publisher and wider distribution: over 50 illustrated, hand-screen printed, and hand-bound artist books reinterpreting cautionary German children's tales from Der Struwwelpeter (1845).

L: Jessica Taylor Caponigro, "Our Vanities Differ" (installation and detail, "Farebrother"), 2010;
R: Sanya Glisic, "Der Struwwelpeter," 2010-11

All of these projects are a testament to a hard-working and supportive print community at Spudnik. Be sure to keep an eye on the residency program, because the newest artist-in-residence is about to get the ball rolling: Dawn Gettler is slated to start printing etchings and a wallpaper installation in March. Other artists who have been utilizing the space include Liz Born, who just finished a series of complex reduction woodcuts called Dimorphisms; comic artist, book maker, and illustrator Edie Fake, who is printing the Chicago Zine Fest poster (which takes place on March 25th-26th); and Stan Shellabarger, who is creating a second "walking book."
Future printmakers are bound to have a very different experience of Spudnik, however, because over the next few weeks, Spudnik is rapidly expanding. The shop began in 2007 in Angee's Ukrainian Village apartment, and in 2008 (in order to make it a more egalitarian space), Spudnik moved to the third floor of the 1821 W. Hubbard building. Now, over three years later, Spudnik's rapid expansion warrants another new space. It's just down the hall, but it's much bigger, and the exciting part is that it means the shop can now offer letterpress and offset printing.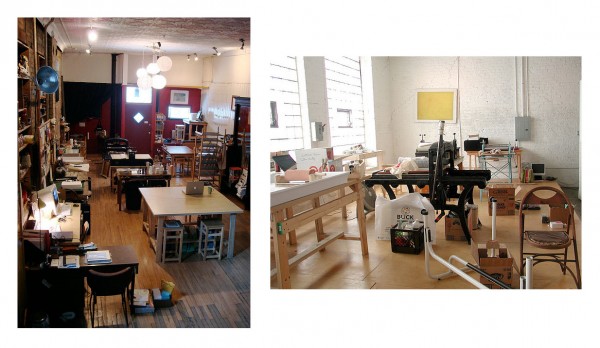 Spudnik Press' former studios spaces in 2007 (left) and 2008-2010 (right). Images from Flickr.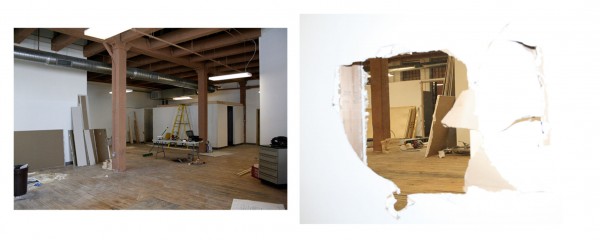 A peek at Spudnik Press in 2011 (under construction)
Fund raising (under the tag line, "Space Race: an epic mission to expand the boundaries of community printmaking") is currently under way through the $50 membership program and the $250 subscription program (limited and exclusive access to Spudnik published prints throughout the year). Angee and the other board members hope to keep the shop sustainable by taking commissions and publishing editions for artists who don't typically work in print.
Coming up this weekend is the Hashbrown, an annual fun-fund raiser and celebration. You can catch a glimpse of all the Spudnik activity at 1821 W. Hubbard St, #302 this Saturday, February 26th, from 7:00-10:00pm. Tensions are already high surrounding the printmaker's chili cook-off, so be prepared to witness a little friendly competition. Representatives from One Horse Press, Screwball, The Post Family, Hummingbird Press, Rar Rar Press, Ork Posters, Anchor Graphics, Jetsah (Dan Grezca), and the student printshops at Columbia College, SAIC, and Harold Washington City College will all vie for the title of chili royalty while helping support Spudnik's efforts to expand into a new studio space.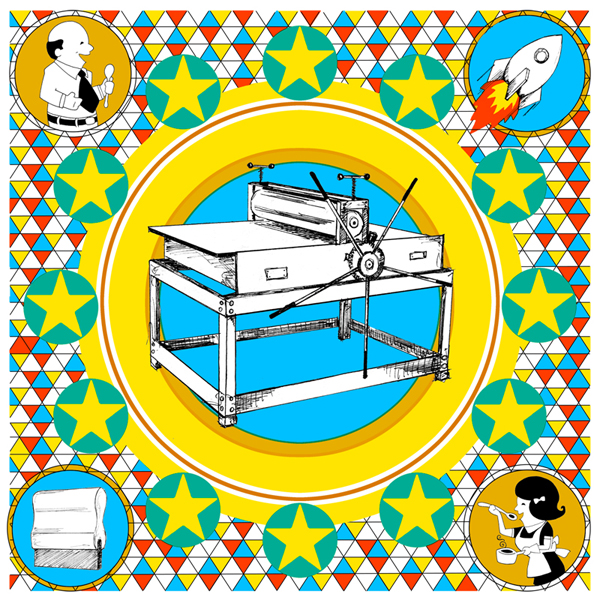 ———————————————
ABOUT:
Julia V. Hendrickson is a native of eastern Ohio who lives and works as a visual artist, writer, and curator in Chicago, Illinois. In 2008 she graduated with a B.A. in Studio Art and a minor in English from The College of Wooster (Wooster, Ohio). Julia is currently the gallery manager at Corbett vs. Dempsey, as well as the office manager and design assistant for Ork Posters. She is a teaching assistant at the Marwen Foundation, an active member of the Chicago Printers Guild, and has taught at Spudnik Press. A freelance art critic and writer for Newcity, Julia also keeps a blog called The Enthusiast, a documentation of the daily things that inspire, intrigue, and inform. She is currently exhibiting at Anchor Graphics (Columbia College Chicago) in a solo show titled FANTASTIC STANZAS, on view through March 26th.
Guest Post by Julia V. Hendrickson
Notes on a Conversation.
With—Mark Pascale (Curator in the Dept. of Prints & Drawings at the Art Institute of Chicago, and Adjunct Professor of Printmedia at SAIC)
In—the Prints & Drawings Study Center
Commenced—on Thursday, February 17th, 2011, 4:15–5:15pm
"It's a dream job. It's great place to work. Even under great pressure, when people are at their most difficult, there is still a lot of love here and we all know it. We give each other a lot of space, there's a tremendous amount of collaboration here, and people supporting everybody when they need the support. I think it's very collegial."
— Mark Pascale
In a curious corner of the Art Institute, beyond the lions and the ticket booth; through the first gallery on your left (filled, currently, with John Marin's watercolors); past a large glass door; and adjoining a nondescript long white hallway, lies a room full of natural light and very busy people. Dedicated to public inquiry, the Goldman Study Center in the department of Prints & Drawings is one of this city's quiet treasures. Open to the public by appointment only (available to classes in the mornings and to individual researchers in the afternoons), since the 1940s the department has made available over 80,000 works on paper that are part of the Art Institute's collection. Staffed by hard-working curators, collection managers, researchers, administrators, and interns (as well as its own paper conservation department), the study center serves as a visual library; it offers the rare opportunity to examine a small selection of major works of art in person, without the distancing of glass or display.
However, one of the most invaluable treasures in Prints & Drawings is not actually on paper. It is, in fact, embodied in a living, breathing, wise-cracking person: a curator, Mark Pascale, who is celebrating his 30th year with the Art Institute. I first knocked on Mark's door over two years ago, armed with the brazen assumption that he would meet with me based on a shared love of comic art and his connection to Ohio (he went to graduate school at Ohio State University). Since then, Mark has proved to be an encyclopedically resourceful, tirelessly supportive, always kind mentor and friend.
While visiting the study room last week, we looked at one of my favorite recent departmental acquisitions, a bequest from the estate of Sylvia Sights: a small collection of envelopes and ephemera illustrated by Edward Gorey (who was born in Chicago in 1925). Sylvia Sights and Gorey were childhood friends and Lakeview neighbors. Gorey attended SAIC for one semester in 1943, and after he left Chicago he wrote to Sights frequently. Many of the envelopes are from his time at Harvard (1946-50), and were often sent under fantastic pseudonyms like "Childeric Drool" and addressed to "Fascia Scorch." You can see more photographs of the collection in an album here.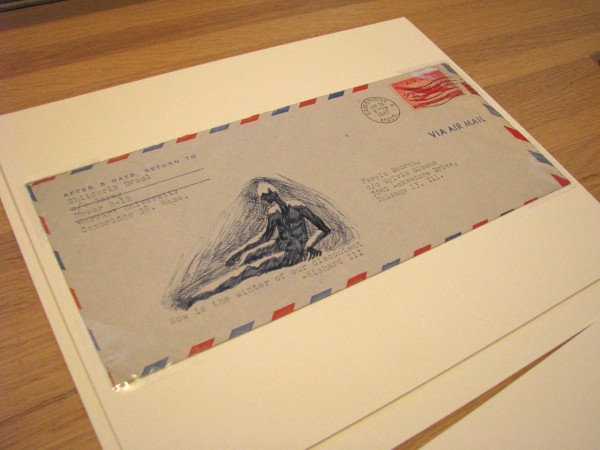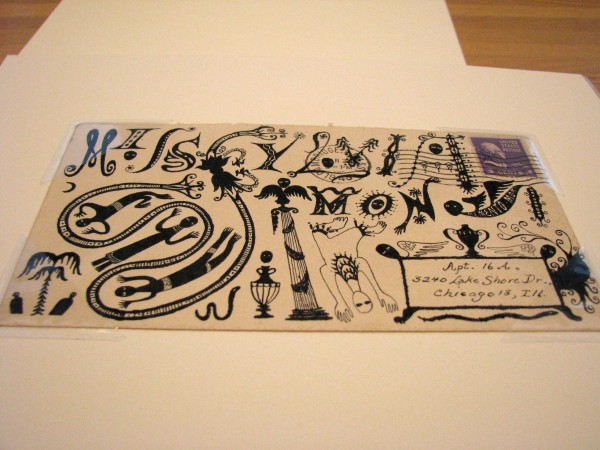 PAST PROJECTS:
I asked Mark about print-related shows he is proud of being involved with during his time at the Art Institute. He spoke of the intense research and collaboration that goes into major museum exhibitions:
"Being involved in the Jasper Johns: Gray show [in 2007] was a career changing moment for me. He was an artist that I had admired, as an artist, and I especially had admired his printmaking. It was hugely inspirational and instructive to me. It was a frightening prospect because he's very judgmental, and he is not known for his generosity. But I was asked to join the team and I did. […] That experience, working with James [Rondeau] and Douglas [Druick], Harriet Stratis, Christine Conniff-O'Shea, and Maureen Pskowski, having a cross-departmental experience was fantastic.
The other show that I've done that I'm extremely proud of is the one that was called After the Crash: Picturing the U.S. 1930-1943, which I did [in 2000] in conjunction with a curatorial assistant in photography and the special collections librarian in Ryerson. We incorporated prints, photographs, and texts from the Depression, [about] the Depression.
We used our WPA [Works Progress Administration] and FSA [Farm Security Administration] holdings, and it was based upon my question: 'If so many of the artists who worked for the WPA were urban, why are there so many farm images?' So, [we were asking] whether or not the FSA photographs played any role in what got depicted in printmaking. To some degree we found evidence that it definitely was true, and there were quite a few artists that worked both on the FSA project and the WPA project. […] The crowning moment for that was, even though we didn't get to do a book, we had a panel discussion that was chaired by George Roeder, who created the Visual and Critical Studies area at SAIC (now sadly deceased), and included Studs Terkel, who was still really sharp, he really had his wits about him, and the photo historian and photographer Naomi and Walter Rosenblum, respectively."
— Mark Pascale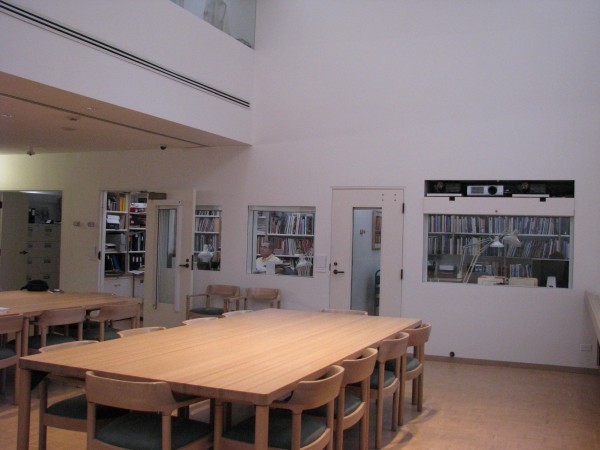 Mark also collaborates across the city with other museums and galleries. In the mid-1990s Mark was an advisor and catalogue contributor to one of the definitive Chicago print shows, Second Sight: Printmaking in Chicago 1935-1995, a survey exhibition at Northwestern University's Block Museum of Art. When I mentioned that show, he sighed and said, "I wish I could redo it because I've learned a lot more about the history of Chicago printmaking since then. But I covered some of it in the Chicago Stories exhibition."
(Chicago Stories is Mark's most recent departmental exhibit from the summer of 2010, an historical survey of local printmaking called Chicago Stories: Prints and H.C. Westermann's 'See America First'. While I served as an intern in the department with Mark, fellow intern Andrew Blackley and I collaborated with him on the research, writing, and exhibition planning for Chicago Stories.)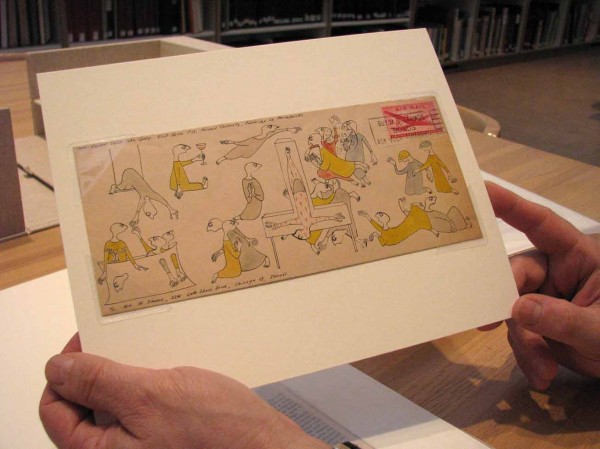 CURRENT PROJECTS:
Although Mark rarely has the time to advise or organize more than one show a year outside of the department, he is often asked to judge exhibitions. This year he selected a members exhibition for the upcoming Southern Graphics Council Tempting Equilibrium conference in St. Louis (March 16th-19th, 2011). At the Art Institute, Mark is currently working on a departmental exhibit showcasing a promised gift of over 100 contemporary drawings from a private Chicago collection. He notes that the museum recently has received a lot of criticism for doing private collection shows, but that it's simply a way to honor and celebrate the major support of private collectors:
"We're often accused of being an island, and we're not. To some people we might be.  We don't buy that much art. We spend a lot of time engineering gifts. […] The people who are quick to criticize the museum don't seem to know of the long and distinguished history of giving that Chicago museums enjoy, and don't seem to know that we don't receive much public money. There's a limit to what we can do, and a high expectation for what we put out. My feeling is that they should be excited and happy that this art stays in the city forever."
— Mark Pascale
The other big show Mark has been working on for the last few years, scheduled for 2013, is a Martin Puryear retrospective, focusing on Puryear's printmaking processes.  Although much of Puryear's early work was destroyed in a fire, Mark has been able to find a number of working and state proofs for his more recent editions. The exhibit will highlight Puryear's etchings from Paulson Bott Press (Berkeley, CA), and a major work from Arion Press (San Francisco, CA): illustrations for Cane, a 1923 novel by Harlem Renaissance writer Jean Toomer.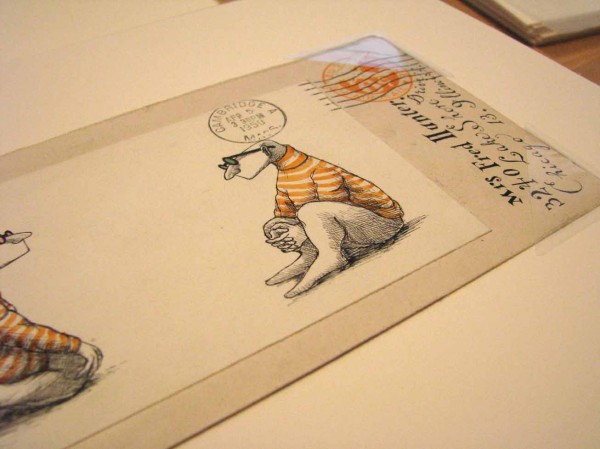 PASCALE'S PICKS:
Above and beyond his knowledge of modern and contemporary art, Mark also knows a thing or two about good food in the city. At the end of our conversation, Mark humored me with a list of a few of his favorite places to eat out.
"Any opportunity to eat badly, I will accommodate it. I have a very high threshold for people's hot dogs and fries, because it's such a Chicago thing. Chicago-style hot dog joints are not like what I experienced growing up. It's local, and I love local."
— Mark Pascale
1.) Hot dog and fries at Gene and Jude's Red Hot Stand (and many other places, but G&J is the best) (2720 River Road, River Grove, IL)
2.) Tom Yum Koong (shrimp soup) and Pad Ped Pla Dook (spicy catfish) at Opart Thai House (4658 North Western Ave., Chicago)
3.) Enchiladas Mole at La Oaxaqueña (3382 North Milwaukee Ave., Chicago)
4.) Bhendi Masala (okra curry) at Hema's Kitchen (2439 W Devon Ave., Chicago) or Udupi Palace (2543 W Devon Ave.)
5.) Hungarian Potato Pancake at Smak Tak (5961 North Elston Ave., Chicago)
6.) Chicken Fatoush Salad at Pita Inn (Skokie, Wheeling, and Glenview, IL)
———————————————
ABOUT:
Julia V. Hendrickson is a native of eastern Ohio who lives and works as a visual artist, writer, and curator in Chicago, Illinois. In 2008 she graduated with a B.A. in Studio Art and a minor in English from The College of Wooster (Wooster, Ohio). Julia is currently the gallery manager at Corbett vs. Dempsey, as well as the office manager and design assistant for Ork Posters. She is a teaching assistant at the Marwen Foundation, an active member of the Chicago Printers Guild, and has taught at Spudnik Press. A freelance art critic and writer for Newcity, Julia also keeps a blog called The Enthusiast, a documentation of the daily things that inspire, intrigue, and inform. She is currently exhibiting at Anchor Graphics (Columbia College Chicago) in a solo show titled FANTASTIC STANZAS, on view through March 26th.