GUEST POST BY SARAH MARGOLIS-PINEO
I've had the past two weeks to ruminate on the phrase: creative supply chain. The idea was introduced at the Rust Belt to Artist Belt conference in Detroit on April 6-7 as an iteration of the creative economy in post-industrial cities. Taking cues from traditional cycles of production, as well as from the information systems of digital technology, the creative supply chain was presented as model to revitalize the 21st century economy through the stimulation of local and well-integrated creative practices.
Following the two, very full days of conference conversation, I was eager to discuss the event with a maker who is already contributing to this notion of the creative supply chain. I made a date to interview Veronika Scott, Detroit wunderkinder and creator of the Empowerment Plan, a project that combines social activism with good design through the production of self-heated and waterproof coats that transform into sleeping bags. I first encountered the Empowerment Plan at a Detroit Soup micro-grant supper back in October, where Veronika spoke about her project over bowls of vegan butternut squash. In the five short months since, the 21-year old designer has been featured on CNN and NPR, sponsored by Carhartt, and taken meetings with the Japanese embassy as well as the Red Cross.
The majority of the attention that the Empowerment Plan has received surrounds the coat itself, which beyond being a potentially life-saving tool for homeless and displaced communities, is a stunning design object made from everyday materials. To create her coats, Veronika has implemented a unique production cycle that relies on the employment of homeless women, usually mothers, who are taught the skills to create and distribute the coats to "unreachable" individuals who are most in need. Integral to this project is the notion of empowerment, which to Veronika, exists in tandem with education and employment. What interests me about this project is how the coat becomes a model for the cycle that produces it—both are fully sustainable systems that promote independence, wellbeing, and inherently, empowerment of both user and maker.
Veronika is first and foremost a designer, who operates at that curious intersection of culture and social activism. Her praxis has swung a wide arc between fine art and manufacturing, but in essence, her process is to locate a problem, and creatively work to produce a solution. To achieve this, she utilizes tools from the business world as well as the creative sector, and will unabashedly network for material or intellectual gain. She has an uncontrollable passion for issues relating to homelessness. At first, I mistook her zeal for youthful exuberance, but through our conversation, I realized that this almost-college-graduate is well on her way to becoming a predominant voice in humanitarian design.
This conversation was recorded in a bougie coffee shop in Royal Oak, a suburb north of Detroit, which struck me as an ironic venue, until our conversation was interrupted by an older man who decided to clip his fingernails at an adjacent table. We weren't so far from the city after all. Discussed in this interview is that illusive creative supply chain, big, pink band-aids, the collaborative creative processes, and Detroit as a city of makers.
Sarah Margolis-Pineo: Beginning with the Empowerment Plan, how did that project start?
Veronika Scott: It started first as a school project. At that point, it was literally product design, so I focused on the coat, and the design. I thought: it's cold, they need something to wear, something to sleep in, something waterproof and self heated, and it started off pretty small.
I spent three days a week, every week, for five months with a group of people at neighborhood service organization, which is also known as Viet Nam on the streets. It's hands down the roughest, most aggressive, most displaced… It's not even a shelter—it's a warming station in Detroit! I didn't know that at the time. I was very naive, and very stupid to go there for the first time.
SMP: Warming station?
VS: It's somewhere you can go and just sit for 8-hours, and then you get booted out for the next group. So I went there at 8pm, three nights a week, every week of the semester, and continued on to the beginning of the summer. It was through that time that the project did not die. Instead of going: okay guys, semester's done and I've got my grade, I continued to do prototypes with them, and they still continued to test them. Even when I didn't have anything to show them, I would still go and talk at the same scheduled day, at the same scheduled time every week, just to say that I was there.
SMP: And out of this process emerged a beautiful, as well as a functional, design object. This axis of art and social activism is becoming more prominent, especially here in Detroit through discussions relating to the creative economy. I'm wondering how you see your work fitting into that conversation?
VS: I don' t see [The Empowerment Plan] as being fine arts. In no way is it fine arts. When the coat idea was lumped in to the project, [a college administrator] wanted me to do gallery shows and this fine art ideation, and I thought: this doesn't need gallery shows, this needs funding and larger warehouse space. This doesn't need to show itself off anymore, and it doesn't need to think about itself—it needs to act. I felt like what I was being asked to do was read through a document and highlight spelling mistakes and errors. I feel like that is fine art: you highlight, you make awareness in the world to a problem. I feel like what my project is, is going in and retyping it. I have a very strong issue with highlighting something, I' m one of those people who needs to act and do something.
SMP: What did you take from this idea of "creative supply chain" at the Rust Belt conference? Do you feel that business practices should be a more integral part of creative practices?
VS: That's what I think is really lacking. Yes, there are a lot of great things that come out of fine art in this city. The pink wall, for example, the big pink band-aid, that's great—it's highlighting or covering a bruise. But, one: it's not doing anything; and two: the big issues that those artists aren't willing or need to be pushed to join up with that sort of commercial, business oriented world that they're trying to stay away from. There needs to be something lasting, because right now, were in this state of anti-structure in Detroit. I described it as the Wild West of creativity, because you can almost do anything you want if you're driven enough to get it or do it, which is great. But if there's not any structure applied to it soon, if there' s no heavy manufacturers coming in and trying to tie themselves to something… This needs to happen, otherwise it will start to collapse. The pink wall will fade or crumble and disappear. And what are we left with?
SMP: So what advice would you give to the creative community in Detroit to cultivate something lasting—to creatively problem solve and see tangible results?
VS: Start figuring out names. I think it has everything to do with networking. I wouldn't know anything about what I'm doing if it wasn't for the brilliant people I surround myself with, and the brilliant people willing to put up with me and my questions. And these are some amazing CEOs, lawyers—some amazing people in all senses of the word. I know artists think they don't want to reach out to that type of person or that they can't. You'd be surprised, that even if it's just googling until you find a name of someone that does clothing manufacturing or kids toys— someone who works for Hasbro. You think you can't contact them, but you need to try. I've emailed hundreds of people to help me with this. Communication is huge. And I think that's how you apply that structure. You can't know everything about what you're doing. There were so many aspects of my project that I didn't understand, and I still really don't, but I have people beside me who do.
SMP: Collaboration seems to be integral aspect of your practice—you seem to have cultivated all these micro-communities through the process of the Empowerment Plan. Tell me a bit about your involvement with the new project in Corktown, which I understand is based in the idea of collectivity, and bringing together a network of creatives from a range of fields.
VS: [Phil Cooley and collaborators] are bringing together quite an amazing group of people. Everybody from chefs to architects, to engineers, and heads of foundations. Businesspeople! I think this is the typical structure that everyone should have—as eclectic as this. When you build a community you need to have it be eclectic. You can't just hunt down all your artist friends and call it a day and just make pottery. You need to branch out to people you may be uncomfortable with, and you fully acknowledge are more intelligent than you, and possibly more creative than you. Those are the best people to surround yourself with, and that's what I see this new warehouse/structure being. It blew my mind that they approached me! These are established artists, designers, chefs. People within the city and outside the city coming in specifically to have a space in this warehouse.
SMP: And this is studio space?
VS: Studio-production space. To pay for the space, we'll be teaching kids at least 4-hours a month. So that's like paying rent—we're expected to teach! Kids are a huge part of this space. Studio space is great, but I' m not one of those people, anymore or right now anyway, who will use a studio to paint for 10-hours a day. My studio is about producing—getting ideas out, and communicating with others. And my contribution was saying to Phil: You're talking about kids in the public schools, and we need to branch out to kids who are not in schools at all. I'm bringing this back to homelessness, but that's what I'm closest to, there's a huge problem with homeless youth, and they' re trapped in this deep cycle just like anyone else.
SMP: Do you think the specific conditions here in Detroit have enabled this type of collective, socially conscious, cultural iteration?
VS: Yes. This wouldn't have been able to happen anywhere else. Perhaps Russia…
SMP: The climate is similar!
VS: The climate is similar, as is the socio-economic status of most of the people who live in Russia. But, I'm not from Russia, and I don't think there's anywhere else in the US that I could do this. It has the space. It has the creative community. It has the media attention… It's a weird place right now—there's little structure, decaying buildings all over the place, there's skyrocketing joblessness. So, it's a weird combination.
SMP: At the conference, I often heard Detroit referred to as a city of makers.
VS: As a city, we've been a maker culture since the beginning. When the city was still flourishing, we were a part of making—the hands on production of automobiles, clothing, shoes, and leather goods. We were so tangible. Some of the best goods came out of Michigan, and Detroit in particular, and I think that's so deeply ingrained in all the generations. The grandfather did cars, and from there, the sons and daughters made products that other places in the country didn't have the skills to do. Detroit was raised by, and into it. It's part of everyone's being—we are a community and city based on producing things. That's something that is very hard to kill, especially now with the new digital world that is so intangible, a lot of Detroiters didn't know what to do. When the economy fell and we lost all those production jobs… To this day, people still don't know what to do without hands-on making.  There are so many skilled people in this city, it's insane! I think that's where it has to go again—return to the culture of making, but differently this time. Yes, it did fail, but it did in the rest of the world as well economy-wise. You can't blame the city, but we've been doing it for 20-or so years now, which is longer than the crash. We need to apply new structures and new systems to it, because right now, the old one does not work. The old paradigm for making and producing no longer applies. In order to succeed, we need to think of new ways. This is where the idea of the artist comes in. Looking at something in a different way.
Yes, we are makers, but we can't rely entirely on that anymore. We need to join forces—business practices are everything. We are a maker community, but we can't be afraid to let other non-makers in.
Sarah Margolis-Pineo is a curator and writer. She is currently the Jeanne and Ralph Graham Collections Fellow at the Cranbrook Art Museum.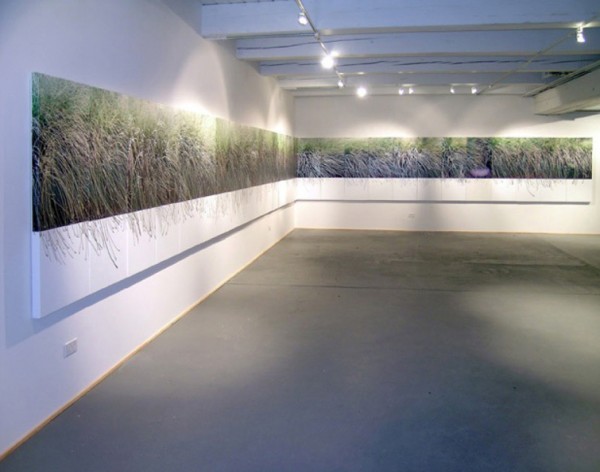 We wanted to pass this along to our readers, as it seems like a great opportunity all the way around: there are just a few days left to take advantage of Chicago Artists' Coalition's Bolt Residency Application / Membership deal – artists who apply for the Bolt Residency before April 22nd (that's this Friday, folks) will receive a $20 discount on CAC Membership (all applicants must be CAC Members). Full information on the Bolt Residency and application process follows below:
The Bolt Residency is a highly competitive and juried artist program housed in the former FLATFILEgalleries, an 8,000 square foot space in the vibrant, art-centric West Loop neighborhood. Bolt Residency is a one-year artist residency program consisting of nine subsidized studios and professional exhibition space with daily, ongoing professional development programming and support from CAC staff.

All artists applying to Bolt must be current CAC members. Artists who apply before April 22 receive a $20 discount on CAC membership. If you have any questions about membership, please contact the CAC office (773.772.2385) or email Alyson Koblas (alyson@chicagoartistscoalition.org).

Bolt Residency is an investment in YOUR artistic career, providing ongoing dynamic, in-depth collaborations with prominent curators, cultural institutions, visiting artists, gallery directors, dealers and collectors.

Open House

CAC will hold two open houses with tours of the space, every 15-20 minutes. Tours will take place at 217 North Carpenter on  Sunday, April 10 from 2-5pm and Tuesday, April 19 from 5:30-8:30pm.

Vision

Bolt Residency seeks to create a supportive environment that promotes and evolves artists' professional and artistic practices; providing ample space for the development of groundbreaking work.

Programming

Critical to our partnership with artists in residence are ongoing dynamic, in-depth collaborations with prominent Chicago curators, cultural institutions, visiting artists, gallery directors, dealers, and collectors. Bolt Residency hosts vital services and programs that provide artists with opportunities to build new audiences and meaningful connections to industry and business leaders throughout the Chicagoland area. Bolt Residency engages the Chicago arts community and its public in critical dialogue about contemporary art. CAC programs foster community and stimulate invention, risk and innovative artistic practice.

CAC will work closely with Bolt Residents to:

Develop a customized professional development plan based on your vision and personal goals.
Provide one-on-one monthly studio visits and workshops by the following partners (with more to come):

Candida Alvarez: Interim Dean of Graduate Studies/Professor, SAIC
Lynn Basa: Artist and Instructor, SAIC. Author of The Artist's Guide to Public Art: How to Find and Win Commissions
Elizabeth Chodos: Associate Director, Oxbow, SAIC
Romi Crawford: (Ph.D.) Assistant Professor, SAIC, Former Curator and Director of Education and Public Programs at the Studio Museum in Harlem
Chicago Art Dealers Association
Robyn Farrell: Gallery Manager, Donald Young Gallery
Mark Jeffrey: Adjunct Associate Professor Contemporary Practices & Performance, SAIC. Curator. Artist.
Nancy Jones: Executive Director of Learning and Interpretation, Detroit Institute of Arts (DIA)
Charlotte Marra: Assistant Director, Rhona Hoffma
Monique Meloche: Owner/Director Monique Meloche
Jackie Terrassa: Assistant Director of Public Programs, MCA


Coordinate open studios and exhibition openings  with the West Loop's gallery walks
Showcase your studio to interested parties.
Market exhibitions and special events to the press and arts community.
Provide full and free access to CAC's Art.Business.Create (A.B.C), a series of intensive educational workshops and consultations designed to build artists' professional business skills (worth over $500)
Offer competitive studio rental rates with the option to share/divide or use space individually.
Create evaluation and sustainable exit plan, post-residency

Bolt Residency Studios


(5) Front Room Studios: $455 for 260 sq.ft.
(1) Private Studio: $525 for 300 sq.ft.
(2) Back Room: $390 for 260 sq.ft.
(1) Side Studio: $225 for 260 sq. ft.
Open floor plan, work-only (non-residential)
Move in date: June 15, 2011. Security Deposit: TWO months' rent

Important Dates

April 29 (12pm): Application and supplementary materials are due via email to cortney@chicagoartistscoalition.org

May 18: Announce finalists selected by jury

May 23-May 27: Finalists interview with CAC staff

May 31: Announce Bolt Residents 

June 15: Bolt Residents move in to 217 N Carpenter

Move In Date


Move in date: June 15, 2011. Security Deposit: Two months' rent.

Selection Process


Submissions are evaluated by a jury of four professional peers from Chicago's leading cultural institutions: Romi Crawford, Tricia Van Eck, Monique Meloche and Allison Peters Quinn.

Jury selected finalists will be interviewed by CAC staff.

Artists who wish to apply as collaborators or apply to share space must apply individually and send individual fees, application and support materials (collaborators must include a separate page describing your collaborative proposal).

Types of Disciplines: painting, works on paper, photography, new media, installation and film. Sculptors,performers and sound artists are encouraged to apply, but may be limited by materials. Please contact Cortney at cortney@chicagoartistscoalition.org.

We do not discriminate on the basis of race, religion, national origin, color, sex, age, veteran status, or disability.

TO APPLY

Applications are available online by clicking here.

Applicants must be Current CAC members. To check on status or to join, please contact Alyson Koblas at alyson@chicagoartistscoalition.org. (Artists who apply before April 22 receive a $20 discount on CAC membership.)

Applicants need to reside in the Chicagoland area during residency.

Applications must be emailed to cortney@chicagoartistscoalition.org AS ATTACHMENTS and include:

Completed Application (available online HERE)
Resume (as PDF attachment)
Work Samples (max 10 images, SUBMITTED ONLY AS JPEG's, no larger than 72dpi) as attachment. WORK SAMPLES MUST INCLUDE: TITLE, DIMENSIONS, DATE AND MEDIUM.
Non-refundable $25 application fee (paid via our secure online terminal)

To keep up to date with Bolt Residency, sign up here to receive CAC's e-newsletter.

Update: This just in — excerpts from the recordings taken during the MDW Fair will be broadcast on Episode 300 of the podcast!
Bad at Sports is setting up camp at the MDW Fair (pronounced Midway, like the airport) – come check us out over the weekend of April 23 and 24th! Richard, Duncan et al. will set up a casual recording booth area in the style of Storycorp's DIY reportage. Bring someone you want to interview – or someone who wants to interview you – and take 7 to 10 minutes to discuss your project your own way, in your own voice. The MDW Fair promises to be the Chicago art event of the season — check out all the details below:
The MDW Fair is a gathering of independent art initiatives, spaces, galleries and artist groups from the Chicago metropolitan area. Held April 23-24, 2011 at The Geolofts, 3636 S. Iron Street, Chicago and organized by Version 11 Festival, Threewalls, Roots and Culture and the Public Media Institute, the MDW Fair aims to highlight the "diversity, strength and vision of the people/places making it happen in the art ecology of our region" and is "a manifestation of the collective spirit behind the region's most innovative visual cultural organizers, focusing on the breadth of work done here by artists and arts-facilitators alike." The fair features for-profit, 501(c)3, and commercial and unincorporated galleries, independent curatorial projects and publishers and media groups in over 25,000 square feet of exhibition space that includes a 8,000 square foot sculpture garden with work by local artists.
UPDATED WITH CORRECTIONS:
We received an email from Carlie Dennis, the exhibitions assistant at MOCAD, containing a few corrections to the piece below concerning the number of visual artists represented in the Art X exhibition at MOCAD. The correct numbers have been noted in bold in the piece, and Dennis' letter to Bad at Sports containing further clarifying details, etc.  follows the post in an effort to ensure the corrections are clear.  In addition, please note the following exhibition sponsorship information provided to us by MOCAD: The Art X Detroit: Kresge Arts Experience is sponsored by The Kresge Foundation, in partnership with the College for Creative Studies, Artserve Michigan, the University Cultural Center Association (UCCA) and the Museum of Contemporary Art Detroit (MOCAD).
— Claudine Ise
GUEST POST BY SARAH MARGOLIS-PINEO
It was in 1909 that Marienetti first recounts his fated car crash in the pages of Le Figero. He describes an evening where late-night mythologizing veers poetically into an early morning drive. Three "snorting machines" are caressed and brought to life, and he writes, "a great sweep of madness brought us sharply back to ourselves and drove us through the streets, steep and deep, like dried up torrents." Torrents, indeed. Of course we know how this ends: one shiny, red roadster meets two cyclists, ("like two persuasive but contradictory arguments"), and crashes grill-first into a gutter filled with the muck of industrial runoff. Overcome by his encounter with the speed and power of mechanical ingenuity, Marienetti emerges from the factory sludge a Futurist—belligerently positioned towards a new era, first will and testament in hand.
Coincidentally, it was this same year that Henry Ford's Model T made its debut at the Detroit Auto Show, and thusly set into motion the chain of events that would result in the creation of Motor City—a figment of Detroit's identity that persists over a century later. Artists in Detroit are consumed by the context of the post-industrial, post-urban cityscape. Like Marienetti, they are influenced by the concrete motorways and roaring engines that have shaped the physical space, economy, and consciousness of the city for decades.
Art X Detroit, an exhibition featuring 19 17 of the 36 Kresge Fellowship recipients, opened April 6 at the Museum of Contemporary Art Detroit. Wire Car Cruse, an event and subsequent video work, (titled "a dance for Diego,") by Chido Johnson, deliberately mines the history and present of car culture in Detroit. The Woodward Dream Cruise, now in its 16th year, is an annual event, where more than 40,000 classic cars and roughly 1.5-million spectators assemble along the 16-mile stretch of Woodward Avenue to observe and tailgate, while restored antiques and custom muscle cars takeover the arterial. I will say, that from someone who is admittedly more of a public transportation enthusiast, this weekend-long spectacle does not disappoint. Beer, barbeque, and tricked-out mechanics?! Um, yes, please.
Johnson uses the performance of Dream Cruise as the foundation for his own event, which combines the ritual of the Detroit car cruise with the practice of creating wire cars, a pastime from Johnson's childhood in Zambia and Zimbabwe. The performance articulates a hybrid cultural activity, which represents the artist's own negations with subjectivity living between two cultures. Moreover, Johnson's event cultivated a community of wire car enthusiasts, and in so doing, opened up this history of Detroiters and their cars to new audiences who may have been previously excluded from this specific cultural phenomenon.
The video documenting Wire Car Cruise is juxtaposed with a sculpture entitled, "me me me," which is a self-portrait of the artist as a carved African statuette installed on a deconstructed cardboard box on the gallery floor. This work further accentuates the search for a sense of identity between cultural spaces—a literal unpacking of the artist as subject. What interests me most about the video, statuette, and their installation at floor level, is their child-scale. The overall impression of the work is a sense of playfulness that Johnson associates with the practice of making. The video work, "a dance for Diego," takes as its title a sentiment from Diego Rivera who said that the city of Detroit is of makers and dreamers. Johnson's work at its essence is about making, and reinvigorating this type of creative industry with a sense of joy and wonder.
Abigail Anne Newbold's work, "Home Maker," addresses the urban frontier as an expanse to be explored via bicycle and wagon. In the tradition of the pioneer settlement, the Airstream mobile trailer, and the popup house, this project is comprised of an intricate toolkit with which even the least adept outdoorsman can create a makeshift home. The foundation of the piece is a custom-made bicycle and covered wagon functioning like a rickshaw trailing behind. The accompanying toolkit is exhibited in an arrangement both in the wagon and on a gallery wall, which operates like a hybrid one-bike garage meets REI store display. The literal use of the tools is ambiguous; however, the rugged, weather-ready materials in hazard yellow and orange renders the objects explicitly for outdoor survival.
Perhaps this work is a statement on the changing nature of settlement and domesticity given the shifting housing market, or maybe Newbold is supplying tools, (such as a three-fingered pot holder, a bouquet of tent stakes, and wilted bow and quiver of arrows), to the urban ethnographer. Regardless, "Home Maker" is a response to a city in transition, where the untamed urban prairie is an opportunity to develop and implement re-imagined infrastructures for living for the coming century.
Photographer Corine Vermeulen is the spiritual offspring of Dorthea Lange and Buckminster Fuller. Her series, "Your Town Tomorrow, Detroit 2001-2011," explores the identity of place through portraiture of the everyday Detroiter. Vermeulen's imagery, through documentary, ventures beyond the sensation-hungry media snapshot of blighted landscape and broken home. In fact, Detroit as an urban, city-subject is barely recognizable. Her subjects are framed by a landscape that has an immediate, visual association with the southern rural rather than the rustbelt. Families and haphazard communities are depicted in the liminal spaces of Detroit—in front of ailing fences, amidst the tall grasses of overgrown urban lots, and on rebuilt bicycles. It is from this ambiguity of place that Vermeulen achieves the futuristic sensibility referenced in the title of the series.
The artists refers to her portrait series as "memories of the future." Like the work of Newbold, Vermeulen portrays a city in transition—its citizens picking up the broken detritus left in the wake of post-industrialzation to re-cultivate land, rebuild homes, and re-imagine communities. Her portraits contain the "new topographies of urban life," and function as an alter-narration of what urban space can be, and indeed, may be, in the uncertain future of Detroit.
Other artists featured in Art X Detroit at the Museum of Contemporary Art Detroit are Shiva Ahmadi, Hartmut Austen, Lynne Avadenka, Kristin Beaver, Susan Goethel Campbell, Ed Fraga, Tyree Guyton, Rod Klingelhofer, Gordon Newton, Russ Orlando, Senghor Reid, Michael E. Smith, Gilda Snowden, Cedric Tai, and Sioux Trujillo. The exhibition will be on view April 6-24, 2011.
Sarah Margolis-Pineo is a curator and writer. She is currently the Jeanne and Ralph Graham Collections Fellow at the Cranbrook Art Museum.
Corrections from Carlie Dennis, PR Coordinator/Exhibitions Assistant at MOCAD:

There are a few clarifications that I would like to highlight regarding the Art X Detroit exhibition that is currently on view at MOCAD.  First, there are a total of 18 Visual Arts Fellows, 19 if one includes Eminent Artist award recipient Charles McGee.  Neither Charles McGee, nor Tyree Guyton (one of the 18 Visual Arts Fellows) have work in the exhibition on view at MOCAD, as they each have public installations elsewhere in the Midtown neighborhood.  Additionally, it is misleading to say that the exhibition features 19 of the 36 Fellowship recipients, as the other Fellows are in the Literary and Performing arts fields, and are therefore not included in the exhibition but are included in the week's series of public programs and events.  This statement makes it appear as if the exhibition was curated, when in fact it is an artist-driven showcase and includes all of the Visual Arts Fellows (please click here to read a lengthier description of the context of the exhibition: http://mocadetroit.org/).  Finally, while MOCAD is the venue for this showcase, it is important that proper credit is given to those who produced, organized and funded the exhibition: The Art X Detroit: Kresge Arts Experience is sponsored by The Kresge Foundation, in partnership with the College for Creative Studies, Artserve Michigan, the University Cultural Center Association (UCCA) and the Museum of Contemporary Art Detroit (MOCAD)."
"Teach 4 Amerika aims to empower artists to create the education they need and not beholden them to a system that professionalizes them out of their own specificity," — Bruce High Quality Foundation.
Lots of buzz surrounding the arrival of The Bruce High Quality Foundation in Chicago for two related events this week. The first–a limited capacity, intimate discussion on education and the arts that will be held at Roots and Culture tonight–is already booked solid. Maybe you can still sneak in? Or peek through the windows? The next event can accommodate more bodies: BHQ's Teach 4 Amerika Rally–billed as "a rally for anarchy in arts education"–starting at 6pm on Thursday, April 7th at the University of Illinois at Chicago's Lecture Center Room A-1, 821 South Morgan Street. These events are presented by Creative Time and hosted by Gallery 400 and Three Walls in Chicago. Below, full details; oh, and can someone snag me a t-shirt please?
Teach 4 Amerika is a five-week, 11-city, coast-to-coast road trip that
crosses state lines and institutional boundaries to inspire and enable
local art students to define the future of their own educational
experience. Traveling the byways of America in a limousine painted as a
school bus, BHQF will bring together concerned educators, artists, arts
administrators, and—most importantly—students to brainstorm on the future
of art schools.

The project calls for a national rethinking of the current art education
system, and will provide an opportunity to discuss issues facing artists
seeking an education, as well as catalyze discussions with students. The
Teach 4 Amerika tour is a rallying effort to begin this conversation on a
national scale and to encourage a new generation of students, artists, and
educators to imagine what is possible for art education in America.

Teach 4 Amerika will combine the spectacle and energy of a political rally
with the substantive dialog of a conversation series, featuring a
multimedia presentation, balloons, t-shirts, and music. In addition, on
April 6 at Roots and Culture, BHQF will also organize an intimate
conversation between students and a group of arts professionals to
transform the ideas and optimism of the rallies into real change (RSVP to
that event is required).