GUEST POST BY ELIZABETH CORR
In April, Princeton Architectural Press released the first monograph by Jeanne Gang of Studio Gang Architects. Reveal is completely enthralling, so much so that it becomes impossible not to pour over every single footnote, photo caption, and insert. There are incredible nuggets of information packed throughout, all of which provide a voyeuristic glimpse into the day-to-day operations of one of the most wildly successful and innovative design firms coming out of Chicago.**
I have to admit that I tend to get nervous when an artist I admire steps boldly into new territory – in this instance writing. There is always the fear of disappointment, but fortunately Reveal does nothing of the sort.
The book is organized according to a logic that underscores much of the undertakings of Studio Gang – by material. It is this fascination, obsession really, with material that makes Studio Gang's work so compelling. They're consistently pushing the boundaries, and in doing so, challenging perceived limitations of materials from both performance and aesthetic perspectives. This approach to design is refreshingly scientific and deeply rooted in a process of assemblage. The studio searches for inspiration in seemingly unlikely places, and it is this guiding philosophy that distinguishes their approach from that of many other firms.
For example, when you think about steel what comes to mind? For those at Studio Gang, one answer would be samurai swords. Seems strange at first, but by the end of the essay I found myself nodding in agreement wondering why I hadn't made that connection ages ago. This is just one example of the seemingly disparate connections Reveal pushes you to make, thereby confronting the often times insular world of architecture.
What's particularly nice about Reveal is that it doesn't try to do too much. That doesn't sound like a compliment, but it really is. Since this is their first publication, Jeanne could have crammed loads of information in here, surely there is a great selection to choose from, but instead she demonstrates great restraint, letting the Studio Gang narrative come to life through a robust collection of images, sketches, foldout essays, and graphics  – for those graphically inclined, the credits page is not to be missed (see this article at Imprint for numerous page illustrations from the book). As a whole, the publication challenges the commonplace way in which public discourse on architecture is shaped – i.e. around one, maybe two, superstar partners – and instead, insists upon acknowledging a broad range of collaborators (engineers, scientists, fellow architects, students to name a few) that make each of Studio Gang's designs possible.
Reveal illuminates the idiosyncratic approach through which Studio Gang garners inspiration, and it is precisely this process that lends credence to the studio's overall designs – designs that seamlessly articulate the needs of clients, communities and environment.
I patiently await the next installment, and something tells me I'm not alone.
*******
**Editor's note: In the interest of full disclosure, it should be noted that Jeanne Gang is a supporter of NRDC, where the writer is currently employed.
Elizabeth Corr received a bachelor's degree in Psychology and a master's degree in African Studies from the University of Illinois at Urbana-Champaign. Her graduate work focused on contemporary African art in post-apartheid South Africa. She lives in Chicago and works at NRDC, an environmental nonprofit.
GUEST POST BY MARISSA PEREL
In this guest post, Marissa Perel talks with artist Justin Cabrillos about his studio practice and his recent performance of Following Dance at the MCA Chicago. Cabrillos will also be performing at: remixed/reimagined 2011 at the MCA Chicago Performance Benefit on Thursday, June 23, 2011, at 6 pm.
Marissa Perel: Tell me about your process for the Following Dance performance you did at the MCA as part of the Without You I'm Nothing: Interactions at the MCA.
Justin Cabrillos: I wanted to make a response to Vito Acconci because my work is largely inspired by his endurance pieces in the 1960-70's. For this performance, I studied his Following Piece, where he followed around strangers in the city for minutes or days until they disappeared from his view. I combined techniques for following museum visitors by imitating their movements while I performed on his sculpture, Bridge Chairs for Sex and Gender.
I considered Acconci's movements retroactively as a form of dance in Following Dance. It's a triangulation of his voyeurism, how he moves his body motivated by that voyeurism, and the bodies of the people who lead him through space. I became interested in a public choreography.
MP: How did you take this public performance art piece and make into a dance?
JC: I started observing people in the museum in October before my performance in January. I'd go into the MCA and watch the public in museum mode. I studied how people hold themselves when they go to see art down to how they hold their weight or shift their gaze. It was a kind of movement analysis that informed how I would build the dance. I sought to embody how people interacted with the art. Or more to embody the relationship between the viewer, the objects and the space between them.
Because of the nature of the work in the Without You I'm Nothing Exhibition, viewers are moving more than they normally would, and I saw that as an opportunity for movement analysis. I also paid attention to people who didn't choose to interact with the work, their stillness became a source of choreography for me.
Once I was performing, the ladders of the Bridge Chair enabled me to have a bird's-eye-view of what people were doing. I could look through the Andrea Zittel piece, A-Z Cellular Compartment Units and see kids taking off their shoes and crawling around, so I'd take off my shoes and crawl around. The ladder really facilitated the voyeurism for the piece.
MP: Vito would love that!
JC: I know! I developed a system to call attention more to the viewers than to myself. If someone was directly looking at me, I wouldn't follow that person, but the person could see who I was following. It's like when you're in a dance class, watching the teacher's movements and trying to follow as best you can. In this case, the public is the teacher. The goal is not so much to parody to make fun of the viewer, but to reveal something about the viewers to one another, and to create a consciousness of the relationship between the viewer and the space of the museum.
MP: How is this experience different than your experience of stage-based performance?
JC: I had to think of a different way to structure the performance. Because it wasn't about everyone being part of my time, but about the time people were spending in the exhibition. It was like a game where I had to be hyper observant of the audience. On stage you're rarely aware of audience members as individuals. In this piece, I had to anticipate how people would respond to my actions. It required me to simultaneously observe and perform the audience. That was a lot of information for me to contain in my body! I felt like I was possessed, inhabited by the other bodies in the room.
MP: I find that to be a compelling aspect of your work in general, how you embody your research, whether it's historical data, responses to sites or in this case, how you are embodying a relationship between art and the audience. It seems like you have to empty yourself of your own contents in order to become a vessel for the subjects of your performances. How do you make space for this, literally in your body and conceptually?
JC: When I was on a residency with Every House Has A Door, I had the opportunity to meet Netherlands-based choreographer, Meg Stuart. Once in a critique she said, "The body is not yours." I think it's important to let go of your body and see what happens. This can be liberating because you can see what your body is capable of.
By the end of my performances at the MCA, I could pan across the audience and string 6 different movement combinations together from the people I observed because I was totally invested in their vocabulary. My interests are now much more activated around the space of what I'm seeing in relationship to where I am in the moment.
MP: How long were you performing Following Dance?
JC: For two hours a day over the course of 6 days. I also performed for First Friday, artsmart [an event sponsored by the MCA's Women's Board], and I will be performing it again for the MCA benefit.
MP: This is definitely enough experience for you to perfect the art of "observational vocabulary," how do you keep it fresh?
JC: A lot of people talk about the conceptualism behind performance art of the 1970's, but what I appreciate is the childlike wonder about it. One thing that's different about this piece from my other work is that it's light. There's an almost childlike sense of humor about it.
During the First Friday show, I noticed a man texting on his cell phone, so I started to act like I was texting . Everyone that was watching us noticed what I did and started laughing. Another day, I noticed a woman lying inside the Convertible Clam sculpture [also made by Acconci]. I laid down in the other half of the shell and slowly copied her movements. It took her a long time to figure out what I was doing.
People seem to be of two minds when they figure me out, they either revel in the attention and play with it, or they run away. Kids are endlessly stimulating because they are always moving and they are also willing to play the game.
MP: What is it like for you to leave that way of performing and return to your studio?
JC: Even when I have physically left the space of the MCA, I'm not sure if my experience leaves me -it's never completely over. As artists, we're constantly living with the material of our work. I sleep and eat my material, and I try to pay attention to how my daily life is affected by the focus of my work, how my intention is shaped or directed by my interests. I work very hard to make ephemeral art, and I often ask why I am doing this. I don't have an answer,but I think the intimacy that I get to share with the audience, based on my intimacy with the material is one of the reasons I make ephemeral art. So, it's about sharing and extending that intimacy with the audience.
For more information on Justin Cabrillos, visit his website here.

Marissa Perel is a performance artist, writer and independent curator currently working in Chicago, IL.
GUEST POST BY SARAH MARGOLIS-PINEO
I've had the past two weeks to ruminate on the phrase: creative supply chain. The idea was introduced at the Rust Belt to Artist Belt conference in Detroit on April 6-7 as an iteration of the creative economy in post-industrial cities. Taking cues from traditional cycles of production, as well as from the information systems of digital technology, the creative supply chain was presented as model to revitalize the 21st century economy through the stimulation of local and well-integrated creative practices.
Following the two, very full days of conference conversation, I was eager to discuss the event with a maker who is already contributing to this notion of the creative supply chain. I made a date to interview Veronika Scott, Detroit wunderkinder and creator of the Empowerment Plan, a project that combines social activism with good design through the production of self-heated and waterproof coats that transform into sleeping bags. I first encountered the Empowerment Plan at a Detroit Soup micro-grant supper back in October, where Veronika spoke about her project over bowls of vegan butternut squash. In the five short months since, the 21-year old designer has been featured on CNN and NPR, sponsored by Carhartt, and taken meetings with the Japanese embassy as well as the Red Cross.
The majority of the attention that the Empowerment Plan has received surrounds the coat itself, which beyond being a potentially life-saving tool for homeless and displaced communities, is a stunning design object made from everyday materials. To create her coats, Veronika has implemented a unique production cycle that relies on the employment of homeless women, usually mothers, who are taught the skills to create and distribute the coats to "unreachable" individuals who are most in need. Integral to this project is the notion of empowerment, which to Veronika, exists in tandem with education and employment. What interests me about this project is how the coat becomes a model for the cycle that produces it—both are fully sustainable systems that promote independence, wellbeing, and inherently, empowerment of both user and maker.
Veronika is first and foremost a designer, who operates at that curious intersection of culture and social activism. Her praxis has swung a wide arc between fine art and manufacturing, but in essence, her process is to locate a problem, and creatively work to produce a solution. To achieve this, she utilizes tools from the business world as well as the creative sector, and will unabashedly network for material or intellectual gain. She has an uncontrollable passion for issues relating to homelessness. At first, I mistook her zeal for youthful exuberance, but through our conversation, I realized that this almost-college-graduate is well on her way to becoming a predominant voice in humanitarian design.
This conversation was recorded in a bougie coffee shop in Royal Oak, a suburb north of Detroit, which struck me as an ironic venue, until our conversation was interrupted by an older man who decided to clip his fingernails at an adjacent table. We weren't so far from the city after all. Discussed in this interview is that illusive creative supply chain, big, pink band-aids, the collaborative creative processes, and Detroit as a city of makers.
Sarah Margolis-Pineo: Beginning with the Empowerment Plan, how did that project start?
Veronika Scott: It started first as a school project. At that point, it was literally product design, so I focused on the coat, and the design. I thought: it's cold, they need something to wear, something to sleep in, something waterproof and self heated, and it started off pretty small.
I spent three days a week, every week, for five months with a group of people at neighborhood service organization, which is also known as Viet Nam on the streets. It's hands down the roughest, most aggressive, most displaced… It's not even a shelter—it's a warming station in Detroit! I didn't know that at the time. I was very naive, and very stupid to go there for the first time.
SMP: Warming station?
VS: It's somewhere you can go and just sit for 8-hours, and then you get booted out for the next group. So I went there at 8pm, three nights a week, every week of the semester, and continued on to the beginning of the summer. It was through that time that the project did not die. Instead of going: okay guys, semester's done and I've got my grade, I continued to do prototypes with them, and they still continued to test them. Even when I didn't have anything to show them, I would still go and talk at the same scheduled day, at the same scheduled time every week, just to say that I was there.
SMP: And out of this process emerged a beautiful, as well as a functional, design object. This axis of art and social activism is becoming more prominent, especially here in Detroit through discussions relating to the creative economy. I'm wondering how you see your work fitting into that conversation?
VS: I don' t see [The Empowerment Plan] as being fine arts. In no way is it fine arts. When the coat idea was lumped in to the project, [a college administrator] wanted me to do gallery shows and this fine art ideation, and I thought: this doesn't need gallery shows, this needs funding and larger warehouse space. This doesn't need to show itself off anymore, and it doesn't need to think about itself—it needs to act. I felt like what I was being asked to do was read through a document and highlight spelling mistakes and errors. I feel like that is fine art: you highlight, you make awareness in the world to a problem. I feel like what my project is, is going in and retyping it. I have a very strong issue with highlighting something, I' m one of those people who needs to act and do something.
SMP: What did you take from this idea of "creative supply chain" at the Rust Belt conference? Do you feel that business practices should be a more integral part of creative practices?
VS: That's what I think is really lacking. Yes, there are a lot of great things that come out of fine art in this city. The pink wall, for example, the big pink band-aid, that's great—it's highlighting or covering a bruise. But, one: it's not doing anything; and two: the big issues that those artists aren't willing or need to be pushed to join up with that sort of commercial, business oriented world that they're trying to stay away from. There needs to be something lasting, because right now, were in this state of anti-structure in Detroit. I described it as the Wild West of creativity, because you can almost do anything you want if you're driven enough to get it or do it, which is great. But if there's not any structure applied to it soon, if there' s no heavy manufacturers coming in and trying to tie themselves to something… This needs to happen, otherwise it will start to collapse. The pink wall will fade or crumble and disappear. And what are we left with?
SMP: So what advice would you give to the creative community in Detroit to cultivate something lasting—to creatively problem solve and see tangible results?
VS: Start figuring out names. I think it has everything to do with networking. I wouldn't know anything about what I'm doing if it wasn't for the brilliant people I surround myself with, and the brilliant people willing to put up with me and my questions. And these are some amazing CEOs, lawyers—some amazing people in all senses of the word. I know artists think they don't want to reach out to that type of person or that they can't. You'd be surprised, that even if it's just googling until you find a name of someone that does clothing manufacturing or kids toys— someone who works for Hasbro. You think you can't contact them, but you need to try. I've emailed hundreds of people to help me with this. Communication is huge. And I think that's how you apply that structure. You can't know everything about what you're doing. There were so many aspects of my project that I didn't understand, and I still really don't, but I have people beside me who do.
SMP: Collaboration seems to be integral aspect of your practice—you seem to have cultivated all these micro-communities through the process of the Empowerment Plan. Tell me a bit about your involvement with the new project in Corktown, which I understand is based in the idea of collectivity, and bringing together a network of creatives from a range of fields.
VS: [Phil Cooley and collaborators] are bringing together quite an amazing group of people. Everybody from chefs to architects, to engineers, and heads of foundations. Businesspeople! I think this is the typical structure that everyone should have—as eclectic as this. When you build a community you need to have it be eclectic. You can't just hunt down all your artist friends and call it a day and just make pottery. You need to branch out to people you may be uncomfortable with, and you fully acknowledge are more intelligent than you, and possibly more creative than you. Those are the best people to surround yourself with, and that's what I see this new warehouse/structure being. It blew my mind that they approached me! These are established artists, designers, chefs. People within the city and outside the city coming in specifically to have a space in this warehouse.
SMP: And this is studio space?
VS: Studio-production space. To pay for the space, we'll be teaching kids at least 4-hours a month. So that's like paying rent—we're expected to teach! Kids are a huge part of this space. Studio space is great, but I' m not one of those people, anymore or right now anyway, who will use a studio to paint for 10-hours a day. My studio is about producing—getting ideas out, and communicating with others. And my contribution was saying to Phil: You're talking about kids in the public schools, and we need to branch out to kids who are not in schools at all. I'm bringing this back to homelessness, but that's what I'm closest to, there's a huge problem with homeless youth, and they' re trapped in this deep cycle just like anyone else.
SMP: Do you think the specific conditions here in Detroit have enabled this type of collective, socially conscious, cultural iteration?
VS: Yes. This wouldn't have been able to happen anywhere else. Perhaps Russia…
SMP: The climate is similar!
VS: The climate is similar, as is the socio-economic status of most of the people who live in Russia. But, I'm not from Russia, and I don't think there's anywhere else in the US that I could do this. It has the space. It has the creative community. It has the media attention… It's a weird place right now—there's little structure, decaying buildings all over the place, there's skyrocketing joblessness. So, it's a weird combination.
SMP: At the conference, I often heard Detroit referred to as a city of makers.
VS: As a city, we've been a maker culture since the beginning. When the city was still flourishing, we were a part of making—the hands on production of automobiles, clothing, shoes, and leather goods. We were so tangible. Some of the best goods came out of Michigan, and Detroit in particular, and I think that's so deeply ingrained in all the generations. The grandfather did cars, and from there, the sons and daughters made products that other places in the country didn't have the skills to do. Detroit was raised by, and into it. It's part of everyone's being—we are a community and city based on producing things. That's something that is very hard to kill, especially now with the new digital world that is so intangible, a lot of Detroiters didn't know what to do. When the economy fell and we lost all those production jobs… To this day, people still don't know what to do without hands-on making.  There are so many skilled people in this city, it's insane! I think that's where it has to go again—return to the culture of making, but differently this time. Yes, it did fail, but it did in the rest of the world as well economy-wise. You can't blame the city, but we've been doing it for 20-or so years now, which is longer than the crash. We need to apply new structures and new systems to it, because right now, the old one does not work. The old paradigm for making and producing no longer applies. In order to succeed, we need to think of new ways. This is where the idea of the artist comes in. Looking at something in a different way.
Yes, we are makers, but we can't rely entirely on that anymore. We need to join forces—business practices are everything. We are a maker community, but we can't be afraid to let other non-makers in.
Sarah Margolis-Pineo is a curator and writer. She is currently the Jeanne and Ralph Graham Collections Fellow at the Cranbrook Art Museum.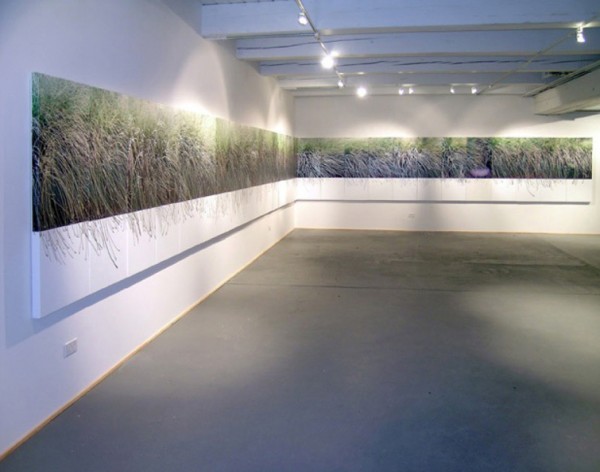 We wanted to pass this along to our readers, as it seems like a great opportunity all the way around: there are just a few days left to take advantage of Chicago Artists' Coalition's Bolt Residency Application / Membership deal – artists who apply for the Bolt Residency before April 22nd (that's this Friday, folks) will receive a $20 discount on CAC Membership (all applicants must be CAC Members). Full information on the Bolt Residency and application process follows below:
The Bolt Residency is a highly competitive and juried artist program housed in the former FLATFILEgalleries, an 8,000 square foot space in the vibrant, art-centric West Loop neighborhood. Bolt Residency is a one-year artist residency program consisting of nine subsidized studios and professional exhibition space with daily, ongoing professional development programming and support from CAC staff.

All artists applying to Bolt must be current CAC members. Artists who apply before April 22 receive a $20 discount on CAC membership. If you have any questions about membership, please contact the CAC office (773.772.2385) or email Alyson Koblas (alyson@chicagoartistscoalition.org).

Bolt Residency is an investment in YOUR artistic career, providing ongoing dynamic, in-depth collaborations with prominent curators, cultural institutions, visiting artists, gallery directors, dealers and collectors.

Open House

CAC will hold two open houses with tours of the space, every 15-20 minutes. Tours will take place at 217 North Carpenter on  Sunday, April 10 from 2-5pm and Tuesday, April 19 from 5:30-8:30pm.

Vision

Bolt Residency seeks to create a supportive environment that promotes and evolves artists' professional and artistic practices; providing ample space for the development of groundbreaking work.

Programming

Critical to our partnership with artists in residence are ongoing dynamic, in-depth collaborations with prominent Chicago curators, cultural institutions, visiting artists, gallery directors, dealers, and collectors. Bolt Residency hosts vital services and programs that provide artists with opportunities to build new audiences and meaningful connections to industry and business leaders throughout the Chicagoland area. Bolt Residency engages the Chicago arts community and its public in critical dialogue about contemporary art. CAC programs foster community and stimulate invention, risk and innovative artistic practice.

CAC will work closely with Bolt Residents to:

Develop a customized professional development plan based on your vision and personal goals.
Provide one-on-one monthly studio visits and workshops by the following partners (with more to come):

Candida Alvarez: Interim Dean of Graduate Studies/Professor, SAIC
Lynn Basa: Artist and Instructor, SAIC. Author of The Artist's Guide to Public Art: How to Find and Win Commissions
Elizabeth Chodos: Associate Director, Oxbow, SAIC
Romi Crawford: (Ph.D.) Assistant Professor, SAIC, Former Curator and Director of Education and Public Programs at the Studio Museum in Harlem
Chicago Art Dealers Association
Robyn Farrell: Gallery Manager, Donald Young Gallery
Mark Jeffrey: Adjunct Associate Professor Contemporary Practices & Performance, SAIC. Curator. Artist.
Nancy Jones: Executive Director of Learning and Interpretation, Detroit Institute of Arts (DIA)
Charlotte Marra: Assistant Director, Rhona Hoffma
Monique Meloche: Owner/Director Monique Meloche
Jackie Terrassa: Assistant Director of Public Programs, MCA


Coordinate open studios and exhibition openings  with the West Loop's gallery walks
Showcase your studio to interested parties.
Market exhibitions and special events to the press and arts community.
Provide full and free access to CAC's Art.Business.Create (A.B.C), a series of intensive educational workshops and consultations designed to build artists' professional business skills (worth over $500)
Offer competitive studio rental rates with the option to share/divide or use space individually.
Create evaluation and sustainable exit plan, post-residency

Bolt Residency Studios


(5) Front Room Studios: $455 for 260 sq.ft.
(1) Private Studio: $525 for 300 sq.ft.
(2) Back Room: $390 for 260 sq.ft.
(1) Side Studio: $225 for 260 sq. ft.
Open floor plan, work-only (non-residential)
Move in date: June 15, 2011. Security Deposit: TWO months' rent

Important Dates

April 29 (12pm): Application and supplementary materials are due via email to cortney@chicagoartistscoalition.org

May 18: Announce finalists selected by jury

May 23-May 27: Finalists interview with CAC staff

May 31: Announce Bolt Residents 

June 15: Bolt Residents move in to 217 N Carpenter

Move In Date


Move in date: June 15, 2011. Security Deposit: Two months' rent.

Selection Process


Submissions are evaluated by a jury of four professional peers from Chicago's leading cultural institutions: Romi Crawford, Tricia Van Eck, Monique Meloche and Allison Peters Quinn.

Jury selected finalists will be interviewed by CAC staff.

Artists who wish to apply as collaborators or apply to share space must apply individually and send individual fees, application and support materials (collaborators must include a separate page describing your collaborative proposal).

Types of Disciplines: painting, works on paper, photography, new media, installation and film. Sculptors,performers and sound artists are encouraged to apply, but may be limited by materials. Please contact Cortney at cortney@chicagoartistscoalition.org.

We do not discriminate on the basis of race, religion, national origin, color, sex, age, veteran status, or disability.

TO APPLY

Applications are available online by clicking here.

Applicants must be Current CAC members. To check on status or to join, please contact Alyson Koblas at alyson@chicagoartistscoalition.org. (Artists who apply before April 22 receive a $20 discount on CAC membership.)

Applicants need to reside in the Chicagoland area during residency.

Applications must be emailed to cortney@chicagoartistscoalition.org AS ATTACHMENTS and include:

Completed Application (available online HERE)
Resume (as PDF attachment)
Work Samples (max 10 images, SUBMITTED ONLY AS JPEG's, no larger than 72dpi) as attachment. WORK SAMPLES MUST INCLUDE: TITLE, DIMENSIONS, DATE AND MEDIUM.
Non-refundable $25 application fee (paid via our secure online terminal)

To keep up to date with Bolt Residency, sign up here to receive CAC's e-newsletter.

Update: This just in — excerpts from the recordings taken during the MDW Fair will be broadcast on Episode 300 of the podcast!
Bad at Sports is setting up camp at the MDW Fair (pronounced Midway, like the airport) – come check us out over the weekend of April 23 and 24th! Richard, Duncan et al. will set up a casual recording booth area in the style of Storycorp's DIY reportage. Bring someone you want to interview – or someone who wants to interview you – and take 7 to 10 minutes to discuss your project your own way, in your own voice. The MDW Fair promises to be the Chicago art event of the season — check out all the details below:
The MDW Fair is a gathering of independent art initiatives, spaces, galleries and artist groups from the Chicago metropolitan area. Held April 23-24, 2011 at The Geolofts, 3636 S. Iron Street, Chicago and organized by Version 11 Festival, Threewalls, Roots and Culture and the Public Media Institute, the MDW Fair aims to highlight the "diversity, strength and vision of the people/places making it happen in the art ecology of our region" and is "a manifestation of the collective spirit behind the region's most innovative visual cultural organizers, focusing on the breadth of work done here by artists and arts-facilitators alike." The fair features for-profit, 501(c)3, and commercial and unincorporated galleries, independent curatorial projects and publishers and media groups in over 25,000 square feet of exhibition space that includes a 8,000 square foot sculpture garden with work by local artists.