I first came across SPARE residency at this past year's MDW Fair, held at the monstrous industrial complex adjacent to the defunct Fiske coal plant and now known as Mana Contemporary Art Center. The fair was kind of a clusterfuck, but I somehow made my way through the madness to SPARE's small table displaying smart, well designed books and postcards – all printed on a Risograph GR3750 stencil printer.
Among the things that caught my attention were "The Commodity," a love story told in receipts, by Caitlin Warner and "A Family Home" by Megan Hopkins.
Another book that caught my eye was "Vaporware" – SPARE's collaboration with Christopher Roeleveld of Working-Knowledge, a fellow Chicago Risograph owner – which was made specifically for the occasion of MDW.
Several weeks ago I had the pleasure of paying a visit to the home of SPARE's Risograph – which also happens to be the home of Kyle and Shannon Schlie, their 9 month old son Theodore, and dog Roxanne. The family lives on the third floor of a graystone walk-up a stones throw from Harrison Park in Pilsen. Bookshelves made of recycled lumber and an array of vintage medicine cabinets hung over the bathroom sink decorate their cozy apartment. Two of the three bedrooms are dedicated to the residency: one is living quarters for the resident and the other houses the Risograph printer. Lining this small wood paneled workroom are shelves holding books, paper, a long arm stapler, basic book making supplies, and various other tools.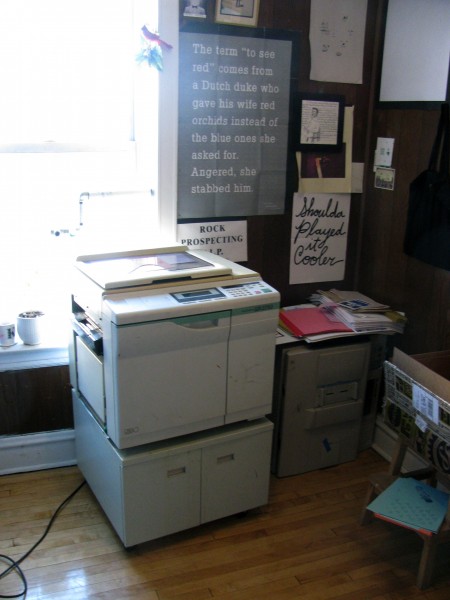 Tucked away under these shelves are large pod-like crates housing the different color ink drums for the Riso. The inventory of books and postcards that have been printed at SPARE occupies other boxes. Posters and printed materials paper the walls. A Spiderwort plant hangs by the sole window, which looks out across the neighboring rooftops.
At first glance the Risograph looks a lot like a standard office copier. However, when you open it up, there is a large cylindrical ink drum inside, around which a stencil of the image to be printed is wrapped. As the paper feeds through, ink is transferred through the stencil onto the paper. One color is printed at a time, and while registration is finicky due to the nature of the process, colors can be layered in really interesting ways.
SPARE has been in operation for about the past year and has hosted 4 residents so far, for 1 or 2 weeks each. Kyle and Shannon provide room and board as well as access to the Risograph and workroom. When I was at their house, their most recent resident had just completed a run of books, which were stacked neatly in the workroom.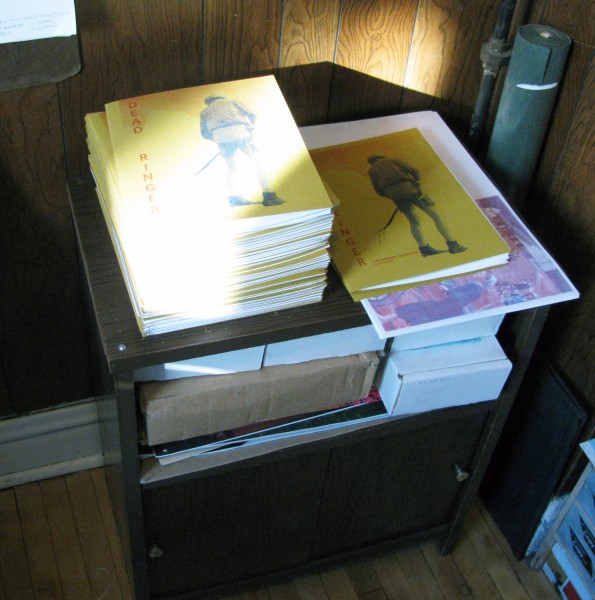 The following is an email correspondence that followed my visit.
Bailey Romaine: How did you come to Risograph printing and what about it was so appealing to you? How did the residency develop out of or around your interest in this machine?
Kyle Schlie: I came to it through making books, which is in part a search for ways of making and printing on a small budget. I really liked the Risograph prints I'd seen, and wanted a way to print things myself, and the price was right, so it made sense to try it. One of our stipulations in getting a Risograph was that we needed a framework for allowing others to use it too. Since I'd been interested in the Riso for a while I figured others would be similarly interested, so we developed a residency program that we ourselves would want to be a part of and built it around the Riso.

BR: When I met with you at your home a few weeks ago, we talked a bit about the network of Riso printers that you have been finding your way to – or have been finding their way to you – since you acquired the press. You mentioned Issue Press – a small press based out of Grand Rapids that prints with a Risograph – as well as a number of Chicago artists who have Risographs in their homes or studios. Can you talk a bit more about these connections you've made?
KS: I wish I could claim more intention behind those connections. They've mostly been initiated by other people, or out of sheer necessity on our part. In Chicago, Christopher Roeleveld of Working-Knowledge and Clay Hickson who operates Tan & Loose Press found me shortly after getting Risographs and are each doing great things with them now. It's typical for people with a Risograph to reach out to others as problems, questions, or sharing opportunities arise. Risographs being used for small press stuff is more common now and seems to still be growing.
BR: It's a pretty intimate gesture to invite artists you've never met before to come stay with you and your family. Did the two of you have any reservations about how it would work out?
KS: Not really. There's no way to know about things like that and at a certain point you just have to try it. The upside seemed great and we focused on that. Every person we've had so far has been awesome and the experience for us has been uplifting way beyond printing and making books.
BR: It seems like you've had residents come from all over. How have applicants come across SPARE? What sort of outlets did you take advantage of to get the word out?
KS: This is another question I wish I had a better answer for. Our approach has been to go for things we feel are worthwhile, then figure out and adjust along the way. We've had the residency posted on websites that post opportunities for artists. Initially we made almost no effort to let people in Chicago know what we were up to, since we anticipated more appeal for people abroad because we're offering room and board in addition to the bookmaking stuff.
We don't how people find us, but emails and applications continue to come in. It's not a great answer but that's how it's been for us. Of course, we too are open to suggestions from people who actually know about these things.
BR: You are currently getting your MFA and your work seems pretty materially diverse. What do you think is the importance of making books – particularly in this aesthetic that both you have and SPARE seems to foster, that is somewhere between the finely crafted and the ad hoc?

KS: I think finely crafted can be ad hoc, and vice versa. I guess, to make a connection between my studio work and Risograph printing, I'm interested in what's available or neglected and bringing it on board in service of certain ideas I'm pursuing. The Riso falls into this category. It's no-hassle mass-printing before digital technology, and has fallen out of favor commercially and institutionally so most  printers, schools, and churches are getting rid of them.
The aesthetic of the Risograph is unique in large part because of how it operates. I like that the process is visible in the final result. We're making books by hand and though the Riso makes prints easily and in large quantities they come out slightly different each time. The machine has lots of quirks which require responses from the operator that often challenge how a book gets made. It's a great in-between technology in that it's mostly automated but inexpensive, and can quickly make one print or a lot of prints.
BR: Absolutely – I think that this notion of taking what you have and turning it into something discrete and well made is very clearly at the heart of SPARE. I really love the subtle ways you have designed around the quirks of the printing process – such as playing with registration and seeing how it shifts over an entire run. I'm really interested in the postcard project you did recently. Can you talk a little bit about this project?
KS: When I started grad school I knew the residency would take a back seat but I didn't want to let the printer sit unused. And I still wanted to work with other artists but knew I couldn't handle someone living with us for a few weeks and working intensely on a book while I was away in my studio every day. For the postcards, we came to the idea of using a simple standard format and to work more with the Riso's inbuilt economy of printing. We contacted artists we knew and/or admired and offered paper and ink color options which were intended to maximize the printing quantity and variety and minimize the expense. I saw it as a chance to try different options on the Riso, almost in a print sample way, and see what others would come up with based on the options and restrictions we gave them. We worked with Dante Carlos to design the graphics and cards and I think they work really well in showcasing both the printing and the work the artists contributed.
There was also some hope that we could make a few dollars to support the residency program with the postcards, but that prospect seems unlikely. We can't complain too much but at times it's hard knowing that the residency will always be an occasional and maybe not very long-term thing because in addition to everything else it does cost money to run.
BR: Dante Carlos is also the artist who designed the "registration graphics" that you have up as gifs on the SPARE website? I think those are so great.
You guys have certainly been very generous in the way you've structured the residency. Something we talked about somewhat in depth before was the fact that Chicago really is lacking a good book store or gallery that supports projects like SPARE and could be a source of income to fund the residency (through books sales, etc.). How do you see your life post-grad school, Chicago, SPARE, and the printing/book making/small press initiative playing out? Are there things you would like to do or see other people do with these things in Chicago?
KS: I came to books through art, so I often think of them in that context. Because I'm interested in how objects, and the ideas they carry, move and live in the world, books open up a lot of options that aren't as likely for other art-type things. I feel like books have a potentially wider, or at least different, reach that interests me. Books circulate, books are distributed, and so on, which to me, feels like an exciting active process; one which I would like to take beyond just books.
I also like that books are slow and give me the opportunity to really focus and lose myself in them. And beyond books, I'm in favor of slow focused venues for processing what other people have made. I think this is something that has to be fought for. I've started talking about it through the book, and consequently the places that allow us to get the book in our hands, but it exists in other ways. For example, going to a film screening versus watching it on your computer in your office while eating lunch. I'm not against the other options but I do know that if I want a bookstore to be around I have to support a bookstore. I can't complain too much about the lack of anything unless I'm really working to help the things I value survive. So we have a residency program to provide the little bit of what we want to see remain. I don't know if it's the most necessary thing to do but it's what we're doing right now. We'll keep offering artists our time and our printer, and food and a bed, and keep making books, and see what comes of it. Even thinking of it a success or a failure seems like a luxury right now. The poles are more like doing-it or not-doing-it.
I should also say regarding the previous conversation you hinted at, there are lots of great places, bookstores and otherwise, in Chicago. I just finished getting some new books ready to take to Quimby's where some of the SPARE books are stocked. Quimby's is really supportive and has been around for a while which I think strengthens other related endeavors. I think those foundational places are the key to allowing other scrappier things to emerge and grow. There are certainly other things I would like to see in Chicago but I'm optimistic overall about what's happening. I've been trying to think of an idea or example while answering this question, and I don't have it, but here's what I came up with. A Chicago Supplemental Library which includes all the non-book stuff that should be available. If I were doing it it would be a museum-library-laboratory hybrid kind of system with check-out-able equipment, artwork, assistants and a variety of other world-class programming. But I'm not going to run it so it could be just like a place to borrow an umbrella for an afternoon or whatever.

http://spareresidency.com/
http://kyleschlie.com/
Bailey Romaine is a printmaker and bibliophile currently living in Chicago.
A graphic, editorial overview of art, artists, and visual art events, found in and around Chicago over the course of the preceding month. All artwork copyright original artists; all photography copyright Paul Germanos.

Thelonious Elliot and Wray Morgan Herbert-King @ ACRE Projects


Above: Theo Elliot at left; Morgan Herbert-King at right; opening night at ACRE Projects.
Thelonious Elliot and Wray Morgan Herbert-King
"Moving a Hole"
January 20 – February 4
ACRE Projects
1913 W. 17th St.
Chicago, IL 60608
http://www.acreresidency.org/

Dmitry Samarov @ Chicago Public Library


Above: "Algren" 2012
Above: "Morandi" 2011, top; "Entrapment" 2012, bottom.
Dmitry Samarov
"Bookshelf Paintings"
January 11 – March 1, 2013
Harold Washington Library Center
400 S. State St.
Chicago, IL 60605
http://www.dmitrysamarov.com/

Goshka Macuga @ Smart Museum of Art


Above: Exhibition closing and curator talk (MCA curator Dieter Roelstraete, left, and Smart curator Stephanie Smith, right) January 13, 2013
Goshka Macuga
"Of what is, that it is; of what is not, that it is not," panel 2
(wool tapestry from photo collage, approx. 11 x 38 feet, half of diptych)
December 13, 2012 – January 13, 2013
Smart Museum of Art (lobby)
5550 S. Greenwood Ave.
Chicago, IL 60637
http://smartmuseum.uchicago.edu/

Robert Chase Heishman @ Roots & Culture


Above: Robert Chase Heishman with artwork at Roots & Culture, opening night.
Robert Chase Heishman
"Fractal Semblance"
January 18 – February 16, 2013
Roots & Culture
1034 N. Milwaukee Ave.
Chicago, IL
Curated by Eric May, Stephanie Cristello and Allison Glenn
Artwork by Robert Chase Heishman, Jessica Labatte, Alistair Matthews, and Liz Nielsen
http://www.rootsandculturecac.org/

R. H. Quaytman @ The Renaissance Society


Above: Peeking inside the piece "Public Space/Two Audiences"
R. H. Quaytman
"Passing Through The Opposite of What It Approaches, Chapter 25"
January 6 – February 17, 2013
The Renaissance Society
5811 S. Ellis Avenue
Bergman Gallery, Cobb Hall 418
Chicago, Illinois 60637
http://www.renaissancesociety.org/

Deborah Baker @ Packer Gallery


Above: Cotton on linen, embroidery, under glass, framed.
Deborah Baker
"Zodiac"
January 11 – February 16
Packer Schopf Gallery
942 W. Lake St.
Chicago, IL 60607
http://www.packergallery.com/

Sarah Mendelsohn @ The Plaines Project


Above: Sarah Mendelsohn with her artwork at The Plaines Project, opening night.
Sarah Mendelsohn
"Stretches Topless"
January 19 – February 8, 2013
The Plaines Project
1822 S. Desplaines St.
Chicago, IL
http://plainesproject.wordpress.com/

Tom Torluemke @ Hyde Park Art Center


Above: Tom Torluemke with his horrific vision of environmental degradation, shot at the opening reception.
Tom Torluemke
"Fearsome Fable – Tolerable Truth"
January 20, 2013 – April 28, 2013
Gallery 4
Hyde Park Art Center
5020 S. Cornell Ave.
Chicago, IL 60615
http://www.hydeparkart.org/

Teruko Nimura @ Roxaboxen Exhibitions / ACRE Projects


Above: Hummingbird in flight, floral origami aim, installation at Roxaboxen.
Teruko Nimura
"Potentialities," a two-person show with Milcah Bassel
January 20 – February 1, 2013
Roxaboxen Exhibitions / ACRE Projects
2130 W. 21st St.
Chicago, IL 60608
http://www.terukonimura.net/

Scott Hocking @ Chicago Artists' Coalition


Above: Scott Hocking with artwork at opening reception for "EXCHANGE: Chicago-Detroit"
"EXCHANGE: Chicago-Detroit"
CHICAGO: Chicago Artists' Coalition, Chicago IL
January 11 – 31, 2013
DETROIT: Cave Gallery and Public Pool, Detroit, MI
February 23 – March 16, 2013
Chicago Artists' Coalition,
217 N. Carpenter Street,
Chicago IL 60607
http://chicagoartistscoalition.org/
Above: Edie Fake at opening reception; artwork in background.
Edie Fake
"Memory Palaces"
January 4 – February 16, 2013
Thomas Robertello Gallery
27 N. Morgan St.
Chicago, IL 60607
http://www.thomasrobertello.com/

Lauren Payne and Erin Washington @ Johalla Projects / ACRE Projects


Above: Lauren Payne and Erin Washington's collaborative installation, opening night.
Above: Jenny Kendler (ACRE Board of Directors) left; Lauren Payne, right; opening night.
Lauren Payne and Erin Washington
"As Above So Below"
January 25 – 31, 2013
Johalla Projects / ACRE Projects
1821 W Hubbard, Suite 209
Chicago 60622
http://www.johallaprojects.com/
Above: Harvey Moon with "drawing machine" installed in gallery, opening night.
Harvey Moon
"Transpported Wind"
January 25 – March 22, 2013
Hauser Gallery
230 W. Superior St.
Chicago, IL
http://www.unanything.com/
---
Paul Germanos: Born November 30, 1967, Cook County, Illinois. Immigrant grandparents, NYC. High school cross country numerals and track letter. Certified by the State of Illinois as a peace officer. Licensed by the City of Chicago as a taxi driver. Attended the School of the Art Institute 1987-1989. Studied the history of political philosophy with the students of Leo Strauss from 2000-2005. Phi Theta Kappa and Phi Kappa Phi. Motorcyclist.
This weekend, Every house has a door will be performing their original work, Mending the Great Forest Highway, on February 15 and 16 at 8pm, and then again on February 17 at 7 pm as part of the IN>TIME festival at Links Hall (3435 N. Sheffield Avenue) $15 general/$10 students. For information on this and other upcoming events, please visit IN>TIME's website. You will find an interview between myself and Matthew about this same piece on the Art21 blog here. More recently, Matthew submitted the following piece of writing about MTGFH's latest iteration. – B@S
Returning to They're Mending the Great Forest Highway
by Matthew Goulish
When people ask about the name Every house has a door, I say it has to do with aesthetic hospitality. In a sense the name stands as an invitation, and the invitation takes two parallel courses. First, each performance as a project assembles a team of specialists in response to the specific demands of that performance's set of ideas. In this way, the company remains open like a house, and collaborators come and go like visitors. Second, each finished performance demonstrates our ongoing interest in separating the elements of performance and weaving them in some configuration particular to that work. Different aspects of the work may appeal to different audience members. In this inflection, each mode offers a different door, standing open for a different audience member as an invitation into the house of the performance.
We made a performance called They're Mending the Great Forest Highway. The Chicago Dancemakers' Forum supported the original version, because choreography lent this work its core. We borrowed the title from a song by the twentieth-century composer Béla Bartók, but the choreography derived from his trio for clarinet, violin, and piano, Contrasts, composed in 1938 in response to a commission by Benny Goodman. We had the idea that three men would dance the parts of the three instruments, transposed from music to movement, adhering to the composition's precise timing. Brian Torrey Scott danced the part of Benny Goodman's clarinet, and John Rich that of Joseph Szigeti's violin. We listened to the original recording by those great musicians, with Bartók himself on the piano. I claimed that part for myself. It was only fair. I had worn out the record through repeated listening in my undergraduate years, and already had it nearly memorized.
We presented the piece at the Holstein Park field house gymnasium in June 2011. Lin Hixson had guided the three of us in the first months of rehearsals, giving us directives for generating movement to retrofit to the score. The directives suggested a second degree of translation from the music; for the first movement: a dance in daylight, movements of labor, social/club movements, army recruiting song; for the second: sounds of a summer night in the country; the flitterings of nocturnal frogs, automatic insect chirping, a bird taps its beak on a hollow wooden tree trunk … concentric circles … restful … volcanic … human singing rises from far away in the darkness; for the third: the fast dance, furious, interrupted, side-slipping tri-tones reminiscent of the end of Berg's Wozzek.
We invited Charissa Tolentino to compose a score that combined found sounds and samples with original sonic inventions, and to present this live, sharing the stage like a DJ with us dancers. This music, twice removed from Bartók's composition, responded to the movement, largely free from the score's constraints, but retaining its broad structure.
Finally, Lin and I collaborated on the writing of an extensive prose introduction. For this part, she, the director, would speak directly to the audience, detailing our intentions and processes, as well relating relevant, if somewhat fictional, autobiographical background from her director's notes and journals. Lin would not deliver this herself, however. Instead we invited Hannah Geil-Neufeld, a young performer whom we had known since she was a child, to perform the part of the director Lin Hixson. We had in mind a contemplation of youth and aging, with which the introduction concerns itself, as well as that strange area in which the familiar becomes just unstable enough to appear unfamiliar. Hannah returned to conclude the piece, after the roughly 21-minute dance, with an epilogue that included all the performers in the staging of the last moment's of Büchner's Woyzeck, taking those liner notes literally. Guided by the tone of Hannah-as-Lin's semi-autobiographical monologues, a tone lifted from the dual inspiration of J. M. Coetzee and Robert Bresson, the piece somewhat unexpectedly became an indirect meditation on the fraught and sometimes brutal relations between generations, the anxieties of production and reproduction.
We finished the dance today.
It's called They're Mending the Great Forest Highway.
I didn't think it was about mending when we started. I just liked the title.
Now think that thinking that – that the dance was in fact about mending after all – was what stopped me there on the sidewalk in the rain.
So says Hannah-as-Lin near the end. Each element – words, dance, music – had their own life, their own independence on the stage, no one of them as  accompaniment to another, and often not even happening at the same time. Each performer, or set of performers, had been delegated to one of these modes. I hope the house/door metaphor is clear now. To divide the finished performance from the process of its creation is largely an artificial exercise, but one that helps clarify our intentions and the work's meanings and energy. The introductory speech makes some audience members impatient for the dance to begin. Others concentrate on the music as central, and still others need the words as their anchor. The piece asks everybody to assemble the parts into a coherent whole after the 65-minute structured sequence of their presentation.
Now we return to the piece for three performances at Link's Hall on February 15, 16, and 17, as part of the IN>TIME Festival, and with the support of an Illinois Arts Council fellowship. Brian Torrey Scott has moved to Providence, Rhode Island. Jeff Harms has taken over the violin part. Charissa Tolentino has also departed the piece. Now Liz Payne performs the DJ role, with her own original sound composition. In this series of rehearsals, Lin has asked us to revisit the third movement's choreography. She put it this way in an email from January 2nd:
Dear Jeff, John, and Matthew,
At our next rehearsals, I would like to work on new choreography. Below are YouTube sources for these new movements, divided between Lower Body and Upper Body. I used the Mending video from Holstein as a reference to locate the choreography I'd like you to change, embellish, or hybridize. Many, many thanks, Lin
Jeff
30:57 – 31:35
Embellish the repetition of this movement using the Lower Body sources.
John and Jeff
31:56 – 32:24
This is after the shaving bowl move and around 28 seconds of material. Keep all your timings and positions in the space but consider using a different vocabulary from the Upper Body sources. So, for example, if you are doing something together this would remain. What you are doing would change.
32:24 – 32:35
Matthew – replace somersault
Jeff – replace head movement
Both using Upper Body sources
Jeff
32:36 – 32:49
Embellish leg slapping using Lower Body sources
Matthew, Jeff, and John
37:43 to end
Keep positions in space and timings but change the vocabulary using Lower Body/Upper Body sources

Lower Body Sources
Hungarian Folk Dance

Arms/Upper Body Sources
William Forsythe

Solo – William Forsythe from Tom Balogh on Vimeo.
See a longer version of Forsythe's Solo here. 

Lin sent three links for each source, but I have only included one of each type here. I asked the performers about their thoughts on returning to They're Mending the Great Forest Highway. John responded with this paragraph:
I counted my jumps one day. There are several hundred – not big jumps, mostly hops. I did not realize this in making the piece, did not realize it even until well after we finished and someone pointed it out. The dance acts as an accumulation that way. It is a complex field, but it is built by simple acts.
Jeff Harms wrote this:
The way in which I am finding the meaning of the piece is a physical process, born of patience and repetition. It seems that the art world often replaces meaning with "intention", as if we were all in art school, or as if we all agreed on the path or even method art should use. The methods of Every house seem to be humble in this regard, and I think it's for that reason, if we do succeed here, it will be a rich and meaningful experience for the audience.
In the years since we began working on this piece until our February performances, Hannah will have nearly earned her entire undergraduate degree from Macalester College. She answered this way:
What is exciting to me about They're Mending the Great Forest Highway is the realization that one can mend something without being entirely sure of what one is mending.
We have been working for almost three years now to mend something that was not one thing to begin with.  This is like darning a sock that does not exist before one begins to darn.
Bodies engaged in speaking the thoughts and dancing the labors of other bodies is, I think, necessarily an act of mending, regardless of the thing being mended.
We prepare for February by rehearsing, I imagine the way musicians would, our collected movements, playing and replaying them alongside Liz's composition, to fix in the mind and body these odd new aggregates. In his book Music and the Ineffable, the philosopher Vladimir Jankélévitch wrote of how a musical work does not exist except in the time of its playing. Can one say the same about a work of performance? He further distinguished that one does not think about music as much as according to music. With that in mind, please click the link below to hear a sample of Liz's composition, from the second movement of They're Mending the Great Forest Highway.
Thanks, and see you soon.
Matthew Goulish, dramaturg

[soundcloud url="http://api.soundcloud.com/tracks/75059086″ params="" width=" 100%" height="166″ iframe="true" /]

Matthew Goulish co-founded Every house has a door with Lin Hixson in 2008. His books include 39 Microlectures – in proximity of performance (Routledge, 2000), The Brightest Thing in the World – 3 lectures from The Institute of Failure (Green Lantern Press, 2012), and Work from Memory: in response to In Search of Lost Time by Marcel Proust, a collaboration with the poet Dan Beachy-Quick (Ahsahta, 2012). He teaches writing at The School of the Art Institute of Chicago.
For my time in Kansas City, I have created for myself a program of full emersion. I am doing my best to live, learn, read, hear and see this city inside out. From my outsider-on-the-inside position, I am looking deep down inside of Kansas City for themes currently pulsing through its contemporary art and culture scenes.
My first day at work, my boss and Charlotte Street Foundation Co-Director Kate Hackman loaned me The King of Kings County, an extraordinary novel by local author Whitney Terrell. Teenager Jack Acheson, this book's loveable narrator, takes the reader on a vivid journey that roars through mid-century downtown Kansas City, Missouri, into the development of its expansive Kansas suburbs.  In the mid-1950s, Alton Acheson — part con man, part visionary, and Jack's dad — begins developing Interstate 70 and building a suburban empire as the freeway exits the city amid the cornfields of Kings County, Kansas. As Alton bluffs his way into prosperity, Jack becomes an accomplice to his grand ambitions. But when greed, corruption, and organized crime combine to create an urban nightmare instead — abandoned buildings, ghettos, and slums — Jack is forced to reexamine not only his father's legacy, but also that of his city and its community. Though fictional, this incredible story draws extensively from a sordid history of urban culture, as well as the race relations and class conflict that come with it, to examine the making of Kansas City's so-called American Dream, one whose contradictions continue to surface in every American place to this day.
One reason I find The King of Kings County so fascinating is that the story and Jack Acheson could be based in any city.  Chicago, Philadelphia, Detroit, Houston, among others like Kansas City, have dreamed the big dreams of industrial Modernism to simultaneously magnificent and disastrous results. To me, a Midwesterner but non-native, Kansas City's artists and cultural organizers seem eager to seriously investigate, to look deep down inside of their hometown in their efforts to explore it inside out. (Since this is my first Bad @ Sports blog post and because they are thematically relevant, please forgive me two bits—another to come in the next paragraphs—of shameless self-promotion:) With this observation in mind, I curated Have I been here before? this past November, my first exhibition for Charlotte Street Foundation's la Esquina gallery. Through images, writing, and events, this show wondered whether Kansas City 'places'—some strictly based in Kansas City, some less so—could be those that make up any town. Have I been here before? set up some interesting questions for me (and I hope for the audience): Even with rigorous study and years of analysis, can one truly know a place? And furthermore, does one's knowledge of that place color their understanding of every place?
Jill Downen, an artist who recently migrated West along Alton Acheson's I-70 from St. Louis to Kansas City, understands places by their insides. She looks deep down inside to see the architectural bones and tendons that make up a location's structures. In many cases, those insides are sculpted, agile muscles trained to carry the weight of societies for years to come. In others, insides are aged and weak, crumbling under those same societies and the changes, like those led by Alton, they impose. For the most part, Downen recreates these insides full-scale, filling whole rooms in galleries and museums across the country with few giant sculptures. Opting for a bit more intimacy in Three-dimensional Sketchbook, the artist's first solo show in her new hometown at PLUG Projects, Downen has set up a series of small-scale models that invite viewers to look deep down inside both structures and her studio practice. With each miniature architectural ligament or joint, this installation shows just how hard Downen studies, analyzes, and tries to know a place.
(Second and final shameless self-promotion you have to forgive me for:) Composite Structures, the second show I have organized for la Esquina, features contemporary artists who meditate on the designs and architectures of Bauhaus Modernism and the International Style. This exhibition consists of two parts: Mending Fences, curated by yours truly, which showcases Midwestern artists who apply multiple layers and manipulations—some conceptual, some formal—to the ideas of Modernist architects which feature prominently within the Midwestern urban landscape; and Low Accumulations, curated by Los Angeles-based curator and co-director of Actual Size L.A. Lee Foley, which includes Los Angeles-based artists who use assemblage and design to reflect a post-structural viewpoint and an urban sensibility unique to Southern California. In these paired presentations, we the curators show how artists and architects alike investigate places inside out in their efforts to know what of any given place works and what does not, what can be carried forward, and what must be left behind, cast out and/or obliterated for its failures. As the title of this show suggests, these artists rely on their own expert knowledge of the legacies of older places to create new and improved ones.
Much like Jack Acheson, Kansas City-based artist Anthony Baab reexamines the legacies of places that enjoy legendary status in art and architectural history. Baab looks inside out, on top of, from behind, and underneath the dense structures that make up any given place and its monumental systems—sculptures, buildings, cities, and so on. For his solo exhibition A Strenuous Nonbeing on view now at Grand Arts, Baab documented a number of places, extracted from them certain architectural elements which he then layers together to build/rebuild another place (a gesamtkunstwerk much like Kurt Schwitters's Merzbau) of his own volition. This presumably giant structure is as much like every place you have ever been as it is like no place you have ever been. However, the viewer never actually experiences this new structure firsthand because Baab presents it only through photographic and video documentation. With this process that only allows mediated looking, Baab illustrates that no matter how closely, critically, exhaustively one tries to look at a place, whether it be Kansas City, Los Angeles or Berlin, one can never truly know it because time, space, and humanity always render it new and unrecognizable.
Though perhaps in vein, I am willing to continue to search deep down inside Kansas City in my efforts to recognize the unrecognizable before time turns it into something else altogether.
-Jamilee Polson Lacy, Charlotte Street Curator-In-Residence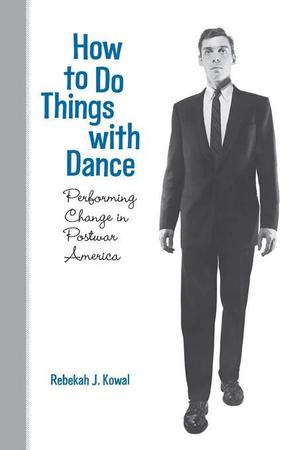 This post initiates what I hope will be a series of posts made in response to the question: "What can be done with dance?". The question is taken from the book, "How to Do Things with Dance: Performing Change in Postwar America" by Rebekah J Kowal. In the book Kowal suggests that the political potential of choreography to enact real societal change exists as much on the street as it does on the stage. I won't go into too much detail about the book, as I will be posting an interview with Kowal shortly, but I would like to linger a little while on this question of doing. Following Kowal's lead I would like to consider the potential of dance as extending beyond the "power of embodied action". Let us take for granted, just for now,  this particular kind of power in bringing about experiential or social change in order to consider other aspects of dance. Like poetry, dance is a way of making graspable what might otherwise elude us. It is a way of capturing the wordless sensations that arise in the body at any given moment.
While I may be inclined, from time to time, to believe that what constitutes the world is nothing more than a series of words, names really, I am also quick to point to the pleasure of unknowable sensations or passions. This is what dance does. It gives us access and makes available that which we feel but do not know. Choreography, in this vein, is a way of working with newly acquired bodily knowledge. In this way, dance is perhaps more grounded than poetry, in that what is being expressed is rooted in the architecture of the body. This of course only leads us to more questions: What is the relationship between the architecture of the body and the space in which it moves? and in the context of my initial inquiry, how might dance help us re-imagine this relationship?
Very often, when speaking about performance, we speak of the space of the event. That rather fluid relationship between the invisible boundaries of the performance arena and the bodies that occupy it. This is the basis for many conversations concerning theater, dance, and other body-based performance practices. Conceptions of space, as they attempt to describe a kind of container, allow for the conceptualizing of bodily volumes. They allow us to speak of the mobility of bodies as it pertains to the environment in which they move. While there is certainly a value in thinking of the relationship between the body and space as one of volume to container, it is also problematic in that it most often privileges an unrealistic idealized body.
Space as it exists conceptually promotes an occupation of itself by a certain kind of body. A body that is best represented by the athletic body. While this may not be the image of interest for most performers the image of the idealized body has a particularly strong hold socially and is continually circulated through the design and conceptualization of space. Day to day routines are policed by the proportions of the spaces in which they take place. Door frames, floor tiles, counter tops, the boundaries of our movements are dictated by standardized measurements. Proportions that are more often than not disproportionate to the bodies that they contains. So internalized are these dimensions that they are manifested non-consciously in the very way that we imagine space around us. To overcome these biases and to allow for other or differently abled bodies is to reconceptualize the relationship of the body to space.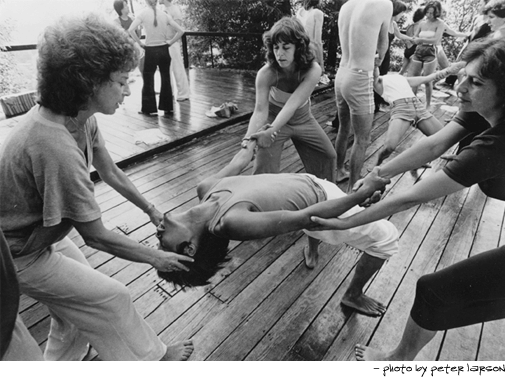 The dancing body is not immune to these prejudices but dance as a practice of acquiring new insight, new knowledge, allows us to use the body to think around our internalized prejudices. The dancing body, for example, does not occupy space so much as facilitates a collaboration between space and the body, it pushes itself against the space that envelops it and in turn that space pushes itself against the body. The body leans against the wall and the wall leans away. Weight is distributed, balanced and shared. The dance is made in collaboration with its environment. It is in this spirit of collaboration, that we begin to find the seedlings of a new way of identifying the performance space. With this dynamic relationship in mind the dancer imagines space as the limbs of another dancer, the back of a chair, the side of the body, an immobile leg, a sleeping hand. The imagination then elaborates and the process of choreography itself becomes about finding ways to express two sets of information, the choreographers and the dancers, and in so doing the hierarchy of values that determine the acceptability of bodies has begun to disintegrate in the wake of collaboration. We have used dance as a practice and a metaphor to circumvent internalized prejudices and to imagine new ways of being in space. I am reminded here of Cornel West's description of Percy Shelly's poet.
"He is talking about all human beings who decide to muster their imagination and empathy to conceive of a better world, given the social misery and suffering of this world."  
Perhaps, this is what we can do with dance.
– Anthony Romero