Guest Post by Eric Asboe
In a time of increasingly conceptually-based, historically-located, over-explained art practices, it can be refreshing to enter galleries devoid of writing, white but for the objects on the walls and spilling across the floors. In contrast to the recent sprawling Cindy Sherman retrospective and the forthcoming Art(ists) on the Verge exhibition that explores interactive or participatory networked based practices, Painter Painter at The Walker Art Center and R.U.R. at The Soap Factory appear to be spare, quiet returns to formalism.
Sarah Crowner's eye-grabbing Ciseaux Rideaux and Judith Hoffman's immense Rebuilt and Torn Down (The Soap Factory) draw visitors into the galleries. Works deeper in the exhibitions begin displaying the time and effort of their creation. Colin Lyons's The Conservator displays hundreds of corroded copper and zinc plates, while suspending others in the act of powering the large chemical battery. The paint of Alex Olson's Proposal 9 and Proposal 10 is marked by her visceral brushstrokes and knife pulls. Nadine Anderson's video work presents a less physical, but clearly felt digital manipulation. The multiplied, blended, superimposed video elements draw the viewer into the process of their creation.
These glimpses into the processes of the artists point to the larger concerns of both exhibitions generally. As static and formal as the works appear to be, the exhibitions are truly invitations to move beyond the walls of the gallery, to delve into the process of art making, to begin exploring the artists' bodies of work and their relations to contemporary art practices.
Eric Crosby and Bartholomew Ryan, the Painter Painter co-curators, write in their "Notes for an Exhibition" that through extensive research, studio visits, and conversations they have come to understand painting today "as a means, not an end," that for the artists presented in the exhibition, "painting is a generative process" Â Similarly, Ben Haywood, the R.U.R. curator and Executive Director of The Soap Factory, states that the site-specific works of R.U.R., all explore the role of "direct work in the creation of the art object."
How that "process," "work," extended conversations, and deeper understandings manifest themselves in the art objects is not immediately apparent in the exhibitions. Fergus Feehily's three paintings speak directly to one another, but they do not necessarily demonstrate the "personal formal play that the artist has called on his materials to negotiate," that Ryan writes of witnessing in Feehily's studio. Similarly, Kimberly Ellen Green's untitled ceramic works fill The Soap Factory with their interlocking, architectural curves, but their connections to what Haywood sees as the "reproducible industrial atom" are abstracted.
In addition to the statements prepared by the curators, The Walker is presenting talks and interviews with artists from Painter Painter as well as releasing blog posts and video interviews from all fifteen artists throughout the duration of the exhibition. The Soap Factory's supplementary materials include artist talks and audio and video interviews with Haywood and artists. These types of additional views of the artists and artwork of the exhibitions are certainly not new, but, as curators point away from the gallery, away from the observable work of the artists, for deeper and maybe truer understanding of those artists' work, the curators play just as large a role in creating the materiality of the exhibition as the artists.
Both Painter Painter and R.U.R. demonstrate the wonderful complexity and formal delight of contemporary artistic practices, and, similarly, the supplementary material provides deep insight into the practices and processes of the artists. The balance between the exhibitions and supplements, however, demonstrates the difficulty inherent in multiply-sited, art-object-as-documentation exhibitions. Olson writes in an interview with Crosby, that painting's "greatest asset is that is has no function other than as an art object. It isn't fooling anyone: it's extremely clear about what it consists of and what it's offering." With that simplicity and surface in mind, how, then, can we navigate the slippery slope between the very present "art objects" of both Painter Painter and R.U.R. and the processes that they purport to exemplify? How do we balance our engagement with the work of the artists and the work of the curators?
Painter Painter is on view at The Walker Art Center until October 27. R.U.R. is on view at The Soap Factory until April 21.
Eric Asboe is an artist, writer, and cultural worker. As Art Director of Public Space One gallery and performance space in Iowa City, Iowa, Asboe helped shape its nationally-engaged exhibitions and programming, including the microgranting meal SOUP and the award-winning Free @rt School. Asboe's creative works prioritize process over product and explore the boundary between practice as improvement and practice as way of life. Forthcoming projects include ubuwebtopten.com. He currently lives and works in Minneapolis.
Guest Post by Jamilee Polson Lacy
Kansas City, in my opinion, is a sentimental place. I often hear KC natives recount the expansive history of Northeast KC, an historic 19th century neighborhood which is now a little rough around the edges but still incredibly interesting and diverse, recall the Jazz bars East of Troost, or speculate about what really happened in the days when the "Prendergast Machine" controlled the West Bottoms. One of my favorite times to eavesdrop is when I hear longtime residents waxing nostalgic for streetcar rides to Swope Park in the 1950s. Every time I am lucky enough to hear such things, I imagine myself inhabiting the setting and time of these other folks' memories.
Similarly, the arts scene in KC has seen lately a confluence of presentations demonstrating artists' longing for many pasts, presents and futures. I think they are trying to connect with their former, current and hopefully-to-be selves. In some cases, these artists show that they merely wish to spend a little time somewhere else, to escape, to vacation even. In others cases, though, artists seem want to be in two places at once, or to teleport themselves across space and time in order to gather images and artifacts to pile up for exhibitions. And in other, other cases, artists (and I too!) hope and pray versions of themselves, doubles, doppelgangers are out there doing good work on their behalf.
These artists' notions about such things are really quite silly. Well, until they aren't.
They are especially not silly when considered alongside KC-based fiction writer Annie Fischer's 2012 essay, "Wish You Were Here," which somehow, amazingly, sums up all of these wild ideas. So, for this month's post on artiness in KC, I give you an illustrated version of "Wish You Were Here":
Please Note: The italicized notes following the images are mine, not Annie Fischer's.
"Wish You Were Here"
By Annie Fischer
1.
In Anne and Dirk's kitchen, where I've embraced the best and worst kinds of self- indulgence for ten years, the topic of conversation is déjà vu. I can't remember why.
Dirk is troubled that there is no definitive rational explanation for it, this false sense of familiarity.
I am troubled that brains can play tricks.
Anne is troubled that it did not occur to her to be troubled by our troubles, and asks for not the last time, "What is wrong with you both?"
I've been reading lately about Capgras syndrome, a disorder in which one holds the delusion that an intimate has been replaced by an identical-looking imposter. Two French psychiatrists, Joseph Capgras and Jean Reboul-Lachaux, first described the syndrome in 1923, in the case of a female patient complaining that "doubles" had replaced her husband, children and neighbors. Doubles also figure in Freud's 1919 essay on DAS UNHEIMLICHE, "the uncanny," a concept he describes as "that class of the terrifying" that is both familiar and foreign at once. Heidegger tackled DAS UNHEIMLICHE, too, and its associated anxiety. Heidegger called it UNHEIMLICHKEIT: "not-being-at-home."
"We're homesick," I suggest. "Our doubles are homesick, too."
Anne shakes her head. She says, "My double is having an excellent time."
Portraitist Jaimie Warren and her costumed coterie travel across art history and pop culture. Warren, though a KC resident and staple of the local arts community, opened a solo show at The Hole NYC last month. See more of Jaimie Warren at http://www.dontyoufeelbetter.com.
2.
In my apartment, at my desk: I re-read the latest batch of texts and emails, a week's worth or so.
When I reply, I tell him I wish he wouldn't dash off these cryptic messages and then disappear again. It's maddening, this new habit. It seems careless, and done in secret, and not meant for or mindful of me. "I want to believe there's something uncompromised in it," I tell him, "something familiar." What I mean is, who is this imposter?
Sometimes he would forget his watch on my dresser in the mornings, and in the afternoons I would fasten it to my wrist for an hour or so. I liked to hear it tick.
He says: "Nothing worked."
He says: "We worked."
He says: "I care more than you can imagine."
Cryptic.
In THE STRANGER, Meursault – imprisoned – kills time taking mental inventories of his old apartment. He recalls the color and texture of the furniture, the objects atop the furniture, the details of the objects: every crack, every chipped edge. "Once I learned how to remember things," he tells the reader, "I wasn't bored at all."
There's lots of room for romance in existentialism – I actually said that once.
"The more I thought about it," Meursault continues, "the more I dug out of my memory things I had overlooked or forgotten. I realized then that a man who had lived only one day could easily live for a hundred years in prison. He would have enough memories to keep him from being bored. In a way, it was an advantage."
In a way. On the one hand.
What my mother likes to say, during the most serious conversations: "On the other hand, she wore a glove."
At 8:15 a.m. Wednesday, I throw out his toothbrush. Its absence is what I see in the medicine cabinet now. I sleep on his side of the bed; some ghost sleeps on mine.
I tell him all of this, of course.
I, too, want an audience for my inventory.
Poor Meursault. It is terrible – it is so disadvantageous – to be kept from being bored.
If Only A Fool, curated by Chris Daharsh for City Ice Arts, inventories this group of artists' attempts to re-iterate, re-use and re-present themselves and their surroundings. See more at www.chrisdaharsh.com.
3.
"SO NICE," visitors say of Kansas City's residents. "People here are SO NICE."
"Wonderful," a local murmurs in reply. "Are people not nice where you come from?"
"No, no – it isn't that," visitors say. "We knew everyone would be nice, we've always heard that about this place, everyone's always heard that about this place. We're just surprised by HOW nice."
The local suggests that perhaps the dissonance occurs not because the visitors have encountered an unexpected depth and/or breadth of friendliness, but because they have confirmed through lived experience what cognitively they had already accepted, consciously or not, as true.
The visitors frown. "Hmm," they say. "Maybe. Probably not." "No, probably not," the local says. The visitors, once more: "It's just: SO NICE."
They haven't had occasion to visit my pharmacy, I think. At my pharmacy, grim-faced girls in uncomfortable-looking lab coats approach the counter and stare or sigh until a customer intuits it is his or her turn to speak.
These girls, with their heavy reluctance – I want to ask them, "Can I help you?"
People in KC are so nice that they let Xijing Men travel across the world to make up fake countries and olympics so that they can reinvent themselves. People in KC are so nice that they let Xijing Men draw crazy stories of doppelgängers all over the wall. People in KC are so nice that they will lay on the concrete floor to please Xijing Men. See more of The Xijing Men; Tsuyoshi Ozawa, Chen Shaoxiong, and Gimhongsok exhibition at http://www.kcai.edu/artspace.
4.
I am spending five days at the beach. Exactly five months ago I spent six days on another beach, some 1,800 miles west of this one. Any distinction I might make from memory between the physical landscapes – clarity of water, intensity of sun – I would have to invent. Beach is beach to me.
On the first beach, in May, I would lie on a damp lounge chair for an hour or so after sunrise each morning and listen to the waves hurl themselves against the shore with such desperation and regularity that I felt I could not breathe. When the rhythm became too oppressive, I would go upstairs. One morning I took two showers in five hours just to try the shampoos.
Here, on the second beach, the waves ahead remind me of the experience and the feeling I had on the first beach five months ago. I compare this memory with the one that comes next – the new memory of remembering the first beach, the memory created here on the second beach – and I recognize in the second memory an absence of the anxiety in the first.
From what I gather, the shore on this beach simply suffers less reckless waves than the first beach.
This explains the difference.
In a way.
At the grocery store down the street, I spin a circular rack of postcards. I'm looking for something specific, something with porpoises and a setting sun.
I find one of a pair of gulls studying the horizon. It reads, "Wish you were here."
I consider sending it to him. I consider sending it to the girls at the pharmacy. I consider sending it to Annie Fischer, in Kansas City, Mo., so something is waiting when she returns.
As I walk out empty-handed – because I do not wish to be familiar with this particular moment in this particular place; I do not wish to be reminded – a new comparison of memories reveals that the absence of anxiety has been replaced by the presence of anxiety.
As the exhibition's title suggests, Centuries of Self: New Works by Seth Johnson (organized by Greenlease Gallery Director Anne Austin Pearce) researches, culls from, believes in the possibilities of a self's multiples realities.
5.
I fly home, I unpack. Days pass, then weeks. I visit kitchens, and allow visitors in mine.
No matter: The gulls remain faithful.
It helps to think my double feels homesick tonight.
—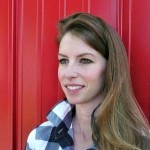 Jamilee Polson Lacy is an artist, curator and writer living and working in Chicago. Lacy founded and currently directs the Twelve Galleries Project, a transitory, collaborative exhibition experiment. Her independent curatorial projects focus on the visions, colors, histories and ideas shared between authors, architects and artists, while her artwork and writing searches for what is lost and gained between text, image and object. She has engaged in solo and collaborative projects with numerous creatives and institutions, including A+D Gallery at Columbia College Chicago, The Black Visual Archive, Chicago Artists' Coalition & Hatch Projects, the School of the Art Institute of Chicago, Hyde Park Art Center, the Museum of Contemporary Art Chicago and Quite Strong, among others. Publications include Color: Fully Engaged in addition to multiple exhibition essays and interviews. Lacy holds two undergraduate degrees in studio arts and art history and a Masters of Comparative Literature and Arts from Northwestern University. She is the 2012-2013 Curator-In-Residence for Kansas City's Charlotte Street Foundation, where she is organizing three exhibitions and publications for Charlotte Street's la Esquina gallery.
 
I first came across SPARE residency at this past year's MDW Fair, held at the monstrous industrial complex adjacent to the defunct Fiske coal plant and now known as Mana Contemporary Art Center. The fair was kind of a clusterfuck, but I somehow made my way through the madness to SPARE's small table displaying smart, well designed books and postcards – all printed on a Risograph GR3750 stencil printer.
Among the things that caught my attention were "The Commodity," a love story told in receipts, by Caitlin Warner and "A Family Home" by Megan Hopkins.
Another book that caught my eye was "Vaporware" – SPARE's collaboration with Christopher Roeleveld of Working-Knowledge, a fellow Chicago Risograph owner – which was made specifically for the occasion of MDW.
Several weeks ago I had the pleasure of paying a visit to the home of SPARE's Risograph – which also happens to be the home of Kyle and Shannon Schlie, their 9 month old son Theodore, and dog Roxanne. The family lives on the third floor of a graystone walk-up a stones throw from Harrison Park in Pilsen. Bookshelves made of recycled lumber and an array of vintage medicine cabinets hung over the bathroom sink decorate their cozy apartment. Two of the three bedrooms are dedicated to the residency: one is living quarters for the resident and the other houses the Risograph printer. Lining this small wood paneled workroom are shelves holding books, paper, a long arm stapler, basic book making supplies, and various other tools.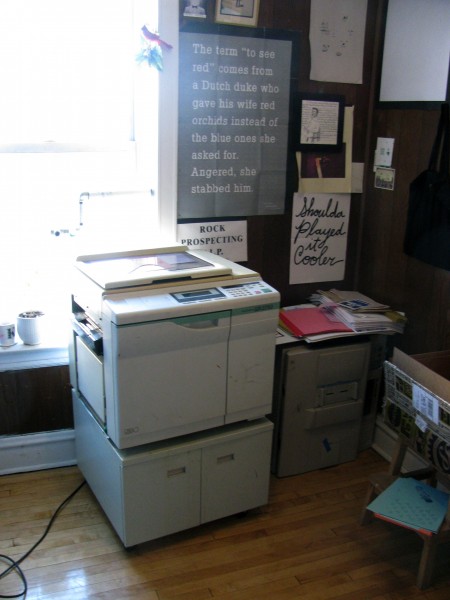 Tucked away under these shelves are large pod-like crates housing the different color ink drums for the Riso. The inventory of books and postcards that have been printed at SPARE occupies other boxes. Posters and printed materials paper the walls. A Spiderwort plant hangs by the sole window, which looks out across the neighboring rooftops.
At first glance the Risograph looks a lot like a standard office copier. However, when you open it up, there is a large cylindrical ink drum inside, around which a stencil of the image to be printed is wrapped. As the paper feeds through, ink is transferred through the stencil onto the paper. One color is printed at a time, and while registration is finicky due to the nature of the process, colors can be layered in really interesting ways.
SPARE has been in operation for about the past year and has hosted 4 residents so far, for 1 or 2 weeks each. Kyle and Shannon provide room and board as well as access to the Risograph and workroom. When I was at their house, their most recent resident had just completed a run of books, which were stacked neatly in the workroom.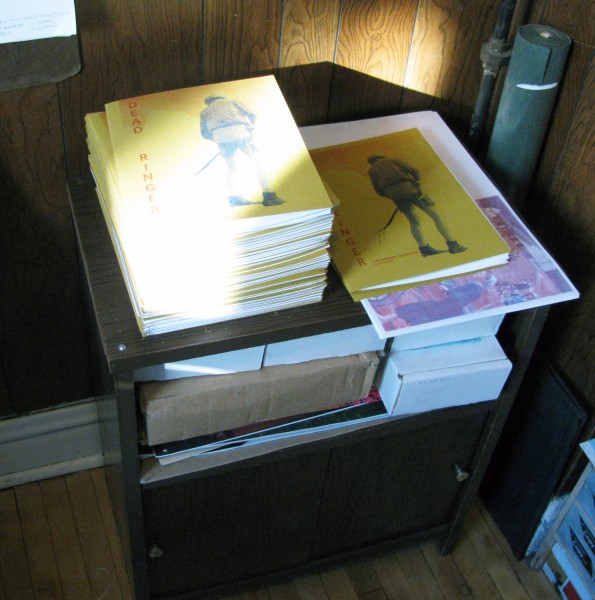 The following is an email correspondence that followed my visit.
Bailey Romaine: How did you come to Risograph printing and what about it was so appealing to you? How did the residency develop out of or around your interest in this machine?
Kyle Schlie: I came to it through making books, which is in part a search for ways of making and printing on a small budget. I really liked the Risograph prints I'd seen, and wanted a way to print things myself, and the price was right, so it made sense to try it. One of our stipulations in getting a Risograph was that we needed a framework for allowing others to use it too. Since I'd been interested in the Riso for a while I figured others would be similarly interested, so we developed a residency program that we ourselves would want to be a part of and built it around the Riso.

BR: When I met with you at your home a few weeks ago, we talked a bit about the network of Riso printers that you have been finding your way to – or have been finding their way to you – since you acquired the press. You mentioned Issue Press – a small press based out of Grand Rapids that prints with a Risograph – as well as a number of Chicago artists who have Risographs in their homes or studios. Can you talk a bit more about these connections you've made?
KS: I wish I could claim more intention behind those connections. They've mostly been initiated by other people, or out of sheer necessity on our part. In Chicago, Christopher Roeleveld of Working-Knowledge and Clay Hickson who operates Tan & Loose Press found me shortly after getting Risographs and are each doing great things with them now. It's typical for people with a Risograph to reach out to others as problems, questions, or sharing opportunities arise. Risographs being used for small press stuff is more common now and seems to still be growing.
BR: It's a pretty intimate gesture to invite artists you've never met before to come stay with you and your family. Did the two of you have any reservations about how it would work out?
KS: Not really. There's no way to know about things like that and at a certain point you just have to try it. The upside seemed great and we focused on that. Every person we've had so far has been awesome and the experience for us has been uplifting way beyond printing and making books.
BR: It seems like you've had residents come from all over. How have applicants come across SPARE? What sort of outlets did you take advantage of to get the word out?
KS: This is another question I wish I had a better answer for. Our approach has been to go for things we feel are worthwhile, then figure out and adjust along the way. We've had the residency posted on websites that post opportunities for artists. Initially we made almost no effort to let people in Chicago know what we were up to, since we anticipated more appeal for people abroad because we're offering room and board in addition to the bookmaking stuff.
We don't how people find us, but emails and applications continue to come in. It's not a great answer but that's how it's been for us. Of course, we too are open to suggestions from people who actually know about these things.
BR: You are currently getting your MFA and your work seems pretty materially diverse. What do you think is the importance of making books – particularly in this aesthetic that both you have and SPARE seems to foster, that is somewhere between the finely crafted and the ad hoc?

KS: I think finely crafted can be ad hoc, and vice versa. I guess, to make a connection between my studio work and Risograph printing, I'm interested in what's available or neglected and bringing it on board in service of certain ideas I'm pursuing. The Riso falls into this category. It's no-hassle mass-printing before digital technology, and has fallen out of favor commercially and institutionally so most  printers, schools, and churches are getting rid of them.
The aesthetic of the Risograph is unique in large part because of how it operates. I like that the process is visible in the final result. We're making books by hand and though the Riso makes prints easily and in large quantities they come out slightly different each time. The machine has lots of quirks which require responses from the operator that often challenge how a book gets made. It's a great in-between technology in that it's mostly automated but inexpensive, and can quickly make one print or a lot of prints.
BR: Absolutely – I think that this notion of taking what you have and turning it into something discrete and well made is very clearly at the heart of SPARE. I really love the subtle ways you have designed around the quirks of the printing process – such as playing with registration and seeing how it shifts over an entire run. I'm really interested in the postcard project you did recently. Can you talk a little bit about this project?
KS: When I started grad school I knew the residency would take a back seat but I didn't want to let the printer sit unused. And I still wanted to work with other artists but knew I couldn't handle someone living with us for a few weeks and working intensely on a book while I was away in my studio every day. For the postcards, we came to the idea of using a simple standard format and to work more with the Riso's inbuilt economy of printing. We contacted artists we knew and/or admired and offered paper and ink color options which were intended to maximize the printing quantity and variety and minimize the expense. I saw it as a chance to try different options on the Riso, almost in a print sample way, and see what others would come up with based on the options and restrictions we gave them. We worked with Dante Carlos to design the graphics and cards and I think they work really well in showcasing both the printing and the work the artists contributed.
There was also some hope that we could make a few dollars to support the residency program with the postcards, but that prospect seems unlikely. We can't complain too much but at times it's hard knowing that the residency will always be an occasional and maybe not very long-term thing because in addition to everything else it does cost money to run.
BR: Dante Carlos is also the artist who designed the "registration graphics" that you have up as gifs on the SPARE website? I think those are so great.
You guys have certainly been very generous in the way you've structured the residency. Something we talked about somewhat in depth before was the fact that Chicago really is lacking a good book store or gallery that supports projects like SPARE and could be a source of income to fund the residency (through books sales, etc.). How do you see your life post-grad school, Chicago, SPARE, and the printing/book making/small press initiative playing out? Are there things you would like to do or see other people do with these things in Chicago?
KS: I came to books through art, so I often think of them in that context. Because I'm interested in how objects, and the ideas they carry, move and live in the world, books open up a lot of options that aren't as likely for other art-type things. I feel like books have a potentially wider, or at least different, reach that interests me. Books circulate, books are distributed, and so on, which to me, feels like an exciting active process; one which I would like to take beyond just books.
I also like that books are slow and give me the opportunity to really focus and lose myself in them. And beyond books, I'm in favor of slow focused venues for processing what other people have made. I think this is something that has to be fought for. I've started talking about it through the book, and consequently the places that allow us to get the book in our hands, but it exists in other ways. For example, going to a film screening versus watching it on your computer in your office while eating lunch. I'm not against the other options but I do know that if I want a bookstore to be around I have to support a bookstore. I can't complain too much about the lack of anything unless I'm really working to help the things I value survive. So we have a residency program to provide the little bit of what we want to see remain. I don't know if it's the most necessary thing to do but it's what we're doing right now. We'll keep offering artists our time and our printer, and food and a bed, and keep making books, and see what comes of it. Even thinking of it a success or a failure seems like a luxury right now. The poles are more like doing-it or not-doing-it.
I should also say regarding the previous conversation you hinted at, there are lots of great places, bookstores and otherwise, in Chicago. I just finished getting some new books ready to take to Quimby's where some of the SPARE books are stocked. Quimby's is really supportive and has been around for a while which I think strengthens other related endeavors. I think those foundational places are the key to allowing other scrappier things to emerge and grow. There are certainly other things I would like to see in Chicago but I'm optimistic overall about what's happening. I've been trying to think of an idea or example while answering this question, and I don't have it, but here's what I came up with. A Chicago Supplemental Library which includes all the non-book stuff that should be available. If I were doing it it would be a museum-library-laboratory hybrid kind of system with check-out-able equipment, artwork, assistants and a variety of other world-class programming. But I'm not going to run it so it could be just like a place to borrow an umbrella for an afternoon or whatever.

http://spareresidency.com/
http://kyleschlie.com/
Bailey Romaine is a printmaker and bibliophile currently living in Chicago.
A graphic, editorial overview of art, artists, and visual art events, found in and around Chicago over the course of the preceding month. All artwork copyright original artists; all photography copyright Paul Germanos.

Thelonious Elliot and Wray Morgan Herbert-King @ ACRE Projects


Above: Theo Elliot at left; Morgan Herbert-King at right; opening night at ACRE Projects.
Thelonious Elliot and Wray Morgan Herbert-King
"Moving a Hole"
January 20 – February 4
ACRE Projects
1913 W. 17th St.
Chicago, IL 60608
http://www.acreresidency.org/

Dmitry Samarov @ Chicago Public Library


Above: "Algren" 2012
Above: "Morandi" 2011, top; "Entrapment" 2012, bottom.
Dmitry Samarov
"Bookshelf Paintings"
January 11 – March 1, 2013
Harold Washington Library Center
400 S. State St.
Chicago, IL 60605
http://www.dmitrysamarov.com/

Goshka Macuga @ Smart Museum of Art


Above: Exhibition closing and curator talk (MCA curator Dieter Roelstraete, left, and Smart curator Stephanie Smith, right) January 13, 2013
Goshka Macuga
"Of what is, that it is; of what is not, that it is not," panel 2
(wool tapestry from photo collage, approx. 11 x 38 feet, half of diptych)
December 13, 2012 – January 13, 2013
Smart Museum of Art (lobby)
5550 S. Greenwood Ave.
Chicago, IL 60637
http://smartmuseum.uchicago.edu/

Robert Chase Heishman @ Roots & Culture


Above: Robert Chase Heishman with artwork at Roots & Culture, opening night.
Robert Chase Heishman
"Fractal Semblance"
January 18 – February 16, 2013
Roots & Culture
1034 N. Milwaukee Ave.
Chicago, IL
Curated by Eric May, Stephanie Cristello and Allison Glenn
Artwork by Robert Chase Heishman, Jessica Labatte, Alistair Matthews, and Liz Nielsen
http://www.rootsandculturecac.org/

R. H. Quaytman @ The Renaissance Society


Above: Peeking inside the piece "Public Space/Two Audiences"
R. H. Quaytman
"Passing Through The Opposite of What It Approaches, Chapter 25"
January 6 – February 17, 2013
The Renaissance Society
5811 S. Ellis Avenue
Bergman Gallery, Cobb Hall 418
Chicago, Illinois 60637
http://www.renaissancesociety.org/

Deborah Baker @ Packer Gallery


Above: Cotton on linen, embroidery, under glass, framed.
Deborah Baker
"Zodiac"
January 11 – February 16
Packer Schopf Gallery
942 W. Lake St.
Chicago, IL 60607
http://www.packergallery.com/

Sarah Mendelsohn @ The Plaines Project


Above: Sarah Mendelsohn with her artwork at The Plaines Project, opening night.
Sarah Mendelsohn
"Stretches Topless"
January 19 – February 8, 2013
The Plaines Project
1822 S. Desplaines St.
Chicago, IL
http://plainesproject.wordpress.com/

Tom Torluemke @ Hyde Park Art Center


Above: Tom Torluemke with his horrific vision of environmental degradation, shot at the opening reception.
Tom Torluemke
"Fearsome Fable – Tolerable Truth"
January 20, 2013 – April 28, 2013
Gallery 4
Hyde Park Art Center
5020 S. Cornell Ave.
Chicago, IL 60615
http://www.hydeparkart.org/

Teruko Nimura @ Roxaboxen Exhibitions / ACRE Projects


Above: Hummingbird in flight, floral origami aim, installation at Roxaboxen.
Teruko Nimura
"Potentialities," a two-person show with Milcah Bassel
January 20 – February 1, 2013
Roxaboxen Exhibitions / ACRE Projects
2130 W. 21st St.
Chicago, IL 60608
http://www.terukonimura.net/

Scott Hocking @ Chicago Artists' Coalition


Above: Scott Hocking with artwork at opening reception for "EXCHANGE: Chicago-Detroit"
"EXCHANGE: Chicago-Detroit"
CHICAGO: Chicago Artists' Coalition, Chicago IL
January 11 – 31, 2013
DETROIT: Cave Gallery and Public Pool, Detroit, MI
February 23 – March 16, 2013
Chicago Artists' Coalition,
217 N. Carpenter Street,
Chicago IL 60607
http://chicagoartistscoalition.org/
Above: Edie Fake at opening reception; artwork in background.
Edie Fake
"Memory Palaces"
January 4 – February 16, 2013
Thomas Robertello Gallery
27 N. Morgan St.
Chicago, IL 60607
http://www.thomasrobertello.com/

Lauren Payne and Erin Washington @ Johalla Projects / ACRE Projects


Above: Lauren Payne and Erin Washington's collaborative installation, opening night.
Above: Jenny Kendler (ACRE Board of Directors) left; Lauren Payne, right; opening night.
Lauren Payne and Erin Washington
"As Above So Below"
January 25 – 31, 2013
Johalla Projects / ACRE Projects
1821 W Hubbard, Suite 209
Chicago 60622
http://www.johallaprojects.com/
Above: Harvey Moon with "drawing machine" installed in gallery, opening night.
Harvey Moon
"Transpported Wind"
January 25 – March 22, 2013
Hauser Gallery
230 W. Superior St.
Chicago, IL
http://www.unanything.com/
---
Paul Germanos: Born November 30, 1967, Cook County, Illinois. Immigrant grandparents, NYC. High school cross country numerals and track letter. Certified by the State of Illinois as a peace officer. Licensed by the City of Chicago as a taxi driver. Attended the School of the Art Institute 1987-1989. Studied the history of political philosophy with the students of Leo Strauss from 2000-2005. Phi Theta Kappa and Phi Kappa Phi. Motorcyclist.
This weekend, Every house has a door will be performing their original work, Mending the Great Forest Highway, on February 15 and 16 at 8pm, and then again on February 17 at 7 pm as part of the IN>TIME festival at Links Hall (3435 N. Sheffield Avenue) $15 general/$10 students. For information on this and other upcoming events, please visit IN>TIME's website. You will find an interview between myself and Matthew about this same piece on the Art21 blog here. More recently, Matthew submitted the following piece of writing about MTGFH's latest iteration. – B@S
Returning to They're Mending the Great Forest Highway
by Matthew Goulish
When people ask about the name Every house has a door, I say it has to do with aesthetic hospitality. In a sense the name stands as an invitation, and the invitation takes two parallel courses. First, each performance as a project assembles a team of specialists in response to the specific demands of that performance's set of ideas. In this way, the company remains open like a house, and collaborators come and go like visitors. Second, each finished performance demonstrates our ongoing interest in separating the elements of performance and weaving them in some configuration particular to that work. Different aspects of the work may appeal to different audience members. In this inflection, each mode offers a different door, standing open for a different audience member as an invitation into the house of the performance.
We made a performance called They're Mending the Great Forest Highway. The Chicago Dancemakers' Forum supported the original version, because choreography lent this work its core. We borrowed the title from a song by the twentieth-century composer Béla Bartók, but the choreography derived from his trio for clarinet, violin, and piano, Contrasts, composed in 1938 in response to a commission by Benny Goodman. We had the idea that three men would dance the parts of the three instruments, transposed from music to movement, adhering to the composition's precise timing. Brian Torrey Scott danced the part of Benny Goodman's clarinet, and John Rich that of Joseph Szigeti's violin. We listened to the original recording by those great musicians, with Bartók himself on the piano. I claimed that part for myself. It was only fair. I had worn out the record through repeated listening in my undergraduate years, and already had it nearly memorized.
We presented the piece at the Holstein Park field house gymnasium in June 2011. Lin Hixson had guided the three of us in the first months of rehearsals, giving us directives for generating movement to retrofit to the score. The directives suggested a second degree of translation from the music; for the first movement: a dance in daylight, movements of labor, social/club movements, army recruiting song; for the second: sounds of a summer night in the country; the flitterings of nocturnal frogs, automatic insect chirping, a bird taps its beak on a hollow wooden tree trunk … concentric circles … restful … volcanic … human singing rises from far away in the darkness; for the third: the fast dance, furious, interrupted, side-slipping tri-tones reminiscent of the end of Berg's Wozzek.
We invited Charissa Tolentino to compose a score that combined found sounds and samples with original sonic inventions, and to present this live, sharing the stage like a DJ with us dancers. This music, twice removed from Bartók's composition, responded to the movement, largely free from the score's constraints, but retaining its broad structure.
Finally, Lin and I collaborated on the writing of an extensive prose introduction. For this part, she, the director, would speak directly to the audience, detailing our intentions and processes, as well relating relevant, if somewhat fictional, autobiographical background from her director's notes and journals. Lin would not deliver this herself, however. Instead we invited Hannah Geil-Neufeld, a young performer whom we had known since she was a child, to perform the part of the director Lin Hixson. We had in mind a contemplation of youth and aging, with which the introduction concerns itself, as well as that strange area in which the familiar becomes just unstable enough to appear unfamiliar. Hannah returned to conclude the piece, after the roughly 21-minute dance, with an epilogue that included all the performers in the staging of the last moment's of Büchner's Woyzeck, taking those liner notes literally. Guided by the tone of Hannah-as-Lin's semi-autobiographical monologues, a tone lifted from the dual inspiration of J. M. Coetzee and Robert Bresson, the piece somewhat unexpectedly became an indirect meditation on the fraught and sometimes brutal relations between generations, the anxieties of production and reproduction.
We finished the dance today.
It's called They're Mending the Great Forest Highway.
I didn't think it was about mending when we started. I just liked the title.
Now think that thinking that – that the dance was in fact about mending after all – was what stopped me there on the sidewalk in the rain.
So says Hannah-as-Lin near the end. Each element – words, dance, music – had their own life, their own independence on the stage, no one of them as  accompaniment to another, and often not even happening at the same time. Each performer, or set of performers, had been delegated to one of these modes. I hope the house/door metaphor is clear now. To divide the finished performance from the process of its creation is largely an artificial exercise, but one that helps clarify our intentions and the work's meanings and energy. The introductory speech makes some audience members impatient for the dance to begin. Others concentrate on the music as central, and still others need the words as their anchor. The piece asks everybody to assemble the parts into a coherent whole after the 65-minute structured sequence of their presentation.
Now we return to the piece for three performances at Link's Hall on February 15, 16, and 17, as part of the IN>TIME Festival, and with the support of an Illinois Arts Council fellowship. Brian Torrey Scott has moved to Providence, Rhode Island. Jeff Harms has taken over the violin part. Charissa Tolentino has also departed the piece. Now Liz Payne performs the DJ role, with her own original sound composition. In this series of rehearsals, Lin has asked us to revisit the third movement's choreography. She put it this way in an email from January 2nd:
Dear Jeff, John, and Matthew,
At our next rehearsals, I would like to work on new choreography. Below are YouTube sources for these new movements, divided between Lower Body and Upper Body. I used the Mending video from Holstein as a reference to locate the choreography I'd like you to change, embellish, or hybridize. Many, many thanks, Lin
Jeff
30:57 – 31:35
Embellish the repetition of this movement using the Lower Body sources.
John and Jeff
31:56 – 32:24
This is after the shaving bowl move and around 28 seconds of material. Keep all your timings and positions in the space but consider using a different vocabulary from the Upper Body sources. So, for example, if you are doing something together this would remain. What you are doing would change.
32:24 – 32:35
Matthew – replace somersault
Jeff – replace head movement
Both using Upper Body sources
Jeff
32:36 – 32:49
Embellish leg slapping using Lower Body sources
Matthew, Jeff, and John
37:43 to end
Keep positions in space and timings but change the vocabulary using Lower Body/Upper Body sources

Lower Body Sources
Hungarian Folk Dance

Arms/Upper Body Sources
William Forsythe

Solo – William Forsythe from Tom Balogh on Vimeo.
See a longer version of Forsythe's Solo here. 

Lin sent three links for each source, but I have only included one of each type here. I asked the performers about their thoughts on returning to They're Mending the Great Forest Highway. John responded with this paragraph:
I counted my jumps one day. There are several hundred – not big jumps, mostly hops. I did not realize this in making the piece, did not realize it even until well after we finished and someone pointed it out. The dance acts as an accumulation that way. It is a complex field, but it is built by simple acts.
Jeff Harms wrote this:
The way in which I am finding the meaning of the piece is a physical process, born of patience and repetition. It seems that the art world often replaces meaning with "intention", as if we were all in art school, or as if we all agreed on the path or even method art should use. The methods of Every house seem to be humble in this regard, and I think it's for that reason, if we do succeed here, it will be a rich and meaningful experience for the audience.
In the years since we began working on this piece until our February performances, Hannah will have nearly earned her entire undergraduate degree from Macalester College. She answered this way:
What is exciting to me about They're Mending the Great Forest Highway is the realization that one can mend something without being entirely sure of what one is mending.
We have been working for almost three years now to mend something that was not one thing to begin with.  This is like darning a sock that does not exist before one begins to darn.
Bodies engaged in speaking the thoughts and dancing the labors of other bodies is, I think, necessarily an act of mending, regardless of the thing being mended.
We prepare for February by rehearsing, I imagine the way musicians would, our collected movements, playing and replaying them alongside Liz's composition, to fix in the mind and body these odd new aggregates. In his book Music and the Ineffable, the philosopher Vladimir Jankélévitch wrote of how a musical work does not exist except in the time of its playing. Can one say the same about a work of performance? He further distinguished that one does not think about music as much as according to music. With that in mind, please click the link below to hear a sample of Liz's composition, from the second movement of They're Mending the Great Forest Highway.
Thanks, and see you soon.
Matthew Goulish, dramaturg

[soundcloud url="http://api.soundcloud.com/tracks/75059086″ params="" width=" 100%" height="166″ iframe="true" /]

Matthew Goulish co-founded Every house has a door with Lin Hixson in 2008. His books include 39 Microlectures – in proximity of performance (Routledge, 2000), The Brightest Thing in the World – 3 lectures from The Institute of Failure (Green Lantern Press, 2012), and Work from Memory: in response to In Search of Lost Time by Marcel Proust, a collaboration with the poet Dan Beachy-Quick (Ahsahta, 2012). He teaches writing at The School of the Art Institute of Chicago.