Guest Post by Eric Asboe
I once heard Mike Haeg, the mayor of Minnesota's smallest town, Mount Holly, current population 4, describe Minnesota seasons in a lovely way. He said that winters get so cold and snowy Minnesotans just want to stay inside and work on their own projects and ideas, but, once spring and summer start thawing the snow, those same people, who really want to be outdoors, spending time with other people, come back outside into the world, ready to share everything they have been working on during the indoor, winter months.
With rain, sleet, and accumulating snow in the forecast, there are not many tulips peeking out their heads yet. Nevertheless, warmer temperatures have started freeing people from winter routines, and recent print exhibitions have already started pointing me toward spring.
The Andy Warhol in Minneapolis exhibition, a stop of Andy Warhol at Christie's, was at Aria for one week in March. It featured some of the works Warhol created for his last exhibition in Minneapolis in 1974. The connections he made with local cultural and philanthropic leaders of that time were in full view, with large prints of Gardner Cowles, George Shea, and Gordon Locksley looking over the remaining paintings, prints, drawings, and polaroids. Visitors streamed past the first pieces in the show towards Warhol's more recognizable works scattered throughout the large space. Who doesn't want to see Wayne Gretzky's mullet transform from polaroid angelic halo to screenprinted neon coif? I lingered at the first two prints, both from his Sunset series. The series was inspired by Warhol's stay at the Marquette Hotel in downtown Minneapolis, and each of the hotel's rooms still holds one of the prints. The bright reds and oranges of one print and the cooler aquas of the other print brought home the then recent daylight savings time and the warming days of the exhibition.
In less than fifteen years, Highpoint Center for Printmaking has become a major resource for printmaking, printmakers, and the spread of print culture throughout the Midwest. They host classes, public programs, visiting artists, a gorgeous studio space, and compelling prints in their gallery. They partner with the Jerome Foundation to provide residencies and exhibitions for emerging printmakers, and they generally foster and advance the art of printmaking to the local community and throughout the region. Their show Print Profs: Recent Work by MN Faculty, which just ended, featured work by college faculty throughout Minnesota. Covering a wide range of print processes, the artists push and bend traditional print processes to suit their own needs. Justin Quinn's explorations of the letter E and Moby Dick bloom quietly from his winter hued, architectural prints. Lynn Bollman's conceptually driven text piece HAZ MAT was bathed in afternoon sunlight when I visited. Rick Love and Heather Nameth Bren's two rainbows are some of the simplest, yet most moving pieces in the show. Their call to the outdoors was a reminder of Highpoint's explicit seasonal transition, Free Ink Day, from a few weeks ago, which was advertised with: "Help us celebrate the legacy of long Minnesota winters and the anticipation of springtime follies with an afternoon of inky fun."
Although Highpoint notes that "printmaking is a cost-prohibitive endeavor to take on alone," Print Profs was structured around the idea that the network of printmakers and access to presses and other resources at colleges is a part of the continued excellence of printmaking. The current exhibition at the Minnesota Museum of American Art's (MMAA) Project Space, D.I.Y Printing: Presses Not Required, starts with the same belief that printmaking can be "cost-prohibitive," but the artists and collectives there prove that the resources and processes of printmaking can be much more accessible: "Many print-makers, especially young artists who are just starting out, do not have the luxury of access to well-equipped facilities. Rather than experiencing this as a constraint, D.I.Y. (do-it-yourself) printers see it as an opportunity for out-of-the-box thinking to creatively and collaboratively problem-solve." D.I.Y. Printing balances the lively work of eight local print collectives, twelve individual artists, and representatives from the MMAA's permanent collection. The presence of the artists at the MMAA's Project Space and the time and care spent on the largely site-specific and new work of the artists is clear. Their work is alive with the opportunities they create to adapt printmaking to their immediate situation, finding ways to make prints relevant and integral to what they are doing and interested in, even if they have to make, invent, or share the tools they need.
More importantly, the print collectives in D.I.Y. Printing are rethinking the very world that finds value in prints. Big Table Studio shows the possibilities of working with local residents, including the poster they helped visitors to the then newly opened MMAA Project Space create in the fall. Recess Press and Leg Up Studio both have community printshops for sharing their resources and knowledge. Screen Printing on the Cheap goes even further, pushing printing onto the streets, into bedrooms, into anywhere and everywhere they can. They write, "As educated artists, we have been conditioned to rely on making art in facilities we simply cannot afford. Screen Printing on the Cheap demonstrates a 'new school' of screen printing and makes the process more accessible to the community." Their recently published book and public programming help realize that more populist oriented practice. All of the print collectives' work in the show engages with more than a reinvigorated d.i.y. mentality. They utilize printmaking to question the boundaries that separate artists from artists, artists from makers, artists from everyone else, studios from the real world, the world indoors from the world outside. They are calls to re-engage with communities outside of the places that hold and celebrate all of these prints, to re-imagine the world in which we view and make what we live with. Screen Printing on the Cheap's mobile printing unit on display at the MMAA is a direct call to be more outside by literally bringing printmaking to the streets. I am ready to learn from all of the artists at the MMAA who have been busy printing in whatever ways they can this winter; I am ready to follow them out into the spring, come snow and rain and prints.
If all of these calls to be outside to find the ease and accessibility of springtime were not enough, the annual poster and bicycle celebration ARTCRANK Minneapolis was last weekend. Hundreds of people drank beer, bought posters, and celebrated bikes. The energy and readiness for bike riding and the outdoor time the posters showed and called for was palpable, rippling through the lines for artworks, food trucks, and bicycle valets. We are all anxious to leave that winter gear behind, to pack it away behind the new things and ideas we have worked on all winter. The Minneapolis born idea has since moved on to many more cities. Get out to the first ever ARTCRANK Chicago on May 17th at the Co-Prosperity Sphere – beer, bikes, and posters.
At the very least, keep in mind the words of wisdom from Mount Holly. As spring holds out a few more days, gather what you did and made and learned this winter. Bring it back into the world to share with the rest of us; we are ready and waiting to share our own excitements too.
Eric Asboe is an artist, writer, and cultural worker. As Art Director of Public Space One gallery and performance space in Iowa City, Iowa, Asboe helped shape its nationally engaged exhibitions and programming, including the microgranting meal SOUP and the award-winning Free @rt School. Asboe's creative works prioritize process over product and explore the boundary between practice as improvement and practice as way of life. Forthcoming projects include ubuwebtopten.com. He currently lives and works in Minneapolis.
Guest post by Jamilee Polson Lacy
Kansas City is in the midst of a seasonal transition. It isn't spring—the city got eight inches of snow last weekend—but it's not winter either since everyone wore sleeveless shirts in the 80-degree sunshine less than a month ago. Instead, this transitional time of year is foggy, both literally and figuratively. Literally in that there are fogs and mists and long-lasting dawns and dusks; figuratively in that one can't quite figure out what time of day/ month / year it is, how to dress for the bi-polar temperatures, and whether or not to wear a sundress or take off the snow tires. What's more is the fact that the city is gorgeous and lush with new growth on some days, while on others there is dirty, melting snow and unearthed trash everywhere. (People here seem to recycle only when it's warm out.) Fortunately, when the fog roles in, a kind of limbo takes over for a bit to create a little mystery while we wait out this seasonal transition.
This transition, with the fogginess it ushers in, makes the perfect ambience to read a book like kansas city noir. Edited by local celebrity Steve Paul, senior writer and arts editor for the acclaimed Kansas City Star newspaper, this collection of short stories penned by Kansas City-based fiction writers presents crime literature featuring tough, cynical characters and bleak, foggy settings. My favorite story, Yesterdays by Andrés Rodríguez, remembers Milton's Tap Room, a once iconic Jazz bar which transitioned over the years into to a laidback dive where folks of all stripes could hang before it closed in the late 80s. Garcia uses "smoke and mirrors" to give a fictionalized yet fantastic account of the Easter weekend that the bar's owner Milton Morris mysteriously disappeared. Though the disappearance is an assumed death, Rodríguez writes it as a transition from one season of life to another. The reader never knows Morris in the flesh, but with blurry combinations of stark color, dark shadows and violent gestures, Rodríguez renders Morris and his Tap Room with a dangerous, foggy haze appropriate for this seedy local legend.
Along these same descriptive lines, Yesterdays has a great quote that gets at the essence of the seasonal transition that happens in Kansas City this time of year:
It was nearly Easter. There had been a torrent of rain for two nights, knocking all the blossoms of dogwood and catalpa to the sidewalk in splurges of color that soon turned black and globby. And in the storm sewers, the spring damage and leftover winter leaves lay together seeping like an undrinkable tea. (175)
As indicated in the quote, transitions—seasonal or otherwise—are unruly. Kansas City artists Nicole Mauser and Caleb Taylor make paintings and collages which illuminate the wild, sometimes dark, often whimsical transitions that happen in the studio. Taylor, who currently has a show up at Sherry Leedy Gallery, presents a series of paintings that, like spring's arrival, struggle to emerge through the dense fog of the artist's heavy black brush strokes. But with the collages, Taylor is able to clear out the fog where necessary in order to contrast harsh lines and geometries with soft shadows and dazzling light. Indeed, these compositions read like atmospheric interludes designed for scene transitions in Film Noir flicks like Panique and Kiss Me Deadly.
Mauser mounted two shows this spring: Pressure, Speed, Hesitation, and Drag at Western Missouri State University and Viscosity at the Gladstone Community Arts Center. These two new bodies of work have each been mangled up in a battle between the history of abstraction and the future of materiality. As is evident in the Yesterdays quote above, it's what is left on the battlefield that's so interesting. And these beautifully bad paintings on canvas and collaged works on papers, with their "splurges of color that soon turned black and globby," show just how exhilarating it is to be in transition.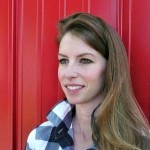 Jamilee Polson Lacy is an artist, curator and writer based in Chicago. For 2012-2013, Lacy is the Inaugural Curator-In-Residence for Charlotte Street Foundation in Kansas City, where she organizes exhibitions, educational programming and publications for Charlotte Street's Crossroads District gallery, la Esquina. In Chicago, Lacy additionally operates as the founding director of Twelve Galleries Project, a transitory, collaborative exhibition experiment. She has engaged in solo and collaborative projects with many creatives and institutions, including A+D Gallery at Columbia College Chicago, The Black Visual Archive, Chicago Artists' Coalition & Hatch Projects, Hyde Park Art Center, Museum of Contemporary Art Chicago, Western Exhibitions, Quite Strong, and the School of the Art Institute of Chicago, among others. In addition to writing for Bad at Sports and numerous catalogue and exhibition essays, interviews, and articles, Lacy has published Color: Fully Engaged, a book of interviews and essays, and written series for Art 21, Flash Art's Umelec Magazine, and most recently Outpost Journal. Lacy holds two undergraduate degrees in studio arts and art history and a Masters of Comparative Literature and Arts from Northwestern University. 
La Ribot – a performer, choreographer and visual artist – developed her first choreographic works in Madrid in the 80s, later becoming known for her solo work.  By the late 90s, she had become a figurehead in the Live Art scene in London, where she was based between 1997-2004.  In the mid 90s, she produced "Distinguished Pieces" – short solos presented in a series that were put on sale and purchased by art collectors.  In 2003, she presented a meta-performance of these 34 solos produced until then under the title "Panoramix," at the Tate Modern in London, at the Museo Reina Sofia in Madrid, and at the Centre Pompidou in Paris, among others.  More recently, she has produced work with her company including "40 espontaneos" (2004) a piece for 40 extras, "Laughing Hole" (2006) a 6-hour performance for three performers and one musician, "Gustavia" (2008) a duet created and performed with Mathilde Monnier, as well as "llamame mariachi" (2009).  Her work has appeared in various theatres and numerous museums, passing from Théâtre de la Ville and Festival d'Automne in Paris, from Queen Elizabeth Hall in London and from Festival Montpellier Danse to Art Unlimited / Art Basel in Switzerland, Museo Serralves in Porto, S.M.A.K. in Gent, Nam Jun Paik Art Centre in Seoul, Aichi Triennale in Japan, Galeria Soledad Lorenzo in Madrid, and the Haus der Kunst in Munich, among many others. In 2004, she relocated to Switzerland where she taught at the Haute Ecole d'Art et de Design in Geneva. In collaboration with her colleagues she founded a new Department for the live arts – Art/Action – and taught there until 2008.
La Ribot recently came to Chicago to present the US premiere of "Laughing Hole" and the video "mariachi 17″Â as part of the IN>TIME 13 Festival . Â Appearing for six hours at the Chicago Cultural Center, "Laughing Hole" traveled to Los Angeles where it appeared at LACMA in early March. Â Prior to the "Laughing Hole" performance, La Ribot sat down with local artists Hannah Verrill and Jane Jerardi to talk about her work. Â The video interview captures excerpts of her conversation with Hannah, with Jane behind the camera.
Hannah Verrill is a performance maker currently working towards her MFA from the School of The Art Institute of Chicago. She was grateful for this opportunity to sit and speak with La Ribot.
A graphic, editorial overview of art, artists, and visual art events, found in and around Chicago over the course of the preceding month. All artwork copyright original artists; all photography copyright Paul Germanos.
Mothergirl @ Happy Collaborationists / ACRE Residency
Above: Mothergirl, a performance art duo featuring Sophia Hamilton, foreground, and Katy Albert, background, working within wooden boxes.
Above: The Happy Collaborationists, Meredith Weber, left, and Anna Trier, right, hosting Mothergirl's "Two Women Do Three Things," on February 9, 2013.
Mothergirl
"Two Women Do Three Things"
February 9, 2013
Happy Collaborationists, in partnership with ACRE Residency
1254 N. Noble
Chicago, IL 60642
http://happycollaborationists.com/
Martin Creed @ MCA Chicago
Above: A 10 second exposure, hand-held, indicating the kinetic potential of Martin Creed's popular piece "MOTHERS."
Above: Visible in the museum lobby, background, are the geometric architectural paintings Work No. 798 (2007) and Work No. 1349 (2012).
Martin Creed
Work No. 1092, Work No. 1357 (MOTHERS)
Museum of Contemporary Art
MVDR Plaza – till May
220 E. Chicago Ave.
Chicago, IL 60611
http://www.mcachicago.org/
Chris Smith @ The Franklin
Above: Chris Smith's "Visitation Rites" art burn in progress on Februrary 9, 2013.
Above: Chelsea Culp and Ben Foch view Chris Smith's "The Visitor's Hours" within The Franklin, opening night.
Above: A gallery patron embraced by a neighborhood resident during the opening reception.
Christopher Smith
"The Visitor's Hours" and "Visitation Rites"
February 9 – 24, 2013
The Franklin
3522 W. Franklin Blvd
Chicago, IL
http://thefranklinoutdoor.tumblr.com/
Drawer's Drawing @ PEREGRINEPROGRAM
Above: Leslie Baum's "In the Forest," 2012, full work and detail.
"Drawer's Drawing"
February 3 – March 3, 2013
Julius Caesar and Peregrine Program
3311 W. Carroll Ave.
Chicago, IL 60624
Curated by Carrie Gundersdorf and Eric Lebofsky
Artwork by Leslie Baum, Avantika Bawa, Elijah Burgher, Lilli Carré, Chris Edwards, Anthony Elms, Richard Rezac, and Paul Schuette
http://lesliebaum.net/
Peculiar Poetics @ Design Cloud
Above: Kayl Parker's 60″ x 75″ photographic print on vinyl
Above: "Peculiar Poetics" curator Alysia Alex, opening night.
Kayl Parker
"Peculiar Poetics"
February 1 – 23, 2013
Design Cloud
118 N. Peoria, Suite 2N
Chicago, IL 60607
Curated by Alysia Alex
Artwork by Kayl Parker, Brea Souders, Stephanie Gonot, Bridget Collins, Mate Moro, Aron Filkey, Marthe Elise Stramrud, Sasha Kurmaz, and Sol Hashemi
http://kaylparker.com/
Plant Life @ Western Exhibitions
Above: Front to back, artwork by Heidi Norton, Scott Wolniak, and Tyson Reeder.
Above: "Plant Life" curator Geoffrey Todd Smith, opening night.
"Plant Life"
February 1 – March 9, 2013
Western Exhibitions
845 W. Washington Blvd.
Chicago, IL 60607
Curated by Geoffrey Todd Smith
Artwork by Chinatsu Ikeda, Eric Wert, Heidi Norton, Jonathan Gardener, Mindy Rose Schwartz, Scott Wolniak, and Tyson Reeder
http://www.westernexhibitions.com/
Shit is Real @ devening projects + editions
Above: "You Can't Win Them All" by Cody Hudson.
Above: Artwork by Aron Gent, as photographed during the opening reception at devening projects + editions, on February 3, 2013.
Above: Aron Gent at his own gallery, Document, photographed on February 1, 2013.
"Shit is Real"
February 3 – March 9, 2013
devening projects + editions
3039 W. Carroll,
Chicago, IL 60612
Artwork by Aron Gent, Carrie Gundersdorf, Cody Hudson, Sofia Leiby, Josh Reames and Cody Tumblin
http://deveningprojects.com/
Judith Geichman @ Carrie Secrist
Above: Gallery patrons view Judith Geichman's installation during the opening reception.
Above: Chicago writer and artist Erik Wenzel, bon vivant in the shadow of existential doubt, at Judith Geichman's opening reception on February 9, 2013.
Judith Geichman
"New Paintings and Works on Paper"
February 9 – March 30, 2013
Carrie Secrist Gallery
835 W. Washington Blvd.
Chicago, IL 60607
http://www.secristgallery.com/
Color Bind @ MCA
Above: Rudolf Stingel's oil painting "Untitled (after Sam)," 2006.
Above: Joel Shapiro, Untitled, 1971, foreground; Glenn Lingon "White #11," 1994, and Imi Knoebel, "Untitled (Black Painting)," 1990, background.
"Color Bind: The MCA Collection in Black and White,"
Organized by MCA Curator Naomi Beckwith
November 10, 2012 – April 28, 2013
The Museum of Contemporary Art of Chicago
220 E. Chicago Avenue (MVDR Drive)
Chicago, IL 60611
http://www.mcachicago.org/
Mary Patten @ threewalls
Above: Mary Patten's "Schizo-Culture" performance live, February 9, 2013
Above: Dr. Darrell Moore as Michel Foucault in "Schizo-Culture" at threewalls.
Mary Patten: "PANEL"
January 11 – February 23, 2013
threewalls
119 N. Peoria #2c
Chicago, IL 60607
http://www.three-walls.org/
Sarah Hicks @ Thomas Robertello
Above: Ceramic artist Sarah Hicks greeting a guest at her opening reception on Friday, February 22, 2013.
Sarah Hicks
"Pop Garden!"
February 22 – April 6, 2013
Thomas Robertello Gallery
27 N. Morgan St.
Chicago, IL 60607
http://www.thomasrobertello.com/
Goshka Macuga @ MCA Chicago
Above: Goshka Macuga's "The Nature of the Beast" booked for a meeting, social dimension evident, on February 12, 2013.
Above: "Of what is, that it is; of what is not, that it is not," (panel 1).
"Goshka Macuga: Exhibit, A"
December 15, 2012 – April 7, 2013
Museum of Contemporary Art Chicago
220 E. Chicago Ave.
Chicago, IL 60611
http://www.mcachicago.org/
Luc Dratwa @ Kasia Kay
Above: Exterior window, looking in gallery from sidewalk, at night.
Luc Dratwa
"NY Tales"
February 22 – March 30
Kasia Kay Projects
215 N. Aberdeen St.
Chicago, IL 60607
http://www.kasiakaygallery.com/
Tom Costa and Christina McClelland @ Roxaboxen / ACRE Projects
Above: Christina McClelland, foreground, and Tom Costa, background.
Above: Christina McClelland at the opening reception on February, 10, 2013.
Tom Costa & Christina McClelland
"After the After Party"
February 10, 2013
Roxaboxen Exhibitions in partnership with ACRE Projects
2130 W. 21st St.
Chicago, IL
http://christinamcclelland.com/
Gabriel Vormstein @ moniquemeloche
Gabriel Vormstein
"Tempus fungit – amor mannet"
February 1 – March 30, 2013
moniquemeloche gallery
2154 W Division St.
Chicago, IL 60622
http://moniquemeloche.com/
Johanna Billing @ Kavi Gupta
Johanna Billing
"I'm gonna live anyhow until I die"
February 9 – March 30, 2013
Kavi Gupta Gallery
835 W. Washington Blvd.
Chicago IL 60607
http://www.kavigupta.com/
Robert Burnier @ Andrew Rafacz
Above: Robert Burnier at his opening reception on February 9, 2013.
Robert Burnier
"The Horseless Carriage"
February 9 – March 30, 2013
Andrew Rafacz Gallery
835 W. Washington Blvd.
Chicago IL 60607
http://www.andrewrafacz.com/
Matt Nichols & Kristina Paabus @ ACRE Projects
Matt Nichols & Kristina Paabus
"The Jerks"
February 10 – 25, 2013
ACRE Projects
1913 W. 17th St.
Chicago, IL 60608
http://www.acreresidency.org/
Xavier Cha @ Aspect Ratio
Xavier Cha
"Hourglass"
February 9 – March 8, 2013
Aspect Ratio
119 N. Peoria St., Unit 3D
Chicago IL 60607
http://www.aspectratioprojects.com/
---
Paul Germanos: Born November 30, 1967, Cook County, Illinois. Immigrant grandparents, NYC. High school cross country numerals and track letter. Certified by the State of Illinois as a peace officer. Licensed by the City of Chicago as a taxi driver. Attended the School of the Art Institute 1987-1989. Studied the history of political philosophy with the students of Leo Strauss from 2000-2005. Phi Theta Kappa and Phi Kappa Phi. Motorcyclist.
Public Collectors is a self-proclaimed paper blog, as well as a website and Tumblr feed, that seeks to archive and make freely available material that may have no other venue: lists, conversations, collages, notes, fliers, temporary tattoos, classified ads, etc. "Public Collectors" is library, museum, zine, reference center, and studio simultaneously (and probably – necessarily – it is more then that as well).
I may have been largely attracted by the gold sparkly cover when I picked up a copy of "Public Collectors" at Zine Fest a few weeks ago. The glittery paper is wonderfully complemented by the diagram of a fragmented and grimacing human face – shown both frontally and in profile, and topped by the caption "FEELING AND EMOTION IN EVERYDAY LIFE" (the image is scanned from "Psychology: The Fundamentals of Human Adjustment," published 1946).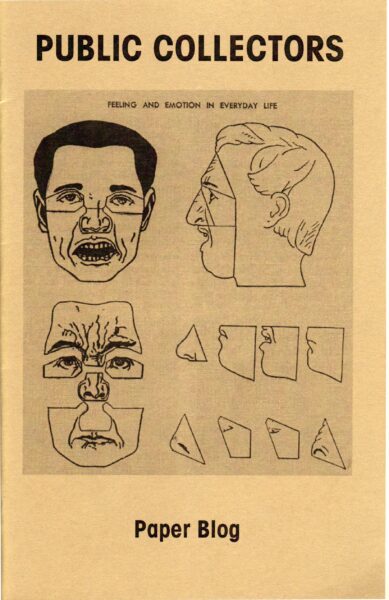 A disparate and well curated collection of images and ephemera, it includes such gems as a handmade flier for a lost hat, and a photo of a sign featuring an image of the drag queen Divine.
The project is run by Marc Fischer of Temporary Services. The material included is gleaned from Fischer's own collections, but also is donated for public accessibility. The website version of "Public Collectors" is an amazing reference for – well, probably things that you didn't know you had to be referred to yet but maybe, somehow, you always wanted to be. It has links to a woman's blog on which she has posted PDFs of all her notes from college, a link to a fantastic video of Danzig discussing his book collection, a link to photos someone posted somewhere on the internet of the inside of their mother's house (she's a hoarder). There is a list of links to web documented collections, including cigarette lighters, "do not  disturb" signs, hip hop party fliers, the sound of cats purring (a personal favorite of mine), pictures of celebrities playing tennis, and creatively designed periodic tables. The world is a wonderful place.
I don't know what Fischer's curatorial restraints are – perhaps it's purely intuitive – but the general trend is towards subcultural ephemera, such as the poster for an Alice Cooper tribute band or the page from "New Dominant," a British publication of dominatrix classifieds.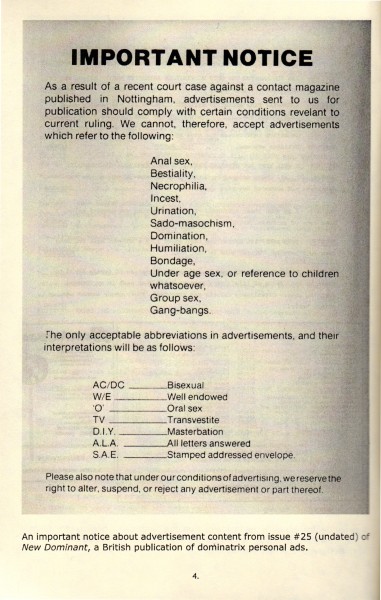 What strikes me most about "Public Collectors" is the nurturing formation of alternative collections – collections based on, formed and informed by a unique and maybe not coherently logical set of interests or constraints. I don't know if I entirely agree with Fischer's assertion in his curatorial statement that the material in "Public Collectors" is passed over by libraries and museums. I myself work in a library where one of my responsibilities is to file additions to our collection of ephemera related to the history of printing. This includes finely printed broadsides and prospectuses, but also just a lot of what would generally be classified as junk mail. Additionally, several collections from CPLs Harold Washington Library are referenced; the cover of the collection of non-musical recordings in included in the issue I own.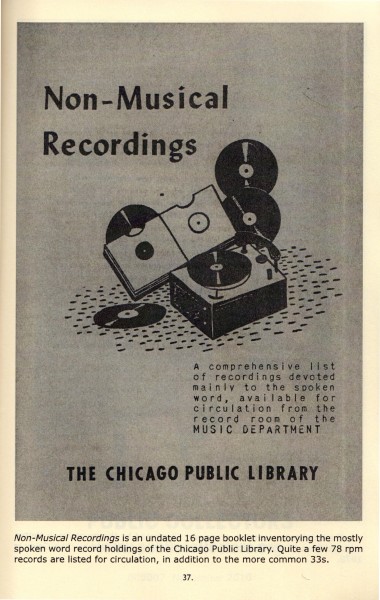 Also, an interview with the former curator of Harold Washington's picture collection is included on the website in a download-able PDF booklet.
I think more to the point is the culling of these materials from their disparate locales into new aggregate collections. It is this method of collecting – both a relic of the victorian era and/or a focused re-interpretation of the image overload received daily from the internet and digital media – that is not fostered by many institutions. It is D.I.Y. collecting at it's finest and most articulate. In scanning these images and re-blogging them, I guess I am adding "Public Collectors" to my own collection, and to the collection that is Bad at Sports.
Bailey Romaine is a printmaker and bibliophile (and maybe a collector of sorts) currently living in Chicago.