La Ribot – a performer, choreographer and visual artist – developed her first choreographic works in Madrid in the 80s, later becoming known for her solo work.  By the late 90s, she had become a figurehead in the Live Art scene in London, where she was based between 1997-2004.  In the mid 90s, she produced "Distinguished Pieces" – short solos presented in a series that were put on sale and purchased by art collectors.  In 2003, she presented a meta-performance of these 34 solos produced until then under the title "Panoramix," at the Tate Modern in London, at the Museo Reina Sofia in Madrid, and at the Centre Pompidou in Paris, among others.  More recently, she has produced work with her company including "40 espontaneos" (2004) a piece for 40 extras, "Laughing Hole" (2006) a 6-hour performance for three performers and one musician, "Gustavia" (2008) a duet created and performed with Mathilde Monnier, as well as "llamame mariachi" (2009).  Her work has appeared in various theatres and numerous museums, passing from Théâtre de la Ville and Festival d'Automne in Paris, from Queen Elizabeth Hall in London and from Festival Montpellier Danse to Art Unlimited / Art Basel in Switzerland, Museo Serralves in Porto, S.M.A.K. in Gent, Nam Jun Paik Art Centre in Seoul, Aichi Triennale in Japan, Galeria Soledad Lorenzo in Madrid, and the Haus der Kunst in Munich, among many others. In 2004, she relocated to Switzerland where she taught at the Haute Ecole d'Art et de Design in Geneva. In collaboration with her colleagues she founded a new Department for the live arts – Art/Action – and taught there until 2008.
La Ribot recently came to Chicago to present the US premiere of "Laughing Hole" and the video "mariachi 17″Â as part of the IN>TIME 13 Festival . Â Appearing for six hours at the Chicago Cultural Center, "Laughing Hole" traveled to Los Angeles where it appeared at LACMA in early March. Â Prior to the "Laughing Hole" performance, La Ribot sat down with local artists Hannah Verrill and Jane Jerardi to talk about her work. Â The video interview captures excerpts of her conversation with Hannah, with Jane behind the camera.
Hannah Verrill is a performance maker currently working towards her MFA from the School of The Art Institute of Chicago. She was grateful for this opportunity to sit and speak with La Ribot.
A graphic, editorial overview of art, artists, and visual art events, found in and around Chicago over the course of the preceding month. All artwork copyright original artists; all photography copyright Paul Germanos.
Mothergirl @ Happy Collaborationists / ACRE Residency
Above: Mothergirl, a performance art duo featuring Sophia Hamilton, foreground, and Katy Albert, background, working within wooden boxes.
Above: The Happy Collaborationists, Meredith Weber, left, and Anna Trier, right, hosting Mothergirl's "Two Women Do Three Things," on February 9, 2013.
Mothergirl
"Two Women Do Three Things"
February 9, 2013
Happy Collaborationists, in partnership with ACRE Residency
1254 N. Noble
Chicago, IL 60642
http://happycollaborationists.com/
Martin Creed @ MCA Chicago
Above: A 10 second exposure, hand-held, indicating the kinetic potential of Martin Creed's popular piece "MOTHERS."
Above: Visible in the museum lobby, background, are the geometric architectural paintings Work No. 798 (2007) and Work No. 1349 (2012).
Martin Creed
Work No. 1092, Work No. 1357 (MOTHERS)
Museum of Contemporary Art
MVDR Plaza – till May
220 E. Chicago Ave.
Chicago, IL 60611
http://www.mcachicago.org/
Chris Smith @ The Franklin
Above: Chris Smith's "Visitation Rites" art burn in progress on Februrary 9, 2013.
Above: Chelsea Culp and Ben Foch view Chris Smith's "The Visitor's Hours" within The Franklin, opening night.
Above: A gallery patron embraced by a neighborhood resident during the opening reception.
Christopher Smith
"The Visitor's Hours" and "Visitation Rites"
February 9 – 24, 2013
The Franklin
3522 W. Franklin Blvd
Chicago, IL
http://thefranklinoutdoor.tumblr.com/
Drawer's Drawing @ PEREGRINEPROGRAM
Above: Leslie Baum's "In the Forest," 2012, full work and detail.
"Drawer's Drawing"
February 3 – March 3, 2013
Julius Caesar and Peregrine Program
3311 W. Carroll Ave.
Chicago, IL 60624
Curated by Carrie Gundersdorf and Eric Lebofsky
Artwork by Leslie Baum, Avantika Bawa, Elijah Burgher, Lilli Carré, Chris Edwards, Anthony Elms, Richard Rezac, and Paul Schuette
http://lesliebaum.net/
Peculiar Poetics @ Design Cloud
Above: Kayl Parker's 60″ x 75″ photographic print on vinyl
Above: "Peculiar Poetics" curator Alysia Alex, opening night.
Kayl Parker
"Peculiar Poetics"
February 1 – 23, 2013
Design Cloud
118 N. Peoria, Suite 2N
Chicago, IL 60607
Curated by Alysia Alex
Artwork by Kayl Parker, Brea Souders, Stephanie Gonot, Bridget Collins, Mate Moro, Aron Filkey, Marthe Elise Stramrud, Sasha Kurmaz, and Sol Hashemi
http://kaylparker.com/
Plant Life @ Western Exhibitions
Above: Front to back, artwork by Heidi Norton, Scott Wolniak, and Tyson Reeder.
Above: "Plant Life" curator Geoffrey Todd Smith, opening night.
"Plant Life"
February 1 – March 9, 2013
Western Exhibitions
845 W. Washington Blvd.
Chicago, IL 60607
Curated by Geoffrey Todd Smith
Artwork by Chinatsu Ikeda, Eric Wert, Heidi Norton, Jonathan Gardener, Mindy Rose Schwartz, Scott Wolniak, and Tyson Reeder
http://www.westernexhibitions.com/
Shit is Real @ devening projects + editions
Above: "You Can't Win Them All" by Cody Hudson.
Above: Artwork by Aron Gent, as photographed during the opening reception at devening projects + editions, on February 3, 2013.
Above: Aron Gent at his own gallery, Document, photographed on February 1, 2013.
"Shit is Real"
February 3 – March 9, 2013
devening projects + editions
3039 W. Carroll,
Chicago, IL 60612
Artwork by Aron Gent, Carrie Gundersdorf, Cody Hudson, Sofia Leiby, Josh Reames and Cody Tumblin
http://deveningprojects.com/
Judith Geichman @ Carrie Secrist
Above: Gallery patrons view Judith Geichman's installation during the opening reception.
Above: Chicago writer and artist Erik Wenzel, bon vivant in the shadow of existential doubt, at Judith Geichman's opening reception on February 9, 2013.
Judith Geichman
"New Paintings and Works on Paper"
February 9 – March 30, 2013
Carrie Secrist Gallery
835 W. Washington Blvd.
Chicago, IL 60607
http://www.secristgallery.com/
Color Bind @ MCA
Above: Rudolf Stingel's oil painting "Untitled (after Sam)," 2006.
Above: Joel Shapiro, Untitled, 1971, foreground; Glenn Lingon "White #11," 1994, and Imi Knoebel, "Untitled (Black Painting)," 1990, background.
"Color Bind: The MCA Collection in Black and White,"
Organized by MCA Curator Naomi Beckwith
November 10, 2012 – April 28, 2013
The Museum of Contemporary Art of Chicago
220 E. Chicago Avenue (MVDR Drive)
Chicago, IL 60611
http://www.mcachicago.org/
Mary Patten @ threewalls
Above: Mary Patten's "Schizo-Culture" performance live, February 9, 2013
Above: Dr. Darrell Moore as Michel Foucault in "Schizo-Culture" at threewalls.
Mary Patten: "PANEL"
January 11 – February 23, 2013
threewalls
119 N. Peoria #2c
Chicago, IL 60607
http://www.three-walls.org/
Sarah Hicks @ Thomas Robertello
Above: Ceramic artist Sarah Hicks greeting a guest at her opening reception on Friday, February 22, 2013.
Sarah Hicks
"Pop Garden!"
February 22 – April 6, 2013
Thomas Robertello Gallery
27 N. Morgan St.
Chicago, IL 60607
http://www.thomasrobertello.com/
Goshka Macuga @ MCA Chicago
Above: Goshka Macuga's "The Nature of the Beast" booked for a meeting, social dimension evident, on February 12, 2013.
Above: "Of what is, that it is; of what is not, that it is not," (panel 1).
"Goshka Macuga: Exhibit, A"
December 15, 2012 – April 7, 2013
Museum of Contemporary Art Chicago
220 E. Chicago Ave.
Chicago, IL 60611
http://www.mcachicago.org/
Luc Dratwa @ Kasia Kay
Above: Exterior window, looking in gallery from sidewalk, at night.
Luc Dratwa
"NY Tales"
February 22 – March 30
Kasia Kay Projects
215 N. Aberdeen St.
Chicago, IL 60607
http://www.kasiakaygallery.com/
Tom Costa and Christina McClelland @ Roxaboxen / ACRE Projects
Above: Christina McClelland, foreground, and Tom Costa, background.
Above: Christina McClelland at the opening reception on February, 10, 2013.
Tom Costa & Christina McClelland
"After the After Party"
February 10, 2013
Roxaboxen Exhibitions in partnership with ACRE Projects
2130 W. 21st St.
Chicago, IL
http://christinamcclelland.com/
Gabriel Vormstein @ moniquemeloche
Gabriel Vormstein
"Tempus fungit – amor mannet"
February 1 – March 30, 2013
moniquemeloche gallery
2154 W Division St.
Chicago, IL 60622
http://moniquemeloche.com/
Johanna Billing @ Kavi Gupta
Johanna Billing
"I'm gonna live anyhow until I die"
February 9 – March 30, 2013
Kavi Gupta Gallery
835 W. Washington Blvd.
Chicago IL 60607
http://www.kavigupta.com/
Robert Burnier @ Andrew Rafacz
Above: Robert Burnier at his opening reception on February 9, 2013.
Robert Burnier
"The Horseless Carriage"
February 9 – March 30, 2013
Andrew Rafacz Gallery
835 W. Washington Blvd.
Chicago IL 60607
http://www.andrewrafacz.com/
Matt Nichols & Kristina Paabus @ ACRE Projects
Matt Nichols & Kristina Paabus
"The Jerks"
February 10 – 25, 2013
ACRE Projects
1913 W. 17th St.
Chicago, IL 60608
http://www.acreresidency.org/
Xavier Cha @ Aspect Ratio
Xavier Cha
"Hourglass"
February 9 – March 8, 2013
Aspect Ratio
119 N. Peoria St., Unit 3D
Chicago IL 60607
http://www.aspectratioprojects.com/
---
Paul Germanos: Born November 30, 1967, Cook County, Illinois. Immigrant grandparents, NYC. High school cross country numerals and track letter. Certified by the State of Illinois as a peace officer. Licensed by the City of Chicago as a taxi driver. Attended the School of the Art Institute 1987-1989. Studied the history of political philosophy with the students of Leo Strauss from 2000-2005. Phi Theta Kappa and Phi Kappa Phi. Motorcyclist.
Public Collectors is a self-proclaimed paper blog, as well as a website and Tumblr feed, that seeks to archive and make freely available material that may have no other venue: lists, conversations, collages, notes, fliers, temporary tattoos, classified ads, etc. "Public Collectors" is library, museum, zine, reference center, and studio simultaneously (and probably – necessarily – it is more then that as well).
I may have been largely attracted by the gold sparkly cover when I picked up a copy of "Public Collectors" at Zine Fest a few weeks ago. The glittery paper is wonderfully complemented by the diagram of a fragmented and grimacing human face – shown both frontally and in profile, and topped by the caption "FEELING AND EMOTION IN EVERYDAY LIFE" (the image is scanned from "Psychology: The Fundamentals of Human Adjustment," published 1946).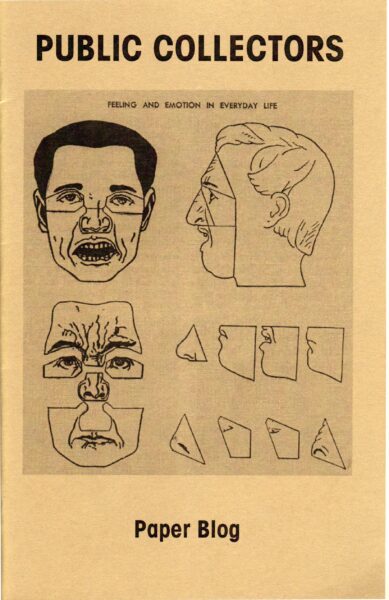 A disparate and well curated collection of images and ephemera, it includes such gems as a handmade flier for a lost hat, and a photo of a sign featuring an image of the drag queen Divine.
The project is run by Marc Fischer of Temporary Services. The material included is gleaned from Fischer's own collections, but also is donated for public accessibility. The website version of "Public Collectors" is an amazing reference for – well, probably things that you didn't know you had to be referred to yet but maybe, somehow, you always wanted to be. It has links to a woman's blog on which she has posted PDFs of all her notes from college, a link to a fantastic video of Danzig discussing his book collection, a link to photos someone posted somewhere on the internet of the inside of their mother's house (she's a hoarder). There is a list of links to web documented collections, including cigarette lighters, "do not  disturb" signs, hip hop party fliers, the sound of cats purring (a personal favorite of mine), pictures of celebrities playing tennis, and creatively designed periodic tables. The world is a wonderful place.
I don't know what Fischer's curatorial restraints are – perhaps it's purely intuitive – but the general trend is towards subcultural ephemera, such as the poster for an Alice Cooper tribute band or the page from "New Dominant," a British publication of dominatrix classifieds.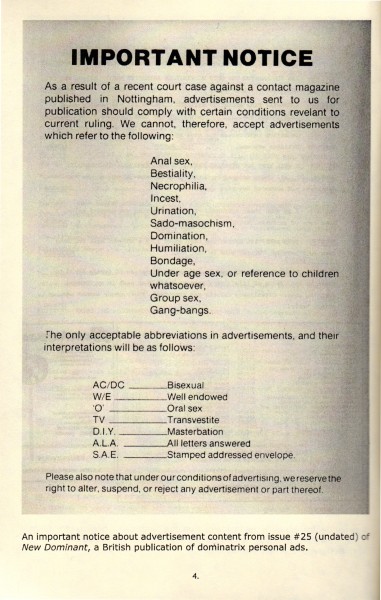 What strikes me most about "Public Collectors" is the nurturing formation of alternative collections – collections based on, formed and informed by a unique and maybe not coherently logical set of interests or constraints. I don't know if I entirely agree with Fischer's assertion in his curatorial statement that the material in "Public Collectors" is passed over by libraries and museums. I myself work in a library where one of my responsibilities is to file additions to our collection of ephemera related to the history of printing. This includes finely printed broadsides and prospectuses, but also just a lot of what would generally be classified as junk mail. Additionally, several collections from CPLs Harold Washington Library are referenced; the cover of the collection of non-musical recordings in included in the issue I own.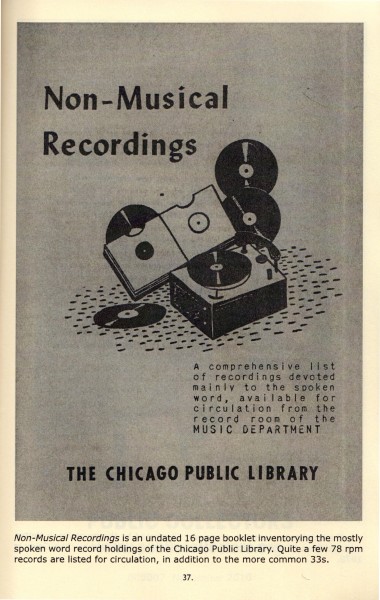 Also, an interview with the former curator of Harold Washington's picture collection is included on the website in a download-able PDF booklet.
I think more to the point is the culling of these materials from their disparate locales into new aggregate collections. It is this method of collecting – both a relic of the victorian era and/or a focused re-interpretation of the image overload received daily from the internet and digital media – that is not fostered by many institutions. It is D.I.Y. collecting at it's finest and most articulate. In scanning these images and re-blogging them, I guess I am adding "Public Collectors" to my own collection, and to the collection that is Bad at Sports.
Bailey Romaine is a printmaker and bibliophile (and maybe a collector of sorts) currently living in Chicago.

Guest Post by Eric Asboe
In a time of increasingly conceptually-based, historically-located, over-explained art practices, it can be refreshing to enter galleries devoid of writing, white but for the objects on the walls and spilling across the floors. In contrast to the recent sprawling Cindy Sherman retrospective and the forthcoming Art(ists) on the Verge exhibition that explores interactive or participatory networked based practices, Painter Painter at The Walker Art Center and R.U.R. at The Soap Factory appear to be spare, quiet returns to formalism.
Sarah Crowner's eye-grabbing Ciseaux Rideaux and Judith Hoffman's immense Rebuilt and Torn Down (The Soap Factory) draw visitors into the galleries. Works deeper in the exhibitions begin displaying the time and effort of their creation. Colin Lyons's The Conservator displays hundreds of corroded copper and zinc plates, while suspending others in the act of powering the large chemical battery. The paint of Alex Olson's Proposal 9 and Proposal 10 is marked by her visceral brushstrokes and knife pulls. Nadine Anderson's video work presents a less physical, but clearly felt digital manipulation. The multiplied, blended, superimposed video elements draw the viewer into the process of their creation.
These glimpses into the processes of the artists point to the larger concerns of both exhibitions generally. As static and formal as the works appear to be, the exhibitions are truly invitations to move beyond the walls of the gallery, to delve into the process of art making, to begin exploring the artists' bodies of work and their relations to contemporary art practices.
Eric Crosby and Bartholomew Ryan, the Painter Painter co-curators, write in their "Notes for an Exhibition" that through extensive research, studio visits, and conversations they have come to understand painting today "as a means, not an end," that for the artists presented in the exhibition, "painting is a generative process" Â Similarly, Ben Haywood, the R.U.R. curator and Executive Director of The Soap Factory, states that the site-specific works of R.U.R., all explore the role of "direct work in the creation of the art object."
How that "process," "work," extended conversations, and deeper understandings manifest themselves in the art objects is not immediately apparent in the exhibitions. Fergus Feehily's three paintings speak directly to one another, but they do not necessarily demonstrate the "personal formal play that the artist has called on his materials to negotiate," that Ryan writes of witnessing in Feehily's studio. Similarly, Kimberly Ellen Green's untitled ceramic works fill The Soap Factory with their interlocking, architectural curves, but their connections to what Haywood sees as the "reproducible industrial atom" are abstracted.
In addition to the statements prepared by the curators, The Walker is presenting talks and interviews with artists from Painter Painter as well as releasing blog posts and video interviews from all fifteen artists throughout the duration of the exhibition. The Soap Factory's supplementary materials include artist talks and audio and video interviews with Haywood and artists. These types of additional views of the artists and artwork of the exhibitions are certainly not new, but, as curators point away from the gallery, away from the observable work of the artists, for deeper and maybe truer understanding of those artists' work, the curators play just as large a role in creating the materiality of the exhibition as the artists.
Both Painter Painter and R.U.R. demonstrate the wonderful complexity and formal delight of contemporary artistic practices, and, similarly, the supplementary material provides deep insight into the practices and processes of the artists. The balance between the exhibitions and supplements, however, demonstrates the difficulty inherent in multiply-sited, art-object-as-documentation exhibitions. Olson writes in an interview with Crosby, that painting's "greatest asset is that is has no function other than as an art object. It isn't fooling anyone: it's extremely clear about what it consists of and what it's offering." With that simplicity and surface in mind, how, then, can we navigate the slippery slope between the very present "art objects" of both Painter Painter and R.U.R. and the processes that they purport to exemplify? How do we balance our engagement with the work of the artists and the work of the curators?
Painter Painter is on view at The Walker Art Center until October 27. R.U.R. is on view at The Soap Factory until April 21.
Eric Asboe is an artist, writer, and cultural worker. As Art Director of Public Space One gallery and performance space in Iowa City, Iowa, Asboe helped shape its nationally-engaged exhibitions and programming, including the microgranting meal SOUP and the award-winning Free @rt School. Asboe's creative works prioritize process over product and explore the boundary between practice as improvement and practice as way of life. Forthcoming projects include ubuwebtopten.com. He currently lives and works in Minneapolis.
Guest Post by Jamilee Polson Lacy
Kansas City, in my opinion, is a sentimental place. I often hear KC natives recount the expansive history of Northeast KC, an historic 19th century neighborhood which is now a little rough around the edges but still incredibly interesting and diverse, recall the Jazz bars East of Troost, or speculate about what really happened in the days when the "Prendergast Machine" controlled the West Bottoms. One of my favorite times to eavesdrop is when I hear longtime residents waxing nostalgic for streetcar rides to Swope Park in the 1950s. Every time I am lucky enough to hear such things, I imagine myself inhabiting the setting and time of these other folks' memories.
Similarly, the arts scene in KC has seen lately a confluence of presentations demonstrating artists' longing for many pasts, presents and futures. I think they are trying to connect with their former, current and hopefully-to-be selves. In some cases, these artists show that they merely wish to spend a little time somewhere else, to escape, to vacation even. In others cases, though, artists seem want to be in two places at once, or to teleport themselves across space and time in order to gather images and artifacts to pile up for exhibitions. And in other, other cases, artists (and I too!) hope and pray versions of themselves, doubles, doppelgangers are out there doing good work on their behalf.
These artists' notions about such things are really quite silly. Well, until they aren't.
They are especially not silly when considered alongside KC-based fiction writer Annie Fischer's 2012 essay, "Wish You Were Here," which somehow, amazingly, sums up all of these wild ideas. So, for this month's post on artiness in KC, I give you an illustrated version of "Wish You Were Here":
Please Note: The italicized notes following the images are mine, not Annie Fischer's.
"Wish You Were Here"
By Annie Fischer
1.
In Anne and Dirk's kitchen, where I've embraced the best and worst kinds of self- indulgence for ten years, the topic of conversation is déjà vu. I can't remember why.
Dirk is troubled that there is no definitive rational explanation for it, this false sense of familiarity.
I am troubled that brains can play tricks.
Anne is troubled that it did not occur to her to be troubled by our troubles, and asks for not the last time, "What is wrong with you both?"
I've been reading lately about Capgras syndrome, a disorder in which one holds the delusion that an intimate has been replaced by an identical-looking imposter. Two French psychiatrists, Joseph Capgras and Jean Reboul-Lachaux, first described the syndrome in 1923, in the case of a female patient complaining that "doubles" had replaced her husband, children and neighbors. Doubles also figure in Freud's 1919 essay on DAS UNHEIMLICHE, "the uncanny," a concept he describes as "that class of the terrifying" that is both familiar and foreign at once. Heidegger tackled DAS UNHEIMLICHE, too, and its associated anxiety. Heidegger called it UNHEIMLICHKEIT: "not-being-at-home."
"We're homesick," I suggest. "Our doubles are homesick, too."
Anne shakes her head. She says, "My double is having an excellent time."
Portraitist Jaimie Warren and her costumed coterie travel across art history and pop culture. Warren, though a KC resident and staple of the local arts community, opened a solo show at The Hole NYC last month. See more of Jaimie Warren at http://www.dontyoufeelbetter.com.
2.
In my apartment, at my desk: I re-read the latest batch of texts and emails, a week's worth or so.
When I reply, I tell him I wish he wouldn't dash off these cryptic messages and then disappear again. It's maddening, this new habit. It seems careless, and done in secret, and not meant for or mindful of me. "I want to believe there's something uncompromised in it," I tell him, "something familiar." What I mean is, who is this imposter?
Sometimes he would forget his watch on my dresser in the mornings, and in the afternoons I would fasten it to my wrist for an hour or so. I liked to hear it tick.
He says: "Nothing worked."
He says: "We worked."
He says: "I care more than you can imagine."
Cryptic.
In THE STRANGER, Meursault – imprisoned – kills time taking mental inventories of his old apartment. He recalls the color and texture of the furniture, the objects atop the furniture, the details of the objects: every crack, every chipped edge. "Once I learned how to remember things," he tells the reader, "I wasn't bored at all."
There's lots of room for romance in existentialism – I actually said that once.
"The more I thought about it," Meursault continues, "the more I dug out of my memory things I had overlooked or forgotten. I realized then that a man who had lived only one day could easily live for a hundred years in prison. He would have enough memories to keep him from being bored. In a way, it was an advantage."
In a way. On the one hand.
What my mother likes to say, during the most serious conversations: "On the other hand, she wore a glove."
At 8:15 a.m. Wednesday, I throw out his toothbrush. Its absence is what I see in the medicine cabinet now. I sleep on his side of the bed; some ghost sleeps on mine.
I tell him all of this, of course.
I, too, want an audience for my inventory.
Poor Meursault. It is terrible – it is so disadvantageous – to be kept from being bored.
If Only A Fool, curated by Chris Daharsh for City Ice Arts, inventories this group of artists' attempts to re-iterate, re-use and re-present themselves and their surroundings. See more at www.chrisdaharsh.com.
3.
"SO NICE," visitors say of Kansas City's residents. "People here are SO NICE."
"Wonderful," a local murmurs in reply. "Are people not nice where you come from?"
"No, no – it isn't that," visitors say. "We knew everyone would be nice, we've always heard that about this place, everyone's always heard that about this place. We're just surprised by HOW nice."
The local suggests that perhaps the dissonance occurs not because the visitors have encountered an unexpected depth and/or breadth of friendliness, but because they have confirmed through lived experience what cognitively they had already accepted, consciously or not, as true.
The visitors frown. "Hmm," they say. "Maybe. Probably not." "No, probably not," the local says. The visitors, once more: "It's just: SO NICE."
They haven't had occasion to visit my pharmacy, I think. At my pharmacy, grim-faced girls in uncomfortable-looking lab coats approach the counter and stare or sigh until a customer intuits it is his or her turn to speak.
These girls, with their heavy reluctance – I want to ask them, "Can I help you?"
People in KC are so nice that they let Xijing Men travel across the world to make up fake countries and olympics so that they can reinvent themselves. People in KC are so nice that they let Xijing Men draw crazy stories of doppelgängers all over the wall. People in KC are so nice that they will lay on the concrete floor to please Xijing Men. See more of The Xijing Men; Tsuyoshi Ozawa, Chen Shaoxiong, and Gimhongsok exhibition at http://www.kcai.edu/artspace.
4.
I am spending five days at the beach. Exactly five months ago I spent six days on another beach, some 1,800 miles west of this one. Any distinction I might make from memory between the physical landscapes – clarity of water, intensity of sun – I would have to invent. Beach is beach to me.
On the first beach, in May, I would lie on a damp lounge chair for an hour or so after sunrise each morning and listen to the waves hurl themselves against the shore with such desperation and regularity that I felt I could not breathe. When the rhythm became too oppressive, I would go upstairs. One morning I took two showers in five hours just to try the shampoos.
Here, on the second beach, the waves ahead remind me of the experience and the feeling I had on the first beach five months ago. I compare this memory with the one that comes next – the new memory of remembering the first beach, the memory created here on the second beach – and I recognize in the second memory an absence of the anxiety in the first.
From what I gather, the shore on this beach simply suffers less reckless waves than the first beach.
This explains the difference.
In a way.
At the grocery store down the street, I spin a circular rack of postcards. I'm looking for something specific, something with porpoises and a setting sun.
I find one of a pair of gulls studying the horizon. It reads, "Wish you were here."
I consider sending it to him. I consider sending it to the girls at the pharmacy. I consider sending it to Annie Fischer, in Kansas City, Mo., so something is waiting when she returns.
As I walk out empty-handed – because I do not wish to be familiar with this particular moment in this particular place; I do not wish to be reminded – a new comparison of memories reveals that the absence of anxiety has been replaced by the presence of anxiety.
As the exhibition's title suggests, Centuries of Self: New Works by Seth Johnson (organized by Greenlease Gallery Director Anne Austin Pearce) researches, culls from, believes in the possibilities of a self's multiples realities.
5.
I fly home, I unpack. Days pass, then weeks. I visit kitchens, and allow visitors in mine.
No matter: The gulls remain faithful.
It helps to think my double feels homesick tonight.
—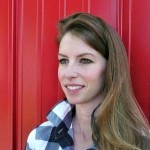 Jamilee Polson Lacy is an artist, curator and writer living and working in Chicago. Lacy founded and currently directs the Twelve Galleries Project, a transitory, collaborative exhibition experiment. Her independent curatorial projects focus on the visions, colors, histories and ideas shared between authors, architects and artists, while her artwork and writing searches for what is lost and gained between text, image and object. She has engaged in solo and collaborative projects with numerous creatives and institutions, including A+D Gallery at Columbia College Chicago, The Black Visual Archive, Chicago Artists' Coalition & Hatch Projects, the School of the Art Institute of Chicago, Hyde Park Art Center, the Museum of Contemporary Art Chicago and Quite Strong, among others. Publications include Color: Fully Engaged in addition to multiple exhibition essays and interviews. Lacy holds two undergraduate degrees in studio arts and art history and a Masters of Comparative Literature and Arts from Northwestern University. She is the 2012-2013 Curator-In-Residence for Kansas City's Charlotte Street Foundation, where she is organizing three exhibitions and publications for Charlotte Street's la Esquina gallery.