Guest post by Hannah Verrill
Michal Samama is a performance artist and choreographer from Israel.  She recently came to Chicago by way of New York to begin her MFA in studio art at The School of The Art Institute of Chicago. She is now focusing on the research and creation of movement based solo performances and multidisciplinary collaborations. A couple of weeks ago I spent time in the studio with Michal as she prepared for an upcoming performance at Northwestern University.  The following dialogue ensued:
Hannah Verrill: I'm thinking about a solo performance practice, and if it is distinct in the sense that you as the maker can never fully step outside of the work in order to witness it.  I am curious about how you come to 'know' the work that you are making as you are making it.  Do you use video as a reflective surface to see what you are making?
Michal Samama:  Now I find myself using video, but it didn't start that way.  I became so interested in the images, in creating images and then of course changing the images, transforming them into other images.  So in a way I feel that I have to see it. I guess I started to use video at some point, but before video I was using the mirror.  Over the past few years I've also started to take photos of my body and my movement in the studio.  I have tried to direct my body to a specific image but at the same time to be in the movement, or the position, or the expression while taking the photo.  Those moments that I've captured have helped me to develop the visual aspect of the performance.
So it starts from a visual image that I have, that I imagine, and then I start to explore it, to transform it, to do this whole research in the studio.  Video can tell me if the image or sometimes also the timing is right.  My question is what is that 'right'?  What is the right image?  What is the right timing?
HV: For me, time is something where video and live don't match up.  I can be watching a video of performance and something feels distinctly too long, but if I were with that body in space I could be having a completely different temporal experience of that same action occurring. 
MS:  It's interesting because when I look at the video, and again, it's a tool, it always seems for me that I don't take enough time.  That in live I push myself too fast, that it actually needs to be slower.
HV:Â  Right, and video helps you see that or know that.
MS:  Yes, even though it can be very boring to watch this stillness, but the way I sense the timing of my body through video is usually that I need to slow down and take more time.  It's something I'm trying to work on right now, but it can be very scary for me not to just move on and go to the next image.
So when it comes to performing in front of an audience there is this internal thing going on.   This other layer, the negotiation between the way I build or shape the external image with what's going on inside, and there is the encounter with the audience.
I remember the moment when I started look out.  I think there's a difference between this external artificial gaze into the audience versus really looking.  Of course it's a solo, like I am the performer and you are looking at me, but then I'm looking back at you and maybe you feel awkward or embarrassed, but maybe you are thinking about your next doctor's appointment or your surgery.
HV: Would you say that there's a kind of feedback loop in place? A set of information that you receive from your audience by way of their presence, in a specific sense, that comes to influence how you are performing?
MS:  Yes, or you could think of it as a dialogue. It's about questioning this idea of me as the performer being the authority.  Or it's also about questioning what is your (the audience's) role here.  I started to think more of this idea of performance as a collective event or social event. This is what is unique for performance.  It puts into a laboratory this idea of the social event.
I do remember one work from a few years ago when this question came up of if I wanted to take my gaze out into the audience or still be in this internal dance-y gaze, and at that point I chose not to.  I was too afraid or I didn't know what to do with it.  But now it's different, and I've started to make it more and more what I do.  I'm interested in this kind of transformation of images happening during the performance.  Part of the transformation of course is the homework that I worked on in the studio—the choreography—but of course part of it is like what you're saying, the feedback.  So in the end there are many more transformations than what I initially thought of because of the presence of the audience.
HV:  I wonder if you could talk about the process you're engaged in currently with this upcoming performance. 
MS:  In some ways this is the most difficult process to speak of because it is happening right now.  I'm working on this piece for a conference and the name of the piece is What Am I Paying You For? With the last few pieces I was more and more into this negotiation between the abstract of the body and the concrete of the body, and the idea of looking closely at body parts, zooming in on body parts.  But of course in performance you can't really do it.  I mean that's what I'm trying to do, but there is always the body as a whole.
HV: Right, and the space that the body is in.
MS:  The space, and the sound, and everything.  But the space and the sound are there in video, but in video we try to ignore it.
HV: But with video, with an actual zoom or various editing functions we can actually direct or focus attention.  I mean, with performance we can too, but it's very different. 
MS:  Yes, you can zoom in with a camera and show just this part, but how do I do it when my whole body is there, when the audience is there?  So I went into the studio taking this bag with me, with all of my materials in it. The rule that I set up for myself recently is that I don't do this theatrical thing of having a set stage, and then I perform, and then someone cleans it up.  I do it all myself as part of the performance, I guess to kind of blur this line between performance, life, when does it begin when does it end.  So I said OK, I'll just go to the space with the materials in my bag, but then I thought well this is not interesting enough. And then I decided to put the bag on my head.  I'm naked also.  So now I think that seventy percent of the performance is with the bag balanced on my head.
HV:  So you came to the studio with your bag of materials.  How is it that you decided to put the bag on your head? Is that an impulse or is that an example of an imagined image?  How did that happen?
MS: So that maybe was not an image, I mean when I did it I felt that maybe it could be an interesting image.  Putting the bag on my head immediately calls in a set of associations, connotations – I would like to play, at the same time, with the balance, the physical 'risk' or challenge but also with the associations, mine and those of the audience, sometimes they can also be risky especially when it comes to nudity… so I am on my knees, trying to balance the bag on my head, but I'm also a naked women on her knees.  You have to decide what to look at or what draws your attention. But I guess initially that gesture came from my desire to put myself in an uncomfortable or risky situation.
HV:  It's also a precarious situation because the bag could fall.  Does the bag fall?
MS:  It can, and in that sense there is a really different quality to rehearsal and performance, because things happen in performance because of the anxiety or excitement.  New things can happen.  For example I was working in an earlier piece with rocks, holding seven rocks.  During the first performance one of the rocks fell and it had never happened to me before, and it never happened after.  Just that first performance.  And yesterday my husband came to the studio to see this current piece for the first time, and I'm there standing with the bag on my head and I felt the weight of it on my neck and the tension in a way that I had never felt before in rehearsal.
HV:  Going back to the internal experience of the performer, and then there is the external image that you are creating with your body and various materials.  It occurs to me that the external image aside, you wouldn't know what's risky or vulnerable without feeling it, that it's a felt thing.  It's not exactly conceptual, but rather it seems as though it would need to feel legitimately risky for you. 
MS:  There is something very clear about the images, but then the risk is in the movement.  Otherwise it would be just like a photo.  A static image.
HV:  Does risk and vulnerability enter into the audience's experience of your work?
MS: Â We spoke about the gaze and how at a certain point in my work my gaze started to be directed out into the audience, and that is something I am working on, going more and more towards the audience and really bringing them into the situation.
But the whole idea of audience participation is such a cliché now.  It's a question of how to work with it.  With my body I try to ask: what are the possibilities of the body, what can the body be and how do we read each image that can be created with the body, or with the movement?  In working with audience, I want to give them a chance to respond in different ways, or to offer something that is a little disturbing maybe. I think no matter what you are always asking something from the audience, sometimes you are asking them to be very passive.  In my performances I think in a subtle way I try to ask them to be active.  What I don't want to do is to give instructions, this is not my way, I like that the way is more hidden.  To give more space, to create the space for negotiations.
HV:  And choice making as well, your audience can choose how and to what degree to participate.  But you're not letting them off the hook either. 
MS:  Yes.  This may be a solo, but don't be mistaken, you are here and you are apart of it.
For me, because I grew up on a kibbutz, I have these collective issues, and there is no solution for that, no answer.  It is just apart of what I am thinking through, or working through; this idea of performance as a collective experience, and creating space for individual responses. It's your choice, and it's a moment between us, and intimacy is a big word but I feel like there can be a kind of intimacy, something can happen there.
For example when I did the orange thing again at Judson Church, the first person was trying to take the orange from me, so it became this fight.  And then almost with everyone else they were imitating this.  So there's this kind of peer pressure, or how we follow what our peer just did.
HV:  It makes me think about what you were speaking to earlier, about how the presence or the feedback from the audience is a way to make the work improvisational to a degree.  It occurs to me that you cannot rehearse this aspect of the work, the interaction between you and your viewer(s).  So you are leaving space for your viewer to enter into the work, and also to determine the work, perhaps even make the work with you. 
MS:  That's the thing. I'm not so much into this idea of a closed production.  It's not just this thing where you come, and you see something, and you stay out of it.  It's more like a social experiment.  Of course I'm leading it and bringing the materials, the proposal.  I'm proposing something, and then it can change.  Parts of the work are very choreographed—there is a choreography in place—but still it is changing all the time.  There is an ongoing influence between you and I.
 
Hannah Verrill is an artist living and making work in Chicago, Illinois.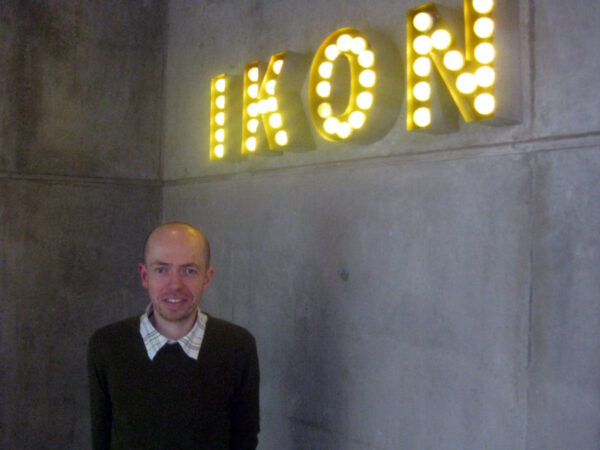 Guest Post by Mark Sheerin
Mark Sheerin is a writer and critic from Brighton, England. He is a regular contributor to Culture24, Frame & Reference and Hyperallergic.
There are at least a million differences between Chicago, USA, and Birmingham, UK, but surely the two cities have something in common. Both are working cities, marked by grit rather than glitz. And both have thriving art scenes, which are often overlooked by media outlets based elsewhere.
Nevertheless, Ikon Gallery, Birmingham, remains one of the UK's most exciting regional spaces – some feat, given its long 50-year history. Speaking with Curator Stuart Tulloch offered a chance to get some insight into what it takes to bring art to the provinces.
"If you're in London, you're still thinking about people who are in London, and in a sense the angle's still provincial," he says. "London will think about what's relevant to be shown or to be seen within London, and in some ways Birmingham removes you from that."
Ikon, as it seems, exhibits more artists from Japan, than from the UK capital. Says curator Tulloch: "Contemporary art allows you to progress ideas or to bring ideas from another place. I think that's the wonderful thing about it; it's very much a global discussion."
But not all discussions run smoothly and Tulloch is a veteran of debate and persuasion. For nine years he was at Grundy Art Gallery, in the cheap and cheerful seaside resort of Blackpool in the North West. Working in a space run by the local council he was forever negotiating with councillors with little interest in and knowledge of art.
By the time he left Grundy, "it got their respect." And the embattled curator now considers one of his best achievements: "convincing them that this artist from that part of the world, doing something which they didn't understand, was very good . . . and was good to have in Blackpool".
If anyone doubts that so many years as curator of a smalltown gallery would be anything but a labour of love, think again. "My wife and I decorated the place," Tulloch recalls, "and I'd clean the place every morning. It was small enough I could do that, but the more ambitious it became, it got harder." Despite these daily trials, he recalls it as "a great time".
But you also sense his relief to be at Ikon, "where the focus is about the art," rather than local services. "This is an amazing place, with an enviable reputation and an international reputation," he says with no hint of spin, "It can say 'This is interesting. Here's something you've never seen before. Let's bring this person from the other side of the world to share something with Birmingham'."
Working in any gallery has its challenges, meanwhile, not least challenges from a coalition government who aren't keen on the public sector. Tulloch speaks of "trying to do the same things, which people have become accustomed to, with the same quality, the same depth, the same ambition, but with less money".
One paradox about visual arts in the UK is that, against the backdrop of ruthless cuts, we have seen a healthy spate of newbuild galleries open in recent years. These pose an added challenge to an established space like Ikon. "People are, like, 'Oh yeah, Ikon is great,' but then it's passed over, because it's 'great'. How do you get that attention? How can people refocus back into it?" asks the curator.
Just as there are more and more galleries, so there are more and more artists to consider. Tulloch says, "Certain countries are opening up to contemporary art," and suggests that, globally, we do have a "shared language".
But at the same time, he is under no illusions that work produced just anywhere will travel well to Birmingham. "It's interesting when you go away to any international art event, like Venice, there's still stuff there that's relevant only to that country. You think, This is very Italian, or, It doesn't quite translate into what's going on here."
In an interesting aside the curator also points out that "Commercial galleries will show different work during Frieze Art Fair in London than they would show at [Art Basel in] Miami." For the record he suggests "very bright fluorescent pink" stuff does better in Florida.
Unsurprisingly, Tulloch is more at home in the public sector where support counts for more than sales. Previous to Grundy, he was at Hayward Gallery in London where the first show he worked on was for Belgian artist Panamarenko: "Here was a man making flying machines, with his own theory of relativity, and I thought, That's amazing. It kind of blew my mind."
There was only an outside chance this artist's creations could ever fly and this has stuck with the curator, "That really appeals to me – trying to achieve that – the hopelessness and eternal optimism that you can find in contemporary art." It reminds him, perhaps, that the odds are stacked against you, wherever you try and get a brilliant show off the ground.
Ikon's current brilliant show features Birmingham artist Hurvin Anderson and can be seen until November 10 2013.
Guest Post by  Kevin Blake
As his upcoming show at Sidecar Gallery in Hammond, Indiana approaches, Carl Baratta is poised for a timely event that will delve into the world of ghosts and mythology–subjects in which he is well versed. From his home base, Baratta builds on a legend of narrative-based painting in Chicago, and lends insight as to how that structure is the driving force of his work.
Kevin Blake: I'd like to start by asking about your upcoming exhibition "Ghosts Don't Burn."  You are showing with another artist, Zack Wirsum, and the two of you seem to have some interesting parallels in your work. Can you talk about the title of the exhibition and how it reflects the works that will be on display?
Carl Baratta: 'Ghosts Don't Burn' is curated by Lucas Bucholtz and in addition to Zach Wirsum, the artists Lauren Ball, Mindy Rose Schwartz, Nathan Carder, Mariano Chavez, Karolina Gnatowski, Michael Kaysen, and Pedro Munoz will have work on the second floor.
Originally, the show centered around Gustav Flaubert's 'The Temptation of St. Anthony' and Ivan Albright's painting of the same name and myth. Since then a lot of the themes have evolved for us and the Temptation of St. Anthony is more of a departure point for the actual show.
We chose the title for the show because it's open to interpretation. Since this show is a collaboration between Luca, Zach and myself, we all agree it makes us think of how ghosts are emotionally tied to the things that they love and how one deals with this burden. Also the title is a fact. Ghosts don't burn. Try it. It's impossible.
Both Zach and I use narrative as an organizing structure in our work and we both seem to pick haunting moments with an unsettling relationship between shifting sometimes nightmarish landscapes and figures in duress. We both draw a lot of inspiration from different mythical/ art historical sources as well. For me, this is about caring for what you love the most, which is the art making version of being haunted.
KB:Â  Do you see a direct correlation between the evolution of the show's undercurrents and the fact that you are using the narrative form as the 'organizing structure' in your work? Does that structure require flexibility and a willingness to change gears, so to speak?
CB: In this case yes! Not always though. Depending on how the myth is used it can be pretty strict in terms of what imagery/ spacial configuration goes in and what stays out. Since this particular story is about hallucinating and being tempted by everything it's much more flexible and allows for the evolution of ideas.
It's a similar flexibility Bosch was drawn to when depicting a Christian Hell or Heaven. Basically it's an arena or stage where anything can happen under a very broad header. So really obvious imagery that everyone understands symbolically is limited but stream of conscious imagery can get a free pass, but just because stream of consciousness gets to be fancy free doesn't mean it's a good idea.
Another important aspect to understand about organizing imagery through myths is deciding on which moments are being depicted. For Bosch, it's an eternal moment during somewhere in the middle of all the action narratively speaking. Everything is going on at the same time and fixed. So as a viewer you can look at everything at your leisure.
But you can pick before or after as well. A good example is Goya's 'Witches Sabbath' for depicting after. Whatever the goat headed guy just said scared the crowd but as a viewer you come in right after he spoke. What did he say that would scare everyone so much? We'll never know.
Instead of depicting during an action where you can leisurely look and see everything happening, depicting afterward, in this case, lends some drama to the moment because as a viewer you will never know what you missed. As an artist, understanding which moment is best depicted for what you want to do, gives a bunch of freedom to the most stringent of narratives.
KB: So, as an artist using myths as a departure point, when do you depart? At what point does the paint dictate the outcome? It seems to me that your paintings are as much in dialogue with the painting language as they are with the language of mythology. Your work, at times, reminds me of David Hockney's landscapes of the early 90's in your mark-making strategies and it seems that you allow yourself enough intuitive moments to keep the paintings fresh and unaffected by a rigid narrative structure.
CB: Sometimes IÂ will set up vignettes and each area has literally big spaces between events that I leave open so it stays responsive when I get into color. Other times I'll take several images of paintings and want different aspects of each and in order to do so I have to have intermediary mark making that is totally different than what I'm drawing inspiration from.
I really love the colored mark making of David Hockney's landscapes in the 90's actually. To be honest, when I first saw them back then I didn't really get those crazy vibrating color paintings. Luckily I got to see a Van Gogh retrospect of his black and white landscape drawings. That was one of the missing pieces to the puzzle and helped put Hockney's color landscapes in perspective. The light and temperature of as well as Hockney's mark making was too much to see first. I guess seeing landscapes stripped down to bare bones helped me wrap my mind around the Hockney stuff.
It wasn't until I saw how Moghul painters used pattern and how Fauvist painters used color as light that I could even attempt to use it though. But for some reason those fit into place for me. I want them otherworldly but not so alien that it stops a viewer from entering them and getting lost.
KB:  A couple of your paintings seemed to me to operate at the edge of abstraction. To be clear, in some of the paintings, the landscape and the figures within it are not as concrete or traditionally composed (a painting like 'Double's Double 2' comes to mind), and it is in these moments that the narrative seems secondary to paint, and for me, that is exciting. Can you talk about how you make that assessment–what sort of limits exist for the viewer's ability to digest your work? Is abstraction/representation the difference for the viewer? Is abstraction the ghost in the room for you?
CB: I was trained initially as an abstract artist. It's kind of weird because traditionally an art student gets trained in figurative stuff and then they are allowed to meander into other modes of painting. In undergrad, I had a bunch of former students of NYC AbEx painters as my professors (students of Al Held for example). The figurative painters I did end up taking taught me how to find and extrapolate forms from what was around me. So basically literal abstraction.
The work I'm doing now is me backing out of pure abstraction and color field painting into something more figurative. Navigating between these two things is a major theme in my studio. Paint is always first to me even when I'm trying to figure out the shape of a nose or a chicken, so it naturally is always first and foremost in my mind. I can't help it, I was brought up that way.
To answer the alien question directly though, if I'm painting a landscape and no ocular rules are followed at all, the piece becomes ungrounded. Things like temperature, weight, light, near and far, or flatness help ground a viewer. They can relate to a painting as a window into another space because they walk around a world that obeys those rules. Like good fiction, an author must suspend the readers disbelief so I guess the ghost in the room is the balancing act.
KB: One really learns by following one's curiosities and in that sense your approach to investigating those things that make you tick is enthusiastic. Can you talk about your curiosities outside the studio, and how those interests inevitably find a way into your paintings? Through your Facebook posts, I would assume film, particularly bad film, is one of these interests.
CB: Yes B-movies for sure. Although I mean it in the truest sense of the term. Not A-movies. I like lesser known stars, sad little budgets, and this feeling of wonky duct tape freedom. I mean yes I could say I love the fragility of them in the same way I appreciate a river-hobo-canoe made almost entirely out of Bondo, but honestly, the ones I love are the most apeshit, and the most apeshit are the ones that make me laugh the hardest. And I get bummed out so easily that watching them keeps me out of opium dens. So thank you B-movies.
I also love Shaw Brothers kung-fu movies. Actual ground fighting, that is to say visceral ass beating, will never be replaced by slow motion crying to piano music! Plus all the computer generated fighting in newer Chinese kung fu flicks? Come on. I make fists at them and throw my arms in the air! You suck!
Anyway, I try to mix all that up with art history stuff. I mean, all these movies come from retellings of history so might as well bring it back around. I also love comics, sci-fi novels, Skaldic poetry, trashy disco….. The list is as long as it is insane. Basically I will use anything I can get my hands on and if I can get the color and composition to hum and blush to my liking I will probably try and use it.
Kevin Blake is a Chicago based artist and writer.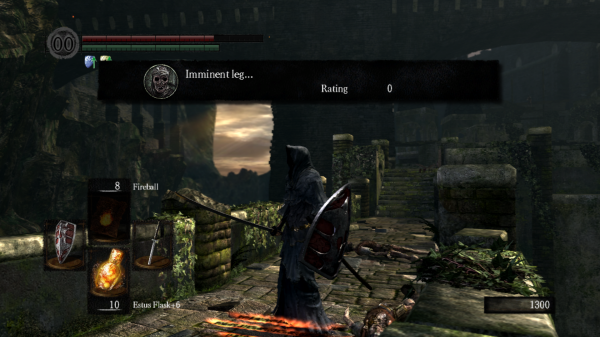 Guest Post by Paul King
The most recent time I loaded up the game Dark Souls, my character unsheathed a sword from her back and drew her shield. And then I noticed a message, written maybe two steps away: "Grief."
The world of Dark Souls is, as the title would suggest, dark. It's a classic, worn down fantasy world where everything is crumbling. Your character begins in a prison for the lost and undead; your default state is one of decay. Even as you continue to a city meant for gods, all is in dangerous, ruinous disrepair.
And most of the game is spent alone. Save a few neutral, stationary characters, any sort of dialogue is non-existent. Your hero never speaks, only grunts in the heat of battle, and these stationary merchants quickly run out of new phrases, things to sell you, or purposes to exist.
But at a certain point, your character may buy (or steal) a chunk of soapstone from one of these merchants. Once you obtain the soapstone, you may use it to write, coating the floor in incandescent orange scribbles that, upon interaction, reveal their text.
During the course of Dark Souls, no fix for the broken world emerges. At times, other characters hint that the universe has descended into darkness from a former glory, and your lone hero's quest might be the thing to restore it. But nothing you do on your journey really changes anything; felled enemies reappear upon your death and subsequent rebirth, and also upon the saving of your progress. But while your standard fantasy actions yield no change and are easily erased, the soapstone allows you to impact the game's world in a singular, everlasting way: through writing.
There's a multiplayer component of Dark Souls that allows players to enter the world of another. One can invade or be summoned, and these are adversarial or cooperative interactions, respectively. Both are temporary.
Messages penned with the soapstone, on the other hand, are permanent. Quit the game and return days later, they will still be there. And perhaps more importantly, while invasions and summons are constrained to a single instance of the game world—that of the invaded or summoning player—messages, instead, are universal. Write a message on the floor of a chapel within your game, and the same message appears in the same chapel of another person's game.
And there they sit, for any other player who happens by it. But much like the world of Dark Souls, the system in which messages are created is opaque and difficult.
The soapstone may be used to write a variety of messages, but only from a template. You choose a format—for instance, "Try _____" or "Be wary of ______." Once you've chosen a format, you can then choose from a list of categories to fill that blank. Options here include orientation ("Try left," "Be wary of right"), objects ("Try sword," "Be wary of chest"), and attributes ("Try fire").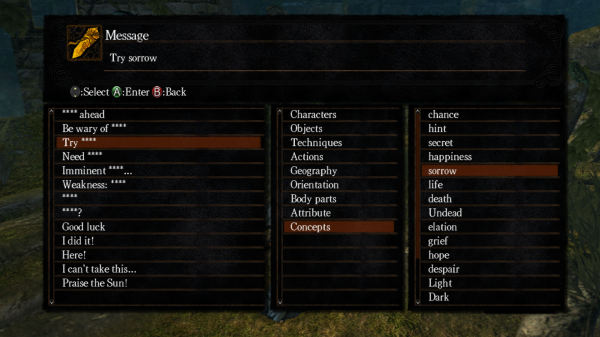 Because the messages are selected from a template, speech is limited, and as such, messages become muddied. As with the world, story, and mission of the game, the onus is on the player as a reader to determine the intent of a message. And as with the rest of the game, the system can be frustrating—authorial intent easily becomes unclear, especially in the wake of present danger due to the game's refusal to be paused. Pick the wrong moment to write a message, or linger too long on selecting the correct Mad-Libbian phrase and it might instead spell death.
And Dark Souls' closed language system isn't immune to classic video game juvenility. At a certain point, my character encountered the message "Amazing chest ahead," but instead of referring to what would make the most sense—a treasure chest—it was instead placed in front of a female character as an unfortunate reference to her anatomy.
While this example is depressing, it's fortunately rare. It also serves to underscore what is an even more important facet of the closed language: context. Not only may players choose what combinations of message to write, they may also choose where to place it within the world—for it to be a static element in the world of others. The same message becomes manifold depending on its placement.
A canned, writable phrase in the game is "Praise the Sun!" This is one of the only phrases that does not contain a mutable component (alongside "Good Job!" and "I did it!"). Its placement is intended in relation to one of the game's religions—meant to be written in a peaceful, brightly lit area upon which the sun shines. A prayer.
I found it once at the bottom of a sewer. Surrounded by the carcasses of massive, dead rats—think The Princess Bride—here it was: "Praise the Sun!" In this context it served as an entirely different message, rife with a sense of irony not possible if placed in a different area. Though the text said differently, the message was obviously one of despair.
Just before an encounter with a massive, angry beast, somebody had written "try jumping." And after dying to the creature several times—an event that happens with most encounters of the difficult game—the message clicked. And indeed, it was jumping from a ledge and plunging a sword into the monster's waiting back that proved to be the best strategy.
Elsewhere, I found the same message written on a set of uneven stone stairs, a crumbling railing beside it. "Try jumping." I angled my view downward, past the railing, and saw only an endless descent, one that would surely kill me.
It did. After I learned a lesson about trust, I discovered another message, not far away: "Beware liar."
And what begins to emerge from identical phrases is a changing language, one dependent entirely on a static world. While some messages are incredibly straightforward (my favorite is "Illusory wall ahead"), others are incredibly vague.
One of the more interesting categories to choose a "blank" from is "Concepts." The category sits at the bottom of the list, beneath "Characters," "Objects," and more, almost as if it were an afterthought. It is from this list some nameless stranger chose to pen "grief."
What strikes me especially about the use of "grief" is that it is wholly unnecessary—the entire world embodies "grief." Though "happiness" is present on the list of concepts, the use of the word makes little to no sense in the context of Dark Souls—there is, ultimately, nothing happy within the game.
But within the constraints of the language system, these awkward, single words can be used in new ways that don't necessarily pertain to the game. Before a particularly trying monster, instead of writing "Try lightning"—the monster's supposed weakness—one could instead place "Try hope," stepping outside of intended use.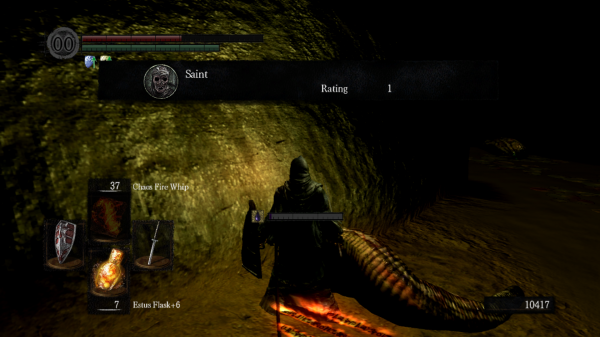 What's interesting about these concepts is that they were placed in an otherwise interesting and well-thought out system; one that plays to the same difficulties and themes of the game. It is only when we as players make a conscious decision to write a specific message does the system break down, distancing itself from in-game tips and evolving into something poetic. When the system breaks, it allows players to leave an effective mark on not only their game world, but the game worlds of others.
Because while all messages might be eternal, the ones that conform to a useful fantasy system—tips, locations, or secrets—ultimately interact with the world by blending into it, not changing it. The jumping tip about the monster led me to a strategic shortcut, while the deceitful note on the staircase created a new, interactive game experience. Those that reference nothing in the world but language concepts create new experiences entirely outside of the game.
Much of Dark Souls deals with the idea of immortality. Your character, like most video game characters, is seemingly tireless. Die, and be brought back again, and again, unceasingly until the game is done. The environments and enemies around you never change, and the latter is in seemingly endless supply. Even when your quest is over, the only option is to start over, either as a new character or the same one, this time in a harder difficulty.
Though the entirety of the game is caught up in this idea of perpetual fantasy, it promotes an unchanging stasis rather than an everlasting immortality. The player created messages—which ultimately exist outside of developer boundary or intent—are the only things that truly seem to point towards immortality. While standard, intentional messages quickly blend into the context of the game's world; those that break the mold escape the world and its shortfall. When a message references nothing external in the static game world—through the intentional or unintentional garbling of the closed system—it turns into a testament of itself. As a result, it transforms the writer from a player, into an author, leaving an indelible mark.
 Paul King is a poet, writer, and video game enthusiast currently living in Chicago, IL. He grew up in Austin, TX and graduated from Bard College with a BA in Liberal and Written Arts.
Guest Post by Britton Bertran
I was there in 2005 at the beginning of Bad at Sports (Episode 4!) and I hope I'm not there at the end.  It was the year I opened my gallery, 40000. It was a good idea at the time. I was fed up with not seeing what I wanted to see and equally mesmerized by controlling my own destiny in a commercial sort of way. There were plenty of other interesting things happening and I figured – why the hell not.
The years 2005 and 2006 were ok years for Chicago Art. It seemed to be an upswing couple of years when apartment galleries and art interest were peaking. (These things come in waves – I'd put us in a upward motion now after reaching the bottom in 2011.) The MCA was showing interesting work (a Dan Flavin Retrospective, Deb Sokolow and William J. O'Brien had 12 x 12's), blogs were percolating with critical activity (anyone remember panel-house.com or iconoduel.org?) and this new fandangled thing called a podcast had people sitting with their bulky desktops and REALLY listening.
I took a leap of art faith and quit my job, borrowed some money from my mom and with the help of a couple close friends including a now-deceased bartender from Phyllis', rocked out a storefront space on Winchester and Augusta. A year and a half later, some guy bought the building and wanted to turn it in to a really small Italian restaurant. I moved the gallery in the summer of 2006 to the bustling 119 N. Peoria building (soon to be home to only one gallery in 2014.)
Like-minded nice folks like Corbett vs. Dempsey, The Green Lantern, 65GRAND, Fraction Workspace, Western Exhibitions, Lisa Boyle Gallery, Duchess and a couple of more spaces, were all blazing fiery paths outside the West Loop in WestTown (does anyone even know where this is now?). We even organized, set up a network, handed out flyer/maps and coordinated openings. It worked for the most part. I think.
There was no social media except for Friendster and then that thing called Myspace. My digital camera had something like 3 megapixels and took incredibly shitty pictures. It took a solid hour to update my clunky website. It was rough out there in a walking up the hill backwards in a snowstorm kind of way. But it was great. Lots of visitors – mostly artists – came, drank and stole beer during openings, I sold art here and there, got a few reviews in national art magazines, was invited to fancy pants museum openings, met not-so-nice individuals who essentially run the art world, shook hands with some artist heroes and even did the occasional art fair in and outside Chicago.
But mostly, having this gallery gave me some pretty solid insight into how artists work, what they think about and what really matters the most to them career-wise. Surprisingly, and thankfully for me, it wasn't money. 40000 was definitely a failure in that regard and the main reason I closed in 2009. I was also unable, and did not want to, secure a sugar daddy/momma, which I slowly realized was the only way to sustainability. [A little secret – there is less than a handful of galleries in Chicago that don't have one of these.]
I think it's pretty telling that almost half of the original West Town Gallery Network is still in effect.  Corbett vs. Dempsey just got admitted to the Main Fair of Art Basel Miami Beach (a big damn deal). Western Exhibitions is still cranking out shows with aplomb and has incredible dedication to it's artists. 65GRAND (all caps no gaps, please) is run by one of the smartest and nicest gallerists in Chicago. Only one of these galleries is still in West Town – though it's stretching it a bit. All of these spaces work so damn hard it's difficult for me to even comprehend how they're possibly doing it. Most of us are still here in Chicago, I think. Whether or not we are running galleries, we are all getting old, raising families, have "real" jobs, etcetera. I hope you won't forget us.
The artists I worked with are for the most part pretty successful in their careers. One or two I never hear from, a couple of others I never want to hear from. Nonetheless, it gives me great pleasure to know that I have a place in Chicago art history. It's funny though, I seriously often wonder what would have happened if I had at least a 10 megapixel camera back then.
A little addendum here: I was often asked, "What the hell does 40000 mean?"  In fact a couple of months ago a collector emailed me out of the blue and straight up asked.  So I told him.  I named the gallery after Joe "40,000" Murphy.  "40,000" was a Chicago outsider artist and events usher in the 1950's who either knew 40,000 famous people, or was renowned for saying "about…. 40,000 empty seats!" when asked how many people where coming to that day's event.  When people asked me, I made them guess. Nobody got it right.
Britton Bertran ran 40000 from 2005 to 2008. He currently is an Instructor at SAIC in the Arts Administration and Policy department and the Educational Programs Manager at Urban Gateways. An occasional guest-curator, he has organized exhibitions for the Hyde Park Art Center, the Loyola Museum of Art and several galleries. You can find him trying to be less cranky about the art world on twitter @br_tton. Stay tuned for a couple more guest posts where Britton will be discussing his tumblr-famous tumblr "Installator" and his take on what's wrong with the Chicago art world circa 2013 – while thinking out loud about how to fix it.