GUEST POST BY AUGUST EVANS
"Cinema is a wonderful way of expressing dreams."       -Phillipe Soupault, founding surrealist
Here in Bloomington, IN, the December midnight screening series at the renowned IU Cinema, "More Human than Human," is poised to screen David Lynch's prequel (and conclusion) to the cult television series, Twin Peaks: Fire Walk with Me.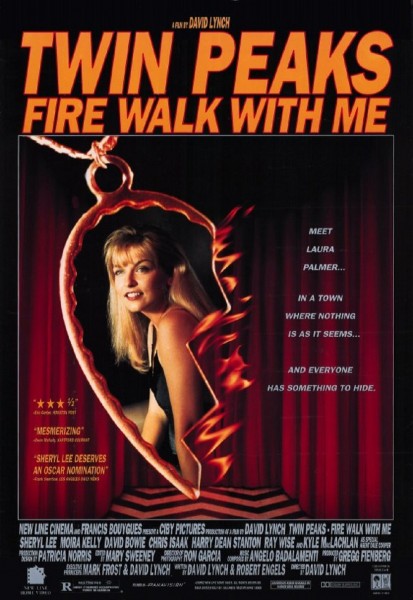 Photo Courtesy: lynchnet.com
The IU Cinema describes Lynch's 1992 film as "part neo-noir, part family melodrama, part surreal horror movie." The descriptor "surreal" comes up more often than not in describing most any Lynch project–from an early film like Eraserhead, to a later work like Blue Velvet, or in any general summary of Twin Peaks–to a more recent foray into the song and accompanying film, "Crazy Clown Time."
As much as the term "surreal" is used to describe the Lynchian universe, I wonder how such constant use might be making "surreal" into a Lynch-like genre, as equally identifiable as noir: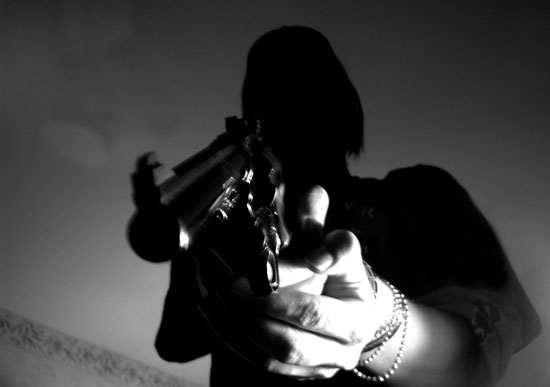 Photo courtesy: Noir Film Festival Dubrovnik
But in the way that we identify the above as a decidedly noir photo still, what qualities make a film "surreal," other than there being something bizarre, non-linear, oddly juxtaposed about it?
Lynch has come to be known for his "surrealist films". His Wikipedia page claims he's developed his own unique cinematic style, dubbed 'Lynchian', characterized by dream imagery and meticulous sound design. The surreal, and in many cases, violent, elements contained within his films have been known to "disturb, offend or mystify" audiences."
But even though Lynch's films are unmistakably surreal, are they surrealist?
Surrealist cinema, with origins in Surrealism, a movement that coincided with the birth of motion pictures, whose originators grew up alongside the first films, defines itself as being unable to be defined by style or form, ever-shifting and incongruous.
Only three films were actually ever designated "exclusively surrealist productions," created in the throes of the movement and in keeping with its tenets: Germaine Dulac's La coquille et le clergyman (original scenario by Antonin Artaud), Luis Buñuel's L'âge d'or, and what might be deemed the quintessential surrealist film, Buñuel and Salvador Dalì's Un chien andalou.
Though not necessarily "better" than any blatantly produced generic film, Un Chien Andalou is undoubtedly "different" than such films created under the commercial conditions and restraints of Hollywood. There is no doubt that the film was self-consciously produced, and subsequently consumed, against the mainstream generic model. Film theorist Steve Neale suggests Un chien andalou "flaunted the genre system predominant in Europe at the time it was made…the genre 'narrative feature film', and the genres of the contemporary European art film…Buñuel, claimed it was not even an instance of avant-garde filmmaking, but rather 'a desperate appeal to murder."
Surrealism strikes me as an ideology akin to an artists' movement, rather than a publically discussable genre. As Luis Buñuel wrote, the group sought "to explode the social order, to transform life itself," an aim far more expansive than a simple generic label.
Any attempt to place the weight of genre upon an artists' movement like Surrealism presents problems, considering the aims of the first (and possibly only) surrealists were to explode the bourgeois order. Indeed, these initial surrealist films achieved something very unique, specific, and particular to the artists' movement out of which they emerged. Toby Sussman deems these early films "the pinnacle of the Surrealist films…the representation of the total passion of a human event pushed beyond previously known limits…resulting in a beautiful new world of images existing somewhere between the amorphous intractability of dreams and the cold acceptance of everyday consciousness":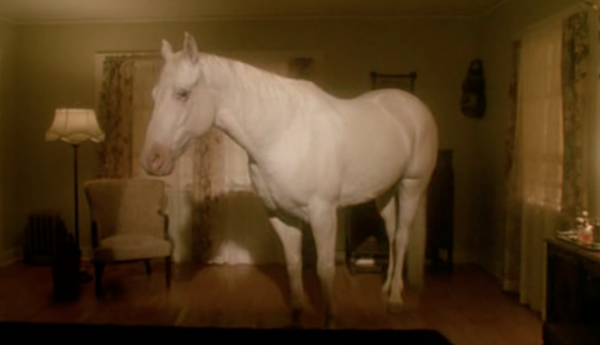 Still from Twin Peaks: Fire Walks with Me      Photo Courtesy: lynchnet.com
Contemporary Czechoslovakian filmmaker, Jan Švankmajer, has called himself a "militant surrealist."And yet, in his 2007 essay about the filmmaker, Jan Uhde calls him "one of the most significant living directors of non-mainstream and experimental film animation," and cites Surrealism only as "a major influence" on Švankmajer's film style. The first surrealists were nothing if not a collective, making Švankmajer's participation in an actual group a notable link.
http://www.youtube.com/watch?v=SqGAZgtDiBU
The experimental films of Maya Deren could certainly fit into this category as well. Deren combined her interests in dance, voodoo and subjective psychology in a series of perceptual, black and white short films. As an independent distributor, Deren exhibited and presented lectures on her films across the United States, Cuba and Canada. In 1946 she booked the Village's Provincetown Playhouse for a public exhibition. Deren titled the exhibition: 'Three Abandoned Films – a showing of Meshes of the Afternoon, At Land & A Study in Choreography for the Camera'. Deren took the word 'abandoned' to refer to Guillaume Apollinaire's observation that a work of art is never completed, just abandoned. Whilst the title was ironic, the exhibition was successful.
Yet Deren actively rejected categorization as a surrealist, refused the definition of her films as formalist or structuralist. To label her films as surrealist brings up the same situation of Lynch's distancing himself from the term in interviews, and summons the origins of the artists' movement, people who based a huge amount of their identities on their active alignment with an ideology via Breton's definitive manifestoes. Indeed, Deren's request that her films shall not be called surrealist clashes logically with the crucial foundations of the artists' movement, especially in considering how actively its practitioners self-identified as surrealist.
It seems to me that surrealism exists as a state of mind rather than a genre-form. Both dada and surrealism have been defined by their adherents as attitudes of thought as opposed to formalist or strictly cohesive artistic styles, and the artists were therefore committed to obtaining new effects by experimentation, recording accidental events resulting from improvisation.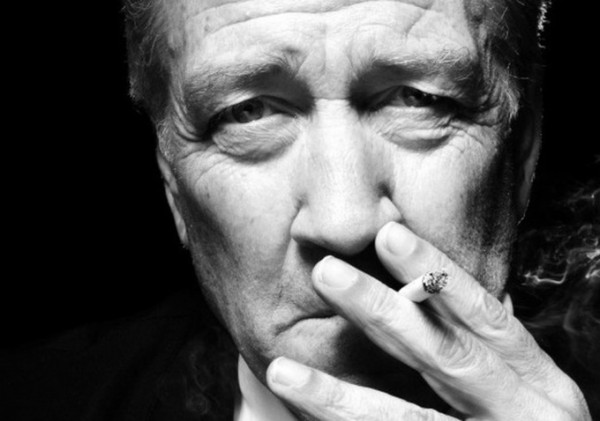 Photo courtesy: lynchnet.com
Michael Richardson writes, "the surrealist necessity is to make Marx's demand for the 'transformation of the world' and Rimbaud's demand to 'change life as one and the same thing." The Surrealists' belief that "poetry should be made by all not one" required broader societal change and helps explain the movement's close identification with various shades of left-wing thought. The publication of numerous, often difficult, sometimes perplexing, manifestoes should be understood within the context of the turbulent politics of the interwar years.
Excluding Å vankmajer, few filmmakers take such rare and raw revolutionary risks today. The essence of surrealism, refusing to be here but always elsewhere, makes me wonder whether a film like Lynch's Twin Peaks: Fire Walk with Me should be included among those forerunners. Though the film teems with dreamlike, non-linear imagery, it contains its share of gratuitous nudity and standard plot turns. To align with the originary notion of surreal, the film should explode the social order, force the viewer somewhere new and perplexing. Whether Fire Walk with Me explodes any staid order, I have yet to know. What I do know is there is something very different about it, which may be enough to count as surreal.
August Evans has written in Mexico, Sweden, and Aix-en-Provence, France, where she taught English before returning to the U.S. to complete her Masters of Humanities degree at the University of Chicago. She has taught college English and Humanities in Chicago, and studied fiction writing at the University of Illinois at Chicago. Currently she is an MFA candidate at Indiana University, Bloomington. Her fiction and book reviews may be found in HTMLGiant, Melusine, and Monkeybicycle.
Guest post by A.Martinez
I was introduced to the work of Sara Drake at my first Brain Frame event, March 2012. Brain Frame is an event series that invites comic artists to explore the performative side of their work. That night, Sara's shadow puppet performance "The Romance of the Tiger Lady"  truly blew me away. I try to avoid using the word 'magic' to describe work, but the kind of child-like captivation I felt in response to this piece was both unexpected and incredibly moving.
Bad At Sports last spoke to Sara just before her two-month teaching venture in Cambodia. It was this trip that inspired "The Romance of the Tiger Lady", and it was also this trip that inspired her (most impressive) self-taught movement towards shadow puppetry. You can find Sara's work online at http://saradrake.info/;  she is also the  comics writer for Bad At Sports.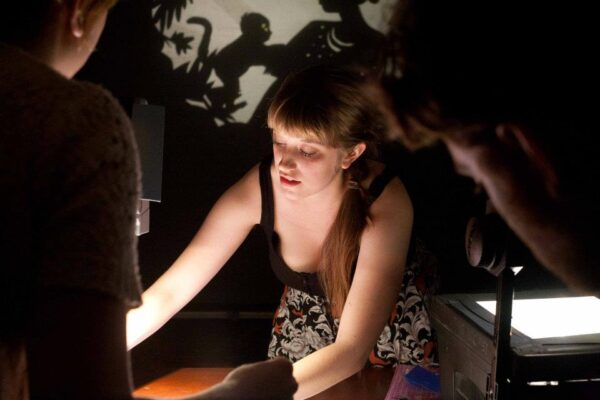 A.Martinez:Â How did you get from making comics into performing shadow puppetry?
Sara Drake: Estrangement. I had just returned to the US from Cambodia where I had been teaching comics, and every way I knew how to articulate myself became erroneous. I needed to communicate in a mode which wouldn't come off as abrasive or didactic within an insular arts community in Chicago. I wasn't ready to process my experiences abroad with other people yet. It takes me a long time to process anything, including my new found political awareness.
Shadow puppets signaled tedious, meditative sessions alone in the dark and allowed me to find a voice I was aware of in the back of my mind but wasn't sure how to wield.  So much of my creative life is prefaced with writing and asserting justification for making things. When I'm speaking in shadows, I am literally fumbling around in the dark trying to find bits and pieces to a story.
Martinez:Â So to begin talking about your piece, The Romance of the Tiger Lady, I want to start with your trip to Cambodia to teach comics to a group of young women. When were you there and for how long?
Drake:Â I was there for two months in 2011 through an initiative called Independent Youth Driven Media Production in Cambodia. My former teacher, Anne Elizabeth Moore, was looking for creative responses to issues relevant to young women in Phnom Penh. I applied with a gendered comics and self-publishing workshop.
Martinez:Â How did living in a completely different country teaching comics influence your work?
Drake: I was there for such a short time! I wouldn't exactly consider two months "living" in a foreign country. It did completely shift my life. As for my work I attribute it most to an entangling and dispossession of my morality, which I'm only just beginning to explore through comics.
I am definitely an advocate for travel if you have the means or opportunity to do so, but hesitant to encourage others to pursue a project like mine. There are unique risks and potentially hidden power structures at play. To walk into a community as an outsider with limited understanding could be devastating, despite how well-intentioned an artist may be.
Martinez:Â Did you watch much shadow puppetry there?
Drake:Â Only as a tourist. Not as someone who has the ability to talk about the medium affluently or with respect to a long, and important cultural tradition.
Martinez:Â Of all the comics you read while you were over there, what made you decide to choose this story to work with?
Drake: That's the thing. I did not speak or was literate in Khmer. I had to find comics in the market places and through word of mouth, typically through western expats. Cambodia is still rebuilding from and coming to terms with decades of illegal American bombing, the Khmer Rouge regime, civil war, and persistent corruption. Comics, like all artistic production during the regime, were completely wiped out. The Romance of The Tiger Lady, by Im Sokha, is a horror comics from the 1980s about a were-tiger lady who falls smitten for a hunter. Aside from it being a good story, it was one of the comics that was well liked and looked at often among the women that came to my workshops.
Martinez:Â So, you made a decision to make this into a shadow puppet performance, and then how did you begin this process?
Drake:Â I spend a lot of time writing and collecting fragments of ideas until I internalize and visualize moods and feelings. Then I have to somehow translate them into puppets. I am still a bit mystified as to how that happens.
Martinez:Â The piece is 17 minutes long. About how long did it take you to just cut out all the scenes?
Drake: For Tiger Lady, I wasn't just cutting out the puppets, I was also teaching myself how to make shadow puppets. The show took about three months to physically cut out. A clumsy, one foot after the other sort of business.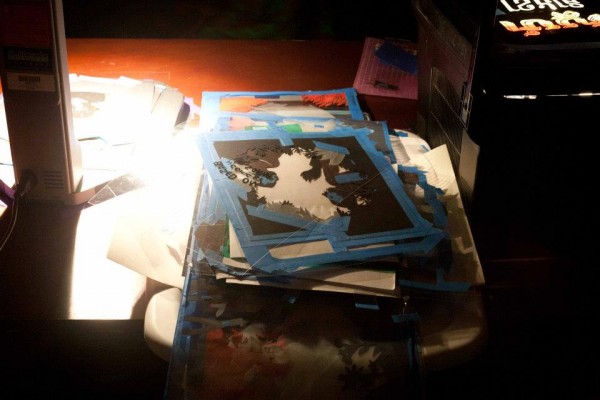 Martinez:Â Did you work mostly by yourself?
Drake: Yes and no! When I'm starting to work on a show there is a germination period of a few months, where I'm working solo on scripting out the story and making all the puppets. Then I get together with a group of puppeteers and a musician to figure out the rest.
Martinez:Â How did you decide to use an overhead projector for your performances?
Drake:Â They are the staple, it seems, for shadow puppet shows. The puppet community in Chicago is incredibly supportive. Julia Miller of Manual Cinema, another shadow puppet group, gave me a lot of pointers in the beginning. Knowing about their work was an invaluable resource in the beginning and their work is mind-blowingly gorgeous.

Martinez:Â Comics are usually a very solitary act, so was it difficult for you to switch to an art that is so collaborative both in its making and its viewing?
Drake: I see this logic posed often to cartoonists and frankly, it's missing the point. Comics are solitary as a process sure! but similar to other art forms, communities have formed up around and about it all over the place. It would seem odd to ask a writer this question. Chicago is not as lonely as my cartoon predecessors would have most believe, yet certainly alienating at times. It bores me when artists use this paradigm as an excuse.
But to answer your question, there was never a time when I haven't been collaborating. Maybe the result isn't always a visual one or one whose end goal is something tangibly producible.  For me, cultural production necessitates community involvement and being exposed to as many voices and encouraging access to as many voices as possible.
Martinez:Â When did PUPhouse form?
Drake:Â During the production of Saltwater Weather. Early on I realized that the project was going to be ambitiously technical and require a deeper commitment from the artists who stepped up to be puppeteers. Each of us had been collaborating in some form or another outside of shadow puppets. The range of mediums each of us is coming from is pretty protean: textiles, animation, comics, music, filmmaking, theater. PUPhouse, or giving our time together a name, became a way to reinforce what we were building together.
Martinez: Do you like working with a crew  of people like that?
Drake: As with any group of humans, you can expect drama. I wouldn't have it any other way.
I mean, I couldn't have it any other way.
Martinez:Â What's the strangest or coolest thing that's happened to you while working together?
Drake:Â Being around other artists is strange and cool in general.
One of the perks of being in an experimental puppet company, is that no matter what event or show you are at, if it's going badly or is boring, I always have seven weirdos who I adore to hang out with on the sidelines. Eternal friendship lifestyle.
Martinez:Â How often do you meet and rehearse for shows?
Drake:Â When a show is in the works once a week. Sometimes two, three times a week.
It takes longer time than one would think to show someone how to move a small piece of paper from point a to b. . .
Martinez:Â What is the most difficult thing for you about shadow puppetry?
The physical and emotional labor that goes into it. Shadow puppetry may look effortless from the front but there is a flurry of movement, sweat, and awkward body positions happening backstage. It takes an exceptional group of people to be able to maintain strong friendships after tense long hours of being told their fingers need to act more like animals.
Sometimes puppets catch on fire . . . which, is definitely difficult.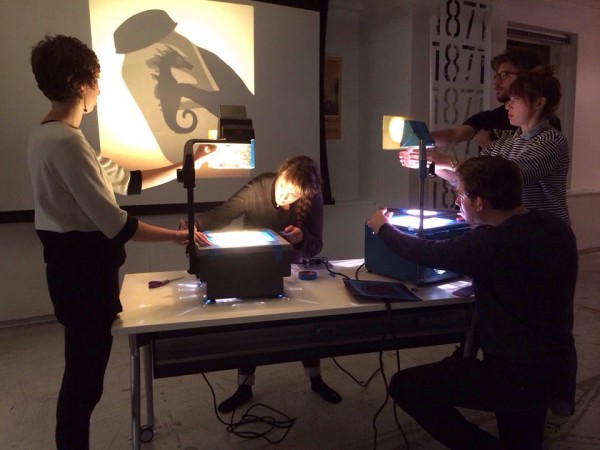 Martinez:Â What are you currently working on?
Drake: I'm taking a break from puppets for a moment to make a new comic – but I don't want to share all my magic tricks just yet. On top of that, I'm heading out of Chicago for a bit to do an artist residency in Colombia.
Martinez: It seems like you like to travel to new places. Do you work while you're traveling? Or mostly just collect ideas?
Drake: I have a long-term, co-dependent relationship with wanderlust. I intentionally do not go to any place wanting to make work about it. I've found that traveling with a purpose in mind, mediates my experiences. It is however, important that all of the materials I work with are portable. This does two things. I like culture that is definitely small – that's human sized and encourages people to relate to it. And of course, it's practical!
Martinez:Â Do you keep/have a collection?
Drake: I'm always leaving places. I do not like/enjoy owning things, maybe that's why I work in ephemera and experiences. Although, I am a compulsive autobiographer. I keep a dated record of every book, movie, and art show I've ever read or seen since I was a teenager. I keep meticulous word lists of all sorts of things: new compound words I create, overheard conversations, turns of phrases that sound off, mood words, fragments.
Martinez: What is the most distracting thing for you while you're working?
Drake:Â Exhaustion. Or not feeling lucid and the feedback loop frustration that comes with that.
Martinez: What's the biggest revelation you've had about the way you work?
Drake: The puppeteers always note that I exclaim "do you hate it?" when I show new work or scenes to them. I have a parasite known to many as self-depreciation.
Martinez:Â Is there a certain time of day that you feel especially inspired to work, or when ideas come to you?
Drake:Â I do most of my writing and scripting when I am on my bike. Most days this tends to be the only alone time I have. And of course, shadows are more dramatic after dark. . .
Martinez:Â Does your cat hang out with you while you work?
Drake:Â Of course! We have a symbiotic working relationship. I cannot stress enough, how crucial a creative life in the company of other animals is to a human psyche.
Martinez:Â Is there a piece of advice, art related or not that you think of often?
Drake: When I was small, my dad always used to say, "What makes a good animal, a good animal?"
This was meant to be soothing after some brutal animal world fact on television, a pet death, watching viruses destroy human cells on bring your daughter to work day, etc. It meant, what ensures that animal survives? Is being brutal or dark, something that a human animal might consider bad, a part of what defines that animal?  "What makes a good human, good at being human?" This is how I move around in the world ad. infinitum.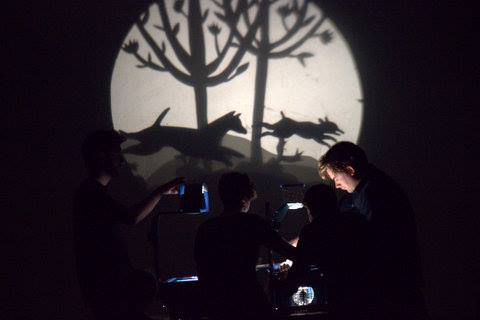 All photos courtesy of Gillian Fry and Sara Drake.

A.Martinez is a freelance art and music organizer living in Chicago, IL.
Guest Post by Britton Bertran
The art economy in Chicago – specific to the visual art market – is busted.  It doesn't work and hasn't worked for a long time.  Yes, this a provincial observation as we are in a global society, but ask any commercial gallery owner in Chicago that's not one of the Mighty 5, and they'll tell you the same.  Yes, more and more people who aren't in Chicago are paying attention to us as a viable location.  Chicago is a place that has artists who make (and made) great work and some non-Chicagoans are even buying art from here (good luck in Miami y'all!).  But when it comes to a localized presence, we are somewhere near the bottom of the attention totem pole.  Where would you place visual art on the Chicago matrix of culture that includes Theater, Music, Dance, and yes, Food?
There are several ingredients that make up this pie: artists (check-plus), galleries (check), arts administrators (check), art critics (check-minus) and collectors (check-minus-minus).  One could also add art schools, art jobs and art conversation to this pie.  As well, we have venues in which to look at art which is obviously important for this mixture: fancy/academic/contemporary museums, commercial galleries with varying levels of artist representation, medium-sized and smaller not-for-profits, artist-run apartments/storefronts/garages, city-sanctioned public spaces and galleries AND, lest we forget, our computers.  These are all parts of this economy and much of its success is reliant on the flow if information that reaches non-art world people and what happens when those people react to what they see.  The trouble is that most of those non-artworlders are either taking what they see for granted.  In general, they are not really looking, seeing or reacting.
Chicago has a landscape and art is very much in it.  So what's missing?  Why is it broke and how can we fix it?
MONEY
Money helps.  Money helps a lot.  Yes, I know it's gauche to talk about especially in the realm of aesthetics, but the majority of artworlders here are sadly not flush for reasons beyond their control.  And yes, I also realize that many artists choose to ignore the money part of their equation as it interferes with the thinking about their work and its discourse.  But it still needs to be discussed as it's a part of the system we live within.
I place much of the blame of a lot of the troubles the Chicago art world has on the lack of collectors.  There are collectors in Chicago – both with a little c and a big C – but there are just not enough.  I'm going to ignore the Collector portion of this equation and focus on the Lil' c's, with the knowledge that one often becomes the other due to the pure pleasure they receive from the act itself.
Who are they? Where are they? Why won't they come out and play? I know they're here: they sit on non-profit auxiliary Boards, they go to First Friday, they eat out three nights a week, they buy condos in the West Loop, they have scooters as alternative transportation devices, they bring their visiting parents to the Art Institute and they could probably tell you at least ten contemporary artists they've heard of.
Since they are here, we have solved part of the problem and this is important because the Lil' c's need to be localized in order for this to work.  Next is the hard part: they need to understand that collecting art is a good thing, it's healthy, it's fun and it's really addictive.  They need to understand that they don't need to spend a lot of money.  They would be helping out this economy from a small business point of view, for both artists and gallerists.  They could say, "Hey I'm young, why don't I collect some emerging artists that are the same age as me and we could grow together!" Or they could say, "Hey, if a New York Giants linebacker collects art, why shouldn't I?" Or "I heard that Leo DiCaprio was lurking in the corner of the some art auction last week?"  This is a thing that people do!  This is something that you, o' Lil' c, would be great at!
Sadly, the majority of the Lil' c's also need to be told what to buy, at least in the beginning.  As such, they need the lecture about aesthetics vs. investments, to buy with your eyes and not your ears, that it's more than filling in the space over your couch in that new condo and, if they so desire, art collecting brings with it a whole new set of social structures that can be horrifyingly awesome.  An additional secret: Lil' c's don't need Leo money to buy art they just need to be educated.
Is there anyone out there that's taking up this challenge and whisper in the ears of these Lil' c's?  There are, but there aren't enough and there aren't enough that are doing it right.  Two examples that are doing it right: The Chicago Artist Coalition and Threewalls.  The CAC's tagline is "Building a Creative Marketplace".  They've re-booted the organization in the last couple of years and are making real strides to make connections between artists and collectors.  Threewalls has their CSA Initiative (Community Supported Art) that makes a kind of implied statement on the relationship between non-profit-ness, artists, art-making and the joy of owning artwork.  These are also sustainable examples.  One-off events (aka Art Fairs) may provide convenience and atmosphere but do little for long term development of collecting as a functionary system beyond good and services.  Relationships need to be built which is also part of the fun.
RELEVANCE
Beyond the money – there is relevance.  These are two concepts inextricably associated with each other.  In the context of Chicago, with its persistent inferiority complex, relevance especially applies in ways that will always be in flux.  Some choose to ignore it, others choose to whole-heartedly embrace it and there are others whose mission in life is to better it.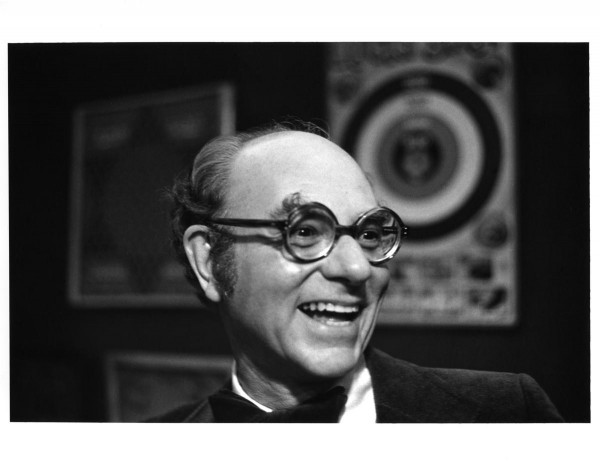 There used to be individuals who developed a way of thinking and talking about art in Chicago that directly translated into success for a number of artists, both critically and monetarily.  Two that come to mind are Don Baum (circa Monster Roster in the late 1960's) and Judith Russi Kirshner (circa Chicago-neo-conceptualism of the late 1980's).  The artists that they worked with are well represented in our local art institutions as well as the collections of many Collectors.  This is artwork that was disseminated in a way that clever, deft and meaningful within Chicago and then beyond.
This is still happening today in a way that could amount to something bigger.  The current Whitney Biennial may provide a stopgap for this situation with near 1/5th of its artists currently working in Chicago, or at least with very close ties.  Hopefully, the deserved exposure for those lucky artists will translate into more than a sentence or two in a reputable purveyor of art criticism.  There is also a handful of local curators ensconced at our museums who do their part by creating scholarly looks at the recent art history of Chicago artists as well as develop vehicles for showcasing some of our emerging and mid-career artists.  But is this enough?  When the #WhiBi is over, how many of those artists will have some sort of local gallery representation?  How many times will we see the same Tony Tasset/Robert Smithson photo at the MCA?
A surefire way of gaining some sort of relevance in the art world used to be simply having someone write about your work.  In Chicago this used to be a little harder than other cities, but it was still there.  I used to think that a certain level of professional art criticality and good old fashion art journalism was a part of this puzzle, and I still think it is, but when it comes to creating a sense of relevance – it's a downward spiral.  This is something I have no idea how to fix.  The state of journalism (online or offline or whatever) is a sad state at this point because there simply isn't enough of it happening on a higher level.  At the same time, if someone where to start consistently writing about Art in Chicago in a serious and engaging way, who would be there to read it?  Is there anybody reading this that isn't already in some way trying to make a living within the local art scene, or at least attempting to become more relevant in some meaningful way?  Writing about art, critically or journalistically, needs an infusion that is less about navel gazing and more about starting a conversation that is extroverted.
Thankfully, there aren't anymore "Chicago schools".  Or at least no one (that's not a gallery developing a marketing ploy) has decided to wrangle our artists into any sort of synthesized concrete definition in order to look at them easier.  And, if someone where to, what would it look like?  Would it be too transparent an attempt at selling?  Or does that simply not matter anymore?  Being an artist in Chicago might just have to be enough, but it can't be because there is too much at stake.  I don't think there is room for another Don Baum in Chicago, but there is room to recognize that there are more questions than answers in this essay.
Bio: Britton Bertran ran 40000 from 2005 to 2008. He currently is an Instructor at SAIC in the Arts Administration and Policy department and the Educational Programs Manager at Urban Gateways. An occasional guest-curator, he has organized exhibitions for the Hyde Park Art Center, the Loyola Museum of Art and several galleries. You can find him trying to be less cranky about the art world on twitter @br_tton.  Stay tuned for another guest post about looking forward to 2014 (and maybe a top 10 list of sorts too.)
Guest post by Jacob Wick.
Towards the end of The Function of Criticism, Terry Eagleton suggests that the "role of the contemporary critic," which is of course a different thing than the function of criticism - right? a role and a function are different things, but of course the function of something might be to provide a role, or a role might be to serve a function, in both cases it seems like function is greater than, trumps or possibly dictates, role – is to reconnect "the symbolic to the political," by which he means "engaging through both discourse and practice with the process by which repressed needs, interests, and desires may assume the cultural forms which could weld them into a collective political force." He is emphatic in pointing out that this role, this idea, is not new at all, but – like many ideas around a libertory role for art, theory, etc – harks back to an earlier historical moment. Eagleton tracks the formulation of what would eventually become criticism to 17th and 18th centuries and the publication of pamphlets like The Spectator or The Tatler or the slightly later Rambler, and posits the function of this publications as the creation of publics against authoritarian rule. It was these publications, Eagleton argues, that began to bind together the bourgeois public sphere as such, and that would later provide foment for this public to assert its hegemony over autocratic rule. It is worthwhile pointing out here that the focus of The Function of Criticism is very, very narrowly trained on England; although in the colonies, I'm sure the publication of the Federalist papers and the myriad pamphlets that fluttered up and down the Atlantic coast would be a decent analogue. In any case, Eagleton's estimation of publication meaning the creation of the public jogs handsomely alongside Matthew Stadler's estimation of publication (Stadler is, of course, a former BaS star, on an interview that I was privy to in a relatively non-participatory, hungover fashion). The function of criticism, though, is slightly more pointed than the formation of a public around a text; it is the formation of a demos around an intertext or series of intertexts that weave(s) through contemporary cultural production. In my view, this amounts to provoking and/or fostering the articulation of a local discourse in relation to a larger discourse that supersedes it, for it is around this localized discourse that a public or counterpublic might begin to recognize itself in context.
The not-so-recent hullaballoo over the use or misuse of English in e-flux press releases, which started with the dubious assertion that a language separate from English was being used in the online listserv/journal in Triple Canopy and fizzled out with an entire issue of e-flux journal dedicated to half-assed rebuttals of that thesis provides some useful fodder. e-flux is a listserv that serves some 90,000 readers across the world, and to which are submitted press releases from everywhere, all of them in English, some of them in better English than others. These press releases are generally written in a similar tone and register, a tone and register that is relatively uniform throughout early 21st-century art writing in English. These press releases, because they strive to make sense with and to each other, constitute a discourse. This is not in itself a problem. Neither is the quality of English in use, nor whether this use constitutes a separate language – which of course it doesn't, that's ridiculous, if anything it might constitute a sociolect (unless we are going to start talking about International Baseball English or something) – or even that English is being used (lingua francas are important if a global discourse is to be established, right?).
The problem is twofold: first, that this global discourse is directed, at least in part, by the e-flux journal, a monthly publication usually consisting of around 7 articles generally written by a relatively small pool of artists, curators, etc that are recognized by the selfsame global discourse as important, and who are in general from a relatively narrow geographical context. This journal responds generally to the global discourse that is in part produced and supported by the e-flux listserv. The views of this journal, which are not necessarily bad, but generally do not address specific local contexts in any way; to do so in a monthly publication of 7 or so articles would be impossible. Because this extremely limited journal exists in a feedback loop with the global listserv, however, a rather distressing situation arises whereby the narrow view of the journal is regurgitated unproblematically into local contexts, without a consideration for whether or not this discourse is pertinent, or even relevant, to said context. Thus, an informal contemporary art space in Shenzhen might feel the need to publish a press release, in English, on e-flux, in order to participate in a global discourse, but in order to participate in this global discourse it might also feel the need to articulate itself using the tone and register, even the current relevant topics, of that discourse, set by the e-flux journal. The local tone, register, and topics of Shenzhen would then be reoriented in some way towards this strangely narrow global discourse in such a way that what is happening at the informal contemporary art space in Shenzhen reads exactly like what is happening at, say, the Stedelijk Museum in Amsterdam. This does not make sense.
A global discourse does not make sense without the existence of local discourses that challenge or at least interact with that discourse. If New York used to be the center of the art world, the Internet is the center of the art world now. This is not an oxymoron; we should drop the tired hat of insisting that the Internet will make us free, is devoid of hierarchy, and so on. Packets of information float horizontally across a non-hierarchical field for a while, yes, but in order for them to be legible they are converted via Internet Protocal (IP) into the hierarchal tree of the Domain Name System (DNS). If you'd like to read an entire book about this, please consider Alexander Galloway's Protocol. If you wouldn't, read this 7 or 9 page gem by Deleuze, "Postscript on the Societies of Control." In societies of control, power exists in the form of internal and/or internalized functions that corral anarchic forms of life into easily-policed norms. One of these norms might be the notion of "our global society," the general assumption that we live in a world where we are all flying to Mumbai or Vancouver or Philadelphia whenever the latest investigation of you know, whatever, that we are all part of an abstracted society of global travelers (for more about this, check out Lane Relyea's book Your Everyday Art World, which I haven't finished at all, in fact I've barely started it, but he writes about this stuff immediately and in a very engaging manner, like in the first chapter or possibly even the introduction). The problem with "our global society," of course, is that it doesn't exist, or that it only exists to those who have tremendous wealth or privileged access to tremendous wealth. I live in Los Angeles, for instance, and occasionally am able to access wealth in the form of grants, paid travel by host organizations, etc. I may have been "global" from 2006ish – 2009ish, while I was living in New York and playing relatively regularly with a trio I had with two Irish musicians. My residence in our global society ended abruptly with the crash of the Celtic Tiger. Anyway, the point is that our global society doesn't actually exist, and by endlessly repeating how it exists, and how great it is, how revolutionary for all of us, local contexts lose the ability to recognize themselves.
For instance, Southern California! The California-Pacific Triennial, which closed recently at the Orange County Museum of Art, made an attempt to at least slightly narrow California's global context to the Pacific Ocean, rather than across the continent to New York or across a continent and an ocean to Europe. This seems exciting and it probably is, but to be honest the show generally seemed directed at the nonexistent global public I have discussed above, not towards a discourse that exists between or among Pacific art scenes, probably because that discourse doesn't actually exist. This discourse also does not appear to exist – at least not to me, and I am certainly new, but isn't that at least sort of the point of this series of blog posts? – in the City or County of Los Angeles.
Last month, I went to an opening at Honor Fraser for Dawn Kasper's THE ABSURD show. The opening featured a gospel choir of that sang and danced in the space between the PA, pictured, and the two platforms, also pictured, leaving almost no space for an audience. The choir was incredible, really, it reminded me of Andrew Hill's gospel music, it reminded me of Don Byron saying in 2008 or 2006 or whenever that was that gospel music is the most interesting improvised music happening, the room – an art gallery, seriously – a huge mass of people feeling very intensely, sweating and confused, rich collectors baffled at why they couldn't see better, everybody looking very confused and happy, some dancing or trying to dance, the singers occasionally falling down from the Spirit. The whole thing felt to me a bit like a gag in the sense that I described in my last post, the gospel choir wrecking the scene of the art opening in a positively heroic fashion. At the post-opening reception a man next to me gushed to the man next to him that he tries to visit New York City once a month for inspiration.

The County of Los Angeles sprawls across 4000 square miles and holds 9.8 million people in fifteen cities speaking something like 200 different languages. In my neighborhood, I hear Tagalog, Spanish, Korean, and Bengali regularly: what are they talking about? What is their discourse? According to the listing at LA Art Resource, there exist at least 50 artist-run (maybe 85) initiatives in the City of Los Angeles (one of the fifteen cities in the county), located in phone lines, apartments, the Internet, lofts, and so on. What are they talking about? What is their discourse? Are artist-run initiatives speaking Tagalog or Korean, Bengali or Thai? Are they speaking to each other, in English, or in Spanish, about their local contexts? What the hell is going on in Burbank or Lancaster, Pasadena or San Gabriel? Surely not nothing. And if nothing is happening, then shame on us allowing that narrative, that public, to disappear from our discourse.
The setup, or lack of setup, of the City of Los Angeles, a setup that Brecht derided in the early 20th century as a collection of culturally vacant suburbs haphazardly roped together under a dubious civic entity (a situation only slightly ameliorated by the Interstate system) might prove actually beneficial to the development of a sort of critical ecosystem, a local discourse that might operate as the conglomerate of a series of hyperlocal discourses. Perhaps it is beside the point to fret about what Los Angeles's unified cultural identity is, and instead ask what the cultural identity of Koreatown is, and how that relates to neighboring Mid-Wilshire or Historic Filipinotown. What is happening in Los Angeles is not what is happening in New York, but it shouldn't be, namely because Los Angeles is not in New York. But what is happening in Los Angeles surely has the potential to be absolutely fascinating and exciting, if – maybe only if – we can get a little critical.
Jacob Wick is a conceptual artist living in Los Angeles, CA. For more information, please visit jacobwick.info.
Guest Post by Autumn Hays 
Let us start off by acknowledging that there is a distinct difference between Queer and Transgender subjects. It's important not to lump these two together. Though related and often overlapping, these are not interchangeable terms. Queer being a reclaimed pejorative for gay, and transgender being a person whose self-identity does not conform unambiguously to conventional notions of male or female gender. (see more.) With that in mind what I would like to look into a reoccurring concern in the discussions that take place around both queer and transgender performance art.
In the last month I have seen multiple panels touching on the subject of new Queer and or Transgender works. There was a definitive connection between all panels: and attempt to shake up current the definitions, and what some define as new codified zones of safety. When I say zones of safety, I am referring a kind of identity politics that sits safely in a form of expression that is confortable enough for new standards of acceptance. Artworks that sit in this comfort zone fail to realize the full potentiality of the subjects and often begging to forum it's own predictable cliché. The challenging of the formulation of a tamed queerness or transgender performance is an often-highlighted theme appearing in new works. The formulation of a safely circumscribed zone undermines the attempt to reconsider the subject due to an inadequate scope.
Queer and or transgender arts panels often attempt to define the new wave of artists making work in these areas. Today many artists are attempting to define a new direction that departs from the identity work that came out the 80s and 90s. Often these earlier works are ascribed the quality of crying out for recognition. Much of the work being produced today is looking for finer definitions, as opposed to this preliminary awareness.
We could go on to talk about the subject of the word Queer as discussed during the roundtable "New Queer Aesthetics" in late October. Queer New York International Arts Festival (QNYI)  had come to Chicago to exhibit a Queer Fest as an extension of the one in New York at Defibrillator Performance Art Gallery . The Chicago show featured artists Suka Off, Bruno Isakovic, Gabreiela Mureb, and Keijaun Thomas. Queer fest distinctly pulls itself away from other Queer festivals which they feel are accepted ideas of the term Queer. As one of the festivals curators, Zvonimir Dobrović, explained, the festival seeks to redefine and challenge preconceived notions of the term Queer. Not all work is made by the LGBT community and instead is defined loosely by a sort of norm-challenging ascetic. After struggling through various definitions, redefinitions, embracing, rejections, fears of washing out the word of meaning completely, and other post-modern linguistic dilemmas an audience member mentions queerness in regards to race, specifically the colored queer. Why is this important? Because the conversations began to progress from the semanticlogical, what is Queer, to what are current Queer issues are concerned about, who are we dealing with the queer female of color in art today.
This November I attended a panel at the School of the Art Institute of Chicago. Transgender / Arts : A roundtable on the future of transgender cultural production, which  included panelists Trish Salah, Jules Rosskam, Julian Carter, David Getsy, and Micha Cárdenas. During the panel many valid points were made about Transgender art. Micha Cárdenas presented important question to the panel, "Where are the trans women of color in art?" Many of the panelist themselves who specialize in Transgender arts could in fact not think of a single artist. The panel began to discus a kind of film festival, performance and art transgender normative narrative. A washed down version, where you began to see something constrained, not quite all the way there. Sitting in a place somewhere in academia where it is comfortable and safe.
How does performance readjust and challenge Queer and Trans identity without losing site of the community in general? There is something that happens to us when we are about to fully realize the other; we find a way to compromise, to only go so far. Many Queer or Trans artist today are attempting to push at the boundaries of a newly accepted normative narrative and point at the things we are forgetting, those who still don't have a voice. The Art world, the world, is still white male dominated. In a way the lull of sleep we put ourselves in this supposedly post-feminism, post-racism, post- sexism, post-gender issues world that we keep referring to as better than it was before is more dangerous. Because hiding under that comfort is the fact we haven't changed all that much, we should be forging new grounds and making sure it doesn't fall asleep.
If I was asked where the new queer or trans aesthetic is headed today, I would say somewhere within the struggle of continuous disturbance, in the understanding that things aren't there yet and we have to keep shaking it up, shaking ourselves up, so we don't become our own worse enemies, the perpetuators of a normative Queer of Trans identity. As performance art specifically keeps pushing on with another panel at the Hemispheric Institute for Performing Arts, this week discussing "Race & the Colonial Impulse: Queer Performance Practices", I look forward t a continued discussion that bridges gaps in the dialogue between racial queer and transgender  issues in the arts.
_______________________
Autumn Hays is an Artist, Curator, Teacher and Writer. She graduated the School of the Art Institute of Chicago with an MFA in Performance where she received the John Quincy Adams Fellowship. She received her BA in Visual Arts at UCSD. Hays was the recipient of numerous scholarships, grants and awards including two major Jack Kent Cooke association scholarships.Currently she is assistant curator at Defibrillator and Directing Coordinator of the Rapid Pulse International Performance Art Festival. www.autumnhays.com