By Kevin Blake
As Elijah Burgher's solo show at Western Exhibitions comes to a close and he sets his sights on the 2014 Whitney Biennial, he weighs in on his practice. With a 'no stone left unturned' approach to his work, Burgher is tough to stump and shows us why his work merits a bigger stage. 
Kevin Blake:Your recent solo show 'Friendship as a Way of Life b/w I'm Seeking the Minotaur' at Western Exhibitions features an eclectic grouping of work. From intimate representational drawings that appear overtly labor intensive to large abstract paintings on canvas drop cloths that hang from the ceiling, each work demands something different of the viewer. These works interrupt the gallery space in an interesting way and requires the audience to physically adapt to your installation.  Can you talk about how you conceived the schematic for hanging this show and how it may or may not reflect your ideas about ritual? 
Elijah Burgher: Originally, I wanted to install the drawings and drop cloth paintings separately in Scott's two galleries, constructing a labyrinth of sorts with the latter works. I had in mind something like Robert Irwin's installation at Dia's Chelsea space in the late 90s, which consisted of a maze of scrims lit by differently colored fluorescent lights. (I saw that when I was an undergrad, and it left an impression on me, but I hadn't known what to do with that experience in my own work.) Or imagine being able to physically enter a painting by Mark Tobey or Brion Gysin. I was–and continue to be–interested in contrasting the depicted space within the drawings and the real space created by the drop cloths when they are hung as false walls–I am thinking of them more and more as building blocks for a soft architecture. I decided instead, however, to hang the drop cloths among the drawings, and use them to partition the gallery space into smaller rooms. The labyrinth idea is still present, but less literally manifest. I think it is also reinforced by certain of the drawings, like "In the horny deeps below finding," which pictures two figures standing on the threshold of a space, on the walls of which sigils are painted.
The drop cloth paintings have their origin in rituals I was devising and conducting a couple of years ago, around 2011 or thereabouts. I was combining Austin Osman Spare's sigil magic, bits and pieces of European ceremonial magic, and my experience participating in AA Bronson's Invocation of the Queer Spirits project in these rituals. The drop cloths functioned as both portable temples–spaces for conducting rituals–and artifacts of the rituals. I made a video documenting one of these actions with my friend, Tom Daws, three years ago, which was shown as part of an exhibition at Gallery 400 called "Intimacies." That context remains pertinent, although the paintings are no longer, strictly speaking, artifacts of rituals. It's the portable temple part I'm more interested in now–again: false walls, fragments of a soft architecture. And I hasten to add that I do, in fact, live with them in this way. For instance, my studio and kitchen are separated off from one another by two drop cloths hung back-to-back.
KB: I think the essence of Irwin's work is experience–how the work presents itself at the moment you interact with it. Irwin's work was made to transcend the material nature of its temporary existence. It certainly did for you, it seems. In that vein, your work evoked in me the idea of ritual–the ritual of looking at art or the art of looking in the gallery context. As I wandered through the space, I kept thinking about how I was supposed to maneuver, and if I was doing my part correctly so as to understand your intentions. Your work alludes, pictorially, to the occult, but the way the show was hung addressed Irwin's ideas more overtly. For me, this over-arching metaphor for experience and ritual, really tied the show together nicely. Is this happenstance or a strategic move to conflate those ideas?
EB: This is a hard question to answer. It wasn't precisely my intention to draw an analogy between the experience of looking at art and ritual. In fact, I worry about conjuring the look and feel of sacredness in a humorless, worshipful manner. On the other hand, I think that bringing ideas from magick and the occult into art can focus our thinking about art, especially regarding our psychic investments, our expectations and hopes and worries.
The stakes of Irwin's work, generally speaking, are in prioritizing the phenomenological aspect of visual art, enabling a pure experience of looking: "seeing is forgetting the name of the thing one sees." My work does not share this aim. It's invoked in order to be complicated, even reversed. I'm too interested in representation and language. I think that the experience of the show at Western involves toggling back and forth between depicted and real, imaginary and actual. I also hope to make those polarities more volatile. I'm obsessed, for instance, with making something happen by drawing.
KB: The way the drop cloths were hung forced a physical encounter with the intimate scale of the drawings, while simultaneously conveying a sense of being walled in by the paintings. I think this mandates an initiation to the work that is a compelling component to the show. How do you think about the audience in the production of the work, or is it a curatorial consideration post production?
EB: Yes, I wanted the drop cloths to operate in that way–to contrast the scale and sense of touch in the drawings, as well as suggest connections amongst certain groups of drawings by separating them off.
I was going to reply that I do not take the audience into consideration when I work, but that's not entirely true. I suppose I resist the idea of a general or abstract audience. Primarily, I make things that I want to look at and think about (or try to do so, at least). And I also make work with specific individuals or sets of individuals in mind–people with whom I am already in dialogue or wish to engage in dialogue. When I am working, I am thinking about my friends–amazing artists like Doug Ischar, John Neff, and AA Bronson–as well as figures with whom I can only engage in imaginary conversation because they're dead. William S. Burroughs, Jean Genet, and Forrest Bess would be examples of the latter.
But maybe I'm misunderstanding the gist of your question? You're suggesting that I'm molding the viewer's experience through installation decisions, which direct not only the viewer's bodily navigation of the show but their conceptual understanding of the works. I think this is right, although, again, I wasn't really thinking of the audience. I was thinking about the works themselves and the relationships amongst them in the show as a whole. It was important for Lucifer and In the horny deeps, below finding to be in the first room, providing a kind of key with which to approach the other works in the show.
KB: For me the show does much in the way of re-instating the experience of art as something personal if not sacrosanct. Your figurative drawings allude to deeply personal narratives while the spaces in which the figures exist complicate the read.  Those spaces are self referential in a way-suggesting a dialogue with your paintings. It is as if you give the viewer something, but not everything at once–morsels of information laid out in a trail from one work to the next. I'm guessing that you are working on multiple pieces at once, maybe making labored drawings at a desk and when you don't have that kind of patience, you make these large gestural, energy-infused paintings that feel absent of circumstance. Can you say something about the experience of making, dictating outcomes, as it relates to your conceptual framework?
EB: I trust the space and time of my studio–its organization and furniture, its rhythms. From that perspective, I think about working in terms of wrist versus arm, sitting versus standing, stillness versus movement, head and hand versus whole body. I make work from above: it is either on a table or the floor. These physical aspects of making impart a charge to the work, conveying particular kinds of attention and intention. For instance, devotion–in its religious, romantic and sexual registers–is both cause and effect of the exacting care with which the two portraits in the show are drawn.
Right now I am very committed to drawing as a medium, and I'm interested in activating and exploring two of its primary traits or functions. Drawings were historically valued as a form of raw, active thinking: notes, plans, visualizations of paintings to be painted or buildings to be built. They were also valued in terms of pure mark-making–for their autographic nature. (Think of the cliche of a connoisseur being able to distinguish a straight line drawn by Picasso from one by Matisse.) The first has to do with drawing's intimacy with the head, the latter with the hand. The first projects into the future, the second indexes presence. All of this has something to do with desire, its force and movement, but I am still trying to figure that out.
KB: I think you are right about art–particularly art-making–possibly being about fulfilling a desire. A desire to exert, regurgitate, project, exorcise, or summon an idea, dream, or memory. As both are perpetually changing or in motion, how do you think about the relationship between time and desire, specifically as it relates to the act of drawing?
EB: When I think about the experience of desire in relation to time, I think about insistence, rhythm and rhyme, repetition and variation of forms. It might be the case that my drawings embody something about desire's force, form and tempo, but it might also be that I associate desire with these qualities because of the drawings themselves–the repetitive mark; the rulers and compasses I use, etc. We could also discuss the temporality of desire differently, though: the way it shuttles across past, present, and future. Desire retrieves objects from the past–a lost beloved, wishing something might have happened differently, etc–and projects into the future–I want to find my lost ipod, I want that artist's grant, I don't want to die!
Several of the reviews of the show at Western have noted that the drawings are stiff, cold, distant, and that this contradicts the ostensible subject matter of sexuality. I wonder, though, why desire should be represented by messiness, drips, open form, and other painterly effects? I think desire has as much to do with attempts at mastery and control as it does submission, accident, loss of control.
KB: Time and desire will surely continue to play a role in your studio life moving forward, and considering the recent news of your inclusion in the 2014 Whitney Biennial, time specifically, will be at a premium. How do you hope to maintain the integrity of your desires in the work, while fulfilling the desires of your professional demands?
EB: There were pictures I wanted to make for the show at Western that I simply didn't have time to make, and I've begun working on some of those since the show opened. This is a pattern from the past couple of years–there's always some image left unmade, some problem that hasn't been addressed, some loose thread to follow, which keeps me both focused and a little frantic.
I do worry about the integrity of my desires, but that is fairly private and coded–there's plenty of irony, metaphor and other games in my work to ensure that. This work is predicated on the thought experiment of art possessing magical efficacy. Taking that seriously–that artworks cause change to occur in conformity with one's will, to paraphrase Aleister Crowley–results in some serious self-reflection.
In daydreaming fantasies, I'm a totally evil bad ass, I need no one, and I'm flipping a pentagram-adorned middle finger at the world… but when I'm honest with myself about myself and my desires, I end up thinking about other people: human relationality, subject/object, love/aggression, ethics. I say this not because I'm so exquisitely sensitive to the needs of others but because any rigorously rational reflection on desire implicates the social, self and other, etc. I have no qualms admitting I want success–critical esteem from my peers, a livelihood!–but it's these other riddles that I want to think about, and that sustain my work in the studio. Perhaps, though, one day I won't require magic to reconcile art and life, self-determination and sociality, etc? On the other hand, I can't help but think that art itself is always already a thought experiment, always an as-if proposition; which brings me back to magic, arguably the mother of metaphor and salve/lens of contradictions.
Guest post by David Carl. 
This by way of introduction: we enjoy answering the question, "What's your favorite . . ." (fill in the blank here), because it give us a chance to talk about ourselves, and to tell others who we are by ostensibly talking about someone or something else (a favorite book, movie, author, artist, band, album, etc.). By telling others what we like, we try to tell them who we are. Perhaps it is even a manifestation of our higher impulse to obey the Delphic Oracle's injunction to strive for greater self-knowledge, for how often do we turn to art precisely to learn, not about the work in question, but from the work about ourselves and the world around us?
For those of us who care about art, literature, film, ("culture" as they used to call it), nothing says "who we are" more than the books we read, the movies we watch, the music we listen to . . . So when someone asked me recently who my favorite movie directors were, I responded with enthusiasm, despite the fact that the answer I gave was accompanied by the kind of unsubstantiated generalizations that generally drive me crazy when I hear other people spouting them: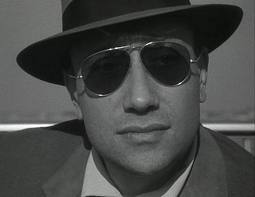 Jean-Pierre Melville, for his unfailing portrayal of "cool" in cinema.
Michelangelo Antonioni, for his relentless depictions of post-Marxist "alienation," not among the working class, but among the wealthy and privileged bourgeoisie of post-war Italy.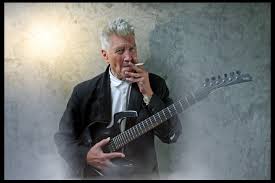 David Lynch, for just being plain weird in the most provocative ways.
Cool, alienated, weird. What else do we want from the movies?
It also occurred to me that Melville, Antonioni, and Lynch are all deeply western filmmakers, obsessed with a uniquely western response to the struggle between good and evil as a kind of spiritual crisis. Melville's heroes are often criminals, but they live by a code (like the bushido code of the samurai evoked in Melville's 1967 Le samouraï) which allows them to live with a sense of honor and distinguish right from wrong, even in the moral gray of the criminal underworld. Friendship, loyalty, courage—these are the virtues of Melville's heroes, and these qualities add up to a certain "cool" that he may derive from American actors like Bogart, Dean, and Brando, but to which he gives a uniquely French twist (different from the kind of "cool" we saw developed by later American actors like Steve McQueen and Paul Newman). It is within this sense of "cool" that Melville explores his own sense of spirituality, in the context of a kind of warrior ethic that is simultaneously an aesthetics of style. In Melville's hero the ethical and the aesthetic are gracefully blended in the notion of cool.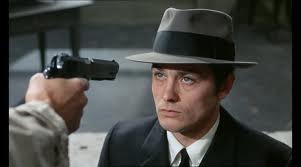 Antonioni's characters, on the other hand, although not criminals, are far less heroic; and while they occupy eminently aesthetic surroundings, they are wholly unethical—not because they are evil, but because they are weak. Melville's three virtues—friendship, loyalty, and courage—are wholly lacking in Antonioni's world. These characters are too close to pathetic to be tragic, but they are not contemptible because they are often too much like we are, and even in the fantasy world of the movies we find it difficult to hate ourselves. They are living through a kind of modern crisis from which all the heroics have been drained, and what is left behind is lush, indulgent, stylish and visually gorgeous, but spiritually bereft. It is in their response to this sense of bereavement that Antonioni's characters regain a kind of antiheroic charm, especially in the case of the female leads played by Monica Vitti in the four films she did with him between 1960 and 1964. Anything that can still be affirmed against this backdrop of modernity takes on a new significance.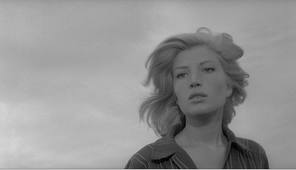 Finally, with Lynch, cool and despair join hands to occupy a landscape that is alien in direct proportion to how familiar it seems on the surface. Unreal things happen in familiar places (our homes, our neighborhoods, inside our own heads), proving that these landscapes are not so familiar after all. What we thought was the comfortably familiar is revealed as concealing dark, hidden corners. These may be the corners of our own imaginations, which tend to run away with themselves, at least if Lynch has anything to do with it. But here too there is a kind of spiritual struggle going on; and a struggle between good and evil that is very real for Lynch, even if it is a rather narrowly conceived western (it would be Manichean if it didn't keep doubling in on itself and implicating his films' various heroes with a sense of their own moral ambiguity) sense of good and evil. The devil, last seen in the works of Milton, Goethe and Dostoevsky, is still alive and well in the films of Melville, Antonioni, and Lynch. He is still charming, still tempting, and still leaves a wake of despair that demands some sort of spiritual response from those he encounters. For filmmakers, with all the resources of the visual at their disposal, these responses, no matter how ethically grounded, must always be aesthetic as well.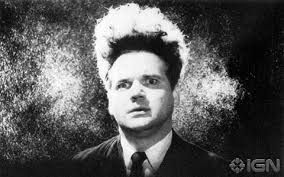 All this may or may not be true, but it isn't really what I want to say about these directors, or how I'd like to write about their films. These comments are marked by the kind of unsubstantiated generalizations that one expects to hear at cocktail parties (at least the kinds of cocktail parties I'm always hoping to be invited to—as long as they're serving good whiskey along with the small talk), but they are not really the stuff of careful observation of the visual details that makes watching great cinema a great pleasure. What I would like to be able to do is discipline myself to greater acts of seeing. I'd like to see more, when I look at a movie, in the hope that great movies would reciprocally teach me to see more when I look away from them.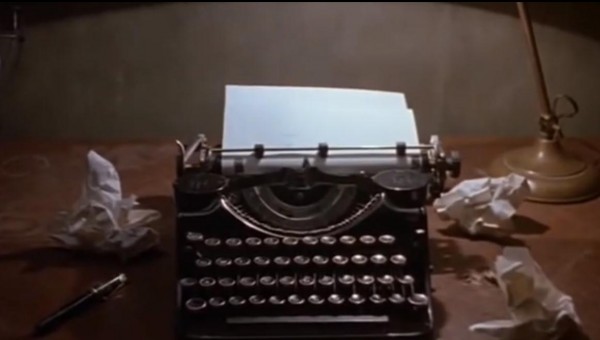 Also by way of introduction: I'm sure its curmudgeonly of me to admit I'm uncomfortable with the word "blog"—not because it makes me feel old, but because I am old, and it makes me feel like I should be doing something to compensate for that fact, rather than merely sitting back and enjoying it as the result of the long and laborious process of having stayed alive long enough to earn the dubious title. Instead of "blog" I prefer the old-fashioned word "essay," which is more dignified, more accurate etymologically, and more representative of something that someone has labored over and taken time and care with. Whether or not someone has something to say, they should say it thoughtfully. "Blog" sounds like a particularly unpleasant body function. Something that happens to you when you've put down too much ambrosia salad on a hot 4th of July afternoon after drinking flat beer and eating some baked beans that weren't quite right to begin with. An essay, on the other hand, is the record of an earnest attempt, the written vestige of an effort that calls on you to try your very best, no matter how embarrassing the results, or how inadequate to the hopes and ambitions we brought to them.
Any essay that is not, on one level, a failure, is an essay that stopped too soon, when we were still feeling safe and secure in our own thinking. Often the failure is where things get interesting, where risks are taken and uncertainty and insecurity allowed to crawl out from under the rock we'd like to hide them beneath. A "blog" on the other hand, sounds like what it too often is: a spewing forth of whatever comes to mind without thought or reflection, without the care of craft or the craft of care. (This, for the record, is neither a blog nor an essay, but merely a rant. An inferior but satisfying form of literary production much older than the blog and not nearly so interesting as the essay.)
And this idea of the interesting failure is germane to the movies as well. One distinguishing characteristic of a great movie director (and perhaps this is true of great artists in any area of production) is that there is as much to learn from their failures as from their successes. Along with their masterpieces, Antonioni, Melville, and Lynch all made bad movies; but they are bad movies I've learned a lot from watching and thinking about. There is such a thing as a provocative failure. (Who was it that said, "I would rather be a successful failure than a failed success"? I think it might have been a character in one of my novels, but perhaps it was the author consoling himself after the completed project.) Merely competent directors are capable of making good movies, but their bad ones will be devoid of interest.
There is such a thing as a "merely bad" work of art, one that is not even interesting in the way it fails. I care most about the work of those directors who not only risk going wrong, but actually precipitate themselves into the breach, knowing that the only alternative is to remain perpetually on the safe side of what they are comfortable and familiar with (what they are "good at"). The comfortable and familiar being antithetical to art however we choose to define it.
Next time: some thoughts about seeing in Francis Ford Coppola's The Godfather.
David Carl is a member of the teaching faculty at St. John's College in Santa Fe and a co-founder of the St. John's College Film Institute. He is the Director of the College's Graduate Institute, a Research Fellow at the Institute for the Study of Cultural Artifacts, teaches for The Curious Oyster (a private adult education project committed to Contemplation, Conversation and Conviviality) and has written several books, including Heraclitus in Sacramento, Fragments, Meditations on Initiating the Apocalypse, and Further Adventures in the Unsubconscious. He watches movies in his living room in Santa Fe, NM.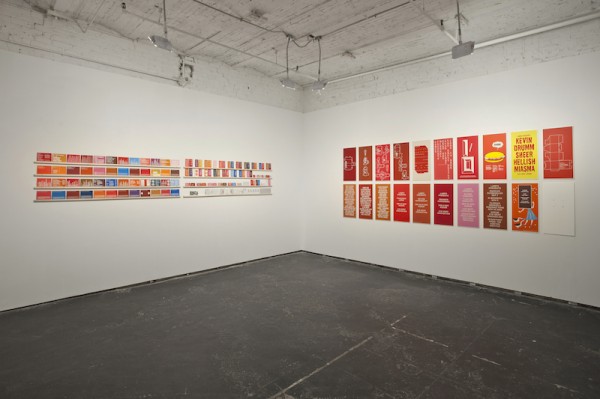 Guest post by Alex Fuller
Chicago's Lampo is a nonprofit organization that has been presenting experimental music and intermedia projects since 1997. Over that time, Lampo also has maintained a strong focus on design in its printed promotional materials. Running through January 17, the Post Family is showing a mini-survey of Lampo design work, drawn from the sound organization's 15-year archive. The Post Family's Alex Fuller speaks with Andrew Fenchel and Alisa Wolfson from Lampo:
Alex Fuller: How did Lampo get started?
Andrew Fenchel:  When I started things in '97 I had no special expertise in music. I was a fan. I'd been listening to weird stuff since high school and going to shows since college. I liked that moment of discovery, especially live, with other people around and the artists there. I wanted to make that happen. I had no background producing events, and I learned as I went along. In retrospect, the lack of experience was helpful. I didn't know what I was getting into or why I shouldn't do it. But I wasn't a complete fawn. I had spent some time around art museums through a couple of internships. I began thinking as much or more about the artists, rather than just the audience, recognizing that Lampo could offer extra support for their work. And I believed producing beautiful design would help make each project special. Alisa and I first met when Lampo was just about a year old. So, design was almost always integral to the idea.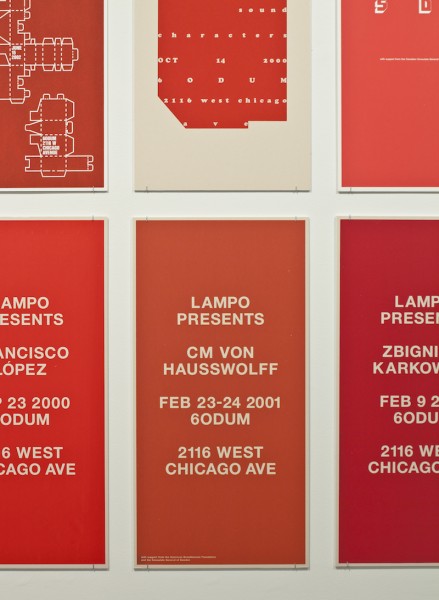 Fuller: Much of the sound you present is electronic. Why was print appropriate for the design work vs. digital?
Fenchel: Most of the things we've produced have a practical function. Posters and postcards are promotional. Program notes are educational. From the beginning Alisa and I also talked about a secondary idea, considering the stuff as artifact. Print is what is left over. It extends the identity of the organization and documents the work. But beyond that, I also had something sort of poetic in mind. That might not be the right word. I'm very interested in the relationship between the live experience, the memory of that experience, and the tangible printed remains. We brought that present and past idea into our design. Like any time-based event that happens and then is over and done, there is the act of reading the words on the poster, and then later an understanding that now it has been read, or red — a color we use a lot. It was kind of a private joke.
Alisa Wolfson: Graphic design is something I do for work. Like Andy said, we met when Lampo was just starting. So, we began our relationship looking at and talking about design and ephemera. We wanted to make things for Lampo and felt a responsibility to the artists to do that. We also both love Fluxus and were inspired by its focus on live performance and dedication to capturing the moment through print. And, print it was and will be. It's the family business
Fuller: How do you curate the Lampo program?
Fenchel: Lampo is structured as a series of select programs, to keep things special for the artists and the audience. I try to create relationships between events, within and across seasons, but I'm not interested in being didactic about those connections. They're not secret, but I prefer to be suggestive and not say more. My goal is to keep the program varied but linked. It's a fun challenge, like a puzzle. What is most important to me is that we work with artists who will be able to take advantage of the invitation, and whatever resources and energy we can offer, to do something they might not otherwise be able to do.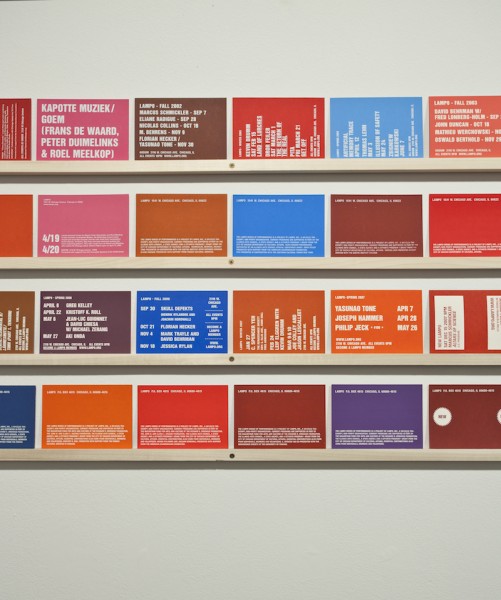 Fuller: Has the graphic identity changed over time? 
Wolfson: I remember doing some early weird type experiments to try to make a proper Lampo logo. They all felt manufactured and over designed. Then we started working with Helvetica. For the system and look, we both agreed a tight set of guidelines would help us create authentic pieces that would be true to our idea of Lampo. We wanted something matter-of-fact. We never wanted to mimic sound through visuals. Instead, we started with a limited set of elements, and we continue to work with these in different variations, as we also add new ones or evolve them.
The poster dimensions were determined by how many we could efficiently make on a standard press sheet. The skinny proportion of those posters became a standard we still use in other pieces. Silkscreen was practical and appealing because it was fast and had a really beautiful, tactile quality. To get saturated fields of color, we had to leave a small border around the poster edge. That border then carried through to other pieces, even when not required by the printing technique. We stuck with Helvetica. Type was often all caps, centered, not fussy. The palette was limited too. Andy loves word play. As he mentioned, different shades of red dominated early on, a wink to "reading" in the past tense. Later we expanded to oranges, browns and blues — colors we saw on bricked up Chicago buildings against a perfect Midwest sky.
These days we've moved away from silkscreen. We have added plaid as a formal element, an everyday reference to math and pattern. And we introduced a new Lampo Folio series, where we produce large-format booklets to document certain past events that have a more visual component. The way we continue to cycle elements in and out and add new ones is something like the way the Lampo program is curated, too.
Fuller:Â Â The show celebrates more than 15 years of beautiful graphic design and challenging sound art. What was the experience like unearthing your archives?
Wolfson: It was fun and strange and exciting. I feel like I'm such a different person now, but it's great to see everything together as a group, and really cool to realize what we've done. I know we both look forward to doing more.
"Reading Lampo" is on view at the Post Family, 1821 W. Hubbard, through January 17. Visit lampo.org and thepostfamily.com for more information. This Saturday, December 7, the Lampo fall season continues with a performance by ex-Emeralds member Steve Hauschildt at the Graham Foundation. 
Alex Fuller is one of seven partners in the studio/gallery/blog called The Post Family, founder of 5 x 7 publishing and a Design Director at the Leo Burnett Dept. of Design.
All photos courtesy of Mike Schwartz.
 
Guest Post by Hannah Verrill
Tatyana Tenenbaum is an interdisciplinary artist whose work examines sound and movement within a shared perceptual, historical, and dramaturgical framework. Her most recent piece, Private Country, premiered this past October at The Chocolate Factory in New York City after a working process that spanned several years. 
I met Tatyana back in early 2006 when we were both studying at Oberlin College in Ohio.  We became fast art friends and began collaborating soon after meeting.  As I try to make sense of the past, it occurs to me that we connected so immediately because both of us were experiencing a shift in our creative frameworks.  I had grown up inside of dance and was beginning to reach outside of it to sound, video, and installation.  Tatyana had grown up inside of music composition and was beginning to explore the body and choreography.  We met somewhere in the middle and continue still to learn from each other's artistic endeavors. 
In an effort to get inside of Tatyana's process of working towards Private Country, while being unable to physically witness it, I staged a kind of experiment that Tatyana graciously pursued with me through written correspondence.  If the result is messy, with bursts of clarity—so it goes, as with any process.  Thank you for bearing with us.
Hannah—Tatyana, I'm asking you to pull up discrete moments, notes, from the making of Private Country.  These can be messy and detailed as if they were occurring in the present moment.  Is this even possible?  I'm certainly unsure.  Time does its thing, right?  Certain moments will come up for air while others are swept out to sea.  Or this is how I imagine it at least.  The director Anne Bogart writes that if the theatre were a verb, it would be  'to remember'. I'll exit here and cue your entrance. 
Tatyana—I'll begin here:
          Note 1 
Techno-Minimalism… TuneYards and Gang Gang Dance.  Moving out of the "new complexity" (or, as my 78-year old composition professor would say, "the new stupidity.") Moving towards audience immersion, sensory experience, spectacle as visceral sensation—where spectacle departs from tried-and-true convention—where it began as something primal, something essential to the human experience, ritual as catharsis, religious ritual, art as ritual/ and /or / religion.  Contemporary pop counter culture as ritual. || None of this writing is suitable for an audience but perhaps I will try to articulate it further. || WHERE FORM MEETS  – – – } FUNCTION, and this becomes aesthetic.  Everything dependent.  Everything related.  Everything a choice.  Proliferation of media means theater becomes one-dimensional in the conventional sense.  Prosceniums are officially flat, not adapted to a world that frequents the 3-D movie theater.  Antiquated.  Dull, irrelevant?  Or just self-conscious in their flatness?  
H—If I simplify a working process as having two tracks, the track that is concerned specifically and directly with the project, and the track that filters everything else happening in one's life and still lends itself to the current work at hand, it seems like this process note would fall into that latter category.  And it's a messy situation! But this stuff is so important, right?  I mean when looking back at how a work was made, or rather, why it was made.
This idea of flatness in theater as an outgrowth of the proliferation of media.  How does this kind of thinking—it almost reads as despair—propel you forward in the midst of project that is mining your personal history with musical theater?  How do you choose to contend with the flatness? 
T—The question of flatness in a theater excites me.  The idea of frontality excites me too. In the canon of musical theater, it's almost a motif unto itself. I think, consciously and unconsciously I wanted to amplify this motif.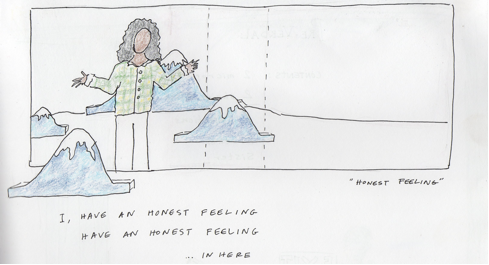 For Private Country I chose to seat most of the audience on risers as in a "proscenium front" and a small handful in a single row on the edge of stage left.  Ezra and I continued this seating line on the upstage left.  It was as if the audience on that edge was disappearing into the horizon line, until they became the performers. A lot of action happened on the diagonal that joined those two audience lines.  However, the obvious weight of the frontally oriented audience was of interest to me.  It was like giving one thing an 80% value and something else a 15% value… 5% went to the mystery. Towards the end, I second-guessed this configuration—for the obvious reason that it would make those viewers on the side become apart of the visual space.  But removing them somehow made the frontality less powerful. There needed to be something to rub up against.
H— I know you grew up inside of the musical theater canon, and I often wonder about kids who grow up with a certain knowledge or familiarity with an art form.  When you approach the form later on, is the desire (or need) for invention within the form always a critical point of interest? 
 T—I want to say that I was always drawn to the absurd.  I was also some form of outsider.  I couldn't even get a role in my town's community theater production because I was too shy… so I started writing my own musicals, and I found power in that.  It was the most un-self conscious re-production of convention… to the downbeat.  I mean, without knowing what I was doing, I was channeling so much history (I had grown up with it).  So it made it easier, later on, to comment on that canon.  I had already begun archiving and indexing those conventions as a child.  It was my way of making sense of that world.  Part of unearthing that is realizing what that absurdity means to me now—what it is bumping up against.  

          Note 2
Reading The Old Way by Elizabeth Marshall Thomas.
 The first mention of art and "artistic genius" [within the society of the Ju/Wasai Bushmen of the Kalahari] was in regards to hunting.  She feels that the creative energies are played out in this arena, and points out that the first art in caves was to commemorate big hunts.  She describes, also, the storytelling and oral myth making around hunting.  When she gives an example of the style of storytelling, it is all in the present tense: "I creep forward, I creep.  He jumps!  He is just that far."
H—How did these ideas "play out" in the arena of Private Country?  Why do you feel that the sport of hunting sparked artistic expression?  And what about the present tense, why make note of that? What feels important about an expression of the past happening as if it is in the present?
 T— I think I was drawn to these old ethnographies (I also read John McPhee's "Coming Into the Country," a collection of contemporary ethnographies of Americans living back-to-the-land style in rural Alaska) because I was trying to understand where this compulsion to depict ourselves came from.  
 "I creep forward, I creep."
When I am temporally engaged in an art practice, I feel it in the present tense. Â But when I analyze it, contextualize it, or write about it, I do so by separating it from my daily life practice. Â There is an "otherness" that develops; this classic division between art and life. Â So maybe I was searching for the root of that otherness. Â 
The hunting bit—it surprised me.  And then, it made sense.  The oldest stories are hero myths.  And these stories exist without a written language.  I find it interesting now because I have been engaged in this memorization practice within my own work.  Even though I take notes on my texts as they develop, I never treat the written word as having authority over the lived moment.  I re-write the material over and over again in rehearsal, changing things as I forget or alter subconsciously.  I've always been drawn to memorization.  I used to listen to stories on audiocassette and memorize them.  I had this one children's series called "The Great Composers."  I used to listen to it over and over again.  It became, in effect, a completely oral tradition, a series of hero myths, westernized, classicized, internalized, plagiarized,and canonized…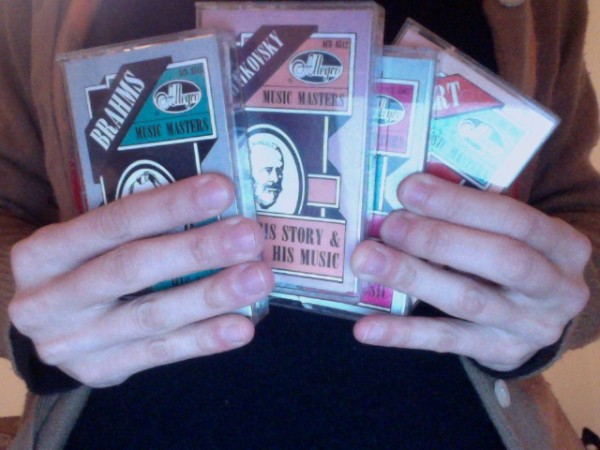 Note 3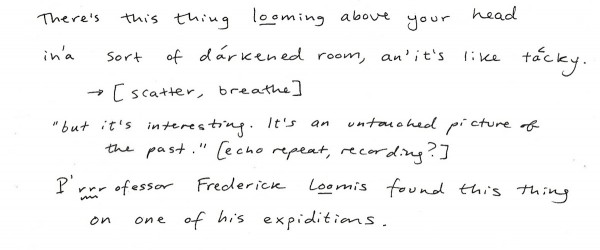 H—When and how does the impulse to archive arise for you? Is it in the very instant?  In which case I imagine you living a kind of double life; being while simultaneously acting like archeologist.  Asking yourself which moments need to be recorded, preserved.  Or is it an afterthought?
T— I think archiving is a constant.  Some of the text I used in Private Country was originally sourced in 2005 from an interview with an archeologist.  I first set that as a vocal composition in 2006… later I started experimenting with recitation of the memorized composition in a very resonant space, which is where I was first able to hear my own pitch fluctuation in my speaking voice… I developed a practice around that recitation and that began to open up the process I used with my ensemble to create these spoken-sung passages for Private Country.  So I was still using part of the original text 8 years after I first acquired it.  Now that I've let go of that text, I'm still using the musical phrasing that I found with it to structure new ideas…that's an example of how archiving or my relationship to my archive is happening constantly inside of my process. 
    
          Note 4


H—Working with your brother, archiving moments in your relationship—do you work with that as raw or already composed material, or both? 
T—So, Ezra and I really played out our relationship on and off stage.  It started with our original conversations… I asked him to help me as "dramaturge", because I thought he was in a unique situation to act as one.  We fought, we played, we analyzed.  No matter what, we couldn't escape our Brother/Sister roles within the piece.  And as far as I was concerned, we didn't have to.  Because we basically made the duet and then worked on it for a year and a half—the progress was internal.  We built up a mythology within what we were doing.  It was supposed to be spare, raw, but also dense with history and context. 
Note 5 (revised sibling dialogue)

On that note, we find an ending.
Hannah Verrill is an artist living and making work in Chicago, Illinois.
 
GUEST POST BY AUGUST EVANS
"Cinema is a wonderful way of expressing dreams."       -Phillipe Soupault, founding surrealist
Here in Bloomington, IN, the December midnight screening series at the renowned IU Cinema, "More Human than Human," is poised to screen David Lynch's prequel (and conclusion) to the cult television series, Twin Peaks: Fire Walk with Me.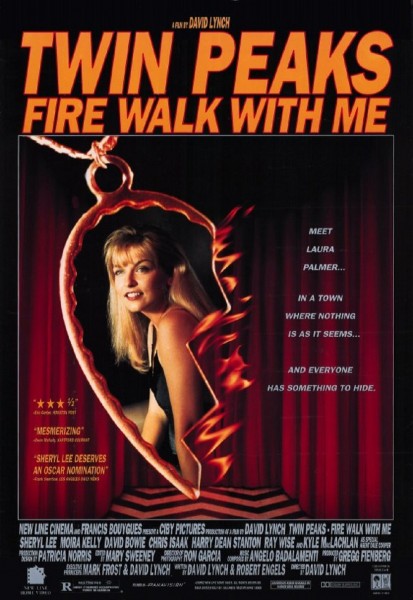 Photo Courtesy: lynchnet.com
The IU Cinema describes Lynch's 1992 film as "part neo-noir, part family melodrama, part surreal horror movie." The descriptor "surreal" comes up more often than not in describing most any Lynch project–from an early film like Eraserhead, to a later work like Blue Velvet, or in any general summary of Twin Peaks–to a more recent foray into the song and accompanying film, "Crazy Clown Time."
As much as the term "surreal" is used to describe the Lynchian universe, I wonder how such constant use might be making "surreal" into a Lynch-like genre, as equally identifiable as noir: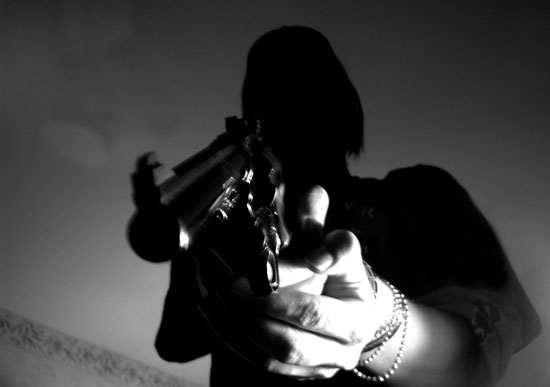 Photo courtesy: Noir Film Festival Dubrovnik
But in the way that we identify the above as a decidedly noir photo still, what qualities make a film "surreal," other than there being something bizarre, non-linear, oddly juxtaposed about it?
Lynch has come to be known for his "surrealist films". His Wikipedia page claims he's developed his own unique cinematic style, dubbed 'Lynchian', characterized by dream imagery and meticulous sound design. The surreal, and in many cases, violent, elements contained within his films have been known to "disturb, offend or mystify" audiences."
But even though Lynch's films are unmistakably surreal, are they surrealist?
Surrealist cinema, with origins in Surrealism, a movement that coincided with the birth of motion pictures, whose originators grew up alongside the first films, defines itself as being unable to be defined by style or form, ever-shifting and incongruous.
Only three films were actually ever designated "exclusively surrealist productions," created in the throes of the movement and in keeping with its tenets: Germaine Dulac's La coquille et le clergyman (original scenario by Antonin Artaud), Luis Buñuel's L'âge d'or, and what might be deemed the quintessential surrealist film, Buñuel and Salvador Dalì's Un chien andalou.
Though not necessarily "better" than any blatantly produced generic film, Un Chien Andalou is undoubtedly "different" than such films created under the commercial conditions and restraints of Hollywood. There is no doubt that the film was self-consciously produced, and subsequently consumed, against the mainstream generic model. Film theorist Steve Neale suggests Un chien andalou "flaunted the genre system predominant in Europe at the time it was made…the genre 'narrative feature film', and the genres of the contemporary European art film…Buñuel, claimed it was not even an instance of avant-garde filmmaking, but rather 'a desperate appeal to murder."
Surrealism strikes me as an ideology akin to an artists' movement, rather than a publically discussable genre. As Luis Buñuel wrote, the group sought "to explode the social order, to transform life itself," an aim far more expansive than a simple generic label.
Any attempt to place the weight of genre upon an artists' movement like Surrealism presents problems, considering the aims of the first (and possibly only) surrealists were to explode the bourgeois order. Indeed, these initial surrealist films achieved something very unique, specific, and particular to the artists' movement out of which they emerged. Toby Sussman deems these early films "the pinnacle of the Surrealist films…the representation of the total passion of a human event pushed beyond previously known limits…resulting in a beautiful new world of images existing somewhere between the amorphous intractability of dreams and the cold acceptance of everyday consciousness":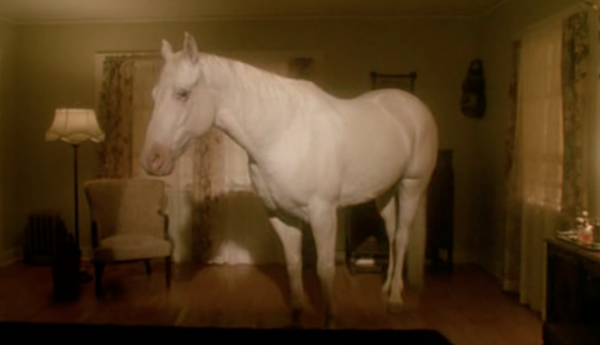 Still from Twin Peaks: Fire Walks with Me      Photo Courtesy: lynchnet.com
Contemporary Czechoslovakian filmmaker, Jan Švankmajer, has called himself a "militant surrealist."And yet, in his 2007 essay about the filmmaker, Jan Uhde calls him "one of the most significant living directors of non-mainstream and experimental film animation," and cites Surrealism only as "a major influence" on Švankmajer's film style. The first surrealists were nothing if not a collective, making Švankmajer's participation in an actual group a notable link.
http://www.youtube.com/watch?v=SqGAZgtDiBU
The experimental films of Maya Deren could certainly fit into this category as well. Deren combined her interests in dance, voodoo and subjective psychology in a series of perceptual, black and white short films. As an independent distributor, Deren exhibited and presented lectures on her films across the United States, Cuba and Canada. In 1946 she booked the Village's Provincetown Playhouse for a public exhibition. Deren titled the exhibition: 'Three Abandoned Films – a showing of Meshes of the Afternoon, At Land & A Study in Choreography for the Camera'. Deren took the word 'abandoned' to refer to Guillaume Apollinaire's observation that a work of art is never completed, just abandoned. Whilst the title was ironic, the exhibition was successful.
Yet Deren actively rejected categorization as a surrealist, refused the definition of her films as formalist or structuralist. To label her films as surrealist brings up the same situation of Lynch's distancing himself from the term in interviews, and summons the origins of the artists' movement, people who based a huge amount of their identities on their active alignment with an ideology via Breton's definitive manifestoes. Indeed, Deren's request that her films shall not be called surrealist clashes logically with the crucial foundations of the artists' movement, especially in considering how actively its practitioners self-identified as surrealist.
It seems to me that surrealism exists as a state of mind rather than a genre-form. Both dada and surrealism have been defined by their adherents as attitudes of thought as opposed to formalist or strictly cohesive artistic styles, and the artists were therefore committed to obtaining new effects by experimentation, recording accidental events resulting from improvisation.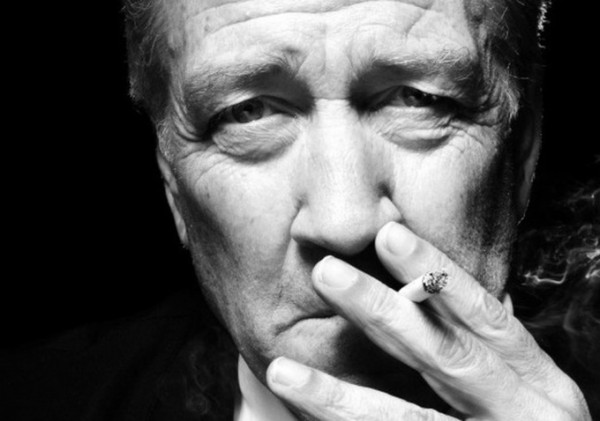 Photo courtesy: lynchnet.com
Michael Richardson writes, "the surrealist necessity is to make Marx's demand for the 'transformation of the world' and Rimbaud's demand to 'change life as one and the same thing." The Surrealists' belief that "poetry should be made by all not one" required broader societal change and helps explain the movement's close identification with various shades of left-wing thought. The publication of numerous, often difficult, sometimes perplexing, manifestoes should be understood within the context of the turbulent politics of the interwar years.
Excluding Å vankmajer, few filmmakers take such rare and raw revolutionary risks today. The essence of surrealism, refusing to be here but always elsewhere, makes me wonder whether a film like Lynch's Twin Peaks: Fire Walk with Me should be included among those forerunners. Though the film teems with dreamlike, non-linear imagery, it contains its share of gratuitous nudity and standard plot turns. To align with the originary notion of surreal, the film should explode the social order, force the viewer somewhere new and perplexing. Whether Fire Walk with Me explodes any staid order, I have yet to know. What I do know is there is something very different about it, which may be enough to count as surreal.
August Evans has written in Mexico, Sweden, and Aix-en-Provence, France, where she taught English before returning to the U.S. to complete her Masters of Humanities degree at the University of Chicago. She has taught college English and Humanities in Chicago, and studied fiction writing at the University of Illinois at Chicago. Currently she is an MFA candidate at Indiana University, Bloomington. Her fiction and book reviews may be found in HTMLGiant, Melusine, and Monkeybicycle.