Guest post by Jacob Wick.
The first time I went to Adam Overton's house, I sang a song. I don't remember what song, but I remember showing up, sitting down, and Adam turning on a song, a hit song, something that probably had just been on in the car, as we were driving – there were about twelve of us, maybe sixteen, five in my car – and beginning to sing along, very tentatively. By the end of the song, all of us were singing, without any prompt or encouragement from Adam, without any internal discussion, without consideration of who would sing what, without worrying about whether or not we knew the song or if it was in our range, without giving each other puzzled or encouraging looks, without giggling, without any hesitation or embarrassment or even any thought. It was one of the most magical musical experiences I've ever been part of. The second time I went to Adam's house, to conduct the interview that appears, with very little editing, below, he offered me some key limes – now is the time of year when citrus drops in southern California, baskets of oranges and limes and lemons everywhere – and some homemade ginger concentrate with seltzer water.
Adam's dog sat on my lap for most of the interview that follows, and contributes in a minor fashion to our dialogue. Adam's cat made a brief appearance to scuffle with the dog, but is not mentioned or referred to in the interview, although certainly at least one portion of our chat could be interpreted so as to refer to the cat. For instance, did you know that chat is cat in French?
This is the first in a series of interviews on the subject of listening.
JW:Â Hi Adam.
AO:Â Hi.
JW:Â Maybe we should just talk about your various projects before we get to anything else. Does that sound reasonable?
AO:Â Sure. Yeah, if there's any…
JW:Â And also, like, kind of how you…well good, I didn't bring my notes. So this will be less professional. Remember when like, the, uh, CCA social practice horde descended upon you?
AO:Â Oh so you were, oh so that's how you know Dave…
JW:Â Yeah, that's how I know Dave, and that's how I know you, yeah…
AO:Â Oh!
JW:Â I mean, I don't think I introduced myself then, umm, I don't know.
AO:Â See that's when I started loosening up about remembering faces was when I started teaching because it became so hard to keep track of…
JW:Â I think, yeah, I'm kind of losing my…yeah.
AO:Â Yeah. Don't start teaching.
JW:Â Yeah, ok.
AO:Â Or, if you want to loosen up.
JW:Â See, ok, maybe we can talk about that: what's been your, uh…maybe it's a grass is always greener thing, like I'm not teaching now so I'd really like to teach and I keep thinking about classes I want to teach and thinking like "oh, that'd be really fun," or interesting, or both, but you're saying you're tired of teaching…what's the…why?
AO:Â Why am I tired of teaching?
JW:Â Yeah.
AO:Â I'm sick of dealing with shitty employers, basically.
JW:Â Yeah.
AO:Â And that's ultimately what my regular, um, that's the typical experience that I'm having right now, is working with shitty employers. Like really shitty employers. And, uh, the places that are really steady, in terms of work, are the shittiest, or have been, at least for the kind of work that I get, and the ones that are better are ones where I only have electives, and I come in and I teach a class and they're like "wow that class was great, everyone really loved it, maybe you can come back and teach in in two or three years…" But there's a big unionizing push going on right now, in Los Angeles and Boston and potentially nationwide to unionize adjunct professors, so I'm getting really interested in seeing how that goes…
JW:Â I've heard a bit about that. Are you teaching at multiple schools right now or just one?
AO:Â Uhhh, right now I just had my classes reduced from three classes to half a class over the holidays by one of the schools that I teach at.
JW:Â That sucks. Are you teaching arts courses or are teaching more like skills, skill-based…
AO:Â At one place, at the for-profit that I teach at, I teach mostly web-related programming skills. So that's usually the steadiest stuff…I used to teach more like digital – like Adobe Suite – stuff at a community college, so that was also kind of steady, but more design-oriented than my background calls for…
JW:Â Yeah.
AO:Â And then the stuff that, uh, when I get to teach what I want to teach, or when schools offer me courses that are closer to the range of what I want to teach, typically it's somewhere in the range of sound art, performance art, and/or um..uh… I got to teach this one class that was pretty fantastic related to activism and education and media…like streaming and stuff, technologies like that. And there's one school that I teach at, that I get to teach about once a year and I get to teach an experimental video workshop there, and I hope they don't read this, but I have no experience – like I don't make video – but when I first signed on to work there about four years ago, I signed on and I realized I had this whole library of video art, and this whole background as a viewer of video art that was really influential on me as a performer, and it's ultimately just a class where we look at stuff, we talk about it, and then they have a loose assignment based around an experimental strategy, which could easily be, you know, a performance class or a sound class or whatever, it's loose enough that it's about strategies, it's not specifically about editing, and that class is probably the best class I've ever had my entire life, because it's talking to commercial film kids about non-entertainment based, non-commercial work, and I want to say they love it, but it's not that they love it…
JW:Â They love it!
AO:Â All the sudden they realize there's this other thing and they're hungry for something that's not just commercial narrative. And it's at a film school, so the students there are so much more interdisciplinary than any other school I've ever…
JW:Â In what way?
AO: At this film school, this is the only place – I mean, I've taught at other art schools, like Otis and elsewhere – but this is the only art school this is the only school that I've ever taught at where students will not only say "oh, I like to write," but many of them identify as writers, so you can talk about text and they won't rebel; almost all of them have experience editing video, of course, but because they've done that they also almost all have experience working with audio; and since some of them are coming out of an acting background, or have worked with actors, they also have connection to performance. And so you can come to them and do a movement-based workshop – like we always do a movement-based workshop based off on some Simone Forti and Hana Vanderkolk exercises – and they gobble it up. Whereas if you do something like that at Otis, I mean, sometimes half the class will really dig it, but I've had students come up to me and be like, wait, are you a sculptor, and I'll be like no, and someone actually said like, "well then why are you here?" and it's like "ok, because you're in the Sculpture/New Genres department?" But so, but I've never gotten flak for, I mean, anyways that interdisciplinarity, and kind of confusion of where one lies in the medium spectrum, is particularly strong at this film school, which is great.
JW:Â But it probably doesn't matter to them too much where they lie on the medium spectrum, I mean, am I generalizing too much, or…?
AO:Â Maybe a little bit? Just because it is a professional-track thing, and so they do identify as "I'm a director," "I'm an editor," "I'm a cinematographer," so they do have these professional kind of things that they hump down into. And on their evaluations every once in a while you get, you know, "was this class valuable to you?" and someone will say, "no, because I'm a director, I loved it but it wasn't useful because I'm a director," which I still don't understand. But anyways, yeah, I teach a lot of things at a lot of different places, and I'm trying to…ideally what would be best for me teaching-wise would be…what feels best is teaching classes where it's this awesome conversation and people are experimenting and trying things out, but unfortunately those classes are just electives in my schedule and not enough to live off of. They just feel like little rewards, like a a mini-grant for three months. And so the regular ones are these kind of shitty corporate places that don't give a fuck about you or the students. So that's really where I am – that's why I looking for other work. Other quote-unquote professional work. If anyone out there is looking for very talented uh…I'm really good at making cocktails…
JW:Â Have you considered applying at bars or anything?
AO:Â I'm really intimidated because I've never worked in restaurants or anything like that, but actually I'd be terribly interested to work as a barback or a cocktail apprentice, because I'm really into cocktails right now.
JW:Â I've been really thinking about, um…
AO:Â And I'm a night owl, so it would kind of work.
JW:Â I mean, I've been kind of getting into wine a bit more, and for a minute I was kind of thinking of opening a coffee shop, and now my pet dream is to open a cooperative grocery store, that would have maybe within it a coffeeshop/bar situatation, but I don't know, whatever. But like I feel like there's a lot of people – a lot of artists who are veering towards more service industry-related things…I mean, I don't know, we don't have to talk about that much, but I curious about that kind of transition of like, and it's often people whose practices I really identify with, where generosity or collaboration or like a concern…
AO:Â Well, I think the language in the social practice arena primarily goes towards generosity, and I think that's there, but I see it as desperation, like artists are trying to figure out how to fit in and find part-time and/or full-time work that feels useful or and is productive for them in some way, shape, or form. But there is a trend, because actually in the experimental music community in Los Angeles, what you're talking about is very common. In terms of people brainstorming, but not necessarily following through. I don't know if you know James Klopfleisch…
JW:Â No, but I was playing with Ted Byrnes on Monday and he mentioned James…
AO:Â Yeah, he's involved with the wulf., and the Southland Ensemble…I think that's what they're called. But he for a while had an idea for, um…he wanted to do like an ice cream truck, except it was like a coffee, like an iced coffee, and like experimental music coming out of the speakers…and he seemed really serious about it, but then he went off on a cruise ship for a couple years.
JW:Â To play?
AO:Â Yeah.
JW:Â Oh wow. I've heard that's like the worst thing to do…
AO:Â He loves it!
JW:Â I guess if you have the right kind of mindframe, it would be ok, but it just seems like…
AO:Â I think it fit his personality…he likes people, and talking to weird people…
JW:Â And yeah, that seems like a very weird place.
AO:Â Your background is as a musician, right? Did you do your undergraduate as a musician?
JW:Â I did, yeah. And a lot of people went to ships…
AO:Â Yeah, I was a jazz major in Atlanta, and a number of my friends did the ship thing. And I remember thinking about it…I never got the phone number. But it was very possible. It's either you go to New York or you go to the ship in the Caribbean.
JW:Â Or both.
AO:Â Or both, yeah.
JW:Â And then you give up somewhere.
AO:Â Yeah. Oh there was one other precedent though, too, that actually got really close, there was a composer named Gary Schultz, who lived here, who now lives in Berlin, but he was gonna start, well, we joke that it was going to be "Gary's Juice," but it was really gonna be more of like "Gary's Juiceteria," and he was going to be doing the juice selection at a place, some health food store in the West Side, and he got as far as the designs and was setting stuff up, but I think the store closed before it open.
JW:Â Yeah I feel like there's a pool of money that one has to have to open anything like that that I do not have access to that right now, but that's also ok.
AO:Â Yeah. But actually that's the next thing – it's just dawned on me in the last two months – there was like the big wave – I'm 34 now – there was the big wave of "all my friends are getting married" and now the big wave is "now all my friends are starting businesses," and it's weird because when they were getting married I was like "oh, I don't want to get married," and now that they're starting business I'm like "oh, should I start a business?" "no, I don't want to start a business," or maybe I should, or…you know, like…
JW: I think it's still a bit of this desperation thing that you were talking about. I think it's like "well, I don't know what to do now, so maybe I should just invent a job, or…" So did you go to Emory or something?
AO:Â No, Georgia State. Georgia State had a really good program, at least for Georgia. And it was situation downtown, which was the only place that jazz existed in the state of Georgia, except for Valdosta, I mean there was one other jazz program in Valdosta.
JW:Â Where is Valdosta?
AO:Â It's on the border with Florida.
JW:Â Are you from Georgia?
AO:Â Yeah, I'm from the suburbs of Atlanta.
JW:Â One of my best friends lives in Athens.
AO:Â I would never go to Athens.
JW:Â Oh.
AO:Â I mean, it was kind of like a high school angst-ridden principle, that UGA and Athens represented high school part II, and I was very anti-high school and that point, and so for me going to school in the city that was…
JW:Â He grew up in Athens, and I think he feels that way…he has a very clear marker, or at least he did until a couple of years ago, of a street that he would not cross, because that was the UGA side of Athens.
AO:Â Right, yeah. I'm much more grown up about it now, and I feel like I missed out on a really beautiful town that I could've visited more, and a music community that was probably worth checking out when I was there.
JW:Â It's still there, it's still good. So when did you move to California?
AO:Â In 2003 I came here, to go to grad school at CalArts.
JW:Â Was it all CalArts or partially the allure of California?
AO:Â Well I actually almost went to Mills…I thought I wanted to go to Mills more because I thought I wanted to go to the Bay more and I'd only ever heard bad things about Los Angeles, but in the end I ended up going to CalArts because I realized I wanted to go to an art school, not just a music school, and then when I got there I found out that LA is fucking incredible and I found out that San Francisco is really provincial and very un-integrated, so it ended up being a really fantastic decision for me.
JW:Â So did you go to grad school for music?
AO:Â Yeah, I was in the music school there. But I figured out really quick how to get out of the music school and into other departments, which was ultimately the most useful for me.
JW:Â Did you head to CalArts with an idea in your mind that you were going to move out of music?
AO:Â I know going into CalArts, or into grad school, that my practice was….that I considered myself…well one I didn't consider myself a composer heading in…
JW:Â [coughing]
AO:Â Do you need some water?
JW:Â Sure! Maybe I'll eat a mint, too, that's what my mom does when she starts coughing uncontrollably. I guess I'm just curious about the transition between, for you, the transition between, for you, the transition between being a composer and, sorry buddy…
AO:Â Is he getting annoying?
JW:Â No, I just sat on his tail.
AO:Â I didn't consider myself a composer. I mean, I had taken some composition classes and I was doing computer music, but you know I got to grad school and I met composers and they're the kind of people that could look at notes on a page and hear them in their head, and I didn't have that ability and I didn't have a background in harmony, and I knew I was going to an experimental school so that wasn't necessarily a requirement when I got in, but I thought of myself as a sound artist and even more so as a performance artist who was using sound.
JW:Â Ok.
AO:Â So I was doing work that involved attaching sensors to my body and the work that I was looking at was not sound art necessarily, but I was really attracted to body artists at that point, like Carolee Schneeman, Marina Abramovic, the Vienna Actionists, Fluxus, et cetera, like that was what I was looking to, at least right before I got into school. And doing my sound things as kind of like looking into the performance of the body.
JW:Â Yeah.
AO:Â My whole experience, though, is just one of transitioning from one medium to another and feeling like there's a thread running throughout all of it and therefore I don't know this thing anymore. So for instance, you know I was a jazz drummer, and there were many moments where I just realized once I got into the computer, doing computer music, that I don't need drums to do the thing that I want to do. And with jazz, one of the attractions was this notion of moment-form, like being in the moment, and this notion of working intuitively or even psychically with other people, and working within constraints or structures together and seeing what happens, and those sorts of things have continued in some shape or form throughout. So the mediums keep shifting, but…the general progression is like jazz drums, sensors attached to the body, then there was a big breakthrough halfway through grad school where it was, um, what I call biometric pieces, but minus the sensors where we used our fingers instead, where it was like checking someone's pulse at the neck and watching their blinks. And all the sudden the tunnel vision got like this because all the sudden you're staring into someone's eyes for sixteen minutes in a piece and it's really intimate and it was like "wow, this is amazing and it's so much fun and really weird and I'm falling love with people just looking at them," and it's really uncomfortable…so I dropped the electronics at that point and I was writing text scores, just instructions for how to perform things, and that brought in – you know, I've always enjoyed words, so – it was just like coming out of the closet as someone who likes text. And ever since then text and writing has been a really big part of my practice no matter what. There's a lot of different places we could pop into whatever…
JW:Â How do you view the relationship between writing and – because I too have a penchant for setting up bureaucratic entities or…I guess, yeah I don't know, I don't know how you want to talk about Guru Rugu, or the Bureau for Experimental Meditation, or…
AO:Â Well what were you just about to say, though, about your practice?
JW: That I have a penchant for creating these kind of bureaucratic organizations or pseudonyms or things like this and I always kind of wonder if that's tied to  an improvisational approach to composition where it's composing not as "here's this set thing that everyone has to this" but "here's this structure that a bunch of people can be part of"…I don't know, I've always just kind of wondered why I started doing that. And I'm wondering if there's anything that you can see…
AO:Â Well the kind of flippant answer for me would be that it's genetic. My dad's professional was that he was a copy-editor in the sports section of the newspaper, and I remember very vividly growing up and being little and him talking about headline writing as a form of haiku, you know, and it's not like we did exercises, but that kind of attention to what a few words can do, how they can resonate together…
JW:Â Have you ever read the book How to Do Things With Words?
AO:Â No.
JW:Â Neither have I, but it's a great title! And apparently it's also a really interesting book. It's by this Oxford philosopher and Judith Butler writes about it a lot…uhh, but it's sort of…there's the performative, there's the something else…like, you know, there's things that you say that you do while you're doing them, like "I name this ship blah blah blah" or "I now pronounce you man and wife" or blah blah blah and there's things that you say where they're referencing an action that happened before, or, whatever…I don't remember the terms so it's kind of not worth talking about.
AO:Â Yeah. Some other ways I think about it is, like, for me, coming into writing text scores…Text scores, ultimately in the tradition of them, they're like prompts, and especially Fluxus and that tradition it's like one-liners, it borders on humor or punchlines, and there's this sense that through a single command or prompt there can be…there's like an activity or process or group activity lying beyond that statement that's much more complex or interesting and fun, or just something to do. Another thing that you probably know from the realm of music is that it's really fun coming up with band names, that's a really big tradition, but also band names have a huge influence over…ultimately they can be prompts for a certain kind of action or performance demeanor…
JW:Â Or the people that are in a band can be sort of the limits of what that band is or what it can do or what direction it's going. Do you think of the Bureau of Experimental Meditation as a band?
AO:Â Well, it's actually the Experimental Meditation Center of Los Angeles, and the Bureau of Experimental Speech and Holy Theses.
JW:Â Right, sorry.
AO:Â They do, I mean when I started creating some of them, especially Experimental Meditation Center, cofounding it with Guru Rugu, or BESHT with Professor Padu-Paga, like, I didn't think of them as band names, but I don't know, it's just fun to invent names…or sometimes it's you invent a name and you're like "what does this thing do," but other times it's like "what sums up this thing that we want to do together?" and like you kind of said, with a band, when you create a band name the identities of the people in the band kind of get subsumed under this, so you can be a guitarist or a drummer in a band, or you could be in multiple bands, but it's not necessarily your band, it's that thing. And so these platforms – I think of them as platforms, ultimately, they're platforms, they're prompts, for people to come in and do things that they wouldn't normally…that might be part of their practice, but might not…one of the first ones where I consciously had an experience was that was with the Eternal Telethon. I don't know if you know them…
JW:Â No.
AO:Â It came out of CalArts, and it was a group who started doing these fundraisers, these telethons, of varying durations, at different locations, that were streamed online using Ustream when it first came out, and the goal was to raise money for a convalescent home for retired artists, and it would located be at the Salton Sea, and so the hope was that anybody who became part of it would then be a part of Telethon and would one day be able to retire along with us at the Salton Sea.
JW:Â That's a great idea.
AO:Â A lot of the people who got involved – it was basically a variety show with MCs ranting in between – and a lot of the people who participated were not performance artists. It was primarily a performance thing, but a lot of people were not performance artists. So you saw a lot of artists who didn't typically perform doing performances, you saw writers performing, you saw people – just creative people…and so that of course seemed really exciting. The stakes were really low, like it was broadcast online, but nobody's watching, and I'm interested in that phenomenon, and you can see it very clearly happening again in a much larger way at KCHUNG radio right now, because they're broadcasting, there might not be anybody listening, it's a radio/sound thing/phenomenon with primarily a lot of artists doing stuff, many of whom have never done anything with sound before, or even performed before, so I don't know, I like that kind of experiment or that kind of platform or that kind of theme-based thing. You see that happening with theme-based shows, theme-based group exhibitions, too, you know like, "hey Jacob, do you want to be in this show about dogs and cats?" and you're like "I don't really make work about dogs and cats, but sure."
JW:Â Well, I like this dog.
AO:Â Yeah.
JW:Â There's also something really interesting about having a broadcast that everyone is part of that brings people together to make this broadcast that everybody knows nobody is listening to.
AO:Â Well, some people do.
JW:Â Well, but something about the direction towards a public that doesn't exist that allows people to do something they wouldn't otherwise do.
AO: I mean, in LA too, there's a tradition of, like…like people here don't come out to performances the way they do in New York. In New York, or even Berlin, when I go see friends' performances, there are lots of people there watching who are not their friends, and the tradition that I've witnessed in LA, at least among experimental arts stuff, is that typically the people who are watching are your friends. And it's less and less so, places like the wulf. are growing, and people go there more regularly to see things by people they don't know, and same thing with Human Resources there'll be like a hundred people now for something, but my experience with it here in LA and in Atlanta is like "I'm doing this for and with my friends," and I'm neither for or against either model, but I come out of being interested in this kind of, what kind of things that can happen in that sort of space.  I mean, when you don't know people, there's a certain kind of vulnerability that can take place when things are more anonymous, which is similar to the kind of things that can happen on craigslist or on dating sites, because you can do certain things there that you wouldn't normally do. But there's also things you can do with friends that you wouldn't do with strangers.
JW:Â Yeah.
AO:Â A lot of my work, at least with the Experimental Meditation Center of Los Angeles, or Signify, Sanctify, Believe, the stuff that kind of focuses on ritual or religious or spiritual technology, kind of focuses on like what kind of things happen within the privacy of a concert hall or what I would call a magic circle or something.
JW:Â Well, maybe that's a good transition point to start actually talking about listening, which was sort of the pretext of our conversation. So I'm really excited about listening as a – we probably have like 10 minutes, right?
AO:Â No, well 10 minutes until the alarm, 20 minutes until I need to…25 minutes. Sorry about getting bookended.
JW: No, it's fine, it's really fine. So I'm really excited about listening as an aesthetic activity that places the agency to have an experience on the listener, the viewer, the participant…somebody else who's not like "here's this experience you're having," but also that's not a new thing, that's what really excited El Lissitsky about exhibition design, or what excited some conceptual artists about making non-existent work or whatever, it was always this excitement about bestowing upon the viewer this magical agency which is, you know, I think I have to think about it more to really kvetch about. I mean these spaces – the concert hall, magic circle, any kind of religious situation – there's a lot of ritual things happening, but there's always this practice of listening.
AO:Â Well I mean broadly, my notion of listening is not ear-based anymore. I would like to say that it's focus-based, like I would like to say that listening is about focusing on something, but even that is too narrow, like as someone with an undiagnosed form of ADD, some of my biggest breakthroughs in listening to experimental music have been when I let go of trying to focus and allowed my mind to bounce around the room and, you know, quote-unquote not pay attention, and release from the shackles of having to focus in what I thought was the right way.
JW:Â Yeah.
AO:Â So I'm definitely interested in a more embodied notion of listening. One that's maybe more about presence more than anything else. Which was actually my approach to Occupy…for Occupy LA or Occupy Wall Street, I didn't necessarily find all the entryways I wanted to in terms of political stances, but I felt it was really important just to be there, just to follow that prompt and to Occupy, be present, whether I agree or disagree or whatnot. But similarly, there's this…I don't know. I think that's a period there. I was going to say something else, but I forgot.
JW:Â Was it about…I was reading this, that you wrote for East of Borneo…and I really enjoyed it.
AO:Â Thanks, thanks for reading it.
JW:Â So you're talking a bunch of the intersection ritual practices and music and you say this one line in here that…what do you think about it? I mean it's really interesting to read and it's a very nice history of these practices, but you…
AO:Â What's the line?
JW: "LaVey's one-man band demonstrates satanism's infatuated embrace of uncompromising, self-satisfied, alienated individuality, similar in some ways to ahbez's lonely wanderer. These albums, then, are the egomaniacal satanic masterworks of one man in a recorded universe where he is finally the king of his own masturbatory, musical jungle." So it seems like you almost have a contempt for these practices that like…
AO:Â Contempt? No. Masturbation is great!
JW:Â Yeah, ok, that's true.
AO:Â No, yeah, that line in particular is about the embodiment of…like LaVey's thing – LaVey and Satanism – is this complete self-centered ego…like it's just about satisfying your own ego, not anybody else's, and it's about self-reliance, it's about DIY, it's about doing it yourself, not doing it together, doing it by yourself, potentially, unless you need someone else, and you get it from them, take it from them…it's very objectivist and it's very egoistic and egotistic. But I don't mean those necessarily in bad ways. I identify with those on certain days and on certain subjects. His thing is about selfishness, and not being ashamed of that. It's about the worship of being a sensuous being and about obeying these emotions and drives that you feel. That's the way he thinks and talks about it. And actually I used to be really interested in Ayn Rand's writing. Because in high school I loved her writing, because I had a lot of self-doubt and I had a lot of angst, and I had a lot of…what's the word…you know, I just didn't like myself. And her books actually helped me learn to like myself and to have pride, and so in that way that stuff was actually very useful, like for someone who's depressed, but later on I moved into Buddhist and other things, but Anton LaVey pulls out of the ultimate kind of selfishness of pride. Which becomes misanthropic and angry and…
JW:Â Maybe what was interesting…Whatever, I don't know what I was thinking when I brought that up. But maybe something that is interesting, that's even related to what we were talking about just before I brought that up, but it seems like…I've never listened to LaVey's music, I mean I've seen a YouTube video of him playing organ, which is incredible…
AO:Â He's an amazing musician.
JW:Â But it seems like that would be kind of a debilitating musical experience, like there would be no room to hear anything else besides Anton LaVey.
AO:Â You mean at one of the services he did?
JW:Â Or maybe just listening to the recording. But probably moreso at a service. Which I think points out a little bit of the silliness of my dream of listening as this radically active thing, where sometimes there's actual no other alternative but to hear what's enveloping you. But I feel the total opposite might be Pauline Oliveros…[loud noise]…oh, I think I got a text message. Yeah, I did.
AO:Â What I would say is…if we're just going to talk about listening, I would say that while yes I agree with the notion of like placing this agency in the listener, ultimately what I feel like is if we're still going to enjoy this division of the listener and the performer or the listener and the artist or the observer and the artist – which is fine, it's a fun kind of role-playing to do ultimately – it's not that the listener/viewer has all that agency, it's that the artist has the opportunity to facilitate a kind of listening, or a kind of framework to see things through, and for me listening has never just been about just sound, or sight has never been about light, it's always based on information that one has while one is listening to something, and by information you can also think of it as a framework, so this article is a framework through which you can listen to this music again. I have a very vivid memory, in high school, when I was first learning how to play jazz drums, my teacher gave me this jazz video, and I remember watching it – and we had been doing the ding-ding-da-ding thing on the cymbal – and I watched it and I literally cried out of frustration – tears down my face – because I could not follow a single beat of it.
JW:Â Was it a drum video where you were supposed to follow along?
AO:Â No it was a performance. And it was absolutely frustrating because what was happening was I had a little bit of the framework – I had the ding-ding-a-ding – but I didn't yet have the jazz framework of listening to that. And now…I mean, I can't remember if I ever listened to it a year or two later, but now I would be able to listen to that and I would probably be able to appreciate it, or not appreciate it, but still because I knew about the politics that it represented, within the jazz world or whatever. So Anton LaVey's work is actually really horrible to listen to if you're listening to it for sonic qualities, but if you know a little bit about his history and whatnot, and if you see him play, too, it kind of damns the music, you know what I mean? And so ultimately if you're talking about a framework of listening, you're talking ultimately about a belief system, right? And even if it's a temporary one, it's still like, "I believe that music is this right now, and because of this my constitution tells me that I need to listen for the harmonics." Because I'm listening to James Tenney or Cat Lamb, and if you're listening for the fundamental pitch – which I've done throughout all their concerts – you're missing the concert. But all the sudden if you believe in all these angelic harmonies, or these harmonics, or these weird physical things that are happening in your ears that aren't even in the room…and I've had that experience, like listening to music once and having no idea, or listening to the wrong part of it, and listening to it again, or listening to that kind of music again, and being like oh, duh, why didn't anyone tell me that before? It doesn't have to be a belief system, but it's related to one. Because a belief system gives you a way to view the world, a way to be an observer and an agent in the world, just as activism does, and politics does…
JW:Â That makes sense to me. The idea that listening allows for being aware that there are multiple different frameworks through which to have any kind of given experience.
AO:Â And it's totally fun subscribing to those things, too.
JW:Â Yeah, but I think what's exciting, that's maybe available in music, especially in improvised music, that might not be available everywhere else, is the constant knowledge that there might be something else you could be listening for, or another way to experience a given thing, so I'm much more open to intentionally having the wrong experience. I find it really generative. I mean, I don't know, Claire Fontaine came and talked to the CCA Social Practice class, and I don't know, I was late and a little hungover and they were tired and the discussion was not very good, but it was a really – because it's two of them and they have a child and for some reason the entire time they were at at CCA only Fulvia was talking and James wasn't saying anything and the baby was just screaming a lot – and I started experiencing the discussion as a performance rather than a discussion and it was infinitely more satisfying. I mean, it was great.
AO:Â I feel like there's no reason to be disappointed – I mean I get disappointed all the time – and I have a piece called Listening Performances, and it's just a list of different ways to be at a concert or whatever that you're not digging or whatever. When I teach I actually talk about this a lot, just as an introduction if someone's coming from one medium and moving to another, but there's this quote from Alan Kaprow where he says "what if I were to think that art is just paying attention?" and it's this notion of art begins with me focusing on something. I like to replace his "think" with "believe" and say "what if I were to believe art was just paying attention?" which moves it into this notion of that you're kind of creating this universe and through this process you're beginning to include things into what you're seeing, but you're also excluding things. For instance, to kind of wrap this around in a weird way, I have plenty of friends who are really angry about being brought up as Christian, like they were hardcore believers and really mean to people as a result, up to a certain point, and then they stopped. And when they stopped being mean to people they ultimately stopped being a certain kind of Christian, or Christian whatever. I kind of feel the same way about drums, like that was my religion growing up for ten years, and I love drumming, but I'm a little bit bitter because there was probably a period of four to six years where I only listened to drummers on recordings, and so there's this whole period of a half decade or more, where I witnessed so much amazing music and I totally lost out because I didn't even listen to the piano player, or I didn't listen to the trumpet player. There was a moment where I actually tried listening to a saxophone solo, maybe seven years in, and it really felt like I had never listened to a saxophone solo. So I don't know, I'm interested in that kind of focusing…
JW:Â Not just focus, but believing. Believe is a different verb than focus.
AO:Â No, exactly. For instance, we use the term belief, because at least in cinema, but in other things too, we talk about the suspension of disbelief, which I translate as temporary belief, belief that's bookended, potentially by your entering the space. And it is…you're becoming vulnerable, you're going into a suggestive state hypothetically, you allow yourself to listen, you go through the program, you see the title, maybe you listen to it based on what the title says, you look at the name under it…that's a huge thing actually, really interesting thing, actually, my friends love their friends music, and many of them hate strangers' music.
JW:Â I'm the same way.
AO:Â But as soon as they meet somebody and get to know them, they become huge fans of their music, when they hated it before, and you see how just a name can change the way someone listens to it, or knowing someone's background, studying their history – who was Anton LaVey, you know? – so listening is just so…what's the word…it's just so easy.
Jacob Wick is an artist, writer, and improviser who lives in Los Angeles.
Adam Overton is an experimental and conceptual artist based in Los Angeles who works between performance, writing, publishing, experimental music, workshops, event production, and massage.
Guest Post: This essay is part of series by David Carl
One hour, one minute, and 39 seconds into The Godfather, Michael stands outside the hospital where his wounded father lies. Seven minutes and 6 seconds later he stands outside the same hospital and lights a cigarette for Enzo the baker. In the course of those 7 minutes everything has changed in the life of Michael Corleone.
I'd like to move slowly through the hospital scene, lingering on a few specific images that provide us with visual clues to this transformation, and say a few things about the techniques Coppola employs to create what I consider to be the scene of maximum dramatic tension and suspense in the movie. It is significant that this moment of maximum drama is also the moment of transformation for the movie's main character.
Before examining the hospital scene in detail I should point out that, at one level, nothing really happens in the scene. Instead, the action is devoted to avoiding what could happen, or what will happen if Michael doesn't take firm and decisive steps to prevent it. We might say that the action in the hospital scene is internal, rather than external. The action takes places within Michael, and within us, as viewers and interpreters of this internal action. For other than brief interactions with a nurse who remains virtually faceless throughout the scene, with his speechless father lying in bed, and with the civilian baker Enzo about whom we heard but who we did not meet in the scene in the Don's office during Connie's wedding, Michael plays the scene alone.
Throughout the hospital scene there is no actual violence, though the end of the scene is punctuated by the violent moment when Captain McKluskey, brilliantly played by Sterling Hayden (see Nicholas Ray's 1954 Johnny Guitar, Kubrick's 1956 The Killing, and Robert Altman's 1973 The Long Goodbye among others), breaks Michael's jaw. Coppola creates the moment of greatest suspense in the movie through suggestion and possibility, rather than through direct action. In comparison, the scenes in which Luca Brasi is garroted, Don Vito is gunned down in the street, Michael shoots Sollozo and McKluskey, Carlo beats Connie and Sonny beats Carlo, and Michael's hitmen eliminate the enemies of the Corleone family, are all more intense "action sequences", but they lack the suspense and excitement of the hospital scene created by the tension of the possible as opposed to the actual.
As I said, the hospital scene begins at 1:01:39 and ends 7 minutes later at 1:08:45. It consists of a total of 72 cuts and shots. Walter Murch, who was a close friend of Coppola's during the shooting of The Godfather and worked as the editor and sound editor on several of his movies said this about editing Coppola's Apocalypse Now:
". . . at the end of it all, when the film was safely in the theaters, I sat down and figured out the total number of days that we (the editors) had worked, divided that number by the number of cuts that were in the finished product, and came up with the rate of cuts per editor per day—which turned out to be . . . 1.47!" (Walter Murch, In the Blink of an Eye)
Granted, Murch's example from Apocalypse Now is offered as one extreme of the editing process; but if Murch's average did hold true for this particular scene in The Godfather it would mean that an experienced editor, working 8-hour days, would have needed 7 weeks to edit the hospital scene. That's a minute of film per week. Averaged over the entire movie, that would mean it would have taken 3 and a half years to edit the entire three-hour movie. These numbers help us appreciate that each of the 72 shots that comprise the hospital scene is part of a carefully choreographed and well thought-out vision of the effects the scene is intended to achieve. Some cuts last nearly 30 seconds, others last an instant, but every one of them has been constructed to lend to the overall impact of the scene as a whole.
 The scene starts with the hospital entryway: the archway framed by feeble but colorful Christmas lights offers virtually the only bright colors in the movie for the next 7 minutes. This façade may remind literary viewers of the arch under which Dante passes as he enters Hell which bears the warning, Abandon all hope, ye who enter here. And for Michael this scene does represent the end of one particular kind of hope.
Of the 72 shots that comprise the hospital scene, this initial view of the archway framed by twinkling Christmas lights is the longest at 28 seconds. The scene opens with a view of this archway, allows a taxi to pull into frame and deposit Michael into the scene without cutting, and ends with Michael moving toward the building he is about to enter. The camera angle makes Michael look small in comparison to the looming, ominous archway and staircase he is about the climb. Small and virtually lost in shadow, Michael approaches the staircase. Seven minutes later, when Michael is again on the stairs, the camera angle is shifted and medium close-up shots are used so that Michael looks larger and more significant.
We linger for a full 28 seconds on this shot to build suspense, which the music in the soundtrack emphasizes, and because it is beautifully composed. The use of light, shadow, color and camera angle create a beautiful image of a threatening façade that Michael must penetrate as a first step in his own journey toward replacing his father and becoming the Godfather. This archway serves as a frame through which Michael will pass and, in the course of a few minutes, be transformed, entering into a stage of his life that his status as a "war hero" and his relationship with non-Italian Kay suggested he had been able to escape. But his passage through this eerily lit archway into the hospital is also a passage into a life that neither he nor his father had ever wanted or expected him to take.
The first cut is to an empty hospital hallway. Throughout the hospital scene empty hallways are used to create tension and suspense. Some of these shots only last a few seconds, but they have a significant dramatic effect. (There's an interesting bit of trivia about how George Lucas helped Coppola add these empty hallway shots in after the scene had been shot to build dramatic tension. This footage was found among originally discarded strips of film.)
As with the shot of the entryway, this shot starts with a fixed view of a stationary location into which motion is introduced by means of a side entrance. In the first shot an arriving taxi; here, Michael who is now inside the hospital. The taxi's entrance is from the left of the screen; Michael's entrance balances this motion by coming from the right. These establishing shots first introduce the audience to the setting, and then allow action to move into the frame that has already been established by the stationary camera.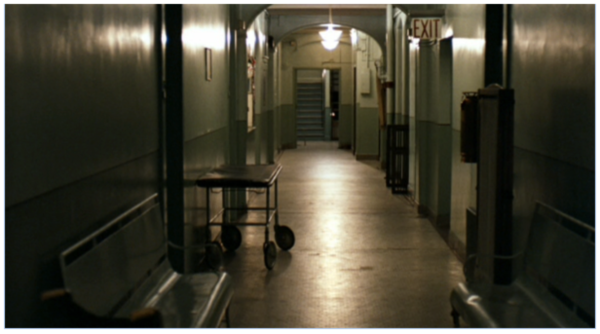 There is something beautiful about the nauseous hospital green of the cramped corridors through which Michael walks and through which he and the nurse maneuver the bed bearing his helpless father. The camera work is confined to these narrow passageways, which restrict our view, leaving us with the impression of the ominously unseen. This sense of the ominous is further increased by the eerie music of the soundtrack and the bizarrely repeated word "tonight" that echoes through the building, though whether as part of the external soundtrack or an inexplicable part of the ambient sounds of the hospital I can't say. It is one of the strangest phonic devices in the entire movie. Although there is no dialogue in the movie for several minutes, these sounds are accompanied by the ambient noises of an empty building with its eerie creeks, slams and footsteps.
When I watch movies I am particularly interested in walls and doorways. Doorways, of course, are obviously important: they are both passageways for the entry and exit of characters in a scene, and they are also excellent frames for action. Just as the movie screen itself is a frame that allows the director to establish a specific shot for the audience's contemplation, so too are doorways frames within frames. They serve to further highlight a specific image or action that appears on the screen. The most famous example of this in the Godfather, and one of the most famous in the history of cinema, is the final image in the film, during which the door slowly closes between Kay and Michael as he is receiving the loyalty of his new mafia retainers who kiss his hand and address him for the first time as "Don Corleone." We see here most explicitly, if we did not realize it before, that the Godfather of the film's title is not the character of Vito played by Marlon Brando, but the new Godfather played by Al Pacino.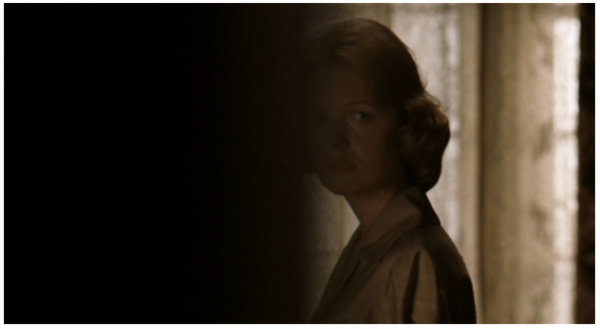 This closing door in the final scene of the movie is more than just a symbol—it is also a physical portrayal of one of the main themes of the film: the gulf between the personal and "business" that grows wider and wider over the course of the film as the old way of doing business is gradually overwhelmed by a new way which threatens the family values that underlay the criminal empire under Vito's control. Michael speaks of "my business" when talking to Kay, whereas Vito always spoke of "the family business." This is characterized in the film by the never shown but often alluded to drug business, which is the precipitating crisis in the Corleone family's fall under the old Don and rise under Michael.
Because doors are on hinges, they are not stationary frames, but swinging ones, which open (as in the scene in the hospital when Michael opens the door to his father's room) or close (as in the final scene with Michael and Kay) in order to build tension and suspense or introduce a sense of possibility or finality. One might say that the door Michael opens in the hospital, to reveal his father whom he must first help and eventually replace, finally closes in the final scene of the movie when Michael's transformation from "civilian" to "Godfather" is complete.
Once Michael enters the hospital we have a series of shots, some stationary, such as the medium close-up of the half-eaten sandwich, suggesting a hasty departure, and some tracking shots, such as of Michael's movement through the hallways, that start to build up a sense of dramatic tension. A realization is dawning on Michael, as it is on us the audience, that all is not right here. What started out as a routine visit to the hospital has transformed into a crucial moment for Michael.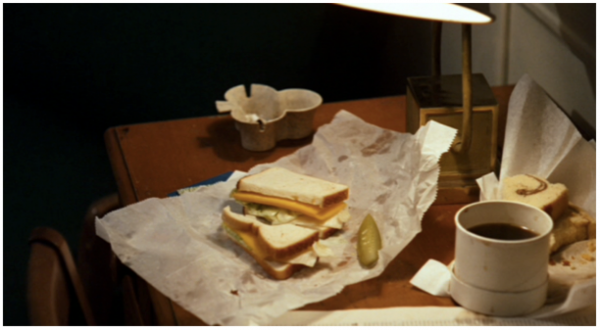 The realization is marked first by the close-up of Michael's face, in which Pacino's eyes and mouth express the first signs of concern. This is immediately followed by a shot of Michael running. In all of these shots, the camera remains stationary, which means that characters move towards or away from it, coming in and out of focus and obscuring the camera's line of vision with parts of their bodies.
After his hurried motion through the hallways Michael slows to a walk as he approaches the fateful door to his father's room. Here we have the cautious opening of a door onto a new world which I have suggested is the compliment to the closing door between Michael and Kay at the end of the movie.
Until this point, the hospital scene has been silent except for the soundtrack and ambient noises. The first spoken lines, by a minor character in the film, are a question and a statement: "What are you doing here? You're not supposed to be here," the nurse says. Her comment is more right than she realizes. Michael is not supposed to be here. He has tried to stay free of the "family business," but the pull of family, and perhaps of business as well, is more powerful than he knew. In response to the nurse's question he must assert an identity which his military uniform during the wedding scene and his relationship with Kay, obviously strained in the scene immediately preceding the hospital scene, has tried to deny, "I am Michael Corleone," he says, as if acknowledging it for the first time. "This is my father."
As Michael and the nurse are moving Vito's bed, the soundtrack introduces the sound of Enzo's footsteps. Waiting for the person who these footsteps precede, we see the striking close-up of Michael's face, the right side obscured by another doorframe, as if to suggest the dual nature of the character who is being faced with a life-changing decision—a decision which will gradually lead to the eclipse of the "right" side of his character, as the left, "sinister" side comes forward; in literature the left side is the side of "Satan and all his works" which Michael claims to denounce during the baptism scene at the end of the movie—at the very moment when it is most apparent.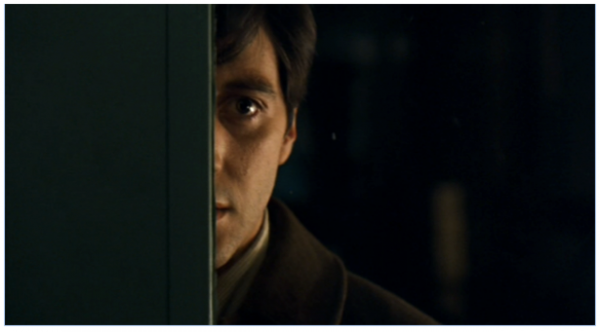 This shot of the left half of Michael's face is followed by the gorgeously composed shot of an empty hospital corridor we first saw as the second shot of the scene. There is nothing unusual about this shot, which is precisely what makes it so striking. There is an exit sign, a bulletin board visible at the far end of the hallway, a fire extinguisher, a pair of benches and a hospital cart for wheeling patients. The shot is lit by hospital lighting that gives an eerie glow to the sickly green but immaculately clean walls and floor. At the end of the hall is a staircase, from which we expect, given the expectant tension on Michael's face, to see some unknown figure emerge at any moment. But the hallway remains empty. Again, nothing happens, but it is precisely this "nothing" that carries the tension and suspense of the scene.
Perhaps this shot feels so real because it is not a set, but an actual hospital. But now seen with the added intensity created by this scene in the movie, it is a hospital corridor as we have never seen it before. It has become, due to the dramatic tension of the film, almost hyper-real, and we as viewers have been brought to a heightened sense of observational awareness. We are looking at the corridor of a hospital we might never bother to notice if we actually found ourselves waiting there for a doctor or a sick friend. As an object of dramatic and aesthetic contemplation the film doesn't merely ask us to look at this hallway, but educates us in the art of seeing as well, training us to become more observant and better seers of what we are watching and by extension, of the world around us.
Now the cuts come more quickly, building dramatic tension, and culminating in the shadowing figure of Enzo's back as it emerges from the staircase, his arm cocked and hand concealed as if holding a weapon. He is dressed in the long black coat and hat we've come to think of as the gangster's uniform in the movie (as opposed, for example, to the military uniform worn by Michael earlier in the film, or the tasteless civilian garb of characters like Freddo, Carlo, and Mo Green). But with the next cut we see the innocent face of Enzo, carrying not a gun, but a bouquet of flowers for the injured Don. Enzo has come to show his respect, and to express his gratitude for the Don's help in resolving his emigration problems. And here Michael repeats the nurse's question from a minute ago, "Who are you?" It seems that the hospital scene is intent on confronting Michael with this central question of identity: who is Michael, and how will he come to realize who he really is? Enzo's offer to stay and help if there is going to be trouble, "for your father, for your father" he repeats, is the first sign of loyalty to Michael that we will see symbolized by the kissing of his hand at the end of the film. This gesture too is mirrored by Michael, who kisses his father's hand after telling him, "I'm with you now." Only Michael's kiss is quite different from the kisses of deferential respect he will receive at the end of film, or that Vito receives from Bonasera the undertaker at its beginning.
Michael's "I'm with you now; I'm with you" brings a tear to his father's eye, which in the context of this scene looks like a tear of paternal love for a son he thought had grown away from him, but by the end of the film, especially in light of the scene in which Vito confesses his aspirations for Michael, that he might have become a judge or a senator, may be read as a tear of sorrow that his favorite son was unable to resist the pull of the "family business" and make a new life for himself in America, just as the dreams of Bonasera the undertaker in the possibilities of America are dashed by the assault on his daughter and the impotence of the American justice system in the face of this crime.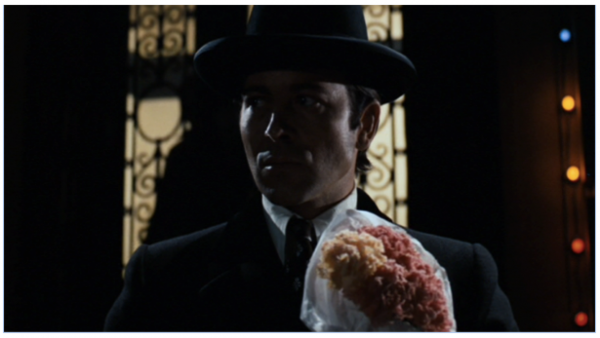 At 1:07 we have the beautiful shot of Enzo's face, waiting on the steps outside the hospital for Michael. Now Michael will exit through the archway he passed under only 6 minutes earlier. Six minutes which, whether he knows it or not, have completely changed his entire life. Now the colors of the Christmas lights are complimented by the color of the flowers Enzo carries. Flowers of gratitude for the Godfather's favors and protection, but also flowers which may remind us, because of the link between Enzo and Bonasera in the first scene of the movie, of something ominous and funeral. Significantly, Michael will briskly toss them away when he comes out of the hospital to prepare Enzo for the illusion of being a mafia bodyguard. Flowers have no place in this new world he is preparing to take up residency in.
This transformation is given visible expression in the famous scene of Michael lighting Enzo's cigarette and noticing, without surprise or elation, but rather with a kind of detached observational objectivity, the steadiness of his hands. It is as if Michael is realizing, despite years of attempting to deny it to both himself and those around him, who and what he is. The steady hands are a sign of this internal identity, brought forth by the crisis threatening his father's life that he has just faced and overcome.
Perhaps Enzo is framed so beautifully because he is the final image of the life Michael could have had and rejects, partially out of love for his father, and partially to fulfill a destiny he was born to and could not avoid. Earlier I referred to Enzo as a civilian. This is how other characters refer to Michael, despite the fact that he first appears in the movie in a military uniform, when they are preparing him for the meeting with Sollozo and McKluskey. But they are wrong and the uniform is right: by the end of the hospital scene, Michael is no longer a civilian, if he ever really was one in his heart. He is "with his father", and forever separated from the world of bakers and undertakers represented by the beautifully shot Enzo standing alone on the hospital steps. Enzo now represents the world that Michael can protect or exploit, do or extract "favors" for or from, but it is not the world he will occupy. Enzo is an image of the Michael who could have been.
Finally we have the dramatic climax of the hospital scene, where Michael and Enzo stand on the stairway outside the hospital and Michael reaches into his coat for a gun that isn't there in order to scare off the hitmen who have come to kill his father. Here too we have a moment of suggestion rather than actual action. Michael scares off the men with his confidence—with the threat of violence rather than the act of violence.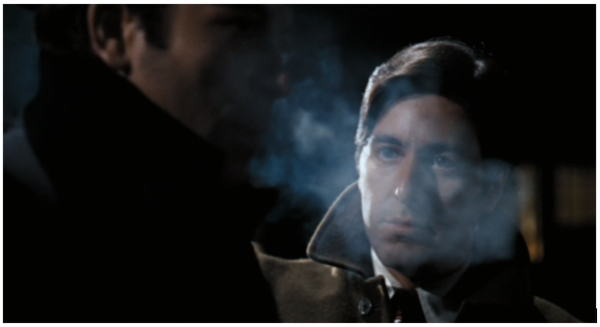 At 1:08:45 the hospital scene ends, with the smoke from Enzo's cigarette partially obscuring Michael's face, as if to again emphasize the internal transformation with external visual cues.
In many ways The Godfather is a violent movie and also a movie about violence. But is there not another kind of violence, done to the movie itself, by the viewer who engages in the type of analysis I've been doing here? What about the hermeneutic violence performed on the film by the critic? We have lingered over details that would be almost invisible to an audience watching the movie as it was intended to be experienced, in a theatre, without the luxury of a "pause" button and the high resolution of dvd and Blu-ray technology. There is a sense in which this kind of analysis performs an act of violence on the film, tearing apart and looking in isolation at images which were intended to be seen as part of a smoothly flowing whole. But there is another sense in which this kind of artificial viewing attempts to recreate, in order to more deeply understand and appreciate, the acts of creation that gave birth to the film as a work of art in the first place.
When we recall what Walter Murch said about averaging 1.47 cuts a day while editing Apocalypse Now, and then think about the 72 cuts that comprise the hospital scene, we can appreciate the painstaking care and attention that goes into creating each scene in a great movie, a care and attention that both warrants and demands our own thoughtfulness and reflection at their most attentive. When we watch a movie we discover the same truth we encounter when we read a great work of literature or philosophy: there is great pleasure in the having of an idea. And it is in the service of this pleasure of ideas that we perform such acts of analysis and interpretation.
David Carl is a member of the teaching faculty at St. John's College in Santa Fe and a co-founder of the St. John's College Film Institute. He is the Director of the College's Graduate Institute, a Research Fellow at the Institute for the Study of Cultural Artifacts, teaches for Curious Oyster Seminars, and has written several books, including Heraclitus in Sacramento, Fragments, Forecasts and Predictions, Meditations on Initiating the Apocalypse, and Further Adventures in the Unsubconscious. He watches movies in his living room in Santa Fe, NM.
Guest Post by Britton Bertran
I didn't get out to see a lot art in Chicago this year as I was too happily busy being a Dad to the best little boy in the world.  Nonetheless, here are some lists of what I did see, what I didn't, some predictions and some things I'm anticipating.  I know we all have a love/hate with these kinds of lists, but this should be pretty easy to digest.  Click on those links.
Exhibitions I saw:
Amalia Pica at the MCA
Fragment: Sampling the Modern at the Elmhurst Art Museum
Wendy White at Andrew Rafacz
Andrew Holmquist at Carrie Secrist Gallery
David Salle: Ghost Paintings at The Arts Club of Chicago
Best Spaces:
"Emerging" artists:
WTF moments:
EXPO Chicago
AIC's Modern Wing's closed 3rd floor
The Way of the Shovel at the MCA
Chicago Sculpture International's Sculpture on the Boulevards
Exhibitions/Events I didn't see:
Anticipating in 2014:
2014 Predictions:
The Whitney Biennial fails in the eyes of critics
A major commercial gallery in Chicago will close, another will open
A storied institution will lose it's curator
A galvanizing work of public art will really piss people off
A better year than 2013
HAPPY 2014!
Bio: Britton Bertran ran 40000 from 2005 to 2008. He currently is an Instructor at SAIC in the Arts Administration and Policy department and the Educational Programs Manager at Urban Gateways. An occasional guest-curator, he has organized exhibitions for the Hyde Park Art Center, the Loyola Museum of Art and several galleries. You can find him trying to be less cranky about the art world on twitter @br_tton. Â 
Guest post by Lise Haller Baggesen
IN THE YEAR OF THE SCAVENGER, THE SEASON OF THE BITCH…
… in the fossil fueled states of American gloom and doom, we are headed south on LSD, a donnerwetter looming on the horizon as a tic in the corner of our left eye. Shot-size raindrops splatter against the wind-shield from the sky turning from gunmetal grey to violaceous to petroleum green behind the silhouetted skyscrapers, swaying gently in the balmy November breeze as the wind picks up and a tornado warning ticks in on the mobile device, interrupting Kanye West suggesting that this would be a beautiful day for  jumping out the window/letting everything go/letting everything go…
Indeed it is a beautiful day!
This apocalyptic weather, reminding us that the doomsday prophets were probably  right, that this is not the 11th hour, that we are already fashionably late, makes it the perfect day for checking out a couple of shows in Chicagoland contemplating our species' self-destructive impulse.
Hamza Walker's modern day vanity Suicide Narcissus at the Renaissance society reads like a visit to the men's department at Barney's: tight and tasteful grey-tones with a splash of lush jungle green thrown in. Not unlike, in fact, its 17th century's Dutch counterparts careful rendition of bridles and soap-bubbles, tulips and skulls, reminding us that the world is forever coming to an end.
The super symmetrical show is arranged on both sides of a corridor leading up to Katie Paterson's All the Dead Stars, a map of said stars corresponding to the place on earth from where they were discovered laser etched into a matte black anodized aluminum sheet, creating an eerie map resembling a burnt out earth as observed from space. Observation posts glow-in-the-dark with the half-life luminescence of radioactive material, our radio signals still on their way to infinity and beyond long after we're gone. From here we can turn left or right (or right and three quarters or maybe not quite) but either route will coil back on itself into a cul-de-sac, a dead end from where we can only retreat the way we came.
Each of the works in the show display the mechanics and dialectics of their creation in plain view, if not front and center to our reading of the works, like the endlessly similar variations of rope, pulley and mirror of Thomas Baumann's perpetuum mobile Tau Sling or the dead pan unedited single channel registration of Nicole Six and Paul Petritsch' Spatial Intervention, showing a lone figure hacking his way through the ice, in a circle surrounding himself. Not really sure if this unromantic reference to Kaspar Davids Friedrich's Eismeer (the Sea of Ice from 1824), is going anywhere outside of its own hermetic picture plane, but whether we are witnessing a painfully slow suicide attempt here, or just some Sisyphus slow-motion slapstick, as a viewer you feel as frozen in time as the lonely man on the ice.
The row of vitrines that make up Harris Epaminonda and Daniel Gustav Cramer's Infinite Library display a collection of reappropriated books -by the looks of it European post war encyclopedias and reference books with faded color reproductions of artworks and plants, painted over with geometrical figures that seem to suggest some obsolete world order, while Lucy Skaer's Leviathan's Edge, a whale skeleton boxed in a drywall space, opened up in three narrow slits, through which we can only partially admire the brittle grandeur of the beastly remains would not be out of place in a gentlemen's explorers club, that other society, where adventurers who come back to tell the tale can compare their booty- Jolly good!
In a darkened cinema space, similar to a home entertainment den, Daniel Steegmann Mangrane's 16mm, 2009-2011 the exhibitions only truly juicy work, is contained -as if its lush Amazonian green would otherwise spill out and contaminate the rest of the show in a toxic spill of unbridled fertility. Like decorative kale in a millionaire's front yard its nutritious value is rendered void, and we are left with eye candy. This is our reward. The five minute 16mm film loop leaves us ample time to contemplate the cable running near the top of the picture frame along which the camera pulls itself still further in to the heart of darkness, the whirring of the projector behind us competing with the dense cacophony of jungle sounds on the soundtrack of the projection before us, until the movie without further ado comes to a dead stop and the screen goes black. The End.
On the surface, Suicide Narcissus mainly examines and admires its own elegant rhetoric. Initially I considered this the exhibition's demise, but on reexamining it I have come to think that perhaps this is exactly its point: Like Nero playing the fiddle as Rome burns, you find yourself confronted with your own disengagement, as you consider the aesthetic possibilities and fashion choices of the world going to hell in an evening clutch. It is an uneasy notion, like deleting yet another petition appeal from you e-mail inbox.
As an antidote to this tasteful ennui may I suggest a visit to Dana DeGiulio @ The Suburban, which will tear you out of your inwardly spiraling anxiety attack and throw you right back into the real with the welcome catharsis of your friendly neighborhood suicide bomber.  The battered backed-up Buick sedan is ramrodded into the cinderblock structure that makes up the central exhibition space at The Suburban with a precision that sits in the sweet spot between demolition and embellishment.
The curious fact that the car is damaged front and rear gives the impression not so much of a drunk driver swerving out on control, tearing through the front yard in the early hours of a sleepy suburban Sunday morning, but more of the feel-something- anything of a soccer mom's revenge, later same morning, her anniversary.
And the shattered head answers back And I believe I was Loved I Believe I loved Who did this to us?
Because we can only contemplate art from our personal vantage point, just like we can only imagine Armageddon in our own time, I will approach this from the angle of Burn Out with their totaled car park in the center of Copenhagen and their smashed up ticketing booth for De Appel's Crap Shoot (-a memorable show that culminated for my own part in a visit to the ER after a visit to the exhibition's socially (un-)engaged Absolut-free-for-all-vodka-bar and a subsequent act of cycling under the influence ending abruptly when my front wheel got stuck in an Amsterdam tram rail and sent me to a dead stop against the wet asphalt). Curiously, these works originated round about the time when the 1996 LeSabre was still a classy car, but seem almost quaintly didactic now, in their 90s engagement with institutional critique, compared to this work which points only to its own calibration of annihilation through acceleration, suggesting that we are all flying solely by our instruments by now, no line on the horizon: In a godless universe you need to rely on your own moral compass, or perhaps some secular religion. Art for arts sake can be just that. It can be it's own means and end.
It is an appropriation and an approach, but how do you approach appropriately, being in a banged out car and your aim the feel of not to feel it?
This is subtle and has to be premeditated. Premeditation is available in the form of a brochure which contemplate the estimated market value of the Buick before and after impact as compared to a circular silverpoint painting by Michelle Grabner, as consigned by Dana DeGuilio to James Cohan gallery and sold before the Buick hit the brick wall, perhaps to offset the costs of a second hand car and a cinderblock shed? The end is a zero sum game.
On the 10th anniversary of the suburban, this will be that last one for this building where it all began. Now structurally unsound, It will be torn down at the end of the show, or when the Oak Park police and zoning inspectors step in and say that it is time to clean up the mess, whichever comes first.
In Michelle's own words: "This is the end of the suburban as we know it!"
THE END.
Credits: Dana DeGiulio would like to thank her pit crew. I would like to thank you for reading.
Lise Haller Baggesen (1969) left her native Denmark for the Netherlands in 1992 to study painting at the AKI and the Rijksakademie. In 2008 she relocated to Chicago with her family, where she completed her MA in Visual and Critical Studies at the SAIC in 2013.
In the meantime, her work evolved from a traditional painting practice toward a hybrid practice including curating, writing and immersive multimedia installation work.
 Her book "Mothernism" will be published on Green Lantern Press and The Poor Farm Press in 2014.
Guest post by Virginia Konchan
Photography must annihilate itself as medium to be no longer a sign, but the thing itself.
 
—Roland Barthes
Ben Gest's photorealist photography, comprised of stark, neo-classical tableaux, depicts alienated subjects engaged in workaday and domestic tasks, and carries a full fetishistic load in an image saturated culture—that of the evacuated figure, from painting, as well as the signature of the "author," as declared dead by structuralist critics.  The "surface reading" strategies of Sharon Marcus' and Stephen Best, Francois Dosse's call for the "descriptive turn," and Bruno Latour and Erving Goffman practice of "flat" reading based on actor-network theory (the game model of human interaction) connect to the "flat" or two-dimensional evacuation of depth fields, suggesting that as the text is now being "read" like a screen (the orthographic significance of the word alienated from semantic, affective, and cognitive percepts), so too are the visual images (in figurative art, the appearance of the other), we consume.
For Roland Barthes, this surface quality was a limitation of medium (the photograph is undialectical, as a denatured theater where death cannot be contemplated, reflected and interiorized:  the foreclosure of the Tragic excluding catharsis), yet this slickness of surface is also a function of the occluded depth of capitalist subjects, wherein intimacy, futurity, and affect, because unable to be represented (priced, and sold), ceases to exist first as a cultural value, then, as a cultural experience (temporally, of duration rather than instantaneity).   A privatized market first commodifies then distributes the sensible (Marx's dream of the  'liberation of the senses' of unalienated individuals in unalienated communities) fueling desiring-machines to demand, yet never receive, aporias of meaning:  presence, aura, soul.  [i]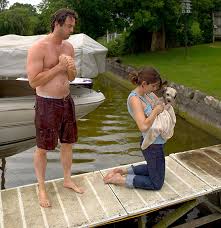 The digital reproduction of the photograph and the text share an analogous relationship, foremost in hierarchies between the word (letter, or sign) and image (symbol, or referent).  Today's medium specificity (Clement Greenberg's belief that "the unique and proper area of competence" for an art form corresponds with the ability of an artist to manipulate those features specific to a medium) is now metaphorized in the relationship between a reader and a text, or a viewer and an artwork, not as an encounter or relationship, but an interfacing, between user and electronic text, or screen (N. Katherine Hayles's media specific analysis in "Print is Flat, Code is Deep").  Barthes' descriptions of photography as "messages without a code" describes the limitation of the medium, for the photograph, yet this obviation of meaning has become an conscious aesthetic in post-structuralism, evacuated of content and intention.   For Hegel, "art" was only art in subordination to meaning:  modern art, in a post-Reformation world, for Hegel, wasn't therefore "art," but rather abstracted potential.   [ii]   The desire to decode photography's "message without a code"  may be what constitutes the dream of absolute (not reified) presence (Barthes' Winter Garden Photograph):  the "the text of pleasure" or sublime (dynamic or technological, wherein perceptual synthesis temporary collapses in experiencing the material force of a supersensible idea, whether of beauty or horror).
Affect theory provides a rational-empirical account of what we know intuitively:  the sublime has a life of its own.  The jarring quality of paintings such as Edward Hopper's "Nighthawks," Edvard Munch's "The Scream," Francis Bacon's apocalyptic friezes, and Frieda Kahlo's self-portraits, fix such images forever in our collective imagination, for giving form to a mediated, yet still felt, aspect of human experience.  Just as Cézanne sought to capture the "apple-ness of apples," and Russian formalist Victor Shklovsky the "stony-ness of stone," any discussion of the sublime returns us to logos (language's ability to embody, and evoke, objects).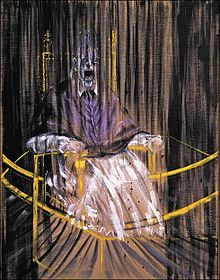 (Francis Bacon, "Study after Velázquez's Portrait of Pope Innocent X," 1953)
The absence of meaning in photography is its power, conveying its "message" through semiotic rather than semantic means.  In writing, an absence of meaning can take, according to Derrida, three forms:  mathematical meaning; agrammaticality ("abracadabra"); and the social contexture of meaning (preestablished symbolic and linguistic codes), implying that the limitations for what one can "say" are scripted, in photography, by medium, and in the text, by culture as well as genre:  the associative logic of poetry requiring a different reading strategy than that of linear prose.
Modernist paintings, like Egyptian hieroglyphs or the intricate symbology found in the Lascaux caves, complicate the boundary between image and text (Cy Twombly's abstract expressionist paintings were inspired by texts from Stéphane Mallarmé to Alexander Pope, incorporating baroque themes and titles, such as Apollo and the Artist and traces, or erased marks of textual inscription).  Belgian surrealist artist René Magritte, of course, creating the watershed moment in art history when the act of visual representation was, in his 1928 "Ceci n'est pas une pipe" rendered counterfactual (ironic) through the insertion of text.
Flatness is not always the image's refusal to yield meaning:  it can be its apotheosis.  As Aloïs Riegl says:  "Bas-relief brings about the most rigid link between the eye and the hand because its element is the flat surface, which allows the eye to function like the sense of touch; furthermore, it confers, and indeed imposes, upon the eye a tactile or rather haptic, function . . . ensur[ing], in the Egyptian 'will to art,' the joining together of the two senses of touch and sight, like the soil and the horizon." [iii]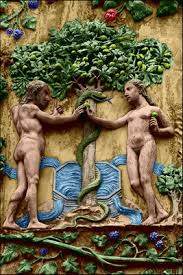 During the 1920s, Russian film director Sergei Eisenstein and Dziga Vertov explored the technical potential of montage, developments new media theorist Lev Manovich claims to underlie the aesthetics of contemporary video.  Eisenstein believed montage could create ideas or have an impact beyond the individual images (two or more images edited together create a "tertium quid" or third thing making the whole greater than the sum of its individual parts).   How is this "tertium quid" experienced in a photograph, or, for that matter, a text?  Gests' figures are "all end" (terminal subjects, trapped in contingency) and flat to the point of disappearing from the surface of the plane.  To say, however, that flat images are a "realist" or photorealist art, or that visual art depends upon language to enter signification has troubling implications, refusing to consider the bounds of perspective (from the artist, the medium, and the spectator).  Yet, in exploring photography's medium (indexical and reproducible), we can begin to understand how the assignation of "post-photography" relates to that of "post-literacy."
Even Dickinson understood depth perception (phenomenologically, and politically, in the granting of subjecthood, rather than treating the other as an object or manipulable industrial machine – vending, milking – in the service economy) to be predicated upon metaphoric hierarchy:  " . . . We can find no scar,/ But internal difference,/ Where the Meanings, are–").    The rise of the image and subsequent degradation of language to emoticons is a function of technocapitalism, advertising and marketing blitzes, and bipartisan racketeering, whereby independent thought is crushed by neo-fascist fears of the unknown (the wizards behind the screen?)
Rather than aspiring to the denotative powers of text (a Gordian knot, interpretatively), highly stylized photography (Gest, Thomas Struth, David LaChapelle) suggests a desire for the image to become purely connotative, appropriating the iconicity of the mirror (the only purely indexical object).  Struth:  "Photographs that impress me have no personal signature," and yet this depersonalized aesthetic doesn't impede the sheer pathos of his museum photographs, juxtaposing spectators at the Louvre with, for example, the shipwrecked figures in Théodore Géricault's Raft of the Medusa.  Struth's museum-goers observe rather than participate in history (religious and mythological narratives), formalizing Western Art's debt to Christian symbolism, but not attempting to subvert or parody this tradition.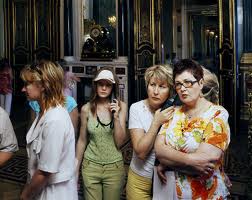 (Thomas Struth, Hermitage 1, St. Petersburg, 2005)
Reading demands, as Guy DeBord says, making judgments at every line;  how does this description of literacy accord with an accurate perception of the imago, as a two-dimensional object?  [iv]  Modernists' dream to find forms of representation adequate to experience of phenomenal "reality," once declared a failure, in morphing from the rejection of authority, the subject, and meaning, to a worship of the object, now worship the frame (material context) itself.  For visual art the context of the image is doubled:  the literal frame, as well as the cultural space in which the work is displayed, distinguishing it as an objet d'art, worthy of consecration in a public space.The shifts, in constructivist and futurist movements, between art's use-value (e.g. painter Alex Rodchenko's poster art, furniture, wallpaper and fabric), to l'art pour l'art, had aesthetic and economic implications (the feared aestheticization of politics and politicization of aesthetics):  today, conceptual art trumpets its value-lessness as a form of waste aesthetics:  resistance to cooptation by the market, and utilitarian ideals.
Following suit, Gest's figures, while ranging in age, largely white and middle class, are pictured in nuclear family couplings, or alone, tending to tasks in well-appointed homes and state-of-the-art kitchens, en route to work, or at the workplace itself.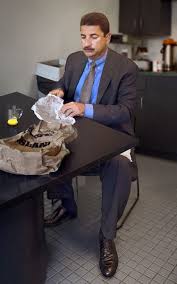 (Gest, "Joe Finishing Lunch" 2005)
In Gest's work, these quotidian scenes (shaving, shelving books at a library), are a form of anti-epic:  representing the habitus of daily living.  In "Ben and Dawn" (below), the couple is preparing dinner:  Dawn manifesting the vacuity of non-presence, and Ben, absorption in his task (forming meat patties).  How to read these allegories in which narrative is supplanted by the gaze (either off-center or vacant)?  Gest heightens the post-Enlightenment collapse of progress narratives and a unified self by refusing the viewer a vanishing point or horizon line:  his subjects' expressions are frozen in shock or ennui.  The unmitigated solitude of many of Gest's subjects also suggests the impossibility of self-knowledge or consciousness, particularly of class.  Mired in transitional situations, and rarely facing the camera directly, these subjects, as they water the lawn, or pause before exiting a brand-new SUV, manifest an innocence of themselves as complicit agents in or victims of commodity culture—or, as posed subjects.  Sentience is indeed on display in Gest's portraits, but this sentience is often in the service of material entrapments rather than the subject's experience, shown benumbed in these portraits of status quo maintenance without the promise of deliverance (through class ascension, religion or theater).   As Baudrillard says, we live in a "jungle of fetish-objects":  in order for an art object to free itself from fetishization it must first emerge as a "newly victorious fetish," then work to destroy itself as a familiar object by becoming monstrously unfamiliar.  "This foreignness is not the strangeness of the alienated or repressed object," he adds.  "It excels through a veritable seduction that comes from somewhere else . . . by exceeding its own form as a pure object, a pure event."  [v]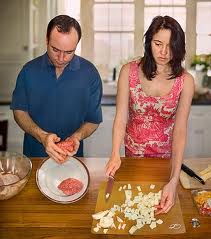 The fantasy of art qua object is a desire for it to eventually become, in a Zarathustrian sense,  event:  Brechtian theater, Jerzy Grotowski's "theatre laboratory" (Teatr Laboratorium), the Opernhaus Wuppertal of Pina Bauch.  Michael Fried opposed art and objecthood in his 1967 essay relating objecthood to theatricality, wherein the reader or viewer is necessary to bring the interpretive act to completion:  in other art forms, however, the line is easily blurred.  A wholly intentioned work of art, or Frankensteinian, bioengineered production of human life (dramatized in movies such as Synechoche, New York, The Truman Show, and the Tom McCarthy novel Remainder) enact the fantasy of a subject with the power to micromanage contingency (i.e. weather), creating others as a pure extension of the author-producer's will (the sinister sine qua non of formalist aesthetics)?  From Remainder:   "Opening my fridge's door, lighting a cigarette, even lifting a carrot to my mouth: these gestures had been seamless, perfect. I'd merged with them, run through them, and let them run through me until there'd been no space between us. They'd been real; I'd been real without first understanding how to try to be: cut out the detour."   McCarthy contemporizes the Wagnerian dream of the "total" work of art, by attempting to solve for indeterminancy in plot, language, nature:   the post-industrial spectacle of by which citizen-consumers, are already, albeit unconsciously, enthralled.
Fried turned to photography with the 2008 publication of Why Photography Matters as Art as Never Before,  exploring works by Bernd and Hilla Becher, Jeff Wall, and Andreas Gursky, asserting that the poles of anti-theatricality and absorption are central to the turn by recent photographers towards large-scale works "for the wall."  The tableaux vivant of these photographers, and the work of Gest in particular, attenuates the politics of spectatorship by rendering the viewer complicit in the subject's performance not of self-consciousness, but the lack thereof.  In Gest, we observe, voyeuristically, subjects in media res, or engaged in repetitious labor (domestic and corporate):  these scenes may be "for the wall" but their very nature is theatrical (constructed), forecasting the transition from art as object, to event.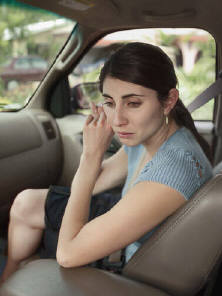 (Gest, Kate Fixing her Earring, 2005)
Narratives of subject formation (or, in painting, a reconstitution of the figure, whether rendered as grotesque by Dana Schultz, or pornographized, in Egon Schiele), continue to be elided by the neoliberal death of extra-aesthetic context, heralded by Francis Fukuyama as the end of history (therefore allegory, Manichean and otherwise, and narrative): Â the fracas of the negative sublime (eco-catastrophes, Warhol-inspired readymades, appropriated and digitally reproducible art).
Art-as-event (the "revised sublime") has the potential to loosen the hypnotizing  inertia of the image, encouraging passive spectatorship, and the dangers of pure formalism (the reduction of art to ornament, or frame, and language to citational and ironic metacommentary, ceasing to exist in or interpolate with the world) allowing space for critical reflection, eroticism, and presence-as-grace.
Whether all art is reification, as Hannah Arendt said, or whether the war is still being waged between aesthetic reification and the counter-concept of aesthetic use value (both prey to commodity fetishism, whether by cognitariat aesthetes and/or the market), the final criteria for artistic "value" or proof of art's autonomy may not be decreed by the moral majority (popular or critical opinion) or its price tag (floating or fixed), but its participation in a sacrificial economy, for the purposes of extirpation:  to reject the bankrupt calculus of credit economies and fiat aesthetics to risk annihilation, so as to rise from the death of ontological and literal debt (posthumously, for Van Gogh) into the shock of signification (G.H. Hardy's aesthetic criterion marrying unexpectedness to inevitability):  the real.
Notes
---
[i]Â  Roland Barthes, Camera Lucida (New York:Â  Hill and Wang, 1980), p. 90.
 
[ii] Roland Barthes, Image-Music-Text, trans. Stephen Heath (New York:Â  Hill and Wang, 1978) p. 45.
[iii]  Qtd. in Gilles Deleuze's Francis Bacon: The Logic of Sensation (Minneapolis:  University of Minnesota Press, 1995).
[iv] Â Guy DeBord, Comments on the Society of the Spectacle (Verso Press, Brookyn, 1998), p. 29.
[v]  Jean Baudrillard,"Simulation and Transaesthetics: Towards the Vanishing Point of Art" (International Journal of Baudrillard Studies), web, Vol. 5, No. 2:  July, 2008.
Virginia Konchan's poems have appeared in Best New Poets, The Believer, The New Yorker, and The New Republic, her criticism in Workplace:  A Journal for Academic Labor, Quarterly Conversation, New Madrid, and Boston Review, and her fiction in StoryQuarterly and Joyland, among other places.  The recipient of grants and fellowships to Scuola Internazionale di Grafica, Ox-Bow, and Vermont Studio Center, Virginia is co-founder of Matter, a journal of poetry and political commentary.  She lives in Chicago.