Over the coming months, the Bad at Sports blog is featuring quick glimpses of the art world as it exists in smaller cities across the country and around the world. Each glimpse is byway of some of the said city's local characters, which include but are not limited to artists, curators, creative writers, and critics. In this Dallas Day article, artist Brittany Ransom dishes on what she, a recent Midwesterner-cum-Dallasite, finds exciting about the Big D. 
Dallas Is Hot
Guest post by Brittany Ransom
I arrived in Dallas in the fall of 2011 and my first thought was "Dallas is hot." I happened to move here just in time to land in the middle of a sweltering 60-something day streak of temperatures climaxing over 100 degrees. There was not a cloud or drop of rain in sight. I moved to Dallas to work as an assistant professor in the Division of Art at SMU specializing in Digital/Hybrid Media. After a few years, I now see my role at-large, as both an artist and educator, as straddling many lines institutionally and within my work. My practice depends on being able to regularly engage with engineers, scientists, technology enthusiasts, other artists, and the insects in my back yard (often my favorite collaborators in the mix).
As a born and raised Midwesterner, I naively had never heard the term "metroplex", which is the word that is used to commonly refer to the greater Dallas/Fort Worth area. Now that I call Dallas my home and the place where I continue to build my art practice, I am invested in this metroplex and its 'scenes' in numerous ways. I am often asked by new acquaintances and former colleagues (most those based in the Midwest) where I live and work. I am frequently met with seemingly questionable gazes when I respond "Dallas." These gazes are generally followed by vague responses that include something to the affect of "Oh, I hear Austin is cool…" And while Austin, Houston, and San Antonio (among many other Texas cities) are also ripe with artists and institutions doing interesting things (the Texas Biennial was a good survey of contemporary art happening throughout Texas this year)there are a number of things that have made me come to appreciate the heat in Dallas.
Dallas is filled with so many driven visionaries, emerging and established spaces, studios, and collectives that it is impossible to name them all here. Important to me are a handful of experiences and resources that I think point to the upward growth of Dallas. This city is undoubtedly filled with many 'big hitter' institutions, such as the Dallas Museum of Art, Nasher Sculpture Center, Kimball Art Museum, and the Ft. Worth Modern, among others. I can say that I have had a lot of active engagement with the Dallas Museum of Art and the Perot Museum of Nature and Science, both of which have given me the opportunity to expand my exhibition portfolio as well as my practice. Currently, I am working on a digital mural project with the Team Dallas Learning Lab, a group made up of students from local high schools, all of who are interested in exploring the intersections of science and art. Team Dallas Learning Lab brings in artists like me as guides to produce work that promotes knowledge and skill sharing. More importantly, the model employed by this group encourages various concentrations of creative practices to come together through experimentation and risk-taking. These types of programs exists at institutions throughout the city, and they are instrumental in helping artists engage a multitude of audiences.
As an artist specifically working with(in) "New Media" (dare I use that term…), I do find Dallas (like a lot of small cities) to be a bit behind the times; however, it's showing promise by supporting artists who use code/computing/digital technologies within their work. The increase in these areas has definitely been at the forefront of many of the universities in town. I find myself among a great number of smart and exciting artists who are also working in New Media and the need for spaces to support this type of work to be growing. I have participated in events like Dallas Aurora since its initial debut in 2011, and it is becoming a truly exciting event that allows artists from all over the world to use the Arts district as a space for interactive video, sound, and performance-based work.  There are other spaces and collectives, too, which support emergent disciplines and practices– Oliver Francis Gallery, Beefhaus, and Womanorial, to name a few, have been progressively curating physical and online exhibitions that exist beyond the typical 'white cube' shows that one might see in the city's more mainstream design district.
Of course, this post presents just a skimming of what has been important to me as an artist, especially one who is relatively new to Dallas. Regardless, I will give this statement in summation: I have found Dallas to be a city that is refreshing in its willingness to support local artists, to take risks that make artists' ideas and visions come to fruition, and to create a community of people who are genuinely interested in and supportive of each others' work. It may be hot here, but I can say that I am happy to be in the heat of Dallas right now.
Brittany Ransom is an artist and educator who creates interactive installations, electronic art objects, and site specific interventions that strive to probe the line between human, animal, and environmental relations while exploring emergent technologies. Using technology as a material, Ransom's work introduces concepts exploring the conflicted relationships between our culture, the concern for nature, and the way we interact with the natural world. She explores the paradoxical bond between human, nature, its inhabitants and the co-evolution between the living and budding technological innovationwhile questioning these technologies. Ransom's work invites the viewer to question how technology can concurrently invent, destroy, enshroud, and expose itself within our shared environments. Ransom is currently serving as the Assistant Professor of Digital/Hybrid Media + Art at Southern Methodist University in Dallas, Texas and works with(in) the Center for Creative Computation. Ransom received her Master of Fine Arts Degree with a focus in New Media Arts (formerly known as Electronic Visualization) from the University of Illinois at Chicago in May of 2011. She is the recipient of the Arctic Circle Research Residency (2014), is a College Art Association Fellow (2011), two time recipient of the Lincoln Fellowship (2010 & 2011), the Provost Award recipient at UIC (2011), and has won numerous awards throughout her emergent career. Prior to her time in Dallas and Chicago, Ransom lived and worked in Columbus, Ohio. She received her Bachelor of Fine Arts degree with distinction in Art and Technology from The Ohio State University in 2008. She has exhibited her work both nationally and internationally and has been featured in several publications. 
Over the coming months, the Bad at Sports blog is featuring quick glimpses of the art world as it exists in smaller cities across the country and around the world. Each glimpse is byway of some of the said city's local characters, which include but are not limited to artists, curators, creative writers, and critics. In this Dallas Day article, curator Leigh A. Arnold tours the Dallas sites.
Dalla[s]ites
Guest post by Leigh A. Arnold
I moved to Dallas over eight years ago, which by all accounts qualifies me as a true Texan. Though, to be honest, Dallasites are so friendly I am certain that the moment I signed my first apartment lease, I was considered one of their own. Regardless of how Texan I may be, eight years is unquestionably enough time to gain some perspective on the area arts community. What is interesting to report is that unbeknownst to me when I arrived in Dallas in 2006, the city's art scene was on the cusp of a major upswing in activity. Since my arrival, Dallas has seen the development of several key contributors to our current state of affairs: the establishment of the vital CentralTrak: The UT Dallas Artists Residency, the continued progress of the Dallas Arts District, Dallas Contemporary's move to the bigger digs in the Design District, the Dallas Art Fair, and most importantly: the development of what I would tentatively describe as an "underground" or at the very least, grassroots art scene at the hands of some of the area's most talented young artists. Lumped within this "underground" development are a variety of collectives, individuals, galleries, and alternative spaces that have built and sustained a community that is grabbing national headlines.
My awareness of the local arts scene was magnified during my tenure as a researcher and curator for the Dallas Museum of Art's 50-year art scene retrospective titled DallasSITES. The project sought to accomplish for the Dallas area what the Pacific Standard Time initiative did for Southern California, essentially the recovery of recent art history specific to our local geography. Not only did my research for this project familiarize me with the rich history of contemporary art in Dallas, but it also pushed me to explore what was happening in the now. What became increasingly apparent is that history does indeed repeat itself, if in slight incremental improvements. Artists' concerns are universal and timeless – issues of space and support (financial, creative, emotional) continually plague Dallas artists, as they do nearly everywhere. But for every problem presented to Dallas artists, creative solutions abound.
Take for example, the issue of space. Fortunately for artists here, the old adage "everything in Texas is bigger" is true and unlike New York City or Los Angeles, big spaces do not necessarily come with outrageously expensive rental rates. Thanks to the support of several real estate developers around Dallas, exciting projects are happening. In the area known as Deep Ellum—historically recognized as the birthplace of early jazz and blues in Dallas—the artist duo Jeff Gibbons and Justin Ginsberg, also known as Apophenia Underground, have been hosting the curatorial project Deep Ellum Windows. Through an agreement with the neighborhood property owner, the duo have extended space to curators and artists who in turn have converted otherwise vacant storefronts into challenging and thought-provoking exhibitions. Past shows have included the work of Dallas-based artists Cassandra Emswiler, Stephen Lapthisophon, and Brandon Kennedy, alongside national and international artists Kristin Oppenheim and Rachel de Joode. Active for over a year, Deep Ellum Windows represents the kind of possibilities that can happen when enterprising artists connect with open-minded property owners.
Another example of this kind of synergy is happening in the neighborhood of West Dallas, a stone's throw (or five minute drive on the freeway) from Deep Ellum. Previously blighted by lead contamination and a history of neglect from the City of Dallas, this area of town has recently undergone a complete renaissance with the development of neighborhoods like Trinity Groves and Sylvan/Thirty. Restaurants, shops, and new dwelling units are helping to gentrify the neighborhood and artist Arthur Peña's various warehouse projects are making West Dallas a hot spot for the Dallas art avant-garde. Peña is an Oak Cliff native, who attended the Rhode Island School of Design for his MFA before coming back to his home town. Since his return, he has managed to develop the exhibition/performance venue Ware:Wolf:Haus, as well as the concert space Vice Palace, all while pursuing his own artistic career. On any given weekend night (and an occasional weeknight), Peña's spaces are pulsing with energy, from the art scene regulars stopping by to check out the latest exhibition to the beats from the latest incarnation of Dallas performance artist George Quartz and his band of misfits and back-up dancers.
Apart from Deep Ellum Windows and Peña's West Dallas projects, the city has also seen a revitalization of artist-run spaces and alternative galleries. By now considered Dallas' standard go-to for challenging work and off-the-wall installations, Oliver Francis Gallery located in East Dallas, started in 2012 as a labor of love for UT-Arlington grad, Kevin Jacobs. With the energy of a school boy, Jacobs curates his modest space with artists from his gallery roster (which includes Peña, Gibbons, Jeff Zilm, and Moreshin Allahyari, among others) and also willingly hands over the keys to artists seeking to explore their own curatorial concerns, most notably, the artists of DB14: Dallas Biennial: Michael Mazurek and Jesse Morgan Barnett. Jacobs' day job as the Assistant Curator at the Goss-Michael Foundation uniquely positions him to have access to the ever-elusive institutional support. Through his position there, Jacobs is able to cross-pollinate his artists with those in the Goss-Michaels galleries, in effect putting his artists' work in front of some of Dallas' most well-known and deep-pocketed collectors.
Operating outside the concerns of collectors, i.e., commercialism, Karen Weiner's wonderfully intimate and cerebral space, The Reading Room, located around the corner from Oliver Francis Gallery and facing Fair Park, provides the kind of quiet, yet powerful programming that fills a void in the Dallas art community. With a focus on the influence of language on the visual arts, Weiner's single-room gallery has hosted exhibitions by artists like Matthew Cusick, Rebecca Carter, Amy Revier, and The Art Foundation – a curatorial collaboration consisting of Ryder Richards, Lucia Simek, and Andrew Douglas Underwood, alongside programs and performances like a reading by Kenneth Goldsmith, a performance of Robert Ashley's work by the sibling duo Nicolas and Andrew Miller, and even an exotic mushroom demonstration by local produce purveyor Tom Spicer.
What Weiner's space and those of Jacobs, Peña's and the Apophenia Underground duo's prove is that support need not be top-down for an artistic community to thrive. For all of its accomplishments, the Dallas arts community is still a very self-conscious one, as the recent response to Artforum's society-page-worthy recap of the Dallas Art Fair will attest. Yes, Dallas boasts a very active and internationally-known collector community, but that community is largely absent from any of the spaces/events mentioned above. This is in part due to the city's persistent need to feel validation, and in the case of the deep-pocketed collectors, that validation must come from the outside, before it will garner any kind of support from them. Until those collectors feel secure enough in their own ability to make decisions about what to acquire/support, this divide between the collector class and the artist class will persist. Fortunately for Dallas, the artists here do not seem too concerned with bridging that gap. They are too busy making exciting things happen.
Leigh A. Arnold is a curatorial fellow at the Nasher Sculpture Center and consulting curator for the exhibition Robert Smithson in Texas at the Dallas Museum of Art, on view through April 2014. She has previously held the position of research fellow at the Dallas Museum of Art for the special project DallasSITES: Charting Contemporary Art, 1963 to Present, which culminated in an exhibition and online publication in the spring of 2013. In addition to her professional endeavors, Arnold is a doctoral candidate at the University of Texas at Dallas, where she is writing on Robert Smithson's relationship to Texas.
All images courtesy Andi Harman
Guest post by Daniel G. Baird
Tony Tasset's artworks consistently aim to destabilize and question our understanding of value.  Often perceived as humorous, whimsical or playful, the works poetically allude toward confrontations with mortality, timelessness and cultural awareness through slick pop-art fused objects. With a keen eye toward popular culture and extra-ordinary moments, Tasset is able to create works that engage viewer's latent memories with familiar cultural and iconographic forms. In his use of the everyday and mainstream as artistic materials, the transient is able to transcend the boundaries of time, allowing us to enter into a reconsideration of the objective world.
In a 2004 piece, a pile of dirty Chicago snow sits like a time-capsule in a storefront window wearing the grime of the city on its tabula rasa-like surface while simultaneously celebrating the engagement that everyone necessarily has with this winter material. A handmade crushed cup sits at the base of the pile locating the works age through the Coca Cola logo that was used 10 years ago. In "Magnolias for Pittsburg," a pair of hyperreal faux magnolia trees sit motionless and forever in bloom as the world passes from season to season. That moment of rebirth and creation held perpetually in suspension like a photograph. Or in recent works where the moment of recognition is through the domestic kitchen or cleaning product. Utilizing these materials for their color, the works recall an accidental spill of material. Yet in these works the accidental lifts itself into the authority of a precisely calculated artistic gesture. Each of these works point toward a desire to commemorate and preserve a familiar moment by transcending the flow of time.
In a work from 2009, titled "My Empire," Tasset pokes fun at the prototypical self-portrait, that artistic trope that every artist wrestles with at least once. A chaotic accumulation of detritus, piled up and shimmering from an all over coating of resin sits on a found pallet. Upon closer inspection, it is revealed to be found objects and knick knacks that all hold personal associations to both Tasset and ourselves. Toy cardboard bricks commonly used to build forts as a kid, an old discarded cell phone, fragments of older projects, clown shoes and a cast plaster model of the artists hand are among the numerous objects covered in resin that pepper this accumulation. It is unabashedly abject in its presentation yet holds a sincerity in what it presents. We derive a feeling of nostalgia in the familiarity of the objects and can sympathize with the chaotic mess.
With "My Empire," Tassets world of symbolism, meaning and reference is presented on a single palleted unit and ready for movement through the world. It is a personal cosmology tethered to its transportation device. In the same way that the dirty  snow pile shows us the grime and debris under the facade of a smoothly operating city, "My Empire" shows us the messy creative process under the facade of a pristine art object.
For his inclusion in the 2014 Whitney Biennial, Tasset created "Artist Monument," a monument which is the vehicle of cultural commemoration and preservation, honoring artists who, like himself, work to capture a moment of time in an object. Affixed to two shipping containers docked at the base of Chelsea, the names of 392,486 artists are packed onto the surface of multi-colored acrylic panels. Alphabetized and etched in the same font size, any discernible form of hierarchical structure between the listed names is abolished. Recognition of the well known becomes blurred in a sea of information. Artists of historical significance and ones toiling in relative obscurity are equalized as one and the same gesture calling attention to the shared pursuit all artists have in the creative process. It is a monument to the heroic pursuit of becoming. At the root of the piece is the desire to be radically democratic by creating the  ultimate group exhibition of all the artists known on the date the list was sourced.
Like all monuments, the "Artist Monument" is a register of a historical moment. It functions as a time-capsule and an ark to the creative process of this moment.
Daniel G. Baird (b. 1984) received a BFA from the School of the Art Institute of Chicago and a MFA from the University of Illinois at Chicago. Recent Solo exhibitions include 'Strata' at Andrew Rafacz gallery, Chicago; 'Vestige' at the Institute of Jamais Vu, London; 'Has the World Already Been Made? X4? at both Roots and Culture, Chicago, and Hedah, Maastricht; 'Meridian' at Robert Bills Contemporary, Chicago; 'This New Ocean,' at Appendix Project Space, Portland. Recent Group exhibitions include Bowling Alone, Andrew Rafacz Gallery; Merge Visible, Prairie Productions, Chicago, and Panoptic Measures, Elizabeth Foundation, NY. He will present work at LVL3 this spring and at Leeds College of Art and Design in 2015.
"Out of the Mouths of Artists" is a new bi-monthly series on the Bad at Sports blog. The series presents a space for guest artist bloggers– of varying career statuses– to write, to reflect, to pontificate on their current situations, failures and/or successes, and ideas on what it means to be an artist. "Out of the Mouths of Artists" also gives readers a glimpse into artists' portfolios and studios.
Tortoises
Guest Post by Daniel G. Baird
I have been thinking a lot about tortoises lately. Or, rather, I've recently realized that they've been on my mind for some time without my knowing. I don't mean the literal animal, but rather the idea of it as both carrying an exterior 'world' upon its back and also having an interior world (its home) affixed to the structure of its body.  I see the tortoise relating to other structures in the world and it has recently emerged as a signifier in my own work.
In Hindu, Chinese and Native American mythology, the tortoise is a familiar character that holds the weight of an entire cosmology. It is like a little world. Underside as the surface, interior as the experienced world and shell as the enclosed sky.  Because it is seen as containing a depiction of the world in its entirety, it necessarily enters into the question of origins; If the tortoise has the world on its back, then what world is it standing on? Its not the origin-mythology aspects of the tortoise that interest me however.  I see the shell of a tortoise as a type of memory-object, something that in its form holds a reference to its own function.  Tools also do this.  Like the way a child-proof medicine bottle contains the  idea of an eventual arrival at a mature understanding of objects in the world.
The tortoise lives a long life  and through its endurance and longevity feels almost timeless.  With a lifespan similar to ours, the tortoise carries the passage of time on its shell. Some sea-turtles have entire micro-habitats of barnacles and algae attached to their back.
At the present moment, floating 230 miles above our heads, a global research laboratory called the International Space Station is conducting experiments in biology, physics, astronomy, meteorology and other fields in a state of microgravity.  For me, it is like the tortoise shell because it carries a world within itself.  The ISS is a machine thats working to create conditions for life to exist in zero gravity.  With all the knowledge it collects, we can imagine that it might have the capability to make the conditions of another earth within the harshness of space.
Another allusion to the metaphor of the tortoise that is on my mind relates to something more graspable and familiar to us. It can be found within the flat surfaces of computer screens and 'smart' phones. These things that transfer information via a representation share a direct affinity to the ancient cave-paintings that are at the root of the history of image-making.
Every device with access to the internet is a TARDIS-like object. In the popular Dr. Who television show the TARDIS is a time machine and spacecraft in an unassuming British police box (vessel) that has the peculiar attribute of containing an infinite space in its interior. It has a close relationship to the dichotomy of the physical and virtual. It is a vessel that carries an interior world.
At present Google is providing the platform for an accurate pictorial representation of the world accessible from the internet. With GoogleEarth we are presented with the Earth as an object to be navigated at will. Through this program, we can pseudo-experience and access locations in the world that are beyond our physical capabilities. Navigating within the Street-View option is a personalized endeavor.  After you find your house, which is almost the first thing anyone does, you can transport yourself over vast distances and meander through unfamiliar streets, and never physically move an inch. I'm entertained by the idea that the devices in our pockets are like little tortoises that contain infinite worlds; when you look into the screen you are actually peering into its shell.
The collating of diverse materials, processes and objects that have specific embedded ideas is one facet that could characterize the process in my work. I do not feel the materials and ideas emerge from a research-based practice but rather from a jogging around, and through, interests that have become accumulated and built upon from earlier pieces.
I try to engage in both the macro/micro and physical/virtual worlds of signification. For me, a gradation of earth tone colors has the possibility of pointing towards the structure of geological sediment, a 3d scan of an architectural detail contains the entirety of the building it came from or a used ejection seat has wrapped within it the narrative possibility of terror and release from the technological marvel of flying through the sky. The interest in the tortoise I feel comes from a desire I have towards creating an entire cosmology in a piece. Its use in recent work nods to this impulse.
Daniel G. Baird (b. 1984) received a BFA from the School of the Art Institute of Chicago and a MFA from the University of Illinois at Chicago. Recent Solo exhibitions include 'Strata' at Andrew Rafacz gallery, Chicago; 'Vestige' at the Institute of Jamais Vu, London; 'Has the World Already Been Made? X4? at both Roots and Culture, Chicago, and Hedah, Maastricht; 'Meridian' at Robert Bills Contemporary, Chicago; 'This New Ocean,' at Appendix Project Space, Portland. Recent Group exhibitions include Bowling Alone, Andrew Rafacz Gallery; Merge Visible, Prairie Productions, Chicago, and Panoptic Measures, Elizabeth Foundation, NY. He will present work at LVL3 this spring and at Leeds College of Art and Design in 2015. See more of Baird's work at www.danielgbaird.com.
Guest post by A.Martinez
Jacob S. Knabb is a true storyteller on the page, on the stage, and in real life. He is also an invaluable host and curator in Chicago's literary scene and over the four years I've known Jacob, I'm grateful to have attended over a dozen of his events around the city. In 2013, he made NewCity's Lit 50 for his work as Editor-In-Chief of Curbside Splendor. He currently lives in Lake Forest with his beautiful wife, young son, and their two small dogs.
A. Martinez: How did you become a storyteller? Was storytelling a big part of your childhood?
Jacob S. Knabb: My mother read to us when we were small and while my brother and sister both liked it I was enraptured. I would sit as long as she'd read, even as a toddler. I was an advanced reader and by 3rd Grade my dad would give me some of the books he was reading once he was done with them. So reading and narrative were addictions. But I also grew up in the coal fields of Southern West Virginia and most everyone there is a storyteller in one way or another. Ask for directions and you'll learn about the people that live on the route and what happened the last time the person you asked went that way. People there still sort of thrive on the stories people tell about themselves and there is a lot of mythmaking going on. I learned that telling funny stories endeared me to people and over time I became the person people would turn to when they wanted to know what had happened with so-and-so or how crazy we had all gotten at a party. It just comes naturally to me. I link things instinctually and make puns and wordplay without trying. I'm always surprised at how my mind does that without me being in control of it. But my grandfather, Harold Ray "Tony" Ball is the one who got me wanting to tell stories to people as a form of entertainment. He always wanted me to learn guitar so I could play songs and tell jokes and share stories with people onstage. It was his vision for me and he'd tell me that every time I'd go back home to visit.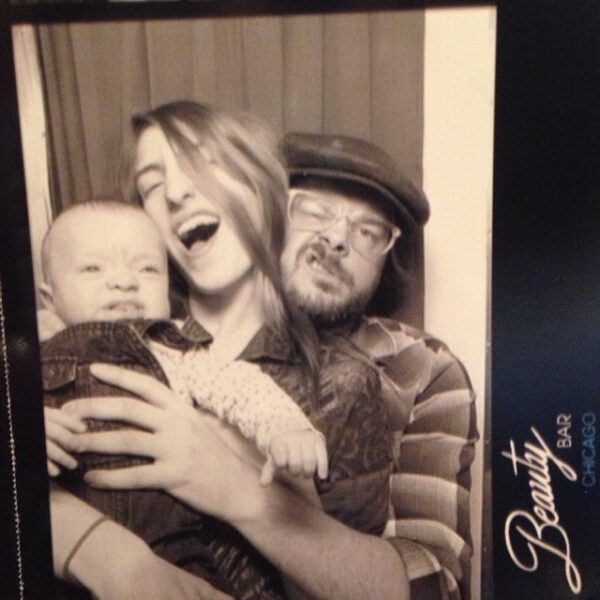 Martinez: What is one of the best stories you've heard and who told it?
Knabb: A story I've begun to refer to as "That's Happiness" that was told to me by a 60-something year old creeker I met one night in a bar in my hometown called Clyde's (which has since closed and is now a dance studio). It was after the fireworks on the last night of the annual Coal Fest and Clyde was about to close the bar. He's an old guy who looks like an unfiltered Camel that was smoked down to the nub and then squashed into an ashtray, a Vietnam vet who was in the Navy with my father. He sort of liked me, or at least tolerated me enough to give me a free beer when I would go to his bar to drink. That night I came in as he was mopping and he let me drink there alone as long as I left him alone while he cleaned. As I was sitting there drinking a can of High Life the old creeker stuck his head in and asked Clyde if he was still open and Clyde said "fuck it why not" and set the dude up with a bottle of beer, I want to say it was Budweiser. The two of us sat there in silence and Clyde cleaned the floors and tables while we sipped our beers.
At that time I was fond of asking people, strangers mostly, deceptively complex questions when we found ourselves drinking side-by-side at a bar. I'd ask things that centered mostly on emotion, things like 'You think people can truly regret anything?' and usually they'd start waxing all philosophical in response. People want to tell you their thoughts, you know. Well that night I asked the old creeker "What's happiness?" He sat there for a moment, long enough that I figured he wasn't going to answer and then he told me a story about his son. This is more or less what he said:
"I had me a son once and his momma left us. We lived up at the head of a holler. He was best friends with this little girl that lived next door. The two of them was inseparable. The both had straight blonde hair and in the summer you could look out in the yard and see them playing there and you couldn't tell them apart. Once they was in High School they became sweethearts. Even went to prom. On the day of his graduation I fucked her. He left and I kept on fuckin' her. Then she left too. I ain't heard from my son since. That's happiness."
I've told that story dozens of times and I never tell it the same way. I've never heard one as good before and I still am amazed by it. What I like to do is to end with that last line and make up the lead-up to it. I use it as a goal, a challenge to myself, to make up a story that is as good and that will get me into that bar so I can tell the old man's story.
Martinez: You currently teach at Lake Forest College. What are you teaching there? And how does teaching influence your creative writing and editing?
Knabb: I was hired to help Lake Forest build a minor in Print and Digital Publishing. And to help grow their press. Teaching has no influence at all on writing or editing, I have to admit. It's almost entirely the other way around. My students are very intelligent and motivated and they want to be excited about things. I love working with them and creating a yearning in them for literature and publishing. It's very rewarding to be able to draw on my own experiences and to share my knowledge with them.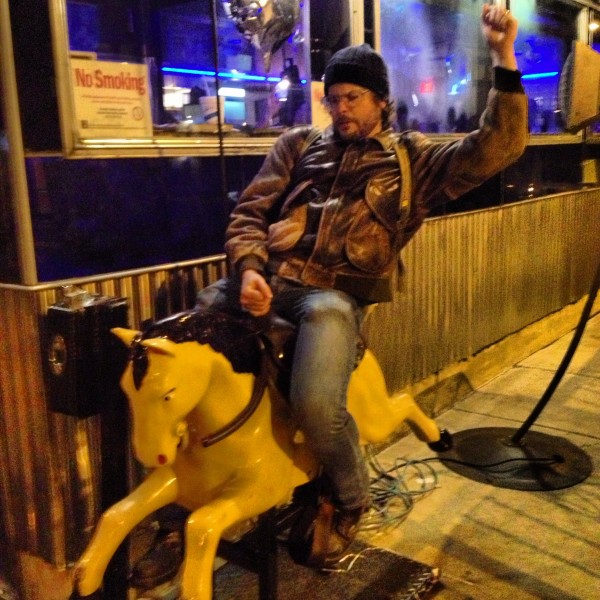 Martinez: I first met you at your show called "So You Think You Have Nerves of Steel", which ran for some years at Hungry Brain and then Empty Bottle. Will you tell us about the origin and theme of this show?
Knabb: There's this brilliant but somewhat insane writer and musician named CT Ballentine. He wrote and collaborated with the dude named Todd Dills who lives in Nashville and runs an online and print zine called THE2NDHAND. CT and Dills wanted to start up a storytelling show and CT believed strongly that the show should be about challenging writers to do something more than simply standing on stage and reading their work off of the page. CT is an obsessive and also a true believer. He has this baby face and wears bib overalls and looks like he's right out of a Tom Waits song about beautiful and ruinous rubber tramps. Anyway, the phrase 'nerves of steel' kept echoing in his mind, over and over, and he kept saying it to Dills and that this was the name of the show and what they needed to focus on. CT saw me performing and wanted me to be the host. He was running sound at The Whistler and decided that would be where the show was held and that I would host it and that it would be called "So You Think You Have Nerves of Steel?" How could I say no? I think CT wanted me to get into fist fights with the writers and for people to freak out. But right before we launched the first show CT had a mental break, cut off all of his hair, and vanished. They found him a few weeks later and he got back onto his meds and was ok. And the rest is sort of history of a small kind. We kept the theme of challenging writers to do things they weren't comfortable with. And I grew it into a platform for myself to improvise in the persona of Harold Ray. Over time I made it into a variety show and it got fairly tight, in a 'loaded to the gills' kind of way.
Martinez: The host of your series was a country-singer-wannabe named Harold Ray. Who is Harold Ray and where did this character come from?
Knabb: The name Harold Ray is an homage to my grandfather and what he wanted me to to with my life. But the character is nothing like him. The real Harold Ray has never been drunk, is a family man and worker who was always proud of the muscles he had from hard labor. He builds things. He built his home. He built a house boat. And he plays guitar and sings old country songs.
I went in a different direction with my Harold Ray. I decided he would be the baser aspects of me, a version of myself that had never left WV, had become a grizzled drinker, and wanted to cheat and trick on the way to success. I felt Harold Ray would long to be a famous singer but would be too lazy and unfocused to actually practice guitar and songwriting. Instead he would pretend that he had written songs that were already famous or successful. This gave me a great gag and an excuse to sing Johnny Cash and Neil Young and Waylon Jennings and Garth Brooks songs. It also gave me an outlet to tell a lot of the crazy stories I've gathered over the year and to sort of spin tall tales about people I've known. As I did the show the character grew more focused and it was very simple to be 'in character' and to put the persona on like an old denim jacket. The only catch was being in that character was costly to me physically. It meant I had an excuse to drink and I'm an alcoholic. There were many nights where I'd black out before the show was over. Which makes perfect sense in the world of the show and for the character but is hell on me personally. I just couldn't keep it up.
Martinez: How did you get into hosting all these literary events?
Knabb: I was born to stand on stage and say things to a room full of people. It's why I'm a good teacher. It's what would also make me a good actor or salesman or game show host if I had the focus and dedication and passion required to actually pursue those things.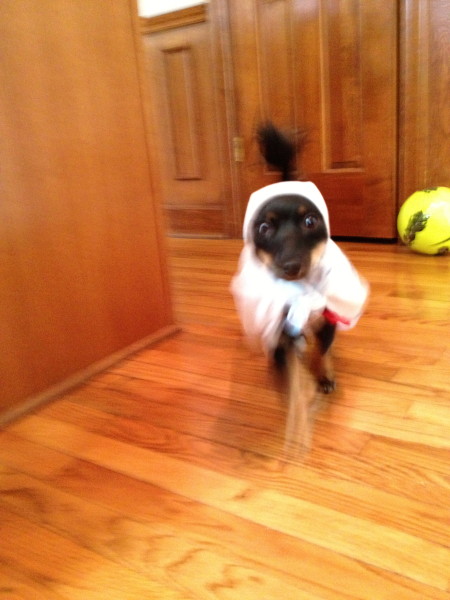 Martinez: What is your main role Editor-In-Chief at Curbside Splendor?
Knabb: I'm responsible for tons of things, really. I am primarily responsible for book acquisitions so our catalog is very much a manifestation of my artistic vision and sense of what makes a good book. I work with designers on the book covers and art direction. I oversee the editorial staff and publicity folks. I set up events and tours and sell on trade show floors. I do a little bit of everything. My partner in the enterprise, the publisher of Curbside Victor David Giron, is very similar. He's also involved in everything we do. And we have some other talented people working to make Curbside live and grow, people like Naomi Huffman and Ben Tanzer, Catherine Eves and Emma Mae Brown, Alban Fisher and Leonard Vance. I work with all of them and a lot of other folks to keep Curbside going. It's the greatest job I've ever had and I'm obsessed with it. All of the energy I used to expend drinking and wasting time now are spent on Curbside.
Martinez: Curbside Splendor really comes up with some interesting events including your pop-up book fairs and variety shows- how do you curate these events? And do you take inspiration from other events?
Knabb: I steal from everyone. I'm a magpie. If someone has a good idea, or a concept I like, I take it and adapt it to my own events. So I'm influenced by tons of people. My approach to curation is to keep things simple. Be organized as much as possible. Save everything so it's accessible. And network like a motherfucker so you can work with cool people. I'm also a bit of a control freak and it's been tough for me to let go of the reigns though I've learned to do that. I make the flyers, put together the talent, create the concept, talk with the venue, work the room night of, host the damned thing, and sit around with the bar staff for a drink afterward. Top to bottom. I want to be embroiled in all of it.
Martinez: What other publishers/literary collectives/lit events do you think are doing some interesting things in the city?
Knabb: There are a ton of great lit events now. Claire Zulkey's Funny Ha-Ha is awesome. Brian Costello's Shame That Tune is too. Guts and Glory which Sam Irby and Keith Ecker run is superb. Megan Stielstra's 2nd Story. Too many to name, really. I love what I'm seeing from Fifth Star Press, Switchback Books is cool. Rose Metal Press is too. CCLaP does good stuff.  Haymarket Books is stellar. There are too many to list and I haven't even gotten into collectives…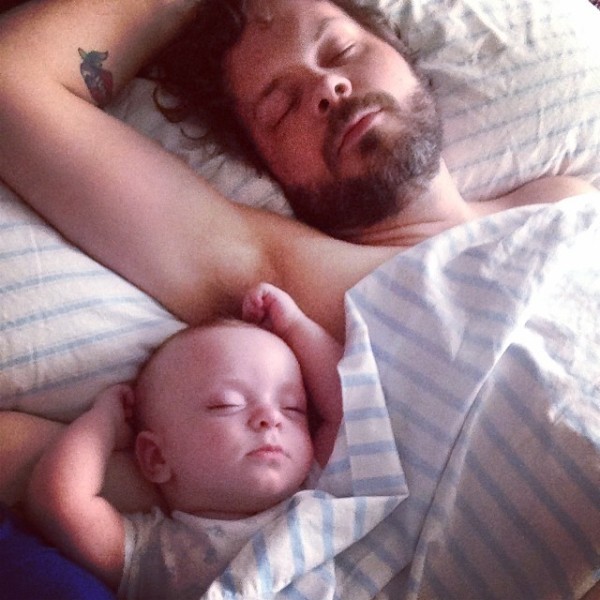 Martinez: What are you working on now?
Knabb: Curbside and Lake Forest, though I have a great idea for a short novel and want to write the bulk of it over the summer.
Martinez: Is there a piece of advice, lit-related or not that you think of often?
Knabb: Recently my pawpaw Harold Ray has begun saying the same thing over and over and it is this: "You're never going to be as young as you are right now." And in times of stress when something must be gotten through or endured my father will say "Well, a man could stand on his head for that long if he had to." I think of those two things all the time.
All photos courtesy of the artist.
A.Martinez is a freelance art and music organizer living in Chicago, IL.
Related articles across the web