Guest post by Brent Fogt
Barnett Newman famously observed that "Sculpture is what you bump into when you back up to see a painting," poking fun at sculpture's secondary status in the eyes of many art lovers. Though painting was definitely king at this year's Expo Chicago —with a veritable sea of canvases flooding the gallery booths — nestled among them was a wealth of dynamic, compelling sculpture in a wide range of styles, materials and ideas.
Just inside Festival Hall, a group of tall, masked figures by Magdalena Abakanow seemed to stand guard, sentinel like, over the artwork around it. Nearby, three of Jaume Plensa's narrow, contemplative heads rested, eyes closed, providing a quiet counterpoint to Abakanow's work. The prominent placement of work by these artists was fitting, as both have strong Chicago ties (Abakanow created Agora, the group of 106 headless and armless iron sculptures at the south end of Grant Park and Pleansa, Millennium Park's Crown Plaza).
Perhaps less familiar to Chicago audiences was work by Anuar Maauad. His thick, rough-hewn figures, on display at Efrain Lopez Gallery in Expo's EXPOSURE section allude not only to Abakanow's sculptures in their absence of facial and bodily detail but also to classical sculpture with subtle postural gestures such as a bent knee and a hint of contrapposto. Visible tool marks and lines demarcating sections of the sculpture break up the surfaces and create a captivating play of light and shadow. As with Abakanow's work, Anuar's surfaces are as vital as the forms themselves.
At the Natural Resources Defense Council (NRDC) booth, Sipho Mabona exhibited a stark white, 4 ft.-tall origami elephant calf made from a single sheet of paper. In spite of the lightness of his materials, Mabona manages to infuse the elephant with weight and gravity. To build an elephant from one sheet of paper is a remarkable feat of engineering, and the fragility of the paper is an apt metaphor for the devastating effects of the ivory trade on elephant populations.
Though figurative sculpture played a starring role in this year's Art Expo, plenty of non-figurative sculpture was featured as well, much of it infused with familiar, everyday materials. Viewers familiar with Anthony Caro's groundbreaking painted steel sculptures from the early 1960s, which discarded with the traditional pedestal and seemed to spread out horizontally along the floor, may have been surprised to see a series of tightly arranged table pieces from his Arena series of the 1990s at Álvaro Alcázar Gallery. Whereas the steel pieces from earlier in his career were spacious and open, these works, which incorporate pieces of furniture and other carefully crafted wooden objects, are densely packed and almost claustrophobic.
One of the most provocative pieces at Expo Chicago was a long, shallow sculpture by Jumana Manna at CRG Gallery. Bulging egg-shaped forms of varying sizes hug one side of a tiny wooden fence. The eggs seem to be growing, and the fence shrinking, before your eyes. The fence could be interpreted as girding and protecting the eggs, but given this year's presidential election and accompanying proposals to build impenetrable barriers around the United States, the fence could just as easily be seen as excluding and denying entry.
Allison Wade, another artist who deftly combines materials to subvert expectations, exhibited two small sculptures at Devening Projects + Editions' booth. In one piece, Wade suspends a small ceramic shard from a piece of thin steel bent into an upside-down "U". A piece of bleached wood forms the base. Like much of Wade's work, this sculpture fully exploits the potential of line to create space and visual tension. Wade recently put on a terrific show, Know Better, at Devening Projects in Chicago's East Garfield Park. Working with the motif of the stairway, she exhibited sculptures of exquisitely composed objects that brought to mind altars, shrines or other places of contemplation.
While Allison Wade's sculptures seem to expand the space around them, Robert Burnier's brightly painted aluminum pieces, displayed at Andrew Rafacz's booth, seem to condense it. The work is folded inward upon itself, hiding an interior space from view. The folds have a casual quality — resembling, perhaps, a paper airplane or origami project gone awry — that belie the meticulous nature of Burnier's process. The vivid colors, strong forms, and the play of light and shadow merge to reward sustained and careful viewing.
In addition to sculpture, Expo Chicago featured two immersive installations that provided a much-needed respite from booth hopping. Leonard Suryajaya's eye-popping, psychedelic installation at the Chicago Artist Coalition's booth combined collage, video and photography to investigate the role of women in his native Indonesia. With every object, surface and wall obsessively collaged, Suryajaya's installation is less a room and more a pure field of color and pattern with occasional interruptions of light and shade.
"Using my own confusing background as a primary source of questioning and aesthetic inspiration, I create visual experiences that provoke similarly personal responses from the viewer, while remaining rooted in the specificity of my experience and that of my subjects," Suryajaya explains.
Sabina Ott's equally immersive installation, located downstairs from the main hall, could not be more different from the densely patterned CAC booth. Whereas Suryajaya's installation overwhelms with color and information, Ott's piece is quiet and understated. Reminiscent of the colossal, interactive mountain she created at the Hyde Park Art Center, Ott's installation is a series of covered passageways built of white Styrofoam. With small works of art to contemplate throughout the structure, her installation is the perfect antidote to the visual overstimulation and chaos of the art scene upstairs, a peaceful place that encourages introspection.
The diversity and quality of sculpture at this year's Art Expo was absolutely first rate. With all due respect to Barnett Newman, this sculpture was not an obstacle you bumped into while looking at paintings. Rather, the sculpture was something that bumped into you.
by Pamela Fraser
There are so many separate issues involved in the still-unfolding story of public reaction to Kelley Walker's exhibition Direct Drive at the Contemporary Art Museum St. Louis, one barely knows where to start. At issue is not only the specific art works that have proven offensive to many people, but their celebration in a system in which value is created by a small group of people—gallerists, critics, collectors, and curators—without any indication of work's worth within public culture. After all, Walker's artwork has been widely circulated in the most elite sector of the international art world for years, and one of the works in the center of the controversy, Black Star Press, went to auction in 2010 estimated at £500,000-700,000. Yet like most contemporary art, the work is largely unknown outside of the art world. The institution then, in both general and specific senses, is to be blamed for a situation in which a museum has decided that their self-determined expertise trumps consideration of the public sector. The faults of the specific museum—its lack of transparency in handling concerns, an overall bungled response to protest—are part and parcel of larger issues that keep contemporary art from even coming close to being the liberatory tool it pretends, or (more generously) strives to be.
This story should serve to make a lie of the art world apparent, that many contemporary practices appear to be culturally savvy because they co-opt the language of critical engagement, but do not really foster wide and meaningful cultural engagement. Ideas of participation and democracy are rhetorically popular, but often not at all evident. In the case of Walker's work, the museum and others have basically asserted that protesters are wrong to interpret the work as a demeaning representation of African-Americans because a cultural critique they believe the work enacts is not being understood or appreciated. But even if there is cultural critique in evidence, it is one that many see as glossing over or denying subjectivity to the subjects portrayed. The museum's action's in the wake of protest has made it clear that this is something they either do not understand or appreciate.
Let's start with a basic overview. A successful white artist makes work that appropriates a variety of media images of African-Americans. These include a painful picture of a 1960s civil rights protestor being attacked by a police dog. (Similar imagery was utilized in Warhol's 1964 incorrectly titled "Race Riot" series. Warhol's images were appropriated without permission from Life photographer Charles Moore's shots of a peaceful protest that was broken up violently by police. The term 'race riot' is a troubling and unsympathetic phrase. Moore sued Warhol and the issue was settled out of court). It should be said that images of police violence toward African-Americans are especially fraught in the wake of countless recent videos that have captured the unnecessary deaths of unarmed citizens at the hands of police who see them as "criminal" simply because of their race, and this includes the 2014 killing of Michael Brown in nearby Ferguson. In Kelley Walker's works utilizing the image of protester being attacked, repetitions of the image are oriented various ways and interspersed with photographic imagery of smeared chocolate. The exhibition also includes the work Schema, a large scale appropriation of a King magazine cover in which rapper Trina is pictured in conventional magazine cover fashion, staring directly out at the viewer. Her image is covered with scanned streaks of squirted toothpaste. It's hard not to equate the chocolate and toothpaste to bodily fluids, but they lose their messy, viscous nature through Walker's manipulations, by scanning and repetition. The press release on the museum website tells us that Walker's repurposing of these images 'subverts signifiers,' and is done "in order to destabilize issues of identity, race, class, sexuality, and politics," a sentence I have read over and over, and am still not sure what it means. Since it mentions things that already have destabilized status, it doesn't make sense to destabilize them. I imagine then, that it is meant is that he seeks to demonstrate actual destabilization through pictorial destabilization. Whether this is a valuable artistic strategy has been put to a test by many viewers' interpretation of the work itself as offensive, painful, and careless, and therefore in fact "destabilizing".
For those paying attention, it has seemed that Walker's work is part of a long-running dialogue concerned with the emptying of meaning in mass-circulating imagery. This thesis—that imagery becomes completely meaningless through repetition—has certainly been disproven in this case, demonstrating what Fred Moton asserts in his book In the Break: the Aesthetics of the Black Radical Tradition, that "(t)he history of Blackness is testament to the fact objects can and do resist". Citizens in St. Louis have found these images—mass-circulated or not—can and do have meanings. This necessitates continued thinking about the value of, and ethics of appropriation. In its early days, artists like Sherrie Levine and Richard Prince created work using appropriation to challenge the artistic canon and/or consumer culture. Earlier, Andy Warhol's appropriated newspaper images captured the emotional numbness that the mass-circulation of images can cause. But a couple of years ago, Richard Prince's use of photojournalist Patrick Cariou's work became a well-publicized legal case that raised questions about the value of appropriation as a tool of critique when appropriated imagery does not represent power. After all, it means something different to appropriate corporate imagery than it does to appropriate an individual photographer's work. In the Prince/Cariou case, Prince became a popular cause, with many prominent critics championing his side and arguing that the case represented the absolute freedom artists must have in choosing imagery. Many didn't appreciate Cariou's position of wanting credit or compensation, or appreciate any challenges to a definition of artistic freedom based on power imbalance (see the essay "The Freedom to Oppress" by Eunsong Kim and Maya Mackrandilal for an excellent discussion of the symbiotic relation between art, power, and oppression that this kind of artistic freedom is dependent on).[1] Perhaps the CAM Walker exhibition will better expose limits to artistic freedom, when it encroaches on a collective desire for dignity that anyone concerned with civil rights, justice and equality should be able to at least understand.
This particular institution has made several mistakes and continues to lose opportunities to right its own wrongs. They were slow and opaque with responses to public upset at a panel discussion, and to their own staff members' letter of protest. The solution to build a wall around the show instead of taking it down demonstrates their lack of understanding of the nature of the situation, and their introduction of new spurious wall texts that profess the work addresses race and gender inequities. Public reaction erupted at a September 17 lecture, at which many audience members became upset by Walker and the show's curator Jeffrey Uslip's failure to adequately explain the intention of the work. This was surprising considering such concerns about the work have been raised before. In a 2010 issue of Parkett, artist Glenn Ligon examined Walker's use of African-American imagery and while acknowledging the complexity of the politics of representation, proposed that Walker's interest in African-Americans demonstrates African-Americans vital role in American culture, and suggested that Walker's works embodies the "American Dilemma" that is our current racially unequal society.[2]
But at the public discussion, Uslip apparently ended the public discussion abruptly (for which he later apologized), and for many, left the impression that Walker's use of images of Black people was careless at best. The public continued to express the pain of having to see these images, and some expressed the sadness and confusion of having to try to explain the work to their children. On September 18th, three CAM staff members wrote an official letter of complaint about the racial insensitivity of the show, and artist Damon Davis organized an exhibition boycott shortly thereafter. Within a few days, the artist, museum and artist's gallery issued statements addressing the controversy, and the artist issued an apology for the pain the images caused. Paula Cooper Gallery's statement deflected criticism with the trope 'artists ask questions, they don't answer them,' and asserted that the use of already-circulating images abdicated Walker of responsibility. The statement told readers that it was "the artist's and the gallery's wish that Direct Drive may provide the impetus for a renewed and much needed dialogue about race and representation, in St. Louis and elsewhere", which seemed not to recognize that the very reason we are talking about this important issue, is because people have found the artwork in question to be troubling. Lastly, the gallery statement asserted that it would be would be "censorship" to remove the work. While it is true that defining censorship is not always clear-cut, it usually occurs in relation to the maintenance of power, not in cases where an offense perpetuates a history of maligned representation and reality.
A few days later, CAM Director Lisa Melandri issued a statement expressing sorrow for the museum's appearance of racial insensitivity, and apologized for the unclear articulation of the value of the show. Addressing a call to remove the work, she announced that instead of cancelling the show, it would continue enclosed by a wall so that people could make a choice about seeing it or not. This decision and her characterization of it seemed to demonstrate that the museum did not fully understand the nature of the criticism. "CAM has a history of showing controversial artists," she wrote, "we have shown works that have challenged common sensibilities and presented work that has critiqued, in a difficult way, misogyny, patriarchy, homophobia, and the military industrial complex, among other issues…Despite the debates and discomfort these exhibitions generated, we never removed them." Similar to the Cooper statement, Melandri's statement implies that she doesn't know that it is entirely different to offend members of a historically disenfranchised group than to challenge the status quo. Institutional critique doesn't challenge the powerless or the underrepresented, historically it has done just the opposite, challenging exploitation, injustice, and oppression.
In order to quell criticism, new wall texts were employed that describe the work with a silly literalism that seems to belie everything that has ever been said about the work before. In the text now describing Schema, Trina is said to be empowered because the piece is so large and because she is gazing at the viewer. The toothpaste squirted over her body is said to represent the artist's desire to be seen in an artistic lineage with Jackson Pollock, and "to critique how mass media tends to diminish trauma, sanitize disaster and struggle, and 'whitewash' events or people that are not given appropriate attention, sensitivity, power, or empathy".  In the new didactics—Walker's references become cringe-worthy metaphors—and he is a champion of the disenfranchised.
In a 2005 essay entitled "How Andy Warhol Did Not Murder Painting but Masterminded the Killing of Content," Francesco Bonami discusses Warhol's apparent emotional detachment to actual suffering subjects pictured in his works, asking "whether we can still accept Warhol's genius without questioning his moral and political detachment from the dramatic events that were reshaping a society in which he, as an artist, was living and prospering".[3] While questioning the ethics of his use of tragedy, he suggests that Warhol was able to avoid a total ethical lapse by his specific aesthetic transformation of the images into "dreamlike visions rather than documents".[4] But Bonami ends the essay by stating that today's world would never accept such superficial and apolitical positions from our art or our artists. I suppose the Walker case will tell us if this is true of today's world, because (revised museum didactics notwithstanding) Warholian detachment is the main ingredient in Walker's work and the same ethical questions apply. In fact, the protesters in St. Louis are basically asking the same questions Bonami posed about Warhol, and the institutional response thus far has been to pit an unexamined notion of artistic freedom against the right to basic dignity. I'll take the dignity.
[1] Eunsong Kim and Maya Mackrandila, "The Freedom to Oppress". contemptorary.org, April 19. 2016. Last accessed October 16, 2016. http://contemptorary.org/the-freedom-to-oppress/
[2] Glenn Ligon, Kelley Walker's "Negro Problem". Parkett 87, 2010, pp. 79-81. Last accessed October 16, 2016. http://www.thomasdanegallery.com/usr/documents/press/download_url/30/glennligon-on-kelley-walker.pdf
[3] Francesco Bonami, "How Andy Warhol Did Not Murder Painting but Masterminded the Killing of Content". Originally appeared in the catalog for Andy Warhol /SuperNova: Stars, Deaths, and Disasters 1962-1964, Walker Art Center, 2005. Accesed online at walkerart.org. Last accessed October 16, 2016. http://www.walkerart.org/magazine/2012/francesco-bonami-andy-warhol-killed-content
[4] ibid.
Pamela Fraser is an artist and Assistant Professor at The University of Vermont. She is a co-editor and author of the forthcoming books: Beyond Critique: Contemporary Art in Practice, Theory and Instruction (co-edited with Roger Rothman), which will be released by Bloomsbury Press in April 2017, and How Color Works: Color Theory for the 21st Century (Oxford University Press).
Expo Chicago 2016: Friday, September 23 at 12:30 pm in Booth 137
Talk with Phyllis Bramson and Toby Kamps: Why "bad behavior" and "inappropriateness" can be an artist's necessity in the studio
Phyllis Bramson's work is featured at the Artadia booth at Expo Chicago 2016. She was selected from a pool of Chicago-based Artadia awardees by Toby Kamps, Curator of Modern and Contemporary Art at the Menil Collection.
The Artadia booth tops off Bramson's recent run of Chicago area exhibitions. Since October 2015 she has had a pair of major solo shows, In Praise of Folly Retrospective, 1985-2015 at the Rockford Art Museum and Under the Pleasure Dome—A Survey at the Chicago Cultural Center; and signature works in Surrealism: The Conjured Life at the Museum of Contemporary Art and in a group show at the Shane Campbell Gallery. Bramson's next solo show opens in New York at Littlejohn Contemporary in October.
Lise McKean talks with Phyllis Bramson about what's in her sightlines.
LM: I have more ideas for art essays than lifetimes to write them. One idea is to write about the parallels between your work and that of Kerry James Marshall. These parallels came to mind over the summer when I made several visits to your show at the Cultural Center and to Kerry's at the MCA. And now the two of you bookend New City's pronouncement of Chicago's top 50 Artists' Artists for 2016. Besides the two of you making work that is unmistakably your own, both of you create works that might be called anti-dystopic. That's to say, while your works don't suggest anything like a squeaky clean utopia, they certainly don't evoke a grim and grisly dystopia. What do you make of this observation? Both about seeing parallels between you and Kerry and the anti-dystopic characterization?
PB: I use the term sunshine noire. It's both happy and attractive but at the same time there is a darker knowledge about things in the world, especially things I see today that I hadn't seen earlier in my lifetime. I often enjoyed looking at Chinese posters during the Mao period that showed smiling peasants and workers. They're like a Norman Rockwell version of Red China. They look as if all is good and happy. That's why the images are always smiling no matter what's happening. Sunshine noire gives the sense that somethings are good but somethings are not good.
My narrative is more an interior narrative and Kerry's is often more an exterior narrative.  He has called his imagery the use of mastery in terms of how it's made and I think his is a more charged visual presentation.
LM: I wasn't suggesting equivalences between your work and his. But rather thinking about parallels in the ways you both engage popular aesthetics and decorative art.
PB: I'm respectful to notions of kitsch. A lot of the artwork in my childhood home wobbled between high aesthetics and low aesthetics, including aspects of kitsch.
LM: I see in work by both you and Kerry—though after this we can stop the comparison if you like—there is much that is playful and witty. At the same time, the scope for seeing the seriousness in the work comes out the longer and more carefully you look at it.
PB: I see a lot of wit in Kerry's work too. For example, his paintings showing an artist with a paint-by-numbers canvas. Where I think Kerry and I have a tremendous amount in common is in composing and the use of abstraction and we're both colorists.
LM: What about the tension between the playfulness and seriousness? Does that relate to the colorful, cheerful appearance and the dark underbelly, the sunshine noire?
PB: Sometimes I wish I didn't have to use humor so much because that may affect how seriously people in the art world view my work. I'm as interested in beauty as I am in playfulness. It seems like what's operating in my works are playfulness, beauty, and disruption. The three are interwoven. I can't complete a painting without all three of them. The playfulness might be more about irony. Most of my work has humor attached to it in some way.
LM: In reviews about your work, you're often described as an Imagist. Yet I have heard you talk about how you do not consider yourself to be part of that cohort. Why do you say you're not an Imagist?
PB: I didn't know them. I didn't associate with them. I wasn't in school when they were. I carry some of their ideas. I think they are part of the Chicago ideas that I share but I've never been part of that cohort. I had a dealer who called me an Imagist in an announcement for a show. When I told her it's not true, she said that she had read it about me.  Peter Saul could easily be mistakenly said to be an Imagist, so lots of confusion reigns in that regard.
LM: It sounds like the Imagist label is used as a form of branding or categorization, whether it's accurate or not.
PB: I was looking at work by artists who were around way before the Imagists came along. Lynne Warren tried to set the record straight in text she wrote about me for MCA's Surrealist show. I believe Paschke and Brown have been grouped with Imagists but they didn't think they were either. Part of the difference has to do with the way the figures are made, the notion of shading. And the placement often has a sense of reality. The Imagists in my mind work more with sign and symbol. If I were part of the Imagists I would be showing at Matthew Marks right now. I was part of a different wave of people: Nicolas Africano, Hollis Sigler, Jim Lutes. Jim is still going strong and showing with Richard Gray.
LM: The eroticism of your work is playful, sly, mischievous, and at times voyeuristic. In my study of Indian art, I've visited lots of Hindu temples in India and some of them are adorned with erotic sculpture. Victorian archeologists used the word dalliance to describe the poses of entwined figures. Sculptures of coupling couples are integral to the temple's exuberant celebration of life. They appear alongside deities, royalty, and ascetics, elephants and deer, sinewy vines, jasmine and lotus, banyan and banana trees.  What brought you to celebrate eroticism in the ways that you do?
PB: First of all I have always been very interested in the idea of dalliance, whether in the works of Fragonard or Boucher. I visited India and found some of those temples a little over the top in that regard. I have illustrated copies of the Kama Sutra, Yang Chu's Garden of Pleasure, and A Thousand and One Nights. Sexual pleasure can be used for healing. It's part of the beauty of life. I see it as a part of the spiritual. Scheherazade was trying to heal the king who was killing women and save herself. I've always loved that book for that very reason. But at the same time, the woman is being used poetically for man's well-being.
The house I grew up in had statues of women with bare breasts, nude Asian women, and Spanish dancers. It was always the female form. I never questioned that and I was never embarrassed by it. In retrospect I find it interesting that I wasn't more curious or questioning.
I've heard people talk about my work being illicit and pornographic and say that it must relate to some kind of abuse. This bothers me because I think they're interpreting the images as signs and in a completely inappropriate way.
LM: Were both of your parents involved in that decorating scheme?
PB: No it was mostly my father. My father was an auto parts wholesaler. At Christmastime he brought home boxes of cards and calendars with pictures of nude women. There were pens that you turned upside down and it showed a woman with no clothes. I found all this interesting and visually interesting too.
LM: Does that early exposure contribute to your ongoing fascinating with the female form?
PB: I'm very fascinated with the female form. I often say I have male eyes when I'm out in the world. I'm an oogler. I think my dad had a very robust attitude about sexual things.
LM: It sounds like there was no shame around sexuality when you were growing up.
PB: When I teach, I tell students to think about the visual field of their childhood and look at how it influences what they're doing in grad school. It took me a long time to realize I had a lot to look at as a kid. My house was filled with Asian imagery—the objects, even the wallpaper. Here's another thing that I just realized. At my house now I don't have my own work. I inherited an antique painting of a Chinese bride and groom. All over my house I have images of male and female couples. I have versions of them in my dining room, in the hallway. There's quite a few of these matching couples.
LM: That brings us to the kinds of couples that appear in your works. Sometimes they appear mismatched.
PB: I don't have a good answer to that. When I'm out in the world, most of the couples seem very mismatched too.
LM: The works you have at home are matched couples, idealized couples. But your works show what you see.
PB: The thing I hate the most is duplicity.
LM: Let's unpack what you mean by that.
PB: I don't mind it in art. It can be quite interesting. But I don't like it in life. But I think it's become more and more difficult sorting out fact from fiction. Sorting out the situation or issues that aren't factual, that are lies. I'm not the only one that's worried about that. Duplicity is not being honest. Creating a veneer or talking out of both sides of one's mouth.
LM: So it involves authenticity too.
PB: Yes as an artist I say that's very important. In my own artwork I think that duplicity is important. In the world I'm a good citizen but in my studio I'm different.
One of my favorite books is Madame Bovary and an annotated version says something along the lines that seduction and betrayal are the artist's ethical necessity. Corruption and virtue pertain to all things human. You could say my work is projecting conceits about life. Boucher said his landscapes blushed with eroticism. I don't know whether I'm dealing with the politics of relationships. I don't think my work has to do with feminism. That's not what I'm dealing with.
I wrote this about my work: "burlesque-like images that are usually theatrical incidents allowing for both empathy and addled folly while projecting capricious irritability and comic bumps along the way."
LM: That statement doesn't just describe your work, the sound of the words conveys its poetics.
PB: The other thing we haven't talked about is the idea of unrequited longing and maybe the clichés of longing and the peccadillos of relationships. The hot water of relationships. So it could be that a lot of the work is about relationships from ideal to real, beauty against an odd mishmash of unpleasure. I am very interested in social relationships and not just couples. I'm constantly looking and checking things out.
LM: Sounds like you're hyper-observant. Let's talk about the materiality of your work. Your work suggests bricolage, a French term the anthropologist Levi Strauss coined to describe the process of making or fixing something from objects at hand. What do you compose with?
PB: I'm composing with found paintings that I get from a painting warehouse. My studio is a place for bricolage. It's roiling with stuff in bins, on shelves, on the floor. The putting together of this stuff is basically is a mystery to me. It can be quite exasperating too. I'm just about to start a whole new body of work and I'm a little disoriented. Slowly I'm coming to terms with what I might do and what I might use. But I've been at a standstill for a couple of weeks.
LM: What's giving you pause?
PB: Thirty years ago I had a mid-career show at the Renaissance Society. People said that such an important show might be harmful because some artists get stuck afterwards and can't work. I just went my way. But the recent show at the Cultural Center has stopped me in my tracks. I see this whole body of work and it's made me wonder if I should continue with what I've been doing. Of course whatever I do will have some relationship with what I've done. I'm not starting cold. I'm not going to start making work like Agnes Martin. I get very uneasy when I'm not making work. The Cultural Center show had an unexpected impact on my production.
LM: It might be a healthy pause.
PB: It think it is. And I think there will be some changes.
by Sabrina Greig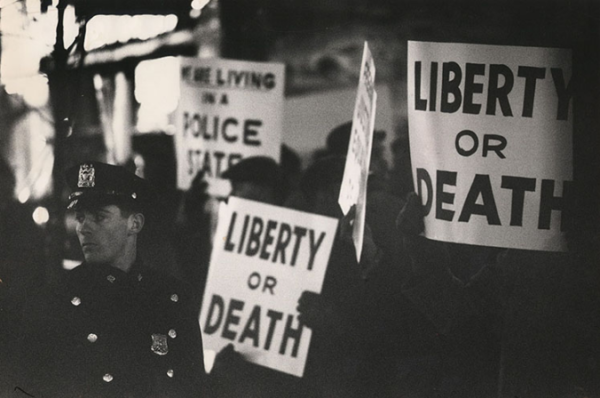 With the recent cascade of Black Lives Matter protests last month, the exhibition Invisible Man: Gordon Parks and Ralph Ellison in Harlem, comes at an opportune moment. On view for its last month at the Art Institute of Chicago, photographs from the exhibition document America's continued struggle with racial inequality. It successfully captures the robust Black Diasporic culture of Harlem in the 1940s through the artistic partnership of Ralph Ellison, author of the canonical text Invisible Man, and the first Black photojournalist of Life Magazine, Gordon Parks.
The exhibition focuses on imagery and passages from Ellison and Park's collaboration on the magazine essays "Harlem is Nowhere" (1948) and "A Man Becomes Invisible" (1952). Both photo essays, however, were never published. The show Invisible Man therefore showcases unreleased photographs, contact sheets, and handwritten drafts by Ellison and Parks that have never been seen before by the public. They give viewers a glimpse of the social climate that inspired the groundbreaking novel Invisible Man.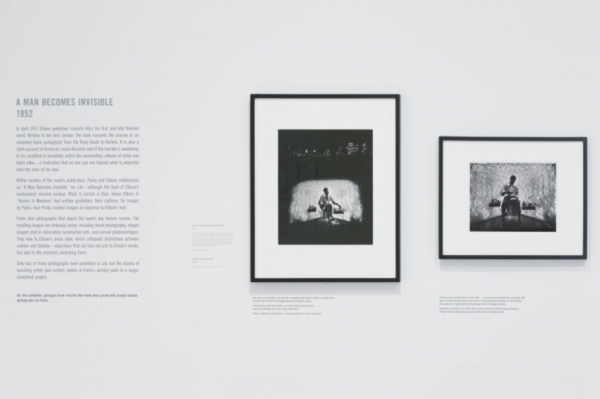 The exhibition's subject matter ranges from socially infused black and white street photography depicting the 1943 Harlem Riots, to abstracted photomontages of urban ghettos. Select images,such as an enigmatic photograph like Emerging Man, are subtly accompanied by excerpts from Ellison's writing printed beneath photographs on the exhibition walls (see above). The curator's choice to merge text and photography further illustrates the artistic continuities that existed between the creative minds of Parks and Ellison.
The interplay of text and imagery more overtly demonstrates how both men inventively reimagined the sources of racial injustice in American society through the photographic medium.  They playfully synthesize the characteristics of real spaces, such as depicting the first interracial psychiatric clinic of Lafargue Mental Hygiene Clinic, while also intertwining obscured dystopic visions of city streets submerged in shadows of dark and light.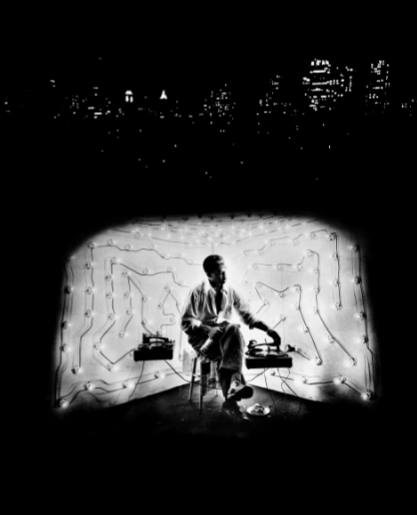 Untitled (Harlem, New York), 1952, Gelatin silver print, from the series
"A Man Becomes Invisible" (1952), 26.9 x 34 cm, The Art Institute of Chicago
The glowing technicality of Invisible Man Retreat, Harlem. NY best exemplifies this style. It shows how the friendship of the two creative geniuses constructed an Afrofuturist aesthetic that found Black joy in the midst of poverty, racism, and urban strife. With New York's skyline in the background, Ellison serves as Park's muse to represent a principal scene from his novel where the protagonist seeks a safe space during the Harlem Riot. It connotes the concept that this fictive world he constructs was both a place of refuge, as well as an isolating space to become invisible from the racialized chaos of the outside world. The photograph perhaps symbolizes the contradictions of protesting during heightened moments of racial strife, where one wants to become hyper-visible to combat collective struggles, yet emotionally removed to preserve their individual sanity.
Though overtly male-centered, Invisible Man convincingly showcases the artistry of two artists who innovatively problematized the prevalent reductive representations of the Black experience in Harlem, New York. Ellison through compelling prose, and Parks through striking photographic documentation, introduced a corrective portrayal of Black culture that negated stereotypical expressions of African-Americans of the time. Doll Test, Harlem, NY is a chilling reminder of how easily white supremacy subconsciously seeped into the veins of little Black boys and girls beginning at the tender moment of childhood. Images like these introduce more complex narratives that surpass radicalized conceptions of Black culture.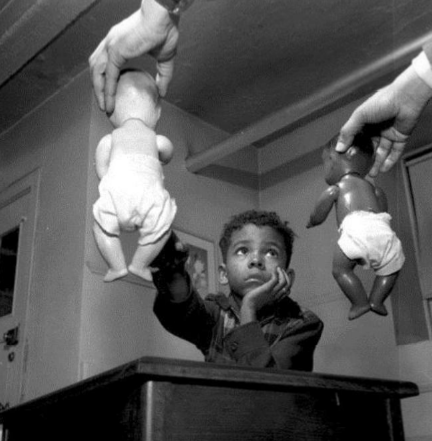 Doll Test, Gordon Parks, 1947, Gelatin Silver Print,
7 15/16 x 9 15/16 in, The Art Institute of Chicago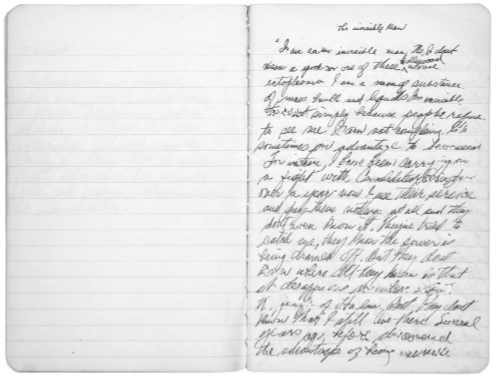 Notes for Invisible Man, Ralph Ellison, 1947,
The Gordon Parks Foundation.
The plethora of archival documents in the show include some of Ellison's notes throughout the process of constructing the two photo essays for publication. In Pictorial Problem, the final sentence states, "The point photographically is, I believe, to disturb the reader through the same channel that he receives his visual information." This strategy reveals the conceptual approach adopted by both artists. Photos such as Battered Man and Off on my Own, (Harlem, New York) are eerily uncomfortable documentations of the Black experience that American History often aims to brush under the rug.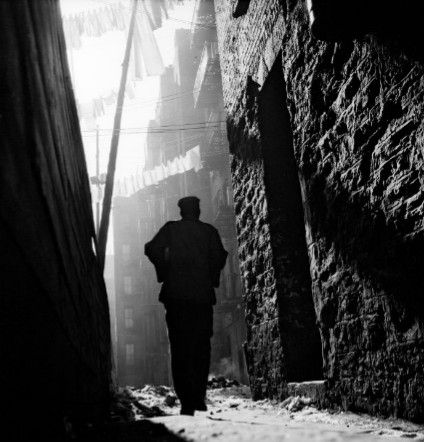 Off on My Own (Harlem, New York), 1948 Gelatin silver print,
from the series"Harlem is Nowhere" 33.8 x 24.8 cm, The Art Institute of Chicago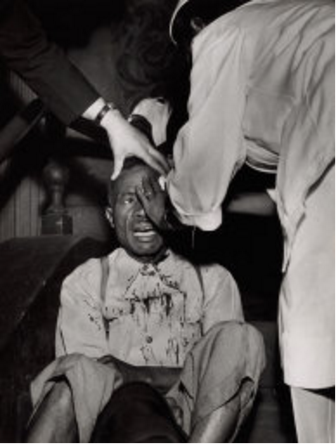 Battered Man, 1948 Gelatin silver print
23.5 x 18.6 cm (9 1/4 x 7 5/16 in.)
The Art Institute of Chicago
The series of photographs present in Invisible Man at the Art Institute thus point toward an earlier form of archiving the social repercussions of racialized prejudice. Similar to role that cell phone recordings and police body cameras have played in the Black Lives Matter movement in the 21st century, Parks and Ellison understood the power of creative visions. The visual components of these recent technologies make the ubiquitous nature of police brutality and racial inequity a visceral experience for all viewers in the same manner that some of Park and Ellison's work was revealing of similar issues. Invisible Man is exemplary of how Ellison and Parks implored an unprecedented method of documenting racialized violations of social injustice, that has finally been given visibility in the two year anniversary of Michael Brown's murder.
Guest post contributed by Brent Fogt.
Though we may be traveling, we carry with us not only our supplies and our desire for adventure but also our obsessions, doubts and fears. Regin Igloria makes this point forcefully in "How Different It Is to Be Outside" at the Chicago Cultural Center. He coopts the symbols of American road trips — the highway construction signs, way finding stations, roadside advertising, etc.— to investigate his own complex experiences with travel.
The timing of his exhibition is ideal, because school is out, and millions of Americans are now packing their cars and making a beeline to one of the 58 national parks in the USA, wanting some kind of direct experience with nature. If that experience involves hiking, they will likely encounter a brown information kiosk at the entrance to each trail. Igloria, an avid hiker and runner, faithfully recreates such a kiosk on the north side of the gallery, but with key modifications. Where park rangers might post al map or other information, he suspends a tiny piece of foliage and pins a dissected blue envelope inscribed with the word "rest."
To the right of the kiosk is a black highway sign. Void of words or symbols, the sign sits atop a bright orange trailer with sandbags anchoring black wheels. Attached to the trailer is a metal leg from a ping-pong table, which functions as a kind of steering wheel and injects an element of humor to an object typically associated with caution and danger.
With no maps, arrows or text to tell us where to go, the kiosk and highway sign encourage us to reflect upon our personal desires. This invitation for self-examination is reinforced by Igloria's careful integration of handmade sketchbooks into each sculpture. At the bottom of the kiosk, for example, a dozen sketchbooks rest between two planters, and in the highway sign, another dozen are shelved inside a small podium. The cover of one book reveals the word "lose," but otherwise their contents are hidden from view.
In a wall display on the south end of the gallery, Igloria offers us a peak at what's inside these books: a series of skillfully rendered drawings and paintings, along with journal entries and even coffee sleeves he collected while traveling. In one journal, Igloria fills one page, over and over, with the words "when expectations lead to disappointment." Another page chronicles the chills, hunger and discouragement he experienced on a hike in Oregon. He addresses his art practice head-on in one entry:
"I never considered my work to be specifically about joy, about specific moments of happiness. But really when I look back at it, it is. It's always taking into consideration things that essentially bring me happiness, even if it is despite the struggle, the conflicts that occur in the process of getting there."
Igloria captures this tension between the desire for happiness and the obstacles one faces along the way in a series of paintings on the Western edge of the gallery. The paintings are crisply rendered and brightly hued, radiating a sunny optimism. The mood shifts, however, in the center of each canvas, where he alters familiar logos or icons. An "ice" logo, for example, becomes "why." A nametag becomes "no one asked." An oval logo ("Ford" perhaps) becomes "other." Some of the canvases are blank, representing experiences—and struggles—yet to happen.
Near the paintings in the center of the gallery rests a cargo carrier leaning on stacks of books. Made of canvas and wood and designed to sit atop a car rack, the carrier resembles a small boat or even a twin bed. The juxtaposition of the cargo carrier and the books is especially poignant, because both are containers, the former for supplies and the latter for thoughts and ideas. Many of us travel to escape our routines and find comfort in nature, but the escape is momentary, because we carry our inner conflicts and preoccupations along with our camping gear.
Regin Igloria: How Different It Is to Be Outside
On view until August 21, 2016
Chicago Cultural Center
Michigan Avenue Galleries, 1st Floor South