Hey, kids and other young-people types: what looks like a super-fun zine workshop will take place this Saturday afternoon at ThreeWalls with Anne Elizabeth Moore, based on the Cambodian zines featured in her current project Holle Cambodia. Moore's website indicates it's a youth program that's free for kids; adults (who are welcome to participate, too) should be prepared to donate 5 bucks. More details, below.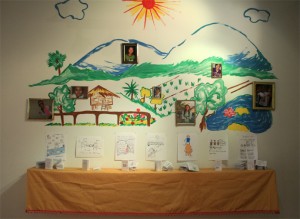 Zine Workshop with Anne Elizabeth Moore at ThreeWalls
Join us on Saturday, March 7, 2009 from 3:00 pm – 5:30 pm for a zine workshop with writer, artist and activist Anne Elizabeth Moore. We'll provide the supplies and refreshments.
"Staunch critic of consumerism and media activist Anne Elizabeth Moore has been writing, publishing, and interceding in culture since the age of 15. The indomitable author of Unmarketable: Brandalism, Copyfighting, Mocketing, and the Erosion of Integrity, founding editor of the Best American Comics series, and former editor of now-defunct Punk Planet has seen her work exhibited in major museums, praised by the business press, and forcibly ejected from retail establishments.
Recently, Moore went to Cambodia to teach the first generation of feminists in the country self publishing as a way of combating governmental oppression and self-censorship, and co-founded the Anti-Advertising Agency's Foundation For Freedom, an organization that aims to limit advertising in the public sphere by offering cash incentives and giant novelty checks to ad pros in exchange for quitting their jobs. She currently teaches at the School of the Art Institute of Chicago and travels throughout the globe to lecture on corporate and governmental oppression and freedom of expression."
A five dollar donation is suggested at the door.
www.three-walls.org/calendar/openings
www.anneelizabethmoore.com camblogdia.blogspot.com
ThreeWalls
119 n. peoria #2d
Chicago, IL 60607
312.432.3972
info@three-walls.org
There's some interesting Robert Mapplethorpe-related programming happening this weekend at The Block Museum in conjunction with their Polaroids: Mapplethorpe exhibition. On Friday night, they're screening "Still Moving," one of only two films directed by Mapplethorpe along with "Blacke, White + Gray," a documentary about Sam Wagstaff, Mapplethorpe's lover and a formative influence. On Saturday afternoon, the Block hosts a panel discussion featuring Cathie Opie and others on Mapplethorpe's art and activism, moderated by Lane Relyea. Details on both programs below.
Date: March 6, 2009
Time: 8:00 PM – 10:00 PM
Title: Double Feature: 'Still Moving' & 'Blacke, White + Grey'
Description: One of two films directed by Robert Mapplethorpe, Still Moving is in the words of its creators "a homage to William Blake" made in collaboration with Patti Smith. Courtesy of the Robert Mapplethorpe Foundation. Introduced by Block Museum of Art Senior Curator Deb Wood. Black, White + Gray is a documentary about Sam Wagstaff, who was a formative influence on Robert Mapplethorpe. A Yale graduate and naval ensign in WWII, Wagstaff went on to work as an advertising man during the heyday of Madison Avenue and then as an art curator and photography collector. Perhaps best known as Mapplethorpe's lover and patron, Wagstaff gave Mapplethorpe his first large format camera. This documentary traces his remarkable life from its conventional beginnings through his fascinating career in the arts to his death in 1987 of AIDS. Introduced by Block Museum of Art Senior Curator Deb Wood.
Date: March 7, 2009
Time: 2:00 PM – 4:00 PM
Title: Robert Mapplethorpe: Artist and Activist
Description: A panel discussion exploring Robert Mapplethorpe's influence on contemporary photography, activism, and issues of the body and sexuality. Participants include photographer Catherine Opie, "Polaroids: Mapplethorpe" exhibition curator Syliva Wolf, former Robert Mapplethorpe Foundation collections consultant Marisa Cardinale, and University of Maryland American studies and women's studies professor Jeffrey McCune Jr. Moderated by Northwestern University art theory and practice professor Lane Relyea. A reception follows. Sponsored by Gender Studies Program, Northwestern University. This event is part of Three American Photographers: In-Depth, a series of educational programs at the Block Museum generously sponsored by the Terra Foundation for American Art and the Alice Kaplan Institute for the Humanities, Northwestern University.
This is a great idea. There's not enough information out there about how to cook tasty and nutritious meals for very little money, and God knows a lot of us could use some help in this area. Screw McDonald's and learn how to prepare great meals that will last all week with Lucia Fabio this Saturday from 5-7 at mini dutch. It's the first in a new program she's starting devoted to food in a recession (um, how about depression?) economy. Details below, and on the gallery's website. Check it out, mmmmm!
Saturday, March 7th from 5-7pm
mini dutch gallery presents…
Walk-in Pantry (WIP): a place of consumption
A new program of food and conversation
WIP invites presenters into mini dutch's kitchen to cook, and share their knowledge and love for food, while the community is encouraged to come and eat. Multiple themes will be explored, including, but not limited to: "Food as Performance," "Eating Locally" and "mini dutch Grill Outs" during the summer months. Every theme will have several presentations, and eventually, all of the recipes will be bound together and made available in the form of a cookbook with documentation of events and writings.
All events are suggested donation with price depending on the ingredients used and are byob.
The first Event:
Cooking on the Cheap: Anything but Ramen
Presenter: Lucia Fabio
Saturday, March 7th from 5-7pm
This series starts out with mini dutch gallery director Lucia Fabio presenting her favorite cheap eats. Eating cheap doesn't mean food high in sodium in brightly colored packaging. By spending an afternoon preparing a large pot of soup or stew, one can make at least 5 meals. Freeze the leftovers and enjoy homemade food at any time.
Conversation will include our economic crises and its effect on our diet. Fast food companies are enjoying their highest profit margins during this recession- but it can be cheaper to make food from scratch. How time and money play a part in cooking, and tips on how to make a practice of cooking.
Menu includes:
Lentil Soup
Beef Stew
Roasted Potatoes with garlic and rosemary
Spinach with garlic and ginger
M.F.K. Fisher's Tomato Soup Cake (adapted from How to Cook a Wolf by M.F.K. Fisher)
1937 Chocolate Mayonnaise Cake
(everything except the Beef Stew and Cakes is vegan)
$3 suggested donation
BYOB
3111 W. Diversey first floor, Chicago. IL 60647
773.235.5687 :: minidutchgallery@gmail.com :: www.minidutchgallery.org
gallery open Sunday 11am-3pm or call/email for appointment
Check out Ben Street's thoughtful and timely essay on curatorial practice of the institutional kind posted today on the Art 21 blog. Best line: "…(G)reat curatorship hides itself, or, put another way, the first rule of curating is you don't talk about curating." Here, here!
Via Art Fag City.
CROSS-FADE, a group show of Chicago-based artists who are romantically involved, gives new meaning to the term relational aesthetics. The chosen lovebirds here are Julia Fish and Richard Rezak, Michelle Bolinger and Todd Simeone, and Kevin Kaempf and Michael Thomas of People Powered and Lucky Pierre, respectively-couples who don't normally collaborate but, as organizer Stacie Johnson points out on the Swimming Pool Project Space website, "their independent practices have been in dialogue for some time."
I like how this show explicitly acknowledges the influence of a domestic partnership on artistic practice, via  (one imagines) the kinds of conversations that occur not only in the studio but over coffee at the kitchen table or in bed watching t.v. It's a small show, with a piece from each artist (Kaempf and Thomas contribute a single collaborative video) and a sculpture of a potted plant credited to Bolinger and Simeone. Johnson treads lightly over her theme, as if she's afraid that by making too much of the romantic ties that bind she'll warp our view of what each artist is doing on his/her own.  The works aren't installed in a manner that encourages side-by-side comparisons, and there's no accompanying text to provide insight into precisely how these artists' practices are in dialogue. We're left to figure that out for ourselves, but I think Johnson's curatorial premise is good enough to warrant a much larger and more in-depth exploration of the idea.  Maybe she could include some examples of what happens to work when lovers break up. Now that'd make for some juicy encounters at the opening reception.
I think we've all had this experience:  you see a show that's mostly forgettable save for one work so good it makes you re-think everything else in the room. This happened to me while viewing Alison Katz's exhibition at Kasia Kay Art Projects Gallery, which on the whole struck me as a pretty good example of not-so-interesting painting, the show's provocative title ("You Talk Greasily") not withstanding.  I'll admit it: I went to this show under the vague impression that this was an artist who painted with fat, and I was kind of turned on by that idea, but instead I found paintings in oils and acrylics whose execution was of the fashionably loose and sloppy sort; Katz's garish palette and flattened perspectives also left me cold.
To use a (now-unfashionable) term from Roland Barthes in an admittedly off-kilter context, there's no punctum in Katz's paintings, nothing to latch on to, emotionally or intellectually. Is that what they mean by "greasy"? Katz makes paintings for a post-photography era; she also seems to want to deflate traditional notions of authorship.
As Patrice Connelly points out in her New City review of the show, Katz employs so many varying stylistic devices it's hard to tell that the work was made by a single artist. Perhaps that's why the one image that repeatedly drew me back was also the most mundane: a still life of a flower bouquet soaking in a clear glass jelly jar, the cellophane still wrapped around the red and yellow buds.
I still can't quite put my finger on why I liked this particular painting so much. Maybe it's in its seamless melding of the recognizably "real" with the patently artificial, the way Katz's rough brushstrokes capture the hurriedness with which the flowers have been plunked into the jar and how the painted materiality of the glass and the cellulose behind it extends the parameters of the still life into something more like a frozen landscape. It was the only painting in the show that worked for me, and I caught myself wishing I could tuck it under my arm and take it home, like a real bouquet of flowers.
What's that oft-cited quote? "Writing about music is like dancing about architecture." Variously attributed to Elvis Costello, Miles Davis, Lauri Anderson and a bunch of others, whoever said it, I just lived it a little during a visit to Sebastian Craig's new installation at Old Gold. With its 70's era rec room feel, Old Gold looks and feels like a party space; no doubt a few prior generations of kids have gotten stoned down there while their parents drank martinis and watched TV upstairs. Sebastian Craig plays off the grungy conviviality of this basement gallery's past and present incarnations with a party-themed architectural installation that invites (nay, requires) participation and gives you permission to dance like a dork (yay me!). Craig has taken a lengthy pink cord and angled it across two walls so that it looks like the laser beam security device from spy films like Entrapment.
As you pick your way through it to cross the room,  you're forced to lift up your limbs in a wonky kind of dance. No doubt the piece reached a certain apotheosis during the opening, when the room was filled with people weaving in and out of the cords in order to view the video on the other side of the room, or more importantly, grab a beer.  But I was there alone, when the room was empty (save for co-director Caleb Lyons and his cutie-pie pug), and I'm glad I was, as I don't think the work's remarkably strong architectural elements would have asserted themselves so clearly had I seen it only during the opening festivities.
… Anyone go to Paul Chan's opening at The Ren yesterday? If you did, what'd ya think?