Chewing Color, curated by Marilyn Minter. Works by Patty Chang, Kate Gilmore, and Marilyn Minter, presented by 44 1/2 for Creative Time and to be shown on MTV's outdoor screen in Times Square during the month of April. Is this not the perfect context for these works? Further info from website below; I've added links to clips from two of the videos.
"At 44 1/2, Creative Time's presentation of video art on MTV's outdoor, gilded screen located in the heart of New York City's Times Square, will showcase three works curated by artist Marilyn Minter, in a program entitled Chewing Color. The films include Patty Chang's Fan Dance, Kate Gilmore's Star Bright, Star Might, and Marilyn Minter's Green Pink Caviar. The works will be on view hourly between April 1 and 30.
Capturing the spirit of Minter's investigation into what she calls "the pathology of glamour" and her interest in the border between photorealism and abstraction, the work in Chewing Color strikes a delicate balance between beauty and disgust. The visually aggressive work will demand attention even amongst the bustle of Times Square, bringing the cutting edge of contemporary art to the neighborhood."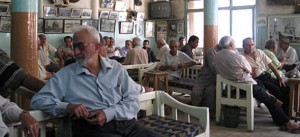 Libby Rosof and Roberta Fallon have a post up on the artblog about Libby's Philadelphia encounter with British artist Jeremy Deller's roving Iraq project, It Is What It Is: Conversations about Iraq, which is coming to the MCA Chicago in the form of an exhibition to take place next Fall 2009.
Presented by The New Museum and Creative Time for the Three M Project (the ongoing series of exhibition collaborations by the MCA, the Hammer Museum, and The New Museum), Deller's endeavor began on February 11th at the New Museum, where over a six week period Deller asked journalists, Iraqi refugees, soldiers and scholars to discuss their experiences of Iraq over the past decade.
At the show's close on March 22nd, Deller began a cross-country journey from New York to California, conducting further conversations with various people at appointed stops along the way. From the website's project description:
"It Is What It Is" puts a premium on discussion that is open-ended. Skipping easy categories of "for" or "against," the invited conversationalists bring to the table their wide experiences in order to broadly describe political and social issues that affect those in Iraq as well as those outside. These conversations might be a bit messy, which is good, as black-and-white readings of this situation have been of little use up to now. "It Is What It Is: Conversations About Iraq" does not promise to solve the problems between the U.S. and Iraq, but it posits that there is beauty that approaches art in human contact and intellectual exchange-that is, in simply talking amongst ourselves."
An annotated schedule of upcoming stops can be found here; after the road trip is over, the project will be exhibited at the Hammer in April and May, and at the MCA in October and November of 2009.
You can also follow what happens on Deller's trip by viewing videos and road diaries, interviews, essays and maps on the project's website.
Last December on the podcast Patricia and Brian conducted a wide-ranging interview with Larry Rinder, the Berkeley Art Museum & Pacific Film Archive's then newly-appointed director, which focused on his future plans for the institution. During the interview Rinder talked about his upcoming permanent collection exhibition titled "Galaxy: A Hundred Or So Stars Visible to the Naked Eye." That exhibition–the first Rinder has curated for BAM/PFA–is now open, and Kenneth Baker of the San Francisco Chronicle has written an informative background piece that contains further insight on the curatorial process from Rinder. I especially liked the moment where Rinder talks about the thinking that goes on in a curator's mind whilst deciding whether or not to hang certain works side-by-side:
"Certain juxtapositions made even Rinder nervous. 'Here I had to take a kind of curatorial pause,' Rinder said in the top floor gallery. 'Does one hang Warhol's 'Race Riot' next to a black painting by Ad Reinhardt?'"
Organizing permanent collection shows isn't always considered the sexy part of curating; it's the provocatively-themed group shows and surveys by art world stars or hot up-and-comers that are supposedly where all the curatorial action is. I like how this article, along with Brian and Patricia's interview, reminds us of how a museum's core collection can be just as thought-provoking and fresh if approached with vigor, creativity, and a certain fearlessness when it comes to teasing out the hidden relationships in disparate artworks. Which brings me to my question: what's your favorite permanent collection 'moment'? Are there any curatorial choices that you've come across in a permanent collection show that have surprised, provoked, delighted or enraged you? I'd love to hear about them in the comments.
(Baker article via Modern Art Notes).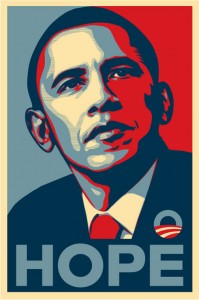 Are we in the midst of a Shepard Fairey backlash? Not exactly, but there is some sort of reassessment going on. The L.A.-based political poster artist designed an iconographic image that reverberated nationally, along with other forms of viral street art that have been piquing the interest of city dwellers for years–but the question that's being debated at the moment is whether Fairey's output makes for good art, or even good design. This comes in the wake of Fairey's 20 year survey exhibition at the ICA Boston, along with news that he has won the Brit Insurance Design of the Year award (chosen by a panel that included MOMA architecture and design curator Paola Antonelli).
Reviews of "Shepard Fairey: Supply and Demand," at the ICA have been middling to negative. In his review of the show this week, for example, the L.A. Times' Christopher Knight delivered a clear-eyed and even-handed assessment of Fairey's oeuvre:
"The 39-year-old designer … possesses a limited pictorial vocabulary, while the grandest curatorial claims made for the nearly 250 examples in the galleries are unsupportable. But the 20-year success of "Obey Giant" can't be denied, nor can the efficacy of its strategies in establishing "Obama Hope" in the public consciousness. If neither adds up to major art or effective counterculture politics, both are plainly worth considering." (Read the full article here).
In a post last Tuesday on the blog New Curator, A.D. Jacobson was more critical of the institutional cynicism motivating Fairey's survey than he was of Fairey himself:
"this entire show seemed like a set up to me, not even getting into the fact that the BPD arrested the guy on the way to the show. (Yeah, what better way to boost the rebellious cred than getting arrested. Brilliant!!) The images were of the highest production value, but even he will tell you, this ain't art.  Not when you're doing avatar stencils for Joey Ramone and saying things like 'I'm not a musician, but I'm still gonna rock it hard as nails.'"
It's not only Shepard Fairey-as-artist who's being dissed, it's Shepard Fairey the designer. In an article for the London Times Tom Dyckhoff questions whether Shepard Fairey's Obama poster really warranted the Design of the Year award. "This is Designs of the Year," Dyckhoff writes. "Not Poster of the Year. Or Ad Campaign of the Year. And the prize's self-defined role is to reward the most "innovative and forward thinking" design. This poster is neither innovative or forward thinking, certainly not compared with last-year's winner, the bargain-basement laptop in reach of the world's poor, designed by Yves Béhar" (read the full article here).
What I find most interesting is how all the Fairey take-downs seem to mirror Obama's own "coming down to earth" transition in national press coverage of late, and I'm not just talking about Fox News. Even so-called liberal media outlets like MSNBC have their pundits training a colder, harder eye on the President, as his budget proposals, his stated commitment to health care and his nods to arts funding come under fire, often from both sides of the political spectrum. It seems that buoyant moment when a single iconic image and the word Hope could move a nation is over. In the worlds of art and politics alike, now it's time for deeper scrutiny, (hopefully) more intelligent debate, reassessment and repositioning.
Cue Soul II Soul: "back to life… back to reality."
Boston-based artist Matthew Rich's large-scale paintings on paper at Devening Projects + Editions present a range of enticing contradictions. A few examples: Rich uses an X-acto type blade to cut lines that aren't always super-straight, he hangs his unframed paintings directly on the wall so that their interaction with light, air, and passer-by movement emphasizes their sculptural qualities, and he uses latex paint to create planes of color so flat and even that, when seen from a distance, you might initially assume he's cutting and collaging pieces of colored paper rather than painting them himself. Rich's works appear crisply delineated. They look like whirligig motion machines that tweak their hard-edged forbears with torqued forms that are almost but not quite rectilinear and sometimes downright curvaceous. Titles like Tilt, Double Arc, Turbine, Rocker and Zig-Zag only heighten their playfully carnivalesque attractions.
Up close, however, things get more complicated. A lot of Rich's paintings look like they've been manhandled a bit-they're smudged and soiled and intentionally creased (the result of how they're packed for shipment), and one even has a partial footprint on it. Sections of what appear from afar to be uniform color reveal inconsistencies in density and tone. Rich has also used iridescent paint in certain sections to activate additional layers of depth, movement and reflection.
The show is titled "Blind Spot," a phrase that in this context is not purely metaphorical. As it turns out, there's a flipside to these paintings that is, well, the flip side to these paintings. Rich has painted both sides of the paper using different colors. Working from preparatory drawings, he cuts from layered sheets of paper so that the pieces will lock back together again seamlessly, in this manner carefully assembling his paintings a section at a time. After he's finished, Rich turns the whole thing over and exhibits the unseen, or "blind" side; in other words, the section that remained invisible to him while working becomes the public side of the artwork. The side he created with such meticulous attention must now keep its face to the wall; the rhythm of chance wins out over what were once, presumably, carefully considered chromatic relationships.
Once Rich's paintings are hung, however, hints of their hidden selves inevitably peek around. The ever-so-subtle curl of a paper's edge, or a slight pulling away from the wall here or there, casts almost imperceptible shadows of colored light against the white wall behind it. This exquisite little detail is all the more entrancing for how easy it is to miss. It's yet another contradiction that these paintings pose, one that arises when bold, large-scale works such as these are apprehended with sweeping glances. I also think it's a contradiction that's nestled in the very different assumptions we sometimes bring to the act of looking at a painting vs. a drawing or a work on paper, especially when it comes to issues of scale. The cliche is that drawings require more intimate and "up close" scrutiny because they're smaller and somehow more personal, while paintings of a larger scale ask you to stand back and take them all in. Rich's paintings ask us to look both ways in order to maintain a wider field of view.