Huck Finn crashes the Venice Biennale: a habitable floating sculpture designed by the NY-based artist SWOON.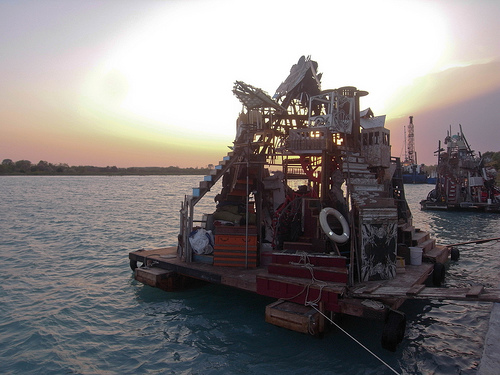 From the project's website:
"The Swimming Cities of Serenissima is a fleet of three intricately hand crafted vessels that will navigate the Adriatic Sea from the Litoral region of Slovenia to Venice, Italy in May of 2009. Designed by the visual artist SWOON, the floating sculptures are descendants of the Swimming Cities of Switchback Sea (Hudson River, 2008) and the Miss Rockaway Armada (Mississippi River, 2006 and 2007).

SWOON's boats are inspired by dense urban cityscapes and thickly intertwined mangrove swamps from her Florida youth. The Swimming Cities of Serenissima are built from salvaged materials, including modified Mercedes car motors with long-tail propellers. The boats' crew is made up of 30 collaborating artists from the United States.

As the Swimming Cities move toward Venice, the crew will collect and install keepsakes in an ark-like cabinet of wonders that will be on display on the boats when they arrive. Once in Venice, the boats and crew will offer intimate performances that incorporate music, shadow puppetry, and story.

The vessels are imagined as a hybrid between boats and bits of land broken off and headed out to sea. Watching them approach the shore is like seeing a floating city in the distance, as improbable as Venice itself. To the real life crew, the boats are a place of refuge – both a home and a way of moving through the world. To those who encounter the boats for the first time, they are a reminder that anything that can be imagined can be built."
You can follow their progress here and here.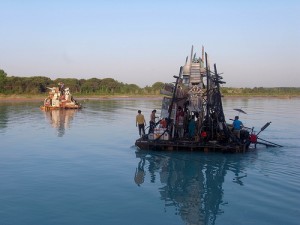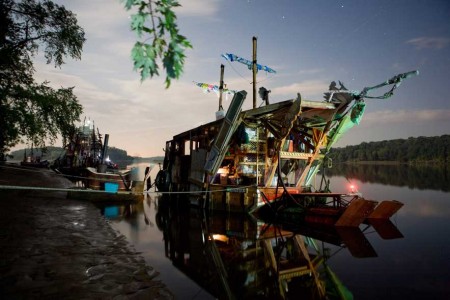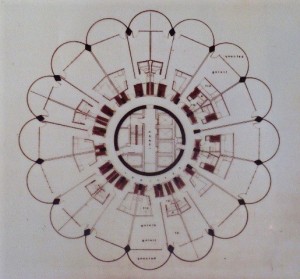 Here's what's caught my eye since last time we did this….
*Why not take Aderall? (Chicago Weekly).
*Forget the death of print–the revival of cassette tape is well underway.
*Joyce Owens tells President Obama to give living artists a shot at the White House.
*In second round of layoffs, MOCA cuts Robert Hollister, its director of registration and collections (Culture Monster).
*Muralist Frank Romero sues Caltrans over mural washout (Culture Monster, again).
*David Lynch launches online Interview project (via Boing Boing).
*New Chicago journal The Point wants you to read articles. Long ones. Printed on paper. Yeah I know! Crazy f&%ks. (Chicago Reader).
*Curator Jeffrey Grove to leave High Museum for Dallas Museum of Art (UnBeige).
*In the nick of time, Scope Basel announces new location (Art in America).
*A really interesting assessment of the etsy craft aesthetic on the artblog.
(above image credit: Bertrand Goldberg Associates. Marina City South Elevation, ca. 1962. "Marina City" on view at ArchiTech Gallery from June 5-August 29, 2009).
Herb and Dorothy. I'd like to see this film screened in Chicago. Has anyone seen it here? I didn't see any mention of an upcoming Chicago venue on the website. Please don't tell me I've missed it. The synopsis, from the film's website:
HERB & DOROTHY tells the extraordinary story of Herbert Vogel, a postal clerk, and Dorothy Vogel, a librarian, who managed to build one of the most important contemporary art collections in history with very modest means. In the early 1960s, when very little attention was paid to Minimalist and Conceptual Art, Herb and Dorothy Vogel quietly began purchasing the works of unknown artists. Devoting all of Herb's salary to purchase art they liked, and living on Dorothy's paycheck alone, they continued collecting artworks guided by two rules: the piece had to be affordable, and it had to be small enough to fit in their one-bedroom Manhattan apartment. Within these limitations, they proved themselves curatorial visionaries; most of those they supported and befriended went on to become world-renowned artists including Sol LeWitt, Christo and Jeanne-Claude, Richard Tuttle, Chuck Close, Robert Mangold, Sylvia Plimack Mangold, Lynda Benglis, Pat Steir, Robert Barry, Lucio Pozzi, and Lawrence Weiner.

After thirty years of meticulous collecting and buying, the Vogels managed to accumulate over 2,000 pieces, filling every corner of their tiny one bedroom apartment. "Not even a toothpick could be squeezed into the apartment," recalls Dorothy. In 1992, the Vogels decided to move their entire collection to the National Gallery of Art in Washington, DC. The vast majority of their collection was given as a gift to the institution. Many of the works they acquired appreciated so significantly over the years that their collection today is worth millions of dollars. Still, the Vogels never sold a single piece. Today Herb and Dorothy still live in the same apartment in New York with 19 turtles, lots of fish, and one cat. They've refilled it with piles of new art they've acquired.

HERB & DOROTHY is directed by first time filmmaker Megumi Sasaki. The film received the Golden Starfish Award for the Best Documentary Film and Audience Award from the 2008 Hamptons International Film Festival. It has also received Audience Awards from the 2008 SILVERDOCS Film Festival and the 2009 Philadelphia Cinefest. Palm Springs International Film Festival named HERB & DOROTHY one of their "Best of Fest" films in 2009.
HERB & DOROTHY Trailer from Herb and Dorothy on Vimeo.
Via Beautiful/Decay.
…I'll ask you to try this instead:
Go to your iTunes. Create a ringtone for John Cage's 4'33" (if you don't want to spend money for it on iTunes, you can find a free ringtone for 4'33" here).
Install that ringtone on your cell phone, and assign it to one of your frequent contacts. Keep it this way for at least a week (no cheating!).
That's it.
The Hamza Walker-curated group show "Several Silences" closes this weekend at The Renaissance Society, so if you still want to catch it, best get there soon.
Richard Hunt's terrific sculpture show at David Weinberg Gallery closed last weekend, but if you missed it there's another powerful selection of Hunt's work from the past 20 years on view at G.R. N'Namdi Gallery.
David Weinberg's space, the smaller of the two galleries, showed off the many paradoxical elements of Hunt's sculptures in a surprisingly effective manner. When I first walked in to that exhibition, the room felt overly crowded to the extent that I feared one of sculptures' edges might actually jab me (or I it). But it quickly became clear that, physically at least, there was plenty of room for all of us.
Hunt's work is full of surprises like that. Eluding easy formal classifications, his sculptures can't adequately be described as organic, nor are they exactly technological in nature. They're somewhere in between the two, where spiraling forms evoke the flow of waves or the whir of circular blades. One sculpture at N'Namdi recalls a stack of bones, human and otherwise; others have sharp, protruding hooks. The lines of Hunt's sculptures alternate between curving and jagged, their movement sometimes vertical, sometimes lateral, but always, always upwards.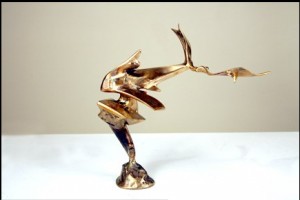 Stacks of things frequently rest atop stacks of other things, as if someone were trying to build a stairway to heaven by piling object upon object as high as the whole thing will go–an implausible and impossibly graceful agglomeration of broken wings, torn dorsal fins, discarded hand tools and shards of bone.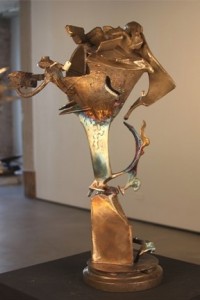 Hunt's sculptures may reach upwards, but they're far from dreamy. The often rapid transitions from one form to another doesn't suggest rebirth or regeneration so much as an effort to fit together, sometimes clumsily, that which already exists. In this Hunt's forms evoke the forward movement of history (be it an individual's or a nation's) as something precariously and pragmatically achieved, in fits and starts, over time.
The show is at G.R. N'Namdi Gallery (110 N. Peoria, Chicago, 312-563-9240) through June 30th.