I'm back with fresh harangues! I haven't found any truly worthy candidates in awhile but yesterday the Chicago architecture critic Lynn Becker posted a screed that pleased me greatly in its justifiable outrage. One of Chicago's last 24-hour newsstands was torn down seemingly overnight by the French firm JCDecaux. Writes Becker:
"It's another pound of flesh being extracted by JCDecaux S.A., the French firm with which the city signed a 2002, 20 year, $200 million deal for a monopoly on the city's bus shelters. As with the recent parking meter deal, the Daley administration continues to turn control of Chicago's streets over to private interests, and now we have things like a new Pritzker Park in the South Loop, where a huge area has been left unlandscaped to provide JCDecaux a place to put one of the food concessions promised them as part of the deal.

Crain's Ann Saphir reported on Friday that the destruction of the Chicago Michigan newsstand was still another manifestation of JCDecaux's control, as they will be constructing their own replacement beginning "at the end of the month."

And, of course, while the city makes sure Decaux is taken care of, the newsstand's proprietor, Anil Modi, who works long hours to keep his business going, gets screwed. He apparently gets to return, but no matter how long it takes to build Decaux's stand, he'll receive not a penny of compensation for all the lost income, no doubt part of the city's strategy to just make him go away."
Make sure to read the full post at ArchitectureChicago Plus. UPDATE: The City has erected a new newstand for Mr. Modi in record time. Becker blogs about it in an update post here.
"Let the Televised Bitch-Slapping Begin!" (marshallastor.com).
Mike Andrews and Noah Singer of the Chicago-based art t-shirt company Imperfect Articles just let us know that for the next twelve days, they'll be adding a new t-shirt to their website store every day. Previously, these shirts were only available at art fairs (most recently Basel last month) but for the proverbial limited time only, you can grab one from wherever you are, starting with a shirt designed by Dublin-based artist Atsushi Kaga.  Here's what today's shirt looks like: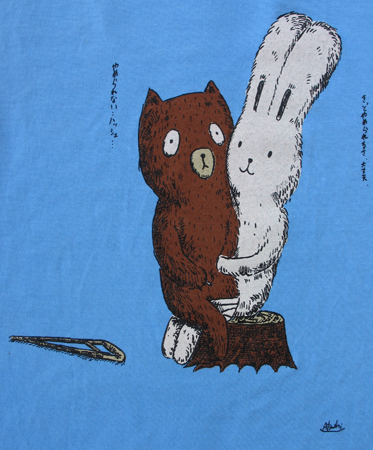 The text is printed in Japanese, but here's a rough translation:
Bear: "I can't quit smoking pot."
Bunny: "Yes, you can, you'll be fine."
Act now; there's only a limited number of this edition left in stock. Yeah, I know that's what they all say, but with Imperfect Articles you can believe it.  Click here to order. Check back with the website each day to see what new shirt they'll have up next.
If you want to learn more about Imperfect Articles' unique blend of art and commerce, IÂ  interviewed Noah Singer a few months ago for New City; you can read the article here.
I am so sorry to report, via The Los Angeles Times, that legendary architectural photographer Julius Shulman has died. From his obituary:
"Julius Shulman, whose luminous photographs of homes and buildings brought fame to a number of mid-20th century Modernist architects and made him a household name in the architectural world, died Wednesday night. He was 98.

Shulman, who had been in declining health, died at his home in Los Angeles, according to gallery owner Craig Krull, who represented him.

Starting with Richard Neutra in 1936, Shulman's roster of clients read like a who's who of pioneering contemporary architecture: Rudolf M. Schindler, Gregory Ain, Frank Lloyd Wright, Charles Eames, Raphael S. Soriano, John Lautner, Eero Saarinen, Albert Frey, Pierre Koenig, Harwell Harris and many others. His work was contained in virtually every book published on Modernist architects.

"He has a sense of visual bravura of composition," wrote the late Robert Sobieszek, photography curator at the Los Angeles County Museum of Art, "so that he can take a rather mundane house and make it look exciting, and take a spectacular house and make it look triply spectacular."

Shulman had "a profound effect on the writing and teaching of architectural history and understanding architecture, especially Southern California modernism," said Thomas Hines, UCLA professor emeritus of architecture and urban design. And Newsweek magazine's Cathleen McGuigan wrote that some of Shulman's photographs of modern glass houses in Palm Springs and Los Angeles "are so redolent of the era in which they were built you can practically hear the Sinatra tunes wafting in the air and the ice clinking in the cocktail glasses."
You can view a slideshow of Julius Shulman at work along with some of his most famous images here. Shulman was a Master whose images helped define architectural modernism in Southern California and beyond. He will truly be missed.
Short and sweet, here's what's caught my eye this week:
*The Art Newspaper interviews Bruce Naumann after he won the Golden Lion at Venice. (via Art Observed).
*Artnet analyzes the art stimulus package.
*Bloggers, take note: now you can filter Google image searches for those under a Creative Commons License.
*In New York: Slideluck PotShow XIII now accepting submissions (deadline is Tuesday, July 21st). The theme for this edition of the show is "Now."
*Dear Dash Snow, by William Pohida.
*The death of (porn) narrative.
*Ten weird ways to distribute music.
*Using Brian Eno's oblique strategies in the kitchen (via Things blog).
*West Coast Experimental film legend Chick Strand, a founder of film distributors Canyon Cinema, died last weekend at the age of 78. Read a moving tribute to her here, and a more in-depth profile of her in the L.A. Weekly here (this last, via Spout Blog).
*A trailer for the upcoming Rural Studio documentary at Unbeige.
*Do a good deed, help a new Chicago teacher stock his class with books (via Windy Citizen).
*I am deeply ashamed of myself for really wanting to see this movie: from the folks that brought you Jackass, The Wild and Wonderful Whites of West Virginia. See a trailer for the film below, and watch Richard Metzger interview its director Julian Nitzberg here. If this film ever screens in Chicago, someone please let me know. (via Boing Boing).