Calling all theory-heads: the Stone Summer Theory Institute launches its 2009 week-long school in contemporary art theory this Sunday with a lecture this Sunday afternoon by James Elkins on this year's topic, What Do Artists Know? A rundown on the coming week's public lectures is below; to learn more about the ideas behind the Stone Summer Theory Institute, check out Duncan's interview with James Elkins on Episode 149 of the podcast here.
What Do Artists Know?
Co-organized by James Elkins and Frances Whitehead
Thinking on the education of artists is divided in an unpromising way among teachers avid for practical tips, administrators interested in the bottom line, educators invested in philosophies of teaching, and artists proposing idiosyncratic solutions. The 2009 SSTI will focus on three themes: the histories of art education; the current content and philosophies of art education around the world and at all levels; and the current state of theorizing on what artists know in society and outside the educational framework.

Admission
Tickets are free for SAIC students, faculty, staff, and alumni
Prices for the public vary. For more information please visit www.stonesummertheoryinstitute.org

LECTURES

James Elkins: What Do Artists Know?
Sunday, September 20, 1pm
Morton Auditorium, the Art Institute of Chicago, 111 S. Michigan Ave.
Free and open to the public. No pre-registration required
Presented by 2009 SSTI co-organizer James Elkins, this lecture will consider the principal theories of studio art education, including the First Year, the BFA, MFA, and PhD, while comparing practices in different countries. Elkins is the author of Why Art Cannot be Taught: A Handbook for Art Students and the E.C. Chadbourne Chair of Art History, Theory, and Criticism at SAIC.

Sir Christopher Frayling: The Hollywood History of Art
Monday, September 21, 7:30pm
SAIC Ballroom, 112 S. Michigan Ave.
Former Rector of the Royal College of Art, London, Sir Christopher Frayling is a cultural historian specializing in the permeability of high and low culture. He became the first professor of cultural history at the Royal College of Art and has published more than a dozen books. Frayling was knighted for 'services to art and design education' in
2001.

Roy Sorensen: "Artistic Expertise"
Wednesday, September 23, 7:30 PM
SAIC Ballroom, 112 S. Michigan Ave.
Roy Sorensen is Professor of Philosophy at Washington University in St. Louis. While he seldom writes about art, the titles of his books read like a roster of concepts that artists have invoked to describe what they know and how they see: Blindspots (1988), Thought Experiments (1992), Pseudo-Problems (1993), Vagueness and Contradiction (2001), and A Brief History of the Paradox (2003). He has also written a book on perception called Seeing Dark Things: The Philosophy of Shadows (2007).

PRESENTATION AND DISCUSSION

"What Do Artists Know?"
Thursday, September 24, 7:30 p.m.
Performance Space, Columbus Drive Building
As many artists transverse the disciplinary boundaries of art, design, science, and other fields, how do we understand the role of knowledge production in hybrid/ trans-diciplinary practices? SAIC faculty with such practices, reflect on these questions and lead an audience discussion on knowledge in practice.

Participating SAIC faculty include: Ellen Grimes, Adelheid Mers, Claire Pentecost, Andy Yang, and Frances Whitehead.

Advanced registration recommended.

ROUNDTABLES

Opening Roundtable
Monday, Sept. 21, 9am-noon
SAIC Ballroom, 112 S. Michigan Avenue
Introducing the problematic of the Institute is a three-hour roundtable discussion, which will be taped and published. Panelists include Frances Whitehead, James Elkins, Sir Christopher Frayling, Stephan Schmidt-Wulffen, and Roy Sorensen.

Closing Roundtable
Saturday, Sept. 26, 9am-3pm
Price Auditorium, the Art Institute of Chicago, 111 S. Michigan Ave.
(Use Michigan Avenue entrance before Museum open hours.)
A five-hour discussion by the Faculty, which will be taped and published. The Closing Roundtable includes a one-hour lunch break, and 90 minutes for audience questions.

The Stone Summer Theory Institute is sponsored by Howard and Donna Stone, longtime friends of the School of the Art Institute. Their innovative patronage supports the understanding of art, in addition to the infrastructure of education or display.
Looks pretty intense. The film looks at the 1954 CIA coup in Iran from the perspective of two different women. It won Neshat the best director award at the Venice Film Festival, but apparently some of the initial newspaper reviews are coming in mixed. (Via L.A. Times).
Remember the "North Carolina Sewer Monster" from last Spring (which turned out to be not a monster exactly but a roiling pile of worms)? Yes, I know you tried really hard to burn the image of that creature out of your memory through heavy drinking and a little steel wool applied to the eyeballs, but I'm here to bring it all back to you. What's grosser–the real thing, or Paul Nudd's ongoing series of pus/slug/slime/vomit/ooze videos? I say the Sewer Monster wins hands-down.
Click directly on the stills below to see a brief video clip: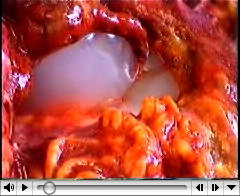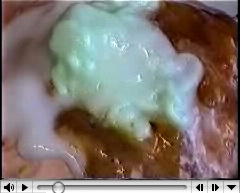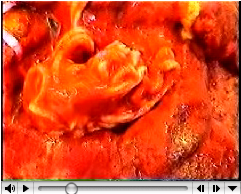 Here's our midweek summary of this n' that and other chit-chat happening in the world of art and beyond.
*Keith Olbermann gives Christopher Knight "Best Person in the World" status for pointing out potentially communist imagery in right-wing Tea Party poster art.
*Was overzealous corporate art collecting partly to blame for Lehmann Bros. fall? Former Lehman trader Lawrence McDonald speculates that indeed, it was, in his new book about the investment behemoth. Artnet fleshes out the issue in its latest report.
*Bill Viola rejects Vatican's invitation to a summit "aimed at bridging the gap that has developed between spirituality and artistic expression over the last century or so," reportedly because Viola disagrees with many of the Catholic Church's policies. No word yet on whether artist Robert Gober was invited, and if so, whether or not he'll attend.
*If you haven't already been following this issue, this L.A. Times article provides an excellent one-stop summary of the current controversy arising from the Obama administration's alleged attempts to "politically manipulate" the NEA and, by extension, the arts communities it serves.
*Tyler Green writes in defense of blockbusters, following Holland Cotter's article in last weekend's NYT calling on museums to "rethink the blockbuster phenomena."
*Wanna know what the Art Institute is deaccessioning this Fall? Read Green's roundup of what they're hoping to sell, here.
*Four Andy Warhol prints of famous sports stars stolen from Richard Weisman's L.A. Collection.
*Annie Leibovitz finally reaches an agreement with her creditors.
*C-Monster elegantly takes the piss out of Bruce Nauman's "LEAVE THE LAND ALONE" skywriting installation.
*Bob Dylan to exhibit nearly 100 of his paintings in a 2010 solo exhibition at the National Gallery of Denmark in Copenhagen. An example of Dylan's work heads this post. How will they stack up to Joni's, I wonder?
*Chicago artist and BaS fave Deb Sokolow interviewed in Beautiful/Decay magazine.
Conventional wisdom tells us that the the time to buy art is when you're older and have attained a degree of financial security, right? I've learned from personal experience that this kind of logic is completely backwards. Sure, now that I'm older and more "settled," I technically have more in the bank, but trust me — it ain't that much more. I had a lot more spare cash to spend on art when I was just starting out than I do now, largely because I'm no longer able to say, 'what the hell, I'll just go out less next month' and drop a few hundred dollars on a drawing just because I happen to love it. When you're young you can scale back drastically in one area of your life without it dramatically affecting the other parts. That's not necessarily the case when you're older and have dependents. Which leads me to reason number one for buying art as early as you possibly can:
1. It may not seem like it now, but if you're in a line of work that'll basically keep you in the middle class the rest of your life, if you're lucky (cough-nonprofit world), your early twenties may well be the only time  you'll have any measure of disposable income to spend on what *you* want to spend it on without feeling guilty that it should be put somewhere else.
2. When you're young you can still buy what you like without having to check with someone else first. This may be a fairly big assumption, of course, but when you're in your twenties you're less likely to have partnered up for the long-term or share a bank account. Thus, you don't have to worry about your partner's veto power over what hangs on your walls.
3. Following on Reason #2, buying art when you're young and still fancy-free provides an invaluable opportunity to develop your own tastes over time. Sure, it's fun to buy with a partner, but it's also important to formulate your own aesthetic sensibility apart from that, so you don't wind up being the one who nods stupidly and says "I leave these kinds of decisions up to him/her" while reaching for the checkbook.
4. When you're young,you're less likely to have had kids. And, by extension, a house/mortgage. Once you have either of these things, believe me, unless you're already firmly ensconced in the upper ranges of middle class you're much more likely to feel guilty about big purchases that don't in some way involve the kids and/or house. Yeah, I know art feeds the soul and I absolutely agree that it's important to have lots of it around the house in one form or another, but when you have to choose between fixing the broken backyard fence or buying that painting you fell in love with last weekend, it can be much harder to choose the latter when you think your kids' well-being may be at stake.
5. If you start buying young, your collection will be more than a collection. It'll serve as a unique narrative of your own personal history dating from early adulthood. This one is true whether you choose to have kids or not. What was it about that particular work that made you want to buy it? What did you have to sacrifice in order to get it? Did you have a personal relationship with the artist? Artworks remind you of where you were in your life when you bought them, not just geographically but socially and psychologically, too.
6. On the whole, when you're younger, the art you like tends to be less expensive and thus, affordable even on a student's budget. You're young, you're hanging around kids like yourself and thus you tend to go to the types of apartment galleries and indie spaces where younger artists show, and the prices reflect that. I'm here to encourage you: don't just look, think about buying that $50 drawing. Take advantage of the fact that the artists in your circle are still selling their work relatively cheaply. That won't necessarily be the case forever.
7. Consider the time-honored tradition of the trade. Many artists acquire art by trading some of their own work (or services, if they don't make objects) for someone else's work or services. Artists already know about this one, so I don't have to belabor the point other than to note that not everyone in the art world can ethically make a trade.
8. Think about purchasing art instead of updating to the latest version of your iPod, iPhone, Mac computer, or, um, buying drugs. The painting that blew your mind at last weekend's opening? Maybe it's it the $200-$500 range. If you don't buy the new iPhone and are willing to stretch out your stash, dude, that painting could be yours! It's a cliche, but it's still true: the art will last longer. Wait for the next iteration of the technology to come out and buy that piece of art now. When you're old and gray you'll still be looking at it; the drugs and the iPhone, on the other hand, will have long ago been consumed.
9. Buying young enables you to grow your tastes alongside those of an artist or gallery. Assuming that the art you're buying in your early twenties is, by necessity, that made or exhibited by other youngsters like you, you'll be establishing yourself as a supporter of these people early on. This relationship may or may not carry forward into the future, but by all rights it should. The artist will remember you as one of his/her earliest collectors; the gallery will know that you do indeed give a shit about the work they show and take you seriously when you come in. If you happen to strike it rich or just do a little bit better as you get older and (hopefully) move forward professionally, you might find yourself in a position to buy slightly more expensive work by this or other artists. If the dealer is smart, she'll remember you made that early purchase way back when and help you obtain something that might not otherwise be within your grasp.
10. Buying artwork is exhilarating, especially when you buy something that's a little pricier than you can afford but you can't help yourself. Try it. See what I mean? And even if you're buying a $25 drawing and tacking it over your night stand, buying art makes you feel like a grownup who cares about the beauty of your surroundings.
In conclusion: You don't have to buy expensive work to have a "real" art collection. Some socially well-connected artists don't even have to "buy" anything at all; but this post has been written for those of you who don't necessarily have those kinds of connections and need to spend your own hard-earned dollars in order to make an artwork yours. A fine collection of small-scale drawings in the $10-15 range purchased at art benefits, holiday art school sales etc. can be amassed without a lot of financial pain. No matter how inexpensive the purchase, take whatever you buy seriously by framing it as soon as possible (better for the art, better looking on your walls), displaying it prominently and with flair, and looking at it often. Whenever possible, scrimp a bit on the essentials so you can splurge on art. Trust me, it gets a whole lot harder to do that once that thing they call "real life" takes over.