What makes a weed a weed? It's a question that goes beyond horticulture to take on broader cultural and even philosophical implications. I love weeds as much as I love to garden. Sometimes those two loves are in conflict with one another, other times they're in harmony. My desire to learn more about weeds, along with other forms of backyard horticulture led me to Vanessa Smith, an agriculturalist, artist and arts administrator who is the exhibition programmer at The Presidents Gallery at Harold Washington College. Vanessa recently gave a workshop/lecture on the history of house plants and their culinary and medical uses at Cobalt Studio as part of the latter's Hecho en Casa/Home Made exhibition. Unfortunately I only learned of the talk after the fact, but so eager was I to talk weeds with Vanessa, I asked her if she'd engage in a longer conversation with me about weeds, plants, backyard chicken and bee-keeping and a whole host of other projects she's involved in, and she generously agreed.
Claudine Ise: You're interested in narrative, specifically in narratives related to plants – the stories we tell each other about plant life, and how those stories help to keep certain heirloom fruits alive, and maybe even help restore varietals that have been "lost". Can you talk about the importance of story-telling to (for lack of a better term) plant-growing and cultivation in general?
Vanessa Smith: Stories give importance and connections to the food that we eat so that we are not only getting our daily food, but we are linking ourselves to our past and to other people.  The experience of hearing a story can shift our understanding of the past. So doing, it shifts our lives in the present and the future.  This can apply to stories of any subject, and in fact all stories blend many subjects, but here I am most concerned with stories about plants, particularly food plants and plants considered weeds.  The "story" of these plants could include their origination, who first named them and why they were named that, how they were used, what family or group used them, an aside about anything involving the plant, and etc.  But it isn't just about this data that could be compiled into a spreadsheet.  The experience of eating or growing or even walking past something that has significance will change the way you eat, grow and walk past other things. 
CI: I am always wanting to know the names of the different weeds that come up in my backyard or I encounter while taking walks. How did you start learning about those plants that are typically identified as 'weeds'? What are some good ways for people to learn more about these types of plants?
VS: I first learned about them by working on my parent's farm, especially in their vegetable garden.  Weeds were simply identified by their out of place-ness, that they didn't belong where they grew, according to what we wanted to grow.  Because we were trying to grow vegetables and not weeds, I learned an antagonistic relationship to weeds.  The way I thought about them started to change with the short time I spent with a forager.  He made his modest living by driving his used Toyota through the dirt roads of southern Minnesota to find wild edibles that he could sell to restaurants in the Minneapolis/St. Paul area.  I accompanied him once out of curiosity, and it really opened my eyes to pay attention to the plants growing on the margins.  When you are foraging, you look for something in particular, but in the wildness of where you are looking you always notice a plant you aren't expecting.  I also did a few weed-centered workshops and forages with Nance Klehm in Chicago, which increased my attention to the ecology of the urban landscape.
The most ideal situation to learn about plants is from someone who can show you what is what in the place where they are growing so you can get a sense of its whole environment.  Outside of that, there are many books and websites that can be helpful, I don't have specific recommendations, but look up "wild plant identification books" online or at a library.   Many have ways to guide the search by leaf shape or flower color and shape.  I think it easy to get overwhelmed with all the plants out there.  Perhaps it would be helpful advice to just identify one or two plants and learn about them, find them in different places, observe their changes through a season.
In identifying plants, the more you learn, the more connections you can make between related plants, wild or domesticated.  And there are many connections to make – for example, wild lettuce is a very common weed in Chicago.  The endless varieties of lettuce that are grown all started with that wild plant. 
CI:  I'm really interested in the cultural processes by which a plant comes to be identified as a weed. What makes a weed a weed? Is it the plant's tendency towards rampant, spreading growth? Or it's lack of flowers (although many weeds bear flowers)? I'm also interested in the status of plants that are sort of in-between being the kind you garden-cultivate and weeds – like lamb's ear, lemon balm or spider wort. I have all three of these in my backyard right now which I planted or kept (or transplanted) specifically because I like them so much. What are some of your favorite weeds? How easy is it to grow them as houseplants? Can you provide those of us who are interested in this with a few "how to" steps/tips that you shared during your urban foraging session/lecture at Cobalt?
VS: "Weed" is a very relative term – it is a word used to denote a plant out of place.  It can refer to a plant that is an invasive species – one that spreads quickly and out-competes native plants because it doesn't have any evolutionary checks to its growth.  Most of the invasions are from the hands of people – due to bringing the plants in for food, medicine or cultural reasons and then they escape from the garden and run wild.  Many weed-empathizers say that the best way to eradicate weeds is to love them to death.  Imagine what our dandelion-filled lawns would look like if everyone were edging in on the spring greens for salads, the blossoms for dandelion wine, and the roots for roasted dandelion root coffees!
For the project at Cobalt space, which was a group show and performance program on the topic of "home," I foraged for some commonly found weeds in empty lots and along railroad tracks and brought them into the space in pots.  I wanted to give the weeds the value of houseplants by the simple act of bringing them inside.  It was also interesting to confuse the distinctions of domesticated and wild.  I gave a tour of them to talk about their history and some uses that they have.
One of the plants I had at Cobalt that I am most fascinated with at the moment is Japanese Knotweed, or Polygonum cuspidatum.  It was brought in to this country from Japan as an ornamental plant (probably under the name Japanese Bamboo to market it, though it is unrelated to bamboo) and for erosion control because it grows quickly.   It is spreading rapidly now and is very hard to eradicate, even using chemical control.  It is an interesting plant because of its initial desirability as an ornamental, and because it has many edible parts – shoots, stems, flowers.  In the spring, the first tender shoots look like asparagus, but have a tart, rhubarb flavor.  The plant contains high amounts of resveratrol, an antioxidant that is also found in wine.
I don't keep many houseplants, domesticated or wild, because I don't have great light in my living space, but I am incorporating weeds into my backyard garden where I can.  The first weed I deliberately planted was stinging nettle, or itch weed as I grew up calling it.  I remember being a kid of maybe 4 years or so just walking through a patch of it and it stinging my bare legs.  I was scared and in pain, not knowing what was happening, so all I could do was cry.  My mom was close by and she scooped me up, took me to the house and washed my skin with soap to soothe the sting.  I learned from Nance's workshops how valuable this plant is despite its tendency to cause skin irritation!  The plant contains many minerals and it makes a delicious simple tea.
Weeds are so resilient that if given the opportunity, whether it is in a pot in your apartment or in a sidewalk crack, they will give it their best effort to grow.  Sun is the major consideration, though, if you wanted to create a wilderness in your apartment.  They should have as much sun as possible.  I don't know how difficult it would be, but I love the idea.  In one respect the commonly kept houseplants are selected because they are very forgiving if they don't get constant attention, and this describes weeds as well!
CI: You also keep bees and chickens in your backyard. I'm curious about how Chicagoans are able to keep chickens in their backyards, given our climate. What does a person need to be able to keep backyard chickens safely and humanely in terms of space needs, chicken coop construction, etc.? What do you do during winter or periods of extreme heat?
VS: I do keep chickens in my backyard, but I keep bees on my friend's rooftop and at an orchard outside of Chicago.  The chickens do well in the wintertime, given that they have plenty of food, access to unfrozen water, and a dry, draft-free living space.  The essential need is a good coop structure, and access to dirt is great if possible.  It feels more natural for hens to have access to dirt, but there are a number of great examples of people keeping chickens in Chicago in unconventional spaces like the balcony of a condominium or a rooftop.  In some Chicago backyards, soil contamination, the major one being lead, is an issue, so care should be taken in regards to this because chickens end up eating a lot of soil as they scratch around looking for bugs and small rocks to help their digestion. There are some great sources of information on chicken keeping in the Chicago Chicken Enthusiast Google Group moderated by Martha Boyd of Angelic Organics Learning Center. 
 
 
CI: Tell me about your work with the Chicago Rarities Orchard Project (CROP) and what the group is trying to accomplish. How long will it take for the trees to grow large enough to bear fruit?
VS: We are a group of six people from different backgrounds working to establish a community rare-fruit orchard in Chicago.  Our focus will be mostly apples, some pears, apricots, plums, nectarines, peaches, and some lesser-known fruits like paw paws and medlars.  All the fruits will be heirloom varieties, to increase awareness of crop diversity and to popularize these specific varieties.  We are working with the city of Chicago towards securing a lot in Logan Square for the orchard.  The site plan includes space for the orchard as well as planters along the sidewalks and a large public plaza.
It is a longer-term project – while we have been creating trees of these hard-to-find varieties ourselves by grafting for the last three years, we probably won't see any fruit for the first three years of having the trees in the ground in the Logan Square site.
CI: And how about the Pedestrian Project that you and Alberto Aguilar are starting at the President's Gallery at Harold Washington College, and the Green Roof Project that Harold Washington College is initiating?
VS: Pedestrian Project is the new branding of the collaboration at Harold Washington College between programming of the President's Gallery, which I run, and the Visiting Artist Program, which Alberto runs.  We both work out of the Art and Architecture Department there, and bring in artists for gallery exhibitions, lectures, workshops and residencies.
 
A dozen "Earthbox" planter boxes were donated to the college to grow vegetables in, and I was asked to plant in them a few weeks ago.  There are long-term plans for permanent green roof development that would involve greenhouses and outdoor classrooms for which they are still raising money and getting support, but they wanted to get started with what they could in the short term.  We got started late in the growing season, and if there is a sizeable harvest, we will give it to a community service organization that has a fresh market for low-income families.   We are going to connect the programming of Pedestrian Project to the planters on the roof in an exhibition next spring that will be of ecologically- focused art and events.  Stay tuned!
CI: Â You'll be in residence at Karolina Gnatowski's apartment space in Chicago this year. I know you're still in the conceptual stages, but is there anything you can share about what you're planning? How long will the residency last?
VS: The residency will be a few weeks from mid September through the beginning of October.  The residency project is called WorkWork and it is about collaborations based in her home studio.  I will hold a dinner event, which will be a potluck encouraging people to bring a foraged dish or a dish that has a narrative of significance to them.  I also want to help Karolina and her partner find a system that works for them to compost their kitchen waste.  An earlier resident, Daniel Lavitt, created a mobile book-making station with Karolina, so it will be tempting to do an artist book, or short-edition multiple around the themes I have been working with.  A continuation of the houseplants project started at Cobalt will be there in some form as well!
All photos are courtesy of Vanessa Smith.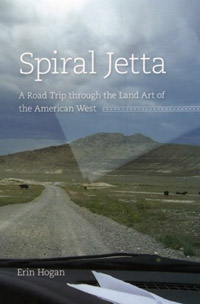 An email just popped into my inbox announcing that during the month of August, the University of Chicago Press is giving away free e-books of Spiral Jetta: A Road Trip Through the Land Art of the American West, the terrific road trip/memoir hybrid written by Erin Hogan (yes, the same Erin Hogan who's a PR honcho at The Art Institute). Spiral Jetta is a first-person account of Hogan's "pilgrimage" to see the masterworks of earth art: Robert Smithson's Spiral Jetty, Nancy Holt's Sun Tunnels, Michael Heizer's Double Negative, James Turrell's Roden Crater, and Walter de Maria's Lightening Field (she also makes a stop in Marfa).
I don't always plug the U of C Press' freebie selections (though they're always worth checking out) but this one…this one you gotta take advantage of, if you haven't already purchased Hogan's book (you should! you should!). At the risk of coming off as if I'm trying to kiss some Art Institute ass,  I can't recommend this book strongly enough. It's really in a category all its own–part memoir, part art history lesson, part field guide.
I read the book several years ago, not long after it first came out, and I remember feeling a sense of trepidation starting out because a) I am not into memoirs and b) I don't read art books for pleasure. But I decided to give this particular one a try because the premise was intriguing–let's face it, not many of us have the chance to see so many famous works of land art in person, and I thought it might be interesting to at least do so second-hand, by riding around in someone else's eyes. And Erin Hogan's eyes, as well as her narrative voice, turned out to be wonderful company. She's intelligent, has a wry sense of humor, and seems completely unpretentious. She's just a really swell literary companion; reading Spiral Jetta felt like I was making a new best friend. There's an intimacy that comes with reading first-person memoirs, and I liked Hogan's companionship so much I found myself wanting that road trip to go on forever.  I actually felt sad and even a bit lost when I finished reading the book, because I knew that Erin and I wouldn't be hanging out anymore. (Don't worry, I have resisted the temptation to stalk Ms. Hogan and convince her to be my new best friend IRL. I think literary fantasies should remain literary fantasies, no?).
At any rate, your experience of the book will certainly be different from mine, but I promise reading Spiral Jetta will be worth it – and it's a relatively short read, at about 176 pages. (You can read an online excerpt here, and an interview with Erin Hogan here). And for all of August, it's free, goddammit! So go download it already. It may even inspire you to make Hogan's journey across the landmark land art of the American West your own.
New Yorkers: Tonight, make sure and check out this show that features our own Amanda Browder from 7-9 pm. Full details below!
Culturefix, an alternative and multidisciplinary gallery, presents "Opening Reception". This exhibition presents a series of one night solo shows by artists who work in alternative mediums. As a gallery and event space it is only during opening events in which the audience is acutely conscious of the artwork that our installation possibilities display. The five artists in this exhibition: David J Merritt, Audra Brandt, Stephan Moore, Amanda Browder, and Joe McKay will each take over the gallery for a one night and one day solo exhibition which utilizes the entire space, a feat which is impossible amongst our regular programming. Surrounding these temporary solo exhibitions will be 2 dimensional works created by the participating artists representing their process, exhibiting preliminary sketches and documentation of the 3 dimensional works. To fully represent alternative mediums, the 5 artists showcased each represent a different alternative medium: sculpture, new media, film, installation, and sound art.
Through the mediums each artist uses, the space will be transformed. David J Merritt's mass of tactile sculptures reminiscent of amulets and idols will be scattered among the space. Stephan Moore's ephemeral sound installation of oscillating fans and other junkyard objects creating a cacophony of broken down technology will fill the space from a set of 6 speakers. Amanda Browder will transform the physical space using a mass of brightly covered cloth leaving little trace of the gallery environment. Joe McKay's interactive game of killing virtual cockroaches will cover the gallery walls. Audra Brandt will be projecting a series of super 8 films whose mechanisms will become structural, causing a multi- sensory and non-traditional experience of film viewing.
This constant evolution of the culturefix gallery parallels its mission of allowing inhabitants to define the culture of its space. Over a twelve day span, culturefix gallery will host 5 opening receptions, one from each participating artist. Between one-day exhibitions, the gallery will be open to the public to peruse the group exhibition on the walls of the gallery. By exhibiting the sketches and documentation of the pieces being showcased, Opening Reception also explores ideas of time – exposing the past, present, and future of an artwork.
Friday 29th of July 7-9pm
CULTUREfix – 9 Clinton St. between Houston and Stanton, NYC
enjoy a picnic and beverages…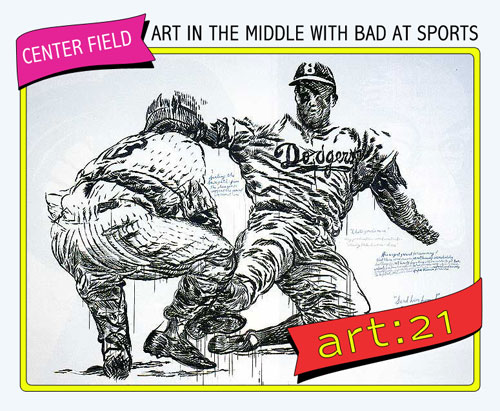 Our latest "Centerfield" column posted today on Art:21 blog…make sure to check it out! Caroline Picard interviews Matthew Goulish, co-founder of the collaborative performance group Every house has a door. A brief excerpt follows; go to Art:21 to read the piece in full!
This June, I saw a performance by Every house has a door, a collaborative group founded by Lin Hixson and Matthew Goulish in 2008 to "create project-specific collaborative performances with invited guests." Having seen the piece in its intended context I want to ask questions outside its bounds. I appear like a kind of critic—a person asking the artist for something outside the presentation of a complete work. They're Mending the Great Forest Highway is a dance for three men (Matthew Goulish, Jeff Harms, John Rich), with a DJ (Charissa Tolentino) and a narrator (Hannah Geil-Neufeld). It took place in the second floor gymnasium at Holstein Park in Chicago. Participants enacted a score of movement and sound presenting thematic elements from Hungarian folksongs, the tritone, and Benny Goodman. I wanted to ask about crisis, the framework of the theater, and the vocabulary of gestures—oblique responses to dance. Perhaps by asking them, perhaps through Goulish's response, you might catch a ghost of the dance, left behind and buzzing in those summer-hot gymnasium walls.

Caroline Picard: How do you conceptualize the context for performance—do you frame it within traditional theater? How does time function within that context?

Matthew Goulish: Yes, theater as the container – less a set of conventions than of structures. Into it we place, let's say, dance, writing, and music. We keep those elements distinct for clarity. Theater allows their coherent composition in time, the way the parts fit together. What happens first, second, last? What happens where? What echoes, and when? We have a sense of the parts in themselves (dance, music, writing), and another sense of the parts in relation as a cumulative experience (theater).

Can we call any room a theater if it contains theatrical events? What if we set up chairs in the afternoon at one end of a gymnasium that has windows and skylights? A little room noise might help the performance in unexpected ways. If we begin a 60-minute performance on June 18th at 2:00 PM, where will the sun be in the skylight when we end? (Read more).
Does information really want to be free? *Should* it be free? These questions came to my mind upon learning that Aaron Swartz–founder and director of Demand Progress, co-founder of Reddit, and founder of  watchdog.net, a site dedicated to making it easier for people to locate and retrieve government data–was arrested yesterday for allegedly downloading too many journal articles from JSTOR. From The Boston Globe:
Aaron Swartz, a Cambridge web entrepreneur and political activist who has lobbied for the free flow of information on the Internet, was charged in federal court with hacking into a subscription-based archive system at MIT and stealing more than 4 million articles, including scientific and academic journals.
Swartz, 24, who at the time of the alleged hacking in fall 2010 was a fellow at Harvard University's Edmond J. Safra Center for Ethics, was charged in an indictment unsealed yesterday with wire fraud, computer fraud, unlawfully obtaining information from a protected computer, and recklessly damaging a protected computer. He faces up to 35 years in prison and a $1 million fine.
Although just 24, Swartz has long been an activist for the free flow of information, and has published many articles decrying the influence of corporate money on nonprofit institutions, the media, and public opinion in general. Until recently Swartz was a fellow at Harvard University's Edmond J. Safra Center for Ethics. It's not yet clear whether Swartz meant to make the JSTOR documents he downloaded freely distributable to the public or if he planned only to study those documents as part of his ongoing research on the influence of corporate money on institutions. You can read further details about Swartz's indictment on Kottke here.
Swartz's case may not be as easy to get behind as that of Ai Wei Wei, whose ongoing oppression at the hands of the Chinese government has appalled and fascinated free speech activists and the international artworld for a number of months now. Swartz's actions fall into that grey area of ethical (and obviously legal) conduct that, for some, makes his current predicament harder to rally behind. But to me his case signifies ideas no less vital for us to consider than those represented by Ai Wei Wei's situation – and it's happening in the United States. If you want to follow Swartz' case, or take action (which, not surprisingly, means going to a website and signing a petition), go to Demand Progress, the site for whom Swartz currently serves as director.