I'd never heard of the Ordway Prize until a few weeks ago, when two highly respected Chicago-based arts professionals (artist Tania Bruguera, who also lives in Havana, Cuba, and Hamza Walker, curator at the Renaissance Society at the University of Chicago) were included on this year's list of finalists. The Ordway Prize is a relatively new award, established in 2005 as a joint effort by Creative Link for the Arts and the New Museum. The selection process for the Ordway Prize is outlined on the New Museum's website as follows (excerpt):
The prize acknowledges the contributions of a Curator/Arts Writer and an Artist whose work has had significant impact on the field of contemporary art, but who has yet to receive broad public recognition. Finalists for the Ordway Prize are midcareer talents between the ages of forty and sixty-five, with a developed body of work extending over a minimum of fifteen years.
Now, it's always great to see behind-the-scenes culture professionals get recognized for their outstanding work. This goes double for curators, who get paid relatively little and yet play such a critical role in bringing art to the public. So if a little cash gets thrown at said curators while recognizing their contributions to the field, that's nice too. I'm not of the view that culture workers need to be poor to have integrity. That said, however, I think that $100,000 is an inordinate amount of money given the fact that a) the prize is unrestricted and b) this year's nominees, as well as past Ordway Prize winners, are institutionally-affiliated curators as opposed to those working independently and earning income on a project-by-project basis. [Read more]
Over the weekend, we received a tip about an online controversy surrounding news that New York artist Tom Sanford's 2005 painting "The Assassination of Dimebag Darrell Abbott" will soon be auctioned for charity at Philips de Pury. (Note that Sanford is one of Bad at Sports' regular New York correspondents). The painting depicts legendary guitarist and Pantera founder Darrell Lance Abbott on the night of his murder onstage during a Damageplan performance in Columbus, Ohio. (Also killed that night were Jeff Thompson, 40, Nathan Bray, 23, and Erin Halk, 29). When the website Blabbermouth posted a story announcing that the painting would be auctioned, numerous metalheads voiced a renewed sense of outrage and disgust via comment boards and forums like this one on Metal Underground. (Metafilter also picked up on the controversy).
Much of the anger seems to stem from the idea that Sanford is exploiting Abbott's death by depicting the much-loved figure in a disrespectful and even lurid manner. And yet, if you read through the discussion on Metal Underground's site, amongst the myriad "what a douche" comments and death threats (!) you'll also find some polite dissension from metal fans themselves, as in this comment, by MetalBro4Life: [Read more]
New City art editor, Frieze contributor, independent curator and culture essayist Jason Foumberg has a new website, designed by Ryan Swanson, that kicks ass. Professional writers know how important it is to have all of their written material online in an easy to access format. Foumberg's site shows an eye for typography and design and has tons of flair. It's actually fun to navigate – check it out for yourself!  Bravo to Ryan Swanson for his bang-up job here, and to Foumberg for reminding us that writers and other culture workers deserve to have gorgeously designed personal websites too.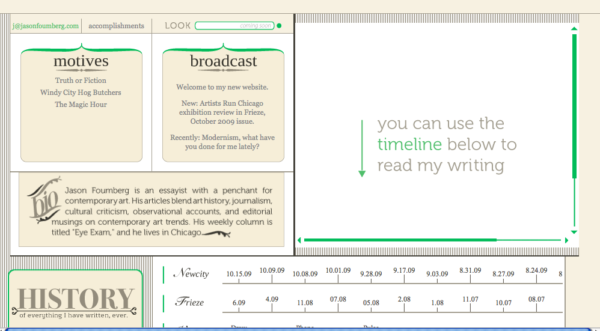 As part of a new initiative to bring contemporary art into hospitals and other health care facilities around the country, RxArt, a New York nonprofit group headed by Diane Brown, will install several pieces by Jeff Koons in the CAT Scan room of Advocate Hope Children's Hospital in Oak Lawn, Illinois, a feature in last Sunday's New York Times Style magazine says. The works are slated to be installed on every wall of the room sometime this month, and include a large painting of four smiling monkeys on the pediatric CAT Scan machine itself.
Koons' installation is RxArt's most ambitious to date. Brown told the Global Giving network that the idea to install artwork in a CAT Scan room came from her own personal experiences receiving a CT Scan.
"Rather than a scary experience in a cold white space, we hope children undergoing this test will feel like they are entering into a fantastic visual adventure.

"The fact that the Hope Children's Hospital project is centered on Koons' transformation of the CT Scan machine is especially significant to the origins of RxArt. The initial idea for RxArt came to me when I was undergoing a CT scan and found that the only way to distract myself from the frightening procedure was to imagine an artwork (a Matthew Ritchie painting) going up the wall and across the ceiling. By entering into this artist's complex imagery, I was mentally transported out of the sterile environment of the hospital. RxArt was founded based on the belief that art has the ability to not only transcend but to transform its settings and viewers."
Other projects by artists such as Rob Pruitt, Assume Vivid Astro Focus, and Will Cotton that have already been installed in various hospitals can be viewed here.
Via AO Art Observed.
Someone just sent me a link to this story with the comment "Yeah, they got that right." CNNMoney's website reports that curators are among the worst paid and most nerve-wracked professionals. My own personal experience in the field supports such findings, but I must admit to taking a certain sick schadenfreude-type pleasure in seeing it all laid out there with percentages and everything. Other stressful, shittily paid jobs include social worker, minister, parole officer and news reporter.  The report says a curator's median pay is $46,500 and 89% of curators say their job is stressful.
On a related note, the website reports that some of the 50 best jobs in America include Systems Engineer, CPA, and Speech Language Pathologist. Make of this what you will.
Via Lindsay Pollock.