"Forever Vegetal" is the head-scratching title given to two concurrent solo shows at Roots and Culture featuring new work by Brian McNearney and Edra Soto. The exhibition opened earlier in December and will close this weekend on January 16th. Over the weekend I spoke (o.k., emailed with) Edra Soto about the new works she created for the exhibition, which tackle all the Big Issues: Life and Death, Heaven and Hell, Roman Catholicism, Michael Jackson's pet mouse Ben, and Soto's lovable canine, Foster, aka "the Jesus of Dogs."
Your show at Roots and Culture begins with a piece that takes the form of a shrine and is titled "In Memory of Who I Was." To me it seems to frame the entire show.
Edra Soto: "In Memory of Who I Was" is a shrine that commemorates my innocence, my past and the person I will never be again. I was also trying to make a memorial for myself as form of representing a transition. It's never been a problem for me to find ways of representing art, but when I've been involved in great projects that have taken a lot of time and emotional investment, like my latest show at the MCA, it was making perfect sense for me to "kill myself" theoretically, to be able to speak about something different. There are a few transitional pieces in the show.
Initially, I was trying to make an art piece that compiled photos of me from childhood to the present, and have a small memorial of who I was until yesterday. I have explored the concept of time passing with memorials, like in A Year In Review and Landfill exhibited at Gallery 400 and Memorial at Polvo, all in 2005. [Read more]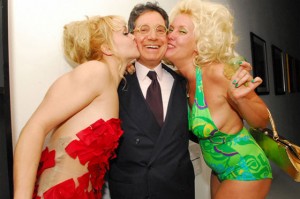 The art press and art blogosphere are all a-Twitter over an article in last Friday's L.A. Times suggesting that New York big-man art dealer Jeffrey Deitch is among the top candidates for the directorship of L.A.'s Museum of Contemporary Art. You'll recall that MOCA has been without a leader (save for Eli Broad's not so behind-the-scenes machinations) since Jeremy Strick resigned in disgrace over his poor handling of MOCA's finances, which nearly ran the institution into the ground. [Read more]
Thanks to my trusty feedreader, I've come across a contrasting viewpoint to the Art Work project that I posted on earlier this morning. On his blog Lebenskünstler Randall Szott notes that there are plenty of people who respectfully disagree with the underlying assumptions of Temporary Services' new project. A tiny slice of the lengthier argument put forth by Szott follows:
"The idea that calling what you do "work" makes it "legitimate" or "meaningful" is the crux of the problem I have with much of what one finds in Art Work. This sort of thinking is everywhere on the left and Marx does in fact provide the theoretical mirror in which many self-identified "cultural workers" (I always shudder at this phrase) see themselves. Jean Baudrillard, the still mostly Marxist incarnation of which Bryan-Wilson cites, moved very quickly into a position not easily integrated within her piece or this newspaper as a whole. In his book The Mirror of Production he writes "The critical theory of the mode of production does not touch the principle of production." That is to say that Marxist analysis too readily embraces the terms of the debate and therefore provides a mere functional critique, one that Baudrillard might note, "…deciphers the functioning of the system of political economy; but at the same time it reproduces it as model."
Read Szott's full argument here, along with comments responding to his post. Okay, and now I also feel appropriately shamed by my own use of the word 'culture worker,' which I agree can be cumbersome, pretentious, and plain-old lame sounding, but how else to encompass the different types of work we want to talk about under a single umbrella? Suggestions?
The rise of the "free economy" that Chris Anderson lauded in his book Free: The Future of a Radical Price (read Cory Doctorow's astute review of the book's arguments in the Guardian here) takes on an entirely different, and far less celebratory, meaning when applied to the work of artists, critics, curators, arts administrators and other low-paid (or no-paid) culture workers today. A newly launched newspaper called Art Work is attempting to lay bare hard truths about the flailing economy's impact on cultural production. Finally, people are starting to talk about money, explicitly and on personal terms. Or at least, they're trying to. [Read more]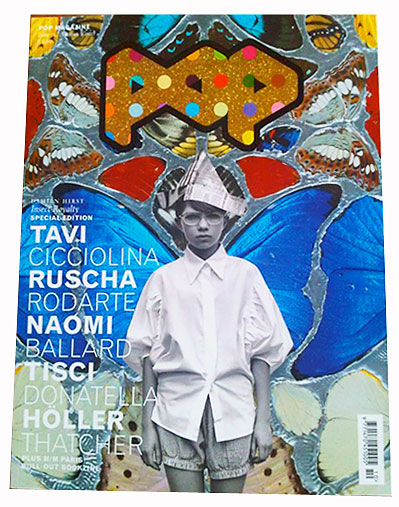 Art people, are you reading Style Rookie? If you're not, I'm here to say I think you should be. Although I myself tend to stay away from fashion and style blogs, because looking at things I could never buy for myself tends to make me feel bitter and depressed and old, I am obsessed with Style Rookie. It's a blog about fashion and pop culture written by Tavi Gevinson, a thirteen year old girl who lives in a suburb just outside of Chicago (I'm thinking it's the same one that I live in, but who knows). Tavi–already famous enough to be known by her first name only–was recently profiled in the Chicago Tribune in an article on successful teen fashion bloggers who are garnering attention not just from fashion-conscious tween readers but from fashion designers, stylists, and magazine editors themselves. (Read the Tribune's article, published on December 30, 2009, here). The article describes Tavi's rise to fame amongst the fashion set, and also contained some sniping about the pint-sized blogger's success from a few jealous hags (sorry, I meant to say "fashion editors"). [Read more]