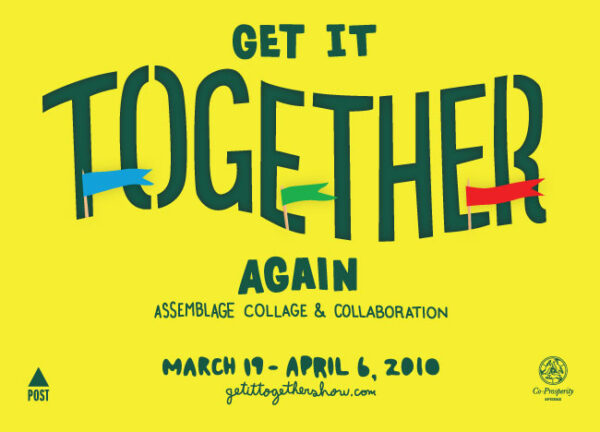 Get out your scissors and glue: Chad Kouri of the Post Family and Ed Marszewski of Co-Prosperity Sphere are unveiling a new incarnation of last summer's "Get It Together" exhibition – it opens this Friday, March 19 from 5-7 and it sounds like so much fun! Full details below; make sure to scroll down to the bottom for a really beautiful video of last summer's "Get It Together" event. I love all the Chicago art hipsters sitting around, totally engrossed in their cutting and pasting, just like scrapbookin' mamas!! Super sweet.
After the success of "Get It Together" in July 2009 at Co-Prosperity Sphere we are running the show again at Chicago Tourism Center Gallery with an extended lineup as well as new work from our old friends.

"Get it Together Again," is an exhibition of assemblage, collage, and collaborative work by local, national, and international artists. Organized by Chad Kouri of the Post Family and Ed Marszewski of Co-Prosperity Sphere, the exhibition includes over 25 works on paper, mixed media, and installations including a grocery store with hand drawn products made out of paper. Gallery visitors of all ages can sit down at a collage table and create their own work. Materials such as magazines, scissors and glue will be provided or bring your own.

The Show includes works by: Adrianne Goodrich, Alex Valentine, Anthony Zinonos, Ben Speckmann, Chris Roberson, Chris Schreck, Doug Shaeffer, Emily Clayton, Greg Lamarche, Hisham Akira Bharoocha, James Harry Ewert Jr, Joe Tallarico, Jordan Martins, Mario Wagner, Matt Nichols, Matthew Rich, Michael Pajon, Netherland, Peter Skvara, Richard Smith, Rod Hunting, Ron Ewert, Ryan Duggan, Sarah Jeziorski, Scott Massey, Stephen Eichhorn, and Tom Torluemke.

Chicago Tourism Center Gallery
72 E. Randolph Street
Opening reception March 19th, 5 – 7pm

Show runs March 19 – April 6, 2010
Thursday, March 25 at 12:15pm, artist talk
Thursday, April 1 at 12:15pm, hands on collage workshop

HOURS: Monday to Thursday, 8am – 7pm; Friday, 8am to 6pm; Saturday, 9am -6pm;
and Sunday, 10am – 6pm. Admission to the gallery and exhibition events is free.
Get It Together from LanjersOaken on Vimeo.
Meg emailed me about this forthcoming Ed Paschke exhibition, curated by Jeff Koons, a few months ago. I can't remember if WTF?? was actually stated in the email or just implied, but we both kind of rolled our eyes and thought, whatever. I replied that the Koons curation part maybe wasn't so bad — Koons was Paschke's assistant, after all, and Koons has often expressed his admiration for Paschke, who died in 2004 (see the MCA Chicago's 2008 exhibition "Everything's Here" for one example).  But this morning I noticed the following Tweet: "Jeff Koons gets a second chance: his show of former employer Paschke's work @Gagosian opens Thursday." Ugh. It more than sucks that this exhibition of Paschke's work, which no doubt will rock the house, is already being framed as some kind of Jeff Koons extravaganza. Or even worse, as Koons' chance at redemption, a way to show that he does, indeed, have some fragment of a soul.
Luckily, the Gagosian Gallery itself has thus far refused to improperly hype this show (other than by having Jeff Koons curate it in the first place, some might argue). But the gallery's press release is comprehensive and focused. At the top, the text notes that Koons worked as Paschke's studio assistant in Chicago in the mid-1970s while the former was attending the School of the Art Institute. A line or two follows about Koons' admiration for Paschke. But the rest of the two-page text is devoted to Paschke himself, as it should be. It's a very well-written  release, so I don't feel the need to paraphrase. A couple of excerpts:
"Born in Chicago in 1939, Paschke studied at the School of the Art Institute of Chicago during the
height of the Imagist movement in the late fifties, while supporting himself as a commercial
artist. He avidly collected photograph-related visual media in all its forms, from newspapers,
magazines, and posters to film, television, and video, with a preference for imagery that tended
toward the risqué and the marginal. Through this he studied the ways in which these media
transformed and stylized the experience of reality, which in turn impacted on his consideration
of formal and philosophical questions concerning veracity and invention in his own painting. At
the same time, he sought living and working situations — from factory hand to psychiatric aide –
– that would connect him with Chicago's diverse ethnic communities as well as feed his
fascination for gritty urban life and human abnormality. Thus he developed a distinctive oeuvre
that oscillated between personal and aesthetic introspection and confronting social and cultural
values.

****

"Unlike most of his Pop predecessors with their unthreatening embrace of popular culture,
Paschke gravitated towards the images that exemplified the underside of American values —
fame, violence, sex, and money – a preference that he shared with Andy Warhol, who was one
of his foremost inspirations. Although long considered to be an artist of his own time and place,
his explorations of the archetypes and clichés of media identity prefigured the appropriative
gestures of the "Pictures Generation," and for a new generation of global artists his totemic,
eye-popping paintings have come to embody the essence of cosmopolitan art."
A fully illustrated catalogue is being published in conjunction with the exhibition, with essays by Koons (natch), Dave Hickey, and reprints of significant texts on the artist by Richard Flood and Dennis Adrian. And presented concurrently here in Chicago will be a survey show titlted "Ed Paschke's Women" from March 26 through May 22, 2010, at Russell Bowman Art Advisory.
Paschke is a well-known figure to art historians in Chicago and the Midwest, but he certainly never attained star status by anyone's measure. No doubt it'll be tempting for NY critics to try and frame Paschke's work in terms of Koons, or better yet, to frame the latter's work in terms of the former. But I hope those who see Paschke's Gagosian show will resist this temptation and instead take his work at face value, as it were, without politicizing it or using it as an opportunity to disguise the fact that the artist they really want to write about is Jeff Koons (again….yawn.). It's a shame that this show risks being framed via the hand that Jeff Koons has played in "presenting" it, but make no mistake: this is an Ed Paschke show, and from its outlines, at least, it promises to be a fairly significant one.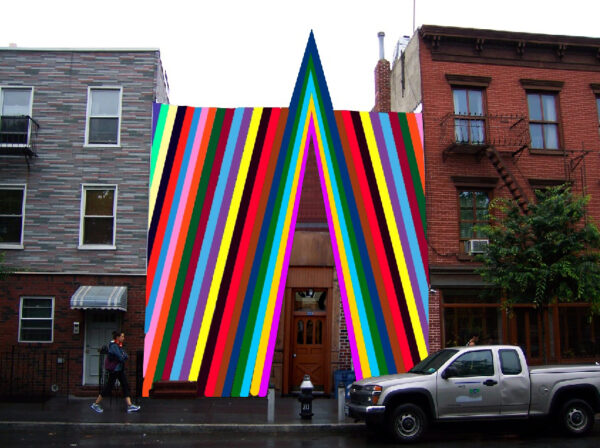 Hey all, Bad at Sportswoman and Brooklyn-based artist Amanda Browder, along with the North Brooklyn Public Art Coalition (NbPac) are in the process of constructing Future Phenomena, Browder's temporary public art project sponsored by NbPac and the Brooklyn Arts Council. The goal is to create a fabric public art sculpture on the facade of a building in Greenpoint, Brooklyn, NY. In her description of the project, Amanda notes that "Greenpoint and Williamsburg are at the center of the current transformation of our economic life from mass consumption, with its end product of ever more degraded earth, water, and air, to one based on feedback, reuse, recycling…mass re-consumption. Greenpoint (bordered on the north by a waterway so polluted that it has rendered state and local governments catatonic) and Williamsburg are century-long experiments in the sustainability of urban life.
"The public display of art is a critical element in generating and focusing neighborhood responses of the realities of gentrification, ancient toxic waterways, and urban migration. Public art can bring life and awareness to static architectural objects but the "Future Phenomena" will be not only a spectacle of bright colors and flowing shapes, but also a social space for pedestrians, participants and residents. Into this space will flow work, materials, comments, all manner of human energy, to be recycled until the project vanishes, leaving behind a memory of the power of art to transform the mundane."
If you live in the NYC area, you can help bring this immense, sewn artwork to life at three NbPac-hosted COMMUNITY SEWING DAYS. All of the details provided directly from the source can be found below….
Saturday, March 27th
St. Cecilia's Convent (with Round Robin)
21 Monitor Street, Greenpoint, Brooklyn
12-4pm
Sunday, April 18th
Lutheran Church of the Messiah
129 Russell Street, Greenpoint, Brooklyn
2-5pm
Saturday, May 1st
St. Ann and Holy Trinity Church
157 Montague Street, Bushwick, Brooklyn
2-5pm
DONATE – Contribute your unused fabric to help make the piece! We are covering a building and we need a lot of materials! Looking for cotton, sheets, pants, and non-stretchy fabric, and sewing tools such as needles, thread, and scissors. We are also seeking to borrow sewing machines for just one day or donations of machines for the project. For questions or to arrange donations, send an email to anne.palermo@gmail.com with "NbPac" in the subject header.
CUT – Help cut fabric to form the chevron shape which will make a true spectacle!
SEW – Help sew with easy straight stitches on a sewing machine (tutoring available!) to physically bind the donated fabrics into it's awesome shape.
CONVERSE – Help cheer on people working, make new friends and meet other community members, learn and collaborate
It will be a fun day of volunteerism and artmaking! Bring your craft-loving family members and friends!
Future Phenomena will be installed in Greenpoint, Brooklyn in Spring 2010. To learn more about this project, visit:
http://futurephenomena.wordpress.com/2010/03/04/about-the-project/.

Tomorrow afternoon (Thursday March 11th), our own Duncan MacKenzie and Richard Holland will moderate a roundtable discussion at the Chicago Comics Symposium, hosted by the School of the Art Institute of Chicago (SAIC). The evening's events start at 4:30 pm and go on 'till 7:00. The event is FREE and is located in the SAIC Ballroom at 112 S. Michigan Ave. But wait, there's more! This is a two-day symposium exploring Chicago's place in the comic book scene so there's another round of events taking place on Friday March 12th, also from 4:30-7pm.
Full information can be found below. It's free, it's (mostly) in the evening, so nothing should stop you from going on over and soaking it all in!
The stubborn work ethic of Chicago's comic scene will be explored in the first ever Chicago Comics Symposium, hosted by the School of the Art Institute of Chicago (SAIC) on March 11th and 12th 2010. Through panel discussions with over fifteen local comic makers, the Symposium will investigate the city's influence on the comic making process, tackling the sad, serious, and silly topics that reign supreme in the realm of sequential art. All events are free and open to the public.

CCS will be comprised of four separate panel discussions with multiple artists on each and will be moderated by some of Chicago's greatest thinkers, critics and (of course) readers of comics. The questions posed to the Windy City makers will address many issues including: the tasks of self-publication, the changing cultural status of comics and the difficulty of representing identity. The queries will oscillate between common knowledge and the complexity of the nitty-gritty details, giving equal enjoyment opportunity to new readers as well as true-blue comic connoisseurs.

Comics are infiltrating movie-theaters and chain book stores, sustaining independent comic shops and edging their way into academia. Comics are made any and every where, but Chicago has a distinct community of hard working doers, makers and shakers. The event will attempt to unite and uncover the inner workings of Chicago's comics.

Attracting artists who currently live and work in the city, as well as former Chicago residents, the Symposium will bring together the old, new, big and small. Attendees include: Sarah Becan, Jeffrey Brown, Christa Donner, Surabhi Ghosh, Beth Hetland, Nicole Hollander, Paul Hornschemeier, Joey Jacks, Lucy Knisley, Ian McDuffie, Bernie McGovern, Anders Nilsen, Laura Park, John Porcellino, and Jeremy Tinder.

The Chicago Comics Symposium
Hosted by The School of the Art Institute of Chicago
Thursday-Friday, March 11-12, 4:30-7pm
SAIC Ballroom, 112 S. Michigan Ave.
Free
Email: chicagocomicssymposium@gmail.com
A few noteworthy links and stories for your midweek perusal…plus a freebie at the bottom.
****College Art Association (CAA) has made eighty-one audio recordings from the panels at last month's conference in Chicago available for download. They're kind of expensive ($149.95 for the complete Set of CAA 2010 Conference Recordings on Interactive MP3 Audio CD-ROM or MP3 download; $24.95 for an individual panel MP3 download), but if you couldn't come up with the cash to attend the conference in full, like moi, this could be a great way to access the panels you missed in person. I'll be choosy, but will most likely buy at least one.
****"Palestinian Avatars": This is fascinating; apparently, the movie Avatar and its indigenous aliens the Na'vi have been appropriated by Palestinian rights activists, who painted themselves blue and wore costumes inspired by the Na'vi during a recent protest in Bil'in, a Palestinian town divided in half by the wall. This post on Provisions Library provides further background along with some pretty brilliant analysis: "The most striking aspect of this re-appropriation of a distinctly American, Avatar meme, is the irony. And right across the barbed-wire fence opposite from Bil'in are Israeli soldiers whose weapons supplied by American taxpayers. So, as Joseph Nye would explain, that's an example of U.S. "hard power." Then, on the other side, the Palestinians to score by appropriating imagery siphoned with sophistication from the mighty currents of American "soft power." Wow. Elsewhere, you can find additional photographs of what's been dubbed the "Palestinian Avatar" protests here, along with a video of the demonstration.
****Artnet's Charlie Finch asks "Who is Dakis Joannou?" Finch speculates that Joannou's future as the Chairman of J&P (Overseas) and J&P-AVAX, both publicly traded Greek companies, "could yield two divergent prospects for a complex, interlocking business, dependent on amortization and wide debt-to-capital ratios. The first is that Dakis is smart enough and aggressive enough to take advantage of buying opportunities during a worldwide recession and increase his bottom line significantly. The second is that J&P is so overleveraged and so dependent on the luxury market that it is at serious risk of default, should its capital pipeline dry up. J&P's low stock price would indicate a potential problem in this area." If it's the latter, it's probably safe to assume that Joannou may indeed peel off some of that Skin Fruit in the not-so-distant future.
****Ikea plans to commission major works by contemporary artists Piotr Uklanski, Jeppe Hein and Jim Lambie for its "airport-sized," Moscow-based development slated for 2012.
****Auction sales for work by African-American artists surged at recent Swann sale, and the market for art by African Americans continues to grow.
****The Grand Rapids Art Museum will present GRAM and Ox-Bow: Joint Centennial Celebration Exhibition and Artist Series this summer. 30+ artists from throughout Ox-Bow's history will be featured at the Grand Rapids Art Museum in a special exhibition. (via Curated).
****I Like Your Work: Art and Etiquette: a pamphlet published by the contemporary art journal Paper Monument, addresses the topic of "manners in the art world" via interviews with 38 artists, critics, curators and dealers. Read this excerpt, a series of questions about art-world politesse posed to artists Michelle Grabner and Ryan Steadman, online here.
****Ohhhhh. So. Incredibly. Beautiful: An Elizabethan Bestiary: Retold. Go click on this one right away, you won't be disappointed.
****I am not one of those women who is "into shoes", but Dezeen's top ten list of past shoe features makes me wish I were a bit more of a fetishist when it comes to this particular area of my body. Though no way in hell would I ever wear these french bread loafers.
****Jokes: Philosophical Thoughts on Joking Matters, by Ted Cohen, is now available for free download at The University of Chicago Press website – for the month of March only. (The Chicago Blog). The U of C Press offers a free downloadable book each month, so check back to see what else they'll have available for you in the future!
****An exhibition of Grateful Dead paraphernalia opens at the New York Historical Society…and no, its not that kind of paraphernalia.
****And finally….all you need to know about Professional Female Stoners. This is not, unfortunately, a description of an up-and-coming growth sector in the jobs market.