Amidst the bountiful harvest of goodness promised by this weekend's big Chicago gallery openings, I encourage you to make time to check out a show that's already been open for several weeks:Â  Carrie Schneider's solo exhibition Carrie Schneider: The Artist's Hand, which is on view through September 26th, at Robert T. Wright Community Gallery of Art in Lake County, IL (about an hour outside of Chicago). Schneider, who moved to New York City from Chicago last year, shows photographs, films and videos spanning her early work through her latest projects. I haven't seen the installation yet (though I'm getting in the car and getting my ass out there to see it this afternoon, as soon as I finish this post), but I did write the catalogue essay for the show (a very brief excerpt from that text follows below). If you're a fan of Schneider's alluringly creepy, evocative and emotionally complex imagery, don't miss this exhibition–it's one of the most comprehensive presentations of her work yet shown.
"The hand takes on a personality of its own in Carrie Schneider's photographs and films. Whether grasping or groping, caressing or scrubbing, shadowing or doubling the movements of another person, the hand conveys a desire for connection and cathexis in abstract, gestural form. In the video On Mom's Lap (2006), we see Schneider curled in her mother's lap, the latter's face lying just out of frame. In an attempt to snuggle closer, Schneider puts her hand on her mother's shoulder. Her mother gently pushes it away. Schneider's fingers creep up again, this time more insistently, and is met with countervailing pressure from her mother's hand, which gently but firmly moves her back in a cycle of push and pull that continues until a temporary compromise is reached.
It's a primal dance, this tango of palms and fingers, parent and child, self and other, one that anyone who's experienced the messy conundrums of human intimacy (and that means almost all of us) has danced many times before. Whether it takes the form of a mirrored pas de deux or an awkward clinch on a barroom dance floor, the dance, in Schneider's lexicon of images, metaphorically enacts the ambiguous relation of self and other."
— Excerpted from "Learning to Fall," in Carrie Schneider: The Artist's Hand, Robert T. Wright Community Gallery, August 20-September 26, 2010.
File under: Huge Bummer. Via an email from Richard Holland titled "Another One Bites the Dust," I just got word that as of March 11, 2011, David Weinberg Gallery will close its doors.
Farewell to this stellar contemporary art gallery, which has had a four-year run of top-notch programming. No word yet on why the space is closing (though one always assumes that the economic climate must be a major factor), or what the future holds for its talented staff.
The press release announcing the gallery's forthcoming closure follows. Go out and show your love for this space by attending the opening for David Burdeny's show (which looks frakkin' amazing) this Friday evening!
As of March 1, 2011, the David Weinberg Gallery will cease operations as a contemporary art gallery and transition to a business office and showroom space focusing on the fine art photographic works of David Weinberg. Until that time the gallery will continue with its scheduled shows, including: a solo show featuring the photographic works of David Burdeny from September 10 – October 30, 2010; a concurrent group show featuring nine young artists from the 2010 MFA photography program at the Yale University School of Art; a show featuring the paintings of Jordan Eagles and the photographic works of Dylan Vitone from November 5 – December 30, 2010 in conjunction with the Chicago Humanities Festival; and finally, a group show featuring selected works from our acclaimed stable of artists from January 7 – February 26, 2011.

The past four years have offered opportunities to work with a talented group of artists, the reward of which is impossible to describe. We have been honored to host 30 exhibitions featuring five Guggenheim winners and two MacAurthur Fellows alongside our distinguished group of emerging artists from Chicago, New York and Los Angeles. We have been privileged to collaborate with such prestigious institutions as the Field Museum, the School of the Art Institute, the Yale University School of Art, the Chicago Humanities Festival and Marwen, to name just a few. Each of our artists offered their unique creative efforts to help make the David Weinberg Gallery a trusted and honored destination within the contemporary art scene in Chicago.

The David Weinberg Gallery has also been a pioneering force for arts education with our unique approach towards free and regular educational programming within our gallery setting. Dedicated to serving as an exceptional learning environment for elementary through college level students, the Gallery has offered opportunities to allow and foster access and understanding of the larger arts community in Chicago. In addition, we have partnered with collegiate and community institutions, including many not-for-profits, to collaborate on programs that have included lectures, workshops, professional development, and collection management. The gallery will continue to offer free education programming until the transition occurs in 2011. In addition, David Weinberg will continue his commitment to education privately through his involvement with the Illinois Network of Charter Schools (INCS) and the Marwen Foundation.

We have been profoundly honored to share our passion with you and our local arts community. Thank you.

We hope you will join us this Friday for the opening of our 3rd to last show – David Burdeny.
We're back from vacay this week, and catching up on a few weeks' worth of happenin's and art chatter. Last week, Georgia Kotretsos of art21:blog posted an interview with Mary Jane Jacob, Michelle Grabner and Kate Zeller on the School of the Art Institute's "Summer Studio" program (at which Bad at Sports happily pinged, ponged, and otherwise partook) as well as their recently published The Studio Reader, a critical anthology of writings on the artist's studio. An excerpt from art:21's interview is below; click on over for the full-length interview.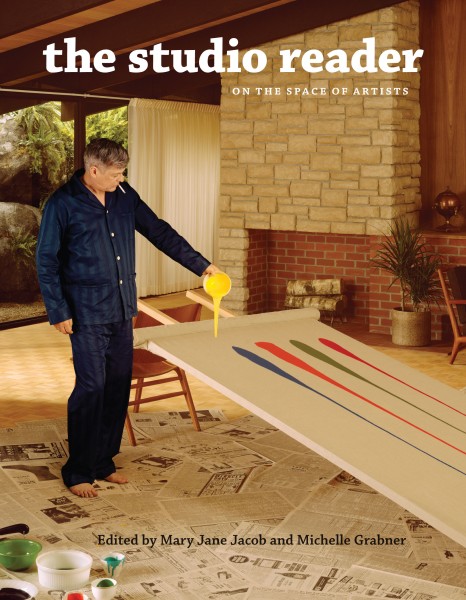 Georgia Kotretsos: Within the first few lines of The Studio Reader preface, your words speak of a condition that sum up the essence of the artist's studio: "Even when the making is not so visible, it is always present." Is it that "presence" that Tehching Hsieh is exhausting by keeping a studio space without having made any kind of art for over a decade as we read in Barry Schwabsky's essay, The Symbolic Studio?
Mary Jane Jacob: When I said that "the studio is more than a physical place and even more than a mental space; it is a necessity of being," I intended to convey that making art is an omnipresent thing; it works in consciously, semi-consciously, and in unconscious ways. It is always just below the surface, if not right there — in the head and hand. Yes, one can also think of this as non-studio practices that are less material and in The Studio Reader, we have such discussions of Tehching Hsieh or Kimsooja's thought that her body is her studio. But it is also true for the painter, the sculptor, the printmaker, and we could go on with this list; it is not media specific.
How we locate an idea for art, a solution to an artistic problem, and especially the development of a work and of an ongoing practice is by living art — and this happens in the very being of being an artist. So when I speak of consciousness, I mean that we bring to our work a certain perception and mindset, and that also is present in our life. The relation of art and life is not just a 20th-century, modern, or avant-garde position; it is an essential art condition. Cultivating a deep and wide consciousness is important to many artists because, then, that just-below-the-surface state can be called into operation, seamlessly, and with this openness or permeability, a natural flow can occur that can contribute to the making of art in the studio that we take on our back.
GK: I appreciate an introduction that offers insight and a cohesive historicity on a subject, such as the one you wrote about the studio in The Studio Reader. Your closing sentence — "Critical, ironic, sentimental, and practical, the practiced place of the studio is no longer the fixed space of inspiration that Poussin laid eyes on four hundred years ago" — wisely makes room and gives reason for the rest of the book to unfold. So, what is the studio today? What does The Studio Reader tell us?
Michelle Grabner: I believe that the idea of the studio today is unambiguously foundational to the complications and contradictions of contemporary art practice.
At its most pragmatic, it is simply a necessary space of production and display. After researching the multitude of shapes and forms comprising the contemporary studio, they are no more fascinating than oil stick, video, clay, or canvas: the studio akin to a medium. However, the studio can also be a subject. And this is where it gets interesting and I hope The Studio Reader points to conditions in contemporary art production that can be sussed out through the lens of the studio.
For example, the many artist's contributions to The Studio Reader are intriguing and insightful accounts into day-to-day studio engagement, yet it is only in their collectivity that one can start to assess how the space of production, invention, creativity, and meaning are being culled by artists today.
I think one of the most interesting disagreements in contemporary art exists between the totalizing embracement of the studio and art's democratization: "People just make things. And so I don't know whether it's so necessary to 'reveal' anything anymore," writes Cory Arcangel. With a swift retort, Houston-based critic Mary LeClere writes, "The question isn't whether it's art, but whether it needs to be. Why hold onto the name if it no longer refers to something that has a cultural, and therefore shared, meaning?"
So why the need for studios? Here within lies a complex web of contradictions that configure contemporary art and culture. The contemporary studio lays the foundation for new research into those long disparaged notions of authorship, talent, and métier.
Read the full post at art:21 blog here.

Check out our latest post on art21:blog! This time, we talk to School of the Art Institute professor Frances Whitehead about a range of subjects, including redirective practice, the Embedded Artist project, Slow Cleanup in Chicago, and 'what artists know.' An excerpt below; read the full post at art21.
What do artists know? A few weeks ago, I spent an afternoon at the Chicago home of Frances Whitehead talking about the philosophical and pragmatic underpinnings of this question. To be sure, the notion that artists have a specialized knowledge — a quantifiable skill set of processes, methodologies, and approaches that they carry with them into the world — makes some people, even artists themselves, a little uncomfortable. But for Whitehead — a sculptor, gardener, professor (she has been on the faculty of The School of the Art Institute of Chicago since 1985), and self-identified "designist" (a linguistic mashup of the terms artist and designer) — it's a liberating idea that has allowed her to situate her own practice within an expanded field of inquiry that engages sustainability, public works, and the future of design. (Read full post).
You gotta read this. William Powhida on Bravo's Work of Art. I'm no fawning Powhida fan, but reading this gave me a little faith (in what exactly, I don't know). Made me feel glad I never watched an episode of that show, and stupid for having felt a little guilty about that fact. A small excerpt below; the entire lengthy diatribe found in full on the artist's website.
"As the summer wore on I wished I could just say, "fuck it. It's the Jersey Shore of the art world," and watch the show. The problem is, I can't. It's not really the show I'm pissed about. I'm pissed off by it's very existence and the promise it offers its contestants. I'm sure you all understand the basic fucking premise of the show; respond to an assignment, win, and get a 100k and a museum show. Sweet. All you have to do is crank out some art that is marginally less terrible than what everyone else is making. It's not that you actually have to make anything good. My friend Letha used to explain that meeting the hottest guy in a bar is always a relative proposition. Sometimes, she would take home the hottest guy in the bar and still be making out with an ugly motherfucker. Despite this, and unlike the broader market where critics can ignore mediocre and bad work and collectors can chose not to buy it, someone had to win the show by default. It would have been way riskier and far more interesting if there was no guarantee anyone could win if the work wasn't good enough. I think this one of the most obvious flaws in comparing the show to life. In fact, even the losers on the show are still winners if we count recognition as a form of payment."