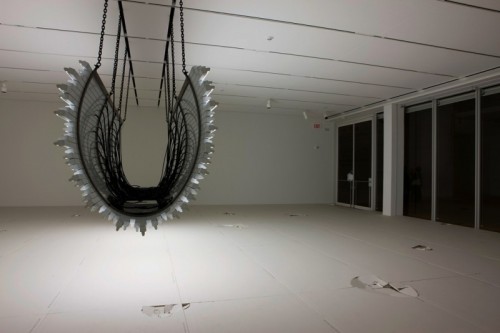 This week, we pull Duncan and Richard's 2009 interview with Monica Bonvicini from the archives, conducted during Bonvicini's exhibition Light Me Black at The Art Institute of Chicago.
"I think that perception goes through the body. I want people to come into the space not knowing how to walk, and get blinded by the work…I kept reading about Renzo Piano saying [the Modern Wing] is a temple of light. Walking around I see there are so many windows everywhere, but they're all covered up. What is all that light for?" – Monica Bonvicini interviewed by Bad at Sports.
Click here to listen to the podcast.
Herewith, Amanda Browder presents three Art Review Haikus of shows that are currently on view in New York. Art critics, note the concise blend of poetic word-play and to-the-pointness; this is how it should be done. [Read more]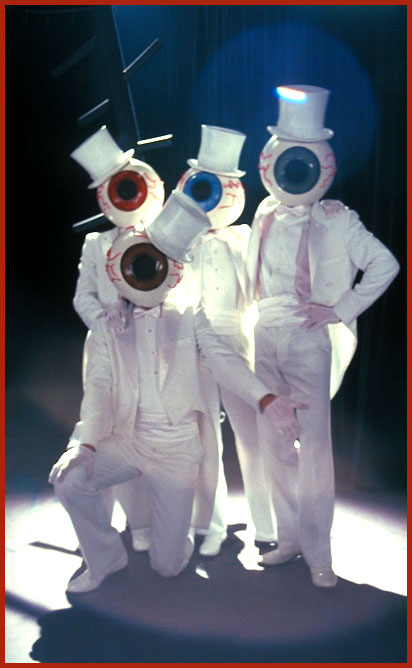 This week's entry from the Bad at Sports archives is Richard Holland's interview with Hardy Fox of the Cryptic Corporation, who acts as the agent of The Residents, an American art collective best known for avant-garde music and multimedia works.
"The definition of a band is generally thought of as a guitar player meets a drummer and they decide together…and gradually form a band. In this situation you have idea people who are not interested in one form of media over another. They're more interested in what's possible, idea wise, and to create projects. It's a band not of musicians, it's a band of idea people, and certainly one of the things they do is music, and they've always had the point of view that if the project calls for a band they'll be a band, but they are still not a band in the traditional sense. They like to be thought of as a group…. The way it's defined is that anyone who works on a project is a Resident. If there's a tour and there's a bus driver on the tour, then the bus driver is a Resident. They're residents of that project…. The Residents like to stay fresh, they have to take each project as a whole new fresh project every time and a reinvention not only of who they are but of what is possible."–Hardy Fox, Cryptic Corporation, agent of The Residents.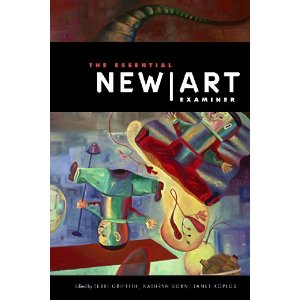 Ah yes, it's that time again! Time for another panel discussion on art criticism in Chicago. Luckily for y'all, this one is filled with great folks who really know their stuff. AND: it's been organized in celebration of The Essential New Art Examiner, a compendium edited by our friends Kathryn Born and Terri Griffith of the best writings from the venerable Chicago-based art journal. Born and Griffith will appear on tonight's panel, along with BAS' fabulous pal and dapper man-about-town Abraham Ritchie (Chicago editor of ArtSlant), Lori Waxman (Tribune), Jason Foumberg (New City), Steve Ruiz (The Visualist) and Ann Wiens, former New Art Examiner editor, all of whom represent different yet equally vibrant aspects of the Chicago critical scene. The whole shebang is moderated by critic and SAIC faculty member James Yood. So there you have it! Go go go! The panel takes place tonight, Tuesday, November 22nd at  6-8 pm in the Second Floor Ballroom of the MacLean Center (112 S. Michigan Avenue). The full, official-like press release info follows below.
The panel discussion "Art Criticism in Chicago: Past, Present, Future" will occur 6-8 pm on Tuesday, November 22 in the Second Floor Ballroom of the MacLean Center (112 S. Michigan Avenue). Organized in memory of distinguished art critics Kathryn Hixson and Polly Ullrich (both SAIC faculty and alumna), this wide-ranging investigation into the challenges and triumphs in art writing in Chicago also honors the recent publication of The Essential New Art Examiner, a compendium of essays originally printed in the most significant Chicago-based art publication of its era (1973-2002).  The panel will move forward from that to assess the current state of art criticism in Chicago, both print- and web-based, and analyze the rapidly changing milieu for arts conversation in Chicago.

The panelists are Kathryn Born and Terri Griffith, editors of the "The Essential New Art Examiner", Jason Foumberg of Newcity, Abraham Ritchie from ArtSlant: Chicago, Steve Ruiz from visualist, Lori Waxman from the Chicago Tribune, Ann Wiens, former editor of the NAE, and James Yood, moderator of the panel and former editor of the NAE.  (Griffith, Waxman, and Yood are members of the SAIC faculty, and Foumberg, Griffith, Ritchie, Waxman and Wiens are SAIC graduates.) The event is free and open to the public, and is supported with the assistance of Lisa Wainwright, Dean of Faculty, Paul Coffey, SAIC Vice Provost, and Candida Alvarez, Dean of Graduate Studies.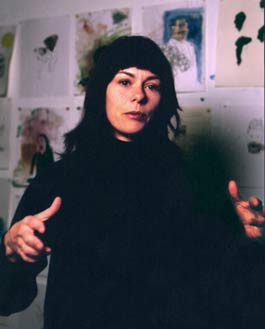 For this week's look back into the Bad at Sports archives, we've pulled a 2008 interview with Meg Cranston, conducted by Duncan MacKenzie and painter Pamela Fraser on the occasion of Cranston's exhibition at He Said/She Said, Fraser and partner Randall Szott's now-closed exhibition space in Oak Park, Illinois.
"There's a work in the show that's an ass drawn to look like it's encased in a block of ice. The title is I froze my ass and then I moved to California. It's a true story – when I was a kid growing up in New York, I froze my ass everyday in the winter. My parents were very thrifty people and they just wouldn't turn up the heat. My brother and I developed what I called heat lust. And I don't think it's hyperbolic to say that for me as a child heat was like love, and maybe better." — Meg Cranston interviewed by Bad at Sports.
Click here to listen to Episode 166 with Meg Cranston.