The University of Chicago's Smart Museum of Art is the first Chicago museum to step up to the plate and plan a continuously-screened exhibition of David Wojnarowicz' video, "Fire in My Belly," in January. The video was removed from the National Portrait Gallery's exhibition Hide/Seek: Difference and Desire in American Portraiture after religious organizations and right-wing politicians decried the piece as "anti-Christian." The video will be screened in a continuous loop from January 4 – February 6, 2011. There will also be a faculty panel discussion on the work and the debates surrounding it at a still-to-be-determined date and time in January.  Also – you know the video can easily be accessed on YouTube, right? Further details on the Smart's screening can be found below.
David Wojnarowicz: A Fire in My Belly
January 4 – February 6, 2011
The University of Chicago's Smart Museum of Art will present David Wojnarowicz's A Fire in My Belly, joining with institutions across the country to screen the 1987 video work, which was recently removed from the National Portrait Gallery's exhibition Hide/Seek: Difference and Desire in American Portraiture following protests by a religious group and conservative politicians.
The silent,13-minute version of Wojnarowicz's unfinished film will be screened from January 4 to February 6, during the first month of the University of Chicago's winter quarter. It will be shown on a continuous loop as part of the black box video series presented within the Smart Museum's contemporary galleries.
A faculty panel discussion about the work and debate surrounding it will take place on a January date TBD. It is organized in collaboration with the University's art history department and Jenn Sichel, a University of Chicago graduate student who served as a research assistant for Hide/Seek and has been a leading voice in protests against the work's censorship.
"There is no question that Wojnarowicz's video is provocative," said Anthony Hirschel, the Dana Feitler Director of the Smart Museum. "However, as a university art museum, the Smart is committed to providing access to important works and to fostering discussion around even the most challenging art. This presentation of A Fire in My Belly gives our audiences have the opportunity to discuss and judge its merits for themselves."
After it was pulled from Hide/Seek, institutions and galleries around the country have organized screenings and discussions of A Fire in My Belly. A national calendar of screenings and related events is available at www.hideseek.org. Further background and a compilation of statements from museum officials and others is available on the College Art Association's website.
Our latest "Centerfield" column is up on art:21 blog. This week, Martine Syms interviews John Riepenhoff of Milwaukee's The Green Gallery. An excerpt follows; read the full post over at art:21 blog.
In his artist statement for a recent exhibition at the Institute of Visual Arts, John Riepenhoff used Colby cheese to make a comment on regionalism. His bio describes him as an "artist, curator, gallery director, art fair co-organizer and inventor of artistic platforms for the expression on others." Although it may sound like hyperbole, all of those titles accurately define the multifaceted practice of the Milwaukee-based creative. I first encountered John at the 2006 Milwaukee International Art Fair, where I had the honor of working the Ooga Booga booth. I was stunned that John and his collaborators had managed to gather The Suburban, Gavin Brown's enterprise, White Columns, CANADA, Karma International, and more in the community center/bar/bowling alley of the Polish Falcons Beer Hall. I distinctly remember the after party: Spencer Sweeney was DJ-ing and I was dancing on a spaceship with artists from Oslo, New York, and Iowa City. It remains my most favorable art fair experience. Since 2004, John has run The Green Gallery, which offers an innovative program of fun, rigorous artwork. I've exhibited alongside John, worked with him at The Green Gallery, constructed booths with him for 12+ hours at the Swiss Institute, and long admired his work. As he's simultaneously winding down from participation in the NADA Art Fair in Miami and gearing up for his forthcoming exhibition at Peregrine Program in Chicago, I thought it would be fitting to talk with John about being an artist/curator/gallery director/art fair co-organizer/inventor in the Midwest (and beyond).
The Andy Warhol Foundation has sent a letter to Wayne Clough, The Smithsonian Institution's Secretary, demanding the reinstatement of the censored David Wojnarovicz piece in the National Portrait Gallery's Hide/Seek: Difference and Desire in American Portraiture exhibition. If the work is not reinstated, The Warhol Foundation says  it will cease funding all future Smithsonian Institution Exhibitions. Here's the text of the letter, which the Warhol Foundation posted on its website today as a press release:
December 13, 2010
For Immediate Release
Contact Joel Wachs, President, 212.387.7555
The following letter was sent today by The Andy Warhol Foundation to Wayne Clough, Secretary of the Smithsonian Institution:
December 13, 2010
Mr. Wayne Clough
Smithsonian Institution
SIB Office of the Secretary
MRC 016
PO Box 37012
Washington, D.C. 20013-7012
Dear Mr. Clough,
The Warhol Foundation is proud to have been a lead supporter of Hide/Seek: Difference and Desire in American Portraiture, but we strongly condemn the decision to remove David Wojnarowicz's video A Fire in My Belly from the exhibition. Such blatant censorship is unconscionable. It is inimical to everything the Smithsonian Institution should stand for, and everything the Andy Warhol Foundation does stand for.
Although we have enjoyed our growing relationship during the past three years, and have given more than $375,000 to fund several exhibitions at various Smithsonian institutions, we cannot stand by and watch the Smithsonian bow to the demands of bigots who have attacked the exhibition out of ignorance, hatred and fear.
Last week the Foundation published a statement on its website www.warholfoundation.org, condemning the National Portrait Gallery's removal of the work and on Friday our Board of Directors met to discuss the long-term implications of the Museum's behavior on the Foundation's relationship with the Smithsonian Institution. After careful consideration, the Board voted unanimously to demand that you restore the censored work immediately, or the Warhol Foundation will cease funding future exhibitions at all Smithsonian institutions.
I regret that you have put us in this position, but there is no other course we can take. For the arts to flourish the arts must be free, and the decision to censor this important work is in stark opposition to our mission to defend freedom of expression wherever and whenever it is under attack.
Sincerely yours,
Joel Wachs
President
cc: Ms. Patricia Stonesifer, Smithsonian Chairwoman of the Board
Directors of Smithsonian Institution museums
Board Chairs of Smithsonian Institution museums
Like many other people, late last week I received an email from Chicago gallerist Rowley Kennerk announcing that he would be closing his gallery on December 20, 2010. In typical fashion for this gallery, the email was concise without being cold. The email provided few other details other than to say that there would be a closing exhibition lasting four days from December 15 – December 20th and to provide a link to this video:
I was personally saddened by this news. And not just for the typical, 'another Chicago gallery bites the dust' reasons (actually, I've found Chicago galleries to be rather hardy when it comes to their own longevity). Rowley's gallery tended to feature the type of art that hits at my weak spots — I've always thought of it  as a place for super-refined conceptual work that, in turn, made the viewer "work for it" — i.e. work for meaning in the absence of easy satisfaction.  The whole space felt kind of withholding to me – the lack of information provided for each show being one example of this (though Rowley was always more than happy to talk me through any aspect of an artist's work when I asked questions). I'm not sure Rowley himself would agree with my assessment of his program, mind you – that's just my take. There was a certain unyielding quality to the way the gallery's shows were presented – each exhibition demanded that you spend time with the work on view, and think and re-think that body repeatedly. Rowley did not show one-glance-and-you'll get it art. For all of these reasons I have the utmost respect for him as a programmer and a gallerist, even if his shows did not provide me with the easy viewing pleasures that I sometimes crave. Especially because of this.  I do not always feel like putting in the effort that art often requires, yet as last week's Smithsonian debacle has shown, this type of laziness can can have deadening, deadly effects.  Rowley's shows invariably demanded the utmost of my intellectual and perceptual skills, and I quickly learned that it was never a smart idea to try and breeze through the space quickly. The works on Rowley's walls required time to absorb. There isn't another gallery quite like Rowley Kennerk in Chicago right now, and I know I'm not the only one who will really miss this space. I don't know what Mr. Kennerk's future plans are, but I hope they involve Chicago, and more tough-minded presentations of art that this exceptionally friendly gallerist has excelled at for the past several years.
Now, mark your calenders for Rowley Kennerk's last show:
Gallery Hours During Exhibition:
Wednesday, Dec.15, 12-5pm
Friday, Dec. 17, 12-5pm
Saturday, Dec. 18, 12-5pm
Monday, Dec. 20, 12-5pm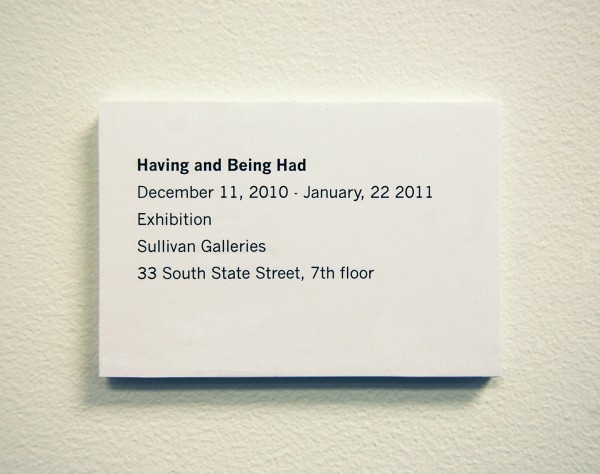 Tomorrow students at the School of the Art Institute of Chicago will unveil four new exhibitions in the Sullivan Galleries, including Having and Being Had, a show that explores "the ritual of curatorial practice and meaning-making in museums." The latter exhibition also includes a website featuring Q&As on curatorial practice with Chicago curators, cultural practitioners, and me, whose 'practice,' such as it is, falls into neither category. All four shows look really interesting – an opening reception for them all will take place tomorrow evening, Friday, December 11, from 4:30-7:00 p.m. in the Sullivan Galleries, 33 S. State St., 7th floor. Read on below for details on Having and Being Had, along with descriptions of the three other shows on view.  All shows run through January 22nd (note that the galleries will be closed for the holidays from December 24 – January 2nd).
Having and Being Had
Having and Being Had stages a performance on the ritual of curatorial practice and meaning-making in museums. As the title suggests, curators and audiences are as much authors of a legitimizing narrative as they are framed by it. The curators of this exhibition complicate our expectations of museum display by inviting the dynamic participation and active imaginings of the viewer. Having and Being Had invites audiences to reconsider the ways in which language, collections, object value, and display technique seduce audiences with illusions of access and objectivity. Art exhibitions educate and entertain, but do they also mislead and deceive the viewer? Having and Being Had exposes curatorial hierarchy, dismantles curatorial voice, and manipulates display space to engage audiences in the power of their own experiences. On display are the ethics of curatorial practice and the viewers' imagination.
All the best,
This exhibition features new work by the artists and writers in Text Off the Page 2010, including collaborative projects, performances, installations, and language-based projects.
Featured artists: Shanita Bigelow, Troy Briggs, Annette Elliot, Sarah Jones, Nazafarin Lotfi, J.M. Lowe, Joel Parsons, David Scheier, Corkey Sinks, Jillian Soto, Hurmat Ul Ain, and Colin Winnette.
An evening of Readings/Performances in response to works in the exhibition will be held on Saturday, December 11 at 6:00 p.m. in the Sullivan Galleries.
Channel Channel Channel Channel Channel Channel Channel Channel
The eight artists participating in the Video Installation course attempt to investigate, analyze, and confront various aspects of this practice by focusing on issues of separation and contact. Their work tackles formal questions emerging from constructing multichannel installation, as well as from the intersection of a single-channel, time-based medium with a given space and performed actions.
Featured artists: Emilie Crowe, Lindsay Denniberg, Marco Godoy, Mikey McPariane, Brianne Milder, MZL, Wang Ye-Feng, and Courtney Bird Ziegler.
Stories of Relativity
How do we relate to one another? The nine artists in this exhibition explore the complex nature of human connectivity, considering how time, identity, and interpersonal tensions shape our relationships and affect our interactions.
Featuring recent work by: Hope Esser, Jang soon Im, Je Je Je Jiyeon Lim, Zihan Loo, Cheryl Pope, Casilda Sanchez, Chryssa Tsampazi, Andrew Norman Wilson, and Wei-Hsuan Vicky Yen.
Curated by Amelia Love (MA 2013), Curatorial Assistant, Department of Exhibitions