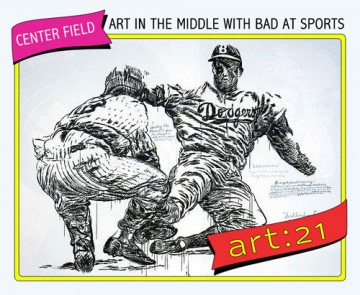 It is time once again for another edition of Fielding Practice, Bad at Sports' Chicago-focused podcast produced for the Art21 Blog! In this month's edition, we switch up formats and focus on a single topic: The Essential New Art Examiner (Northern Illinois University Press), edited by Kathryn Born, Janet Koplos and Terri Griffith, an anthology of writings from Chicago's only major art periodical. Duncan MacKenzie, Dan Gunn and I sit down with Terri Griffith to get a behind-the-scenes look at the making of this anthology and learn why the NAE still inspires impassioned discussion today, a decade after it folded. And as always, we have our monthly picks for events and exhibitions taking place in the Chicagoland area and beyond. Click on over to the Art21 Blog to listen to the podcast and see our picks, and as always, thank you so much for listening!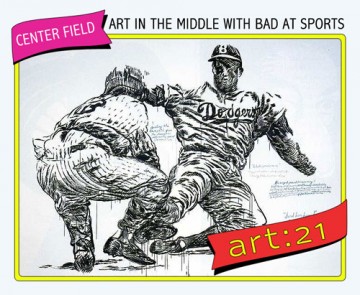 Our latest podcast produced for the Art21 Blog just went live — check it out! This month, Duncan, Dan Gunn and I review the group exhibition Feast: Radical Hospitality in Contemporary Art on view at the Smart Museum of Art at the University of Chicago, and we also talk about the pleasures and perils of making art in a city that is not New York. Plus, our monthly picks of the art stuff we're most looking forward to in the coming weeks and months. Click here to be taken to Fielding Practice Podcast #13: "Feast" (or Famine?) on the Art21 Blog. Thanks to everyone for listening!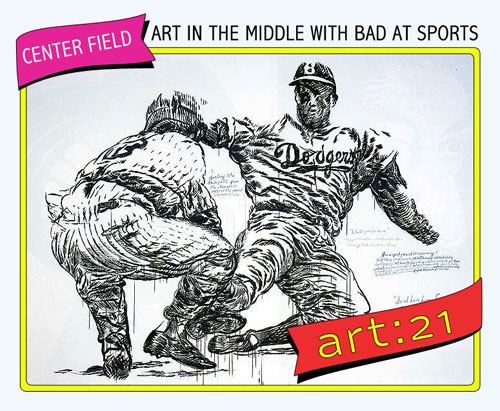 The latest episode of "Fielding Practice," the Chicago-centric podcast/gabfest featuring Duncan MacKenzie, Dan Gunn and me has just been posted on the Art21 Blog as part of Bad at Sports' ongoing Centerfield column.  This week, regular panelists Duncan MacKenzie, Dan Gunn and I discuss the demise of Next/Art Chicago–which up until last week had been the US' longest-running art fair –and the subsequent rise of Expo, a new Chicago-based art fair slated to debut on Navy Pier in September 2012. We also review current exhibitions by Laura Letinsky at the Museum of Contemporary Art, Chicago, and Molly Zuckerman-Hartung, whose show Negative Joy is on view at Corbett vs. Dempsey gallery, plus we offer some "best bet" picks for the coming month in Chicago. As an added bonus, this week we keep the conversation blissfully short, at a running time of approximately 38 minutes — as always, thank you so much for tuning in!
Click here for Fielding Practice Episode 12 on the Art21 blog.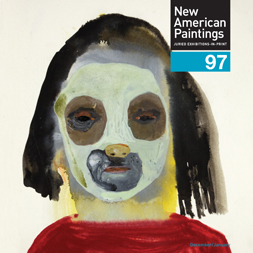 This just crossed our email inboxes, and we know Bad at Sports has more than a few listeners/readers who are going to be interested in submitting work to this competition. Note the deadline is coming up soon! So read on, and get those slides and jpegs in order.
New American Paintings 2012 Midwestern Competition
Deadline: 2.29.12 (Midnight EST)
Juror: Lisa D. Freiman, Senior Curator and Chair of the Department of Contemporary Art, Indianapolis Museum of Art
New American Paintings is a museum-quality, soft-cover art periodical, published bimonthly by The Open Studios Press. Each 184 page volume is a regional exhibition-in-print, selling for $20 at 1,500 bookstores, museum shops and art supply stores nationwide. The books have become periodical resources for collectors and art world professionals.
Competition winners retain all rights to their images and pay nothing to appear in New American Paintings.
 Now accepting entries from:
IL, IN, IA, MI, MN, MO, OH, and WI
The competition's 40 winners will appear in the Aug/Sept 2012 edition of New American Paintings.
 All styles and media are welcome, as long as the work is singular and two-dimensional.
 To Enter, visit:
http://www.newamericanpaintings.net
For more details, visit:
http://www.newamericanpaintings.com/competitions.html
 Questions? Call 617.778.5265
 www.newamericanpaintings.com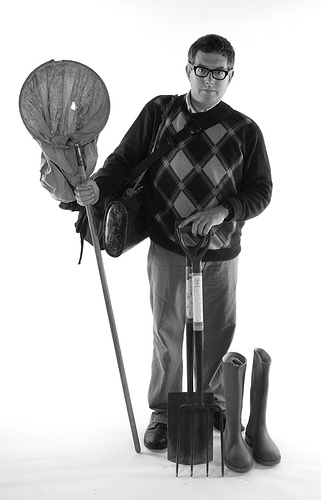 This week, I've delved into the Bad at Sports archive and pulled an especially interesting interview with Mark Dion, conducted by Duncan and Brian in June of 2010. Below, excerpts from Mark's discussion of the joys of being a dilettante:
"I have a lot of interests but I have to keep that somewhat narrow, in a sense. I want to have some degree of expertise. I can't do everything. I really do feel like it's my responsible as an artist, that if I'm working around issues of zoology that I have to have a foundation in zoology, and if I'm working in issues of archaeology, I have to know that. So I can't just jump from one thing to the other in a haphazard way, I do have a responsibility to at least have the core of what that field is. And so it's difficult. I still am very much a dilettante, not a professional. I'm not an ornithologist or an ichthyologist or a herpetologist or an archaeologist, but I do try to use aspects of their shared methodologies in a way to tease out some of their own prejudices and to look at those fields from a distance. My wife often says, "you're an archaeologist like Tin Tin is a journalist."
"Certainly I had to study biology before I started this work in a formal way, but I've learned a lot going through these projects and having opportunities such as being artist in residence at the Natural History Museum of London. I do learn a lot by my contexts with these experts. We're always partnering with other experts in the field, and that's a big deal, to have someone you can trust who understands the emphasis of your project and can advise you on decisions.
"On one hand, very often I'm working with institutions that are practicing science now, and a lot of the individuals working in them are very tied to the history of that science, and we share an interest in that history and maybe even a passion for the aesthetics of that history. Very often, a lot of [the scientists who work in these institutions], they know by the time they're 12 or 14 that this is what they want to do. I share that passion and that interest from the early stages, but I still exist as an amateur in a way.
"I could never be a scientist because the rigors of that and the amount of time one has to spend in front of a computer screen or in an office is just overwhelming. I meet people who spend two months in Guyana or wherever doing field work, collecting, and then for the next four years they're in an office sifting through that material and making sense of it. Taking the road of the artist is the road I've chosen…of being a professional dilettante, in a sense. I'd like to rescue that term, "dilettante," and bring it back…A lot of my work does hearken back to a moment where there's a collapse of disciplines, to this kind of time where the artist, the scientiest, the poet, the theologian–were the same person."
Click here to listen to or download the podcast.