Our latest "Centerfield" column is now up on Art21 blog. This week, I talked to Chicago artist/educator/gallerist Dan Devening of devening projects + editions. In particular, I wanted to learn more about the editions side of Dan's project, because I often feel that artists' multiples gets short shrift when it comes to contemporary art discourse. Devening Projects will be opening a new exhibition of artist's multiples on January 30th alongside a new "Kabinett" exhibition featuring works by Andreas Fischer and Melissa Pokorny. An excerpt from the Art:21 interview is below; please click on over to Art:21 to read the full piece! Also, the Art:21 interview is excerpted from a much lengthier transcript. We'll be posting the full exchange with Dan Devening here on the blog tomorrow.
Claudine Ise: Can you take us through the process – both the creative and production sides—of creating an edition/multiple?

Dan Devening: In most cases, when I propose the publication of an edition with an artist, I'll show them a bunch of examples of recent work and use those examples to open a door to what's possible within the project. Mostly, I'm hoping that they'll take up the challenge and approach the process as an experience that can expose their practice to something new. Because there is the necessity that the work be an edition, the requirement that there be multiple copies of the work sets up a nice set of parameters. The artist may have some ideas about how they might proceed and if that's the case, we'll start talking about production methods or options. The great thing about doing editions with artists is that they're artists; they're trained to be creative problem solvers, so I've never been disappointed with the editions that have come out of these conversations. For example, a recent piece from Nathaniel Robinson called Dreg is a resin-cast styrofoam cup. It's a one-to-one replica of the real thing—including teeth marks near the rim—that also includes a set of greasy fingerprints on the inside of the cup. I don't know how Nathaniel made this edition of three and I don't think I ever want to know. The mystery of this modest little object is its beauty. My only fear with Dreg is that someone will mistakenly throw it in the trash. (Read  more).

Nathaniel Robinson, "Dreg." Pigmented polyurethane resin, acrylic paint.
Dennis Oppenheim died of liver cancer over the weekend, Charlie Finch of Artnet has reported. Read Finch's memorium to Oppenheim on Artnet here, and Artforum's obit here (the NYT has not published theirs yet). Oppenheim's "Attempt to Raise Hell" can currently be seen in the exhibition "Without You I'm Nothing" at the MCA Chicago.
Oooh. I just noticed that Edward Winkleman's Open Thread post today covers the topic/question of the ways in which online arts reporting may cross over into performance art. Mr. Winkleman mentions Bad at Sports' podcast as one of several "well-established examples of arts-based news/reporting" that he considers to be "a form of performance or art itself." Very interesting. "What differentiates such efforts from strict journalism," he points out, "are the concepts behind their approaches, and the fact that they're being created by artists."
This subject, as many longtime podcast listeners must know, is one that Duncan in particular loves to muse on. WTF is it all about people?? The crossover between performance, art, and online journalism is a fascinating topic to think about even beyond the parameters of Bad at Sports, however, so if you'd like to weigh in, please go on over to Edward_Winkleman, read the post, and comment away!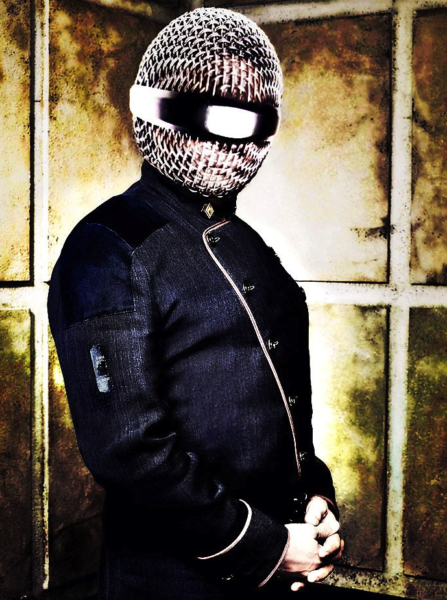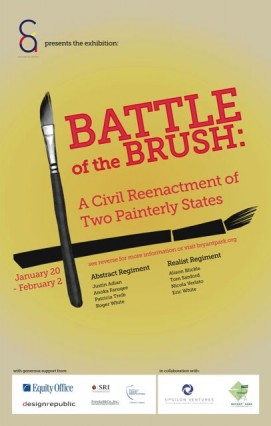 This event looks like a lot of fun. Those of you in the NYC-area should definitely check it out! Bad at Sports' own Tom Sanford has a painting entered in the fray, which is reason enough to brave the chill. THE BATTLE OF THE BRUSH is  a group show of paintings organized and curated by Alex Glauber.  Tom tells us there will be a reception, and though will  be cold in the park, there will be hot coco and heat lamps provided.
BRYANT PARK – JANUARY 20th thru FEBRUARY 2nd (24 hours a day)
OPENING RECEPTION (with heat lamps and lots of hot chocolate) THURSDAY JANUARY 20th 6-8PM on the Southwest porch on the 6TH Avenue side of the park.
They are hoping to organize artist tours of the work on SAT JAN 22 & SAT JAN 29 – details TBA
Corporate Art Solutions in collaboration with Bryant Park and Upsilon Ventures is pleased to present "Battle of the Brush: A Civil Reenactment of Two Painterly States," a contemporary painting face off between realism and abstraction on view in Bryant Park from January 20th – February 2nd. Utilizing the existing template of Upsilon Ventures' kiosks from The Holiday Shops at Bryant Park, two of the booths will be retrofitted with the help of painting conservators into temporary climate-controlled exhibition vitrines. These vitrines will be used to exhibit paintings for the first time ever in Bryant Park and in the process reveal how public art can be innovated through the creative adaptation of existing resources.
In an attempt to playfully reconsider the historic painterly debate between realism and abstraction, "Battle of the Brush: A Civil Reenactment of Two Painterly States" draws upon Bryant Park's history as an encampment for soldiers during the Civil War. In using this little known historical fact about Bryant Park as a conceptual theme, the exhibition takes a tongue-in-cheek look at how one of the painting community's most persistent antagonists in the 20th century was itself; specifically, the aesthetic and ideological divide between realist and abstract painters. More than just a question of style, this polemic has historically symbolized the tension between tradition and innovation. One such example was the boycott of the Metropolitan Museum's 1950 exhibition titled "American Painting Today – 1950" by eighteen abstract painters who claimed the show's jury was "hostile to advanced art." Their ardent opposition earned them the name 'Irascible Eighteen.' These days, we are much more civil than irascible. Therefore in the same way that Civil War Reenactors come together to imitate a moment in history when they stood apart, so too does this exhibition in order to reveal some of the more interesting directions realism and abstraction are being taken today.
Participating artists include:
REALISM REGIMENT: Alison Blickle, Tom Sanford, Nicola Verlato, and Eric White
ABSTRACT REGIMENT: Justin Adian, Anoka Faruqee, Patricia Treib, and Roger White
Any of you who follow what I post on this blog should know by now of my deep and abiding love for rants. Let's capitalize that term, because it deserves it: Rants. In my book, Rants comprise a sorely neglected literary genre in and of themselves. I like to collect them, and when I find a Rant (almost always via the Internet) that is intelligently argued and extremely well-written, I literally bounce up and down on my chair with glee.
I wish my "Rant of the Week" column truly could be a weekly thing, but alas, I rarely find Rants that are good enough to link to. My #1 requirement? That the Rant be skillfully executed and generally well-written.  It should feel like a real essay, not like a nasty blog comment dashed off in the heat of the moment. #2 requirement? Laugh-out-loud funny. #3? That it powerfully express the writer's righteous anger, even if I don't fully agree with the writer's take on that particular subject.
In my view, Tony Fitzpatrick's latest column on Artnet meets all three of my "Good Rant" requirements. Mind you, there's a fair amount in there that I don't personally agree with — but that's not the point here. This is a Rant — it's supposed to be extreme, rhetorically-speaking, and in this case it's written in response to a vicious, violent attack that was more extreme in its effects than words could ever be. There are certain aspects of Mr. Fitzpatrick's prose that make me shudder and shake my head, but there are other parts that are undeniably rousing. It's like, Yeah baby!! Someone actually said the things that everyone else is afraid to say, and they said it loud and proud! It's that aspect of the Rant, that break-the beer-bottle-against-the-table-and-go-for-broke-type of rhetoric, that draws me to them again and again.
The irony is not lost on me that the Right has its infamous Ranters too, and that it is their brand of heated rhetoric that some claim is at the root of the Arizona shooter's attack. But I am still unwilling to forgo the Rant altogether in favor of more even-handed, muted, controlled and "correct" types of argument. I think Rants have a place in political discourse, hell–in any form of discourse. And I don't want to give up on them.
Obviously, not every political statement should take the form of a Rant. But Tony Fitzpatrick is an artist who is well-known for speaking his mind, and he is in classic form here. Take a look at the brief excerpt below, then click on over to Artnet,  read Fitzpatrick's piece in full, and decide for yourself. Or just enjoy it for the great example of good old-fashioned Rant literature that it is.
"There was a time when I regarded the Tea Party as noisy, but mostly harmless geeks — with their Triangle Hats and Jefferson quotes, they reminded me of the same dopes who were in the Civil Defense League when I was a kid. A crowd of Dolts and Dumb-bells who were mostly in it for the hats, the walkie-talkies, and the opportunity to hold forth like the assholes they watch on TV. Glenn Beck, Rush Limbaugh, Bill O'Reilly and other lesser McCarthyites who'd like to tell the rest of us how to be Americans and have cast themselves as victims since Barack Obama was elected. You know the types — they forswear big Gub'mint, until their particular industry goes tits-up and they need a bail-out — they hold the Constitution sacrosanct, but gave not a fuck when the Bush administration shreds Habeas Corpus and the Bill of Rights in the name of Homeland Security. Where were all the Triangular Hats back then?

When John McCain picked Sarah Palin for his running mate, a little over two years ago, I thought it was his way of giving up. If you look at the tape of the end sputter of the McCain campaign — one could tell this was a guy who really didn't want the job — He was always a temperamental fuck — a guy who honestly resented being asked questions — any question — he was clearly a man far more used to giving orders than having to explain himself or his position. You see, John McCain, for all of his years as a political animal, thought he was running for CEO of the United States. He cultivated the skills of an executive and not those of a President. You can't fire Congress. At the end of his campaign, one could tell he was relieved to have lost.

Palin, if you believe all of the subsequent reportage, was a disastrous candidate, unable to stay on message, full of platitudes and an appalling lack of depth when it came to issues of a global nature. Her home-spun, golly-gee, small-town Dip-Shit act played with the Republican base — the culturally conservative South loved Caribou Barbie. Never mind the howls of protest from her own state colleagues, claiming she wanted to remove books from public libraries she found objectionable. Sarah Palin was able to take a threadbare ideology and stretch out its shelf-life. She parlayed her Gidget goes to Alaska shtick into a now-canceled TV show, in which she takes almost surreal delight in blowing the brains out of Alaska's native wildlife. It is odd to see a public official that turned-on by firearms." Read more.