Abigail's post yesterday on protest culture, Wisconsin and WAGE has me thinking about a lot of things, not the least of which is the visual culture of demonstration itself. Last week Eyeteeth's Paul Schmelzer blogged a newsbit about the Smithsonian sending a curator to document the signs and placards being used during the protests. I had never really considered all those black Sharpie-scrawled cardboard signs and drawings as conveying anything other than the messages written on them, but as soon as I shifted my perspective to consider them historically, i.e. as examples of material culture worthy of historical documentation and preservation…well, that was a head slapping moment for me. This material is so obviously significant, and yet so easy to overlook. The fantastic set of images Abby used to illustrate her post also helped slam this point home for me, especially because several of those messages were delivered on something other than written placards. Protestors wear costumes and perform. They make collages and small drawings. They build installations and sculptures. There is an art to all this: whatever form the protest sign takes, it needs to be sharply worded (or visualized) yet concise, funny helps too, and even if the sign consists solely of text it needs somehow to be strikingly visual in nature. The Wisconsin signs reference Edvard Munch alongside movies like Kill Bill and  Star Wars, and I think I even glimpsed a nod to the Librarian in Terry Pratchett's Discworld series (ook!).
Smithsonian curator Barbara Clark Smith has her work cut out for her. Just think of the sheer volume of great material that must be surveyed and, ultimately, selected. Now that's a fascinating idea to contemplate – what are the curatorial standards for determining which protest material is worth preserving for posterity? Also worth noting is the large volume of internet-based photo archives that are already collecting this material. Some of Abby's images came from a Flickr archive by Marc Fischer from the Public Collectors photostream (Fisher documented protests occurring on Saturday March 12, 2011 in Madison). If you're interested in scouring more of this material, other great sources include Brooklyn Street Art (link via Eyeteeth), who in turn culled a number of great images from Buzzfest.com, TheArcadeFlame, MarkonF1re, MarkTasman, pinku_pinku, and Lost Albatros.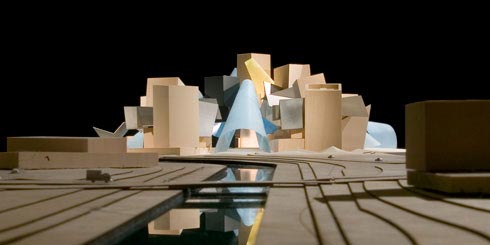 Artists Walid Raad, Emily Jacir, Shirin Neshat and over a hundred other artists, curators and writers have signed a petition calling for a boycott of the Frank Gehri-designed Guggenheim Abu Dhabi, which will be built on Saadiyat Island, the United Arab Emirates. They are demanding that "the Guggenheim Foundation and its Abu Dhabi partner take immediate and meaningful steps to safeguard the rights of the workers constructing the new branch museum," according to a press release issued by an international coalition of artists. "Artists should not be asked to exhibit their work in buildings built on the backs of exploited workers," says Raad in the release. "Those working with bricks and mortar deserve the same kind of respect as those working with cameras and brushes."
The Guggenheim is touting its latest branch as "the largest museum in a series of cultural institutions planned as part of the Saadiyat Island Cultural District, which will serve the world as a destination for the advancement of knowledge and the understanding of culture through the arts."
The protesting coalition's press release cites two reports issued by Human Rights Watch regarding the treatment of migrant workers within the United Arab Emirates (UAE). This report, the release states, documents "a cycle of abuse that leaves migrant workers deeply indebted, poorly paid, and unable to defend their rights or even quit their jobs. The UAE authorities responsible for developing Saadiyat Island have failed to tackle the root causes of abuse: unlawful recruiting fees, broken promises of wages, and a sponsorship system that gives employers virtually unlimited power over workers."
Last September, the Guggenheim pledged that they would protect the rights of laborers working on the construction of their new branch. But the petitioners argue that the Guggenheim and its Abu Dhabi partner, the Tourism Development and Investment Company (TDIC) have not yet done enough to ensure that those rights are protected. In the petition, they demand that the Guggenheim Foundation "obtain contractual guarantees that will protect the rights of workers employed in the construction and maintenance of its new branch museum in Abu Dhabi."
This petition follows a similar initiative organized by NYU faculty and students engaged in ensuring the rights of construction workers who will be building the NYU Abu Dhabi campus, also on Saadiyat Island.  Saadiyat is Arabic for "happiness."
Artists and writers calling for the Guggenheim boycott also include Yto Barrada, Rene Gabri, Mona Hatoum, Akram Zaatari, Andrew Ross, Rirkrit Tiravanija, Janet Cardiff, Willie Doherty, Hans Haacke, Alfredo Jaar, Barbara Kruger, Antonio Muntadas, Paul Pfeiffer, and many others.
Read the full petition here and background on the issue here.
Who's the most interesting art critic in the country right now? Nope, not Jerry Saltz.  I might change my mind tomorrow, but today I'm pretty damn sure it's Hennessy Youngman. Okay — Hennessy's not actually an art critic. He's not an art writer. He's a thinker of Art Thoughtz who has described himself as "just an American nigga at the cross section of dissonant worlds, and I'm the chaos of those conflicting cultural spheres unresolved in all their wonderful madness." His stuff takes the form of direct-address video monologues performed by Youngman himself, who sits in a white-walled "alabaster alcove" and proceeds to break down art world rhetoric into its constituent bullshit parts. Have a look at Hennessy's latest, on Relational Aesthetics:
It's a truly blissful feeling when someone says straight out loud what you've been thinking but were too cowed by your peers to say yourself, no? Youngman spreads this kind of bliss with each new episode of Art Thoughtz. But what he does is not exactly about speaking truth to power – it's a bit more irony-laced than that. Check out this episode on Curators, for example. It's pretty sexist (although the observation about Velma hair  was frakkin' brilliant), and I think Hennessey might be confusing, or at least conflating, curator with dealer here….
I love how in my YouTube stream, this episode is followed by a promotional interview with Rhizome executive director and New Museum curator Lauren Cornell (Free). This coincidental juxtaposition sums it up for me: at the same time that the young, blonde, attractive Cornell seems to exemplify the type of curator Youngman is caricaturing, she's also one of the few out there who is actively thinking-through the social media practices that Hennessey himself is engaging. I wouldn't be surprised if Cornell wanted to include Youngman in one of her next shows.
Point is, Hennessey Youngman is taking the piss out of everything and everyone; the layers of irony are too thick to fully pry apart and as a result we're forced to assume a different posture, as it were, in our reception of Hennessy's Thoughtz. If you read it straight, you're going to get defensive or pissed off and thus totally miss the point, but if you think it all boils down either to comedy or simply an outsider's attempt to take a giant shit on the art world, you're not listening carefully enough. It's one of those both/and kind of things that pushes us into areas that make us feel uncomfortable. And in my book, that is always a good thing.
Henessey is already something of an internet phenomenon, yet there's surprisingly little out there about who this guy actually is, where he comes from, etc. I like that he's a man of mystery and hasn't yet been included in one of Ms. Cornell's exhibitions. The dominant culture always manages to absorb its critics, though, so I don't hold out much hope that he won't be, sooner or later. I do know that in this interview Hennessy Youngman had the balls to respond to the question "Can you be successful if you're a Muslim artist?" thusly:
Are you serious? Have you ever heard of this artist collective known as Al-Qaeda? They did this performance piece called 9-11. That was absolutely jaw dropping. They only performed it once, but luckily it was very well documented and can be seen pretty much anywhere on the internet. Highly recommended. Way better than anything them Fluxus or Dada motherfuckers could come up with.
So I'll hold out just a little bit of hope that Hennessy never cleans up his act enough to grace the museum's white walls.
Lately I've been thinking a lot about the role that reproduction plays in both the circulation and understanding of paintings, in part due to the flurry of online discussion that took place around the launch of Google Art Project last month. I'm not all that impressed by Google's latest expansion of its Mapping empire, although I know that many educators think it's a valuable teaching tool. I do like how some folks are already using it to curate their own idiosyncratic collection mash-ups — check out Chicago Now blogger Taleen Kalenderian's "10 Art Babes from Google Art Project" for an example. Funny aside: when I first read the headline to that post I assumed the author was male, and that he was "cruising" the galleries virtually, surveillance-style, for good-looking women. And then I rolled my eyes. Now I sorta wish that that had been the case, because the museum galleries featured in Google Art Project are always dispiritingly absent of any human presence. I guess this makes sense, given the nature of the Project, but I find it depressing to look at – a sad, premonitory vision of a future where the physical spaces of museums are totally vacant, while across the globe countless clicking fingers connected to asses planted firmly in chairs peer through screens at the Vermeers and Van Goghs.
One substantive critique that has already been launched at Google Art Project — let's call it GAP for short — is that (surprise surprise) it doesn't include enough women. This is certainly true, but that's mostly because GAP isn't a curatorial project in and of itself. It's simply mapping museum collections as they stand (or recently stood). So the lack of women is a fixable problem: When museums start putting more work by women on their walls, there will be more women represented on GAP. But here's the problem that I'm not sure is fixable: the preponderance of museum galleries on GAP dedicated solely to painting, and the tendency on the part of those who decide which galleries in particular will get "Google Mapped" to not only focus on painting over other media, but on paintings that are either image-based or that translate well photographically.
We should remind ourselves that technology is biased, that the form of content delivery shapes the nature of the content delivered, as well as how it is received. In his book Program or Be Programmed, media theorist Douglas Rushkoff argues against conforming to the logic of social media or other technological platforms. If people working in the art and design fields celebrate the launch of GAP uncritically, the logic of GAP will subsume us until it becomes normative. The answer, as Rushkoff also advocates, is for us to be conscious of the ways that technological biases are deployed. (For more on Rushkoff's work see here).
I'm more than a little afraid that Google Art Project will really take off,  and that as a result curators will start making installation decisions based on how their galleries will look on GAP. But I'm also bolstered by the fact that GAP isn't meant to be an archive, nor is it a catalogue – it's a map whose destination points will shift over time. The problem with GAP's form of mapping is that its contours are pretty much set, and that means a huge swath of artistic production that isn't particularly reproduction-friendly, is–and will continue to be–omitted. Mind the gaps, indeed.
The Renaissance Society can always be counted on to organize some meaty talks and discussions around its current exhibitions. It's last one, Gerard Byrne's A Thing is a Hole in a Thing it is Not, was no exception. Among other programs, the Ren organized a panel discussion titled "Minimalism Now" that included sculptor Rachel Harrison, art historians Miwon Kwon, James Meyer, and David Raskin and moderator Hamza Walker. Each panelist gave a brief presentation which was followed up by a group discussion. I'm in the middle of listening to it right now, and It Is Good. The Ren has over thirty previous public lectures, talks and discussions archived on its Vimeo website (lectures and gallery talks by artists like Byrne, Katharina Grosse, Allen Sekula, Moshekwa Langa and Rebecca Warren among them)–a fact which isn't prominently featured on the Ren's website – a tiny little "Vimeo" icon provides the only portal, as far as I can tell. It's a great archive, and as I've said numerous times here before, I'm always extremely happy when institutions videotape and make their public programs available via YouTube or Vimeo.
I've embedded both parts of the Minimalism panel for your easy access – dig down and enjoy.