Some exciting, if no-longer-breaking news: as has been rumored for awhile, last week it was announced that artist and Playmobil dragon collector Jessica Stockholder will join the faculty of the University of Chicago's Department of Visual Arts (DOVA) and will serve as the department's new Chair. Her appointment will begin July 1st. Stockholder had been a faculty member at Yale University's School of Art since 1999. She joins DOVA at a time when big changes are in the works, including the new Reva and David Logan Center for the Arts, slated to open in Spring of 2012 and which will house the department as well as studio, teaching, rehearsal, and performance space for a number of campus arts programs. The Logan Center is said to have been a key factor in Stockholder's decision to join the U of C faculty.
Stockholder's appointment is part of DOVA's overall effort to energize a department that is known for its interdisciplinary focus. In the press release announcement, Stockholder emphasized her own history of crossing mediums: "I don't consider myself either a painter or a sculptor. My work is very pictorial at its core, even though it involves space and material."
Check out this quick but informative interview with Stockholder conducted by ArtInfo last February. The bit about Stockholder "moving to Hyde Park in Chicago over the summer" pretty much gave the big news away then, but it's nice to have all the rumors confirmed. Stockholder is a terrific artist, engaging and accessible, too — and for God's sake, she collects Playmobil dragons — what more could you ask for in a faculty member or Department Chair? DOVA has chosen most wisely, methinks.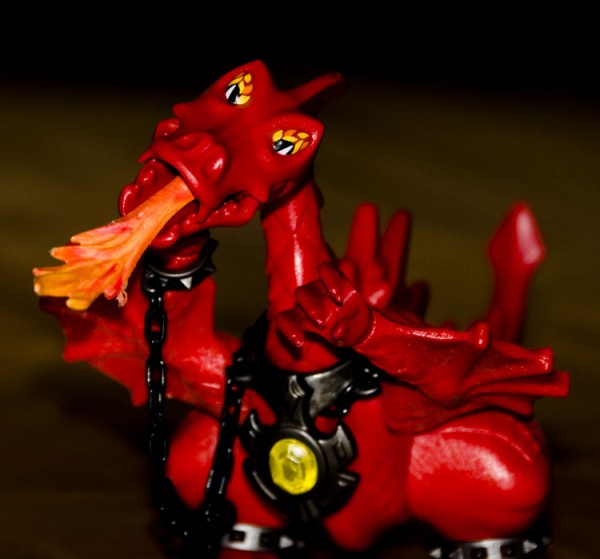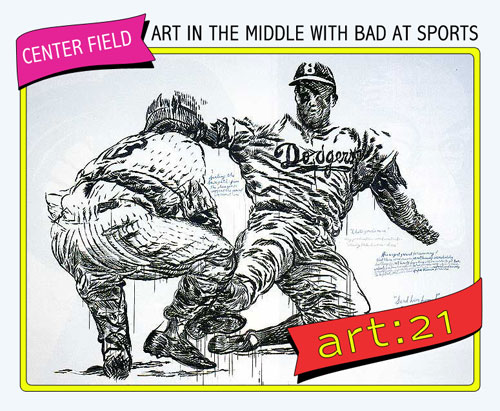 The latest episode of Fielding Practice, our monthly podcast for Art:21 blog, is now live! In this month's leaner & meaner report from Chicago, Duncan MacKenzie, Dan Gunn and I talk copyright (inspired by Patrick Carious vs. Richard Prince and Gagosian Gallery, natch), discuss the impact of Chicago Imagists on younger generations of artists (re: the current Jim Nutt: Coming Into Character and Seeing Is A Kind of Thinking: a Jim Nutt Companion exhibitions at the Museum of Contemporary Art Chicago), and spend a few moments plugging that which we have seen (or plan to see) in the Windy City this month. So click on over to Art:21 to access the podcast, and thanks so much for listening!
Some exciting news for fans of Tom Sanford and Amanda Browder of The Amanda Browder Show…both have new exhibitions opening in New York this weekend. Oh shit, I just realized Amanda's show opens tonight — she will be unveiling a new, large-scale painted fabric piece! And New York is an hour later than Chicago! So those of you in NYC,  gotta get your asses down there NOW! Full deets for both shows below…
curated by David Gibson
Thursday, April 7th 2011 – Art Jail Space NYC –
7-10 PM
50 Eldridge Street, 6th floor
Featuring: Margie Black, Sarah Bliss, Marcy Brafman, Amanda Browder, Elisabeth Condon, Vince Contarino, Beata Drozd, Gabert Farrar, Sophia Flood, Alicia Gibson, Chambliss Giobbi, Rachael Gorchov, Susan Hamburger, Deb Karpman, Yuliya Lanina, Liz-N-Val, Paul Loughney, Cybele Lyle, Norma Markley, Christina Massey, Joel Morrison, Mary Murphy, Guy Nelson, Jeremy Olson, Steve Page, Leemour Pelli, Lilliana Pereira, Mary Pinto, Mark Po…wer, Grace Roselli, Hagar Sadan, Pierre St. Jacques, Meghann Snow, Claudia Sperry, Ginna Triplett
This exhibition explores the use of collage as an artistic medium, dissecting its impulses and agendas while providing a wide cross-spectrum of its usage in contemporary art. It addresses the role of material culture in mediating our shared view of reality, the notion of a borrowed aesthetic, and how specific visual agendas express differing cultural attitudes. It includes a variety of mediums and aesthetic agendas, presenting not only traditional collage, but works which establish a collage mentality in the liminal forms of photography, video, digital manipulation, painting, sculpture, printmaking, children's books, commercial signage, portraiture, and others. In the end, it will posit collage as a cause, rather than a symptom, of both artistic style and generational meaning.
SICK!
April 8- May 31st
Misc.
Suite 702, The Fuller Building
41 East 57th Street, New York, New York 10022
Ion Birch, Steve Budington, Steven Charles, Steve DiBenedetto, Dawn Frasch, Aaron Johnson, Eddie Martinez, Tom Sanford, Peter Saul, Michelle Segre, Joceyln Shiipley, Kelli Williams, Jeremy Willis
Misc. is pleased to announce the opening of a new group exhibition, Sick!. This selection of works by 13 artists examines how artists give particular shape to abject feelings and fantasies. Surrealism, and later, nineteen-seventies postmodernism encouraged an active engagement between art practice and the unstable. The works in Sick! continue this dialogue by exteriorizing psychological tension as a crucial component in each artwork.
The exhibition aligns a fluid iconography, but it is the abject, or the sick, as cultural criticism, thoughtful structure and subtext that relates the work to each other.  Through a variety of methods, Sick! artists articulate personal interpretations about anxiety, clutter, suffocation, and other unpleasant feelings that suggest a fractured, but whole experience. Steadfast repudiation of the decorative and/or decorum ranges from malevolent to punch-drunk to pathos. This sensibility serves as a control-factor in a showcase of work that does not behave.
The artists are as at ease in blending categories of art history as they are with handling their visionary trajectories. In keeping with an overwhelming suspicion that human beings are as much propelled toward primordial, amorphous states as they are of achieving Organizational Man, these works have mastered their conditions by surrendering to that ancient urge rather than trying to escape it.–Elizabeth Sapperstein

If I was an artist or, uh, social practitioner working in Detroit right now, I'd be pretty pissed off at all the obsessive media focus devoted to what's been dubbed 'Detroit Ruin Porn' (for a great critique of said genre of porn, see this). Actually, it already does kind of piss me off, even though I'm not a Detroiter, because I've read about so many vastly different–and far more productive–ways that Detroit artists (and not-artists) are engaging with their city's post-industrial context. See Imagination Station, Detroit Unreal Estate, Yes Farm, and Catie Newell's Salvaged Landscape project for just a few quick initial examples of what I'm talking about. In my opinion what is happening in Detroit right now is one of the most fascinating, timely, and significant developments taking place in contemporary art practice–way more deserving of coverage than, say, whatever the fuck James Franco is doing with whichever poor artist (aka Sucker) the guy currently has under his spell.  To this end, I'm hoping/planning that Bad at Sports' blog will be able to provide periodic coverage of Detroit's art, culture, and social practice scene very soon. (Interested in contributing? Tweet me).  Art21 blog has also been providing some great coverage of what's been happening in Detroit via guest blogger Allison Glenn's terrific recent series of posts.
If you live in the Detroit area yourself, you should definitely check out the Rust Belt to Artist Belt conference taking place in Detroit today and tomorrow, April 6-7. It's the third annual iteration of this conference, which brings together creative practitioners, business owners, educators, and designers to explore how cultural development strengthens post-industrial cities. This year's conference homes in on the "creative supply chain" as a means of catalyzing economic growth, entrepreneurship, and land use. Go here for information on the conference's lineup of events. They'll be talking about what constitutes a creative economy and the role that artists and creative practitioners can play in the transformation of the post-industrial rust belt. Keynote addresses will be given by Jennifer Goulet of ArtServe Michigan; Peter Kagayama of Creative Cities Summit; Josh Linkner, Founder of ePrize; artist Theaster Gates, currently in residence at University of Chicago; and artist and writer Allee Willis.
But wait, there's more! Also taking place in Detroit April 6-10 is Art X Detroit, an exhibition of works created by the 2008-2010 Kresge Eminent Artists and Artist Fellows. Check out Art X Detroit's Vimeo page for videos on each exhibited artist. Here's the one made for Louis Aguilar:
Louis Aguilar from Art X Detroit on Vimeo.
Detroit is alive. It's time we all started paying more attention.
Although I am not quite as much of a Jeff Koons hater as some other folks at Bad at Sports, I did find this particular example of videogame art to be tremendously amusing. It's kind of along the lines of Paul Steen's Art Assault, but sadly Hunter Jonakin's Jeff Koons Must Die!!! isn't downloadable. That's probably a good thing, or else I'm pretty sure I'd be playing it all day as opposed to finding pearls like this throw your way. (And to give credit where credit is due, this particular pearl was thrown to me by Richard Holland). The game takes the form of an old-school arcade cabinet complete with joystick controls and "fire" and "jump" buttons. Below, some video footage of the game in action:
Jonakin describes the work on his website thusly:
Jeff Koons is one of the most polarizing and well known contemporary artists living today. He attempts to elevate the banal by constructing large metal sculptures that resemble balloon animals, oil paintings that contain subject matter derived from digital collage, and large-scale pornographic photographs featuring the artist and his former wife, to name a few. All of Koons's art is constructed by assistants. In general, viewers love or hate Koons and his work, and that is why he was chosen as the subject matter for this piece.

The game is set in a large museum during a Jeff Koons retrospective. The viewer is given a rocket launcher and the choice to destroy any of the work displayed in the gallery. If nothing is destroyed the player is allowed to look around for a couple of minutes and then the game ends. However, if one or more pieces are destroyed, an animated model of Jeff Koons walks out and chastises the viewer for annihilating his art. He then sends guards to kill the player. If the player survives this round then he or she is afforded the ability to enter a room where waves of curators, lawyers, assistants, and guards spawn until the player is dead. In the end, the game is unwinnable, and acts as a comment on the fine art studio system, museum culture, art and commerce, hierarchical power structures, and the destructive tendencies of gallery goers, to name a few.
Two things I love about this project: 1) it costs a quarter to play the game, which in regards to Koons somehow seems appropos, and 2) the hordes of lawyers, curators, etc. confronting you on the final Boss level, making the game impossible to win. Good times.