This is huge. The Whitney Museum of American Art announced today that the 2014 Whitney Biennial will be curated by Michelle Grabner, Anthony Elms, and Stuart Comer. The teaming of three curators not based in New York City does indeed represent, as the Whitney's press release puts it, a "bold new form" for its Biennial. For full details, go here; an excerpt of the Whitney's press release follows. Congratulations to all!
New York, November 29, 2012 — The Whitney Museum of American Art announced today that the 2014 Whitney Biennial will take a bold new form with three curators from outside the Museum offering their unique perspectives on the state of contemporary art in the United States. While past Biennials have been organized collectively by multiple curators, for this edition each curator will oversee one floor of the exhibition. The Museum has selected Stuart Comer, Anthony Elms, and Michelle Grabner to represent a range of geographic vantages and curatorial methodologies. Whitney curators Elisabeth Sussman and Jay Sanders, who were responsible for the widely praised 2012 Biennial, will act as advisors on the project. The exhibition has come to be regarded as the Museum's signature survey of contemporary American art; the next Biennial goes on view at the beginning of March 2014. It will be the 77th in the Museum's ongoing series of Annual and Biennial exhibitions, inaugurated in 1932 by Gertrude Vanderbilt Whitney.

Donna De Salvo, Chief Curator and Deputy Director for Programs at the Whitney, noted: "We chose to make the last Biennial in the Breuer building before our move downtown an experiment with a new curatorial structure. By flinging open the Museum's doors metaphorically, we hope to create a platform in which voices from outside the Whitney can enliven the conversation around contemporary art in the United States. Hailing from Chicago, Philadelphia, and London, each curator will bring a personal approach to the process, creating an exciting mix of emerging and established artists that is the Biennial's hallmark." The list of artists in the exhibition will be released at the end of 2013.

About the Curators

Stuart Comer is Curator: Film at Tate Modern, London. He oversees film and video work for the Tate Collection and Displays, was co-curator for the opening season of The Tanks at Tate Modern, and organizes an extensive program of screenings, performances and events. He has contributed to numerous periodicals, including Artforum, Frieze, Afterall, Mousse, Parkett and Art Review. He is editor of Film and Video Art (Tate Publishing, 2009) and has contributed essays to several publications on artists including Tom Burr, Andrea Fraser, David Lamelas, Sharon Lockhart, Mark Morrisroe, Bik Van Der Pol and Gillian Wearing, among others. Comer was a co-curator of the 2007 Lyon Biennial. Other recent freelance curatorial projects include Andy, as you know I am writing a movie… at Beirut Art Center, The Young and Evil for tank.tv, An American Family at Kunstverein Munich and CASCO, Utrecht; America's Most Wanted for The Artists' Cinema at Frieze Art Fair, London; and Double Lunar Trouble at Whitechapel Art Gallery, London. Comer has participated in symposia, talks and events at numerous international venues. He sits on the board of Film London and has been a member of juries for CPH:DOX 2012, the 2011 Venice Film Festival, the 2006 BFI Sutherland Trophy at The Times BFI 50th London Film Festival, the International Jury for the Oberhausen 52nd International Short Film Festival in 2006, and the inaugural Magic of Persia Contemporary Art Prize in 2009. He has chaired the Derek Jarman Award for artists' film and video since its inaugural year in 2008.

Anthony Elms is Associate Curator at the Institute of Contemporary Art, Philadelphia, and is also the editor of WhiteWalls, an independent publisher distributed through the University of Chicago Press. Previously he worked for Performa 11 and was Assistant Director at Gallery 400 at the University of Illinois at Chicago for five years. His writings have appeared in Afterall, Art Asia Pacific, Art Papers, Artforum, Cakewalk, May Revue, Modern Painters, New Art Examiner, and Time Out Chicago, and he has also written essays for numerous catalogs and collections. He has independently curated exhibitions as well, including: Pathways to Unknown Worlds: Sun Ra, El Saturn & Chicago's Afro-Futurist Underground, 1954-68 (with John Corbett and Terri Kapsalis); Interstellar Low Ways (with Huey Copeland); Can Bigfoot Get You a Beer?, and A Unicorn Basking in the Light of Three Glowing Suns (both with Philip von Zweck). Elms has also taught visual arts seminars at the University of Chicago and the University of Illinois at Chicago. He received a BFA in painting from Michigan State University and an MFA from the University of Chicago, and he continues to exhibit as an artist. His group exhibition White Petals Surround Your Yellow Heart opens on February 6, 2013, at the ICA Philadelphia.

Michelle Grabner is Professor and Chair of the Painting and Drawing Department at the School of the Art Institute, Chicago, as well as a senior critic at Yale University in the Department of Painting and Printmaking. Together with her husband Brad Killam, Grabner founded The Suburban in 1999 and the Poor Farm in 2009. The Suburban is an artist-run project space in Oak Park, Illinois; over the past thirteen years, it has hosted projects by numerous major and emerging artists including Ceal Floyer, Nicholas Gambaroff, Lucie Fontaine, Luc Tuymans, Katharina Gross, Ann Pibal, and Katrin Sigurdardottir. The Poor Farm is a not-for-profit exhibition space in rural Waupaca County, Wisconsin; in 2012-2013, it is exhibiting Tracking the Thrill, a focused selection of Gretchen Bender's (1951-2004) video works, including the restaging of the video performance Total Recall. Grabner is also a corresponding editor for X-TRA, a quarterly art journal published in Los Angeles since 1997. Her writing has been published in Artforum, Modern Painters, Frieze, X-tra, Art Press, and Art-Agenda among others. The Museum of Contemporary Art Cleveland is organizing and hosting a traveling survey exhibition of Grabner's work that will open in the fall of 2013. In January 2013 she opens exhibitions at Shane Campbell Gallery's three Chicago locations. Her work is included in such public collections as the Walker Art Center, Minneapolis; Museum of Contemporary Art, Chicago; MUDAM – Musée d'Art Moderne Luxembourg; Milwaukee Art Museum, Wisconsin; Daimler Contemporary, Berlin; and the Smithsonian American Art Museum, Washington DC.
Bad at Sports is back with another "Fielding Practice" podcast produced especially for the Art21 Blog! We haven't done Fielding Practice in a couple of months because we've been working on a series of projects, most notably Bad at Sports' summer residency/exhibition at Columbia College's A+D Gallery (click here for details). If you're in Chicago, come by the A+D Gallery tonight for our CLOSING FESTIVITIES and RECORD RELEASE PARTY! July 19, 5-8pm, 619 South Wabash Avenue.
On this month's podcast, Duncan, Richard and Claudine discuss three exhibitions on view in Chicago this summer: Peripheral Views: States of America, at the Museum of Contemporary Photography;  "Color Jam," a summer-long, outdoor public installation by Jessica Stockholder; and we also take a look at "Zachary Cahill: USSA 2012, The People's Palace's Gift Shop," an exhibition-cum-intervention in what was once the giftshop at the Chicago Cultural Center.
Click on over to the Art21 Blog to listen to the episode, and, as always, thank you so much for listening!
Doug Rickard. "#82.948842, Detroit, MI.," 2009. On view in the exhibition "Peripheral Views: States of America" at the Museum of Contemporary Photography in Chicago.
We at Bad at Sports know that Tom Sanford is really a superhero in disguise, and lately he's even been scaling tall buildings! Well okay, so maybe the buildings aren't all that tall but still. At the moment, Tom has an amazing series of paintings titled "The Saints of the Lower East Side" that portray NY artists Martin Wong, Joey Ramone, Miguel Piñero, Ellen Stewart, Charlie Parker, Arthur Fellig (WeeGee) and Allen Ginsberg against backgrounds of gilded gold. The series is installed on scaffolding on East 4th Street between Bowery and Second Avenue.
The press coverage on Tom's project has been amazing — you can read all the details in articles posted at Gothamist,  TalkArtWorld.com, NYcurbed, and TheLowDownNY.
Tom's exhibition here is part of series of temporary art installations in unusual locations in the Lower East Side, made possible through FABnyc's ArtUp program, which is produced in collaboration with MaNY Project and directed by Keith Schweitzer. So if you're in NYC or planning to visit — go see 'em! They'll be on view all summer, until September 5th or so. To see more pics of the installation and the works online, visit Tom's website. Tom is looking for a public or semi-public "final resting place" on the Lower East Side  for these paintings, so if you have any ideas about that, let Tom know by contacting him through his website.
You be well.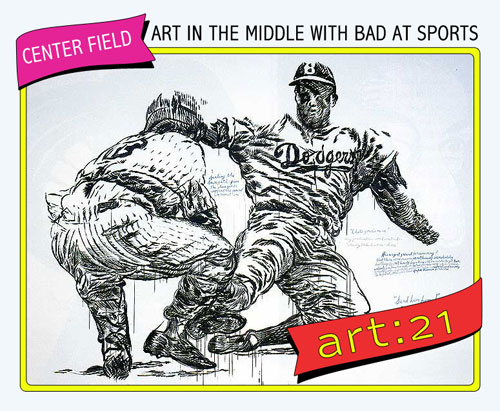 Our latest episode of Fielding Practice, Bad at Sports' special podcast produced exclusively for the Art21 Blog has just posted — you can listen to it here. This month, we talk to artists Pamela Fraser and John Neff about Spectral Landscape (with Viewing Stations), the group exhibition they've curated for Gallery 400 at the University of Chicago, Illinois, which is on view through June 9, 2012. Spectral Landscape explores color "as both a formal and a social force,"  and arrays artworks around the gallery according to a loose color spectrum. We asked Fraser and Neff to tell us more about the concept behind this excursion into color, and as always, we bring you our picks for some of the most interesting events and exhibitions coming up this month in Chicago. So visit the Art21 blog to download the podcast and listen to the conversation. And thanks so much for tuning in!
All of us at Bad at Sports are deeply saddened to learn that Donald Young has died at the age of 69. Since its original launch in Chicago in 1983, the Donald Young Gallery has been among the premiere U.S. contemporary art galleries.  Prior to this, Young partnered with Rhona Hoffman in the Chicago gallery Young Hoffman (1976-1983); both Young and Hoffman subsequently struck out on their own to create two of the city's most successful and long-running commercial art venues. In the early 1990s, Young and his family left Chicago for Seattle, where he opened Donald Young Gallery on Pike Street. They returned in 1999 because Young missed living in a large urban center. "When you live in a big urban city, at a certain point you think you want to move out, to go somewhere else," Young told the Seattle Times in 1998. "Then you move, but after a point you realize that urban life is in your blood. You miss it. You miss the grittiness, the human contact, the abrasives of the big city. You miss the more outspokenness of the big city."
Donald Young Gallery is one of a select few Chicago contemporary art galleries that exhibits and represents artists of international renown. The gallery has exhibited the work of Tony Cragg, Anne Chu, Dan Flavin, Rodney Graham, Bruce Nauman, Rosemarie Trockel, Josiah McElheny and many, many others. Most recently, Young himself curated a critically-lauded series of exhibitions at the gallery titled "In the Spirit of Walser" that is inspired by the short stories and "microscripts" of Robert Walser. In his curatorial statement, Young notes his fascination with Walser's microscripts, which he had first seen in a 2008 exhibition in Berlin, and his interest in exploring the connections between Walser's writings and contemporary artists like Fischli & Weiss, Tacita Dean, and Thomas Schütte, rather than produce an exhibition devoted to Walser himself. "Hundreds of artists have made work in homage to Walser, many of a highly personal and sometimes romantic and sentimental nature," Young explained. "This is not an area that interests me personally and I am confident that the artists who have agreed to work on this project will produce work that is as original as its inspiration."
Our thoughts and deepest condolences go out to Mr. Young's family, as well as to his longtime gallery staff. Donald Young has made an indelible mark on Chicago's cultural landscape, and his presence here will be sorely missed.
UPDATE :
The trib did a great job with their obituary for Donald. Check it out here.