We are in the midst of a warm snap. The snow has receded. The ice has left the lakes and rivers. I dig out the fall clothes I had packed away, reluctant to leave warm hats and scarves at home. I know the cold is waiting just around the corner for me to let down my guard again, but I do not want to miss the brief reprieve. I walk through warm days and nights, trying to understand this seasonal contradiction, as I struggle to hold the contradictions that surround me.
I support and enjoy the art installed in the long waiting room of Union Depot. I often eat lunch there. I linger with people in transition, crosstown bus riders and Amtrak passengers traveling to Chicago, and I am drawn to the gentle, rippling, summery reminder of Jim Campbell's suspended 8 ½ x 11.
I simultaneously struggle to understand why the largest and most visible artworks are by artists from outside the Twin Cities (Campbell is based in San Francisco) and why artists from outside these communities and the legacies and present realities of injustice in those communities, like Ralph Gilbert from Atlanta, whose six large murals were recently installed, are asked to "reference the railroads' impact on the Dakota tribes and their land; [and] the importance of railroad jobs for African Americans, especially in St. Paul's Rondo neighborhood."
I want to support the artists and makers whose work fills the overwhelming number of recent and upcoming holiday markets, popup shops, and art fairs. I love and would love to take home their work. I want to support artists trying to make a living and their desire to do so through their artwork, through forging and finding new ways to economically support themselves.
I simultaneously struggle with the fact that economic survival in and economic diversification of the artworld often shore up the neoliberal, capitalist systems that benefit a handful of people and visit violence on the earth and the people outside of that small minority.
I am filled with the deep pain, anger, frustration, hopefulness and solidarity of Million March MN and protests around the country over the weekend. I felt power dynamics being exposed when the march stopped traffic and stunned holiday shoppers looked on in disbelief and confusion. I believe the affirmation embodied in those marches that artists, that all people can come together to make change here and in cities across the country.
I simultaneously struggle with the fact that Midway Contemporary Art's Monster Drawing Rally fundraiser took place hours after the march. I support Midway, and the Monster Drawing Rally is an inventive, exciting way to bring together artists, collectors, and supporters to raise money. It was difficult, however, to watch hundreds of people pack in to watch artists make drawings and snatch up the drawings before they were hung on the walls. Consumption was conspicuous as people surged through crowds to be the first in line to buy a drawing, to buy drinks, to see and be seen, seemingly unaware of the larger issues and inequities in the world outside the white walls, deaf to the rallying cries still ringing in my ears.
I am leaving the Twin Cities soon, moving to warmer, greener climates. I have learned so much from and in this place, but I clearly have a lot more to learn. These paradoxes in the artworld and in the rest of the world happen everywhere. I must remember that I am not alone in trying to understand and make sense of these worlds, that we all must struggle to make meaning of the contradictions that surround us. I am reminded as I enter a new place, a new art community that all of the knowledge and experience I think I have is simply a place from which to start learning and growing.
I can hold complexity and contradiction; I can move with and through and around that uncomfortable unresolvability. I remember that I am privileged in ways I know and in ways I cannot see. I will continue learning. I will continue making. I will continue to use the privilege and access I have to reflect and shine light on the inequalities and injustice around me.
The world grows colder. Nature slows, becomes static. The river connecting these cities ices over slowly, silently at night. Tires spin, stuck in ice ruts that will last until spring. Fewer bicyclists and pedestrians navigate the narrowing streets and sidewalks. We prepare to stay inside through longer nights, as the early arriving winter rudely awakens us from lingering fall. That stasis, that need to stay inside belies our need to connect, to draw close, especially in times of stress, in times of outside forces beating down our door, trying to force their way in. We need to be physically together to remember that beneath these layers are beating hearts and warm breaths.
Ryoji Ikeda's superposition at the Walker Art Center united more than 20 projections and monitors, two live performers, multi-lingual Morse code, live video feeds, microfiche, a healthy dose of randomness. It confronts the body and mind, pushing them to the limits of comprehensibility. The audience was given earplugs to ease the high decibel audio, but the sound waves, the movement of air through the space physicalized every peak and valley of staccato clicks, blips, quantum particulates. My knowledge of quantum physics and mathematics is barely enough to bring the video and audio into focus. Scientific ideas bubble to the surface just enough to reveal there is something larger beneath the surface, but the technical mastery and deep knowledge embodied in the performance reinforce the barriers between audience members, reminding us that we are a part of systems whose logic is beyond what we think we know of Newton.
The performers, Stephane Garin and Amélie Grould truly bring forward the human nature, the warmth amidst the cold numbers and distant scientific concepts. They transform this digital symphony that exists in the rarified air of Ikeda's ongoing scientific and mathematical investigations (including his current CERN residency), mathematics at scales that are impossible to witness and challenging to conceive, and dangerous sonic levels into a moving, human, even more visceral experience. As they key in Morse code, the competing, layering sound waves and words they spell are displayed behind them. The speed with which they relay their messages feels monumental to our distance from Morse code as a means of communication. Their use of a binary language lays bare the many layers of digital mediation, the code and signal behind the projections, the digital reproduction of sound. We see the text and sound waves they create on the massive screen behind them, but we also see their hands move; we see them strike tuning forks together, we see them make quiet decisions among their microfiche and steel balls.
Their presence in front of us, their bodies moving through the space on stage, creating the sounds that we feel in our chests and throats activate those parts of our brain that correspond to our hands, our fingers, our performative bodies. We feel ourselves on stage, mirroring their action, feeling their sensations as we negotiate our way through the sonic and visual density of superposition.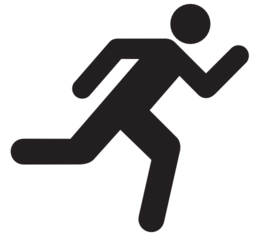 The phenomenon of our brain firing neurons in the parts of our brain that perform action when we see that action being performed is often invoked in the realm of sports spectatorship or action movies. We mentally and physically feel as if we are part of the game, as if we punched through a wall. superposition invoked those same feelings for me. It overwhelmed me physically and mentally, pulling me into its auditory and visual textures while activating idle parts of my brain. Seeing Dawn of Midi recently invoked those same feelings. Watching the repetitive, sound-bending striking, hammering, and twisting of their instruments, I felt the energy build, crest, relax, expand as if I was onstage, as if I muted the piano strings, I hunched over the bass, I held the drumsticks. Walking home through the snow, the music did not leave my mind, the instruments did not leave my hands.
As I navigate frozen landscapes, I contemplate the winter ahead. I consider not just my fragile human body but the end of the human species manifest in these extreme weather swings, the knowledge that this cold too is a sign of our own undoing that cannot be undone. Despair, stasis, and winter blues are eased by knowing I am not alone. I connect with others, physically and remotely present, and I remember that I can still make changes. I can still strive for a better world by refusing to be alone, by refusing to isolate myself against the overwhelming challenges we can only confront together.
Fall lingers, with warm days and fiery trees, longer nights and frosty mornings. Daylight has changed, striking us at more oblique angles, lengthening shadows even at noon. I follow my shadow farther and farther from my center, looking back to where I stand, doubling, tripling, multiply exposing and bodily reproducing fall days and perspectives.
The sunny gallery at Highpoint Center for Printmaking is a lovely site for Aaron Spangler's new exhibition Luddite. The massive woodcuts simultaneously invite viewing their totality from across the room and detailed examination. The broad stroke of the prints overwhelms the walls, forcing out the white space around them. The figurative pieces begin to resolve into senses of shifting meaning; the more abstract prints resist resolution, push against meaning making within their patterns and eye movement across the paper. Upon closer inspection, Spangler's hand is very present, in the patterned marks of tools, the subtle gradations in pressure applied to the tools, the grain of the wood, the creases and folds in the paper. They are multiples, so clearly prints in their materiality, yet they resist. They are not simply mechanically reproduced objects. They manifest the human, maintain the layers of work, the hours of crafting that went into their making.
Instead of Benjamin's mechanical reproduction and the digital reproduction that is happening even as you read these words, what happens when a work of art is biologically reproduced? How is our experience altered when we cannot simply consume the work in the gallery or the comfort of our own homes and screens?
I saw Anne Theresa de Keersmaeker's Rosas Danst Rosas at the Walker Art Center last week. I have not been able to get it out of my head. The dance is simultaneously deathly serious, paring down movement, facial expression to the barest framework of a dance language we start to recognize. The first section is silent, slow, laconic in comparison to the later three sections. The dancers' breath and the slap of arms and legs onto the floor resonate within the silence of the theatre. The dancers individually and collectively lay perfectly still to the point that we wonder if they are still connected to the movement. The dancers shift and cascade in patterns of coordinated movement that struggle to coalesce. They seem to unite, but they crumble, decompose, reform, find their footing, and slip amid silence and stillness. This extended, protean formation of language with which the dancers assault their own bodies gathers momentum, collapses, rolls over, accretes into the flurry and avalanche of activity of the later sections of the dance.
Throughout the dance, the dancers verge on the mechanical. At first look, they seem to become machines reproducing everyday movements we know, repeating movements with inhuman regularity in patterns beyond human comprehension, but the dancers each move with their own slightly inflected accents. Each dancer's movements comprise entire sets of linguistic encyclopedias. Each time we begin to grasp the movement language they dance, it slips between our fingers. We are travelling through a foreign land with shifting dialects and argot. The regularity, the patterning, the building, dismantling, permutational collection of individual movements lures us into believing we can gain an understanding of what is happening, that we can know and predict what comes next. We begin to understand the foreign language, feel like we know the tense, what should be the next subject, object, verb, dangling participle, but we are jarred into awareness by the strange gesture we have never seen, the new part of speech we cannot parse. Beyond simply seeing live bodies before us on the stage, the biological reproduction of and within the dance is constantly foregrounded, never absent from our perception of the dancers.
De Keersmaeker reinforces this biological reproduction in opening the Rosas Danst Rosas choreography to everyone. Whether in celebration of the thirtieth anniversary or in response to the Beyoncification of her work, the choreography is explained in great detail in step by step videos. The reproductions, covers, remakings of this second section of the dance model a new method of dancemaking that draws from the movement vocabulary from which de Keersmaeker crafted yet is clearly distinct, a new direction in movement language. They expand the conversation in dialects across dancers throughout the globe. They arise from the best of digital reproduction to magnify and unite the individuality of dancers, drawing us closer together in the potentials of common understanding while reinforcing the individuality that resists the mechanical, the faults that maintain our humanity.
As I walk through exhibitions, I find myself staring around the works on display, straining to see how paintings are hung from the walls, how sculptures rise from the floor. I look for projectors and speakers. I stare at the benches and chairs, the corners of walls, electrical outlets and lights. I am not avoiding the artwork. I am searching for the whole picture, yearning for everything the works contain. I want the story of the work, a record of its history, not simply the final object.
I was absorbed by Mitchell Syrop's steel wall pieces in Hidden at Midway Contemporary Art, intrigued by their static flow, the impermanence of their solidity. As others visitors were absorbed in reading the text of his massive, nine panel Hidden, I stared at the nails holding up Family of Secrets, wondering about the hands and machines that had pulled them from the earth, shaped, packaged, shipped, sold, and hammered them. What narrative unites these steel objects on and in the wall? What happens to the nails when Family of Secrets is removed? Will they be united again?
I visited the Katherine E. Nash Gallery at the University of Minnesota, and I fell in love with the artworks installed in a particular corner. I marveled at their seamless pairing with an incredible, ambient sound piece, until I remembered that the sound comes from the heating and cooling system. I could see the works without the rasping rumble from the depths of the building. Of course, the context of any artwork influences our experience of it. The temperature of the room affects the book we read. The argument we hear in the alley outside affects our experience in the gallery. The lighting, hardware, and soundscape of artworks shape our viewing. I am looking for those other aspects of the objects because I want to know the narrative held within them, the time they embody even if we do not know how to see it.
I was thrilled to see a Roman Opalka 'detail' in the Walker Art Center's Art Expanded, 1958-1978. The rows and rows of numbers embody time, daily practice, a life of dedication, but that time is lost among the other "expanded" practices. I strained to read the numbers, searching for the hours of its creation, wanting to hear Opalka's recordings and see his self portraits to begin to fill out the narrative of this singular painting.
I have been visiting artists' studios and installing work, slowly seeing objects unfold and absorb layers of meaning. I have seen ideas and conversations transform through unknowing, testing, exploration into artworks that hold each incarnation, each thought within them. I have watched white walls fill with works that travelled across the country, bringing with them the time and miles they travelled, their stamps and handlers, the nails and screws upon which they balance.
When I see artworks in galleries and museums, I know I am witnessing only one small portion of their narrative, and I want more. I search for the out of sight parts of these artworks to begin to enrich their stories, to attempt to understand their lived experience as changing, mutable objects who contain our time with them as they move into their future.
There is a chill in the night air. Fall is here, carrying the weight of the year behind it, breathing changes into the trees and gardens that begin to show the passage of time, the slow revolution of the seasons. I return to Opalka. He writes, "Time as we live it and as we create it embodies our progressive disappearance." Let us look to the objects we create to see our progressive disappearance. They reveal the briefest moments of that disappearance when we see them displayed, but they will hold the passage and passing of our lives long after we have disappeared.
I cannot read the news at night any more. I lay awake in the fading heat filled with outrage, sadness, my heart breaking with lives destroyed, communities torn apart, people disempowered and displaced. I have been dreaming of death, loved ones suddenly gone as I sit next to their hospital bed, the charred remains of buses and cars. As summer roars into its last gasp, I need relief, escape from heat, humidity, simmering tensions. Instead, I read the news in the morning, a bitter taste lingering, a veil on my daily activities that hazes my coffee, blurs my to do list, turns food into ashes.
I am privileged. I am privileged to be aware of and called to action by the multitude of crises happening in my neighborhood and around the world. I am removed enough and have enough leisure and access to knowledge of events that surround me and that take place across the globe to choose what I consume and how I act. I am privileged to sit and write these words.
Invoking Adorno again, we must ask what is possible in the face of daily crises? What is tenable when confronting the contemporary world? How can we continue to create when the world seems to crumble around us?
There is a reason we need art. We do not need art because it expresses the experiences of people in terrifying situations or because it brings escape or comfort, although we must remember its ability to do so. We need art because we are told there is a solution to the problems we face by people who have power, who want to maintain and restore a sense that they are in control in an increasingly uncertain world, who fear their power crumbling away from them. There is not a simple or easy solution. Real change takes longer than we can conceive and cannot happen within the frameworks that surround us. We need art to help us abandon the idea that there is even a solution to be found. We need art to push boundaries, not by imagining or creating alternatives that reinforce or are co-opted by existing conditions, but by shocking us into new ways of envisioning ourselves and our power in this tragic world, by opening doors to us that we did not realize were closed.
It is not enough to read the news and be outraged, although we must be aware. It is not enough to protest, although we must make our voices heard. It is not enough to sit down to dinner with your neighbor, although we must build meaningful connections between us as individuals before we see connections between us as communities. It is not enough to be radically local, although our work here ripples beyond our sight.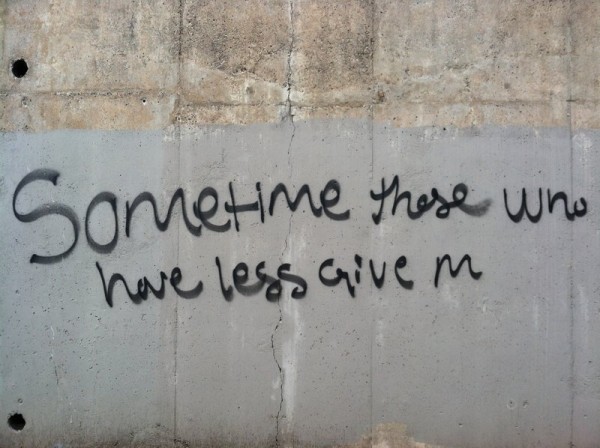 Contemporary art must be that which is inextricable from the hour it was made, the neighborhood where it was conceived, the global panorama from which it arises. With the exponential expansion of information, evidence, visual records, we must be aware of what we make, what we put out into the world, the context it enters. We must pay close attention to who we are, where we come from, the privilege we embody, the impact our actions have, and we must continue to create.
Read the news. Be outraged. Protest. Eat dinner with your neighbor. Be radically local. And continue making work that pushes the boundaries of what we know to be desirable. Art and artists are not a way to fix the broken systems that surround us, but they may be one way to begin a future we cannot foresee.
I am for an art that admits and proudly wears its context. I am for an art that is inextricable from the world which shaped it.
I awake from my dreams. I push aside the veil of of despair and apathy. I rise to meet the challenges of the day. They do not decrease.