by Autumn Hays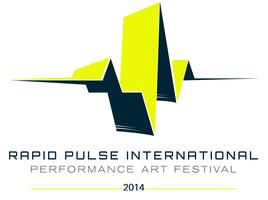 It's that time of the year again. Summer is here and this tends to be a prime time all over the world for performance art festivals. The best part is, if you are in Chicago you don't have to go anywhere to experience some of the finest international performance art. Rapid Pulse International Performance Art Festival has entered its third year. This year the dates for the festival run June 5-8th and 12th-15th. This years line up proves once again to be very promising. If you are interested in performance art it is an event not to miss.
Rapid Pulse is curated by Steven L. Bridges, Julie Laffin, Joseph Ravens, and Giana Gambino. Together, they bring a wide range of artists to Chicago each year. Rapid Pulse seems to touch on a wide range of genres, embracing theater, visual art, public practice, video, tech, music, and dance all the while dedicated to presenting work that is essentially performance art. If you have not had much experience with performance art or wish to have more, Rapid Pulse delivers a selection of artists that will provide you with a comprehensive look at performance art all in one festival. The lack of typecasting within performance art and the curation of this festival is part of what makes Rapid Pulse dynamic.
This year they will present works from notable artists, real heavy hitters in the performance art world. One of these artists is Kira O'Reilly (UK/IRELAND) who works with tightly controlled body movements that will leave you mesmerized. Then there is Alastair Maclennan (UK/IRELAND) who creates  durational performances and sculptures with eerie and nostalgic objects. The multi-member performance group known for their radical actions and border crossings of all kinds, La Pocha Nostra (USA/Mexico) will also be performing. I'm very excited to have the chance to see Lai Thi Dieu Ha (Vietnam) who created a work that used bird feathers to explore sexual identity in a provocative work that in her home country was extremely controversial. As well as Jason Lim (Singapore) will also present his delicate and introspective work; He is a notable figure in performance art and directs "Future of Imagination" in Singapore.
As expected, Rapid Pulse includes emerging artists who you may not have heard of, but you should get to know. I am very excited to see the work of Jessica Elaine Blinkhorn(US) whose work deals with disability and intimacy, Julie Vulcan (Australia) whose meditative work with salt explores ideas of transcendence, and Raquel Punto(Mexico) who deals with filth as a form of performatve evidence. Aiming to foster a supportive community of performance art and artists here in Chicago, Rapid Pulse also features talented local performers such as Mical Samama, Mikey McParlane, and the Antibody Cooperation, among others. In all they have 28 live artist presentations in vivid, exuberant, poetic, and boundary pushing performances and it is definitely worth attending!
Besides the performances which mostly are held at Defibrillator Performance Art Gallery, Rapid Pulse has a wide range of additional offerings. There is an amazing video series of performance art videos held at the Nightingale Cinema. This year they added a performance art workshop lead by Kira O'Reilly that is an amazing opportunity for local performance makers. Though perhaps not as attended as the performance work itself, the festival offers artists talks and panel discussions that are not to be missed deviling into the cusp of the most relevant perfomantive discourse. Still the jewel of the festival is the live performative events and I know this summer I will not be missing a single performance.
Full List of participating Artists: Alastair Maclennan, Alison Crocetta, Anna Brown, Antibody Corp, Boryana Rossa, Carlos Martiel, Diaz Lewis, Disorientalism, Espand, Freya Björg Olafson, Jason Lim, Jessica Blinkhorn, Julie Vulcan, Kira O'reilly, Lai Thi Dieu Ha, La Pocha Nostra, Linda Hesh, Manuel Vason, Matthew Prest, Michal Samama, Mikey Mcparlane, Peter Reese, Raquel, Punto, Sandrine Schaefer, Teoma Naccarato. For the full schedule and more information visit: rapidpulse.org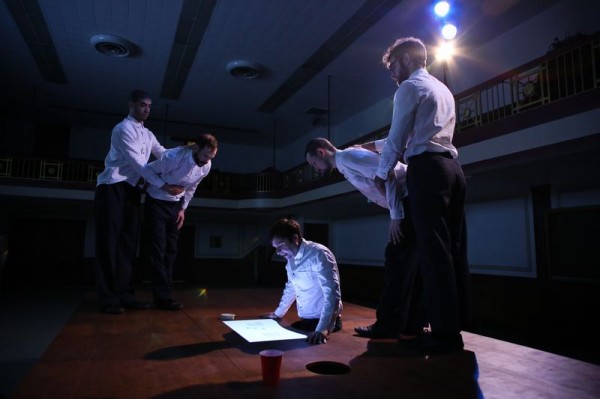 By Autumn Hays
This past Friday I attended The Operature an exhibition by the collective ATOM-r (Anatomical Theatres of Mixed Reality) at the National Museum of Health and Medicine Chicago. This exhibition was held in two parts an interactive installation and 90 minute performance showcase. ATOM-r's participants include Mark Jeffery (choreography), Judd Morrissey (text and technology), Justin Deschamps, Sam Hertz, Christopher Knowlton, and Blake Russell (collaborators/performers). The ATOM-r collective explores the application of forensic science and anatomical mapping, as viewed through the through the scope of performance, technology, and language. What struck me most about the exhibition was the poetic consideration of the body and the layering of segmented perspectives visually, technologically and through dance. This is especially true of the performance where the dancers bodies move like they are being examined for medical display, like they caressed with love or sex, like in battle, and like the ritualistic laying out of the dead all in one sequence. When combined the layers of sourced gesture seem not as if disjointed but in an embracing collaboration of movement. I feel my observation of this exhibition is like looking through a magnifying glass peeping in to catch glimpses at what is a large body of accumulated research.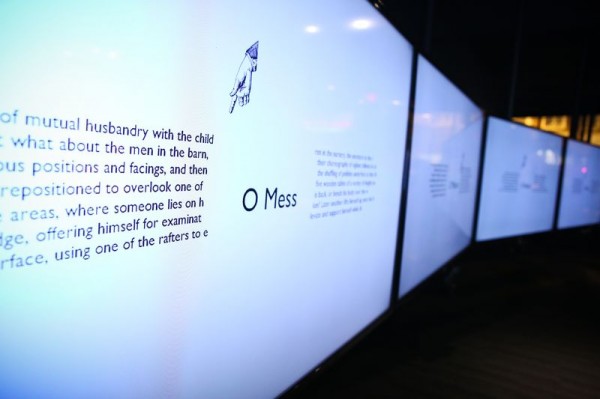 The installation included a 15 monitors that displayed the interactive exhibition's language poetry and digital art that seemed like entries dense with interconnecting references selected from an accumulation of archived materials. The Operature. Attendees are able to pick up cards with medical and anatomical imagery and show the QR-code to a camera provoking a response and changing the exhibited material as a corresponding text begins to dance across the screen blinking in and out. On other screens images of head cut into thin slices spin resembling the process of cross-sectional scans of bodies under anatomy study, or the presentation of anatomical evidence on glass slides. The dissection of slices is also seen in the exhibitions use of language fragmentation and the multifaceted perspectives created by technology that includes both in the installation and performance.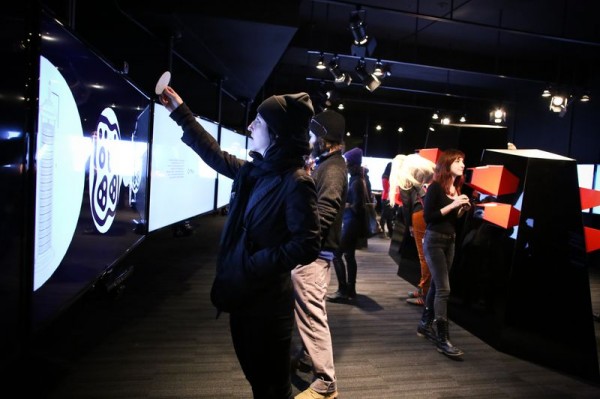 Upon entering attendees are prompted to download an app that allows them to interact using their smartphones during the installation and performance. Audience members found themselves taking on the roll of investigators drifting around the exhibition looking for signs, images, and codes that they could scan using their camera phone. Once scanned, these images display technological overlay ghost images and text that seem as if they had already been there, invisible, waiting for you to discover them. Often I find technological interactions to fall short but there is something consistent about the concept of a phone app that allows you to view an augmented reality layer in an exhibition based off anatomical theaters, where the audience becomes an investigator of anatomy. It was one of the best uses of interactive technology I had experience in an exhibition. This inclusion of the technological other worlds slips in and out of the subjective, pushing realties/non-realities together and is an integral interaction when used during the performance piece.
The collective stratum of reference is something you encounter in every aspect of ATOM-r's performance. One can view the piece from multiple vantage points choosing to sit in pews, walking among the performers, or standing above the performance looking down on it as in an operational theater. As the performers dance Judd plays the role of conductor, controlling projected displays of text reiterating those used in the installation, and reading them aloud as he performs.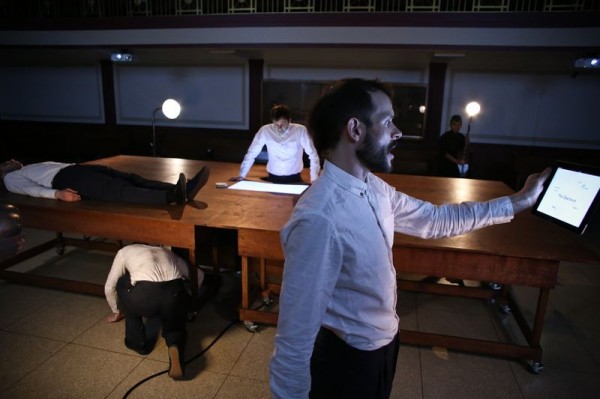 He also provides the attendees with a technological viewpoint, displaying his live video of the performance showing the virtual reality ghosts we first encountered in our own investigations of the installation. The spoken language of the piece was delivered in the same cold cut tone as a scientific manual but had the touch of deeply personal poetics of the struggle with the body. The text provides us with many concepts such as the examination of the body as house, the treatment of the dead, and the histories of anatomical theater. One of the most interesting sources is the text sourced from the "stud file" of writer Samuel Steward describing details and observations about his various erotic encounters with men. These excerpts when juxtaposed with the anatomical body texts create an interweaves narrative of the gay male body.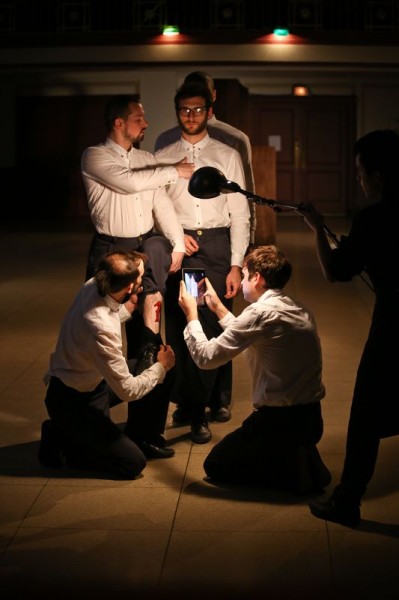 The expert choreography composed by Mark Jeffery and his collaborators holds the audience captive while working in correspondence the technological devices. The all male group of performers embraced, wrestled, fell, carried one another around the room like corpses, posed for examination, removed and readjusted each other's buttons and zippers, each performer functioning simultaneously as the displayer and the displayed. Even the lights become dancers moving around the room and repositioned by performers. Observes peer into the dancers bodies, guided by the ever-present examiners lights. As the scenes are constructed I am reminded of the painter Thomas Eakins and his paintings of medical theaters. The audiences enters ATOM-r's The Operature like a crime scene, attempting to paste together all the clues given through the use of dance, poetry and art as evidence. To quote text from the exhibition, "the evidence looked back at you awkwardly and defiantly", asking you investigate the margins of these clues. Your reward for your exploration is an involved and richly layered experience that speaks to the poetics of anatomy and left me feeling touched to the bone.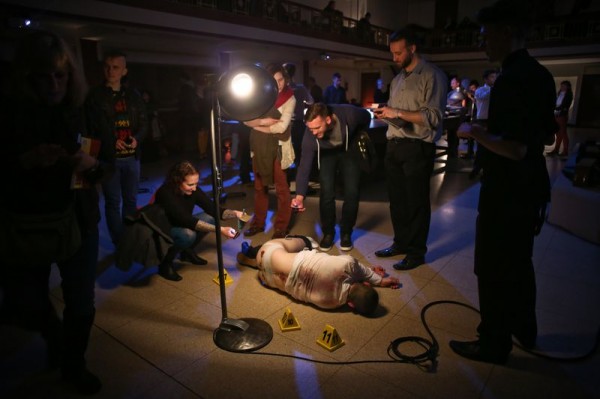 If you would like to see it for yourself the exhibition continues till March 29th. There will be two more shows this coming weekend on Friday and Saturday. The interactive exhibition is open at 6pm and performance begins 8pm. National Museum of Health and Medicine Chicago, 175 W. Washington, $15 at the door. Here for more info.
(images provided by ATOM-r. Photo Credit: Katie Graves Photography)
by Autumn Hays
Considered to be one of the most renowned performance artists, Ron Athey began his works in the 80s. They are notorious for including aspects of S&M culture and it's relation to the AIDS crisis. Athey's iconic pieces focus on a wide range of subjects including sexuality, religiosity, trauma, gay identity, loss, illness and ritualism. Raised with the expectation that he would become a Pentecostal minister, and after running away to L.A. and coming of age in the milieu of the punk rock underground, Athey's work grew out of a complex performativity that still informs his art practice today. In 2013 Ron's first book dedicated to his work was published entitled  Pleading in the Blood: The Art and Performance of Ron Athey, edited by Dominic Johnson. The book includes writings by peers and scholars such as Guillermo Gomez-Pena, Antony Hegarty, Robert Wilson, Lydia Lunch, Bruce LaBruce, Amelia Jones, Jennifer Doyle, Homi K. Bhabha and others. At the start of February, Chicago was host a legendary performance artist, Ron Athey visited Chicago. I was lucky enough to attend his performances, lectures and snag him for an interview. Here are some excerpts from our discussion.
—
AH: How it feels to be back in Chicago?
RA: I think I had more pre-anxiety about coming here, memories of staying here with Lawrence Steger and doing things with him. I was shocked and went into the shivers from the cold when got off the plane, not wearing long underwear. It's not like London is warm, it's moderate and miserable there. Where as here needing many layers, I dig it.
AH: Tell us about he last time you were here and the last performance you did.
RA: I had to look at my own notes, I was here twice in '99 doing Solar Anus so at Hot House and at Chris Kellner's gallery Hook Torture and I hadn't realized I haven't been here since then.
AH: Yeah it's been a while
RA:Yeah, I mean climates change. Randolph Street Gallery closed and all those places I would have went back to.
AH: I've actually been through the Randolph street archives and have seen videos of your work there and you really could feel its loss once it was gone here. I am interested as you are here working with Defibrillator a newer performance space what are the correlation and difference between these kinds of spaces in this new kind of art climate?
RA: I think it just takes energy to make things happen. It's not really that the climate is any different. A lot of spaces with the same history as Randolph Street that go back to NEA funded times, but really even before that these are artist run spaces and they don't, move with the times. So there was this gap and it takes someone high energy like Joseph (Ravens) to get people to work together. I mean even for these pieces I am doing this week and that he realized that Defibrillator itself would be a crunch and he found the right place off site, this is another way of working the art space because the space is so important. Some pieces I feel like I don't want to be in a place that shows work, like you know this site specific thing becomes a more neutral space than that black box or white wall hygiene kind of space.
AH: Your work is very versatile where you can perform in a lot of different kinds of spaces. I mean you can do that black box theater, the white-walled gallery, you can do performance art spaces or even S&M clubs so you have a versatility in where you can perform and also a little bit in your performativity, you engage various kinds of performance. What's the difference in working in these spaces? Is there a benefit to being flexible?
RA: Well, I wish I could still perform in clubs still, but I did evolve out of that scene. That allowed me to workshop before even any idea of funding to make the gig possible came up. For some pieces I think I might be precious about it being there. I tend, since I started doing the self-obliterations, I like being in with the audience. For the most controlling side of me, a perfect black box with the floors freshly painted and super duper lights, because you're not fighting the white wall sucking the light out from one minimal light that happens to be shining. It's a more controlled situation and I do work in lighting illusions and those sorts of things. So that's if I'm being precious but it's not necessarily the best feeling, the way I feel interactive with the audience or the space. But I think to get away from those white gallery walls I did start staging pieces in the middle of the room so that the people are the frontdrop and backdrop. You know I don't come out of this tradition of thinking of live art as an extension of gallery, my work doesn't come from there, I fully understand work that does but I'm not so keen on this… of course I love the perfect image, the perfect photograph but that's not the work. I'm always concerned with how many cameramen are in there. I thought we were watching a work.
AH: Especially nowadays with camera phones it's interesting to have that camera lens constantly there.
RA: I think you have to think about what you are not experiencing while looking for that shot and also, do you care about the work, or are you just documenting your own life?
AH: So we touched on your definitions of live art and performance art. There are always different definitions. What are your thoughts on that?
RA: I think you get this polarization. This is the gallery school, and this is the theater school, but actually my background was through the Pentecostal church, particularly woman evangelists who did illustrated sermons starting in the 20s with Amy Semple McPherson, who built Angelus Temple in Echo Park and later Miss Velma (Jaggers) who built the jeweled altar from the Book of Revelations and who would appear as the whore of Babylon swinging in on a crescent moon using all the 70s technology, like the echo box, strobe lights and fog machines. So, performance art is this other type of sacred theater without the belief system in it. In abstract terms I might still use a thing like the audience is the witness, and its not about second guessing what their boundaries are, what they will experience, what they come in the door with. It's impossible to know. It's a mix of things, which is what it should be.  Also it's about what mode you are in. It's obviously not acting, so it's just full of these triggers to go into, not an altered state where you look like your fitting or asleep but some heightened state. I like art that rides a line between art and not art at all.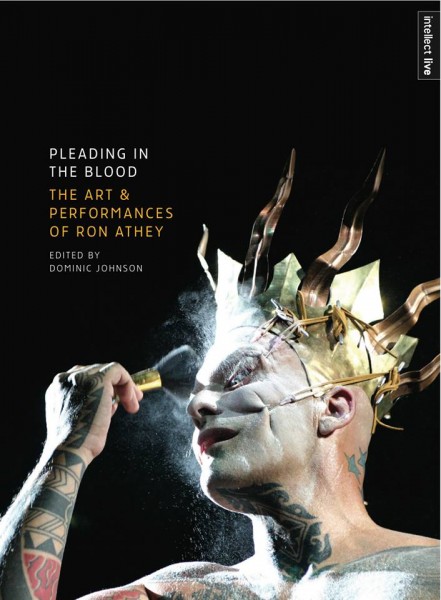 AH: I was wondering if you could tell us more about your book, "Pleading in the Blood", and your process of making it.
RA: To start out with the book, you have to open archives that you didn't even know existed. And here is where I have to give some kudos to social media. I am very linked in to people in LA, people from the late 70s and early 80s Goth and Punk scenes. So I was able to come up with materials, confirm dates, and stories through there, and then track down the photographers. All I ever had was the newspaper, the tabloids, the rough printed images, Xeroxed and scanned, you know that kind of thing. And then I started getting closer to the source of the original image. It felt like I was perusing someone from a David Lynch movie, you're in a hotel room with seven 5by7s in a brief case. So you track that down and try to flesh out some of those stories, which is a harder period for me to flesh out. And working with Dominic Johnson who is a young academic at Queen Mary University, London. He was clear about what heavy academics who we liked in common, but I was clear that I didn't want it to be one of those artist books with three academic essays in it and lots of pictures so that no one ever, except for people in school, ever read the writing because its inaccessible outside the bubble. I wanted to give it a testimonial voice not just an academic one.
AH: Do you have any advice for younger artists attempting to learn the craft of making performance art?
RA: The key element of making work is immersion. Rather than doing research as a strong guide, let it be something you soak up. There is nothing sane about making performance art.
—
Defibrillator, Hook Torture, and Mana Contemporary pooled their efforts to showcase Ron in Chicago this month. Each night was filled with a wide mix of viewers, from pierced punks and goths, old school Chicago underground, art students, and art academics, many eager to see Ron's work in person. He performed two works on two separate nights, "Incorruptible Flesh: Messianic Remains" and "Sebastian" featuring Jon John and Sage Charles.
Messianic Remains is part of Athey's Incorruptible Flesh series. The series started in 96' and references the dark reality of living with AIDS. Athey talks about the piece saying it stems from "still living but not living bodies". 10 years later in Glasgow, Athey did a solo individual piece, 6 hours long. The third part focused on the Mythological. Now this 4th and final chapter, was performed in Chicago at Mana Contemporary on January 31st. The work reveled in a religious grandiosity and explored Ron Athey's body as a post-AIDS entity: a survivor. The work also looks at Athey's own bodies ageing, and seems to shake hands with notions of death. The choreography is inspired by Kenneth Anger's short film, Lucifer Rising. 
The audience came in on to Ron laying down on ladder sitting on two wooden sawhorses with a baseball bat, swollen glands, and his head latched to a series of hooks in a crown of thorns style lining, his head connected to the wall. Though the preparations for this performance were not part of the audiences' viewing, many felt the preparations, though unseen, were a large part of the work. Clear gloves were handed out and the audience dipped their hands in a pale Vaseline before taking turns touching Athey's body as he laid on display. The offering of his flesh was both a gift and an obligation as viewers chose to experience the tension and pain up close. Ron than rises for a mythical, almost Egyptian dressing ceremony and moves to a new part of the gallery where he begins to read text from Our Lady of the Flowers, Jean Genet, specifically "Divine's Funeral."
The very next day Ron Athey, Jon John and Sage Charles preformed "Sebastian." While interviewing Ron I had asked him about Working with Jon John and Sage.
"We have this great chemistry where we trust each other, we don't have to plot out everything. You're going to do what you need to do with the goal of making this action happen. Easy directions within a choreographed frame. What is Sebastian? I don't know. I think that's where live work can be surprising. If you know what you want to prove rather than explore something you're just strong-arming a result. The potential of live experience is so beyond that outlined vision that I'm doing. It took me a long time to understand that."
In this work Athey is taking on the role of St. Sebastian, a saint that has also become a homoerotic icon. The event starts with Sage and Jon John making their way through the crowd in a procession towards Ron, who is already hung up on a ladder, tied with red rope. As Sage drums, Jon John climbs a second ladder to meet Athey and begins piercing him with arrows. Ron begins to scream and chant in performance's best ritualistic shamanism. Jon John then fills the role of St Irene and begins to heal Athey, spreading lotion on Athey's body, eventually removing the arrows and as Athey bleeds he helps him depose down from ladder and onto a table where they cover him in a white cloth. For the final and perhaps most touching part of the performance, one that had echoes of the NEA controversy, Jon John cuts sections of cloth-covered in Athey's blood and places them in tiny frames handing them to random audience members.
Ron Athey's work certainly isn't for the squeamish, but despite the inclusion of blood and body modification I didn't find the shock value of the work to be any kind of crutch or sympathetic tool. Rather is was a means of performativity that outwardly engaged Athey's body as a gay, post-AIDS, religicized, performative body. When looking at his work, the dense symbolism and actions, the controversy and the intense metaphoric value, I feel like ending this with one of my favorite quotes from my interview with Ron Athey that I feel addresses his work, process, and in a way the very practice of performance art.
"I'm actually at this place in performance art where I think everything is just an entry point. You can say this is about your mother, this is about this accident, this is about AIDS, but it's actually not what it's about. You don't know what it's about till you do it live, that's why it's live work. I have to bring something to life to make work. There has to be uncertain things within the framework of the piece that allow it to go as it will."
Just over 6 months ago, after 8 years of being a practicing contemporary artist, I graduated with my MFA. Though I knew my post graduation time would be full of unexpected ups and downs, and the struggle would be trying, I still had little idea of what it be like. Here I am with my degree, job hunting, making work and participating in the arts community like I knew I would, but there were a lot of things I was unprepared for. One of those things is just how shocking, depressing, uplifting, relieving, trying, exciting, lost, hopeful, and full of opportunity it would all feel. I know I'm doing well and trying as hard as I can, but it's still hard to keep afloat.
So I think what I'm writing about is something that is not openly talked about. How when grad school is over, even though you get a lot out of the experience, somehow you're also hitting the reset button and starting the climb all over gain. It's a love/hate experience. I was even hesitant to write about it because maybe if I admitted it hasn't been that great it will reflect poorly on me. But I was also lucky to have mentors to talk to who know there are many like me, struggling to get by in a depressed economy where the rules just aren't the same as they used to be. It seems like every job is something I am not experience enough for, or too experienced for, Its like being stuck on a bridge in a traffic jam. I'm going to a place I can't get to, leaving a place I can't go back to and the bridge is packed with cars all going the same way.
Many in our modern era look at the pursuit of art practices as selfish, and worthless endeavors. If you went through college as an art major, you've already had to face it over and over. The same friends and family that encouraged you to be creative, expressive and a follower of the obscure thing called "your dreams," then cringe when you tell them you are an art major. You are told that you better make a back up plan, and you'll never make a living as an artist. Yet I can't help but wonder, perhaps if we felt more supportive of the arts there would be more support there. The student studying to be an entrepreneur is often told what a brave contributor they are while the artist students are often told what a mistake they are making. To get through it, no matter who you are, you had to face discouragement from friends, family, teachers, councilors, bosses, the government, and in general the world is just not invested in you. Yet despite continuous discouragement for this hugely impactful and important cultural force we call art, you became an artist.
Part of the reason this post-school transition becomes such a struggle is the ever-present stigma of a successful artist. What exactly is the benchmark for being successful as an artist? Others often remind me that the probability of becoming a famous artist is very low. I respond by saying I never want to be a famous artist; I want to be renowned in the art world for what I do in a way where my practice is accepted but not famous. On some level my disinterest in fame has to do with a paradox that affects an artists once they rise to a certain level of fame.
Once in my undergrad while taking an honors art class with Haim Steinbach we were critiquing work and he said we needed to keep experimenting and not get stuck in one way of making. He explained that we were lucky, because he was now what he called a "dead artist" and we were not. As he was a famous and active artist, at first this first seemed like an impossible thing to say. He explained that once your artwork is found, the public/art market begins to push you towards remaking that one piece you became famous for. That even when you want to explore different avenues, it's very difficult as a famous artist to get shows, funding or acceptance if you aren't in some way reproducing the work you have become known for. And this is the moment, he explained, when you become a "dead artist". By achieving the fame his work became constrained to it's own commodification, killing his practice and in turn his art.
So what do we do when trying to forge our own way and build our careers after school? There are answers out there if you keep talking about it, and I am thankful for those out there who will discuss this openly. Understanding it takes time. You really are beginning again, but know that you are better off than where you began before. Plant seeds everywhere. You never know what is going to sprout and where it will lead. Say yes to everything you can, as you never know where it will go. Keep yourself humble, you're not too good for any job. Keep yourself proud, no job you take is a shame to have as long as you are keeping your practice up. Keep moving forward every day. Make plans, improvements and goals. Know you are not alone and you are doing the right thing. And how do you measure your success? I've got to say when I take everything into account, knowing of course that success is a very personal reflection, I do think there is a clear way to know if you are a successful artist. That after all the pressure, aversions, and struggles you still keep making art. No matter how your practice changes, or where you are, or what job you have, or how stable you are financially, or wherever your life may lead: being a successful artist has nothing to do with that, but rather with you staying an artist. The continuation and advancement of your artwork and practice itself is the mark of a truly successful artist.
Special thanks for thier support and inspriation: Charles Rice, Mark Jeffery, Bradley Litwin and Haim Steinbach