Audio clip: Adobe Flash Player (version 9 or above) is required to play this audio clip. Download the latest version here. You also need to have JavaScript enabled in your browser.
download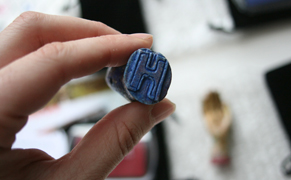 This week: Hyperallergic founder Hrag Vartanian live from NADA.
Hyperallergic is a forum for serious, playful and radical thinking about art in the world today.
Created by husband-and-husband team, Veken Gueyikian and Hrag Vartanian, Hyperallergic officially launched on October 14, 2009. It combines the best of art blog and magazine culture by focusing on publishing quality and engaging writing and images from informed and provocative perspectives.
The site was the winner of Best Art Blog at the 2011 Art & Reality Conference in St. Petersburg, Russia.
In 2011 alone, Hyperallergic was featured on major media outlets around the world, including television stations, like Al Jazeera, radio stations, like WNYC and 97X, newspapers, like New York Times, Washington Post, Los Angeles Times, the Guardian, The Art Newspaper, Poland's Onet Wiadomości, Hungary's Origo and Israel's Ynet.co.il, magazines and journals like The Nation, Art News, Italy's Internazionale, The Brooklyn Rail, and not to mention dozens of websites, including Boing Boing, Kottke, Andrew Sullivan, Felix Salmon, CNN.com, Huffington Post, Memeorandum, Gothamist, Gawker, Kotaku, FoxNews.com, NBCSports.com, PSFK, Brooklyn365 and The Stranger's Slog.
Hyperallergic also publishes a Weekend edition edited by leading writers and journalists. It offers a closer look at issues in art, books, films, theatre, dance and music.
In addition to the blogazine, our fast-growing Hyperallergic LABS is one of the largest art blogs on Tumblr. It is a visual laboratory that explores weekly themes through art and mines the internet for images, memes, quotes, links and videos. LABS is an online experiment that welcomes public submissions for its Talk Back Tuesday feature every Tuesday and its Events Thursday feature every Thursday. To submit content, visit hyperallergic.tumblr.com/submit
The Hyperallergic Podcast, known as Hyperallergic TV, features video & audio discussions of art, exhibitions, trends, the art blogosphere, and issues facing the art world. Hyperallergic TV is also available on iTunes.
The Hyperallergic Newsletter is sent out weekly and includes a letter from the editor with a recap of the most popular and important stories from the week. (Subscribe here) Newsletter subscribers also get first dibs on Hyperallergic events, that include discussions, parties, screenings and performances.
Audio clip: Adobe Flash Player (version 9 or above) is required to play this audio clip. Download the latest version here. You also need to have JavaScript enabled in your browser.

download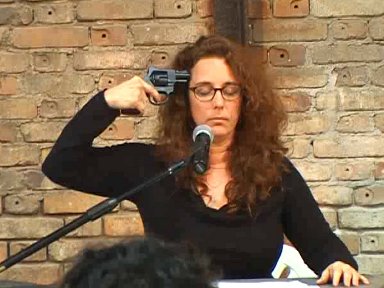 This week: Duncan talks to installation and performance artist Tania Bruguera.
TANIA BRUGUERA
Tania Bruguera (born 1968, Havana, Cuba) is a Cuban installation and performance artist, trained at the Instituto Superior de Arte in Havana and at the School of the Art Institute of Chicago. Bruguera's work pivots around issues of power and control.
She lives and works between Chicago and Havana. She is the founder and director of Arte de Conducta (behavior art), the first performance studies program in Latin America, which is hosted by Instituto Superior de Arte in Havana. She is also an Assistant Professor at the Department of Visual Arts of The University of Chicago, United States and is an invited professor at the University IUAV in Venice, Italy.
A March 2009 performance by Tania Bruguera, at an arts centre in Havana, has been involved in controversy. During the performance Tania Bruguera put up a microphone and told people in attendance they could say whatever they wanted for one minute. Various of the attendees use the opportunity to ask for "freedom" and "democracy". One of these was the awarded blogger Yoani Sanchez. The Cuban government denounced this in a statement saying that it considered "this to be an anti-cultural event of shameful opportunism that offends Cuban artists and foreigners who came to offer their work and solidarity."
Another controversial performance in September 2009 in the National University of Colombia (Bogota branch), included consumption of cocaine provided by the artist to the attendants. According to University officials, the artist asked for permission to carry a weapon and use cocaine but permission was denied.
Artnet News reported yesterday on the controversy kicked up by Cuban artist (and University of Chicago faculty member) Tania Bruguera, whose performance on Aug. 27 at the Facultad de Bellas Artes at the Universidad Nacional de Columbia in Bogota caused an uproar. As part of a larger piece dealing with Columbian history and politics, Bruguera offered lines of cocaine to her audience, some of whom took the bait and consumed what turned out to be authentic (and, apparently, "good stuff" according to those audience member who partook). Here's an excerpt from Artnet's story:
Bruguera's performance, which took place on Aug. 27 at an auditorium of the Facultad de Bellas Artes at the Universidad Nacional, drew enough of a crowd that it was transmitted outside to spectators via a large screen. According to various accounts, it began with three figures — representing, the artist said, a right-wing paramilitary fighter, a left-wing guerrilla and a refugee displaced by the long-running conflict in Colombia — all speaking simultaneously into a microphone. However, whatever they were trying to communicate was overshadowed when the second part of the show began, with an assistant wading into the crowd carrying a tray laden with lines of coke, presenting it for the audience's consumption.

Reactions at the time were mixed. According to a student who was present, writing in El Tiempo, at first the event was assumed to be a joke, until several members tested the drug, and proclaimed it to be "good stuff." At this point, some spectators joined the festivities, and others walked out (mainly the older crowd seated up front, El Tiempo's correspondent says). Some audience members warned those who were doing the drugs that they were participating in illegal activity, while others continued to try and watch the stage action. Following the commotion, Bruguera herself took the stage, thanking her Colombian audience and exiting. And according to reports, the police were called.
Artnet also links to a YouTube clip of Bruguera responding to critics at a panel after the performance, which I'm including directly below for you Spanish speakers and body-language readers. The clip shows an angry audience member who, according to Artnet, describes herself as an "activist, journalist, artist and direct victim of the violence" and vehemently criticizes the piece for its superficiality.
Bruguera was part of the MCA Chicago's "Diversity and Contemporary Art" panel that took place a few weeks ago on September 9th. I wasn't able to make it – but I'm curious if this particular performance was brought up at all during the discussion. Did any of you reading this attend? For that matter, if you happened to have been present at Bruguera's performance in Columbia, by all means let us know what you thought of it in the comments. We're trying to reach Ms. Bruguera directly to get the artists' side of the story, and will keep you posted.
Contact: Amanda Browder: NY Bureau Chief at Bad at Sports amandabrowder@gmail.com,
badatsports.com
voltashow.com
Bad at Sports at VOLTA NY
82 Mercer Street, NYC
March 6-9, 2014
FOR IMMEDIATE RELEASE
New York, NY (February 17, 2014) – Bad at Sports Art Podcast will be featured at VOLTA Art Fair 2014 in SoHo, NYC … in bed.
This year Bad at Sports will be snuggling up with an exciting list of interviewees In Bed for coverage of VOLTA NY. Located in the heart of SoHo, the Bad at Sports "bedroom booth" is a nod to the original 1969 Bed-In performance by Yoko Ono and John Lennon. Can peace and harmony be made in the art criticism world? Will the art fairs cause extensive napping and dream-like chatter?
While trying to steer clear of pillow fights, podcasters Amanda Browder, Duncan McKenzie, and Richard Holland will be conducting live interviews with a collection of local and international artists, critics, and curators. Stop by to catch the interviews in person, or tune in online at badatsports.com to listen to chatter with participants like Adam Parker Smith, Kristen Schiele, W.A.G.E, and Hajoe Maoderegger and Franziska Lamprecht (eteam). Get the dirt later on with guest critic Katy Hamer from the art blog Eyes Towards the Dove. We will be making peace, love, and naughty jokes around the art world and fairs … in bed.
####
Featuring bedside chats with:
Franklin Sirmans – Terri and Michael Smooke Department Head and Curator of Contemporary Art, LACMA and Artistic Director, Prospect.3 New Orleans
Hajoe Moderegger and Franziska Lamprecht (eteam) – artists, NYC
Judith Reddy Blum – artist, NYC
Kristen Schiele – artist, NYC
Rebecca Goyette – artist, NYC
Jeff Stark – Editor, Nonsense NYC and artist
Critical Practices Inc. – artists, NYC
Adam Parker Smith – artist, NYC
Carolyn Salas – artist, NYC
Katy Hamer – art writer and artist, NYC
Lise Soskolne – artist and core organizer, W.A.G.E.
Vincent Dermody – artist, NYC/Chicago
Casey Ruble – artist, NYC
Willie Cole – artist, New Jersey
Martin Bromirski – artist, New York
and more…
###
Read more about Bad at Sports at VOLTA NY here.
About Bad at Sports
Founded in 2005 by Duncan MacKenzie, Richard Holland, and Amanda Browder, Bad at Sports (B@S) now features over 20 principle collaborators and is a weekly podcast, a series of objects, events, and a daily blog produced in Chicago, San Francisco, Detroit and New York City that features artists and "art worlders" talking about art and the community that makes, reviews and participates in it.
B@S can be tricky to describe: it acts as a curious investigator, an archivist, oral historian, and occasionally as a provocateur. We produce content that lies somewhere on the venn diagram of art, journalism, media, intellectualism, and "the naughty bits."  We represent artists and their art world through an archive that is text, audio, physical, ephemeral, historical, and constantly evolving through ongoing and unique projects.
Bad at Sports has "done stuff" with apexart, The St Louis Contemporary Art Museum, the Museum of Contemporary Art Chicago, Baer Ridgeway, NADA Art Fair, Open Engagement, Cannonball and many others. We share collaborators with Art Forum, Art Practical, The Chicago Tribune, Chicago Magazine, Art21, BUST magazine, Proximity Magazine, Modern Painters, Beautiful Decay Magazine, Art in America and numerous other publications.
Our podcast has included approximately 450 interviewees/co-conspirators including Kerry James Marshall, Jeff Wall, Larry Rinder, Peter Saul, Liam Gillick, Mary Jane Jacob, Chris Ware, Tania Bruguera, Jeffrey Deitch, James Elkins, Meg Cranston, Carol Becker, and Polly Apfelbaum.
Bad At Sports has been a lot of different people but is currently Brian Andrews, Amanda Browder, Stephanie Burke, Terri Griffith, Richard Holland, Christopher Hudgens, Jamilee Polson Lacy, Duncan MacKenzie, Patricia Maloney, Sarah Margolis-Pineo, Nicholas O'Brien, Caroline Picard, Abraham Ritchie, and Abigail Satinsky.
###
New York City-based artist Jenny Polak has long dealt with issues of citizenship and legality through her site-specific and socially-engaged projects. Drawing heavily on her background in architecture, but working across a variety of media, Polak's work brings human scale to the urgent politics of immigration in the US. Here, we spoke about her recent project at Northwestern University's Kaplan Institute for the Humanities, the pitfalls of nostalgia, and the question of utility in art.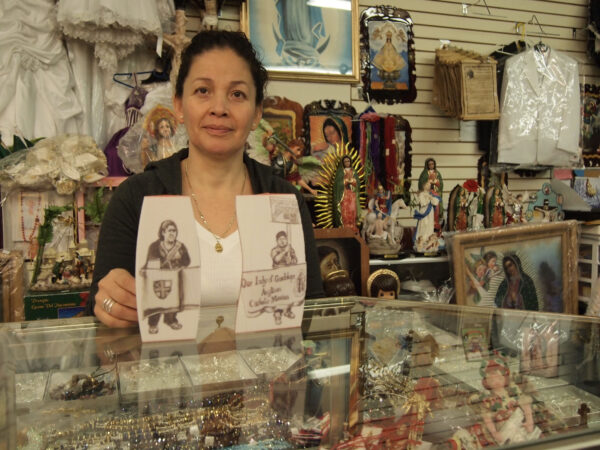 Maria with (n)IMBY Keepsakes at Our Lady of Guadalupe, 2012. Photo: Jenny Polak
Your work is primarily about the experiences of undocumented people. How did you develop this as a lens?
I've got this simple outrage at the way the rules of nations and international relations are written to ensure that the people flowing across borders will remain vulnerable enough to be exploited. But it's also a fascination I have with the complex interrelated migrant lives that are the life-blood of many societies, without the supposed benefit of the legal underpinning and authorization that comes with citizenship. I'm a Jew from England, where modern immigration law was founded on anti-semitism, capitalized on by racist loser politicians who insinuated a divisive narrative to use to their advantage.
Feeling pissed off about legacies of exploitation is a sort of lens. I got mixed up in immigrants' rights activism in the US in the mid 90's because Bill Clinton threatened to and then passed a couple of hugely terrible Acts that were going to catapult hundreds of thousands of people into immigrant detention. And then I would practically trip over shackled black guys on crowded Varick Street (then the location of a key detention center) where the architect's office I worked in got me my second H1b visa. In the US of course the conceptualization of birthright citizenship got all bound up with the exclusion required to maintain the institution of slavery, and the seeming progressiveness of the 14th Amendment, driven by the need to legitimize a now undeniably free, and sometimes armed workforce has been followed by layer upon layer of gate-keeping legislation, to control new cheap labour supplies. Business as usual.
You recently completed a residency with the Kaplan Institute for the Humanities at Northwestern University, where you worked with community activists who were opposing the building of a private detention center in Crete, IL. Can you talk a bit about what that experience was like? What challenges did you encounter?
This was an amazing thing. I'd been following the local news as the battle developed and with many in the 'immigrants rights' world cheered when Crete said NO to Corrections Corporation of America, the huge company that profits from mass incarceration policies in the US and elsewhere. Right then I got offered this miraculous residency, which gave me the chance to go and find the people who had pulled off this extraordinary result. I felt this urgently needed to be understood, represented and commemorated as an inspiring model for other communities. It wasn't an ideal residency project perhaps; 3 months is an unusually great amount of time for me to be able to concentrate entirely on art but it is short for the kind of community connections I wanted to establish. I researched and networked before going, and luckily for me I already knew a few people in Chicago, not least my Mother-in-Law, who always provides a supportive base.
The Kaplan Institute people were also great about the general idea for the project and for an interdisciplinary class I proposed dealing with socially engaged art as it relates to urban planning, with a close look at the case of the Crete prison, which of course was partly an urban planning issue.
So my big challenge for this project was to meet people both in Crete and the vital immigrant activists from Chicago, learn from them in much greater detail how they saw the whole struggle, and win these remarkable people who had already moved on to the next struggle, to the idea of working with me and a couple of Northwestern students to make art relating aspects of  "The Sweet Defeat of the Prison in Crete" – as activist Anthony Rayson named a zine he made – to a possible wider audience. It's a tricky thing that is tough to get right in socially engaged art: when you are not already part of a community, and will not be able to stick around, why are you there? The activists involved had already done brilliantly at PR. The very different affected communities – the Concerned Citizens of Crete (started by Cetta Smart) and the immigrant community centered on Fr. Landaverde's Anglican Catholic Mission Church of Our Lady of Guadalupe in Little Village – knew what they were doing and Local and national news media had followed the story in English and Spanish. I wanted to see something else happen because I thought that a particularly striking thing was the coalition of citizen and non-citizen that formed across a big divide of consciousness.
The people found common cause thanks to the abilities of several leading people in both communities to frame the debate in terms of the high ground; the moral outrage of detention and deportation, and of profiting from them. I proposed some art under the heading (n)IMBY, exploring ways to represent and sort of idealize this uniting of people whose 'profiles' didn't match, both for the people themselves and for possible art audiences who would never know them. A number of the people who had been involved graciously came back together at my request: Father Landaverde's community generously hosted, the no name collective provided support and I quite old-fashionedly drew and photographed them. The photographs simply pair up citizens with immigrants with the gridded walls of the storefront church as backdrop.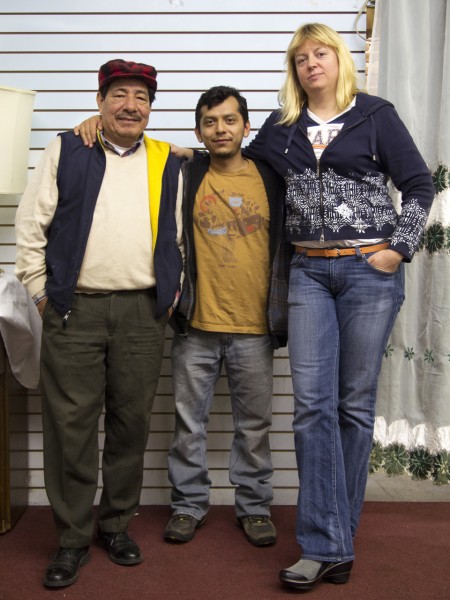 From the (n)IMBY photo series, 2012.
Your work has multiple publics: the people it was done about, with and for – as well as the art world. How do you reconcile the function of your work in these two, often separate realms?
I have difficulty with thinking about an artwork that is not also understood as an object with meaning in the real world. So for the (n)IMBY project, I wanted to make something life-size – actually I thought about a commemorative monument of sorts, but the relationship to site was looking problematic, with two key foci of the struggle, neither of which I could just impose an object on without a lot more time to be with people and delve into what might be useful and share-able.
So I drank in the frequency of little Virgin of Guadalupe statues and tried thinking souvenirs – multiples thought of as 'low' art in high art world terms. I imagined narrative keepsakes that could be found in many people's homes or places of assembly. There was a show of the figurines of John Rogers about that time – a prolific Victorian sculptor of Civil War and moral scenes. I was going to try and cast something but the Engineering Department at NU opened their Rapid Prototyping Lab to me and I made 3D prints instead – not as many as I would have liked, to share among more people, but it was an inspiring opportunity and I think those who have taken them to keep have an interesting connection now with both each other and the few art-audience people who may get to see some in a gallery context.
One big reason for making art objects at all rather than participatory events and such, is that the "communities of communication" (- a term like that I think comes from Walter Benjamin) that objects might generate – people who in potentially energizing ways are sharing ideas – don't have to be all in the same place or exist in the same time, and this is important because you need so many different kinds of people on board and so much time to go after a real high ground kind of vision.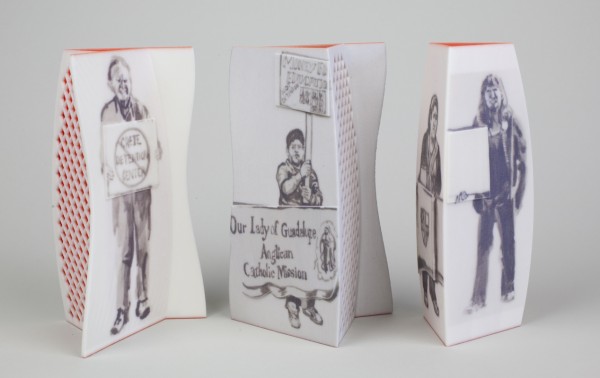 (n)IMBY Keepsakes, 2012.
There is a feeling, in your work, that you're not interested in getting nostalgic about the immigrant experience, but that you're actively engaging the "now" on these issues, and imagining into future possibilities.
I grew up in crazily nostalgic culture – both England and the un-English, Jewish cultural time-warp I existed in are very tied up in their pasts. When I started to think about migration and its representation or manifestation in art I saw everyone doing 'share-your-history-or-culture'-type-art. That was also THE accepted way for an artist to 'work with the community' – still is. These projects are celebratory, educational, cool, but tend to draw attention away from action or even from any representation that includes analysis of or fight-back against injustice. That's not to say I think political art should be all about protest – many of us have done a lot of that and can see that there other ways to work so as to activate a space – not just the designated space of protest – with an awareness of its reality – its present, socio-economic networks – in such a way that people kind of unsuspectingly get a sudden jolt of their own reality and connection to others'. So after I tried making an art about my background, looking at the idea of the Jew in England, my amazing family, my own bizarre overdetermined history as a Jew sick with a supposedly Jewish disease and such, Lyle Ashton Harris said to me in a studio crit in the Whitney Independent Study Program one day, "why should I care?" A truly helpful thing. I said to myself, right, this stuff will be behind me, but now I will face outward, and look for ways to connect with other people, in the present and for the future.
How do you understand the relationship between your art and your activism?
Chicago was the first place I came to when I first arrived in the US, and the first thing I saw as I was driven from the airport was a huge demonstration about some art. (It was about "What is the Proper Way to Display a US Flag?" – the work of my husband-to-be, Dread Scott.) This added tantalizingly to my sense that in the US art could influence public opinion, which I had given up hope of in England. My activism for a time was kind of separate from my art, but I was saved by the experiences of collaborating with Repo-History and the poster collective Resistant Strains on a few projects. Plus I had had a kid, and started working for architects and there wasn't time anymore; then it was suddenly clear to me that those things (kid, architecture) were the sources and the connections I needed for a new activist art combo. I drew on my architecture background and my immigrant activist network and made a web project (HardPlace) for which detainees from across the country supplied sketches of what they knew of their invisible prisons, (photos being forbidden) and I traced them into strange digital 3D models where you could find a few tidbits of info that cumulatively conveyed an idea of the terrifying Kafkaesque system that was proliferating since the 1996 laws had passed. The Lower East Side Tenement Museum funded the project so that I felt able to team up with web designer Lauren Gill to deliver a project that got quite a lot of attention on the predicament of detainees and the dangerous direction US immigration policy was headed in – it was launched soon after 9/11 and detention was taking on a new definition in the public imaginary and in abusive reality.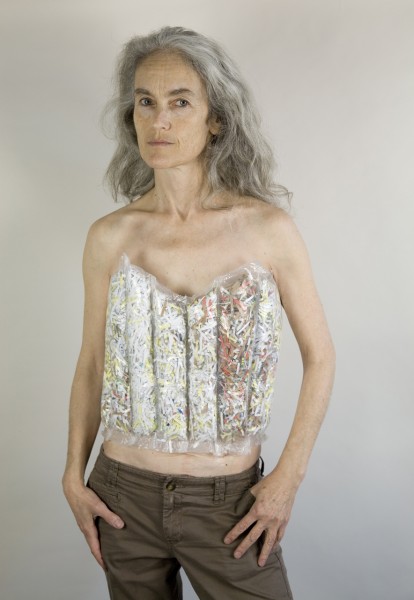 Cover Series, 2012. Photo: Dread Scott
Having a social or political application in one's work can lend itself to a particular kind of "usefulness," often discussed in socially-engaged art. How do you address utility in your work?
There are different ways to be useful and to address usefulness. Many things I make use a language usually thought of as functional or useful but they are dysfunctional – they talk about their own inadequacy or misguidedness. I think of it as a sort of reverse-engineering the ready-made – art that escaped into the real world. It can't be instrumentalised except in make-believe (unlike the Urinal getting put back to its intended use) but it can talk about what might have been or might be. I think when artists aim for 'real' utility, it tends to produce poor relations of things made by real designers and urban planners – partly because art in the socially engaged realm has generally had to accept a pathetically minimal funding structure as compared with architecture and urban design budgets, or even regular public art budgets – but of course those big budgets entail the forswearing of criticality- the pact with the devil. We are beginning to see some good results as the exchange flows the other way and urban designers merge into artists.
I was moved recently when Tania Bruguera's Museum of Arte Util, soon to open in Holland, asked to include my Design for the Alien Within and other projects in their archive. My tactics may be frowned on by some advocates/practitioners of utility in socially-engaged art. For example during Occupy Wall St, I got involved with Mitch McEwen and others in the Architecture Group: there were interesting discussions and practical exercises to come up with temporary shelter strategies for public sites controlled by city regulations, as well as the chance simply to observe and engage with the structures that kept being built. While hanging about the financial district I picked up some bags of shredded paper and with advice from Michael Rakowitz about sealing plastic sheets into shapes, began making shapes like financial crisis graphs stuffed with shredded paper, that double as pattern pieces for assembly into warm, waterproof wearable shelters, coat-tents. But they will they actually be used? It doesn't matter at the moment, it's more that people who see and feel them immediately want to talk with each other and me, and these conversations are useful.