by Krystal DiFronzo
Chicago has been home to several experimental comic reading series over the years. Venues have evolved from apartment living rooms and small DIY galleries to performance spaces such as Constellation and Thalia Hall. The unifying and exciting challenge that these performances try to tackle is, "How do you make an engaging translation of a comic for the stage?" Matt Davis of Perfectly Acceptable Press and Brad Rohloff of Bred Press have been hosting ZINE NOT DEAD comic readings quarterly since December 2015. The fifth show will be Saturday April, 8th at Co-Prosperity Sphere in Bridgeport. Readers include Meredith Kachel, Gina Wynbrandt, and Ben Marcus. Before the performance, down the block at Learning Machine, will be a print show curated by Matt Davis called ART STILL GOOD. The sales will benefit the Illinois Coalition For Immigrant and Refugee Right as well as the National Lawyers Guild of Chicago. Artists include John Porcellino, Anya Davidson, and Clay Hickson.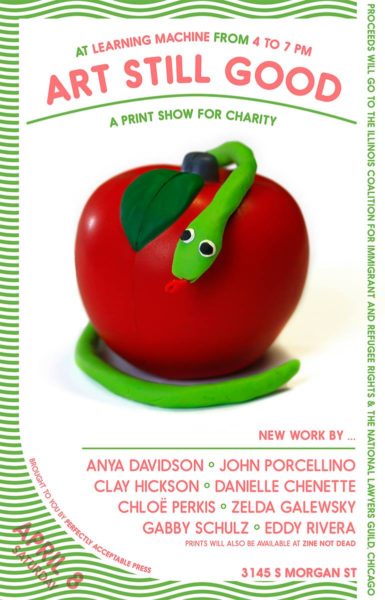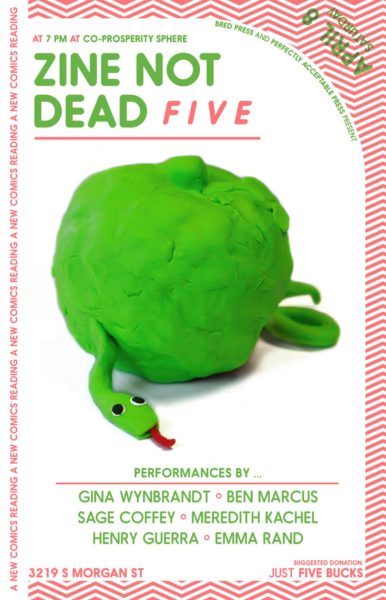 Posters for ART STILL GOOD and ZINE NOT DEAD V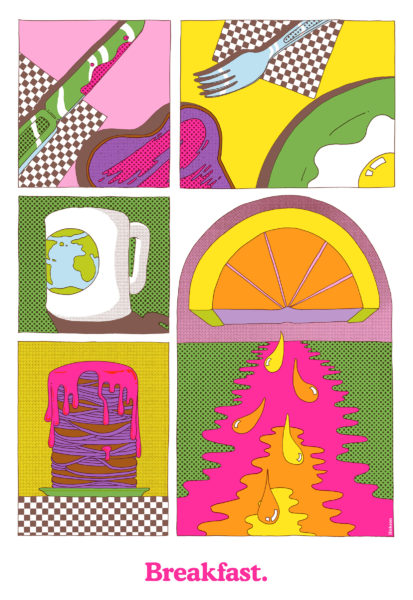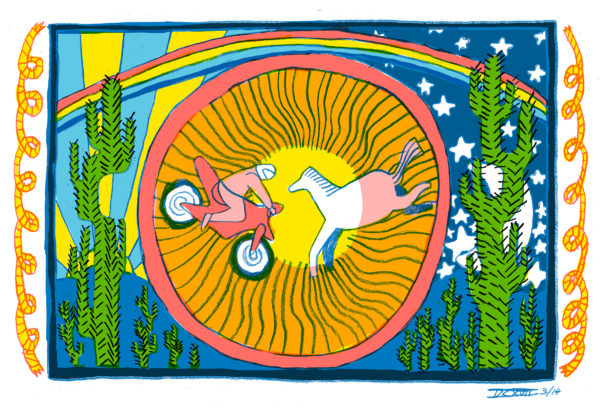 Risograph prints for ART STILL GOOD by Clay Hickson and Danielle Chenette
Krystal DiFronzo: With the demise of Brain Frame (a performative comics series created and curated by artist Lyra Hill that ran from 2011-2014) why did you feel the need to pick up that torch? What are you doing differently to try to bridge the divide between the personal practice of drawing and the public practice of performance?
ZINE NOT DEAD: Brain Frame was a big component of the Chicago comics community – it was when everyone got together, so when it ended there was a really obvious vacuum. Brad helped with Brain Frame for its final year and a half and Matt was a Brain Frame reader and a frequent attendee. We both had talked with other people before about starting a new series but it never really got off the ground until we met at a performance open mic and ad-libbed a performance together which concluded with a chant. It was love at first sight. We try to invite artists who haven't previously performed or read at Brain Frame before, and we're especially interested in finding people who don't necessarily make comics but whose work would still go over well in the Brain Frame format. It's exciting to see all sorts of different artists and performers respond and react to the "comics reading" prompt. It's fun!!!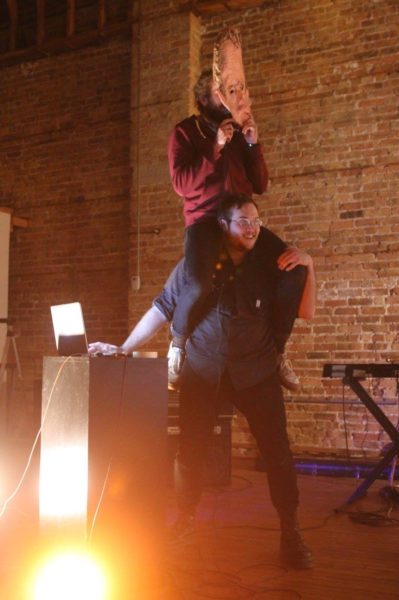 Hosts Matt Davis and Brad Rohloff (Photos by Nick Jackson)
KD: As hosts, you two engage in a lot of stage banter, what's your rehearsal or writing process like? Do either one of you have experience in performance? Who's your MC role model?
ZND: We get together at one of our apartments, put our capes on, and run around yelling until we feel comfortable doing it on stage in front of an audience. We usually try to come up with a skit of our own, too. We write a lot of notes out but we end up mostly winging it on stage. There are a lot of people in the comics/performance community who are great performers who we look up to: Eddy Rivera, Sarah Sherman, Ian McDuffie, Conor Stechschulte, and of course Lyra Hill.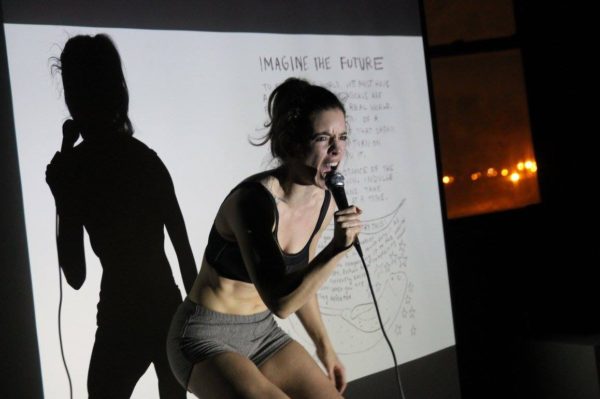 Lyra Hill performing at ZINE NOT DEAD IV
KD: The fifth ZINE NOT DEAD will be on April 8th at Co-Prosperity Sphere, what should we expect or anticipate? 
ZND: It's gonna be so much fun. We're excited about the new venue and we're making a pinata.
KD: The format of ZINE NOT DEAD is generally cartoonists performing their comics, if you could pick any famous performer to sit and draw a comic who would it be?
ZND: Genesis P-Orridge would be cool.
KD: What does the future hold for ZINE NOT DEAD?
ZND: Bigger – bigger chants, bigger crowd, maybe slightly better stage banter. ZINE NOT DEAD has evolved naturally over the last year and we're excited to see it keep growing. Maybe we'll go on tour!
ART STILL GOOD opens 4/8 from 4-7 pm at Learning Machine, 3145 S. Morgan St. ZINE NOT DEAD V follows from 7-12 pm at Co-Prosperity Sphere, 3219 S. Morgan St. 
Latest posts by B@S Comics
(see all)