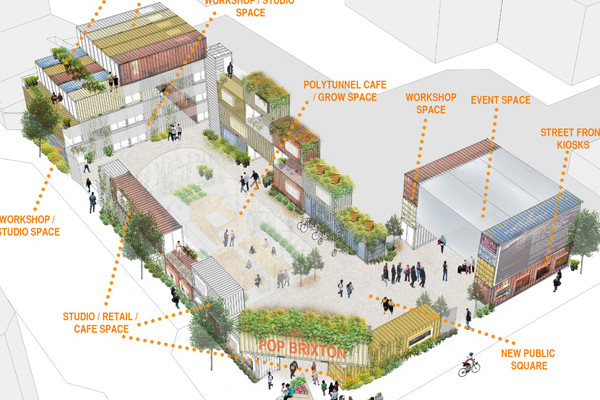 Shipping containers may be the very apparatus of globalism, but in South London they have come to rest in the community. Recycled and refurbished with windows, light and double power points, it is hoped they will create Brixton's newest and most creative destination.
Based at a former ice rink, Pop Brixton aims to provide a home for start ups, creative businesses, events, workshops, cafes and local retail outlets. It may look to some like retail mall BoxPark in Shoreditch, but a localist focus promises a completely different agenda.
After all, shopping BoxPark for trainers, you are unlikely to stray across many artists in residence. Pop Brixton, on the other hand, is planning to invite not one but two artists to reside with them in the first twelve months of operating.
There are other social-minded touches, which spokesperson Valentina Fois told me about via phone earlier in the week. At their own expense, architects Carl Turner are giving work and training to apprentices from Lambeth College.
Meanwhile the brief for signage has gone to students at nearby Camberwell College of Art. "The plan is they're going to come on site. We're going to work with them. We're going to be very close and support them as much as we can," says Fois.
As such it will be one of the few places an undergrad in graphic design can learn how to fit out a shipping container, or even how to market a successful local enterprise. They may also get to use containers for community events, prompting unprecedented levels of student/civilian interaction.
Fois recaps the project origins: "Last year Lambeth Council held an open call to regenerate the site on Pope Road in Brixton. Carl Turner Architects submitted a proposal and won it."
"It wasn't in use for a very long time and it wasn't very nice," she adds. "But it's not just about the aesthetic. It didn't have any purpose. It didn't serve anyone, let alone the community, for sure."
When she's not promoting urban regeneration projects, Fois is also a gallerist and digital curator. So it was imperative to ask her about the differing worlds of art and creative business. "Okay, that's a tricky one," she laughs."I don't divide the two."
"Well, when I think about art I don't think about 'Art', as such, like as a temporary world detached from the rest. So, I always consider art as such a mixture of sound, and, it could be cinema. It could be everything really."
"I don't see much difference between working on an art project and a project like this, because the two things can be combined," she continues. Her artists in residence and signage briefs are a case in point. And so vital are Pop Brixton plans, TEDx Brixton has recently shown an interest, which Fois is thrilled about.
"This is a 3-year project so it is very hard to generate a substantial profit from it in such a short amount of time," she says. "That's one of the things we really want to make sure people understand. It is easy to assume that the project is lead by another big developer who wants to gentrify the area, but this is not the case. CTA is an architectural company interested in place making".
The plans, at least, for the site on Pope Road look green and idyllic. And Brixton, which has changed a lot in recent years, hardly needs the helping hand of gentrification.
Fois concludes that Carl Turner the lead architects are more interested in people than profits. "I know it's going to sound a little bit naive," she says.
"But the way they work in architecture is to create spaces for people which really mean something, that can engage with the community and change the way people perceive the common space".
It would seem art and enterprise, like globalism and localism, can indeed pop up together. Let us see how the rapprochement goes.
Latest posts by Mark Sheerin (see all)