Bridget Donahue is standing in her own gallery of the same name overlooking the Bowery. Bridget Donahue is a space longer than it is wide, with two rooms. One room is a long spacious stretch; the second, smaller room also serves as an exhibition venue referred to as the Office. Works for the first exhibition are arriving in staggered shipments, and with each arrival, fresh anticipation of how the artworks will exist together in the cleared rooms. The gallery floors are a soft wood newly exposed and sanded; previously carpeted in a past life when the space was an industrial workroom. On February 19, the doors open for the first time to the public with a solo exhibition by Lynn Hershman Leeson. Just months after Bridget left her previous position as a director at Gavin Brown's enterprise in late 2014. Prompting the move was a frank curiosity: a desire for the ability to choose who and what to show.
Bridget and I discussed her beginnings as an archivist in Gladstone Gallery. Her favorite place to be was in the archives. When offered a promotion in the gallery, Bridget desisted, deciding instead to stay in the archives. And to this day, Donahue opened her own gallery with the archives in mind – a return to the research sparked by artists' interests, and in the articulations voiced by viewers. Talking casually, I ask what one of the greatest excitements will be in opening Bridget Donahue. She replies "…a new audience will walk into this space, connected by and bringing with them a conversation pertaining to the work in this room."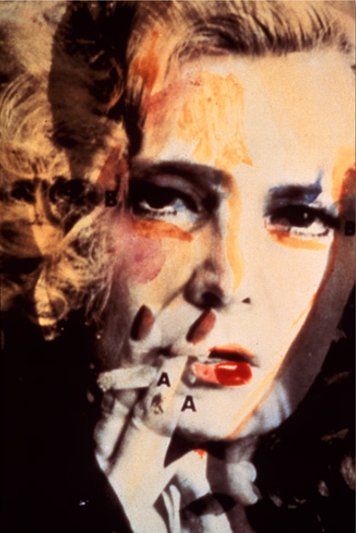 Lynn Hershman Leeson, Hero Sandwich Series: Rowlands/Bogart, 1980, Hand-painted silver gelatin print, 102 x 76 cm
Erin: You mentioned to me that you began your studies in anthropology, and by way of textiles, transitioned into visual art. Can you describe the change of interest?
Bridget: I moved to New York with my sights set on working with textiles. A friend pointed me towards NYFA's job listings and the post for Archivist at Gladstone Gallery caught my eye. I was already familiar with the gallery through my research and love for artists such as Alighiero e Boetti, Rosemarie Trockel and Thomas Hirschhorn. I applied, got two interviews and the job. Looking back to that time, I had no idea how important it was to land a job at such an important gallery. I was an absolute sponge to all printed matter around me. Barbara Gladstone has an impeccable archive and library. That job was a gift. It changed the course of my professional life in all ways.
Erin: The first exhibition at Bridget Donahue will be Lynn Hershman Leeson, followed by a benefit for Dancing Foxes Press, and then Susan Cianciolo, the selection moving from multimedia to publishing to fashion. Is there an indication of the gallery's focus between these upcoming artists?
Bridget: All of these exhibitions share the same core value – I'm deeply impressed and inspired by the artists and projects. I wholeheartedly believe in them, in all they do, for as long as they've been doing it. I could not fashion a better role for myself than to contribute to the success of their future.
Erin: Can you describe the difference in the role of creating a commercial path for an artist whose career you are helping to facilitate from the beginning, versus an established artist whose career you are renewing?
Bridget: For me there is no difference from the standpoint of my own conviction. For artists who have been working longer there is more material out there to discuss and more people have formulated opinions. I'm looking forward to rewriting some of the words around peoples' practices, offering a new perspective, and seeing what people think in 2015. I may have more to say about this after I've done it!
Erin: Moving from Gladstone Gallery, to D'Amelio Terras to Gavin Brown's enterprise, to now your own space, can you describe the most rewarding aspects of representing artists? As well, can you trace a consistent focus that you have maintained between all three experiences?
Bridget: The consistent focus has been to listen to artists, to learn from them and to also learn from the people who are interested in their work. It's an experience like no other to have a full picture of an artist's output. To know who their supporters are, who they look up to, who they learned from, who they are inspired by…that sends me off on myriad other paths of research and curious investigation. That's how I formulate what I want to learn about, what I want to see more of, and that is the main objective of my gallery.
Erin: You also help organize exhibitions for Cleopatra's, a Brooklyn nonprofit space, and the current curatorial team for this year's Looking Back – The 9th White Columns Annual. Do you see a difference in the value of curating within the collaborative environment of Cleopatra's as opposed to your own space? And has that difference changed from the difference between your involvement in Cleopatra's and your participation at Gavin Brown?
Bridget: I absolutely see the difference in the value of working with the group; it challenges you to look and think about things you may not otherwise stop to study. Cleopatra's changed as we all matured in our day-jobs-turned-careers. We want different things from it now; we have a greater appreciation for its distinct attitude. It is a labor of love and commitment to making projects among peers who are connected to one another through a community – people who we want to cheer on. In our recent – and really first published press mentions – the New York Times and New York Magazine, the writers have variously nodded to this spirit of Cleopatra's. It's taken almost seven years of our doing Cleopatra's for that to be fully articulated. It feels good and celebrates our resistance to turning that project into something different than it is. I'm very proud of that.
Erin: What is most daunting in opening your first gallery in this city?
Bridget: I am most daunted by the mystery of whether or not it will work.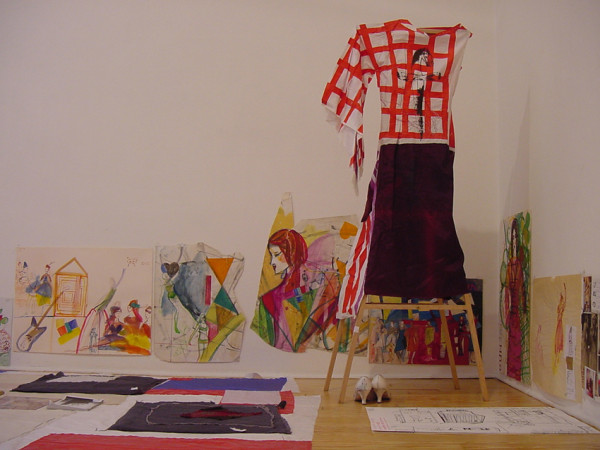 Susan Cianciolo, installation view of Run Retrospective, 2003, francesca kaufmann, milan
Based in New York, Erin Leland is an artist using photography, writing and video. She has recently exhibited in the group exhibition, White Petals Surround Your Yellow Heart at the ICA in Philadelphia and in her solo exhibition, Everything is Everything at Michael Strogoff Gallery in Marfa, Texas.
Latest posts by Erin Leland (see all)