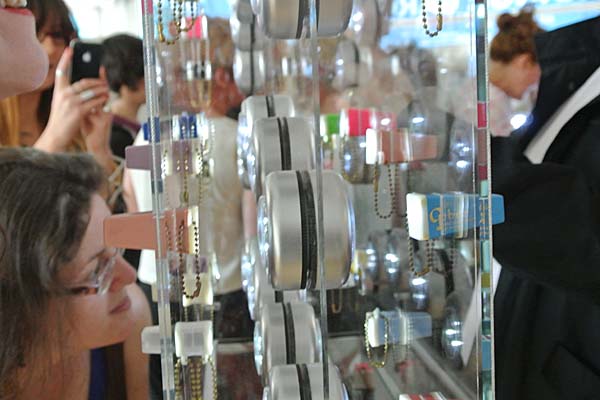 Museums at Night appears yet to reach the US, but if any cultural impresarios are reading, this concept is ripe for import. In the UK it's an annual extravaganza which sees nearly 500 museums throwing open their doors after hours. It generates crowds, good will and new audiences, taking its cue in turn from continental Europe where the phenomenon first took root in Germany in 1997.
On May 17th, event co-ordinators Culture24 sent me to a small coastal town in Kent  which, thanks to the festive circumstances, was hosting a world famous artist. The venue was Georges House, Folkestone, and the big name draw was Spencer Tunick, known best for photographing nudes in their hundreds and thousands. Yes, whole crowds of people in the buff.
This project, which often gets the wrong kind of attention, makes most sense when you learn about Tunick's upbringing. His father was a photographer and an entrepreneur. He would shoot folk on holiday, develop the film as fast as possible, then return to the scene to sell back his images to his more or less willing subjects. Tunick became an apprentice who learned early what it meant to deal with crowds.
His Museums at Night project has been developed with arts organisation Strange Cargo and entailed the capture of more than 150 nudes on the Folkestone seafront. The results were slotted into key-chain viewfinders, such as his father would have used. Tunick calls these scopes, and the show here in Folkestone involves the installation of these colourful creations, each one lit with LED lights.
The installation is in reassuringly good taste. Perspex housing hangs from the ceiling and divides the room. As you peer into each scope, you cannot but be aware of the people to your right, left, and on the other side of the divide, the people in front. There is nothing furtive about the experience, which may be why participants all appear to be so happy with the results.
One woman even hands me her scope, giving me little choice but to put the plastic gizmo to my eye and get an eyeful. I tell her the photo is "beautiful" and we go on chatting about other things. Well, it is certainly an icebreaker. It turns out she too is a photographer, with a specialism in self portraiture, also nude. "Sara's an artist," Tunick tells me. "You should discover her!"
Certainly, there are plenty of discoveries to be made here. Another woman searches for her scope and asks, "Have you seen me yet?" In truth, people look so different with their clothes off that is is hard to say for sure. The installation is a parade of male and female bodies, most in good shape. All stand on a jetty facing the camera. It is about as erotic as a nudist colony, ie; not very.
But the punters here in Folkestone don't seem to mind. The venue and the street outside are buzzing.  Visitors have to queue to scrutinise the scopes. Looking at people with no clothes on turns out to be the most fun you can have with your own proverbial clothes on. The high spirits might worry you just a little; after all art is supposed to be a serious endeavour, not a peep show.
Tunick, mind you, comes across as perfectly sincere. And as he has said, his work falls between land art, sculpture and performance art. The critical faculties may be stunned by mass nudity, but the format here in Folkestone calls to mind the unimpeachable Marcel Duchamp. His final artwork of course, a nude by the name of Étant donnés, also employed the keyhole approach to viewing.
Comparisons should probably end there. Duchamp's faceless, depilated nude spreads her legs for the viewer and is quite the opposite of this surprisingly wholesome show in Folkestone. You would also have to visit Philadelphia to see Duchamp's installation, whereas for the art lovers of Folkestone, these nudes have come to their doorstep. But in any history of the nude in art, you would surely have to mention both contrasting angles.
Latest posts by Mark Sheerin (see all)