Lise McKean, PhD
A Pierre Dream: A Portrait of Pierre Boulez, Chicago Symphony Orchestra Beyond the Score Series. Gerard McBurney, creative director; Pablo Heras-Casado, conductor; Frank Gehry, scenic design; and Mike Tutaj, projection and sound designer. November 14 and 16, 2014.
Adrian Leverkuhn, Painting? Thomas Masters Gallery, Chicago. October 10 to November 2, 2014.
Whenever I see CTA bus #146 and read the name of its route, I smile. Route 146 is Inner Drive. All life has inner drive. For artists it takes a distinctive form. They're exceptionally curious and they're driven to make and create. Whatever their métier, artists breathe life into their works. Every generation of artists contends with outmoded aesthetic forms and reactionary authorities and audiences. In response it devises its own approaches to innovation and creation. Instances of this age-old process crowd the annals of art history.
Recently I came across two examples in Chicago: A Pierre Dream: A Portrait of Pierre Boulez staged by the Chicago Symphony Orchestra for its Beyond the Score series under the creative direction of Gerard McBurney; and Adrian Leverkuhn's exhibition, Painting? at Thomas Masters Gallery. What does a CSO tribute to a ninety year-old musical titan have to do with the exhibition of a young painter interrogating his vocation? Writing about them together is more than a fluke of the season's cultural calendar.
Decades before Boulez became a world-renown maestro, he sharpened his claws on institutions and self-appointed guardians of European musical traditions. He was ferocious and relentless, gifted and inspired. For him, all his work is "provisionally definitive." The CSO tribute is in tune with today's multitasking audiences. Images, words, son et lumière, choreography of agile "puppeteers," and above all Pierre Dream's music and espirit bring to life a tale of Boulez and his artistic milieu. The photos show the performance's pitch-perfect visual design, and I trust them. Except for a couple peeks during the 75 minutes, my eyes stayed shut so the incantations of Mallarmé's poetry and Boulez's words—and the virtuoso performance his compositions—could conjure their own forms in my imagination and steep into experience.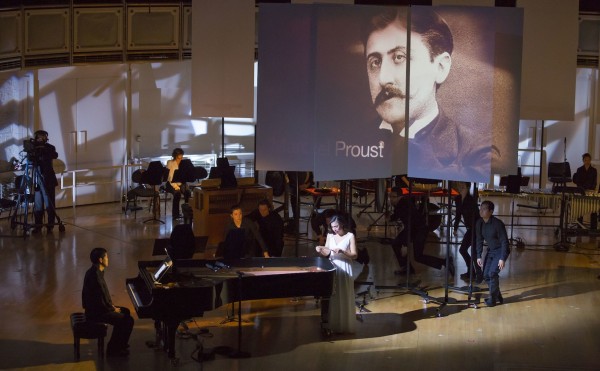 The murmurings of memory resonate long after the Symphony Center's bravos and applause for this fond tribute die out. They're reminders that Boulez, now elderly and no longer in the limelight, was once a young artist ablaze with energy and indomitable will—"I shall tell you about the rows I have been having with Schaeffer: that would be enough to fill a huge folio! I shall tell you that the experimental studio is more and more crap, and that Schaeffer is a pain in the arse; and that I hope I shall soon be working with Stockhausen at the electronic music studio of Radio Cologne….Apart from that, in concerts here: Nothing. It's desperate. Everything, from that point of view, is going on in Germany" (1953 letter of Boulez to John Cage in The Boulez-Cage Correspondence).
Boulez finds ideas and cues in the world around him. His fellow travelers include painters such as Philip Guston, Bernard Saby, and Dado. At one point in Pierre Dreams we hear Boulez speak about how music can learn from a dialogue with visual arts. This conversation is taken up by other artists. For example, Desy Safán-Gerard paints with both hands while a nude model moves to the music of Boulez.
In the recent exhibition, Painting? Leverkuhn intersperses among his paintings handwritten lists of "Questions for Painters." The tone of his 94 questions hovers between wry and rhetorical. Leverkuhn was surprised when he sent the list to art academics and they took the questions literally, responding didactically as if presiding over a course quiz.
The works in Painting? assert that Leverkuhn has chops and range. After taking in the canvases from a distance, a curious viewer is likely to move closer. Changing perspective allows the textures, colors, and shapes to take on a different appearance. On some works the palette and forms are austere; on others color and detail pop. The paint on the seeming ground is thick and sculptural. It's a figurative force of its own.
Leverkuhn's works address themselves to the figure. In some the figures suggest the freewheeling spirit of the skateboarder. Yet menace stalks them—one swings on a broken trapeze, another crouches on an unraveling net—crash and burn lurk on every canvas. This juxtaposition of insouciance and hazard echoes in his act of renaming himself with the surname of Thomas Mann's ill-fated composer in the novel Doctor Faustus: The Life of the German Composer Adrian Leverkühn, Told by a Friend.
In a set of 18 works Leverkuhn evokes specters of human transformation. Is the figure in 42E poised for flight? Are others undergoing Kafkaesque metamorphoses? Another work in the show, 58, was painted by Leverkuhn and Thomas Masters. Like a tag-team, they paint one after the other on the same canvas. Their duet in 58 continues explorations that led to works they exhibited a couple of years ago.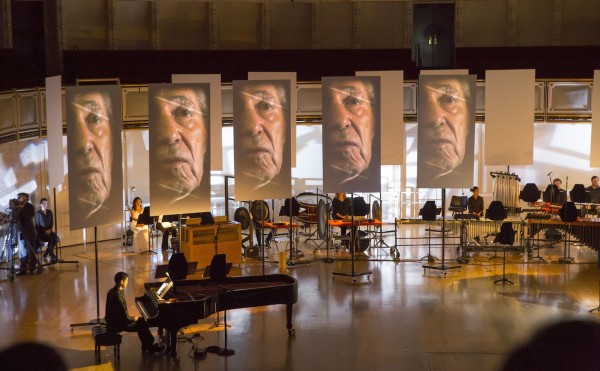 It's a safe bet to say we'll see more of Leverkuhn. And for Boulez admirers who did not attend A Pierre Dream at Symphony Center, there will future performances. It will travel to California for performances at the Ojai Festival and the University of California-Berkeley. Later it will travel on to the Netherlands Festival and the New York Philharmonic. A Pierre Dream video is slated to stream on the CSO website.
Decades and an ocean may separate Boulez and Leverkuhn. Chance may have thrown them together in Chicago at this moment in time. But it's not by chance that they're both aboard #146. Pay the fare and you too can hop on for the ride.
Lise McKean is a social anthropologist and art writer, and recently is turning her hand to custom couture as an associate of Haj Gueye at La Maison de Haj in Chicago.