Dave Brockie, better known as Oderus Urungus, frontman of the band GWAR, passed away on March 23rd. He was found dead in his Richmond home by a fellow band member.  As of this writing, murder and suicide have been ruled out as causes of Brockie's death,while drugs are still being considered a possibility. Drugs seem likely.  Drugs featured prominently in the band's lyrics (which may not be significant, considering that necrophilia, bestiality, and mass murder were common themes as well) and in Brockie's autobiographical writing as well.  According to police, there was evidence of drug use at the scene.  While the official autopsy report is yet to be released, it seems probably that Brockie died of a drug overdose.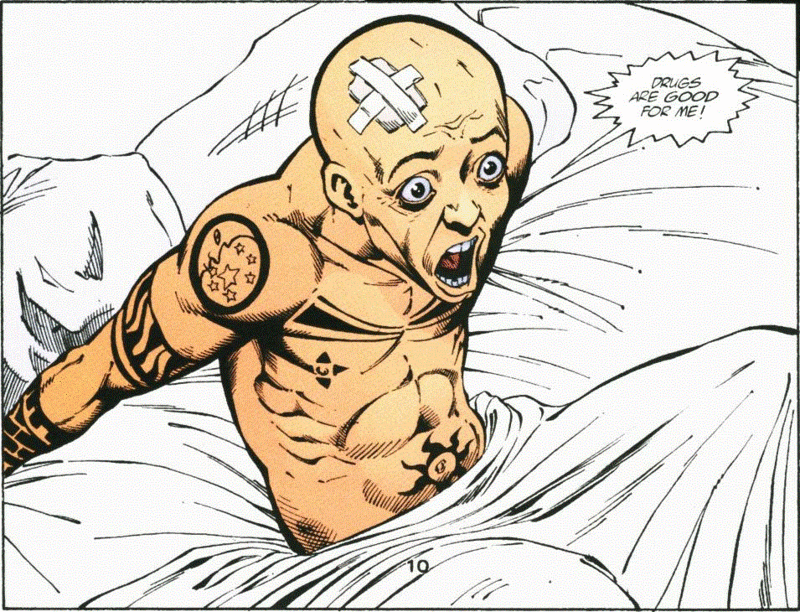 Much is often made, in the wake of a celebrity's death, and especially a premature death to drugs or suicide, of what lesson we might learn, of the pressures of fame, the ills of society, and so on.  We are asked what lesson we might learn, and also (often as we are being asked for a contribution to a foundation) what the celebrity would have wanted.  Of course, on one level it's irrelevant:  the celebrity is dead, and so their wishes are irrelevant.  Funerals are for the living.  I never knew Dave personally, but if you ask me what lesson he'd want us to learn from his death, I'd say, "Not a damned thing."  He'd want us to steal his corpse from the medical examiner's office and have sex with it.
GWAR was started in the 1980s by a group of art students at Virginia Commonwealth University.  Hunter Jackson was a VCU student working on a film called Scumdogs of the Universe (later to be used as the title of GWAR's second album). Brockie was the singer for a punk band called Death Piggy.  Jackson (better known to GWAR fans as Techno Destructo) was using an old warehouse to film his movie; Death Piggy rehearsed in the same warehouse.  The two got to know each other, and GWAR was born.  (Sort of.  As is generally the case, the truth is a lot more complicated, but that's the short version.
I haven't been able to confirm whether or not Dave Brockie was himself enrolled at VCU, but many of the founding memers of GWAR were, including Jackson, and Chuck Varga (who performs in GWAR as Sexecutioner).  In a 1994 interview with Live Wire Magazine, Varga talked about leaving the fine art path to join GWAR:  "I went to college, I went the fine art route, and it really turned me off.  I was really creative, but at the same time, I wasn't into fine or commercial art. It seemed like art was really a dead end thing to get into.  I was hanging around with Hunter (Jackson, Techno Destructo when he's around, "a lowly slave" when he's not) Dave (Brockie, Oderus Urungus, the vocalist), who were totally crazy, much like myself. They totally reviled in comic books and movies, and II kind of looked at myself and said, 'I've always been into that! I don't need a bunch of goddamned museum bullshit!' So I had a rebirth in a way, forget everything I learned in college, and I started to learn about a totally different science of special effects and props." (http://spookykids.net/gwar/gwarpage/Unmasked.html)
More than any cautionary tale about drugs and the stereotypes of the rock and roll lifestyle, the lesson to take away from Dave Brockie's death is to look at his life, and the lives of his bandmates, past and present, living and dead.  A nineteen year old punk singer from Canada, Brockie met some art students who were tried of trying to make it in what by 1985 they were already seeing as an overly repressive and stagnated art world. Though they would probably have simultaneously shat and vomited at the language, what they did next was a finer piece of interdisciplinary, collaborative, relational aesthetics than most projects to be so called.  They presaged the rough aesthetics of Nathalie Djurburg (http://www.lissongallery.com/artists/nathalie-djurberg-hans-berg/gallery) and the wet, sticky grotesque of Gregory Jacobsen (http://gregoryjacobsen.com/). Under the rotted surface, their work contained a subtle and no-one-is-safe political satire, like an X-rated version of Vermont's Bread and Puppet.  And it all started when a punk singer and some art students decided that instead of banging their heads against the ceilings in their respective fields, they'd strap on some big rubber dicks and go for broke.