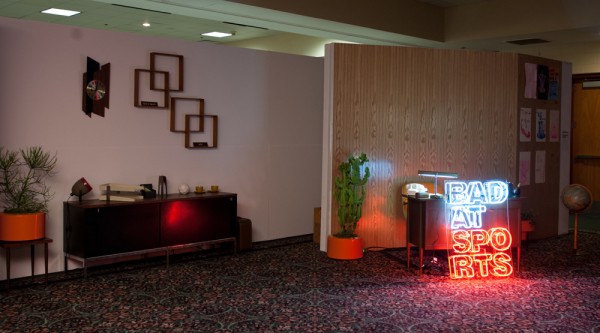 Blogness! It's  rolling out — some great contributions over the last few weeks, as you can see from the following compilation. Some great podcast action too, with  EXPO  panel  Josh Baer (Baer Fax), Forrest Nash  (Contemporary Art Daily), and Paddy Johnson (Art F City), and this week's conversations with Takeshi Murata and Robert Beatty.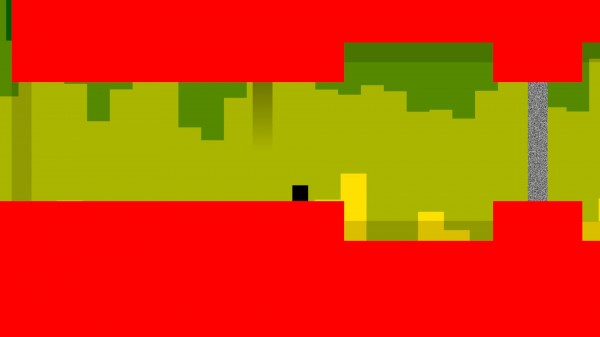 Continuing his series about video games, Paul King writes about the sparse, enigmatic 140:
When  140 begins, you're dropped into near silence. A single tone plays: low and bassy, it seems to emanate from the flat, monochromatic setting of the world. Your avatar is a lone recognizable shape: an unmoving square. Move to the left or right and transform into a circle; or jump into the air, turning briefly into a triangle before landing. 140's protagonist-shape is instantly familiar, because it's derived from a universal visual language. Those gentle geometric shapes are the stuff of childhood learning, the foundational building blocks of concepts such as color recognition, addition, and geometry. The square, rectangle, and triangle are a mark of simplicity, their functions instantly recognizable in motion. What's wonderful about 140 is that every component of the game is at its most basic, most recognizable. The colors are just as sparse as the landscape, a single-color expanse that's all right angles save for the occasional circle. Whatever origin the game's character came from, the world came with it.
Juliana Driever talks to the NYC-based artist, Jenny Polak, who's work, "Â brings human scale to the urgent politics of immigration in the US." When asked about the relationship between her art and activism, Polak replies:
Chicago was the first place I came to when I first arrived in the US, and the first thing I saw as I was driven from the airport was a huge demonstration about some art. (It was about "What is the Proper Way to Display a US Flag?" – the work of my husband-to-be, Dread Scott.) This added tantalizingly to my sense that in the US art could influence public opinion, which I had given up hope of in England. My activism for a time was kind of separate from my art, but I was saved by the experiences of collaborating with Repo-History and the poster collective Resistant Strains on a few projects. Plus I had had a kid, and started working for architects and there wasn't time anymore; then it was suddenly clear to me that those things (kid, architecture) were the sources and the connections I needed for a new activist art combo. I drew on my architecture background and my immigrant activist network and made a web project (HardPlace) for which detainees from across the country supplied sketches of what they knew of their invisible prisons, (photos being forbidden) and I traced them into strange digital 3D models where you could find a few tidbits of info that cumulatively conveyed an idea of the terrifying Kafkaesque system that was proliferating since the 1996 laws had passed. The Lower East Side Tenement Museum funded the project so that I felt able to team up with web designer Lauren Gill to deliver a project that got quite a lot of attention on the predicament of detainees and the dangerous direction US immigration policy was headed in – it was launched soon after 9/11 and detention was taking on a new definition in the public imaginary and in abusive reality. 
Portland Correspondent, Sarah Margolis-Pineo, talks to Anna Gray and Ryan Wilson. Margolis-Pineo begins evocatively, "I first met Anna Gray + Ryan Wilson Paulsen as they were carting a tank of helium into the desert," and the interview goes on from there. At one point, Gray says:
And the systems and ethics around work, especially in this country, are really detrimental and limiting. We titled that banner Working Towards Non-Work, as we are trying to find a vocabulary for working and artistic activity that isn't about productive ends, but about positively reproductive ones. There's a lot expected of artists at this point in terms of levels of productivity in academia, in shaping the quirk and brand of a city, in participating nationally or internationally as a creative contributor, and in maintaining an exhibition and/or studio practice. How are other artists managing this workload, which by its very design seems to prevent the best work from being made?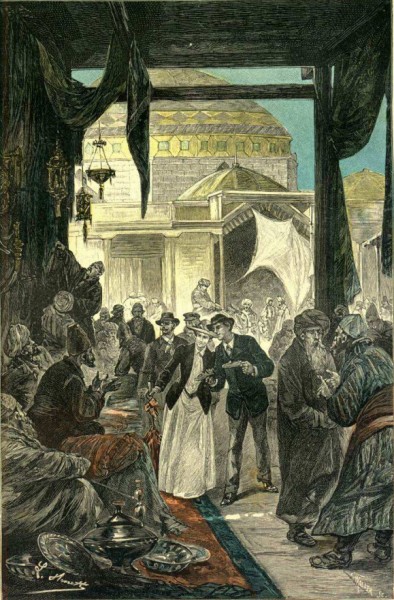 Reflections of Samarkand courtesy of Jeriah Hildwine:
I should say now that I have never been to Samarkand (in present-day Uzbekistan), and that my views of it have been shaped almost entirely by its mythical role in Clive Barker's novelGalilee. A quick bit of slacker research, though, reveals the essential nature of that city to match Barker's description pretty well. Situated on the Silk Road, Samarkand was a city of wonders, the ultimate crossroads, a center of commerce as well as of art and culture. People came from thousands of miles to experience the wonders of the city itself, but more so, to meet and trade with one another.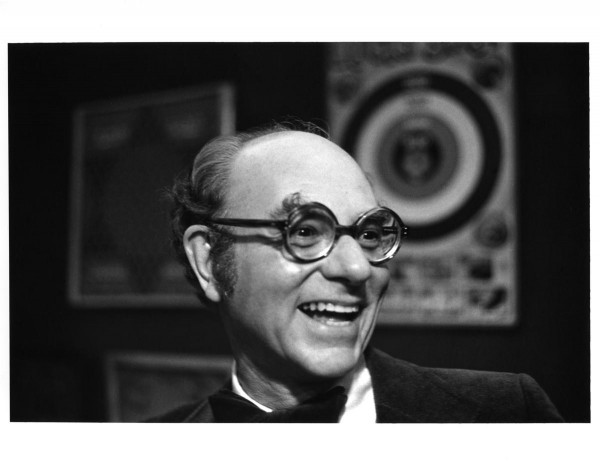 Britton Bertran talks money, art and relevancy:
The art economy in Chicago – specific to the visual art market – is busted.  It doesn't work and hasn't worked for a long time.  Yes, this a provincial observation as we are in a global society, but ask any commercial gallery owner in Chicago that's not one of the Mighty 5, and they'll tell you the same.  Yes, more and more people who aren't in Chicago are paying attention to us as a viable location.  Chicago is a place that has artists who make (and made) great work and some non-Chicagoans are even buying art from here (good luck in Miami y'all!).  But when it comes to a localized presence, we are somewhere near the bottom of the attention totem pole.  Where would you place visual art on the Chicago matrix of culture that includes Theater, Music, Dance, and yes, Food?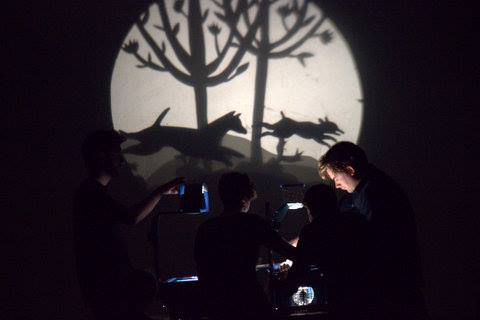 Alyssa Martinez interviewed Bad at Sports' comics correspondent, Sara Drake, about her shadow puppet collective, PUPHouse. Drake, at one point offers the following:
When I was small, my dad always used to say, "What makes a good animal, a good animal?" This was meant to be soothing after some brutal animal world fact on television, a pet death, watching viruses destroy human cells on bring your daughter to work day, etc. It meant, what ensures that animal survives? Is being brutal or dark, something that a human animal might consider bad, a part of what defines that animal?  "What makes a good human, good at being human?" This is how I move around in the world ad. infinitum.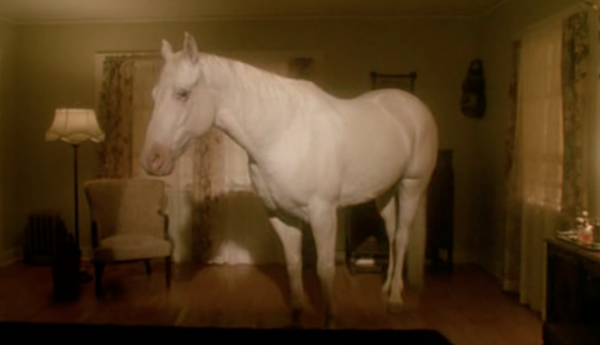 August Evans considers  surrealism David Lynch, Maya Deren and others :
Any attempt to place the weight of genre upon an artists' movement like Surrealism presents problems, considering the aims of the first (and possibly only) surrealists were to explode the bourgeois order. Indeed, these initial surrealist films achieved something very unique, specific, and particular to the artists' movement out of which they emerged. Toby Sussman deems these early films "the pinnacle of the Surrealist films…the representation of the total passion of a human event pushed beyond previously known limits…resulting in a beautiful new world of images existing somewhere between the amorphous intractability of dreams and the cold acceptance of everyday consciousness".
Hannah Verrill posted her lat installment in the Process Notes series. Here Verrill talks to Tatyana Tenenbaum, who offered a note from her performance, Private Country:
Techno-Minimalism… TuneYards and Gang Gang Dance.  Moving out of the "new complexity" (or, as my 78-year old composition professor would say, "the new stupidity.") Moving towards audience immersion, sensory experience, spectacle as visceral sensation—where spectacle departs from tried-and-true convention—where it began as something primal, something essential to the human experience, ritual as catharsis, religious ritual, art as ritual/ and /or / religion.  Contemporary pop counter culture as ritual. || None of this writing is suitable for an audience but perhaps I will try to articulate it further. || WHERE FORM MEETS  – – – } FUNCTION, and this becomes aesthetic.  Everything dependent.  Everything related.  Everything a choice.  Proliferation of media means theater becomes one-dimensional in the conventional sense.  Prosceniums are officially flat, not adapted to a world that frequents the 3-D movie theater.  Antiquated.  Dull, irrelevant?  Or just self-conscious in their flatness?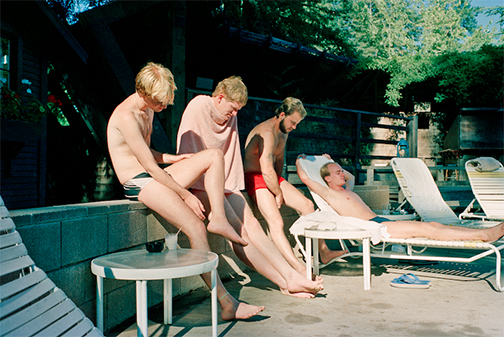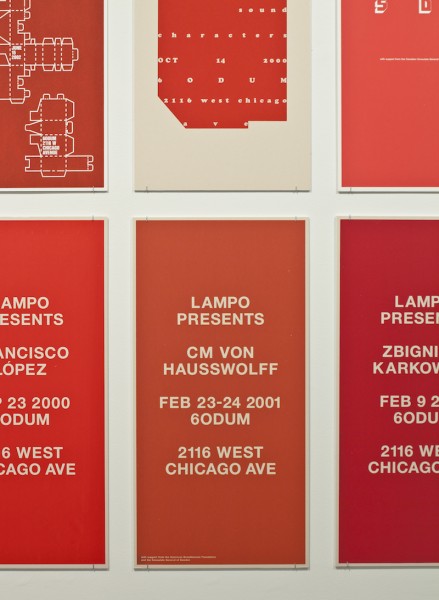 We closed out with an interview between LAMPO and the Post Family. When asked how LAMPO got stared, Alex Fenchel answers:
When I started things in '97 I had no special expertise in music. I was a fan. I'd been listening to weird stuff since high school and going to shows since college. I liked that moment of discovery, especially live, with other people around and the artists there. I wanted to make that happen. I had no background producing events, and I learned as I went along. In retrospect, the lack of experience was helpful. I didn't know what I was getting into or why I shouldn't do it. But I wasn't a complete fawn. I had spent some time around art museums through a couple of internships. I began thinking as much or more about the artists, rather than just the audience, recognizing that Lampo could offer extra support for their work. And I believed producing beautiful design would help make each project special. Alisa and I first met when Lampo was just about a year old. So, design was almost always integral to the idea.