We just had our first Bad at Sports blog meeting a few nights ago and aside from the fact that I got WAY TOO MUCH PIZZA (and have been eating pizza pretty much every day, twice a day ever since) we had a great conversation. A conversation that, among other things, prompted this new column — my WEEK IN REVIEW.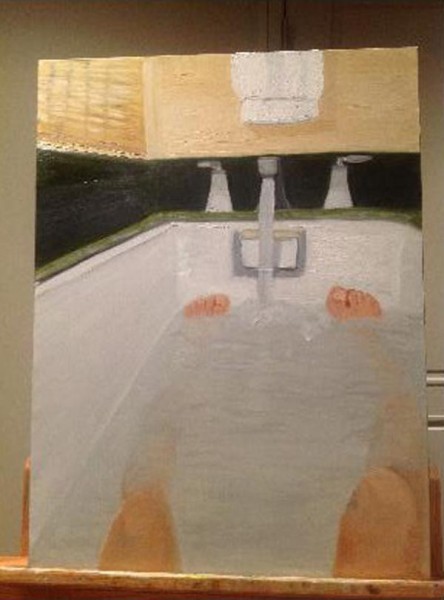 So, now that we all know our former president can paint, I'd like to appoint him as a new advocate for arts funding. Bush's return to the humanities may be as good an indicator as any, that art might serve a valuable purpose — if only to ease the heart and mind from a deluge of ghosts and existential crises. (Someone pointed out that, as both self portraits — hacked out of his email account earlier this week — involve bathing, there might be some psychological message at work. Personally I get a kick out of seeing the dude's bare feet.)
First of all —  ORANGE, SIBLINGS, & CHAINS are IN. Even if you can't play guitar, you can still go ELECTRIC, because e-cigarettes also made the T list. And they're healthy (?).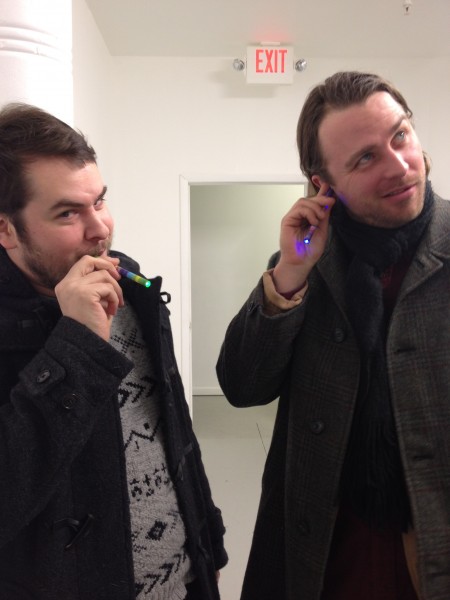 Otherwise, this week on Bad at Sports has been very much ABOUT THE BODY lately — abstract painting was compared to  human waste; dance and movement was discussed as a mode for learning — which led to a great meditation, later on in Romero's same post, about  the way we organize space. As he puts it, "Space as it exists conceptually promotes an occupation of itself by a certain kind of body. A body that is best represented by the athletic body." Countertops, door frames and tables are built to certain standardized, ideal bodies.  There is a post about other bodies, specifically foreigners and the kitsch of foreign identity as it is present in the 70s Chicano Arts Collective, ASCO. Goransson ties that kitsch to nausea: "In Julia Kristeva's famous definition of 'abjecting' as vomiting out the abject in order to maintain the self. 'The abject' is that which troubles boundaries." In a later post by Friel, Tarantino was called out for "giving history a wedgie" in Django Unchained. In anticipation of Valentine's Day, Daniel Orendorff reflects on internet hookups, and the attraction of sadness. Indulge me as I repost one of Orendorff's Friday passages:
All of this is to say that isolation and promiscuity may be natural bedfellows. In his 1999 essay "Sex and Isolation," ex-hustler and American chronicler of all things sexually subterranean, Bruce Benderson, laments the migration of cruising or chance encounter off the streets and onto the internet, saying; "The abandonment of the body is isolation, the triumph of pure fantasy." Yet, fantasy wants to be recognized, and we depend on others for that. Dating or hooking up online is never really about getting to know someone, it's about the desire to be known. Furthermore, it's about the desire to be known as the person we're writing and editing and framing and Photoshopping and staging for others; about the fantasy we believe ourselves to be and depend on others to corroborate. For Benderson, wary of how American entrepreneurialism and the Protestant ethic (myth?) of self-reliance has led to the shrinking of the public sphere and the routinization of social encounters, the internet represents some vague final stage; "Our minds spit our longings and obscenities into the atmosphere. And media have ensured that these ejaculations are everywhere. The self is now nowhere in particular, and, depending upon how you look at it, we have everywhere, or nowhere, to go."
Lastly, Terri Griffith points out, the Chicago Filmmakers upcoming screening of Wonder Women: The Untold Story of American Superheroines (2012). A  documentary that uses the superheroine Wonder Woman to address "media representations of strong women and what these representations mean to our society as a whole." See? A whole lot of BODY convos.
There was a whole lot of Midwest love  with dispatches from the Kansas City Bureau ("KANSAS CITY INSIDE OUT") that involved the work of a couple artists re-thinking architectural spaces (I feel like Vorhees work might present a kind of non-normative space)
and St. Louis' "Identity Crisis: Fort Gondo Compound for the Arts," that captures a great non-commercial, idiosyncratic art space that's been around for 10 years. It once took advantage of abandoned buildings on the block for art happenings and is now transitioning into a new stage of professionalism and sustainability.
In other news, I finally painted my toes after a three-month hiatus.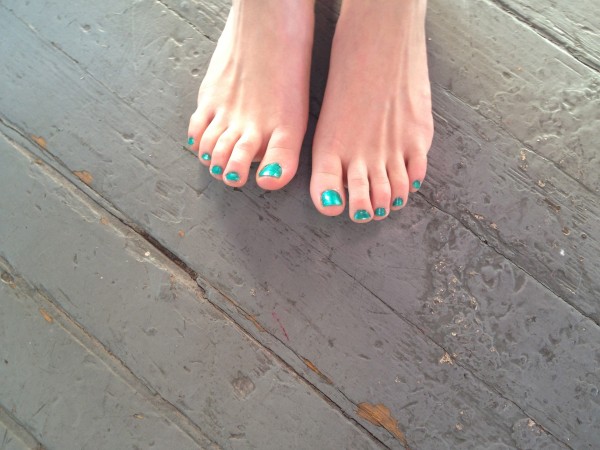 And memes can now be embodied principles: the HARLEM SHAKE has stormed the internet. Perhaps the movement, literally, offers additional insight into what can be learned from dance.