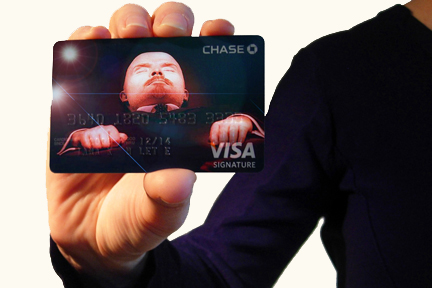 This week on the podcast Brian haunts the halls of the Anaheim Convention Center at SIGGRAPH 2013 conducting a series of interviews, then we talk to Greg Sholette! All that (and more) here.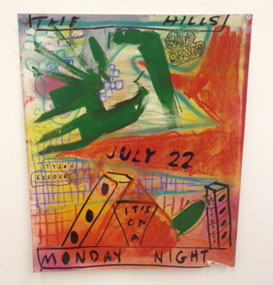 Dana Bassett kicked things off to a good start with her bi-weekly column, "What's the T?" Among other delectable sundries, she wrote about a Monday opening at the Hills Esthetic Center:
This past Monday (yes, an opening on a Monday) evening at The Hills Esthetic Center "Jyson Deeder and Tim Rain" debuted "A Nerdier Red", "community organized" by Josh Reames, at everyone's "favorite" Garfield Park "gallery", The Hills. The collaborative exhibition came together as it opened with Reeder & Drain turning the notoriously useless loft above the gallery into the command center from which the art was generated and then incorporated into the official gallery space.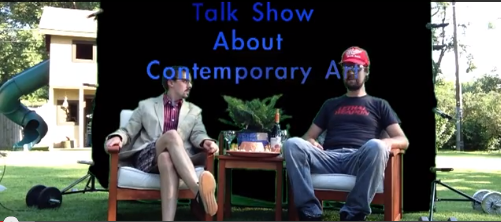 Contemporary art chat show: So genius brilliant strange that it can only be art, let's agree to call it a serious WTF? You can find their youtube channel here.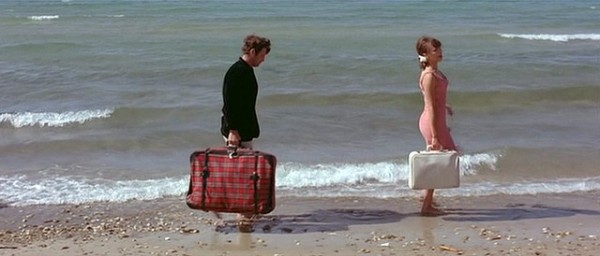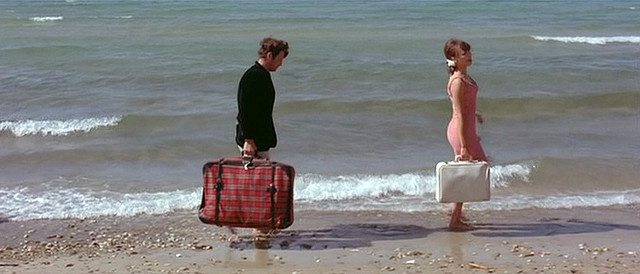 Jaime Kazay's final installment on the subject of Barbies:
I'm on the porch rifling through Barbie posters and notes on what she would prefer when running away to a deserted island. I know Barbie would want to be with Ken. The way "Marianne," played by Anna Karina in "Pierrot le fou" ("Pete the madman"), ran away with "Ferdinand," played by Jean-Paul Belmondo, to live in the French Riviera. The couple ran away for two different reasons, and their fears kept them together. At the end of the film, I like to reinvent different outcomes. Perhaps they should have stayed in town.


I posted an announcement about Claudine Isé's talk at the Humboldt Park Library this Saturday. While the event has passed, I understand that series host, Philip VonZweck is putting together some more artist talks in the future, so keep your eyes peeled. You can read more about the series here. (You can also check out the history of Much Much More talks, that used to take place at a different location here).
Sarah Margolis-Pineo interviewed Sara Huston:
Recently, I was thrilled to learn about ruf·fle, an exhibition organized by Portland's League of Awesome Women Designers, (LAWD), that opened earlier this month at the University of Oregon's White Box Visual Laboratory. Even in a town like Portland, where inclusive design firms seem to outnumber coffee shops, women are underrepresented in the field—statistically in number and in rank, but perhaps more importantly, women are less visible as a driving force behind the innovation that Portland is celebrated for. In her essay "Men Explain Things to Me," cultural critic/historian Rebecca Solnit employs the phrase archipelago of arrogance to describe an inflated self-confidence—a distinctly masculine phenomena—that is so aggressively assured, it keeps women bound in self-doubt, inhibiting them from speaking up and, in turn, from being heard. In an essay written for GOOD, Alissa Walker seemingly responds to Solnit by encouraging women in design to use social media as a way to assert one's voice in the field. She writes, "in this age, women can't wait for someone else to organize the event or to curate the museum show… Creating a rich narrative, illustrated with videos, photos, blog posts, essays, is something I don't see nearly enough from women in the field. Their numbers may be small, but it's the responsibility of that 10% to tell at least 50% of the story."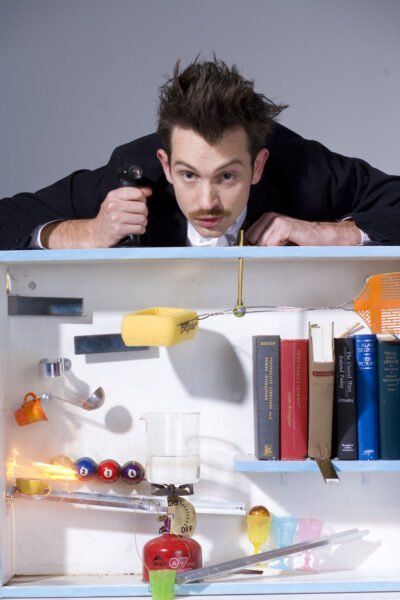 New York City report this week comes from Juliana Driever. Driever interviewed Joseph Herscher about his kinetic Rube Goldberg machines:
My current project is taking me a year to complete and will be five minutes long. Most of my ideas come from playing with objects and discovering interesting things I can do with them. Then there is a LOT of trial and error to get it to work every time. Sometimes I will spend two weeks on something that only lasts four seconds. I don't move on until I see it work fifty times in a row. My biggest error was in using acetone one time, which looks just like water but reaches boiling point much faster. I forgot that it is also highly flammable. The first two attempts worked like a treat, but on the third it caught fire and most of The Page Turner caught alight, spraying melted sponge everywhere, which was really hard to get off. And it almost burned the house down.
Live from Kansas City, Carolyn Okomo writes about Gune Monster:
After losing his job and apartment on the same day a couple of years ago, Los Angeles-based street artist Gune Monster says he contemplated a suicide. Instead, he picked up a marker and begin drawing the toothy, ghoulish figures that would eventually become the hallmark of his monochromatic alter ego.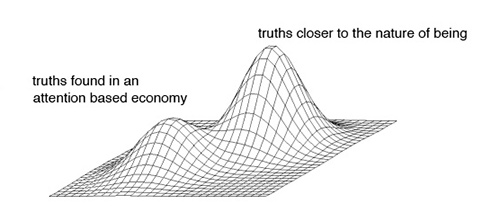 Do you ever feel like you're wading in the wake of symbolization? I have a post for you (follow the highlighted text below to read notes 1,2, and 1.5):
It's clear that our time and attention is limited, and there's too much going on in the world to pay attention to it all, especially now. Countless people are fighting for our attention and trying to convert this energy into political, social and economic power. Even inanimate things themselves can be thought of as competing for our attention (1)(2). This competition for attention has been turned into a highly skilled craft by plants, animals (1.5)and culture at large, which is especially evident in the battlefield of consumer products and advertisements.
Obviously, the week wouldn't be complete without Stephanie Burke's TOP 5.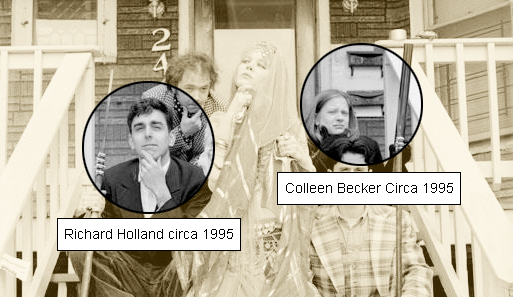 And here, you can see a picture of Richard from 1995 while reading about life in London with Colleen Becker:
Colleen Becker is an American writer and academic living in London. Her published work spans fiction and non-fiction genres, including flash fiction, academic articles, journalism, art reviews, and essays, and she has read at numerous venues including Princeton University, the Tate Modern, and Foyles Bookshop. She holds PhD, MPhil and MA degrees from Columbia University and a MA from NYU, and she is a 2013-14 Visiting Fellow at the University of London, School of Advanced Studies, Institute of Germanic and Romance Studies. She has text based artwork included in an exhibition at the Anatomy Museum, King's College London. "Translation Games"Curated by Ricarda Vidal (KCL) and Jenny Chamarette (QM) which runs from 31st July to 2nd August 2013
Monica Westing posted a great interview with Melika Bass:
Bass has been quietly making rigorous and rigorously strange films for a decade, and in 2011 she created an installation for MCA's 12X12 based on her film Shoals, comprised of relics from the shoot that extended Shoals's imaginary pastoral-gothic world in the ambiguous space of a contemporary white cube gallery. She recently was commissioned to make a film for Sigur Rós, Varðeldur, conceived as a character study of "an unstable entity in a haunted vessel," a gloss that can describe many of her half-created characters, both absolutely unknowable and archetypically suggestive of the heroes of fables and the antiheroes of fairy tales.
Finally, I posted some Endless Opportunities #BingoBangoBongo