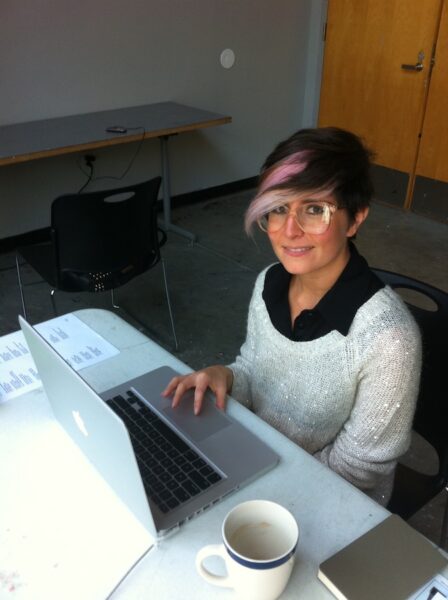 This week on the Podcast! BAS goes west coast! We talk to Adriana Salazar and John Spiak, director and chief curator of the Grand Central Art Center, which has an exhibition of Adriana's work up currently. Also, we talk to Sabina Ott about The Terrain Exhibitions Biennial which just happened. Plan your life around seeing us at EXPO!!! You know you want to.
Edition no. 17 kicked everything off last week with a reminder a) that fall is here and b) an account of fall's gallery opening festivities:
It's official, Chicago artists are back from their residencies and vision quests and it is time for the fall gallery season. Inaugurated this weekend with about a million openings from River North to the 'burbs and back again, we're still reeling.
On the subject of filmic experience, Jesse Malmed discusses durational works, specifically that of James Benning, with a later dash of Empire:
James Benning's Nightfall is a curious piece. His works are often challenging structurally, but saying the logic of this one is simple is like saying the simple logic of this is one. We watch the trees and they are still. We watch the light and it changes slowly. It would change more slowly, but the camera is doing what it can to keep up. Fauna haunts the aural space and I thought I even heard what sounded like human sounds. Mostly I floated in and out of the cinematic space (the seats, the people around me, my thirst, someone else quenching theirs, the size of the rectangle, the quality of this light) the represented space (the trees are so beautiful, there are fourteen main trees, there are an additional dozen supporting trees, the light coming through the branches looks like someone I know, the light through these branches looks like a stranger) and the space between (could I sit on the stump I'm imagining for this long?, when was the last time I spent this long seated with my head facing one direction?, when was the last time I spent this long seated with my head facing one direction outside?, how much better must this be to be there instead of here?, how has the concept of nature become so abstracted from [my own, at least] daily life?, what is that phrase about seeing forests and trees?, is this based on that?).
I posted an interview with Elizabeth Tully about the upcoming Fountain Art Fair, coming o so soon to a Chicago near you. In describing its origins, she says:
"Fountain was started in 2006 as a platform for three galleries (Capla Kesting Fine Art, McCaig Welles Gallery and Front Room Gallery) to access collectors, curators and critics during the New York Armory weekend. We have grown to represent over 100 international galleries, artists and collectives. Our model is "alternative" because we give free-reign to our exhibitors, and are not exclusive to just galleries, or just independent artists. Our mission is for people to come to Fountain and connect with whats happening inside through installations and performances that engage visitors and push boundaries. Of course, people want to sell art, and they do. But the overall vibe is one of community and goodwill as opposed to commercial frenzy."
Duncan MacKenzie gave a shout out to one of our own this week, as Tom Sanford's show just opened in NYC:
Something we don't do enough of here at Bad at Sports is trumpet the successes of our various contributors. It sort of happens piece meal, sometimes, but considering that the project is and always will be an artist run type thing – our collaborators are more then just the deep thinkers, aesthetes, and vulgarians you know them to be! Such is the case with our Tom Sanford and his new show at Kravets|Wehby in NYC.
Adventures in Union Square courtesy of SF resident, Jeffrey Songco:
Regardless of the weather, which is never a topic of conversation in SF until this very month, it was a delight to see paintings by Pamela Wilson-Ryckman in an exhibition titled GPS. From the exhibition statement: "Precise knowledge of location gives one the illusion of control but knowing exactly where you are doesn't necessarily mean you are in a good place. Rather than location it is often the experience of place that matters. How much information does one need to reconstruct a memory or sense of place? The answer is – not that much, imagination fills the gap". I was most interested in Geppetto's Jacket (2013) and it's glaring painterly techniques, creating so much dimension of space for that "imagination".
The third Minnesota Biennial opened at The Soap Factory this last weekend and Eric Asboe writes about it, and each work is a butterfly:
The flashiest, brightest butterflies do not need to fly past us to catch our attention. They overwhelm all of our senses. The Basketball Team's Sgt. Moore wafts the smell of whiskey throughout the gallery. The looping, Reichian patterns of Nate Young'sUntitled (Soul Clap no. 1) echo in the silence of the distant companion video Untitled (Soul Clap no. 2). The shuttering of the 16mm projector pulls us into Stefanie Motta'sSeeing. The drone of the prepared keyboard inside 7-Sided Room with Painted Floorby Andrew Mazorol and Tynan Kerr permeates the galleries and intensifies the rarefied air inside the room.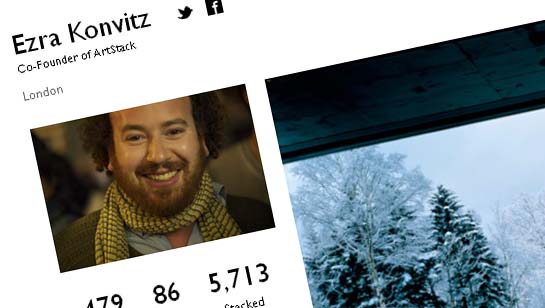 Dispatch from Brighton, UK this week, where Mark Sheerin talks (social) networks, contemporary art, and Artstack.com:
Art needs networks, and the 20th century testifies to that. There could never have been a lone fauvist, a solitary cubist, an isolated futurist, etc, etc. The avant garde loves company, and, without it, could never have made the great strides which came along with modernity. Now we live in a different landscape. Cafes have become corporate part-time creches and third place venues for business meetings. Cigarettes and pipes, both intellectual props, are banned. And just try paying for your triple shot latte with a sketch, it can't be done. The avant garde have been in retreat everywhere for decades now. So it is good news to have some networking technology which might serve as a focal point for new visual ideas.
Shane McAdams boldly begins with a nod to Kevin Costner's performance in Field of Dreams as he goes on to describe the Thelma Sadoff Center for the Arts and the "two moving and exceedingly complementary exhibitions" it contains by Novie Tremp and Hap Tivey:
In Fond du Lac last week the Thelma Sadoff Center for the Arts opened to the public. A hybrid of contemporary architecture and a Masonic temple that had previously housed the Windhover Art Center, the Sadoff Center is an impressive specimen: granite topped bars; a spacious terrace for live music; two large and gloriously lit art galleries, classrooms, workshops and a hall for lectures and performances. It's a cultural diamond in the heart of a pragmatic industrial town – an only slightly less quixotic enterprise than trying to lure the ghost of shoeless Joe Jackson out of a cornfield.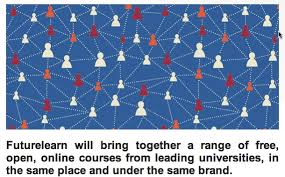 Terri Griffith talks MOOCS! (and how they affect the world of contemporary art):
Massive open online courses (MOOCs) are the future of education. I feel as certain of this as I am certain that one day cars will fly and that ironing will become obsolete. There's a Ted Talk with the co-founder of Coursera Daphne Koller and an episode of Charlie Rose with the CEO of EdEx Anant Agarwal that addresses this new way of teaching and learning. To summarize Agarwal on Charlie Rose, the thing that is fundamentally different about MOOCs versus the way traditional college works is that with traditional college all of the gatekeeping is at the front end. You have to apply. You have to be accepted. You have to have tuition. Sometimes you need to have prerequisites or test into the courses you want. With MOOCs it is different, at least for now. The gatekeeping occurs at the backend. Anyone can register for a course, but not everyone will finish. And for those who do, there is often the option of a certificate. With some courses there is even the option of credit…for a fee. This allows all kinds of learners to participate in a course. For example, some might only be interested in part of the course's curriculum. That student can participate in just that portion of the lectures, readings, and discussion, and ignore the rest. Of course, they will not receive a certificate, but then again, So what? Others might successfully complete all of the assignments for the entire sequence and receive a certificate. Both students got what they wanted from the course, but they dictated their level of involvement, not the instructor or the institution.
Speaking of the future: