This week's podcast came from the Marin Headlands — a beautiful site just on the California Coast — where Brian Andrews and Patricia Maloney joined Jordan Stein and Daren Wilson to talk (among other things) about Wilson's "stalker paintings." Wilson has made a recent practice of copying Morandi's still lifes — even the distortions that result in the pixellated computer reproductions Wilson works from. You'll also hear Duncan's robot voice in the intro, which is good reason to tune in. 
It reminds me to recommend going to see Guy Ben-Ner's new film, "Soundtrack," presently screening at Aspect Ratio in the West Loop — "Soundtrack" pulls the audio of Spielberg's 2005 blockbuster, "War of the Worlds," grafting it to the artist's kitchen.
THIS JUST IN: Music is, indeed, trending. While I did not see the Cave/s in person I was excited by all the hubub around two caves meeting in person. Maybe most of all, this performance sounds amazing: "Everything we know about Passover we learned at Bobby Conn's final residency performance at the Hideout last Tuesday. His full band including Tim Jones fronted brass section was nothing short of a Pesach miracle." That and more from WHAT'S THE T? (hooray!)

According to Jeriah Hildwine "the frost giants [have] finally abdicate[d] their annual reign over Chicago" which is good news in an of itself, though he writes primarily about his experience applying to MFAs, getting enrolled or rejecting, choosing this over that. "Like Maximus said in Gladiator," Hildwine writes, "'The choices we make in life echo in eternity.'" And, it turns out, Chicago is a pretty good place to end up.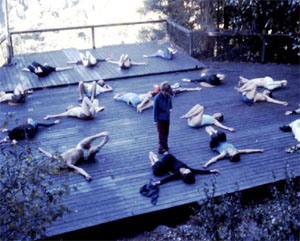 Anthony Romero continues his on-going series WHAT CAN BE DONE WITH DANCE? and interviews Rebekah Kowal about her book, How to Do Things with Dance: Performing Change in Postwar America,  exploring the relationship between social activism and dance choreography."As of late" Romero writes, "I have been writing a great deal about strategies and modes of resistance. I have been thinking about the usefulness of dance, of the power of embodied action to simultaneously imagine and enact alternatives to dominant schemas of value that exclude what Judith Butler has referred to as the "ungrievables". Those whose lives are devalued by social conditions and governmental policies to such an extent that if their life were to extinguish it would go unnoticed."
Chiming in on Hildwine's reference to transitioning seasons, Jamilee Polson Lacy writes with news from The City of Fountains, connecting a collection of noir short stories, Kansas City Noir, with some exhibiting artists:
"…transitions—seasonal or otherwise—are unruly. Kansas City artists Nicole Mauser and Caleb Taylor make paintings and collages which illuminate the wild, sometimes dark, often whimsical transitions that happen in the studio. Taylor, who currently has a show up at Sherry Leedy Gallery, presents a series of paintings that, like spring's arrival, struggle to emerge through the dense fog of the artist's heavy black brush strokes. But with the collages, Taylor is able to clear out the fog where necessary in order to contrast harsh lines and geometries with soft shadows and dazzling light. Indeed, these compositions read like atmospheric interludes designed for scene transitions in Film Noir flicks like Panique and Kiss Me Deadly."
Kelly Shindler posted about the ghost of Pruitt-Igoe, a large public housing project in St. Louis that still continues to influence contemporary artists today:
"The ghost of Pruitt-Igoe looms large in St. Louis. The 33-building public housing complex, designed by Minoru Yamasaki (who was also the architect of the World Trade Center) and completed in 1954, has long fascinated architectural historians and enthusiasts alike. Designed in accordance with Le Corbusier's utopian 'Towers in the Park' vision, its demolition began less than twenty years later in 1972 as the site fell prey to dried-up funding, mismanagement, and subsequent decrepitude and crime. According to architectural theorist Charles Jencks writing in 1977, the notorious demise of Pruitt-Igoe, captured on film and televised widely at the time, marked the day that 'modern architecture died.'" 
The WEEKENDS TOP [not 5 but] 6 (!) shows to see, courtesy of Stephanie Burke.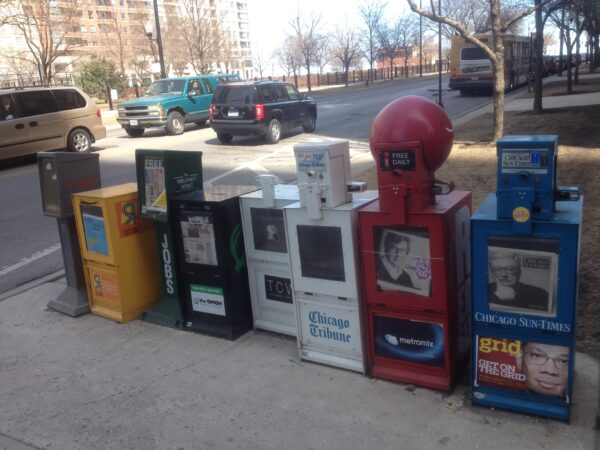 "What does it mean when a city of almost three million with a thriving art scene has not a single full-time art critic?" Abraham Ritchie asks Chicago Media Publications, pointing out that most publications rely on freelance writers.
"If the Chicago art community wants more, more national and international attention and recognition, more major artists staying in Chicago, more opportunities across the board from sales to exhibitions, it's time that we demanded our major newspapers and magazines step up and make a commitment. It's time we had an art critic in our newspapers."
LAST BUT NOT LEAST, Brit Barton takes the Saturday stage to reflect on Winston Churchill's painting habit:
"[Churchill] loved his landscapes and still lives and painted over an estimated 500 in his lifetime. What drew a man of such political power to something like painting? He saw it as the end-all, be-all of anxiety, which I think says a lot coming from someone who nicknamed his own clinical depression."
All this talk of Churchill reminded me about Orson Welles. I remember my own mother seemed to intensely admire both men, and had various anecdotes about both of them. Here is a very strange clip to that end —